Email Campaign Management
Craft beautiful emails, produce the right message, target the right audience and reach out at the perfect time. Run performance tests, measure every aspect, and decide what to do next! Personalize with precision, convert like a pro, everything from one place!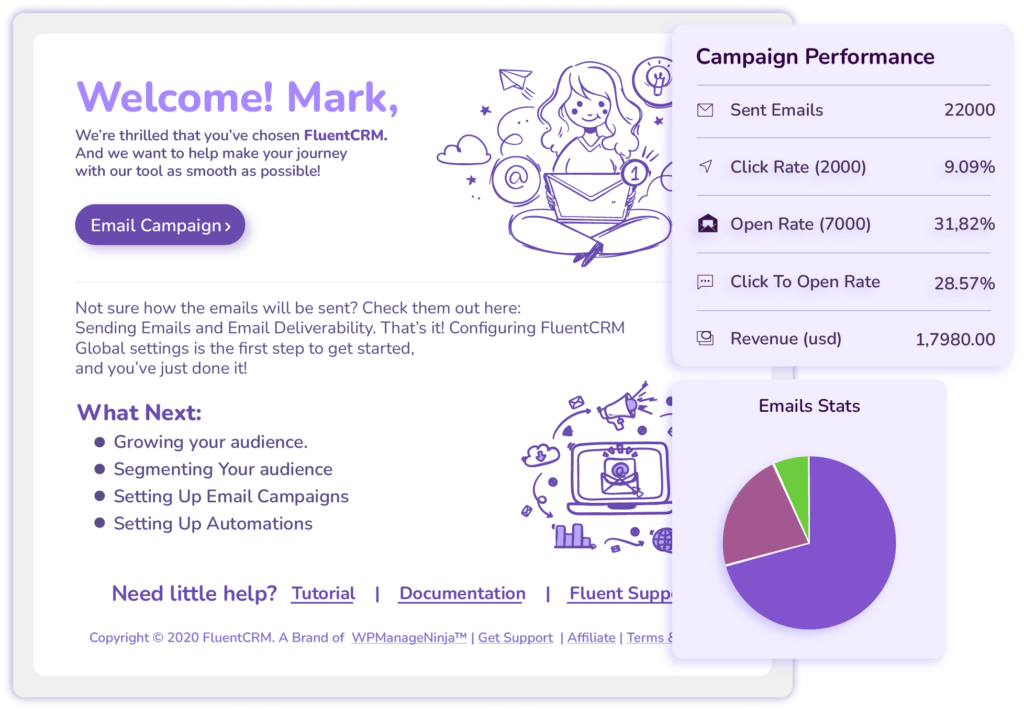 Email Campaigns Made Simple
Compose, Send, Convert, And Repeat!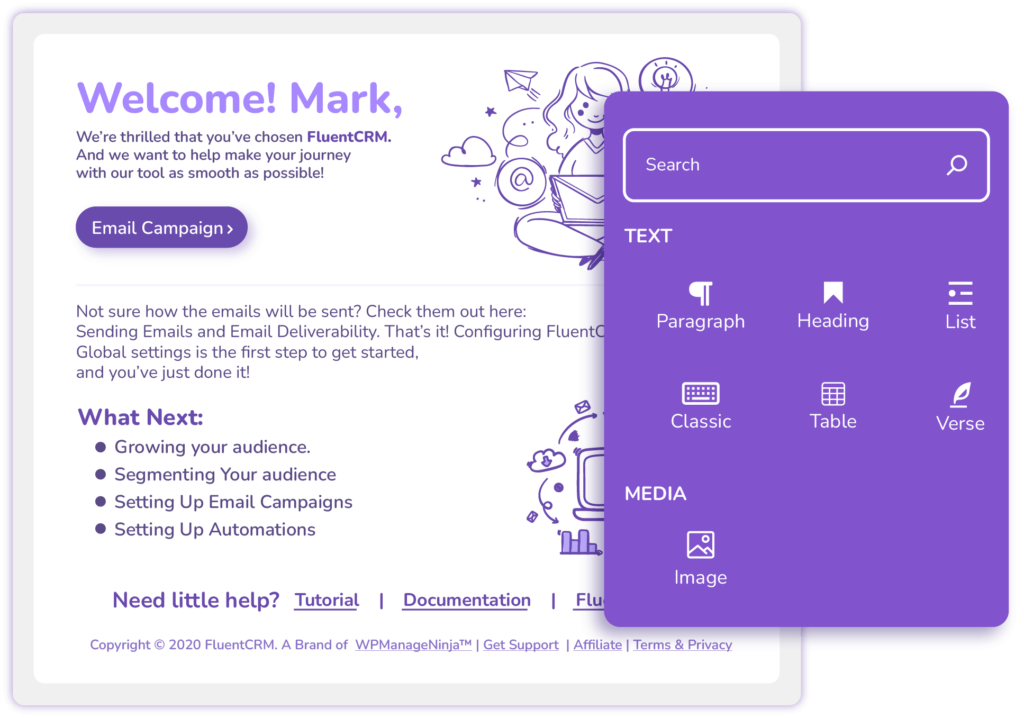 Email Writing Made Fun!
Drag-n-drop, plain templates, pre-made templates…you name it! FluentCRM gives you everything so that when you're ready to get creative, you can bring your imagination into reality!
Use our block-based email editor to write plain emails or design a visually appealing email with the visual editor, we've got you covered!
Personalize Like a Pro
When they see their name, they are more likely to open your email. It's as simple as that!
With FluentCRM, you get to bring up simple contact information or even custom field data. So take email personalization beyond names and cities, and convert more!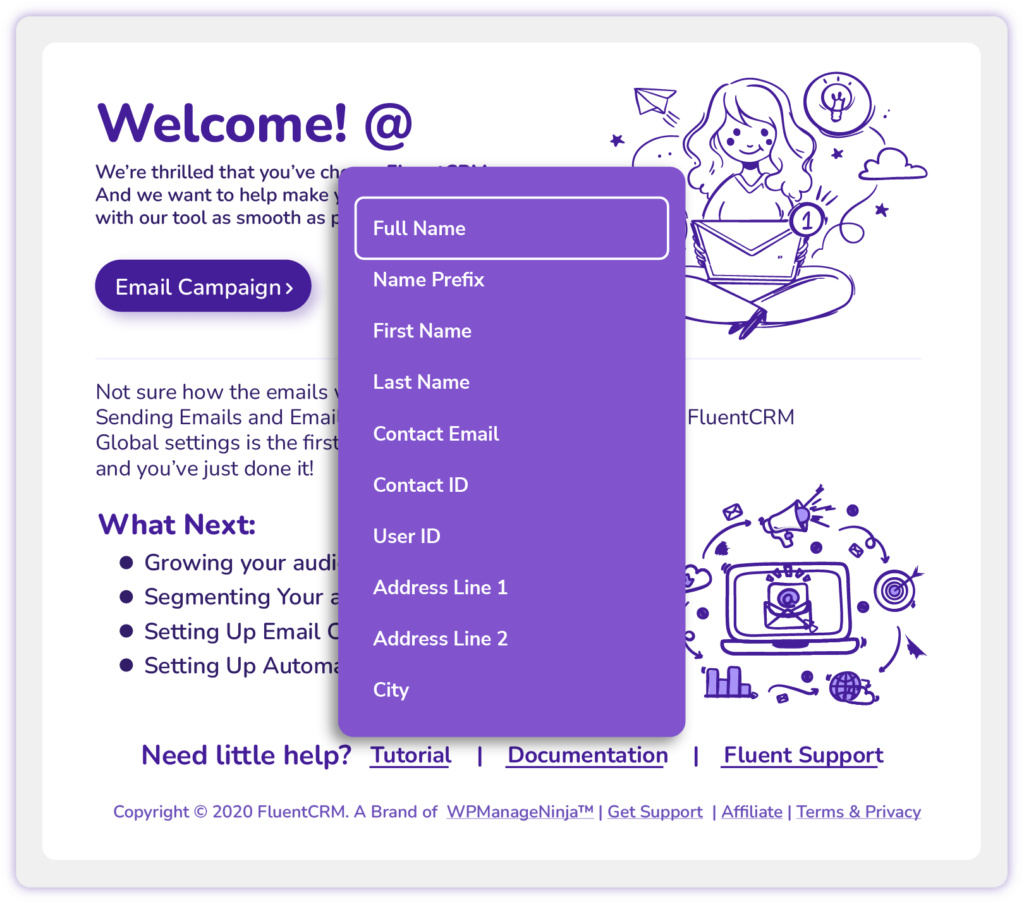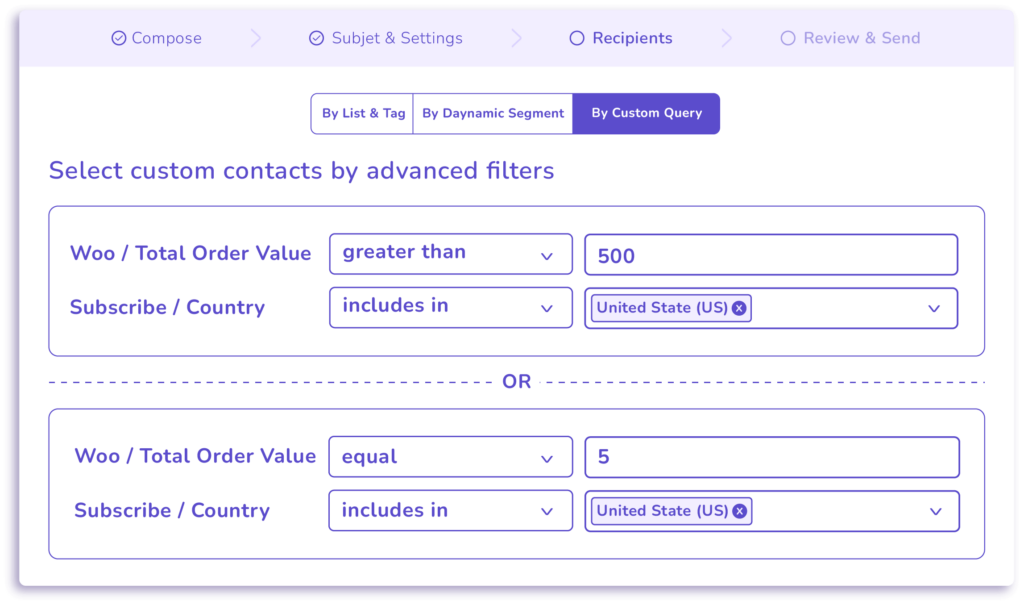 Target with Precision
Not sure how to find the right people for a specific campaign? Easily do that with our advanced filtering system!
Include or exclude lists and tags, choose dynamic segments or simply filter out contacts by custom queries. Orchestrating targeted email campaigns has never been so easy!
Tailor Personalized Email Campaigns!
Choose Who Sees What!
Don't write a new email just because a specific paragraph isn't personalized for everyone.
With FluentCRM, you get to choose who sees what and who doesn't! Conditionally display email bodies based on tags and reach out to everyone who needs the same context.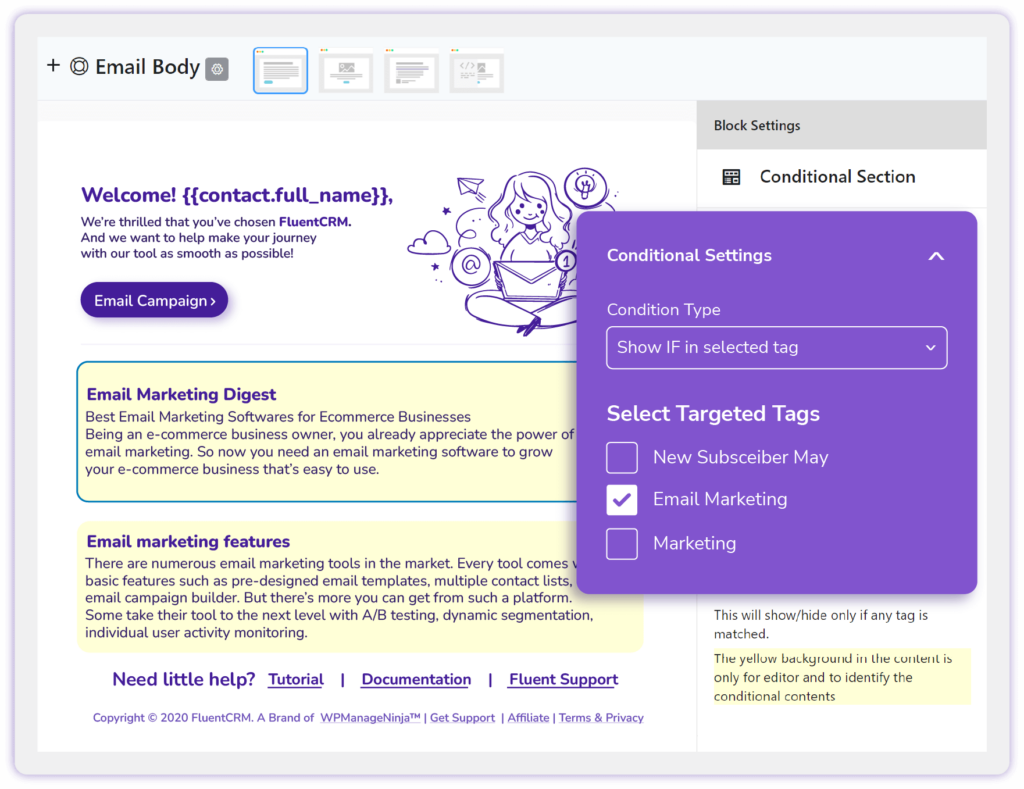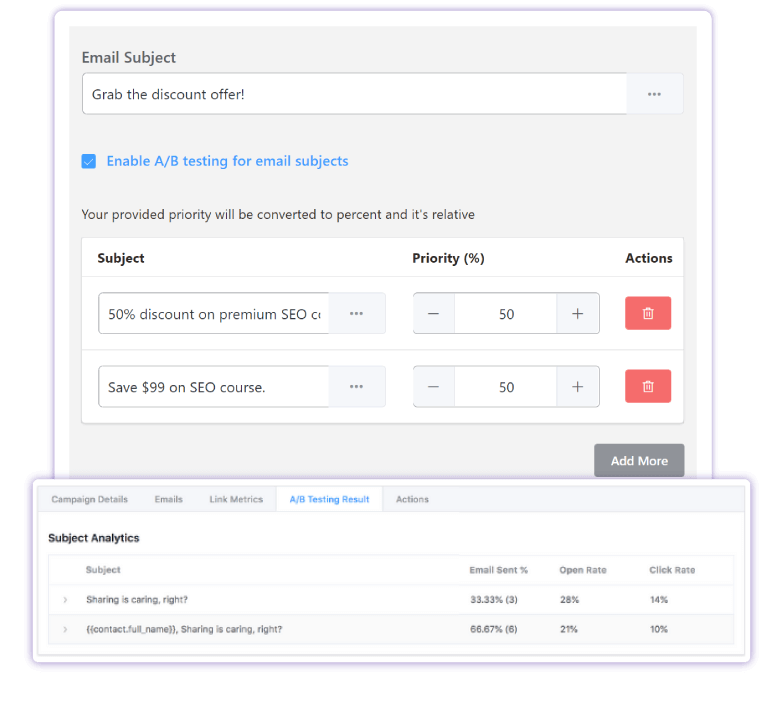 Run A/B Tests, Track Link Clicks
Good subject lines get you more opens, clicks, and eventually, more revenue! Easily split test your subject lines and start making more revenue!
Track every link clicks with UTM parameters by Google Analytics, and easily understand how your campaigns are performing!
Reach Out at the Right Time!
Ready to send your email campaign? Why wait for the last moment when you can just schedule it?
With FluentCRM, you get to choose the exact date and time for a campaign. So reaching out at the right time is never a problem!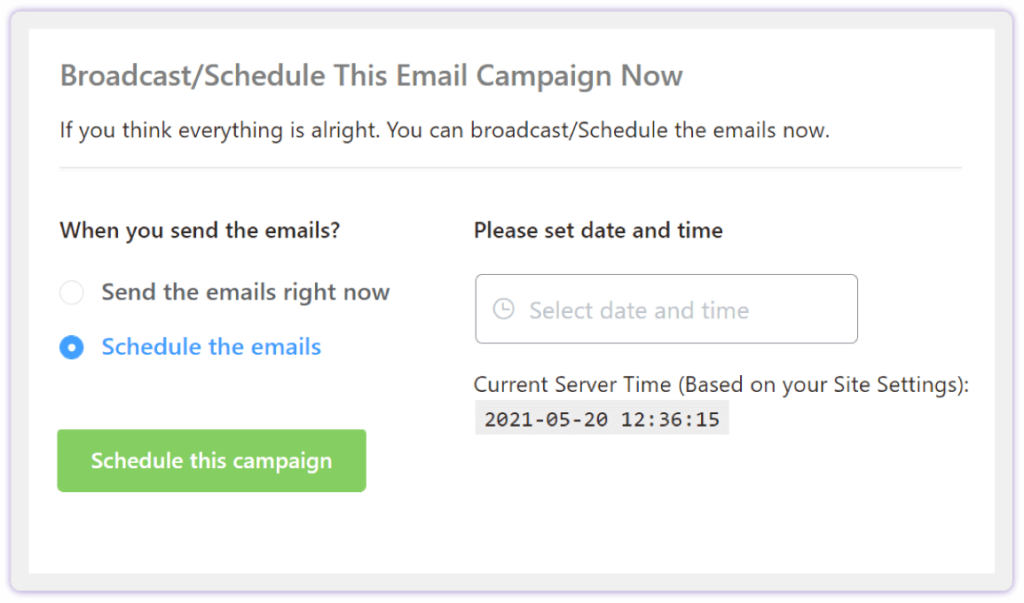 Send Accurate & Timely Emails!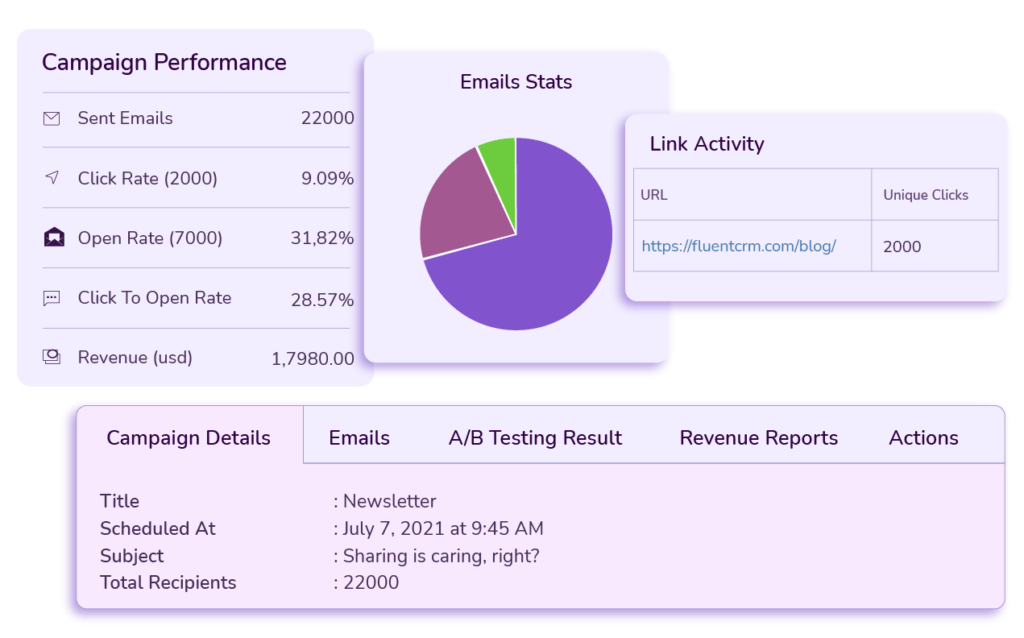 Get Campaign Insights
Want to know how your campaign has performed? Don't rely on guesswork!
Our detailed analytics gives you an insight into your email campaigns so that you get info like open rates, clicks, and revenue. Measure your campaign's performance with ease!
Follow-up Like a Pro!
On other platforms, you're left with only data after an email campaign.
With FluentCRM, you get to make data work! Easily identify engaged and unengaged contacts with post-campaign actions and follow-up like a pro!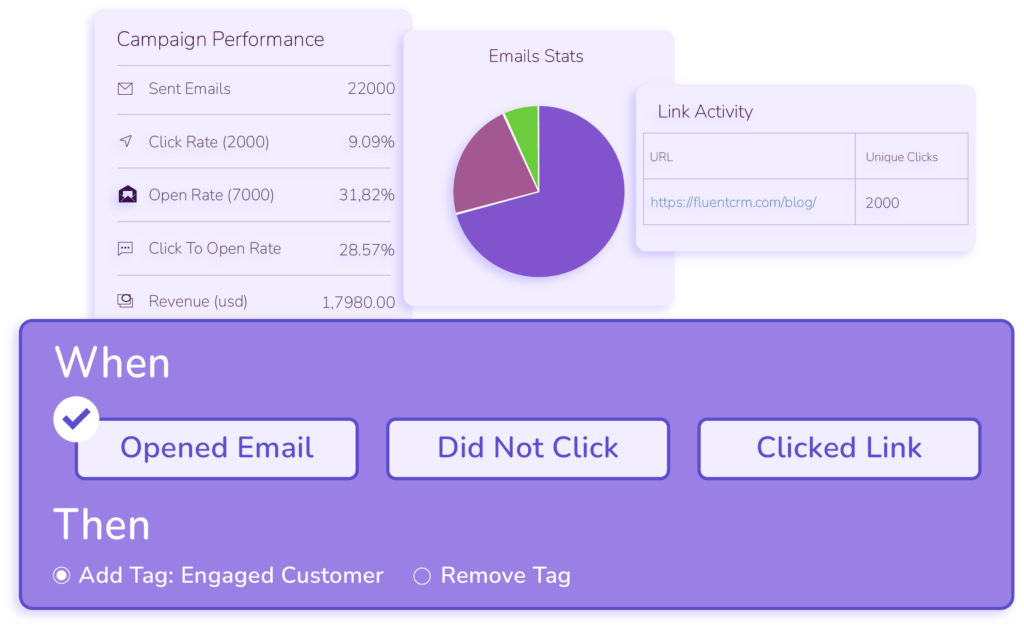 Broadcast Email Campaigns That Convert!
At the heart of every successful business, there's a well-targeted, personalized email campaign that speaks to the audience. So craft, personalize and broadcast perfect email campaigns that speak to your audience and maximize your conversion like never before!
30+ Integrations. Not Paid Add-ons!
FluentCRM automatically integrates with popular e-commerce, lead generation, membership, and LMS plugins without any add-ons. Connect your tools now and unlock unlimited automation possibilities!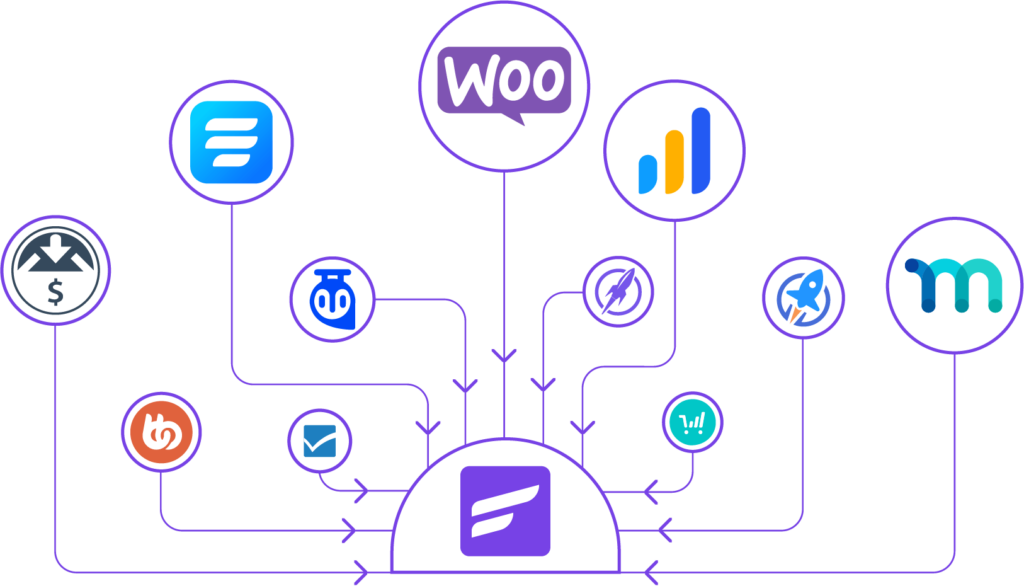 Say goodbye to monthly payments
FluentCRM doesn't just come with the best features, its pricing is also hard to pass on.
Single Site License
$129/yr
$103/yr
5 Site License
POPULAR
$249/yr
$199/yr
50 Site License
$499/yr
$399/yr
More Details About FluentCRM
Get Your Questions Answered Before You Make The Final Call