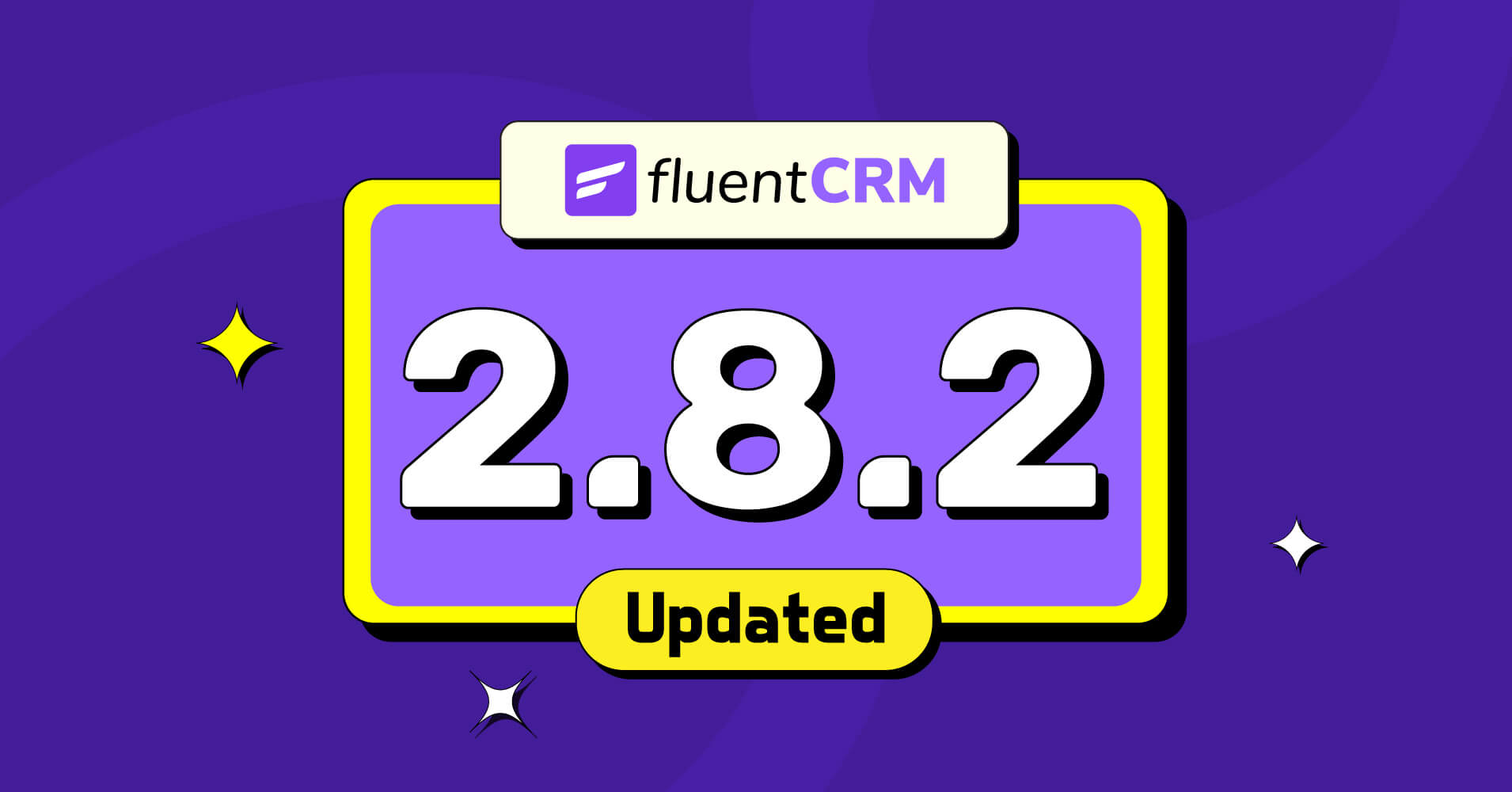 FluentCRM 2.8.2: Improved Tutor LMS Integration, Surecart Integration, and Lots of Feature Improvements (Important Update)
Free Tips, News & Tutorials Delivered to Your Inbox!
It's been a while since our last big update and you deserve to know what we're doing.
And here we are…with another product update!
Plus, we also have some important news to share. The update includes one-click integration with Tutor LMS, the much-awaited SureCart Integration, and a lot of other feature improvements!
But before that, we'd like to share some important news with you.
Important update: FluentCRM security and vulnerability disclosure program
A month ago, we resolved a security vulnerability issue reported by Karl Emil Nikka(Thank you, Karl!).
We want to let you know, your trust and security are of utmost importance to us. We fully understand and share your concerns and have taken immediate steps to learn from this experience and make improvements.
Here's how we're moving forward to resolving security issues as soon as possible:
Dedicated security page: We've created a dedicated security page on our website. This will be a centralized place for updates, best practices, and reporting mechanisms to ensure you're informed and secure.
Partnering with Patchstack: To ensure vulnerabilities are identified and addressed promptly, we will be using Patchstack's plugin vulnerability program for coordinated disclosure and handling of vulnerabilities.
Consultation with security experts: To further strengthen our security, we will consult with Snicco, experts in WordPress security. They will help us ensure that our services and communications align with best security practices.
Bug bounty program: We are establishing a Bug Bounty Program to reward those who help us identify security vulnerabilities. As a token of appreciation for identifying this issue, we will be awarding a bug bounty of up to $500 for this legitimate security concern.
Community Feedback: We believe in the strength of our community and value your opinions. Please feel free to share your thoughts and suggestions.
We deeply regret any distress or inconvenience that this issue may have caused. Transparency and security are among our top priorities and we'll keep it that way.
Now that you're informed about the important update, let's get into the feature updates we're releasing inside FluentCRM 2.8.2.
Inside FluentCRM 2.8.2
FluentCRM 2.8.2 includes some important features for those who use Tutor LMS. Along with that, we have also added some necessary feature improvements that'll improve your overall FluentCRM experience.
Improved Tutor LMS Integration
Tutor LMS is one of the prominent LMS plugins in the market and many FluentCRM users are also using Tutor LMS. While we already built an integration, some powerful features were still missing.
So, we decided to improve Tutor LMS integration massively in this version and hopefully, you'll love the new way to integrate!
One-click Integration with Tutor LMS
The first improvement is a one-click integration for Tutor LMS. Now, you can integrate your Tutor LMS system with FluentCRM in one click.
By doing so, you'll be able to import all your students inside FluentCRM with other essential information such as course enrollments.
This will also enable you to see an advanced Tutor LMS report with information such as Total Students, Total Course Enrollments, Enrollments, and Student Growth.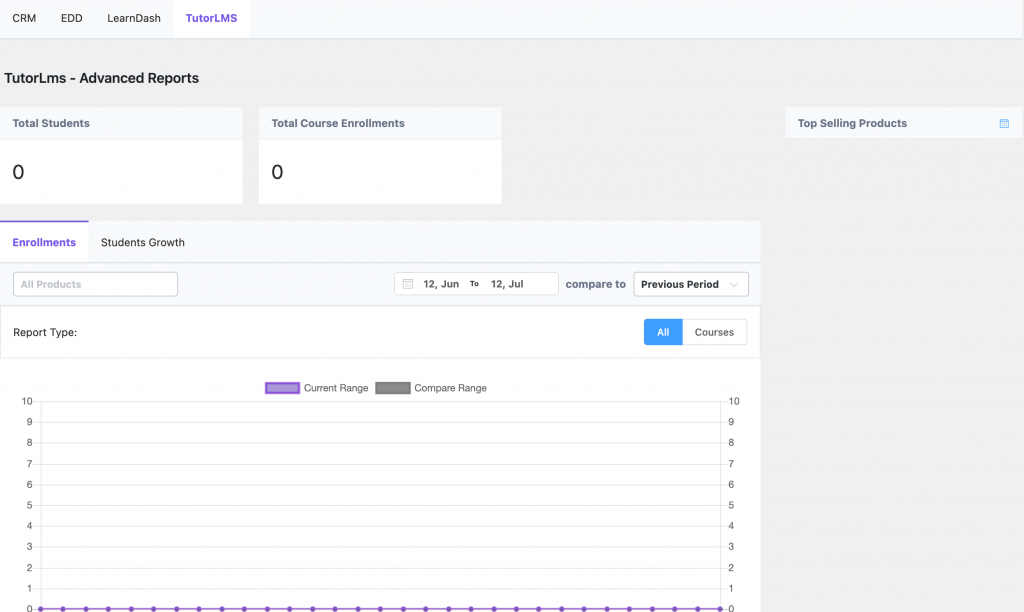 Advanced Filtering
As a Tutor LMS user, you'd want to segment your contact database based on key data points. For such purpose, you'd usually depend on tagging however, FluentCRM offers a more efficient way.
With the help of advanced filtering, you can use various key data points such as last enrollment date, first enrollment data, courses enrolled, enrolled categories, and enrollment tags and it can be as simple as checking whether a contact is a student or not. That makes it easy to send hyper-targeted emails and run automation.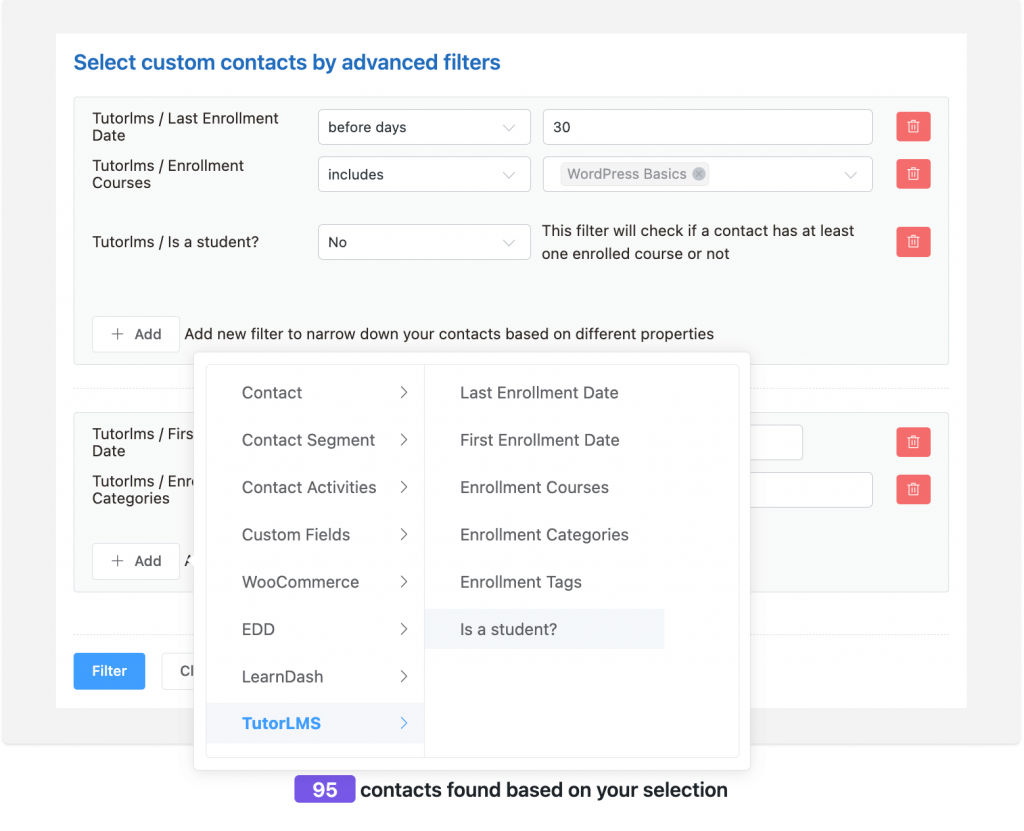 Student Completes a Lesson(Tutor LMS)
Another great feature for Tutor LMS users is that now they can create an automation based on lesson completion on Tutor LMS. This kind of automation is specifically useful in case you want to send resources after your student completes a lesson.
SureCart Integration
SureCart is the new way to sell in WordPress and many FluentCRM users were requesting an integration. The wait is over!
This version integrates with SureCart and brings you two important triggers to automate your email marketing for SureCart. Let's see which are those.
SureCart – New Order Success Trigger
The new order success trigger for SureCart will let you automate when an order is placed on SureCart. This is similar to our WooCommerce Order Completion trigger where you can automate emails and other tasks once a purchase order is complete.
As a result, you'll be able to send the users an upsell/cross-sell email when an order is successful.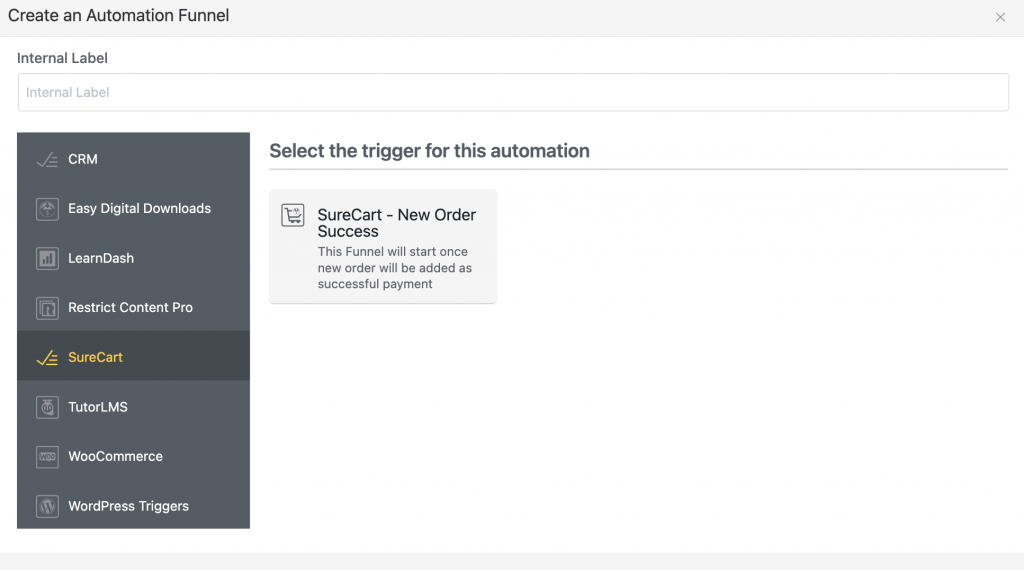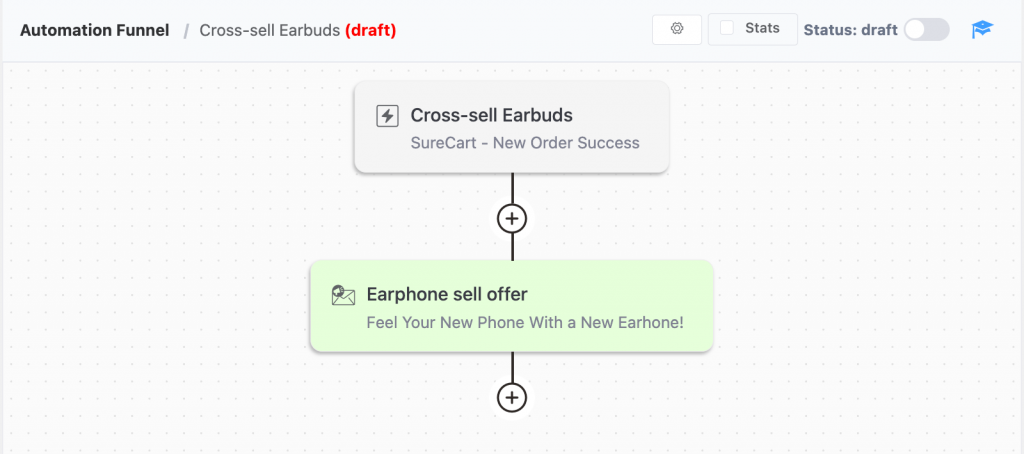 Surecart – Order Revoked Trigger
We know just how important it is to win-back your customers, especially if they placed an order and revoked it later. That's why, we've also added the order revoked trigger for SureCart.
As a result, it'll be easy for you to create win-back campaigns and other automation scenarios when someone changes their mind.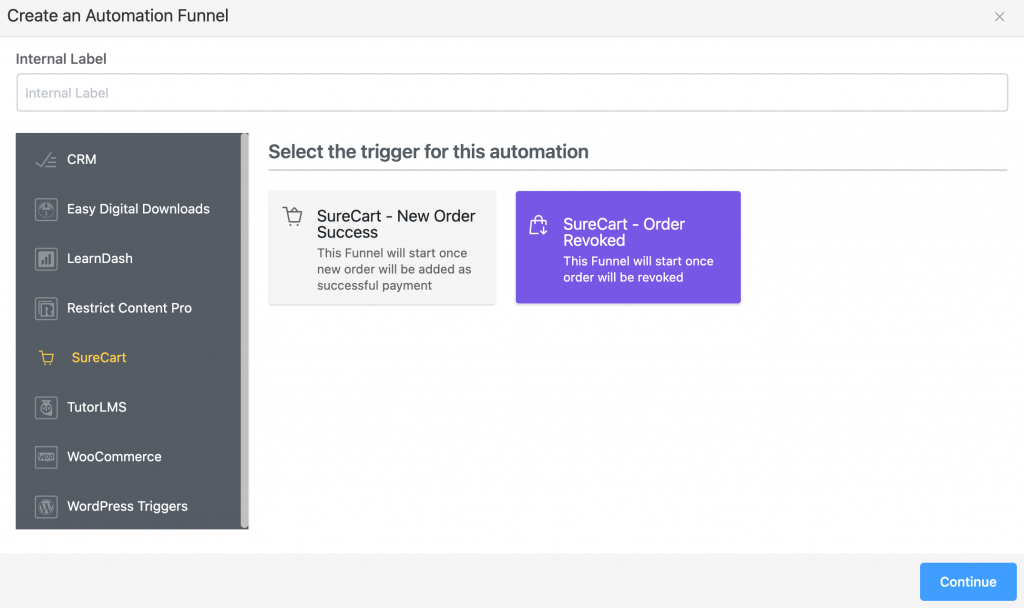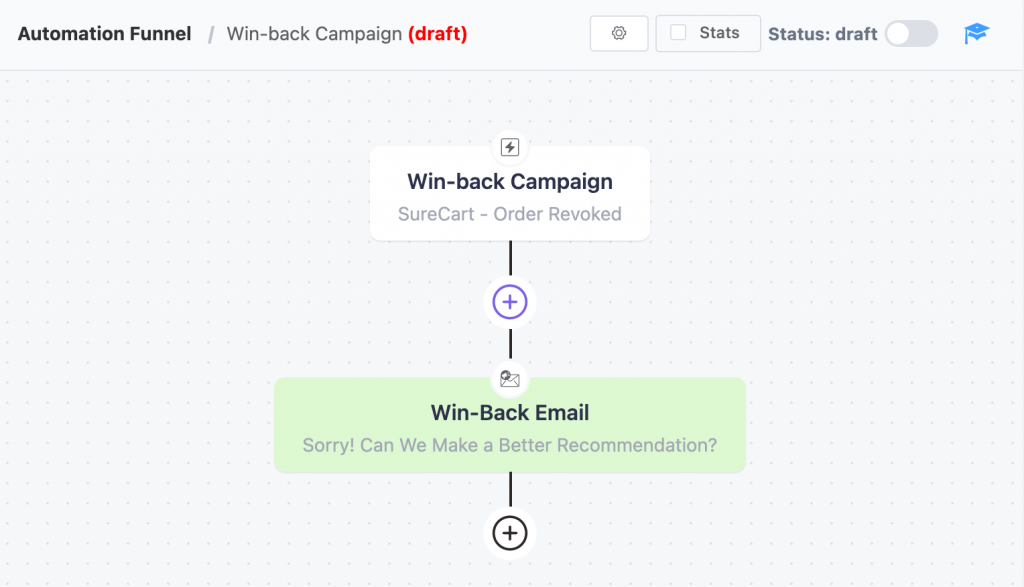 New Triggers: Membership Expired(Restrict Content Pro)
Along with LMS, FluentCRM also specializes in memberships. Membership sites often need to automate subscription expiration reminder emails for their members and that's exactly where our new trigger comes in.
This will be particularly useful for those who want to automate one or a series of reminder emails after a member's subscription has expired to get them to subscribe to their services again.
Add new steps in Automation
This is another feature you've requesting for quite some time now.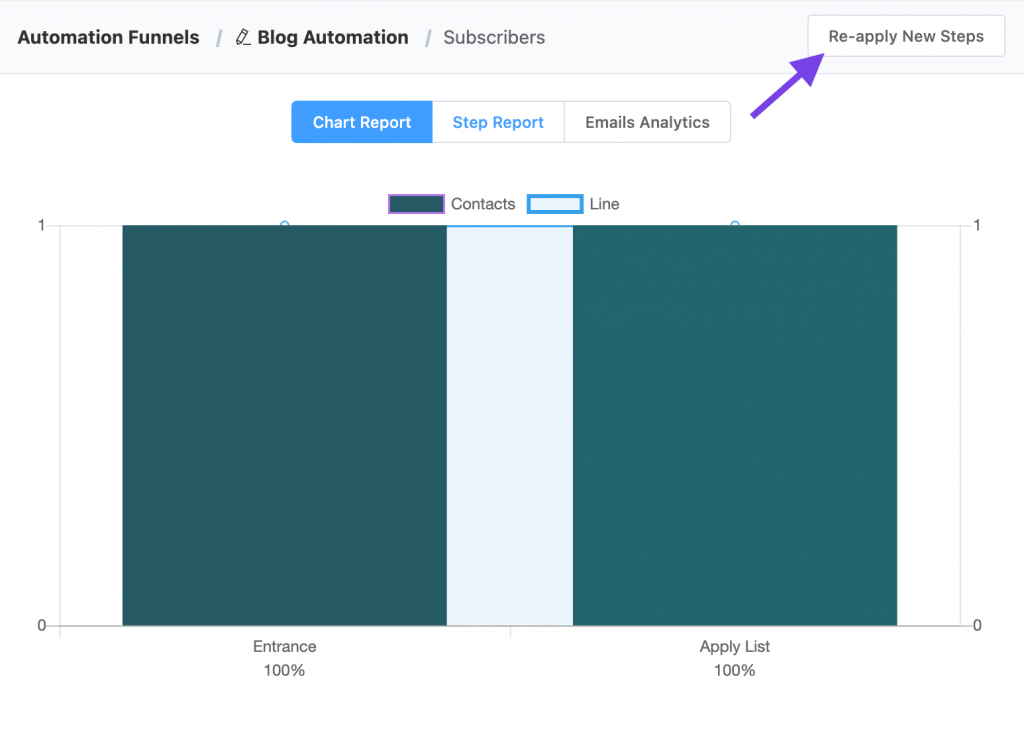 Imagine you've modified a funnel and added new steps to your automation workflow. Till now, FluentCRM would ignore all the new steps because the contacts have already completed all the steps and are out of the funnel at the moment. Not anymore!
Now, you can re-assign the added automation steps for a contact easily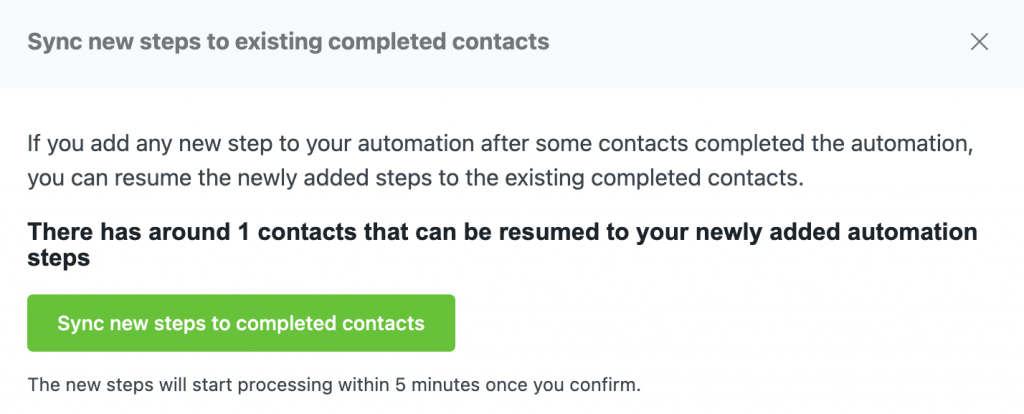 Advanced Email Scheduling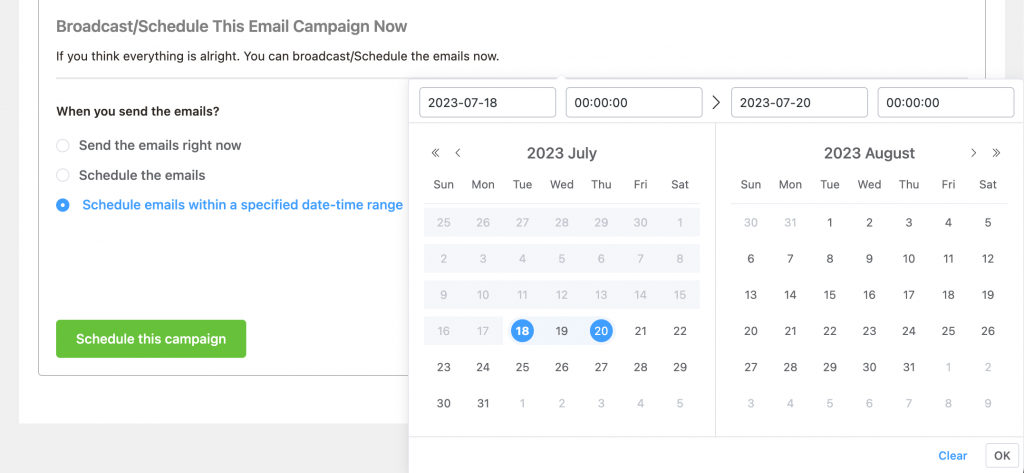 This cool feature is for you if:
You have a large email list and you want to reduce the load of your emails on your server
Your readers engage with your newsletters and you want to keep them coming all the time!
Meet advanced email scheduling! This feature will let you schedule your emails for a specific period of time. For example, if you send a lot of newsletters and your readers often read your emails instantly, you might want to use this feature to keep them coming at different times.
SEOs know how good the outcomes can be! Having a constant flow of traffic means your blog is great and will eventually result in better search rankings.
Below is an example of how the feature works. The campaign is scheduled to send in two days. So FluentCRM has divided the list into several parts and the emails will be sent on the specified time period at a slow speed.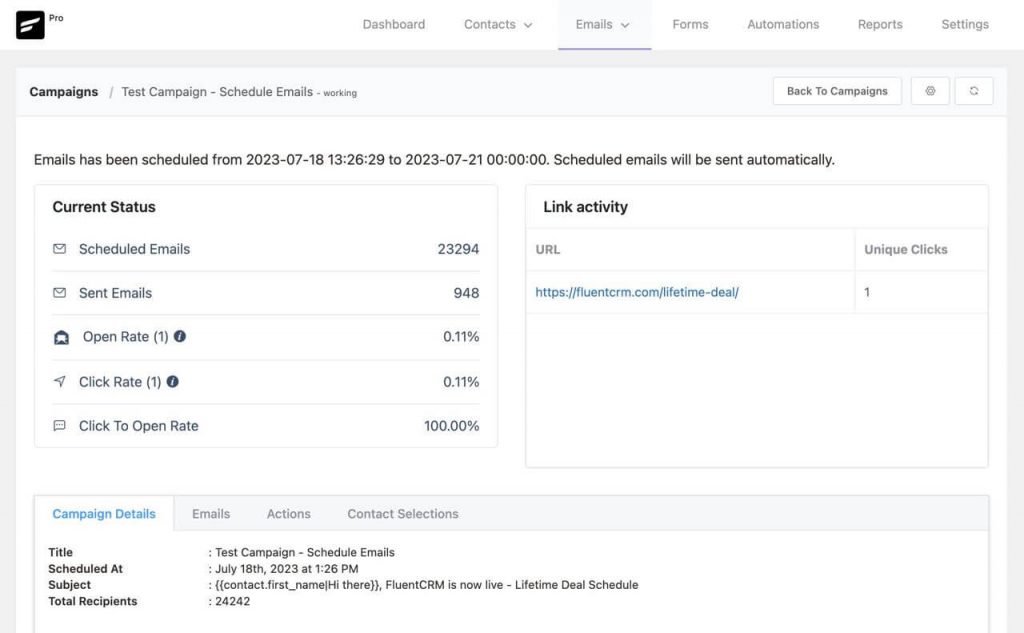 Improvements
In FluentCRM 2.8.2, we focused on improving a lot of things internally. While some of them were simply performance upgrades, some of them will improve your overall FluentCRM experience. Let's take a look at what's improved.
Autofill WooCommerce checkout data: Do you want to provide your customers with a seamless purchase experience? —Sure you do!
Making your customers fill out all the checkout fields every time they want to purchase something isn't seamless. This is why we've decided to add Autofill for WooCommerce.

As a result, whenever your customers enter the checkout, the data will be pre-populated using the existing data.
Empty/Not Empty Filter for Advanced Filtering: Let's say you have a custom field and want to find the contacts that don't have anything in that field. The Empty/Not Empty filter will help you do just that!
Confirmation prompt for email campaigns: Have you ever accidentally sent an email campaign and wished you could revert the mess?
Well, that won't happen anymore!
Now, FluentCRM will throw a confirmation prompt so you can confirm whether you want to send or schedule the campaign.
Pre-header settings for double opt-in emails: Writing a catchy email pre-header is a great way to get people to click your emails. Now, you can also define pre-header text for your double opt-in emails to look professional and get people into clicking your double opt-in emails.
Continuous contact adding: Do you often add contacts manually? If you've done that in FluentCRM, you know it's a bit tedious —since you'll have to click the Add Contact button every time you want to add a contact.
But that won't be the case anymore. Now, you can simply click the Create & Add Another button to create contacts continuously.
Company export: The company module is one of the latest addition to FluentCRM and as we mentioned, you'll see a lot of improvements to the module as time passes. In this version, we've added the company export feature to FluentCRM so that you can get company details as you import contacts in FluentCRM.
Companies column: Apart from the ability to export contacts, this version also includes the companies column. By enabling the companies column, you can easily see the assigned company of a contact.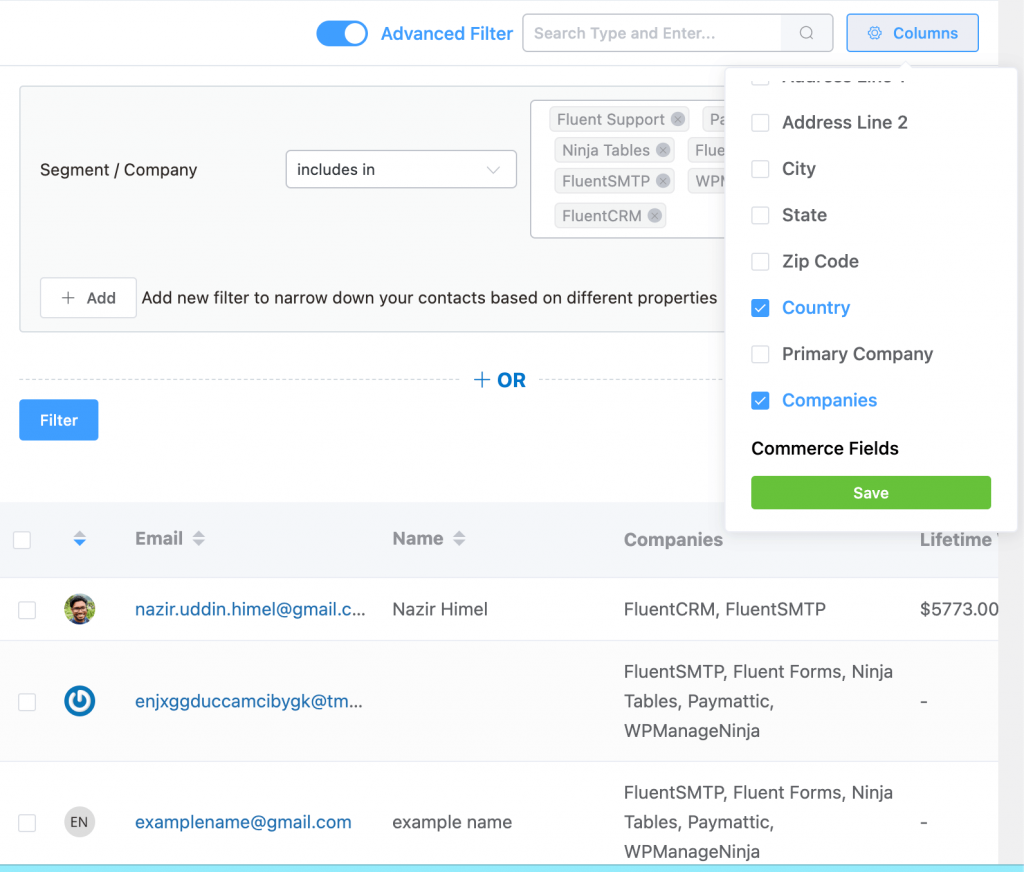 New shortcode UI: No more cluttered shortcode UI. FluentCRM 2.8.2 includes a beautiful shortcode UI! Just take a look below: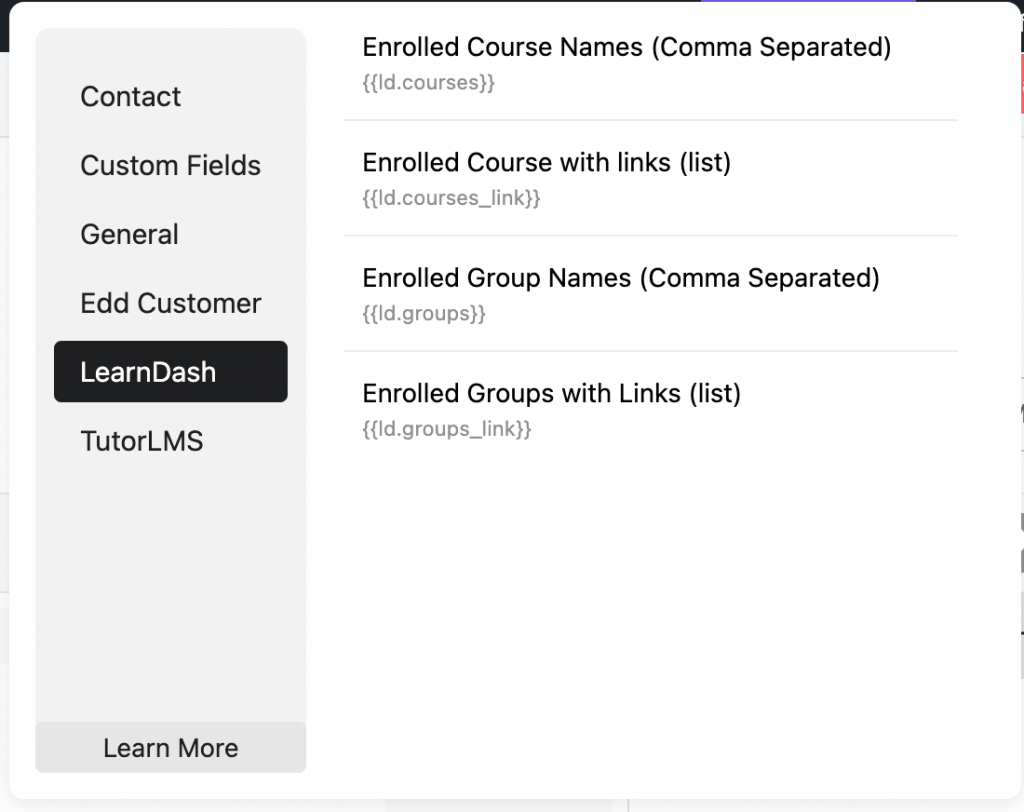 Fluent Forms hooks updated: Fluent Forms is our most powerful form builder plugin and they released version 5.0 just a few days ago. We have tested all the compatibility issues and updated all the hooks for Fluent Forms so your business continues to flourish. Have a smooth journey!
One-click contact profile picture delete: Want to delete a contact's profile picture? Do it in one click!
Bug fixes
With every feature release, we try to fix any existing bugs to give you the smoothest FluentCRM experience possible. FluentCRM 2.8.2 is no different!
Let's take a quick look at the bugs and issues we've fixed in this version:
Fixed– WooCommerce purchase history sync: An issue with WooCommerce purchase history sync was causing incorrect purchase history data on FluentCRM contacts. This version takes care of the issue so you'll get the correct data. All you have to do is resync!
Fixed – UI Issues: we noticed some UI Issues that were making using FluentCRM troublesome. We've taken care of those.
Fixed – Send Double Opt-in throwing error: On some contact profiles, Send Double Opt-in button was throwing an error. We've fixed that in this version.
Fixed – Woo Order status conditional logic not working: For some users, using conditional logic for WooCommerce order status wasn't working (the system wasn't recognizing the event). We've fixed it.
Fixed – mobile responsive issue in case of image: On some systems, images were not optimized for mobile devices. Now it'll look good again.
Fixed – Wait X days action: When a specific time was set on the Wait X Days action, the system was sometimes sending the email after one day. This was an extremely rare case and was happening because FluenCRM prioritizes system time for WordPress. But the issue is fixed now!
Fix – unsubscribe page error for single-character email addresses: The unsubscribe page was functioning incorrectly in the case of single-character email addresses(e.g. [email protected]). This issue is also fixed!
Fix – campaign URL issue: On some systems, the campaign URL was failing to load and links weren't redirecting to where they should have. But no more!
Wrapping up
We try to come up with fixes and feature updates every month and FluentCRM 2.8.2 is another effort to make your FluentCRM experience better. Hope you'll love the new features and enjoy the improved experience.
FluentCRM 2.8.2 is a big update. However, we're working on something extremely big. I promise the features will be INCREDIBLE!
We're also planning some excellent things to make your FluentCRM experience even better. If you enjoy our efforts, please show us some love by giving us a 5-star rating on the WordPress repository. It means a lot!
If you're not using FluentCRM yet, please download the free version and give it a try. You'll surely enjoy it!
Try Our Free Marketing Automation Plugin for WordPress!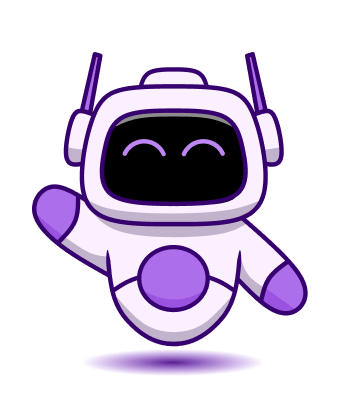 And finally, if you're thinking about upgrading to pro, don't forget to check out our latest deal!
Try Our Free Marketing Automation Plugin for WordPress!