8 Brevo Alternatives to Amp-up Your Email Marketing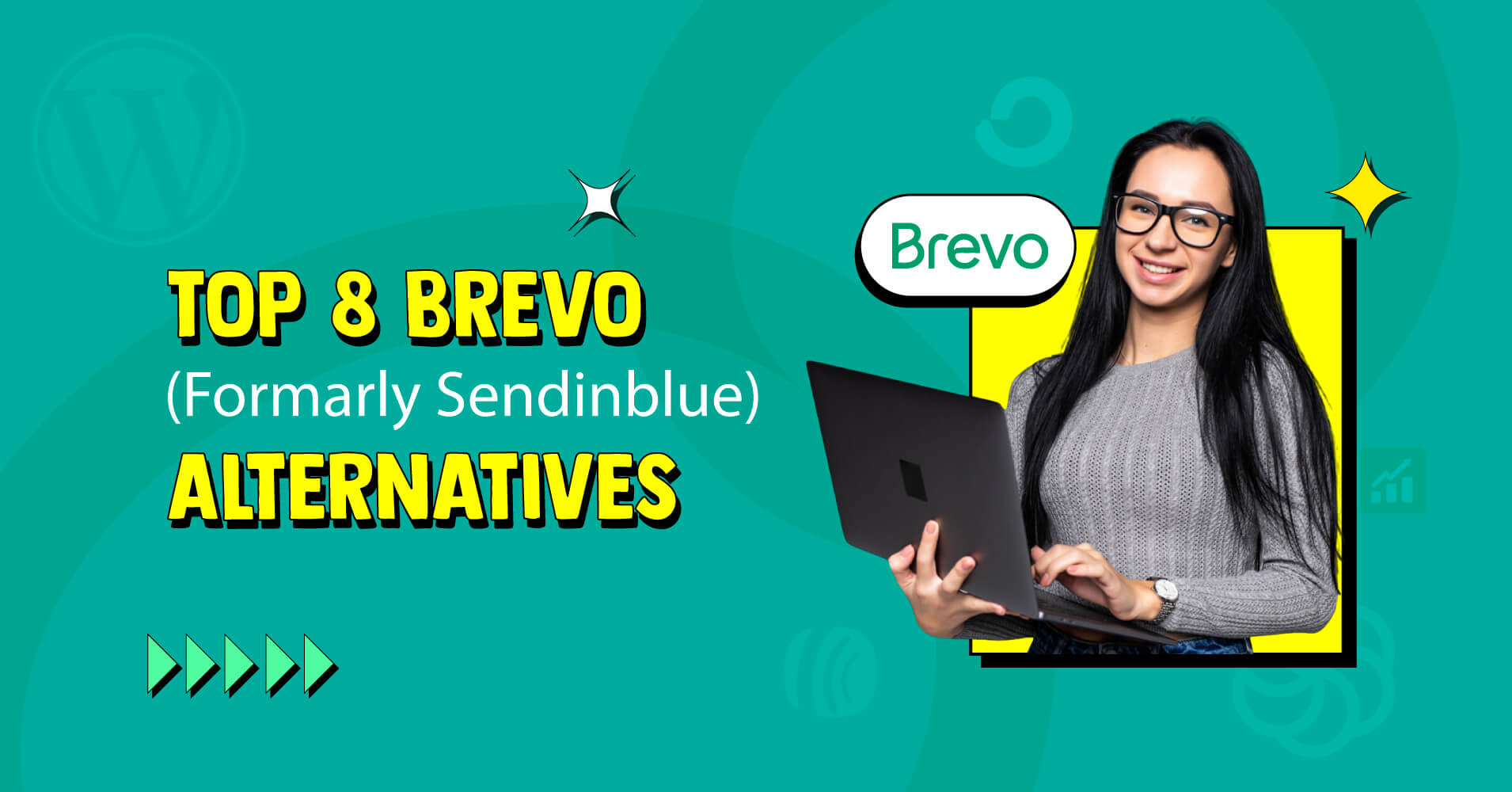 Brevo(formerly known as SendinBlue) is an established name in the email marketing arena. Named alongside the best of the bests, Brevo rightfully deserves its designated place. Although marketed as a CRM solution, Brevo is best for email marketing automation.
As a small business, Brevo can be a bit of an overwhelming experience for you because of the sheer amount of features it offers. The additional features also increase the cost of the tool.
If any of the reasons stated above is true in your case or you're just looking for a Brevo alternative, you're in the right place. In this blog, we're gonna walk you through some of the best Brevo alternatives and let you decide which one is the best for you.
Let's dive in!
What is Brevo?
If you're in the market looking for an email marketing software, you must've heard the name SendinBlue. They recently rebranded and took the name Brevo. They claim to have broadened their feature radius and made a transition toward being a complete CRM solution from now on.
Brevo is a cloud-based marketing and customer relationship management platform that can help with marketing automation, email campaigns, transactional emails, and SMS marketing. It is claimed to be an all-in-one tool for all digital marketing needs.
Brevo offers a free plan with unlimited contacts however, they have a daily limit of 300 email sends. It's premium plans unlock a range of powerful functionalities for users. These include transactional emails and SMS, advanced segmentation, contact management, a live chat tool, real-time reporting, a sales CRM, and a workflow editor.
Brevo features
Brevo offers a robust suite of features for all your marketing needs. They used to primarily focus on email marketing solutions with a small CRM which wasn't that feature-rich. After their rebranding, they're focusing on the CRM part that's only available with their premium plans.
Let's take a look at the features they offer—
Email marketing: You can send professional email campaigns with Brevo
Marketing automation: Automate your marketing workflows and customer journeys
Contact management: Organize and segment your contacts for targeted campaigns
SMS marketing: Reach your audience through text message campaigns
A/B testing: Test and optimize different variations of your marketing campaigns
Landing pages: Brevo lets you create and customize landing pages for capturing leads
E-commerce integrations: Integrate your desired e-commerce platforms to streamline your marketing efforts
Real-time analytics: Monitor campaign performance with detailed, real-time analytics
Drag-and-drop editor: Brevo offers easy-to-use marketing platform with a drag-and-drop email editor
CRM functionality (premium plans): Manage customer relationships, track sales, and automate sales processes with Brevo's premium plans
Workflow editor (premium plans): Design and automate complex marketing workflows. Comes with their premium plans.
Why do you need a Brevo alternative?
Now that we know what Brevo is and what features it offers, let's look at them from a different angle!
Brevo Pros:
Generous free plan with valuable features
Extensive email automation capabilities to streamline your marketing efforts
Multichannel marketing options, including SMS, WhatsApp, and web push notifications for a broader audience reach
Brevo Cons:
A limited selection of email templates
E-commerce features are limited in scope
Lack of e-commerce reports for comprehensive analytics
Inability to sell digital products through the platform
The free plan has a daily sending limit(300 emails/day)
Recent tests indicate lower deliverability rates
Pricing:
Free: Discover Brevo– €0/month with unlimited contacts
Starter: Ideal for growing businesses– Starting from €19/month
Business: Built for marketing managers and e-commerce pros– Starting from €49/month
Brevo Plus: For large organizations with specific needs– Custom pricing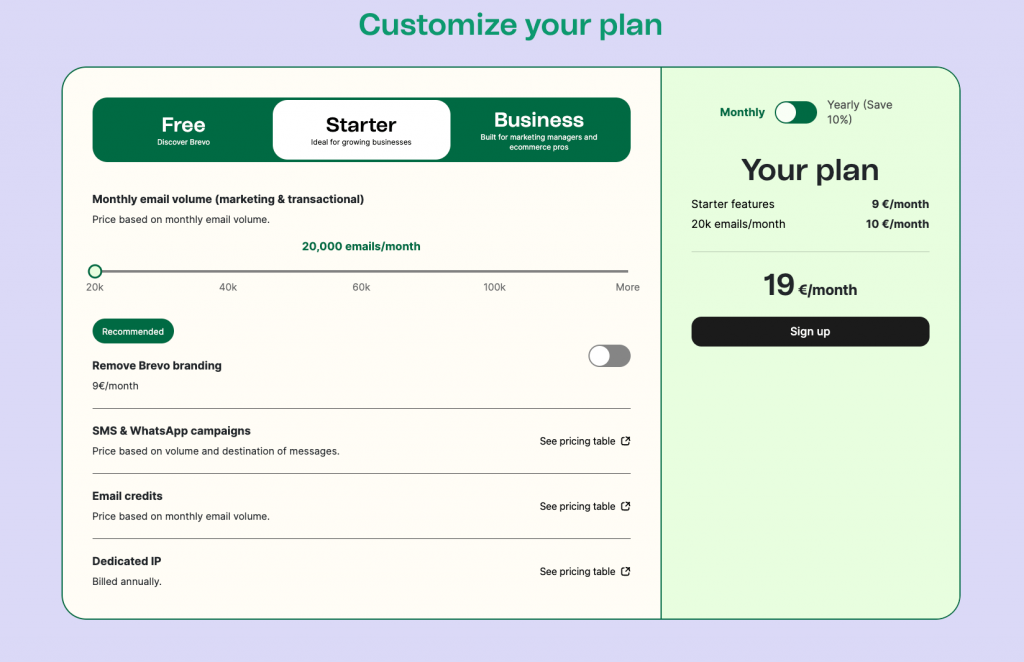 Note that, the pricing structure given above is for a maximum monthly email of 20,000 emails. Brevo's pricing plans are adjustable based on the number of emails you send per month. The price goes higher as your email volume increases.
Brevo might have its perks but it has no excuses for its lack of mobile features, steep pricing, and tiring initial setup.
Another issue you might face is the daily sending limit when you use their free plan. 300 hundred emails are often not enough to test an email tool's effectiveness nor is it enough for a casual free user.
Brevo can sometimes be slow, and its features can be costly considering it is an email marketing tool made primarily for small businesses.
Subscribe to Our Newsletter
Get email marketing tips, tutorials, and information delivered to your inbox!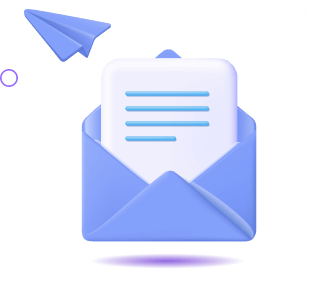 8 best Brevo alternatives
If you have no other way but to opt out of using Brevo's services, you have to look for alternatives. And to help you choose the perfect tool for all your online marketing needs, we've compiled a list of the best marketing solutions available in the market.
Let's check them out!
FluentCRM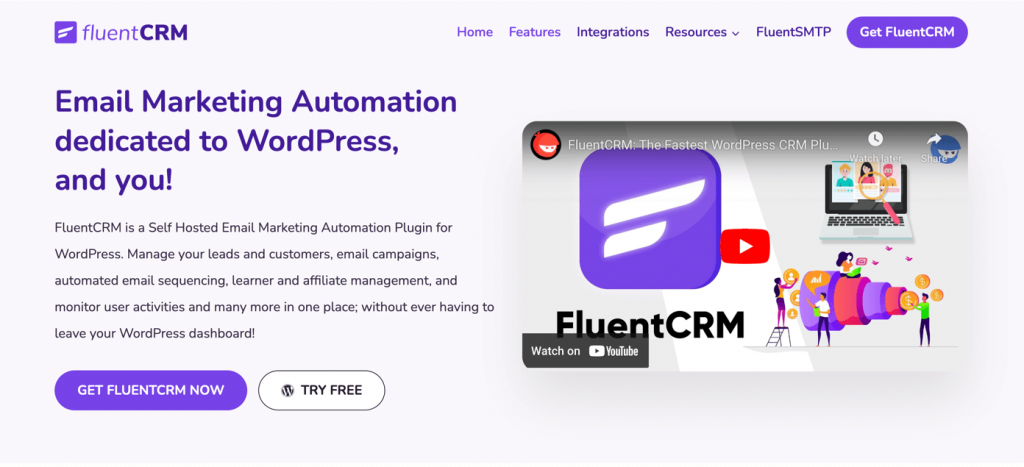 When it comes to providing value through its service, FluentCRM takes the crown. Loved by the WordPress community, it has gathered enormous love and support from both its free and pro users.
FluentCRM is a self-hosted email marketing automation and CRM plugin made for WordPress. It is currently powering over thirty thousand small to medium businesses worldwide.
The most intriguing thing about FluentCRM is its pricing. You can send unlimited emails to unlimited contacts and you only have to pay $129 a year! And no, there isn't any hidden charge or loopholes like paid add-ons.
Email marketing is just one of the many features it has up its sleeve. The plugin also offers contact management, email campaign management, contact segmentation, automated email sequencing, learner and affiliate management, user-activity monitoring, and granular reporting.
And to top it all– an excellent support team that turns customer support into an art!
FluentCRM features:
Email marketing campaigns
Marketing automation workflows
Contact organization and segmentation
Customer relationship management (CRM) functionality
Automated email sequencing
Behavioral tracking and engagement monitoring
Personalization with custom fields and tags
A/B testing for campaign optimization
Reporting and analytics for performance insights
WooCommerce integration for e-commerce tracking
Webhooks and API for seamless integration
Pricing:
Single site license: $129/yr
5-site license: $249/yr
50-site license: $399/yr
ActiveCampaign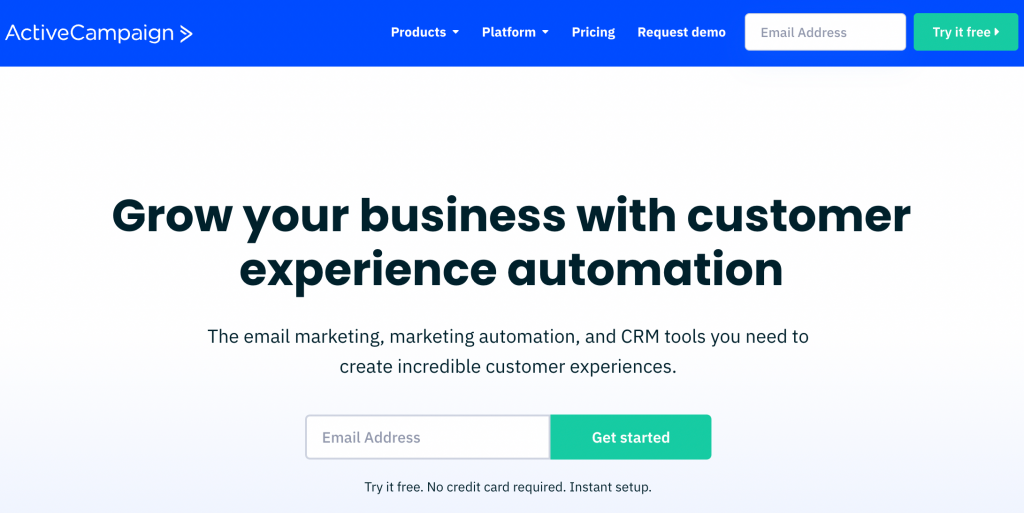 ActiveCampaign is undoubtedly one of the most popular WordPress plugins for handling email marketing effortlessly. Along with that, it's a decent CRM tool to keep track of deals, lead scoring, and automate sales engagements.
It mainly offers advanced marketing automation features. So it may not be the optimal option for people who are new to setting up complex automated workflows. That said though, it has one of the richest libraries of email templates combined with an intuitive, easy-to-use email builder.
ActiveCampaign is better suited for larger businesses that can afford a bigger budget for email marketing and are able to set up complex marketing automation. ActiveCampaign truly surpasses Brevo in the analytic department. They provide comprehensive insights into your email campaign's performance.
With detailed reports on open rate, click rate, and click-through rates, you gain a clear understanding of your campaign's effectiveness, enabling strategic decision-making for optimal results in your email marketing endeavors.
ActiveCampaign features:
Built-in CRM features
Web form and landing page builders
Industry-leading marketing automation builder
Integrates with over 850 web apps
Comprehensive analytics & reporting
Dedicated customer support team
A library of templates you can use right away
A variety of email types including standard, autoresponder, split testing, RSS triggered, and date-based
ActiveCampaign pricing:
Plus: $49/month
Professional: $149/month
Enterprise: Talk to sales.
Moosend

Moosend stands out as one of the top email marketing platforms for small and medium businesses, offering an array of features at flexible price points.
Moosend provides a user-friendly drag-and-drop editor for your emailing needs and a library of fully customizable email templates. It offers a wider range of content blocks compared to Brevo, including videos, GIFs, product blocks, and conditional visibility content, enabling you to create highly effective campaigns.
In addition to email creation, Moosend offers tools for building your email list through pop-up forms, segmenting subscribers, and personalized email content. With its automation capabilities, you can easily automate your messages using the workflow builder.
In terms of reporting, Moosend allows you to create a custom reporting dashboard, providing comprehensive insights. Its powerful A/B testing capabilities enable you to optimize your online marketing strategy.
Overall, Moosend is an excellent alternative to Brevo, empowering you to enhance lead generation, nurture your audience, and streamline your processes while keeping costs in check.
Moosend features:
Marketing automation to streamline your efforts
Integrations with CRM, eCommerce platforms, Zapier, etc.
Responsive email newsletter templates
Signup forms and landing pages to boost lead generation
Easy to use drag-and-drop editor
Email list management tool
Real-time reporting and analytics
Moosend pricing:
30 days free trial
Pro plan start for $9/mo or $7/mo in annual plan
Contact company for enterprise plan
Mailchimp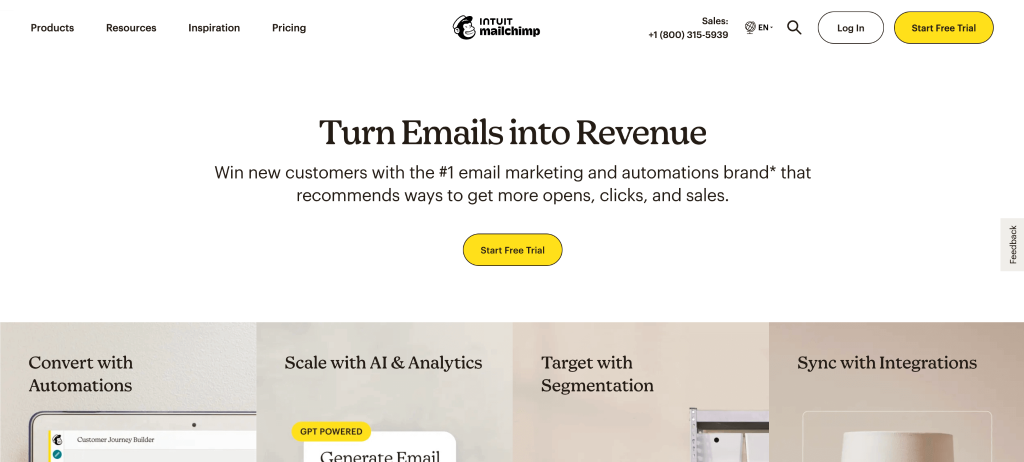 Mailchimp is one of the biggest names in the online marketing tool sector. It's a complete email marketing and automation solution offering a wide range of marketing and commerce tools all within one platform.
One of the biggest advantages of Mailchimp is that you can launch, build and grow your business —all of it under the same roof. This proves how powerful Mailchimp actually is as an automation tool.
The very thing that's an advantage to some can also be a hurdle to others though. Imagine you're new to this online marketing space and want a marketing solution for your business. You opt-in for something as feature-rich as Mailchimp, and get overwhelmed soon —eventually regretting ever choosing it.
Regardless, Mailchimp is still a pretty good alternative to Brevo offering real-time metrics, social media integration, customizable templates, and a robust suite of automation features you can use to amp up your marketing strategy.
Mailchimp features:
Pre-loaded templates and email builder
Multi-step custom workflows
API and SMTP integration for sending and tracking transactional emails
Real-time email analytics for monitoring campaign performance
Marketing automation capabilities for streamlining your marketing efforts
Mailchimp pricing:
Free version with limitations
Essential: $13/month, Free for 1 month
Standard: $20/month, Free for 1 month
Premium: $350/month
Constant Contact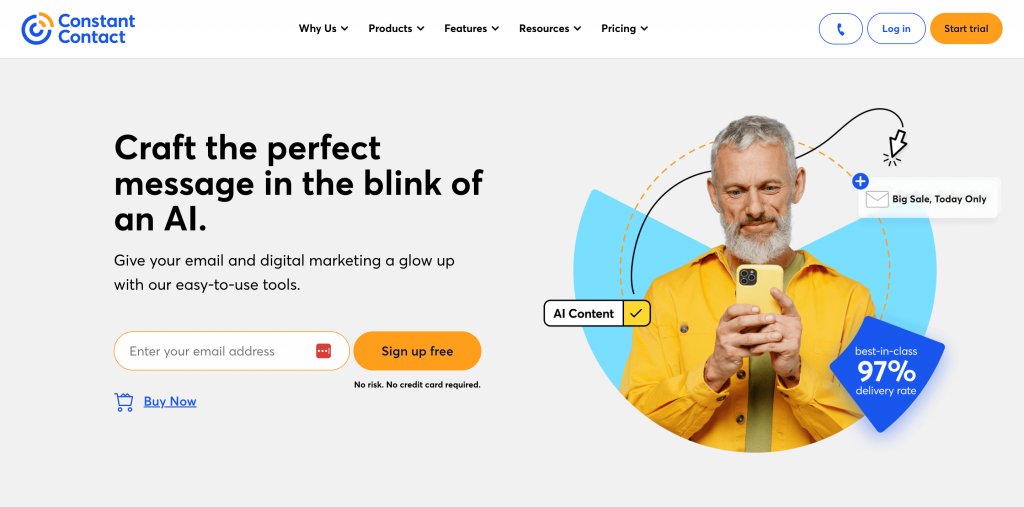 Been around from the dawn of the internet till this day, Constant Contact is an email marketing, SMS and social media marketing and marketing automation platform that powers small businesses all over the globe.
With an intuitive editor and customizable templates, users can easily create their first email campaign from Constant Contact. The platform also offers basic segmentation, personalization, and automation features to target the right audience and automate their messaging.
Where Constant Contact excels is in event management, allowing users to promote and track event performance. While it may have a smaller range of email templates compared to some alternatives, it compensates with its social media integration and simultaneous posting across platforms.
On the contrary, its automation features can be limited, and the pricing structure may not be ideal for larger contact lists.
Nonetheless, Constant Contact's all-in-one marketing solution, including features like CRM integration and a user-friendly interface, makes it a viable choice for businesses seeking a comprehensive marketing platform.
Constant Contact features:
Customer relationship management
Subject line testing
Advanced event management tool
Autoresponders
Social media management
Drag-and-drop editor
Real-time email tracking
Constant Contact pricing:
Lite for $12/month
Standard for $35/month
Premium for $80/month
Mailerlite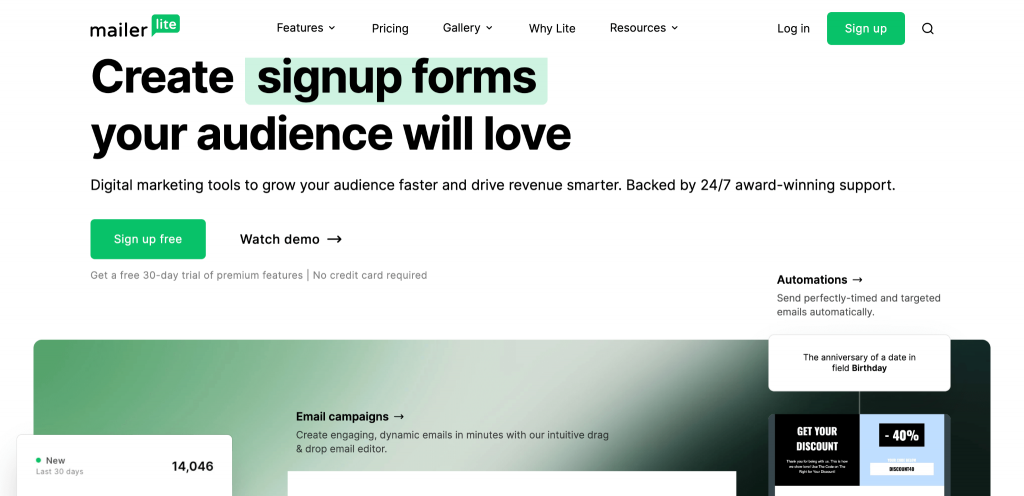 Mailerlite is a user-friendly and feature-rich email marketing and automation platform that empowers beginners and small to medium-sized businesses in their email marketing endeavors.
Within its clean and intuitive interface, the platform offers a range of powerful tools to create visually appealing and personalized emails. By utilizing the customizable templates and a drag-and-drop editor, users can easily craft professional-looking emails that reflect their brand image.
Beyond email creation, MailerLite provides essential features like automation, segmentation, A/B testing, and integration with popular eCommerce platforms, making it a comprehensive solution for running effective email marketing campaigns.
MailerLite lets you sell digital products directly from their platform. While it may not have the most advanced capabilities compared to some competitors, MailerLite's affordability, ease of use, and range of features make it an excellent choice for those seeking a powerful and user-friendly email marketing solution.
Mailerlite features:
Marketing automation
Landing page builder
A/B Testing options
Dynamic email elements like interactive blocks, surveys, countdown timers
Wide variety of professionally designed templates
Email automation, segmentation
Customization features
Ecommerce integrations
A/B split testing, autoresending
Comprehensive campaign reporting
Ready-to-connect integrations
Mailerlite pricing:
Free for up to 1,000 subscribers
Growing Business: $9/month, $108 billed yearly for 1,000+ subscribers
Advanced: $19 / month, $228 billed yearly
Enterprise: Custom pricing
GetResponse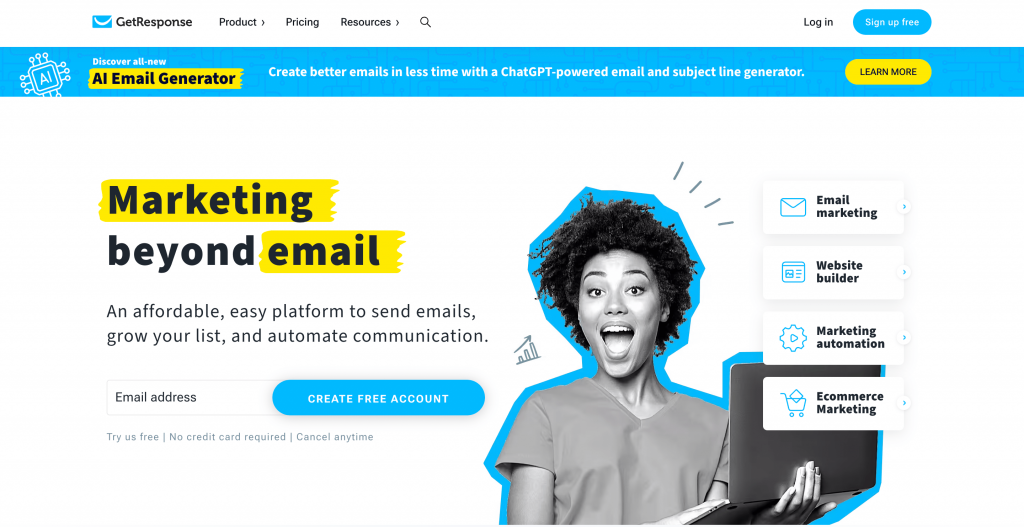 GetResponse is a versatile email marketing tool that can be a great alternative to Brevo. With its advanced features and integrated CRM tool, GetResponse provides a comprehensive solution for managing leads and boosting conversions.
It offers a ton of customization options which allows you to tailor your marketing efforts to perfection. The intuitive email builder makes it easy for users to create compelling emails ensuring a seamless email marketing experience.
One of its standout features is their landing page creator that lets you create SEO-optimized landing pages from scratch. It also offers basic segmentation features and a basic CRM tool for managing customer data.
Furthermore, GetResponse offers a suite of marketing automation tools that streamlines complex workflows and automates repetitive tasks, saving time and effort. Note that marketing automation tools and advanced segmentation options require paid plans.
Finally, with GetResponse, businesses can unlock the full potential of their email marketing campaigns by harnessing the power of advanced features, customizable templates, and comprehensive reporting to drive engagement and achieve their marketing goals.
GetResponse features:
Email marketing
Autoresponders
Landing pages
Marketing automation
SMS marketing
Web push notifications
Conversion funnel
Live chats
Ecommerce integration
Popups and forms
GetResponse pricing:
Free plan: (up to 500 contacts)
Email marketing: $19/month, billed annually (up to 1,000 contacts)
Marketing Automation plan: $59/month, billed annually (up to 1,000 contacts)
Ecommerce Marketing plan: $119/month, billed annually (up to 1,000 contacts)
Custom solution: Starts at $749/month
AWeber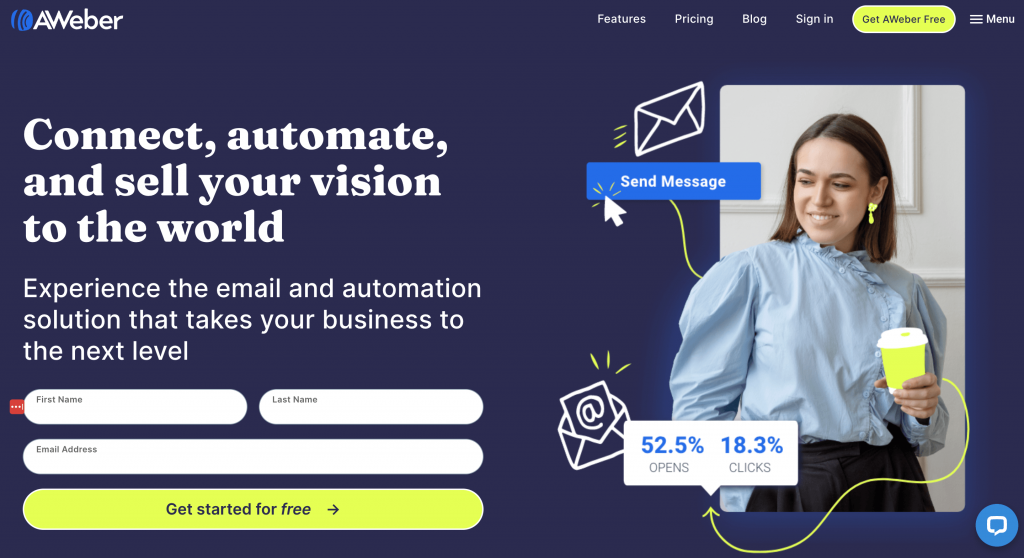 In our list of great Brevo alternatives, last but not least is AWeber. It's a cross-device, overall versatile email marketing and automation solution.
It supports A/B testing across devices and clients so you can make sure your email looks squeaky-clean and deliverable across devices and email clients.
AWeber's intuitive drag-and-drop email editor enables you to effortlessly design visually stunning and professional email campaigns. With customizable templates and a vast library of stock images, you can create emails that align with your brand and capture your audience's attention.
AWeber lets you create dynamic segments, ensuring you deliver highly personalized content to the right people at the right time. The automation workflow it offers enables you to nurture leads, build relationships, and drive conversions on autopilot, allowing you to focus on other important aspects of your business.
Whether you're a beginner or an experienced marketer, AWeber provides the right tools for you to thrive in your email marketing endeavors.
AWeber features:
Email marketing
Email automation
Landing page builder
E-commerce integration
Web push notifications
Sign-up form builder
AWeber pricing:
Free for 500 subscribers
Lite plan for $12.50/month
Plus plan for $20/month
Unlimited for $899/month
Final Verdict: Which is the best Brevo alternative?
While Brevo has been a reliable marketing automation platform for many, exploring alternatives allows you to discover new features and functionalities that align better with your specific marketing goals and budget. Each of the alternatives brings its unique strengths to help businesses create engaging email campaigns, automate workflows, and drive better results.
But if we take the major two aspects, price and features into consideration, FluentCRM will be our suggestion. You can try out this plugin for free and there's no limit to how many emails you can send using the free version. And the pro version is undoubtedly the chepeast compared to others.
Try Our Free Marketing Automation Plugin
Download our marketing automation plugin and start sending automated emails FREE!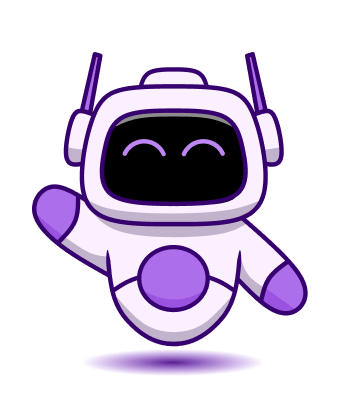 Don't forget to comment about any other tool that you think we should keep in the list. Our ultimate goal is to make email marketing easier for people, and hopefully, this blog served the purpose.