12 Product Launch Email Examples to Nail Your Next Product Launch Campaign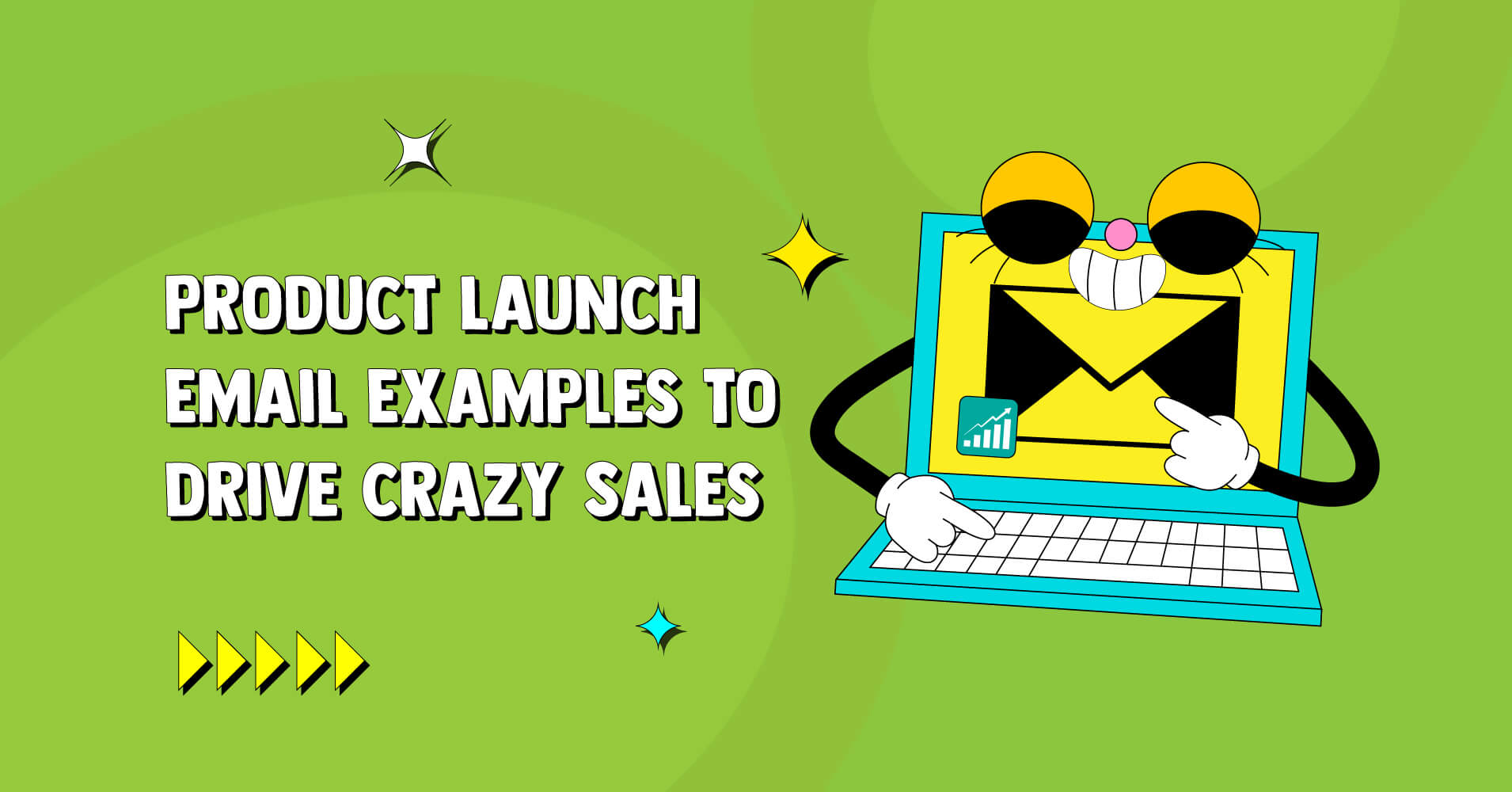 Product launches can be both exhilarating and challenging. But, at the same time, it is essential to draw attention to your new product in order to drive sales.
This is where product launch emails come in. Product launch emails inform customers about an upcoming new product or service and drive massive initial sales.
However, crafting a product launch email can be challenging. Most businesses fail to understand its importance and usually end up with a poor ROI.
Email inboxes are overflowing with a ton of emails these days. So, you need to come up with something truly special to stand a chance. And in this article, we'll be discussing the best practices to create successful product launch emails.
Plus, we'll analyze some of the best product launch email examples to find out what works and what doesn't.
So let's begin!
What is a product launch email?
A product launch email is an email sent by a brand or business to its email subscribers or customers in order to inform them about their upcoming new product or service.
The goal of a product announcement email is to notify the recipients about the latest product release, upcoming features, and updates. It serves as a great approach to build anticipation, generate excitement, and encourage the recipients to take action to buy your product or service.
Since customers anticipate new products and product updates, a successful product announcement email can generate massive sales and revenue. All you need to do is introduce your new product or service aligning with the value received by the user.
Benefits of sending product launch emails
A great product announcement email can be a driving force to draw interest in your product or service and can generate a massive sales opportunity.
When you send a product announcement email to your subscribers, you're taking the first shot at impressing the recipient. And if you're successful in convincing the recipient and interpreting the value they are going to receive from your product or service, it can yield the following benefits:
It helps to generate a buzz toward your brand and upcoming product release so that more people become attracted to your brand
It helps to increase the chance of sales and conversion, converting leads into paying customers
It helps spread the word via word-of-mouth marketing and boosts brand advocacy
It helps to improve the quality of the product or service from customer feedback during the initial product development stage
It helps to use data and analytics from the current product launch campaign to improve future marketing strategies
Types of product launch emails
The objective of every product announcement email is the same, introducing your new product or service to the recipient and generating demand. It's a long chain of consecutive stages and each stage means you are driving your recipient toward the ultimate goal.
When you're running a product announcement campaign, you should align it with your marketing strategy. Thus, the types of emails you send will greatly depend on the stage of your product announcement.
Following are the types of product announcement emails crafted by businesses, each reflecting a distinctive motive:
Beta version testing email: This email is sent to identify the population who will use the earlier release of a product and share their feedback to improve its current state
Product teaser email: This kind of email is sent to 'tease' the product to the audience and build anticipation around it
Product release email: This email is sent to share insights and information about the new product or new version release
Feature declaration email: This email is sent to introduce new features of the upcoming product or what value is added to the improved version of the existing product
Pre-order email: This email is sent to motivate your potential customer to place an order before launching the product officially
Event invitation email: This email is sent to invite audiences to online events such as webinars, special releases, etc.
Product version launch email: This email is sent to create a sense of urgency for the limited edition of the product.
Future sales email: This email is sent to inform the recipient about the upcoming commencement of a sale —mostly to create a sense of urgency in the readers' minds
Best product launch email writing strategies
A product announcement email is an effective approach to get your audience's attention before officially launching your upcoming product.
Every product announcement email is distinctive based on the goal and outcome and multiple actions are required to design a compelling copy that'll meet your goal. So, you should clearly define a detailed roadmap, set a schedule to execute your plans, and be prepared to interact with your audience when required.
Don't worry. We'll be covering all the important stages of a successful product announcement email in this section.
Define the purpose
Are you announcing a new product or feature, promoting an exclusive offer, or inviting the recipients to an event launch?
A clearly defined objective will help you to align your email content with it. So, identify the purpose of your product launch email and make sure it aligns with your product's vision.
Plan a schedule
Sending one or two emails won't make your product announcement campaign successful. Instead, sending successive emails in the right sequence is the key. So, plan a schedule for your future emails.
Here's the sequence of emails you can follow to nurture your potential customer and drive them to make a buying decision:
Expectation-building message: Start circulating the buzzword about your new release about 10-14 days before the launch. Don't spread too much information. It'll help you to develop a sense of anticipation in people's minds and they will be craving for what's coming.
Product arrival message: After successfully planting the seed of expectation, next, you need to inform them about the expected release date. Consider sending a reminder 7 days before the release and inform when your product is going to be launched. You can also include pictures, information regarding the features, and pre-order guidelines.
Release day message: It's the launch day, the long wait is over and the product is ready to be sold. Be passionate while delivering your message to your audience, and encourage them to buy the product through your message.
Follow-up message: If you observe a slow response or fewer orders than expected, then send one or two ICYMI (In Case You Missed It) emails to the segment of your audience who are yet to make an action.
Craft a captivating subject line
The subject line is the ambassador of your email, or you can say the magnet that's going to attract your recipient into the email body. But how to create a magnetic subject line?
Follow these tips to write a killer subject line:
Keep your subject line concise and to the point, generally six to ten words
Make it relevant and compelling, aligned with the email body
Use power words to trigger the recipient to take prompt action
Ask questions to draw the recipient into the email body
Infuse personalization to create an emotional resonance
Dive into this article for some product launch email subject line inspirations
Write a compelling headline
Create a transparent and persuasive headline that immediately captures the recipients' interest and communicates the value proposition of your product. Instead of focusing on what your product can do, tell them what value they will receive from the product.
For example, if you're selling a course on SEO, the headline can be as simple as Start Getting More Traffic on Your Website.
Design a visually attractive layout
A visually appealing layout can help you to introduce your brand and build brand awareness. And your email can be the right tool to do so. Follow these tips to design a visually attractive layout:
Incorporate your brand fonts, colors, and imagery to create a unique appearance
Ensure your email is easily scannable having clear sections and a hierarchy
Compose intriguing content
Keep your message intriguing enough to guide the reader to the product page. Follow email copywriting best practices to persuasively demonstrate the value they will receive by using your product.
Showcase your product
Don't forget to showcase your product in the product arrival message. It will help you to build anticipation toward your product and generate a sense of eagerness. Follow these tips to showcase your product:
Use high-quality photos, animated graphics, and videos to capture your readers' attention
Define the value generated for the end user
Deliver important details of your product
Highlight the features and benefits of the product
Showcase customer reviews and testimonials
Including customer reviews and testimonials is a proven approach to building credibility and trust. Exhibiting positive feedback from satisfied customers will build authority for your brand, influencing the recipient to make purchasing decisions.
If you're having a hard time getting product reviews and feedback, there are some clever ways to ask customer for reviews.
Include CTA
A powerful CTA can entice the reader to take action and meet your expected conversion. Follow these tips to include a strong CTA in the email:
Make a short and catchy CTA
Focus on only one single CTA
Insert multiple CTA buttons
Use vivid color composition to make your CTA stand out
12 product launch email examples to conquer your next product launch
Writing a product launch email is exciting and delightful when you have mastered the strategies for crafting a converting copy. The message you deliver to your audience will greatly depend on your goal and the relationship stage of your prospective customers.
Below we've compiled a list of 12 excellent product launch email examples that worked in the past and analyzed various aspects of those emails. We believe that you'll get the necessary inspiration and direction from these emails to compose your next product launch email the right way.
Let's get started!
Netflix – Upcoming new series announcement
Suppose you are providing a subscription-based book service and new books are arriving in your inventory this month. But how to inform your subscribers about it?
Don't worry. Netflix can be an inspiration for you.
Netflix is a subscription-based streaming service that offers its users to watch TV shows and Movies on demand. When a new series is about to arrive in their directory, Netflix designed an attractive email to grab the attention of the recipient and drive them to the product page.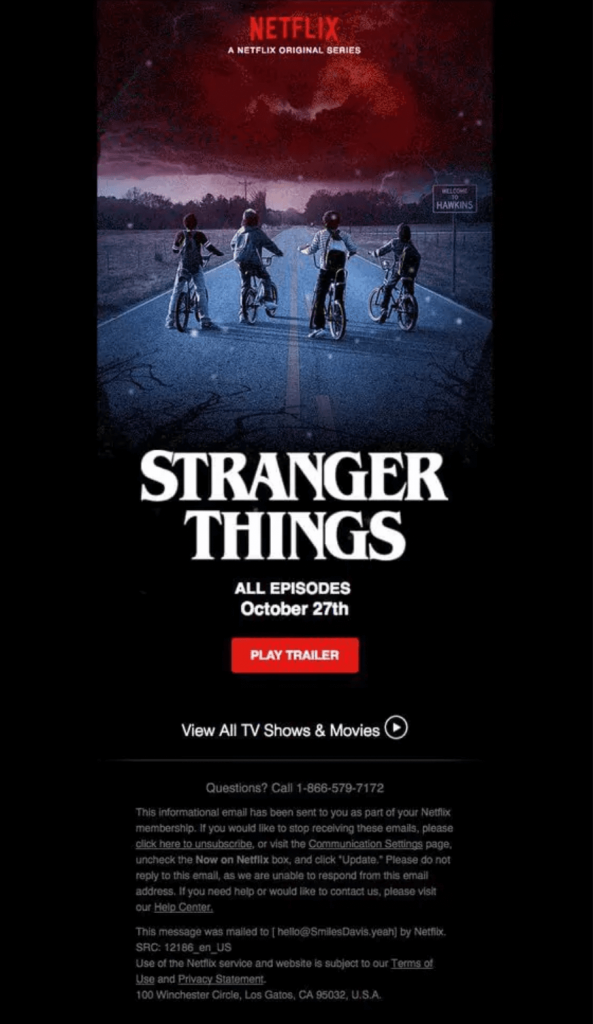 Type: Product release email
What makes it great:
Netflix used a simple image and title to keep the message short and to the point
They didn't forget to attach the exact product release date
They cleverly used an exciting image to propel the reader's imagination to go mad
The email comes with a visually engaging CTA – "Play Trailer" which acts as a teaser and persuades the reader to the product page
They have also used a soft CTA which invites the reader to explore more of their inventory
Google – Google Pixel 4a launch
Think of owning a tech-gadget business and launching a new gadget. How can you convince your potential customers to buy?
Let's see how the big G has done it!
Google Pixel is a smartphone series developed by Google —powered by its own chipset and operating system. When another member was about to join the series of smartphones, Google asked the recipient for a pre-order highlighting the remarkable features.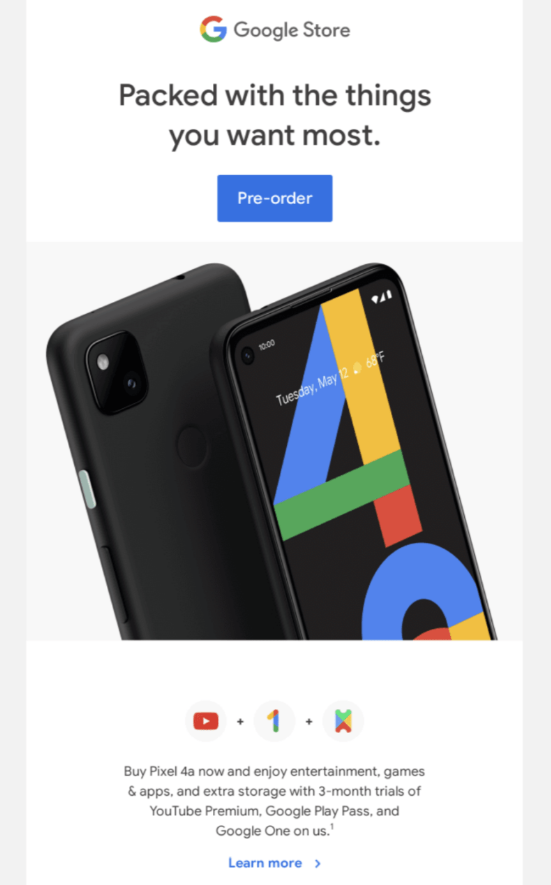 Type: Pre-order email
What makes this special:
The email starts by introducing the customer's pain points and a strong CTA —Pre-order
The compelling product image entices the reader to click the CTA —Learn More, landing the reader on the product page
Google highlighted the outstanding features of the upcoming device, persuading the reader to buy
Grammarly – New feature announcement
Suppose you have added new features to your existing SaaS product, how should you let them know?
Take Grammarly for example.
Grammarly is an American cloud-based typing assistant which helps its users to write correctly and confidently. When they added some new features to their existing product, they decided to inform their audience in style.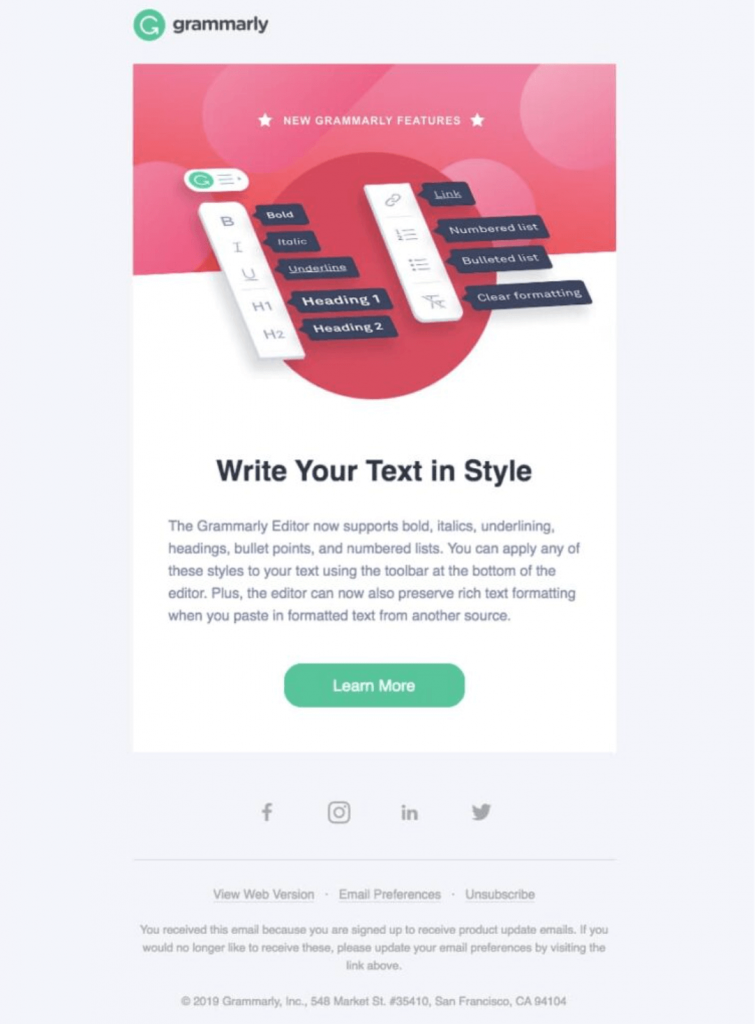 Type: Feature announcement email
What makes this email excellent:
Grammarly starts directly from the main point- NEW GRAMMARLY FEATURE, enticing the reader to go forward
It keeps the message clear and concise, making it easier for the reader to digest
The email consists of top-notch infographics, exhibiting the new features clearly
The email keeps persuasive language bold and colorful to grab the attention
Grammarly didn't forget to add their brand color in the right texture
The email ends with a strong and vivid CTA- Learn More, encouraging the reader to explore new features in detail
Figma – New product release email
Suppose you have developed a cloud-based data management software allowing users to store, access, and manage their files and now you want to inform your target audience. Figma can be an example for you.
Figma is a cloud-based design tool for interface design. when they developed their first Figma plugins that automate work, bring in real data, flag errors, or help to build the user their own plugin, they designed an informative and eye catchy email.

Type: Product release & Event invitation email
What makes this email compelling:
Figma starts the email with a powerful message —Special Announcement, which instantly grabs the recipient's attention
The email can be divided into five blocks with helpful information and links
They didn't forget to write a short introduction about the product
The email clearly defined the value proposition to the reader
They also invited the reader to the product announcement event
Boosted – Product teaser email
Running a fashion brand and releasing something stylish to revolutionize the wardrobe. Boosted shows how you can tease it before officially announcing.
Boosted was an American company that was responsible for manufacturing electric skateboards and electric scooters. It crafted a teasing email to build a sense of eagerness in the recipient's mind on their upcoming product.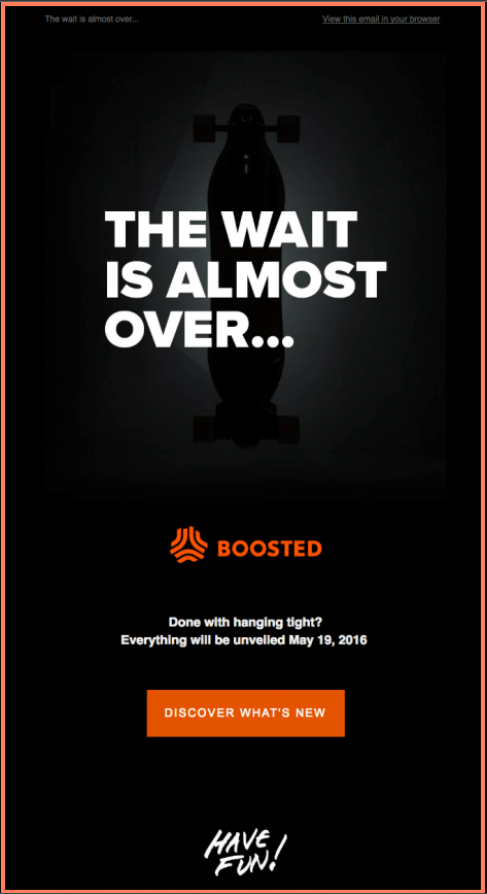 Type: Product teaser email
What makes this special:
Boosted begins with an intriguing and exciting message- THE WAIT IS ALMOST OVER, building anticipation in the reader's mind
The email comes with a minimal design, incorporating the brand
The tone of the email is on a friendly level
The email mentions the exact release date
A vivid CTA- DISCOVER WHAT'S NEW, provokes the reader to the product page
Designmodo – Promotional product launch email
Suppose you're a design agency and you have a new collection of postcards that you want to announce. This is a comparatively difficult chore for most businesses.
But not for Designmodo!
Designmodo is responsible for creating amazing and engaging websites and email newsletters for your subscribers and customers. They crafted a promotional email for their new product and invited the recipients to check it out in an exceptional way.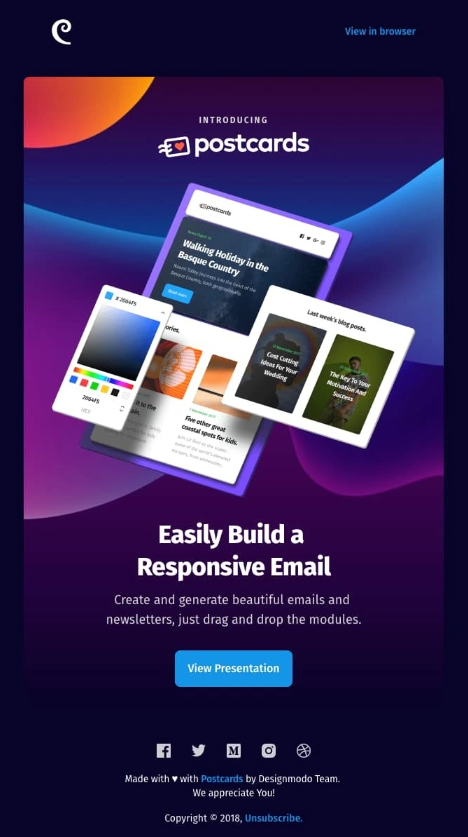 Type: Digital product release email
What makes this an excellent product launch email:
The email starts with a clear message- "INTRODUCING postcards", instantly informing the reader about a new product
Designmodo uses an eye-catchy image to demonstrate the product perfectly
The email body clearly defines the new product as user-friendly
It ends with a compelling CTA- View Presentation, to learn more about the upcoming product
Havenly – Coming soon email
Suppose you are running a restaurant business and something new is arriving in the kitchen. You want to inform your customers about it but don't want to spoil the surprise.
Let's take some ideas from Havenly.
Havenly is an online-based interior design service that connects people with professional interior designers. Havenly cooks an intriguing email to inform the recipients about a new service but keeps it a secret. This helps Havenly to keep the audience guessing and awaiting eagerly.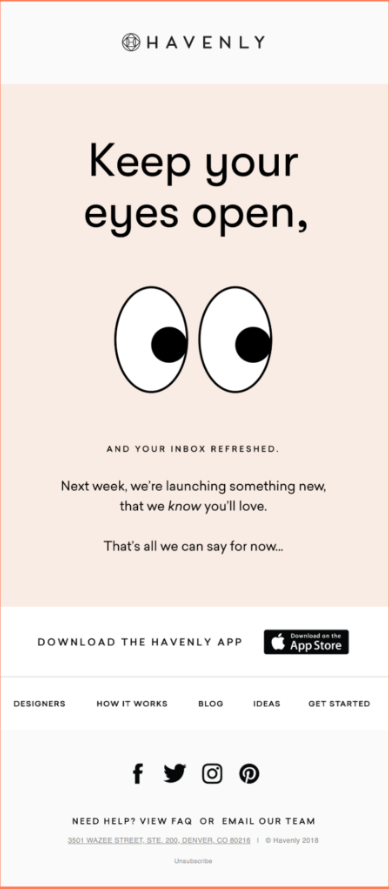 Type: Product release email
What makes this an excellent email:
Havenly uses an inescapable image, immediately grabbing the reader's attention
The intriguing text keeps the message mysterious and builds imagination in the reader's mind
The pre-act CTA acts as an effective medium to inform the recipients about the new service
FigJam – New product release email
You have worked day and night to develop a new software and now you want to share the exciting news. How can you introduce it and its features?
Let's look at the product release email from FigJam.
FigJam is a robust brainstorming software empowering team members to collaborate and build better products. When they started developing online-based brainstorming software, they wanted to share this exhilarating news in a special way.

Type: Product release email
What makes this an excellent email:
FigJam starts the email with- Say hello to FigJam, directly pointing at the new software
They inserted the CTA- Start jamming at the beginning, inviting the reader to the product page
The email clearly defines the value proposition to the reader
Effective design helps the reader to understand the features
They didn't forget to add links to all the features, providing more information
Additional links are provided to their webinar keynote and blogs
Billie – New product introduction email
Here comes another product introduction email from a style brand.
Billie is a subscription-based razor company providing high-quality razors for women at affordable prices. When they launched another high-quality razor blade, they decided to go with the template below:

Type: Product release email
What makes this an excellent email:
Billie starts the email with the message- "MEET OUR NEWEST COLOR: Glow", ideally sparking the climax
The texts and images of the email keep the suspense alive
The images of the glowing razor functioning inform the reader how it works
The neon green CTA- "Get Glow", perfectly reflects the color of the new product and invites the reader to the product page
Apple – New product launch
Tech products are often harder to market. And when you launch expensive products like iMac, you need to come up with something very special!
Let's take some tips from Apple.
Apple crafts an enthralling email for their latest product iMac Pro and perfectly demonstrates the mighty features of their product.

Type: Product release email
What makes this an excellent email:
Apple starts the email with a powerful title- "The most powerful Mac ever is here", instantly catching the reader's attention
Apple didn't hesitate to place a persuading CTA —Configure, right after announcing the new product
The email comes with alluring images of the iMac Pro inspiring the reader to take action
Apple keeps the product features concise and mysterious
A Kids Co. – New books release email
You have a furniture and home decor business and some aesthetic furniture is arriving in your catalog. Want to inform your potential customers and generate demand for future sales?
A Kids Co. did it well!
A Kids Co. is a kids' media company working enthusiastically to empower the future generation through diverse stories. 12 new ebooks are coming soon in the inventory and Kids Co. informs the subscribers and encourages them to pre-order.

Type: Product release email
What makes this an excellent email:
A Kids Co. starts the message with the title 12 New Books Are coming soon! —a bold announcement to entice the reader
The aesthetic design and alluring information of the upcoming books help to compel the reader
The black color CTA —CHECK OUT THE NEWEST BOOKS, invites the reader to explore more of the new books
They inserted another CTA- PREORDER AND SAVE, at the end of the email, inviting the reader to go for a preorder with a 20% discount
Framer – Brand-new platform announcement
Suppose you own a software development company and you have developed photo editing software. You want to announce it to your subscribers with a direct CTA and drive them to the product page. How to do that?
Let's take some tips from Framer.
Framer is a powerful design tool used to create stunning designs for websites and prototyping. They announces the arrival of its new version with a minimalist email and a direct CTA.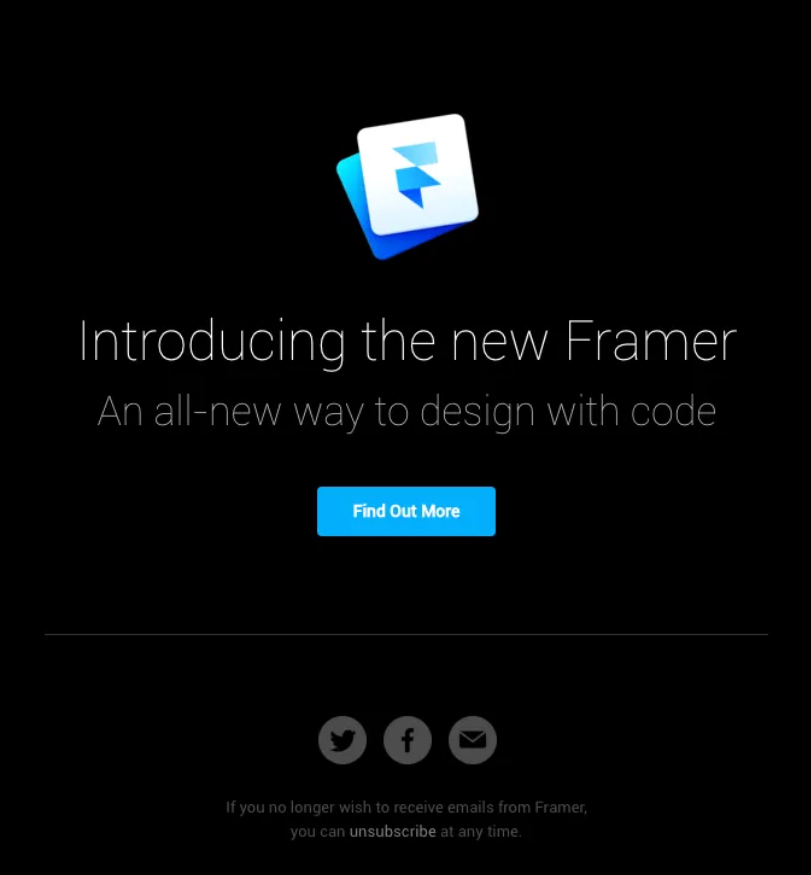 Type: Product release email
What makes this great:
Framer starts the email with the title – Introducing the new Framer, influencing the imagination to go mad
The email comes with a simple and minimalistic design
Framer employed a clear and straight CTA- Find Out More, inviting the reader to the product page
Launch your new products in style
Writing and designing a compelling and sales-oriented product launch email might be a hard nut to crack. But when you take a smart and strategic approach things become easier and fun.
In fact, it's a great opportunity to connect with your future customers.
Hopefully, with all the inspiration from great companies, you'll be able to write great product launch emails. We wish you all the best on your next product launch and hope your sales and revenue skyrocket!