FluentCRM Year in Review 2021 – The First of Many!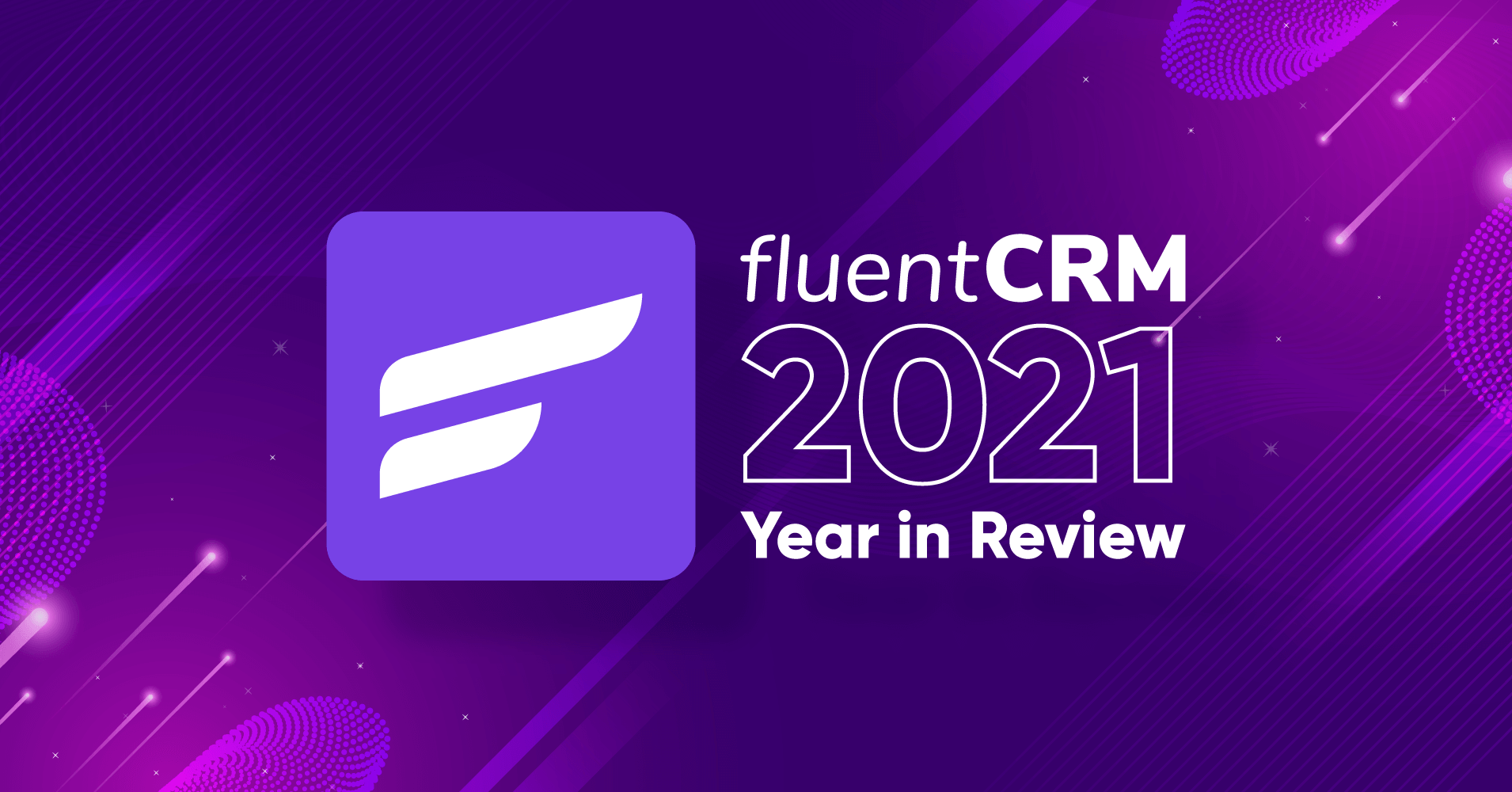 2021 will be remembered as a year of getting back to normal life. Although people were still suffering from the last year's pandemic, it seems like things are getting better with every passing day.
For us – the FluentCRM team, It feels like we released FluentCRM yesterday, and now it's more than a year old! Yes, we celebrated FluentCRM's anniversary a few days ago. And we couldn't be happier with what the plugin has been bringing to both the WordPress community and our company!
By the time I'm writing this post, FluentCRM has already grown as one of our top products at WPManageNinja. And I'm sure you'd love to read how 2021 went for FluentCRM!
So without further ado, let's begin FluentCRM Year in Review 2021!
The highlights
Although there were things we would have loved to have achieved by the end of the year, 2021 has been an incredibly successful year for FluentCRM. And we are more than happy with what we've achieved so far.
Here's the highlight:
According to the WordPress repository, FluentCRM is powering 10,000+ businesses (the actual number is higher than the number shown on WordPress.org)
FluentCRM has a 100% 5-star rating record among 69 reviews it received to date
The plugin is now contributing 20% of our annual revenue. That's just behind our most popular products – Fluent Forms and Ninja Tables
Our free SMTP plugin – FluentSMTP, is now powering 50,000+ websites.
Throughout the year, we released 23 major and minor updates for FluentCRM.
We have a community of 3,800+ fantastic users who help each other every day
18+ integrations with popular plugins and services
Now that you know what an incredible year this has been for FluentCRM, you might be wondering how and why all this happened.
Redefining email marketing on WordPress
Email marketing is something every business needs. Sure, social media marketing does a great job of finding new prospects, but email marketing "simply works!"
Previously, email marketing on WordPress was all about setting up some simple autoresponders and email notifications. But today's email marketing requires personalization. And of course, campaigns, automation— to feel more human, to establish a direct connection between a business and its customers. As a result, most WordPress users were forced to use external email marketing platforms.
That's where FluentCRM comes in. It's an email marketing automation tool with unlimited possibilities. So you're not limited to abandoned cart emails of form submission notifications anymore.
FluentCRM brought in email marketing within your favorite CMS platform— WordPress. This enables you to connect all your day-to-day tools without complications or pricey add-ons.
That's how FluentCRM redefined email marketing on WordPress. And I think that's why it became so popular within such a short time.
Replacing expensive CRM's and email marketing platforms
When you think about using a CRM system or email marketing tool, most of them allow you to start for free. But once you cross the free limit, they start charging you based on the number of contacts. You'll even need paid add-ons to run these platforms!
As a result, you start spending way more on email marketing suddenly. This is where FluentCRM changes the game. Because it's self-hosted, there's no need to care about how many contacts you're storing or how many emails you're sending.
If you have a lot of contacts, this can cut your email marketing costs by up to 90% while you retain all the features at an incredibly affordable price. We have onboarded thousands of users from other platforms, and we're thrilled to have them with us.
Constant development is the key
Two things make us unique as a WordPress plugin development company.
We listen to our users, and we try to deliver.
We develop products rapidly and consistently.
That's why even after releasing two new products, we were able to produce 23 major and minor product updates for FluentCRM.
Not to mention, our free SMTP product— FluentSMTP users, also received 8 major and minor product updates!
So far, we have developed tons of features and integrations for FluentCRM users. Here's a list of some excellent features and integrations we developed throughout this year:
Automation conditional logic: This helps you create different branches and automate necessary actions based on if/else condition inside the visual automation builder.
Automation stage analytics: This helps you analyze each stage of automation to see how contacts are moving through each stage of the funnel.
New integrations: WishList, MemberPress, TutorLMS, Elementor Forms, MailOptin, Restrict Content Pro, Uncanny Automator, Divi, Presto Player, Oxygen Builder, BuddyBoss, ThriveCart, LearnPress, Fluent Support
Flexible tagging meta box for many integrated plugins: This will help you easily set up tagging rules when you're inside an integrated plugin. For example, you can set up which tag to apply when someone purchases a product within the WooCommerce product editor dashboard.
Fluent Connect: A free plugin that'll help you easily integrate with other applications. Currently, this works with ThriveCart. Soon it will support other platforms.
Outgoing webhooks: Helps you easily integrate FluentCRM with other webhook receivers and send FluentCRM data into any platform.
Contact importer: We have added a built-in contact importer for many integrated plugins like Learndash, LifterLMS, BuddyBoss, Paid Memberships Pro, WishList, Restrict Content Pro, etc. With this, bringing in your existing contacts to FluentCRM is a piece of cake.
New triggers for integrated plugins: For events that happened in the newly integrated plugins, we have added triggers through which you can initiate automation.
New actions for automating tasks: We have added several new actions for automation. These include creating WordPress users, updating contact property, adding notes to contact profiles, changing a WooCommerce order, etc.
Post-campaign actions: With post-campaign actions, you can apply tags to contact based on conditions such as email open or link click.
Smartlinks: Smartlinks helps you assign or remove tags to contacts based on link clicks.
Conditional content(For Gutenberg and Oxygen Builder): This helps you show/hide a section of your website based on tags
Conditional content block: This allows you to compose an email for all your contacts but display different email bodies based on tags.
There are tons of other features that we'd have liked to mention. If you want to read about all of the updates we've been rolling out, simply check our release notes.
This is why people trust us to develop and continue improving excellent products. And we plan to keep it that way!
Support is just as important as development
Support has always been one of the strongest sides of WPManageNinja and FluentCRM. In fact we were so obsessed with providing better support that we produced a support plugin when our previous support system wasn't working well for us!
We hired several technical experts last year, which continued this year. Our support team's expansion helped us take our support to the next level. Our technical experts have been solving issues within 8-12 hours throughout the year. Not just that, many of our team members take part in user communities on Facebook and help solve people's issues.
Although FluentCRM is an easy-to-use tool, it's not unusual to get stuck. But our support team ensured they didn't just get back to each issue in time but also solved them by going even beyond their scope!
"User-first" content marketing
"Should we write for people or search engines?"— this is where many content marketing teams get stuck.
Although most people know that content should be written for the users and not search engines, they usually opt for the second.
But that's not how we do content marketing at WPManageNinja and FluentCRM.
From the beginning, we are fully committed to providing value for the users, not by feeding junk to the search engines that people do not really care about. This is why we've been publishing user-requested tutorials and youtube video's as much as possible.
We made a promise to make email marketing easy and affordable for everyone. And the promise won't be fulfilled if we don't invest everything into our user's demands.
Want our excellent newsletters and videos?
Subscribe to our blog!
Our invaluable asset: a wonderful user community!
FluentCRM is just above a year old. We never placed any advertisements on Google or social media platforms in the hope of getting some leads or customers.
Frankly speaking, building customer relationships is no joke. It takes years to build a great product, and it takes even more to build a loyal fan base. Yet, FluentCRM is powering more than ten thousand businesses and has won competitions like Torque Plugin Madness and THE WP AWARDS.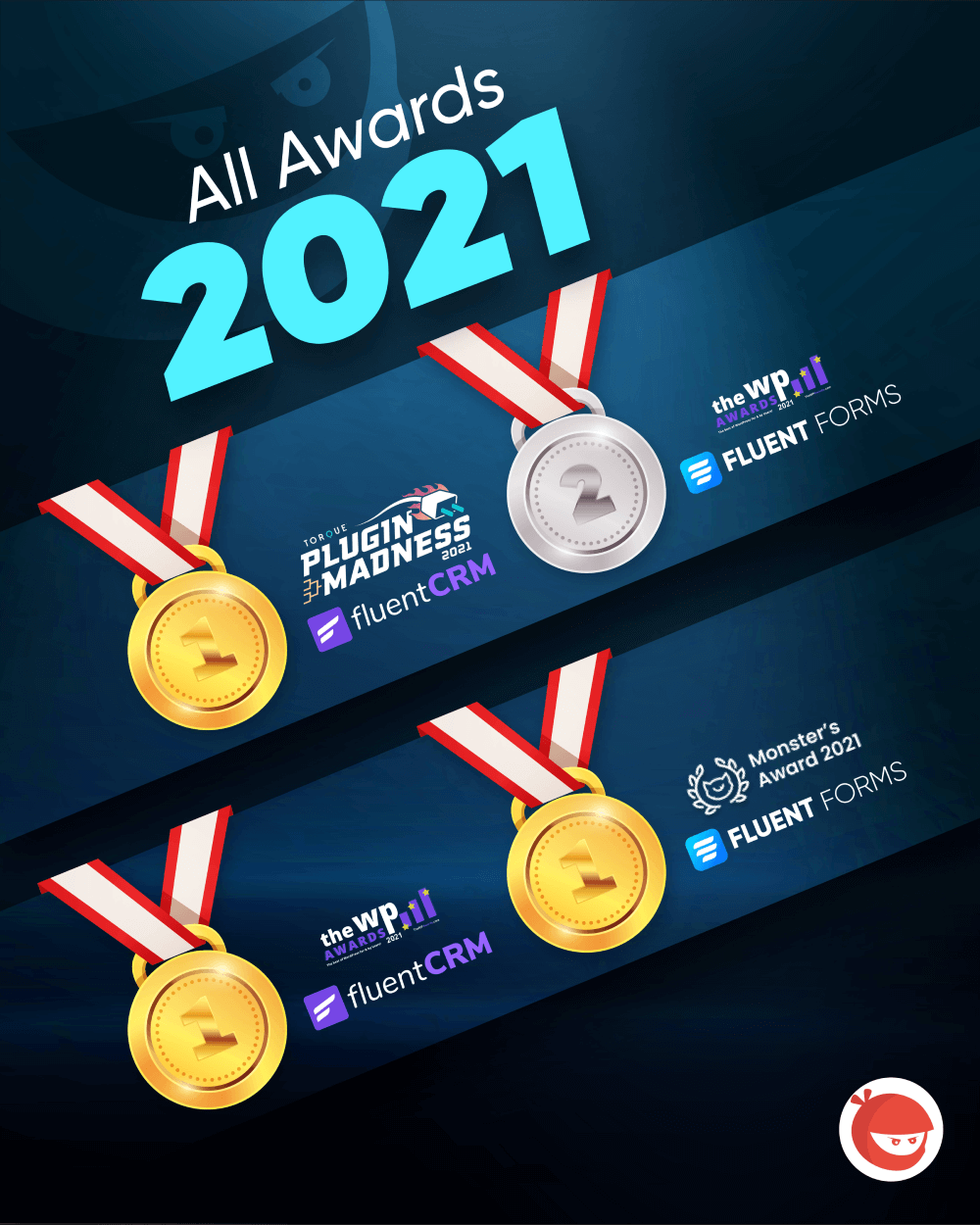 None of these would be possible without you— our wonderful user community. Thanks for being with us and trusting us as your favorite email marketing automation tool!
Getting more powerful with integration partners
A CRM or email marketing tool is usually a simple software that lets you track your customers and automate some tasks. Put it together with the tools you use, and you'll find out the true potential of that tool.
FluentCRM is no different. With every new integration, it gets more powerful as a software.
Although we are constantly working on new features and integrations, it's nice to see many companies are working on a built-in FluentCRM integration on their product. It shows what an incredible product we've put in the community.
As plugin developers, we try to make lives easy for users. And that's what is happening when our integration partners build a FluentCRM integration.
So we'd like to take this moment to thank our integration partners who've put in their time and effort to building FluentCRM integrations:
OptimizePress
AutomatorWP
Convert Pro
GamiPress
ThriveThemes
Convert Box
SyncSpyder
A contribution to the community – FluentSMTP
An SMTP plugin was something we promised when we released FluentCRM back in October 2020. Although we announced that only FluentCRM users would get FluentSMTP for free, our existing products — FluentCRM, Fluent Forms, and WPPayForm requires the involvement of an SMTP plugin to send out marketing emails and email notifications correctly.
FluentSMTP has all the features and even more than what a premium plugin in the market could offer. But because it is a crucial tool for all our plugins, we released it as an open-source, forever-free plugin!
No wonder, FluentSMTP became one of our top products in no time at all. And the fact it is now powering 50000+ websites shows how eagerly people have been waiting for such a fantastic solution!
This is just the beginning
So that concludes it. I tried to keep it short but got carried away by many interesting facts. 2021 has been an excellent year that we can't stop talking about it.
But this is just the beginning. We have some excellent plans for the upcoming year, which have already begun. So in 2022, you can expect even more from us, not just for product development but also for providing you with more value through our efforts.
Before wrapping up, I would like to thank you for being with us and wish you advanced greetings for Christmas and New Year.