7 Best Free and Premium Opt-in Plugins for WordPress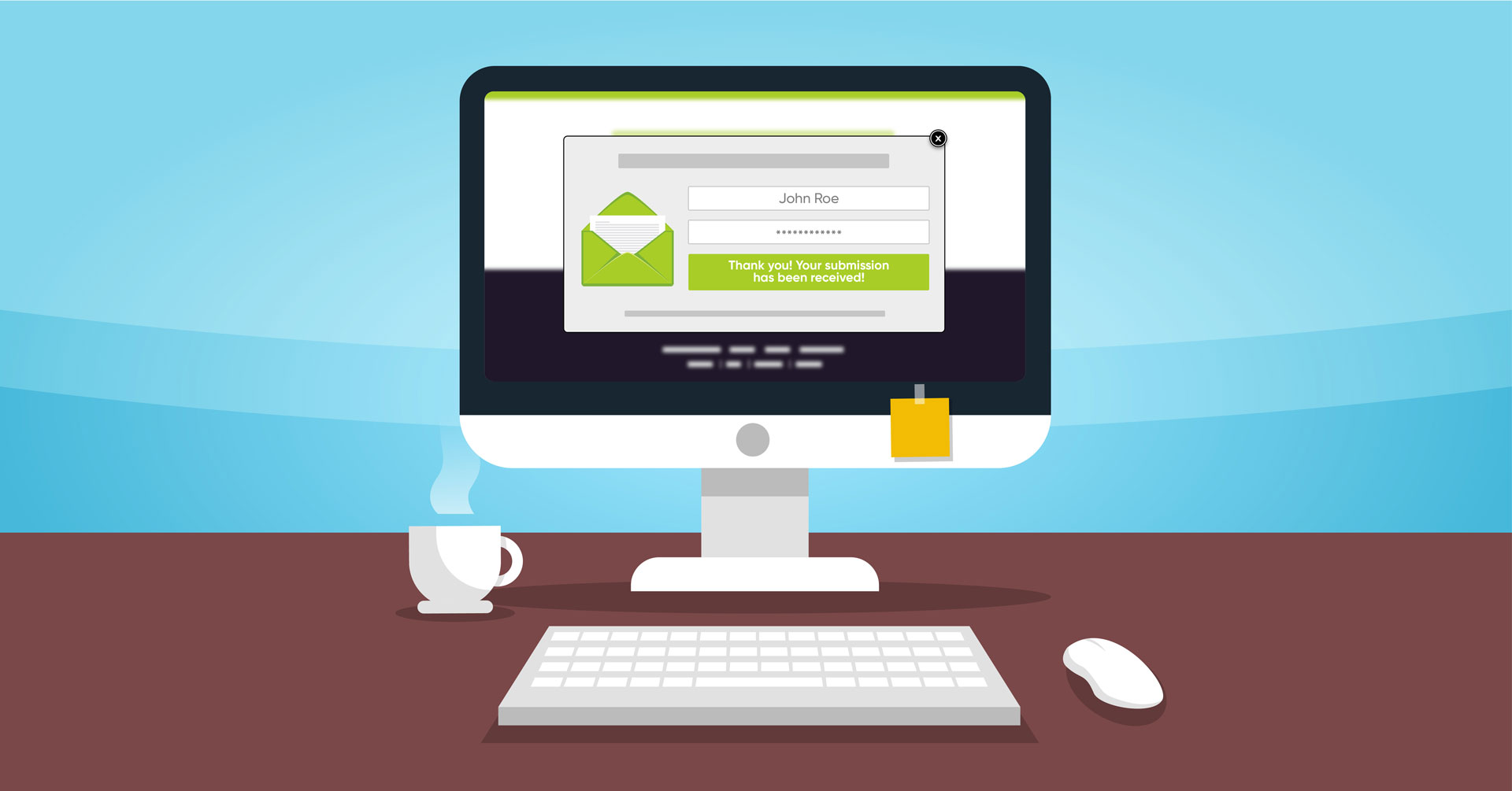 Despite being one of the earliest channels for marketing, email remains an integral part of any marketing strategy. It helps you maintain contact with potential customers, build authority, develop credibility, and convert subscribers into actual consumers.
To simply put, If you're not building an email list, you're missing out on the most influential and reliable ways to grow your business.
Opt-in forms are a fantastic method to get more leads from the traffic you're already driving to your website. They offer a number of features and functionalities to make list-building interesting and effective.
So today, we'll go through some of the finest free and premium opt-in plugins for WordPress that you can utilize right away to grow your email list.
But before going into the roundup, you might be wondering why opt-in plugins exist as most email marketing platforms offer opt-in forms?
Why should you use opt-in plugins for WordPress?
If you want to build an email list, you need to get people to opt into your email list. In other words, that's opt-in in email marketing. This is what gives email marketers a chance to entice users back into becoming paying customers through email marketing.
Building an email list has huge advantages, some of which you are well aware of. An email list is a valuable asset. Once you have a sizable list of subscribers, you can begin with a series of autoresponders to start nurturing your audience.
The best thing is that it's all done automatically; that's why email marketing has grown so popular.
Once you've decided on an email marketing software to implement your email marketing strategy, you might want to use the regular opt-in forms your email marketing software provides for free. They have no flaws apart from the following:-
They look awful
They aren't very good at their job
They are neither user-friendly nor optimized for multiple devices
They're not completely customizable
Most importantly, these pre-made opt-in forms aren't efficient in terms of features and customization. So here's the deal:
You want to create a conversion-oriented email list
You seek a simple way to collect more leads, consequently more subscribers
You want to increase your returns using effective email marketing funnels
And you want all of this quick
This is where WordPress opt-in plugins come in. WordPress opt-in plugins offer conversion-oriented features, is easier to use and customizable, and have advanced features to enhance your lead-generation experience.
How to choose the right opt-in plugin?
Frankly speaking, simply choosing any WordPress opt-in plugin doesn't guarantee you a great experience. Some plugins can easily become irritating, tarnishing both the user experience and the reputation of your brand.
Fortunately, WordPress users can choose from a plethora of open-source opt-in form plugins. Finding the perfect plugin out of so many options, especially without trying and brainstorming, can be a difficult chore.
So keep these three things in mind while choosing an opt-in plugin:
Integration: The point of using a WordPress opt-in form plugin is to be able to capture leads and send them to your email marketing tool automatically. There's no point in buying a tool that doesn't integrate with your email marketing tool. So make sure to check out if the opt-in form plugin integrates with your preferred email marketing tool.
Ease of use: Be certain that the opt-in plugin you select is compatible with your WordPress hosting environment. Many opt-in plugins are poorly designed, hence their advanced features won't work properly with the majority of modern caching solutions that your hosting company may be using.
Performance: As many WordPress opt-in plugins rely on WordPress to track data, this greatly increases the server load and causes your website to slow down. This is why you need a plugin that provides great conversion capabilities without causing any performance issues.
Flexibility: Finally, you should choose an opt-in plugin that provides features like behavioral interaction, targeting, and personalization, so you can provide the best user experience while also maximizing conversions.
The primary objective of using opt-in plugins on WordPress is to collect leads and grow your email subscriber list. If your plugin fails to meet that goal, there's no point in using one, be it free or pro. With that said, let's get to the best free and premium opt-in plugins for WordPress.
Subscribe to Our Newsletter
Get email marketing tips, tutorials, and information delivered to your inbox!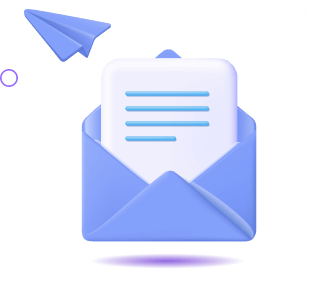 7 best free and premium opt-in plugins for WordPress
While your primary goal with WordPress opt-in plugins is to generate leads easily and effectively, you'd also want to have a tool that comes with features such as:
Ability to send emails to various platforms
Access to pre-made form templates
Comprehensive event triggers
Form security features to prevent spam submission
A/B testing features and so on.
Thus, our list of opt-in plugins for WordPress includes both free and premium options.
1. MailOptin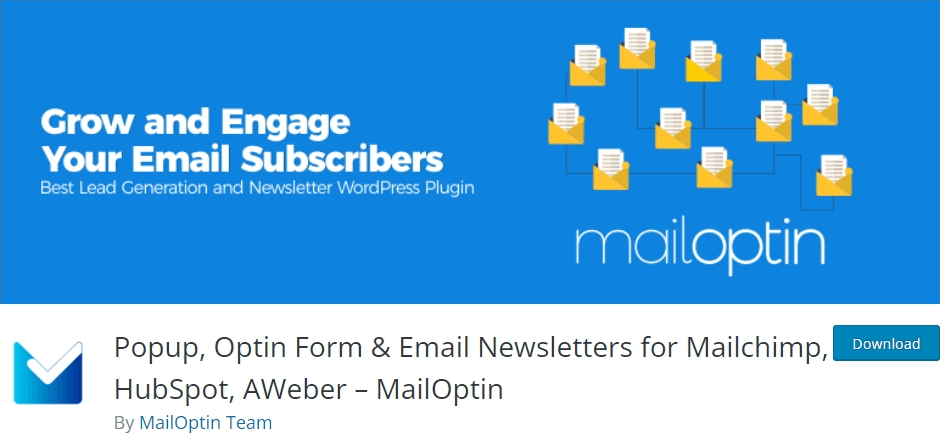 MailOptin is one of the most popular WordPress opt-in plugins for building email lists. This plugin works smoothly with almost all the popular email marketing tools including FluentCRM, MailChimp, AWeber, etc.
MailOptin specializes in designing popup forms and inline forms that you can place before or after your blog entries. You can also create sidebar forms with this plugin and add them in any sidebar or widgetized section on your website.
The page-level targeting feature allows you to display opt-in or email signup forms in particular posts or pages of your website. Mailoptin features a simple form and template builder, allowing you to save and repurpose your forms.
It's also worth noting that MailOptin has a paid version if you need more extensive display settings or opt-in forms like slide-ins. You can run A/B testing on your forms with the premium version. It only costs $69/year for a single site license.
2. Fluent Forms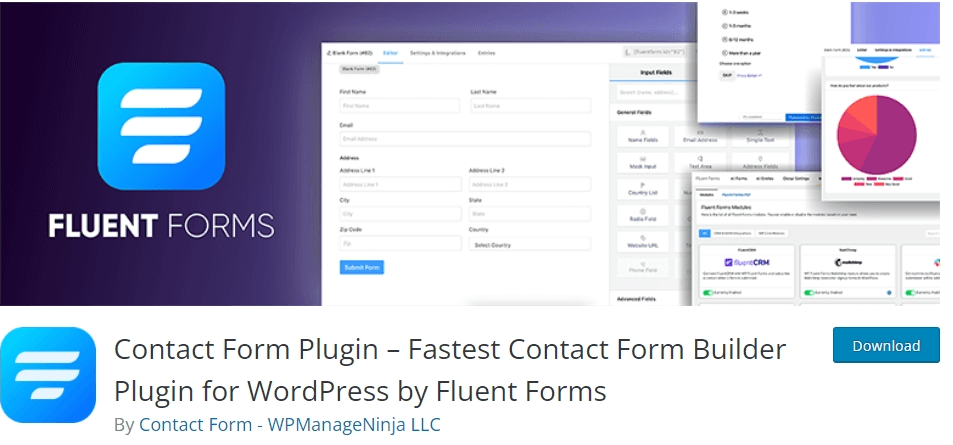 Fluent Forms is the fastest and most advanced form builder plugin for WordPress that makes it a breeze to build an opt-in form. This plugin offers a vast collection of pre-designed form templates from which you can pick one and get started!
If you want to build from scratch, you don't need any coding knowledge. Fluent Forms comes with both click-n-drop and drag-n-drop features. And as the cherry on top, the forms are reusable and duplicable!
This plugin gives you the option to protect your forms from spam by using Google reCAPTCHA, honeypot security, and many more. With the Multi-column layout feature, you can create a two or three-column layout form and say goodbye to the typical one-column layout forms.
45+ ready fields and 40+ third-party integrations make Fluent Forms the most multi-functional opt-in form. The forms are also mobile-friendly and provide you with visual data reporting to give detailed analytics of your form's performance.
Fluent Forms comes with both the free and pro version. While the free version has many features, the pro version gives you full freedom. A single site license costs only $59/year.
3. Hustle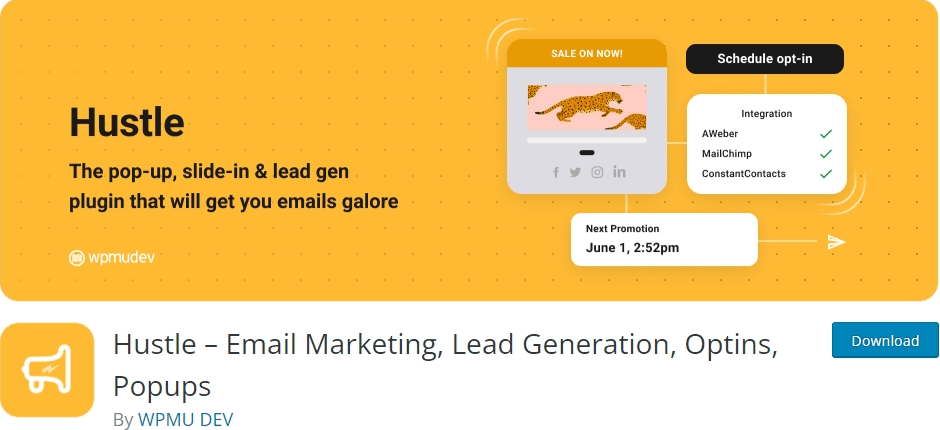 Hustle is a plugin by WPMU DEV. It's a great opt-in plugin that helps you build your email list, target your audience, and boost conversions. It also helps you increase social media following, and show targeted ads on your site with popups, widgets, slide-ins, and shortcodes.
Hustle makes designing and customizing opt-in forms a breeze. You can customize each and everything to make your forms eye-catchy and you'll also get the ability to display them according to your preference.
Integration with all the popular email marketing systems makes it more convenient. Plus, this tool supports both the Gutenberg and Classic editor and applies Google ReCAPTCHA to prevent spam on your signup forms.
You get one email form, one social form, one free customizable content ad with the free version of this plugin. To get more opt-in forms or social bars, you'll have to upgrade to the premium version of this plugin for $49/month.
4. Thrive Leads

Thrive Leads gives you the ability to create every type of opt-in form to increase conversion. Your audience won't get bored seeing the same kinds of forms every other time as it shows different types of opt-in forms to your subscribers.
Popup lightbox, sticky ribbon, in-line forms, 2-step opt-in form, slide-in, screen filler, content lock, scroll mat, yes/no & multiple-choice forms are the variations that you can choose from. Additionally, it comes with a drag-and-drop editor to design forms just the way you want. What's more, they provide dozens of beautiful pre-designed templates to make your work easier.
It features advanced targeting, allowing you to target email opt-in forms depending on your categories, posts, and tags, among other aspects. The plugin includes a simple yet advanced A/B testing mechanism to boost conversion rates. And like all good opt-in plugins, it'll give you a detailed overview showing how effectively your forms have been.
Thrive Leads integrates with all kinds of email marketing services smoothly. The plugin is available with Thrive Suite which costs $19/month. So if you only need an opt-in plugin, this might be a bit expensive for you.
5. Icegram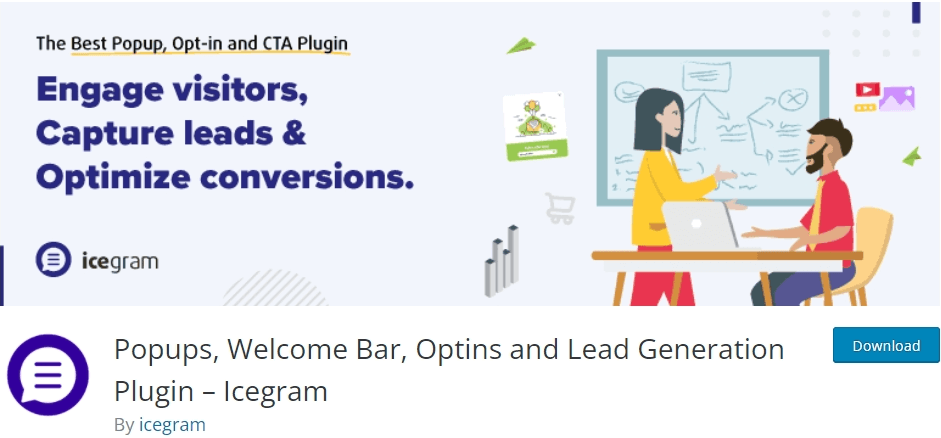 Icegram is an excellent opt-in plugin that doesn't require any technical expertise to set up. It's loaded with many useful features so that anyone can make beautiful opt-in forms and CTAs. If you want a plugin that is more than just a typical opt-in plugin, Icegram could be your go-to choice.
This plugin offers four different types of opt-ins— lightbox popups, toast notifications, slide-in forms, and header & footer action bars. Also, you can place CTAs anywhere on your website as you prefer and redirect them to any page.
To get started with Icegram, you'll get a wide range of pre-designed themes and a simple form builder. It's powered with display targeting rules—allowing you to choose where and when your campaigns and opt-in forms will be shown.
Split testing, behavior triggers, and advanced targeting, GEO targeting, CTA actions, detailed analytics and reporting, exit-intent popups to regain abandoning visitors, all these powerful features come with the premium version of this plugin. For a single-site license, the premium version costs $97 per year.
6. Optin Forms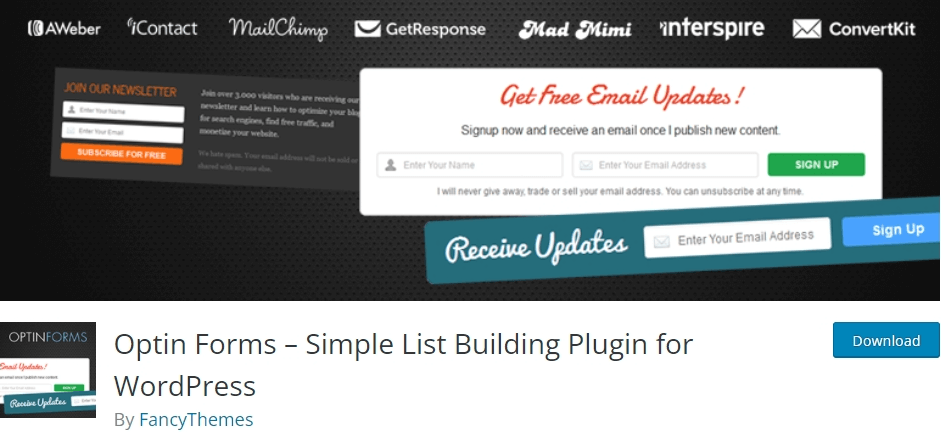 If you're low on budget and looking for a plugin that can make attractive opt-in forms for your website, the Optin Forms plugin is a perfect fit for you. It offers a variety of pre-designed themes which you can apply to your posts or pages with a single click. Or, you can just use a shortcode to attach it to your posts and pages.
Although not as feature-rich as many of the other plugins on this list, this one is as simple as they come and won't overflow you with unnecessary options. They offer five pre-designed themes that you can effortlessly customize.
Optin Forms is a straightforward and simple solution for non-techies. This plugin easily integrates with most of the renowned email marketing services. And the best part? This plugin is absolutely free!
7. Bloom

Bloom is another premium email opt-in plugin that helps you convert your website visitors into loyal followers and gradually into customers. Creating opt-in forms gets much easier with this plugin along with 100+ pre-designed templates.
Bloom offers 6 different types of forms to increase followers. Automatic pop-ups, automatic fly-ins, inline optin forms are some of them to choose from. Though it doesn't provide any visual editor, you can get your longed form by adjusting numerous design settings. With the advanced targeting feature, you can target or omit particular content or pages.
Into the bargain, this WordPress plugin features some awesome triggers which let you show specific forms and offers based on your users' location and activity. You can customize your forms as per your taste because Bloom gives you full control over colors, border styles, edges, form fields, and text content options.
Features like A/B testing and stats keep you on the right track and help you improve your strategy and grow conversion rates. Integration with the 19 most popular email marketing platforms makes it extremely powerful.
Along with Bloom, you'll also get access to all other Elegant Themes products by just paying $89 per year. You can also acquire lifetime access by paying a one-time cost of $249.
Which is the best opt-in plugin?
One of the easiest ways to make sure you always have a solid way of communicating with your target audience is to build an email list full of committed and engaged members. Install one of these free WordPress opt-in plugins to start expanding your email list right away.
If you want to take expert advice, we'll suggest you go for MailOptin or Fluent Forms. Why?
Because these plugins offer several features and email platform integrations including MailChimp and FluentCRM integration for free. Besides, they offer the most advanced features any such plugin could offer. Thus, we highly recommend them if you're looking for a free WordPress opt-in plugin.
What's next?
Once you've chosen an opt-in plugin, make sure you integrate it with your email platform to send leads over. You can check out your plugin documentation to do that easily.
However, some of the forms we've mentioned may require add-on purchases to send leads to your email platform. That's why we also suggest using a native WordPress email plugin.
FluentCRM is an email marketing automation plugin that integrates with three of the plugins we've mentioned above. Since it's a plugin, you don't need add-ons for integration to send your leads. And the best part?
FluentCRM comes with everything you need to start email marketing right from your WordPress dashboard. So go ahead and give it a try (it's free)!
Try Our Free Marketing Automation Plugin
Download our marketing automation plugin and start sending automated emails FREE!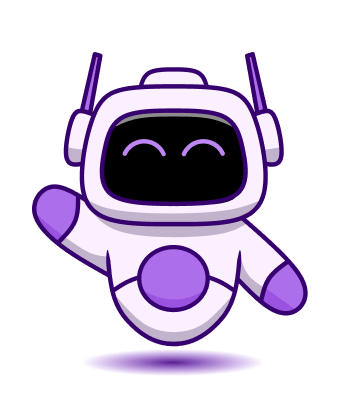 So that wraps it up. Let us know which one you like most and if you're already using any of these plugins, don't hesitate to share your experience with us in the comment section below.