Free Tips, News & Tutorials Delivered to Your Inbox!
You're confident that your company deserves to be praised, and you may have heard others say so. But the harsh reality is that these compliments are meaningless if they don't reach your prospects. This is where reviews come into play!
While you're supposed to gain customer reviews organically, many customers forget to leave them or simply don't bother writing a review. This is why you need to adopt clever approaches for gaining customer reviews.
In this article, we'll share some nifty ways to ask customers to review your business. Read on to discover some of the most clever ways to ask for reviews.
Let's start!
How user reviews can help your business?
Reviews are essentially testimonials of your business given by your existing customers in writing or any other visual form you can showcase to attract potential customers.
People essentially rely on reviews these days to make purchase decisions. Customer reviews also boost your lead generation process in countless ways. Reviews can help your business by –
Increasing trust and brand awareness: Positive reviews build a positive brand image, as simple as that. If your business has a bunch of reviews saying good things about it, take another bunch of sales for granted. Word of mouth spreads like a bushfire. The more reviews you have, the more likely it is that a new prospect will trust your brand.
Exhibiting customers' needs: Reviews from different customers will give you different opinions and issues to resolve. Even a negative review will give important insights into the customer psyche.
Improving the conversion rate: Reviews from your existing customers will help you convert your potential leads into prospects successfully.
Improving the ranking in Google: Google takes reviews as an important ranking factor for local search results. So, if you want to increase your chances of being noticed by potential customers, the importance of reviews cannot be neglected.
What to ask for reviews on?
Getting reviews should never be your ultimate goal. If those reviews are not to the point and do not discuss the key points people are most interested in hearing, they will add very little value in the long run.
So, be sure to ask for reviews on –
The company: Ask what your customers think about your business. A positive company review can build a positive brand image. On top of that, a company review is essentially a review of your entire product lineup.
The product: A product review can help your prospects as it directly addresses the exact thing they might be looking for.
Overall experience: A simple review of the overall user experience says a lot and has a lasting impact on the user psyche. Various factors could be included in an overall experience review without overwhelming the user.
12 efficient and clever ways to ask for reviews from customers
You need to ask customers for reviews in a friendly way with a clear and concise message. Don't just invade or nag them for reviews! Remember, repeated review requests lower your chance of getting a review. Make the reviewing process as easy and simple as possible.
Let's have a look at some clever ways you can ask customers for reviews:
1. Tell them how much their review matters
It might seem like reviews only benefit the seller. But a constructive review, be it negative or positive, can benefit the consumers too. If a customer points out a flaw in a product in a review, the company must resolve the issue in order to come clean to their customers.
Express the necessity of a user review to your buyers. Tell them how reviews can help you provide better service to them. People, in general, would happily share their opinions if you just ask them politely.
2. Choose your words wisely
Words alone can make or break a deal. Your attitude toward the customer should never be negative. And words convey the most amount of attitude. So, you have to be wise while using words to encourage your reviewers.
Don't sound too desperate nor too unconcerned to your customers. You show desperation – your customer loses interest in you. You sound unconcerned – the customers would not bother writing a single line for you. So, put just the right amount of emphasis on your review requests.
3. Design a simple review system
Gathering reviews organically from customers is already a hard thing to do. Add a complicated reviewing system to the mix, and you further slim your chances of ever gaining a review.
Your customers won't be interested in leaving a review if you have an overly complicated review system. So, design an interactive and easy-to-use review system to get the most amount of reviews from the buyers.
4. Personalize review requests
To inspire your customers to write a review on you, you first need to connect with them. And what better way to connect with someone other than communicating with them in a way that seems genuine and personal?
With personalized review requests, you won't just get a review; you'll also build an everlasting relationship that'll get you a review next time without even asking.
Rather than generating a generic and templated review request, write your own review request. You can hire a creative writing expert or a freelancer for this and let them work their magic.
5. Place a request in the follow-up email
One great way to retain and nurture your customers is by sending follow-up emails. A follow-up email is an email you send to someone in response to a sales action they took or to drive them toward it.
So, don't forget to send follow-up emails to your customers. If doing it manually becomes too time-consuming, consider using a marketing automation tool.

Marketing Automation for WordPress
Get FluentCRM Now
Include a nice review request in your follow-up email. Since the click rate and click-through rate of a follow-up email are outstandingly high, follow-up emails will certainly prompt your customers to write a review.
6. Perfectly time your review requests
We've stated it earlier and will repeat it again– pick the right time to ask for reviews. Timing a review request right is crucial for getting the expected outcome.
Strike the iron while it's still hot! Naturally, customers are most willing to write reviews when they're still in their initial interest phase. Send the review request while they are still excited about their purchase.
Our advice would be not to be too early to request a review so you seem desperate, nor be too late, so the customer has moved on from their initial interest in your product.
7. Create review contests
Review contests may seem like an out-of-the-box idea. However, it'll work great if it comes off!
A review contest can be conducted where the most helpful review on any of your products wins a prize. This kind of contest runs for a limited time, creating a sense of urgency in the customers' minds to write a review.
This works like a charm for gathering a bunch of reviews relatively quickly without much effort.
8. Utilize social media handles
In this era of socializing through the internet, people always ask each other for recommendations. Apparently, 92% of people trust online reviews as much as personal recommendations.
So, always try to stay connected with your customers through various social media. Create groups, pages, subs, or channels, so you're always relevant and nearest to your customers.
Engage with your customers through your social media handles and encourage them to share their reviews of your product or brand.
9. Put review request in receipts
You probably provide some kind of receipt to your customers, whether online or physically. There are plenty of places in a receipt where you can put a small message for the customer.
Add a small review request in adequate words inside the receipt. It might remind the customer or subconsciously influence them to write a product or service review.
A small request like "don't forget to give us a rating" or "leave a review if you like our service" can go a long way!
10. Ask for reviews in person
A simpler yet effective way of asking for reviews is asking a customer for a review in person. While this works best if you're a local business, going to seminars and similar places where your customers usually gather can give you an opportunity to ask your customers for reviews.
This kind of review request feels very personal, and a personal touch is almost always appreciated. But you do need to be extra careful with your manner of communication with in-person interaction.
11. Send review request through SMS
While asking for reviews, one important metric to count is the open rate. SMS is the winner here, with an incredible open rate of 98%. This near-perfect open rate ensures that the receiver will at least take a look at your review request. If it is persuasive enough, they might just grant your wish and write a review on your product or brand!
12. Showcase existing reviews
This isn't a review request tactic, but it might just convince other customers to write down their own opinion seeing other people do the same. People like to follow trends, and showcasing existing reviews shows them that reviews are still trendy. So be sure to showcase your reviews in relevant places.
What's the right time to ask for reviews?
Ask for reviews when user satisfaction seems at its peak. The prime time to ask for reviews is when they've already displayed signs of satisfaction. It could be a sudden spike in buying frequency, positive word of mouth from internet threads, etc.
Another tactic is to wait till the customer receives the product and uses it for some days. It is recommended to give the customer a week after receiving the product.
For example, when someone downloads our free product, FluentSMTP, we usually give them 7 days to use the plugin before asking to review it.
Remember, just like you could be late for asking for a review, it's also possible to be too early when it comes to asking for reviews which can make you sound too naggy. Give the customers enough time to form a complete opinion on your product or service.
Where to showcase your reviews?
There could be various places where you can flaunt your reviews for maximum reachability. Let's take a look:
Landing page: A lead was tactically driven toward your landing page. After opening that, along with your brand introduction, the customer sees the embedded testimonials of your business from some of your most prestigious clients. This will instantly give the prospect a head start in his decision-making process, which might go your way.
Social media channels: Sharing your reviews on social media platforms like Facebook and Instagram gets you a tremendous amount of traction from the users of those platforms. Utilize those social media channels to showcase your reviews.
Third-party review sites: Every one-star increase on Yelp results in a 5-9% increase in revenue. There are other reviewing platforms like Amazon, Google My Business, and Tripadvisor, to name a few, where customers can review your business.
About us page: One of the most suitable places to showcase your reviews is your website's about us page. You introduce people to your business through it. But other people's words speak louder than your own, especially when it comes to praise.
How to deal with negative reviews?
Gracefully. This is the only answer to this question. If the review consists of constructive criticism, take their advice. Don't let random rants get to your head; politely ask them to specify the issue and try to solve it. Being polite is the best practice in this case. Remember, courtesy begets courtesy.
Here are some suggestions for responding to negative reviews:
Don't keep your customers waiting; try to respond to negative reviews as soon as possible. Otherwise, they may assume you are ignoring it.
Even if you disagree with the customer, it is critical to acknowledge the problem.
Don't ever take criticism or comments personally. When responding, try to be professional.
Tell the truth about your errors and the steps you have taken or plan to correct them.
When necessary, express regret, but avoid taking responsibility for mistakes that weren't your mistake.
If you're hearing about the complaint for the first time, invite the customer to contact you via email or phone so that you can try to resolve the issue with them.
Wrapping Up
Reviews can help your business in more ways than you can imagine. You can attract new customers, boost their confidence in your brand and maximize your conversions with reviews. Thus, adopting clever ways to gain customer reviews is one of the best decisions you'll ever make.
Before you leave, we would like to recommend WP Social Ninja if you already have some reviews to showcase.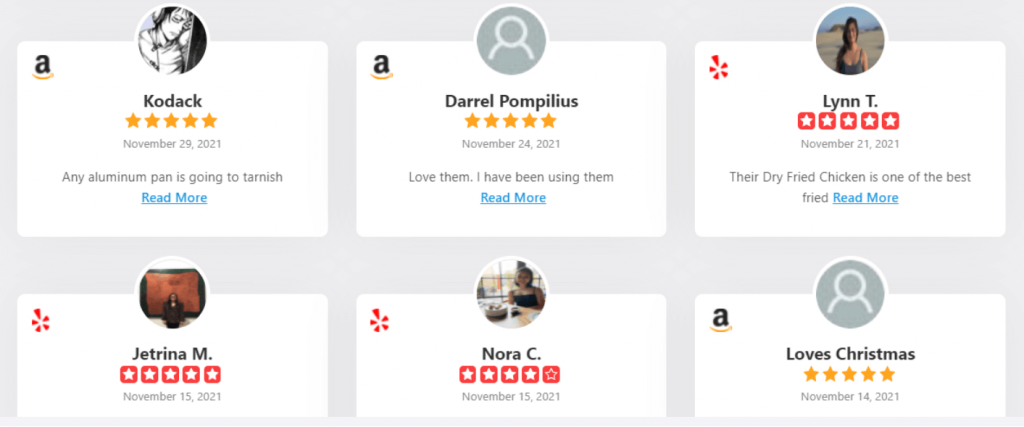 WP Social Ninja is the ultimate social feed, review, and chat plugin that helps you showcase your social feeds and reviews intuitively. It offers awesome features like aggregated reviews that inspire your audience to make a decision.
Hopefully, our tips to gain reviews will help you encourage more customer reviews. If any particular tactic works for you, don't forget to share them in the comment section below!
Try Our Free Marketing Automation Plugin for WordPress!