Free Tips, News & Tutorials Delivered to Your Inbox!
Business strategy and methodology have evolved significantly over time. In fact, if the fire is the best human invention that has changed the course of human life, then constantly changing business psychology is the key that keeps evolution running!
Expectedly, lead generation has also evolved in tandem with business philosophy. But what is lead generation in digital marketing?
Lead generation is the fuel that keeps a business running and more; it plays a key role in every aspect of a business's marketing policy. In this article, we'll discuss all of them!
Let's get started!
Lead generation in digital marketing
Lead generation in digital marketing is the method of turning online viewers into paying consumers. This kind of lead generation strategy focuses exclusively on the digital sphere and combines all our digital actions to generate leads.
More precisely, we can say the inbound marketing strategy of locating, enticing, and collecting the most reasonable prospect from the massive virtual environment is simply known as lead generation in digital marketing.
Since over 5 billion people have an internet connection, it's the most efficient way to generate leads. But how does lead generation in digital marketing differ from traditional lead generation —Well, to provide a precise response to this question, we need to review the development of lead generation ideas.
Over time, the idea of lead generation has undergone significant changes. If we only look back 20 years, we'll see that the only sources of leads were TV and radio commercials, billboards, newspapers, word of mouth, etc.
However, the current scenario is different. Impressing a customer solely based on an attractive model's outward appearance or with an impactful tagline is no longer that easy. People now want to learn more about your product before making a final decision.
Consumers now believe more in word of mouth than in any other source! The availability of the internet has made it possible for everyone to find solutions and increased access to examine any products thoroughly.
The process of satisfying your target audience's queries and enticing them as your potential leads is known as digital marketing lead generation. While the overall idea of marketing, including outbound and inbound strategies, is called lead generation.
Importance of lead generation in digital marketing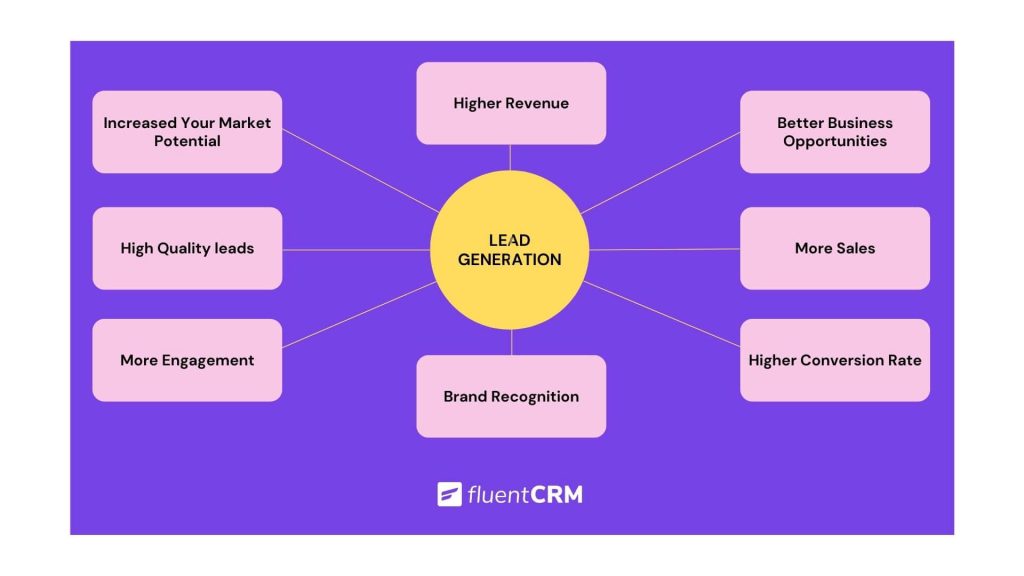 Lead generation is not a new concept. In fact, it became essential the moment the first transaction of this human civilization occurred! One can hardly doubt the importance of lead generation because, at the end of the day, it is the fuel that keeps the business running.
Let's analyze the importance of lead generation in digital marketing. Lead generation can help you by—
Expanding your market: With the aid of lead generation, you'll learn about many new opportunities. Thus, lead generation will help you increase your market potential.
Generating better business opportunities: Lead generation will open many previously closed doors, allowing you to obtain better business potential.
Improving your lead's quality: A suitable lead generation method will ensure that we have higher quality leads with a high conversion rate who're genuinely interested in your goods and services.
Engaging more: Using the proper lead generation techniques will ensure that you only collect leads who're genuinely interested in you. This will ensure greater participation.
Enhancing your conversion: Proper lead generation will focus on ensuring you're less likely to attract customers unwilling to engage in your products. As a result, the conversion rate will improve.
Raising your revenue: Almost without a doubt, more leads will lead to more sales, equaling higher revenue.
Improving your brand recognition: When visitors interact with your marketing materials, they learn much more about your business and its offerings.
Find out more reasons why lead generation is important for your business.
How to create a proper lead generation strategy for digital marketing
What distinguishes someone above average and sets them apart from the crowd? —process, devotion, and dedication!
To develop a proper lead generation strategy for your company, you need to adopt a consistent methodology and choose what's best for you. A proper lead generation strategy for digital marketing can be summed up in the five steps listed below:
Understand your market and identify potential customers
Analyzing your product and its market is the first step in the lead generation process. An electronics store is never a good place to sell medicine. The same can be said for the online market. And to create the best lead generation strategy, you must first understand who will benefit from your product and service.
Remember that lead generation doesn't imply selling something to someone who is not interested in your service. In fact, it's quite the opposite. Therefore, your first and foremost responsibility is to identify your market and potential customers.
Find out where they live
Now that you've determined your potential clients, it's time to find out where they live. Do not forget that numerous widely used platforms exist and that the web is a very large space. Don't copy other companies' lead-generation processes outside your niche.
Just because they achieved success in a particular manner doesn't imply that you should do the same. Rather, you can closely examine your competitors' approaches to determine where your prospective customers actually live.
Discuss their problems and provide a solution
Consumers are smarter than ever! So avoid pitching your solutions whenever you can. Rather, try to figure out their issues and begin discussing them.
You can discuss it through your blogs, videos, podcasts, etc. This will assist you in gaining your audience's trust. And, instead of just seeing you as a salesman, they'll see you as a blessing with the solutions to their problems.
Introduce your product or service to them
That's the trickiest part. Introduce your product, but not directly! Introduce your product shrewdly as you discuss your client's issues and provide them with solutions. The smarter you implement this strategy, the better your chances of success.
Tell them your side of the story and explain how your product helped you to find a solution to the issue they are currently experiencing. They'll learn about your product, consciously or unconsciously, and will undoubtedly consider it when deciding which product to purchase.
Make them feel special with an offering
Make your customers feel special and that you genuinely care about them. Give them a special discount on their birthday! It doesn't matter if they buy from you immediately, but it secures your place in their minds. And you'll be the first person they contact if they decide to purchase a similar service.
Top 6 ways to generate leads with your digital marketing
As we've already mentioned, many options are available on the internet, and it's natural to feel overwhelmed initially. You may intend to target all of them, especially if you're a newcomer. But unfortunately, this is never the correct approach, and most beginners get lost here!
However, lead generation in digital marketing depends entirely on your potential customers and their primary communication medium. Here are the top six methods for generating leads in digital marketing.
Email marketing
Email marketing is the earliest and most effective form of digital marketing. Although some digital marketers argue that email marketing is dead, and there is an ongoing debate between social media and email marketing, it's still the most efficient lead-generation method.
Especially when we consider conversion rate and ROI, nothing comes close. And ignoring it will never be a clever act, which we expect you'll never do!
To generate leads using email marketing, however, and to get the most out of it, go through the following steps:
Build an email list: The first step in using email marketing as a lead generation tool is to build an email list. Remember that purchasing an email list is never a solution; you must create your own. A subscription form will assist you in growing your email list more quickly.
Segment your subscribers: Not all of your subscribers are interested in the same things. Because they differ in age, gender, and preferences, the same email won't work for all of them. For this reason, segment your subscriber list.
Determine the most appropriate email frequency: Determine when your lead expects your emails. Instead of just annoying them, try to adhere to the best email frequency practices.
Employ an email marketing tool: Email marketing is more than just constructing email lists and sending emails! To make the most of it, you'll need the assistance of a handy marketing automation tool, which will assist you with segmentation, automation, sequencing, and everything else.

Marketing Automation for WordPress
Get FluentCRM Now
Want to collect email leads faster? Read this article, then!
SEO
Another excellent method for generating leads is to use search engines. In fact, it is one of the most effective methods of reaching your intended audience.
The better your web pages rank, the more likely Google and other search engines will showcase your pages to customers for appropriate search queries. It'll make it easier for your target audience to locate you when they look for offerings or information.
To create an SEO lead generation funnel, you should,
Examine the effectiveness graph of your website regularly
Increase the loading time of your website and fully optimize it for mobile users
Analyze the performance of your rivals and choose the best strategy for you
Make the most of your blog posts to generate more and more leads
Conduct thorough keyword research to determine which answers your intended audience is eagerly seeking
Aim to drive traffic by maintaining a strong social media presence
Dive into our guide to leveraging SEO for lead generation.
Content marketing
Content is the fundamental basis of all your lead generation and lead-nourishing initiatives.
Publishing authentic content on your website to generate leads for your business is known as content marketing for lead generation. Your content should mainly cover the subjects your target audience is primarily interested in.
Try to respond to your leads' eager seek queries and provide them with a solution to their issue. And when they visit their site in search of a solution, they'll become familiar with your brand and eventually become a lead.
Remember that your content needs to be interesting, useful, and valuable to your potential customers if you truly want to generate leads.
Read this article to learn some tried-and-true tips for generating leads using content marketing.
Social media marketing
Social media is no longer just a way to communicate with friends. Instead, they're now an inevitable part of our daily lives. People visit them not only for amusement but also to find solutions to their problems; thus, social media have become an excellent source of potential leads.
Your company's strong social media presence will assist you in increasing trust among your users. Your users will engage with you directly through social media, and they may leave reviews, which will assist your new leads in assessing your service and deciding whether it is worth trying.
Additionally, sharing your content on social media will bring more website traffic. More traffic equals more leads, and more leads equal more potential customers.
Website optimization
Building a lead pipeline can benefit greatly from having a responsive website that looks good and is simple to use. Not only will it guarantee an everlasting relationship with your audience, but it'll also create many opportunities for future endeavors.
The primary goal of website optimization is to grasp and attract potential leads. However, it isn't always easy and can be exhausting at times. Furthermore, it can take time to figure out where to begin!
The landing page on your website must be simple, uncomplicated, appealing to mobile users, and clear to generate leads. We recommend using the AIDA formula to attract your leads right away.
Here are 6 basic things you can follow-
Optimize user experience for both PC and mobile
Improve your SEO practices
Include a catchy CTA
Consider including subscription forms on your landing page
Use a live chatbot to engage with the visitors
Consider employing a good lead-generation theme
PPC
Whatever methods we've discussed thus far are essentially organic, and you won't have to spend a dime to leverage them. However, pay-per-click (PPC) advertising will cost you money. If you have a large budget for your business, this is a good option for you.
Paid advertising allows you to advertise on different channels, such as Google SERPs, social media, websites, etc. It is an efficient method for attracting the focus of your desired audience to your business.
PPC marketing is more effective than traditional marketing. In fact, it is the simplest, quickest, and most effective digital marketing lead-generation method that can aid your business expansion.
Wrapping up
Your business is only as good as its lead funnel, and if you want to use the online world as a source of leads, you must first understand 'what is lead generation in digital marketing.'
In this article, we tried our best to shed light on every component of lead generation in digital marketing to clear up any confusion or questions you may have. And we hope you found it beneficial.
That's all. Have a wonderful day, and don't forget to leave your thoughts in the comments section!
Try Our Free Marketing Automation Plugin for WordPress!