Free Tips, News & Tutorials Delivered to Your Inbox!
Hello folks!
The wait is over! I know you all have been waiting for another FluentCRM update eagerly and it's live.
This time, we were working with some of the biggest, most awaited features even I am thrilled to announce. So no more teasing, let's get into FluentCRM 2.5!
Micro-target contacts!
Customer relationship management is about collecting data from your leads, customers, campaigns, tools, etc., and using that data to produce better customer service and marketing campaigns. Until now, you could only do that with our dynamic segmentation, with a limited number of filters.
But now, you can micro-segment contacts with Advanced Filtering! And yes, when we say micro-segmentation, we mean it!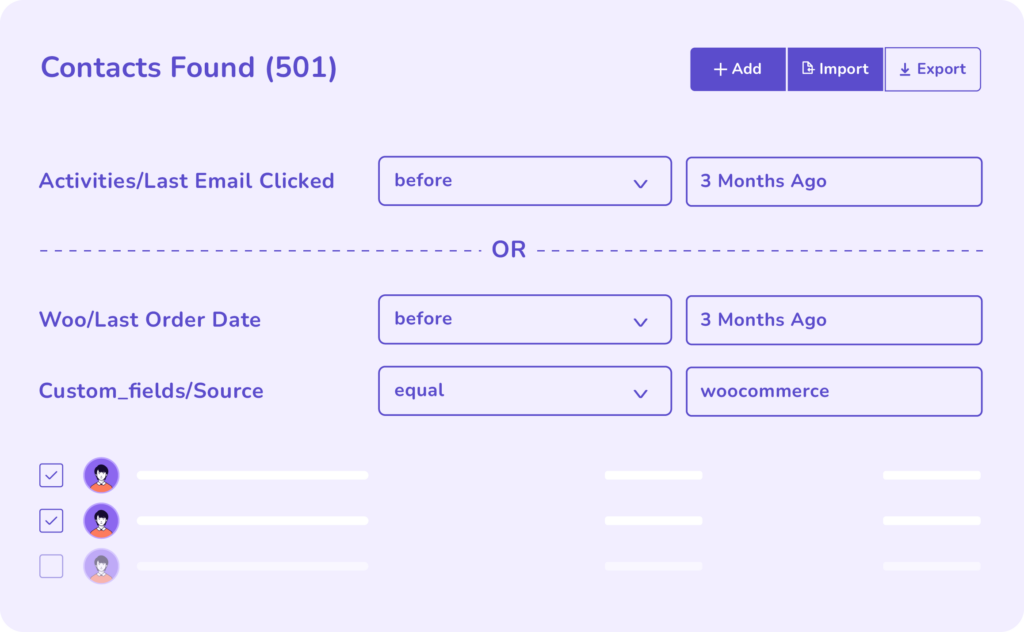 Advanced Filtering does exactly what it says on the tin. Now you can filter out any contacts based on any condition. This includes the contact's general data, segment, activities, and even custom fields! Moreover, you can even filter contacts using If/Or conditions.
For instance, suppose you want to filter out those contacts who made at least 2 orders or spent at least $500 at your WooCommerce store. In that case, you can simply activate advanced filtering and set those conditions.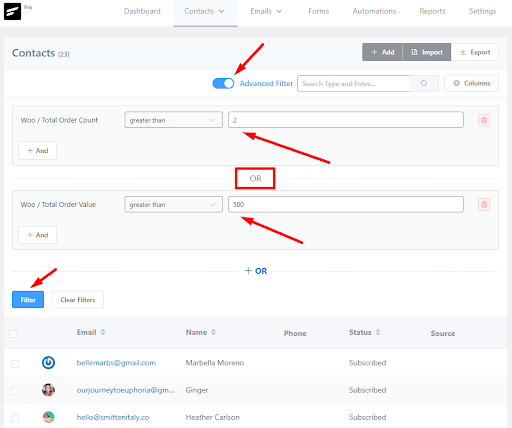 With advanced filtering, you will be able to view contacts based on different data and activities.
Send targeted email campaigns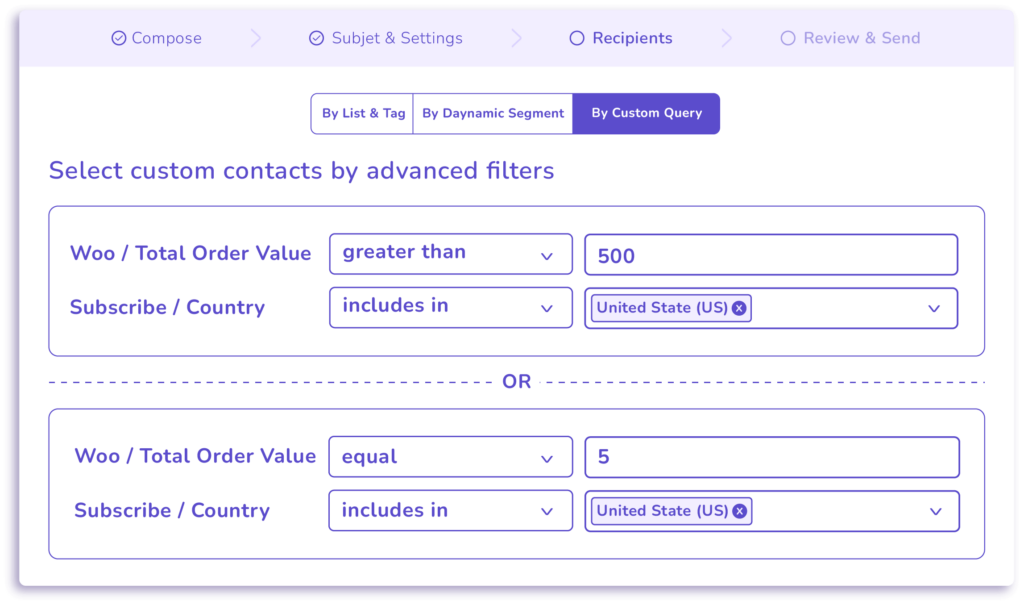 What's the point of an advanced filtering system if you can't send targeted email campaigns with ease?
There isn't any. So, we have added custom query filtering to email campaigns!
How does this help?
Let's say you want to launch an email campaign for people with similar information in a custom field. For that, you can simply select By Custom Query while selecting the recipients and set your conditions. That will bring up all the contacts with matching conditions so you can orchestrate a targeted email campaign without putting in any extra effort!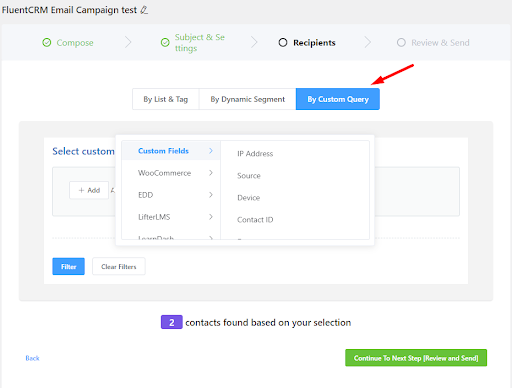 Create better dynamic segments
Even if you know what to look for, sometimes it's too hard to remember to combine the conditions to get what you want. Right?
So why input filter conditions to filter out a group of people if you can make it interactive? Yes, based on the new advanced filters, we have also restructured dynamic segmentation.
This will help you skip creating filters every time you want to find out a specific group of contacts. You can simply create a dynamic segment and use that to view contacts or send email campaigns to those matching your specified criteria.
As always, the dynamic segment will only contain contacts that match your criteria!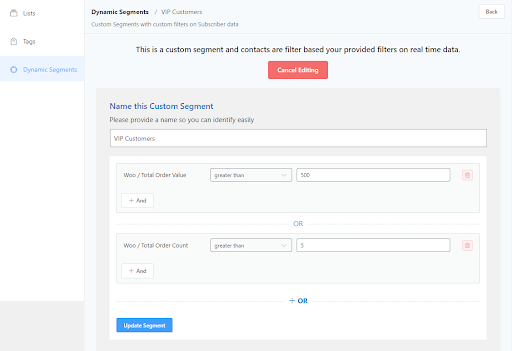 Run automation with advanced conditional logic!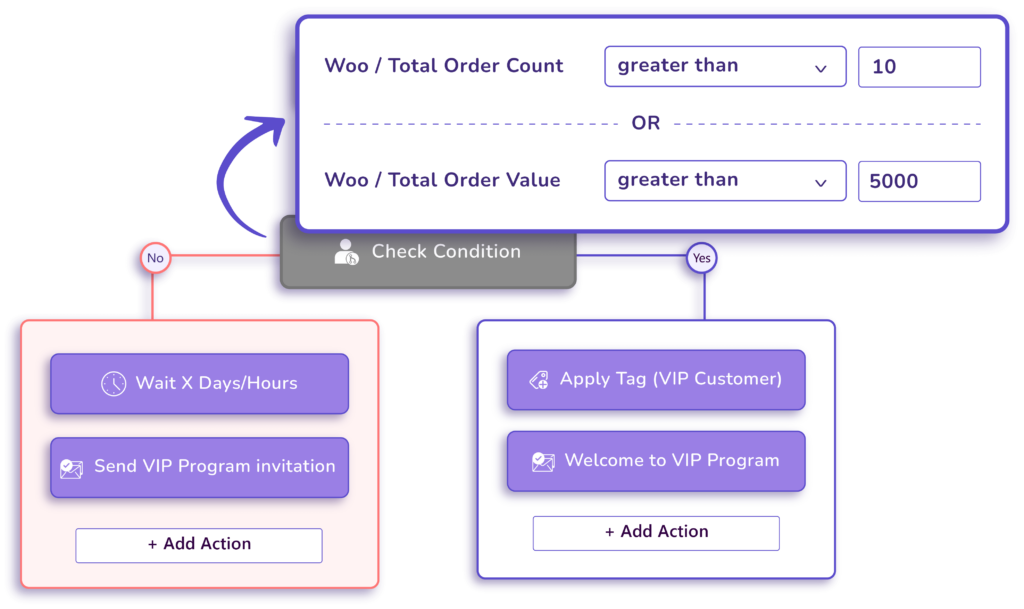 By now, you may have understood how powerful our new advanced filtering is. It allows you to view contacts by the most specific criteria and you can send any kind of targeted email campaign without having to segment contacts beforehand.
But it doesn't end here!
We have also restructured the automation conditional logic with advanced filters. This means if you want to filter contacts and create paths using multiple conditions, you can do that!
Here's a conditional for filtering out a VIP customer who lives in the US and will only qualify if he made more than 10 orders or spent at least $5000: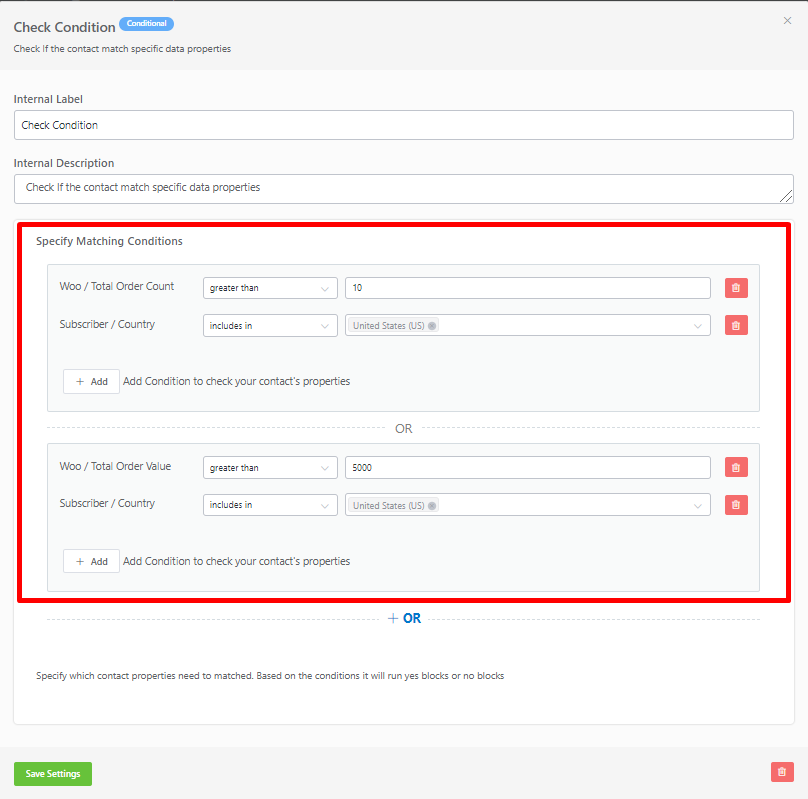 This will create if/else paths based on advanced conditions where you can automate follow-up emails, create notes, and so on!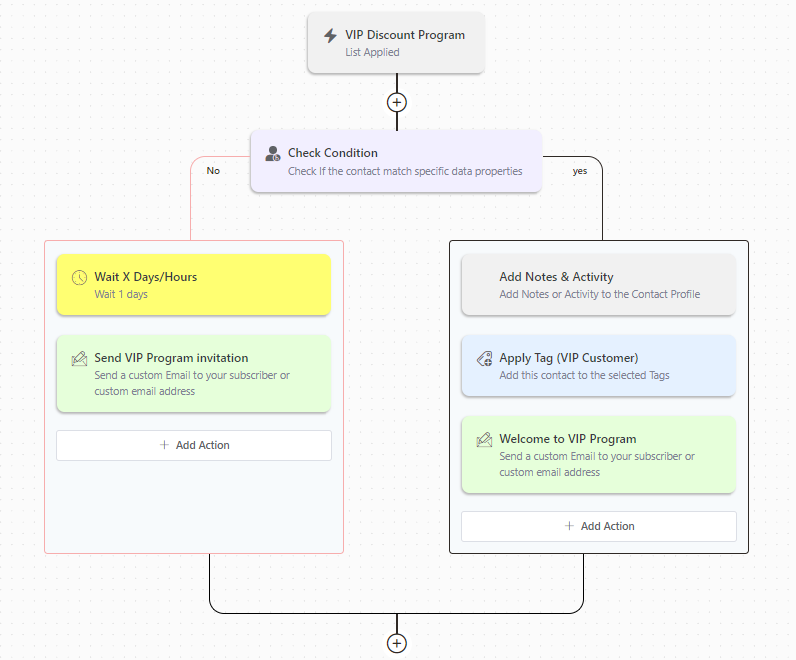 Talking of automation, we have also made some nice UI changes. When you hover over the plus icon, the available actions and conditionals will automatically show up!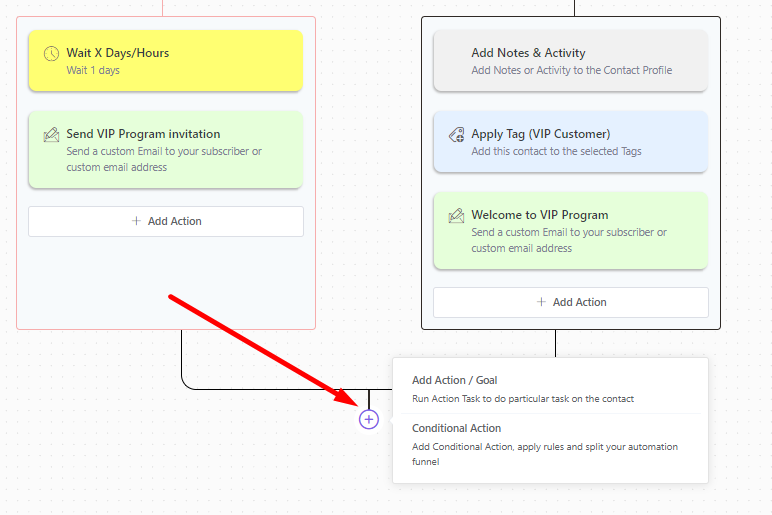 Synchronize WooCommerce, EDD, LifterLMS, and LearnDash data!
What's the worst part of switching your CRM or email marketing platform?
I'm sure that the first ones are:
Integrating your tools
Moving your contacts and data
So you can't deny that you all have wished for such a feature that helps you bring your contact information and data in a much easier way.
Well, in this version, we've made it possible!
So if you're still moving your data to FluentCRM or just getting started, contact synchronization will let you import all your existing customers, students, their associated data, and reports from the plugins you've synchronized with FluentCRM.
This means if you want to integrate FluentCRM with these plugins and want to sync all the data in one click, you can easily do that!
For example, let's say you want to integrate your WooCommerce store with FluentCRM to bring all your contacts and store data. To do that, simply go to Settings>Integration Settings and click Sync WooCommerce Data.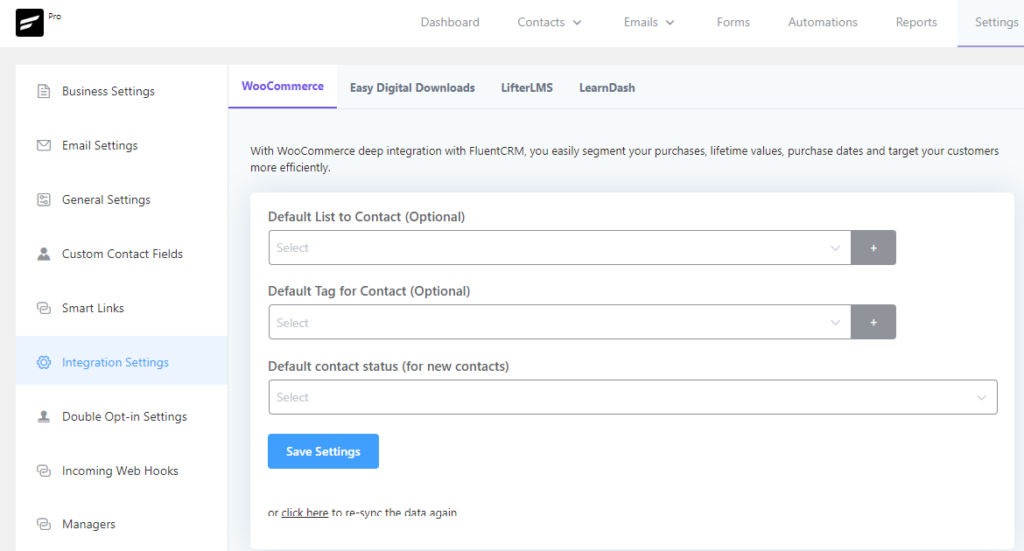 Yes, it's that easy to integrate and synchronize FluentCRM with your favorite plugins.
For now, WooCommerce, Easy Digital Downloads, LifterLMS, and LearnDash users will be able to take advantage of this awesome feature. But don't be unhappy if you're using any other plugins. We'll be adding data synchronization for other integrated plugins too!
Import EDD & WooCommerce contacts by product purchases!
Importing WooCommerce and Easy Digital Downloads contacts on FluentCRM are now just a matter of seconds. The previous versions of FluentCRM didn't have the privilege to import your contacts from these specific plugins. Well, now it's available in the latest version and it's as easy as can be.
To import WooCommerce or Easy Digital Download customers, first, go to Contacts. Then, click Import and select WooCommerce or Easy Digital Downloads.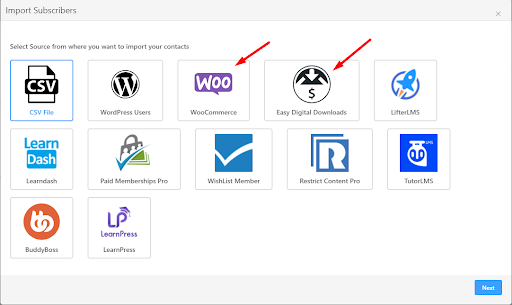 Then select the product and tag to apply to the contacts.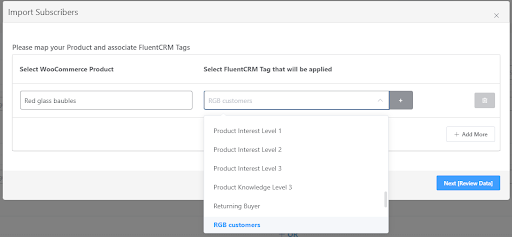 It's that easy!
View customer summary at a glance!
When you import contacts to a CRM, it's also important to be able to understand your customer's purchase patterns at a glance. FluentCRM already had your customer summary from WooCommerce and EDD within contacts profiles. However, it's much easier if you could just get a customer summary from the contacts section.
So now you can enable e-commerce fields like lifetime value, purchase count, first purchase, and last purchase dates in the contacts section. And when you do that, you get to view all the important e-commerce data in one place!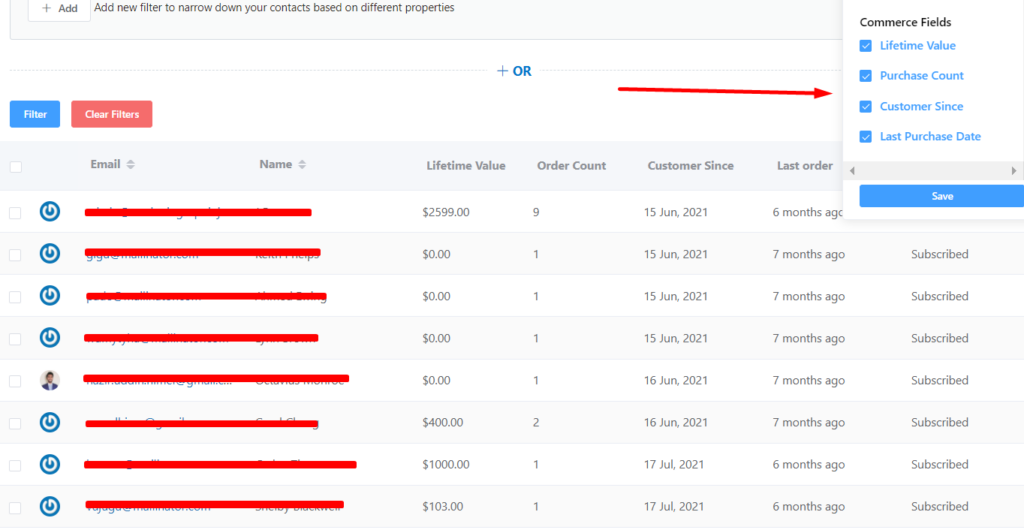 Advanced reporting (for WooCommerce, EDD, LifterLMS, and LearnDash)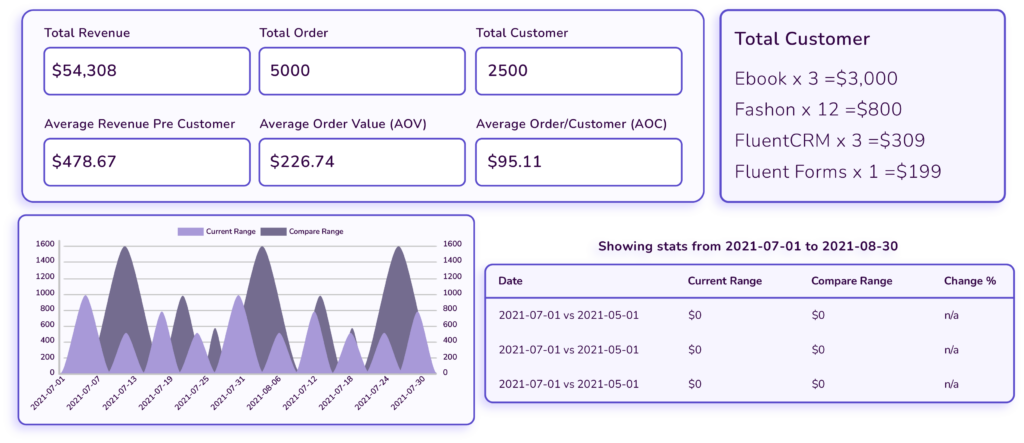 The advanced reporting feature helps you understand your business at a glance. But what if you could get detailed sales reports for your e-commerce store or LMS site and compare your product sales, orders, revenue, etc., for a selected period?
FluentCRM 2.5 makes this possible!
Our new advanced reporting module will show you detailed data for WooCommerce, LearnDash, LifterLMS, and TutorLMS in a more advanced way. With this feature, you can keep track of your total revenue, orders, customers, top-selling products, etc., and compare your business growth for a selected time period, without having to make any manual action!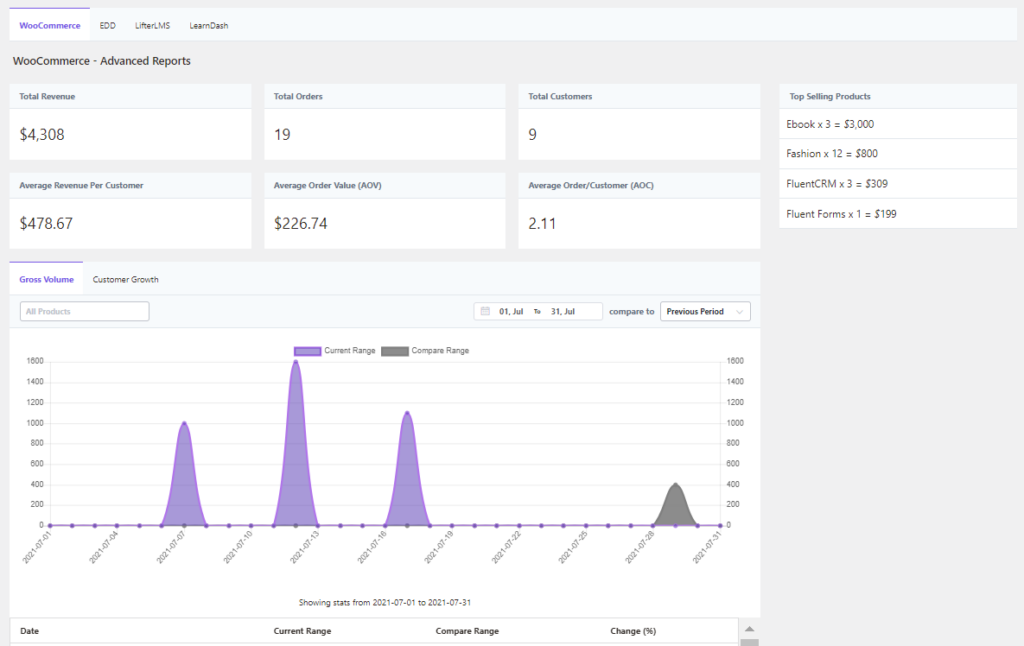 Enroll or remove students to courses automatically!
I often mention that FluentCRM helps you automate your "business" instead of "marketing".
Ever wondered why?
Because FluentCRM just doesn't automate your marketing. It automates your business, marketing, and customer relationship management. That's why we keep adding automation features such as WooCommerce order update change and note-keeping.
And this time, we thought about something even bigger!
Think about it, what if you could sell courses with Fluent Forms and then use FluentCRM to automatically enroll students to courses or give membership levels?
Wouldn't that erase the need for WooCommerce?
Yes, If you're using Learndash, LifterLMS or TutorLMS, you won't need WooCommerce to sell your courses anymore. Instead, you can sell your courses with Fluent Forms and automatically enroll students to courses with FluentCRM!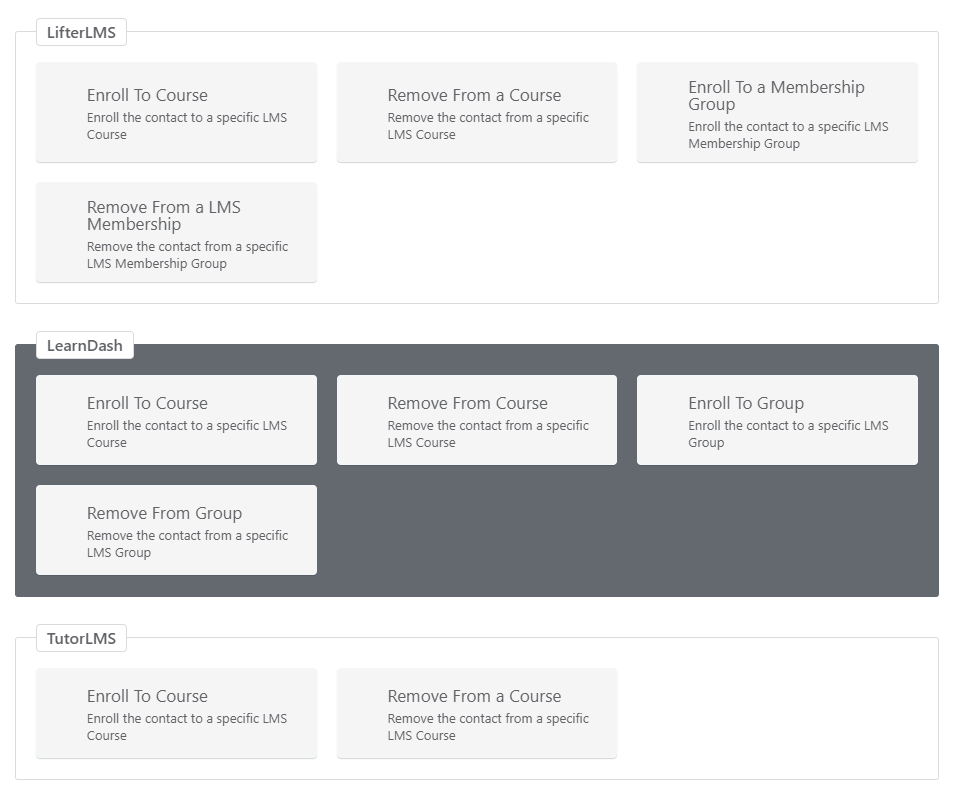 How does this work?
Simple! You can create a product purchase form with FluentCRM, create an automation that starts with the form submission trigger, and give enrollments to those who made the purchase! Moreover, you can also check any supporting conditions if you want!
Of course, this can happen at any point in your audience's lifecycle!
Here's an example showing how it's done with Learndash: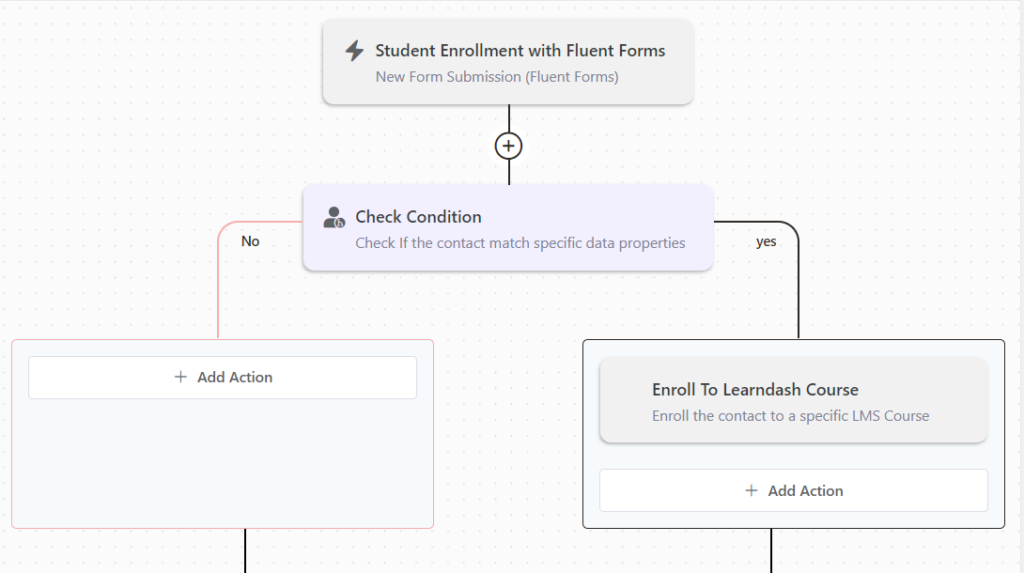 Magic, eh?
Automate emails for trial products
The recurring payments add-on for Easy Digital Downloads is an excellent tool for providing software and course trials. If you were doing the same, previously it was impossible to automate marketing workflows for those who renewed the subscription.
But that ends with our new Easy Digital Downloads trigger – recurring payment received.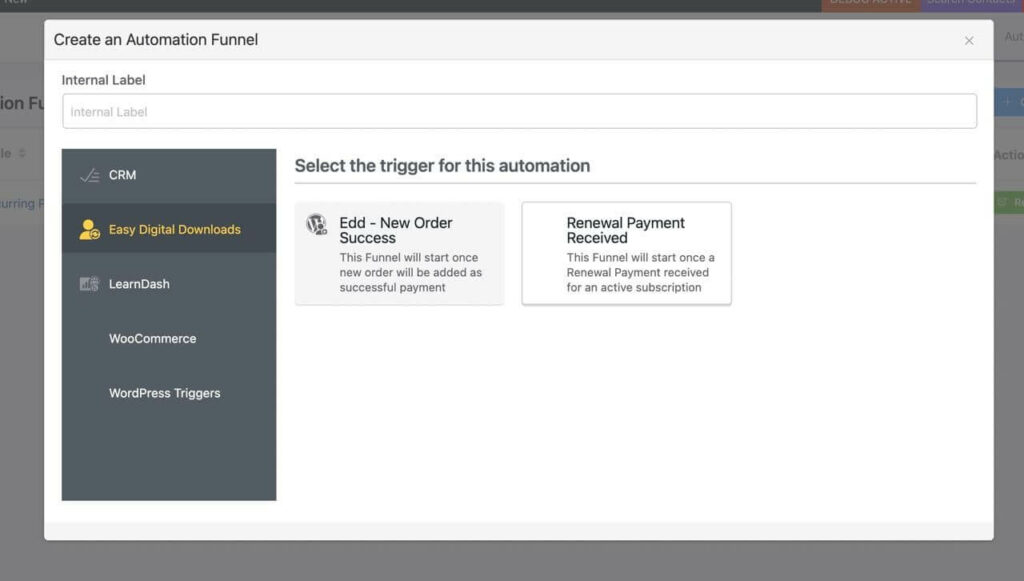 With this trigger, you can automate workflows when a user makes the final call after their trial. So if you are providing trial subscriptions, it's an early holiday!
New Goal: Email Sequence Completed
Email Sequence Completed is a new addition to the goal/benchmark in the Automation section. It's a small feature but efficient enough to do what it's developed for.
So how this feature actually works is it doesn't let a contact move to the next step until they complete an email sequence. So, in the future when you want a contact to complete an email sequence, you can use this benchmark.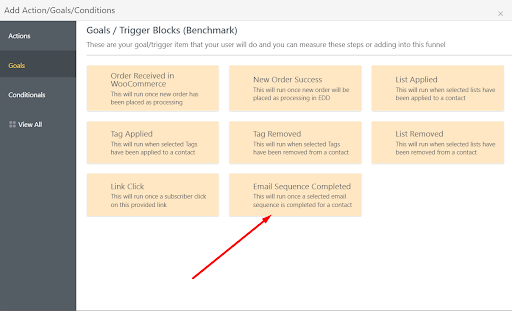 A different use case can be, if the contacts have already completed the email sequence you specified, they will move to the next step of the funnel no matter what stage they are in!
Beaver Builder subscription form integration
Till now, we had only two-page builder integrations, Elementor and Thrive Themes. However, we understand that you're free to use any page builder of your choice and that's why we are integrating as many page builder integrations as we can.
In this update of FluentCRM, we've added FluentCRM integration for the Beaver Builder subscription form.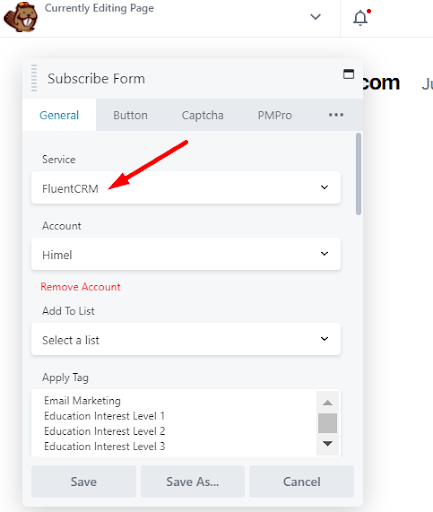 So now, you can select FluentCRM as your email service provider and collect leads through the Beaver Builder subscription form!
Bug fixes & improvements
FluentCRM is getting stronger day by day and with every update that rolls in, we try to make it better than before, more efficient, and more powerful. We also give an effort to fix issues and make FluentCRM durable. So, let's have a look at which issues we fixed this time:
Improved: Email Campaign Reporting
The first improvement we made is email campaign reporting. Now you can analyze your email campaigns at a glance. You can see the broadcast date, number of recipients, and open rates at a glance. Not only that, but you can also sort them from the campaign dashboard!

Improved: WooCommerce Order Received Goal
We have also improved WooCommerce Order Received Goal. If you want to send the same email for multiple purchases, just select the purchase type From 2nd Purchase. This automation will be triggered whenever the user makes any further purchases.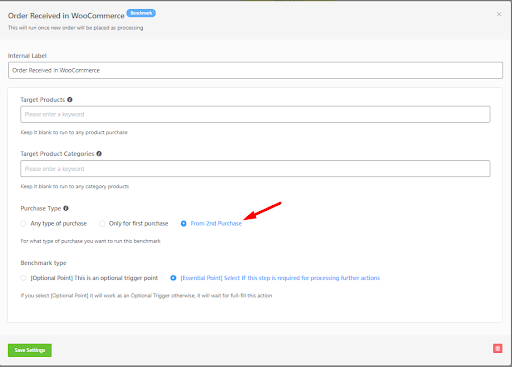 Fixed: Contact Status on WP User Import
WP User import is probably one of the most used features. However, due to some issues, WordPress users weren't being imported as Pending Subscribers. We've fixed this issue and now you can surely import WordPress users as Pending Subscribers.
Honestly, there are more. But explaining all of them here will only make it bigger. so here are some other fixes and improvements we have made in this update:
Added: Cancel email campaign button for scheduled email campaigns
Fixed: Unsubscribe form placeholder made translatable
Fixed: Tag update through Resi API
Fixed: Number display issue on dynamic segments
Fixed: Contact not being imported if a CSV column is named "Full Name"
Fixed: Showing WooCommerce order status change trigger in the free version
Fixed: Skip if overdue feature not working if an email campaign is scheduled for a past date
Care to spend a moment for us?
So, that ends the huge update for FluentCRM for this time. But we're not going forever. I promise you that I'll come back very soon with more exciting and jaw-dropping features. Meanwhile, you can suggest to us what new features we should add and which issues we must fix.
One thing that is on the top of our priority list is no matter what our users should be satisfied with our product and service. So, if you really appreciate our effort, please spend a moment for us to write a review for FluentCRM. We really love to hear from you!
If you don't use FluentCRM yet, Please try the free version, as it's packed with lots of email automation features.
And if you want to upgrade Pro, please check out our latest deal here.
Try Our Free Marketing Automation Plugin for WordPress!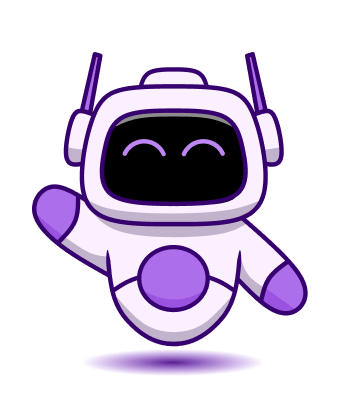 Leave a Reply
Where do we request features? Where can we see a list to vote on them?

Hey Wendy, We manage feature requests for FluentCRM internally. If you have any suggestions, please forward them to our support team.

And maybe another amazing feature could be that in funnels we could select the hour of sending emails. This feature is developed in email sequences but not in funnels and I think is very important for increasing the engagement. Hope you could integrate asap. Thanks

Thanks for your suggestion. We are considering adding that.

HI, congrats for your product. I think it is awesome but I would like to know how we could create a recovery cart funnel. I have been checking your woocommerce triggers but it is not Pending payment trigger. I read all your doc but I didn't findt anything about "recovery cart". Could anyone help me please? thanks in adavanced

Hi Mike, we are working on the abandoned cart trigger. It will be available soon.

Hi. I'm thinking to move to fluentcrm. It looks great but I have two doubts:

1: Can I automate emails based on dates? To send a birthday message for instance?

2: With incomming webhooks, is there a way to send customized double optin messages based on the applied label or the outcomming webhook source?

Thanks!

Hi Alberto, sorry those features aren't available yet. I have added these as feature requests.

Hey there, first of all, awesome product you've built. There are a couple of product features that would be huge for future updates. #1 – an automation goal/trigger that "stops email sequence if user replies to email". Might this be something you are considering for future updates? That would be huge. #2 some sort of Lead/Contact management system along with the ability to create Pipelines, so one can use the CRM to track leads and sales. Hope to see those options in the future!? I'm sure a lot of people would absolutely love that. Thanks!

Hi Eric, Thanks for your suggestion! Yes, I agree and we're already looking into the sales pipeline. We'll take both of these requests into consideration.