FluentCRM 2.6.0: More Features, Improved Integrations and More!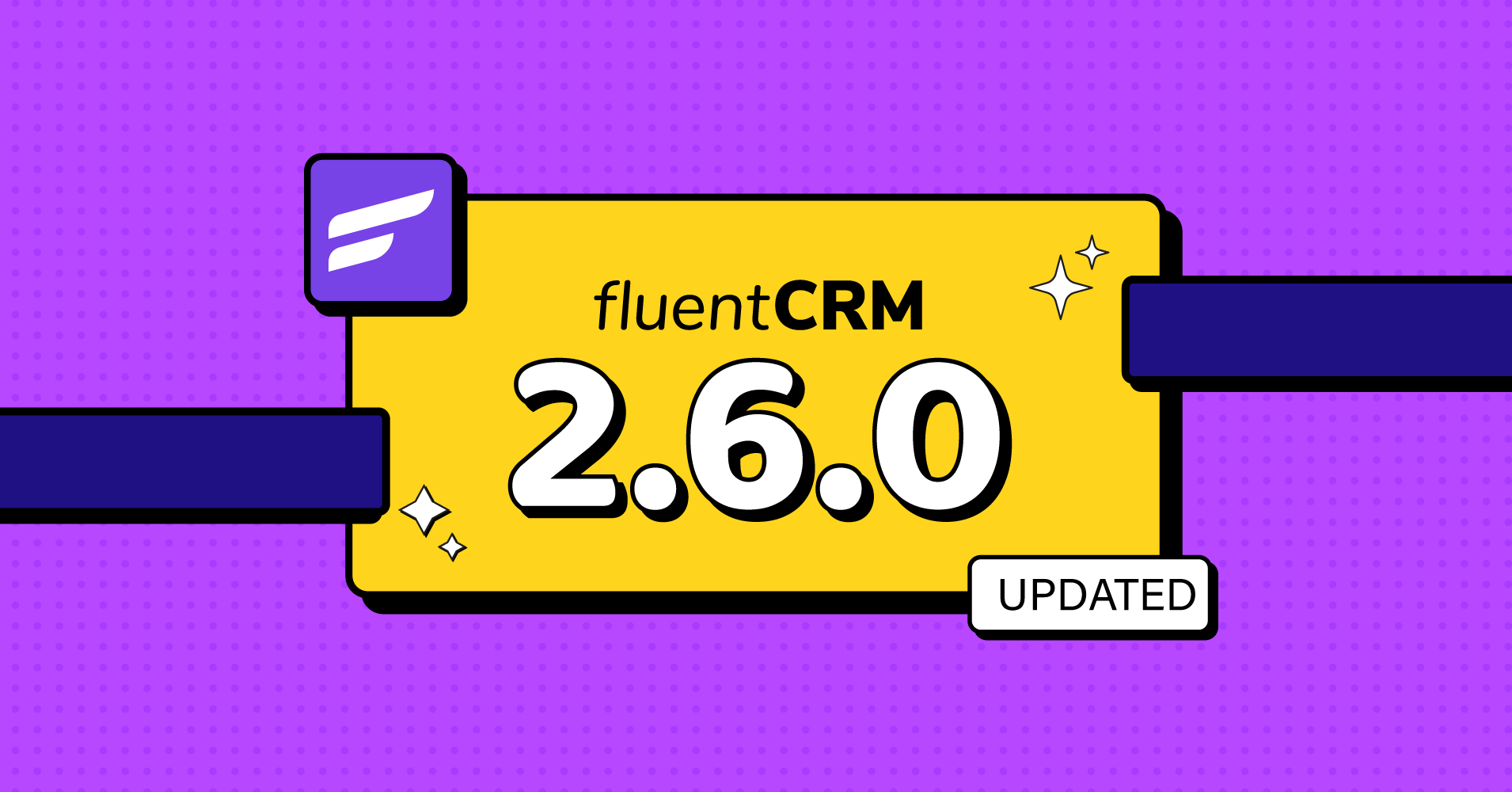 No more teasing; it's here!
We know you were waiting for another update, and we couldn't keep you waiting any longer. The major release of FluentCRM 2.6.0 brings you many more user-requested features, improved integrations, improvements, and bug fixes!
So without further ado, let's find out what FluentCRM 2.6.0 has to offer!
Ready?
Let's begin!
More Advanced Filtering conditions
Needless to say, FluentCRM's advanced filtering makes filtering and segmenting huge contact databases a child's play. To make it even better, we have added several advanced filtering conditions in FluentCRM 2.6.0.
Email campaign activity conditions
Knowing your email campaign's performance is too old school. In order to understand audience behavior toward your email campaigns, you need to be able to filter and segment your audience based on specific email campaign activities.
That's why we are introducing filtering contacts based on campaign data. Let's say you have several campaigns up and running, and you want to find the contacts who clicked on the link of the emails you have sent on a specific campaign.
Toggle the Advanced Filter in contacts and click on the +Add button. Select contact activities and click on email campaigns.
Now click on the link clicked option.

Select the campaign from the next box.
You can also filter contacts based on the following data from a campaign.
did not click
opened
did not open yet
in (email sent)
Not in(regardless of status)
Automation activity-based filtering conditions
Just like email campaigns, it's also important to be able to filter contact activities in specific automation funnels.
To do this, select the previous filter, go to contact activities, and, this time, select automation activity. Now you can filter contacts based on the given situations of contacts in an automation funnel.
Once you have selected the status, select an automation funnel, and FluentCRM will fetch the specific contacts from that funnel based on their status.
Email sequence-based contact filtering
If you're using email sequences, you can also filter contacts based on their activities in a specific email sequence. Just go to contacts activities and select Email Sequence Activity. You can filter based on the following email sequence activity.
Like earlier examples, don't forget to select the email sequence from the next box!
New WooCommerce/EDD/LearnDash/LifterLMS conditions
Whether you're running an e-commerce store using WooCommerce/Easy Digital Downloads or an e-learning website using LearnDash/LifterLMS, you'll want to filter and separate your customers and students from the other contacts.
That's why FluentCRM 2.6.0 brings you a simple condition using which you can achieve your segmentation goals. For that, just select the platform you're using, and select Is a Customer or Is a Student condition. Here's an example below:

New Automation Features
In this version, we've added several new automation features. Most of them are user-requested, and they'll surely blow your mind!
New Trigger: Birthday Automation
We just celebrated FluentCRM's birthday, and maybe it's the best time to introduce the feature you all have been eagerly waiting for.
Yes, the birthday automation trigger is here, and now you can send birthday wishes, offer birthday discounts and make your customers feel more loved!
Setting up the birthday automation trigger is even easier; simply select the Contact's Birthday trigger from the CRM triggers and start creating your very own personalized birthday automation funnel!
New Action: Remove WordPress User Role
You know how serious we are when we say we want to make FluentCRM a complete marketing automation tool. That's why we're constantly adding more automation features to help you manage your WordPress site better.
Previously, you could create a new WordPress user, update user metadata or change a user role inside FluentCRM's automation funnel. This time, we've added the ability to remove your contact's WordPress user role.
To do so, you can simply add a Remove WordPress User Role action!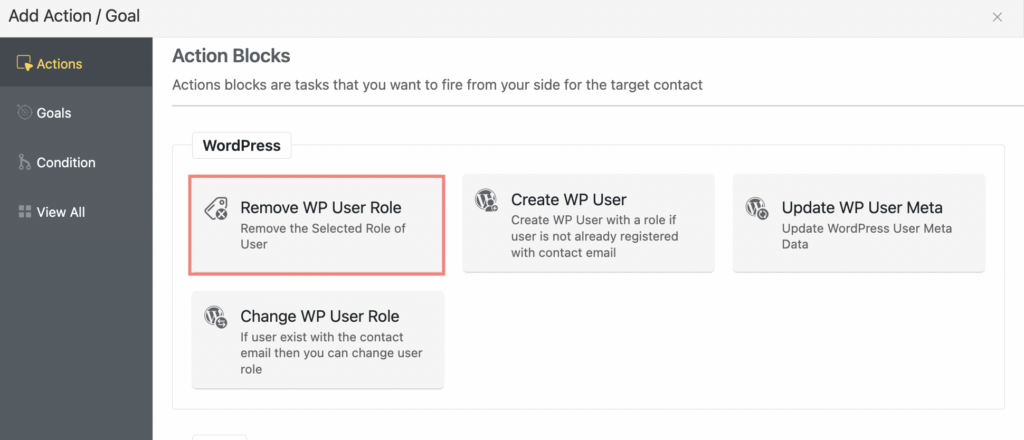 New Trigger: Leave from a Course(Learndash)
Been struggling with sending people automated emails to rejoin a course if they leave it halfway? Well, that ends with the introduction of the Leave from a Course trigger for Learndash!
From now on, you can start an automation funnel if someone leaves a course halfway. Wondering how?
From the new automation dashboard, click on Learndash and select Leave from a course.
Here's a very simple example for better understanding.
Major feature improvements
Now that you know about the major features we have added, let's go over some of the major improvements!
Faster email editor
Having trouble with the email editor lagging? —No more!
In FluentCRM 2.6.0, we've optimized our email editor codes so that you get to experience a much smoother, swift email composing experience. No more frustration, no more lagging!
Improved Email Sequences
Email sequence is highly effective when used right. If you didn't find it useful before, you'd love it now. FluentCRM 2.6.0 brings two important improvements to the email sequence module.
UTM parameter
UTM parameters are a great way to track a campaign through Google analytics. Previously, you could only do that when launching an email campaign using FluentCRM. From this version, you'll get to set UTM parameters in email sequence!

Minute & hour unit delays
Some of you probably haven't been able to take full advantage of our email sequences as they lacked the minute and hour units. Well, that's fixed now!
Contacts won't enter goals from any automation
Say you have an automation funnel running smoothly, and out of nowhere, you discover a contact has entered the funnel midway just because it satisfied a goal. Surprising, no?
We know some of you are probably frustrated that you can't control who enters an automation goal and who doesn't. But it ends now, we tweaked all the goals a bit, and now you can set whether contacts can enter an automation funnel when they meet a goal.
Just uncheck the box in the picture and never worry about a contact entering your automation funnel without you knowing!
Select and modify email template blocks in bulk
Days of customizing your email block by block are over! Now you can easily modify email template blocks in bulk. Just select all the blocks you want to customize, and give them a bespoke design to portray your brand's image through your emails!
Refactored CRM manager permission
Last but not least, we've refactored the CRM Manager Permissions in this version. Now you'll get a better-categorized view of the manager permissions, and you can also select whether you'll give your manager permission to delete contacts, contact segments, emails, or automation funnels!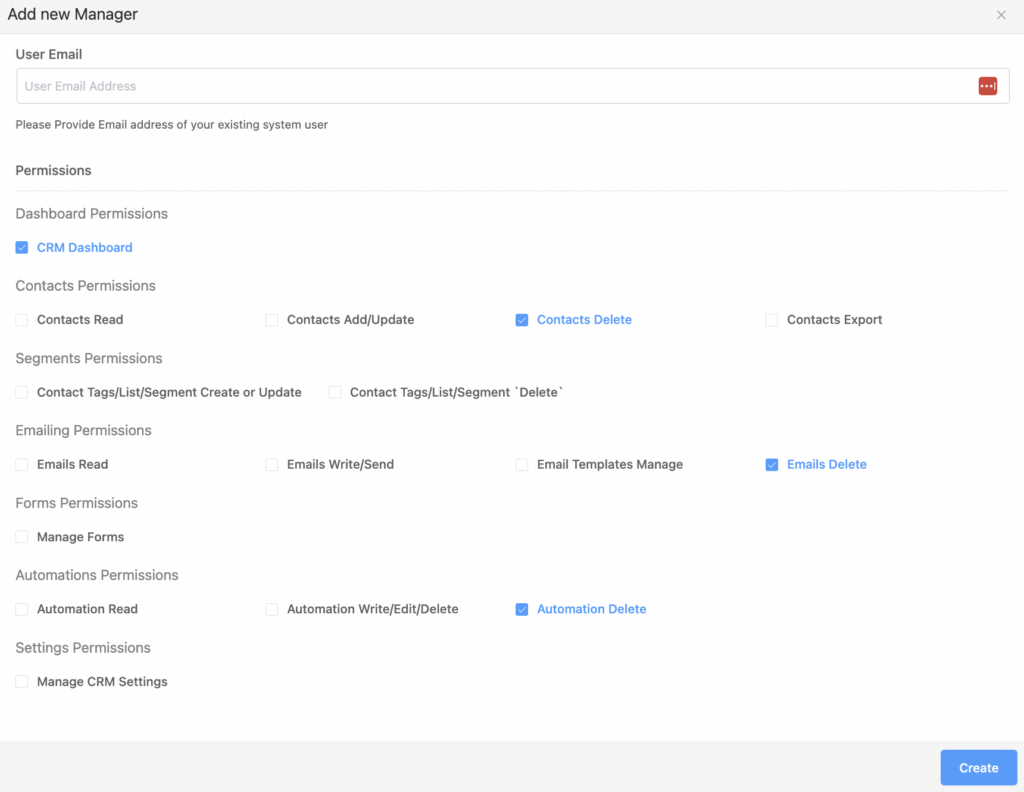 Experimental features
Here's to the fun part! For the first time, we're introducing a few experimental features in FluentCRM. Since these are experimental, you can enable or disable them whenever you want. Hopefully, you'll love these features!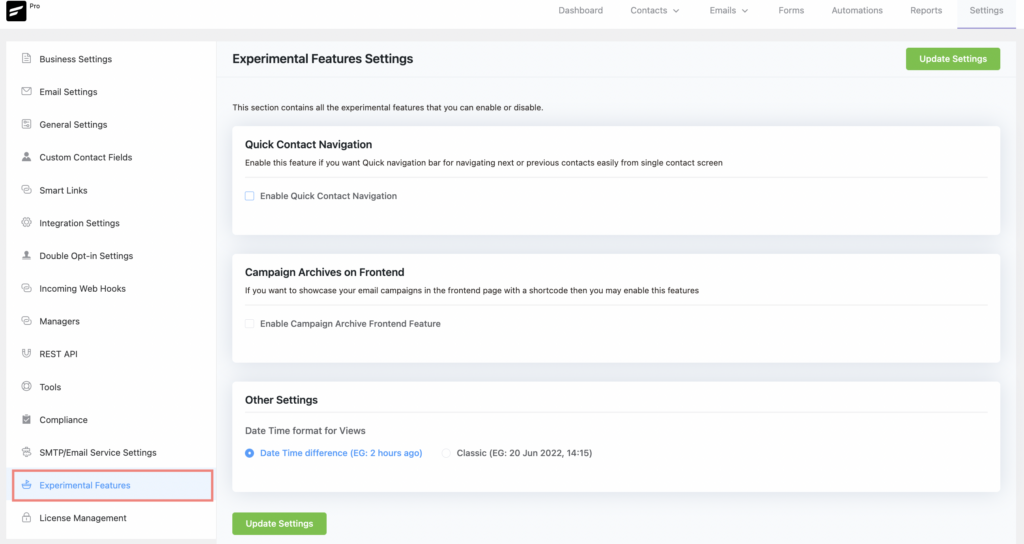 Quick Contact Navigation
Maybe you want to see the next contact, maybe you want to email your contact, or maybe, you want to set up a direct phone call with your contact. Now, you can do all of them from the floating navigation bar!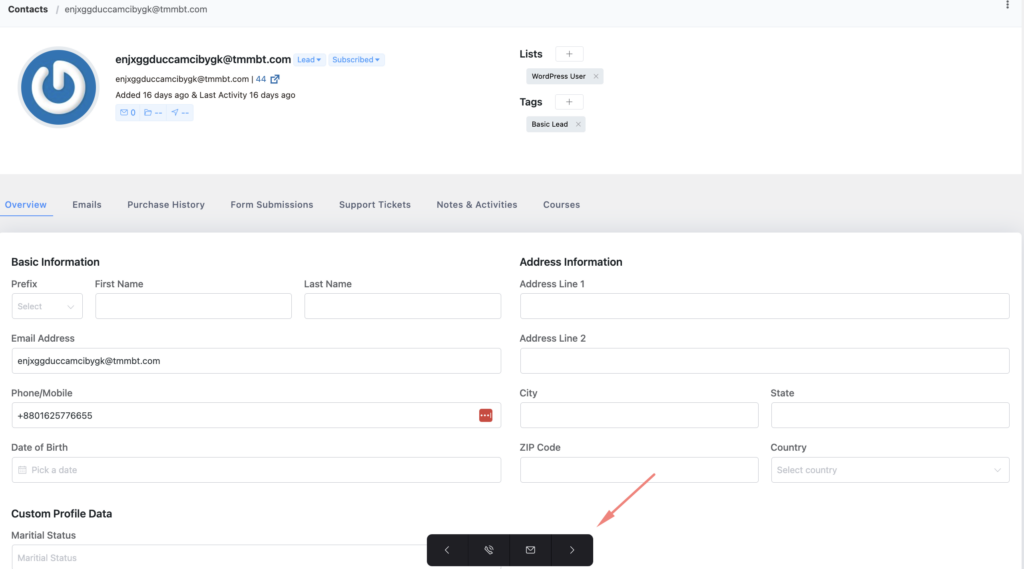 Show campaign archives on frontend
Want to showcase your email campaigns on the frontend? Simply enable the Campaign Archives on Frontend, select the Number of Campaigns to Archive, and copy-paste the shortcode. You can also select by keyword match!

Bug fixes and minor improvements
Our long list of features comes to an end, but not our list of development. We're just as focused on making FluentCRM more stable as we're focused on adding new features. Below are the bugs fixes and minor improvements we've made in this release:
Fixed: Phone Number autosync is not working on the WooCommerce checkout page
Fixed: Email template content background color change not working
Fixed: Created at condition not working in advanced filters
Fixed: Image alignment settings not working correctly in email templates
Fixed: Selecting Paid Memberships Pro conditions shows an error in dynamic segments
Fixed: Button alignment in email template not working
Fixed: Changing cloned email in automation also replaces the original email
Fixed: Custom date field in advanced filtering is not working
Fixed: A/B Testing settings not updating on duplicated campaigns
Fixed: Image caption not showing on email templates
Fixed: Multi Line, date, and time fields not appearing on update contact property auction
Fixed: Some email client-specific issues fixed
Fixed: Custom fields not showing in Elementor form builder
Fixed: Some missing and incorrect texts are added and replaced
Improvement: Added some missing translation string
Improvement: Most emojis are supported in the email editor now
Improvement: Now you can enroll students in paid courses you've created using Tutor LMS
Wrapping up
Massive update, isn't it?
FluentCRM 2.6.0 is another big leap towards making it the ultimate CRM for WordPress. None of these would have been possible without you so we want to give each and every user a big shout-out for supporting us throughout the two-year journey.
FluentCRM was built to solve all the problems a small business might face regarding customer relationship management. Hopefully, this update will serve that purpose even better. If you appreciate our efforts, don't forget to write a review on the WordPress repository. We really appreciate it!
If you don't use FluentCRM yet, feel free to try the free version. I'm sure you'll love what we have to offer!
If you want to upgrade to Pro, please check out our latest deal here.