50 Email Subject Lines for Sales Prospecting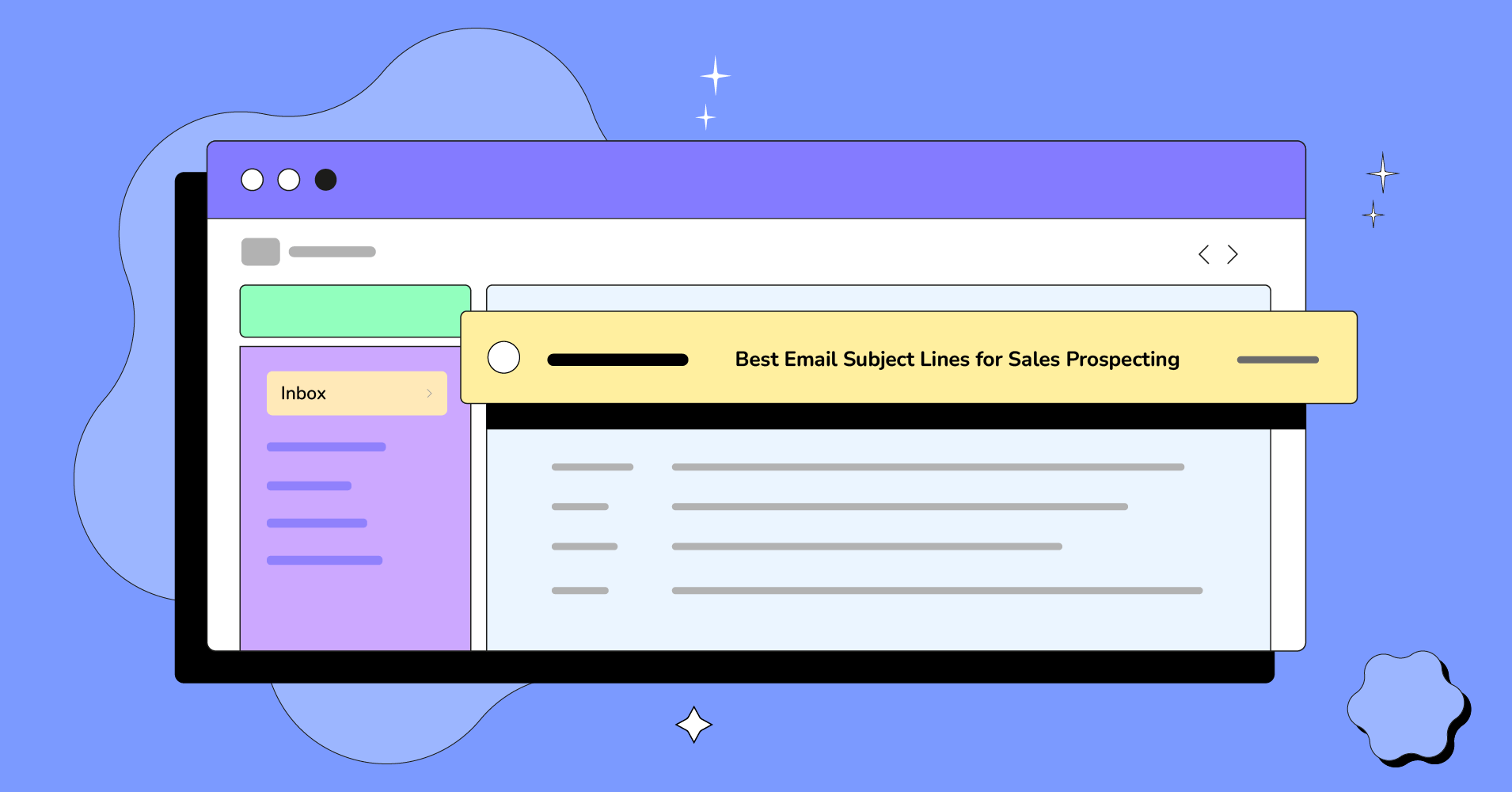 Due to its incredible capacity to connect with prospective consumers directly, email marketing has become the most efficient method of gaining an increasing number of new prospects. And when it comes to sales prospecting, email subject lines play a key role!
Email subject lines dictate how your emails will be treated. However, writing an effective subject line takes a lot of creativity and intelligence. This article will explain the significance of email subject lines for sales prospecting and provide some of the best examples.
So without further ado, let's get to it!
Importance of email subject lines for sales prospecting
"I always ask myself one question before opening an email pretty much solely based on the effectiveness of the subject line: If I open this email, will it be a waste of time?"

– Ginny Soskey
Metrics like open rate, click rate and click-through rate measure the effectiveness of an email marketing campaign. This is why an appealing subject line bears so much significance!
According to various statistics:
Subject line is your most powerful weapon for writing emails like a boss. They dictate how many opens you'll get, and that's why it's instrumental to closing a deal with your clients!
10 tips for writing good sales prospecting email subject lines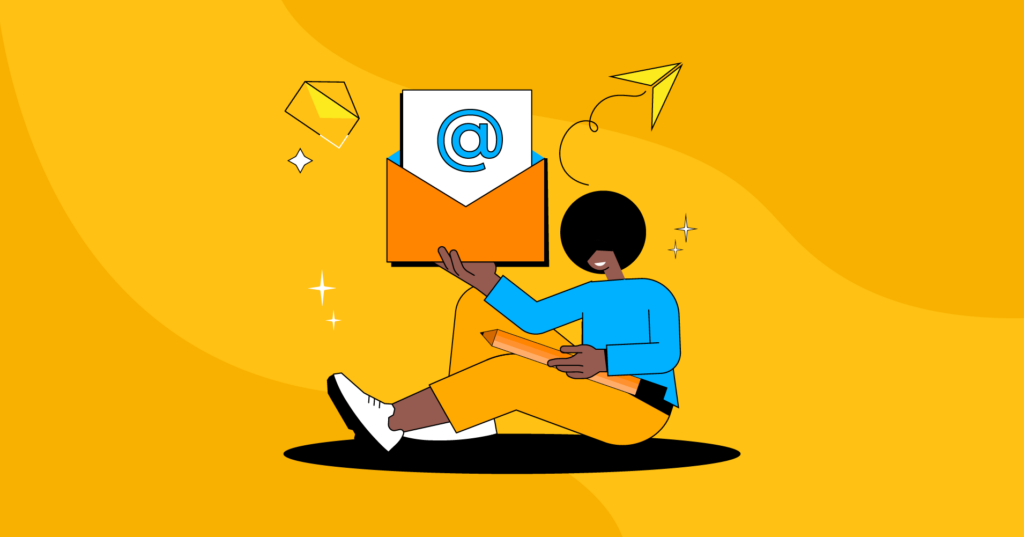 Email marketing has no shortcuts and is entirely dependent on dedication, discipline, and adhering to the proper process. The same is true for email marketing subject lines. Your creativity, courage, and commitment will assist you in reaching the pinnacle.
Before beginning to write your subject line, ask yourself these queries if you truly wish to make your subject line impactful:
Who is your customer?
What benefit are you going to offer?
Do you have a personal relationship with the prospect?
Once you've answered these questions, follow the below tips to write effective sales email subject lines:
Be concise & clear: That's where most email marketers go astray! The optimal range for a subject line is under 60 characters (5-7 words), and that's what you should aim for. Your chances of success will increase if you can speak in a clear and concise manner.
Be relevant: Your subject line should offer your audience something they truly desire. Don't forget to do some research on your clients, and refrain from tricking them with fake promises. Write subject lines that are relevant to their position, duties, difficulties, objectives, and pain points.
Personalize your subject line: Personalized subject lines increase open rates by 50%! People do not want to hear from strangers or robots they have never met. And personalizing the subject line will foster an emotional connection between you and the prospect by letting them know that there is a real person behind the email.
Include keywords: Many email users frequently use keywords to sort and arrange their inboxes. Because of this, it's crucial to use the keyword in your subject line to increase the likelihood that they will still open your email even if they do a more focused search.
Talk about the prospect, not you: People don't buy what you do; they buy why you do it! If you talk about you or your products in the subject line, they won't feel motivated. Talk about how your contribution will improve their lives, including useful hints, assets, or other equipment they can use in the future to draw them into opening your email.
Try not to focus too much on sales: Although selling is your primary objective, never let your subject line show your desperation! Before introducing your products and services, try to become familiar with them, establish a relationship, and earn their trust.
Find the right tone: Try to sound human rather than robotic. Instead of ordering or advising, use a conversational approach. Your tone of voice and manner will illustrate how you feel about them. Aside from that, remember to proofread your copy for grammar and spelling mistakes.
Instill a sense of urgency: Create a sense of urgency in your subject line to make your recipients open your emails immediately rather than letting them be saved for later.
A/B test your subject line: A/B testing is the best course of action if you have several equally strong subject lines or simply can't settle on one. You can quickly decide which subject line will work best for your emails by using A/B testing. We advise using a top-notch marketing automation tool.

Marketing automation for WordPress
Get FluentCRM Now
What to avoid while writing an email subject line?
It's important to remember that email is a well-designed marketing channel with several phases that must be completed in order. Never try to overlap any of these steps, and don't act overly desperate.
To create an appealing email subject line for sales prospecting:
Don't use "Re:" or acronyms in the subject line.
Don't use spammy words such as "urgent" or "important,".
Don't use unnecessary jargon or slang.
Keep the use of exclamation points to a minimum.
DON'T USE ALL CAPS
50 email subject lines to stand out in sales prospecting
The best subject lines aren't precisely defined. Your ability and creativity to manipulate words are everything and which strategy you should take should be determined by your scenario and the goals of your emails.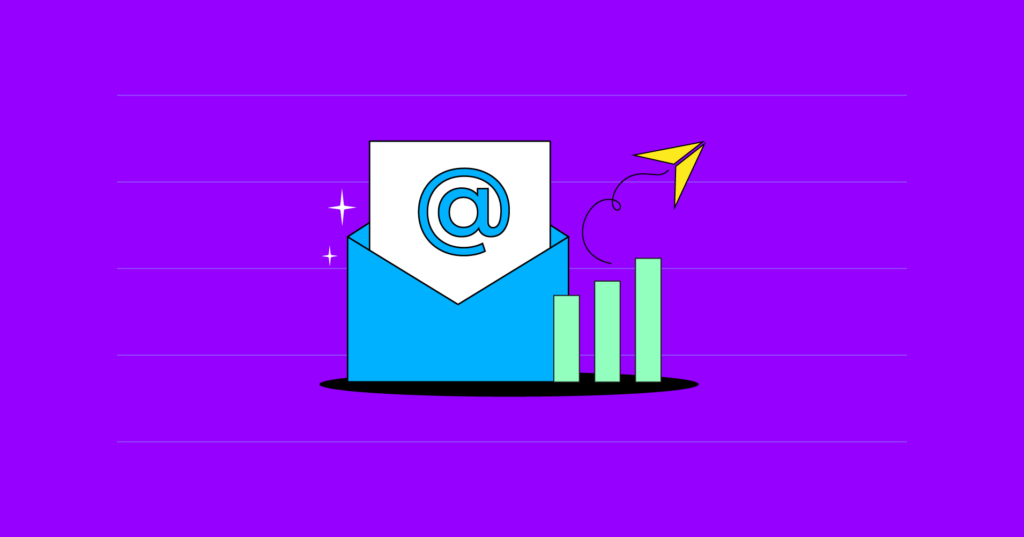 Following are some of the best subject lines based on various scenarios. Using some well-known companies as examples, we also tried to come up with some of our original subject line concepts.
Let's get started.
Catchy email subject lines
Playing on your audience's curiosity increases open rates. This strategy is a dependable and long-term method of engaging your prospects in the subject line. Here are a few examples:
"*Don't Open This Email*" – Manicube
"Abra-cord-abra! Yeah, we said it." – Quircky
"Welcome Gift! Offer Inside 👀…" – EyeBuyDirect
"Everything you wanted to know about email copy but was too afraid to ask" – Copy Hackers
"Can you help me name this dance, [First Name]?" – Marie Forleo
"You left your stuff at our place…" – Shinesty
"Probably the opportunity you were looking for"
"Let's get right to it"
"We can assist you in succeeding"
"I bet this is something you haven't heard before"
"Please assist me"
Follow-up email subject lines
Regarding the follow-up email subject lines, you can quickly determine which subject line will be effective for a prospect by looking at their previous approach. Here are some examples of follow-up email subject lines:
"A new product you won't pass on"- Seafolly
"You've Changed" – UrbanDaddy
"It's been a while! Did you forget me?"
"I'm hoping you'll enjoy this one, too."
Check out this post for some more follow-up email subject line ideas
Subject lines that evoke urgency
Remember that it's now or never. When your recipients place you in the waiting room, there is a lower chance that they will open it later. Here's why you should prioritize ringing the bell in the first place. Play on their curiosity and make them open it right away.
Examples of subject lines that prompt urgency:
"Final call to save up to $35" UberEats
"Your discounts expire soon". – Poshmark
"Uh-oh, your prescription is expiring"– Warby Parker
"Shirts for $39 ends at midnight" – Charles Tyrwhitt
"Hurry, Get Your Tickets to Solo: A Star Wars Story Fan Event!" – AMC Theaters
"It's now or never"
"Don't risk missing it."
"The clock is ticking."
"What exactly are you waiting for?"
Personalized email subject lines
Email personalization is a great way. In fact, the best way to get outstanding CTR. Subject lines are extremely important in this regard. Your recipients feel much more connected when you use their names, remember their birthdays, and inquire about their interests. It'll also assist you build an everlasting relationship with your customers.
Here are some examples of personalized sales prospecting email subject lines:
"You were on point last week 🎯" – Grammarly
"Show them what you're made of" – Canva
"You've Changed." – UrbanDaddy
"Did you get your book yet?" – Digital marketer
"We'd love your feedback, Seray!" – Joybird
"Just looking out for you" – AYR
"Hey [name], here is your birthday gift!"
"Are you struggling with [problem]? You're not alone!"
Subject lines for festival
Offering discounts during various festivals has long been a well-known strategy to increase sales. As an email marketer, you should also never miss the chance to utilize holiday celebrations like Halloween, Black Friday, Christmas, Mother's Day, Valentine's Day, etc., in your email marketing strategy.
Here are some suggestions for upcoming festivals:
"From Our Ghouls to Yours" – Sugarfin
"Are You Ready To Get Spooky?" – Etsy
"Have a Fang-tastic Halloween" – MeUndies
"Beware of these bewitching accessories… "– Accessorize
"Be your own Santa, and don't forget to gift yourself something special."
"Here's a Deal That Will Make You Egg-cited"
"It'll be a Lighting Easter"
"Be Kind to Your Sweetheart"
"Don't let your partner whine."
"Your girlfriend is taken!"
"Roses are red 🌹 violets are blue; here's a deal for you!"
"The best present for the world's best mother"
"Your mother will like this for sure."
Check out these articles for some more festival marketing ideas:
Clearly stated subject lines
These types of subject lines speak for themselves! Telling your audience what you have to offer right away is sometimes the best course of action. Here are a few examples:
"Start Planning Your Next Trip With 50% Off" – Spirit Airlines
"Try our favorite recipes" – My Spice Sage
"Get more kitchen space with these easy fixes" – IKEA
"Your all-weather dining solution" – Terrain
"Love PayPal? Earn up to $100 to spread the word!" – PayPal
Final thoughts
Have you noticed something interesting?
Few of the subject lines on our list of the best email subject lines for sales prospecting don't strictly meet the guidelines or criteria we've mentioned above!
What does this indicate?
Well, there is no specific technique or rule to follow to succeed with your subject line. It all comes down to your effort and creativity. Take the proper approach, and don't be afraid to experiment with your ideas.
Have a wonderful day, and don't forget to share your thoughts in the comments section!