FluentCRM 2.8.3: Company Module Upgrade, Improved Navigation & UI and More!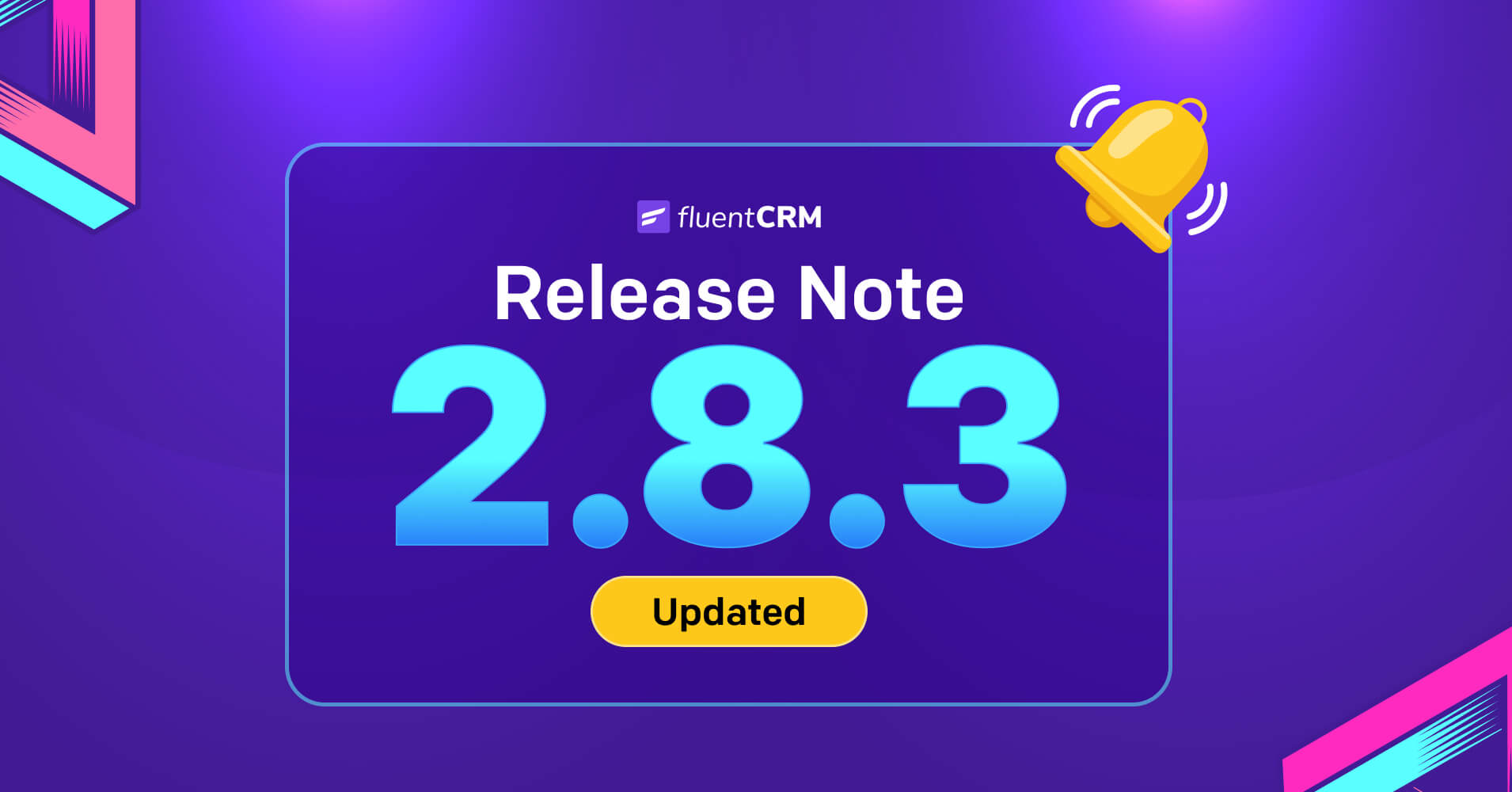 Just about two months ago, we released a major product update, and guess what?
We are back with another exciting update!
We want to inform you that we are working relentlessly to make FluentCRM better and better. And to keep our promises alive, this update comes with lots of new exciting features, improved UI/UX, and performance improvement.
So, without further delay, let's explore FluentCRM 2.8.3!
Company module upgrade
With each product update, FluentCRM comes with something exciting & notable. And in 2.8.3, we have brought a revolution in the company module!
Yes, that's true. From now on, FluentCRM is ready to deliver an immersive experience to its users, helping them manage their B2B communications more efficiently.
So, what's new inside the company module?
More Company column fields
In 2.8.3, the first thing you'll notice in the company module is the addition of some useful company columns.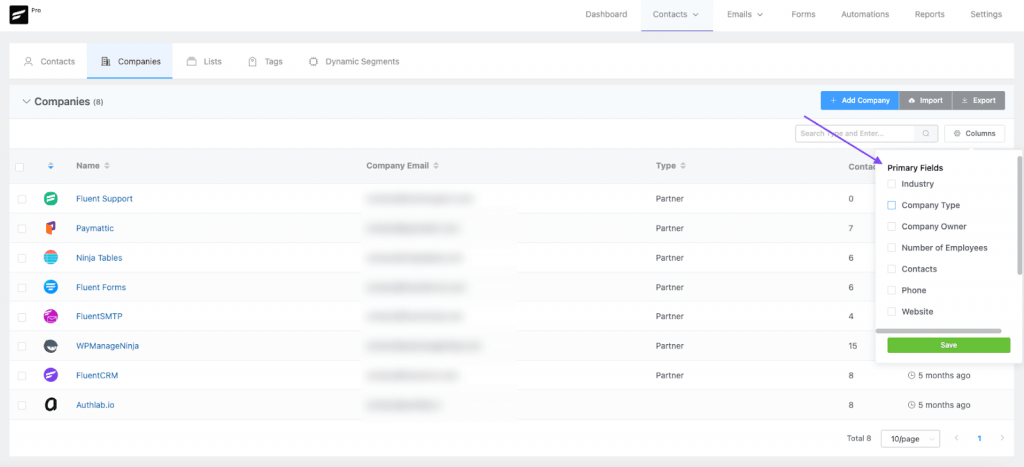 With each new unique field, you can easily sort the data and manage them. Also, you can use single or multiple fields to fetch information.
We believe the addition of these new columns will make the business management process easier and more smooth for you.
Improved company permission policy
We have improved the company permission policy in the CRM Manager setting. With this update, you can now assign CRM managers with specific permissions based on the company they belong to.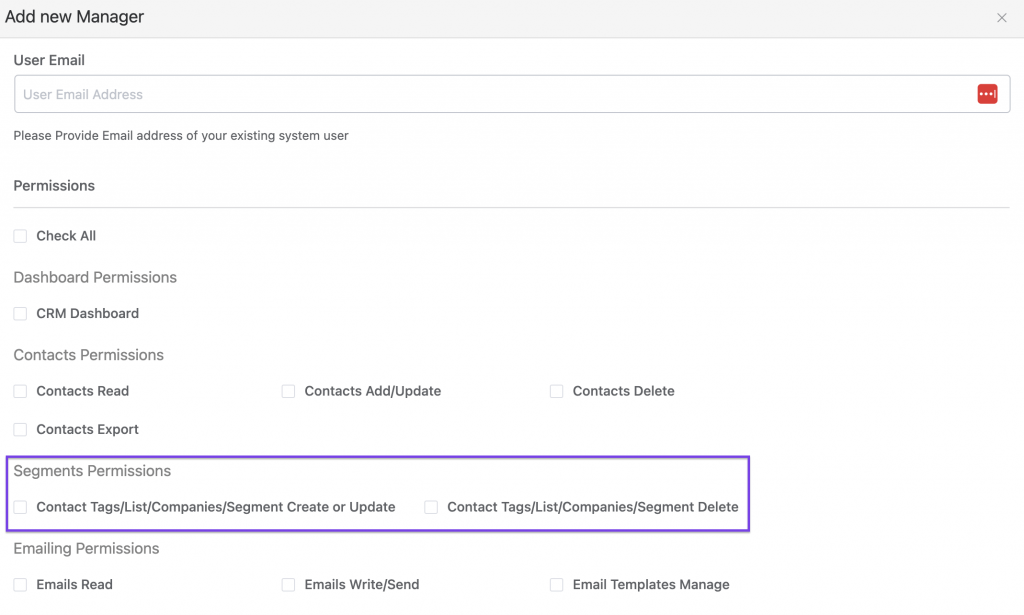 Company Applied Trigger
This product update comes with a new automation trigger which we call Company Applied.
What it'll do?
You can use this automation trigger when a company is applied to a contact. For example, if a new employee joins your company you can apply this trigger to start sending company policy or update related emails to your employee.
So, start designing your own automation funnel with the Company Applied trigger.
Company Removed Trigger
Company Removed trigger does the opposite function of the Company Applied trigger. That means this trigger will run when a selected company has been removed from a contact.
For example, if an employee resigns from your organization you can apply this trigger to bid a good farewell just like the below automation-
Apply Company
If you want to add a contact to a specific company then the new action Apply Company will prove handy for your business.
Just go to the Actions Blocks and select Apply Company. Then it'll ask you to select the company where you want to assign your contact. After selecting the company click on Save Settings to apply this action.
Remove From Company
Remove From Company is the opposite of the previously mentioned action. If you want to remove a contact from your company then all you need to do is select and enable this action.
So, draw your automation funnel and fire this action when required.
Company option for Incoming Webhook
Another exciting news is we have added the company option for the Incoming Webhook. So, you can change or modify the company information via webhooks. Also, you can receive external data and trigger action based on the company information. Sounds cool, isn't it?
Custom email preference management page
It would be cool if you could create your own unique email preference management page, right? We listened to your heart and want to inform you that it's possible now!
How?
Just copy this shortcode and paste it on a new page.
[fluentcrm_pref] 
When finished, click on View Post and you'll see the magic! You have successfully created your custom email preference management page with a form.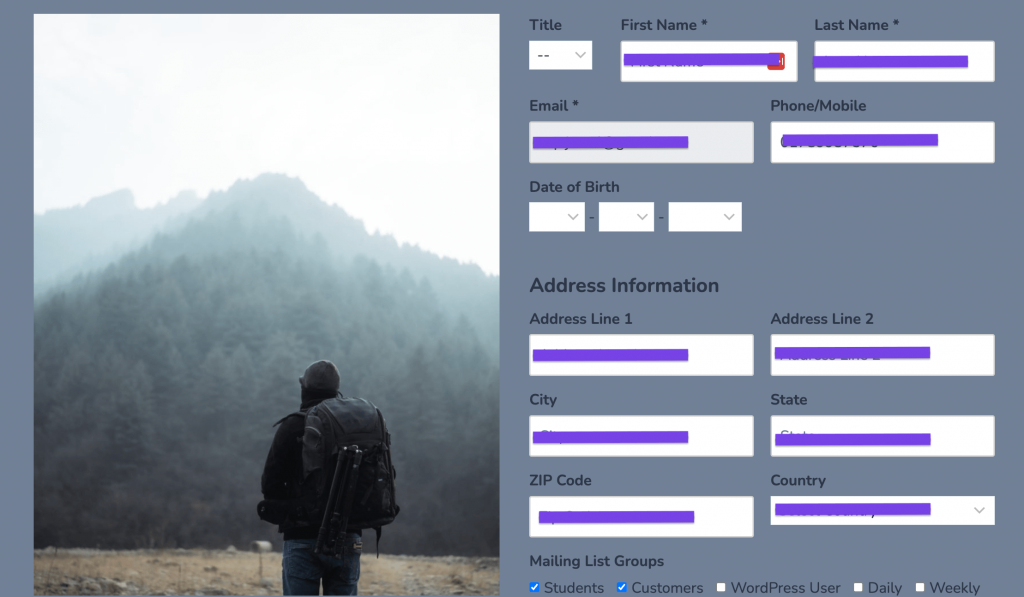 But you have to customize it with the essential elements of email preference with an appealing shade So, to make it visually appealing dive into your imagination & start customizing the page.
After developing your own email preference page place it into your email footer and let your subscribers decide what they want.
New Trigger: Contact Created
FluentCRM 2.8.3 comes with a new trigger called Contact Created. It's a useful trigger to automate the journey of a new subscriber in your email list.
It'll help you add new subscribers to your onboarding email sequence and nurture them to turn into paying customers. You can take the below automation example as an inspiration-

So, power up your CRM automation with this extremely useful trigger which will generate money for your business.
Navigation and UI improvements
We are working constantly to improve the user satisfaction and user interface of FluentCRM. Due to our continuous effort, we have brought some noticeable changes in the navigation and UI.
We have made the navigation of the email campaign more fluid and user-friendly. Because FluentCRM now supports going back to the previous stage of your email campaign setup.
With this update, you can go back to the previous stage of your email campaign setup and perform the required modification.
From 2.8.3 you'll notice a massive change in the UI of FluentCRM. The Dashboard, Reports, and Automations are decorated in a new style and you are ready to view all the important statistics in an aesthetic way. Here's a picture of our newly designed Dashboard-
We have also added a confirmation prompt in the Company Notes & Activity. From now on, if you perform any modification in the notes or activity of a contact then a confirmation prompt will appear before your eyes to confirm the changes. Here's a snapshot-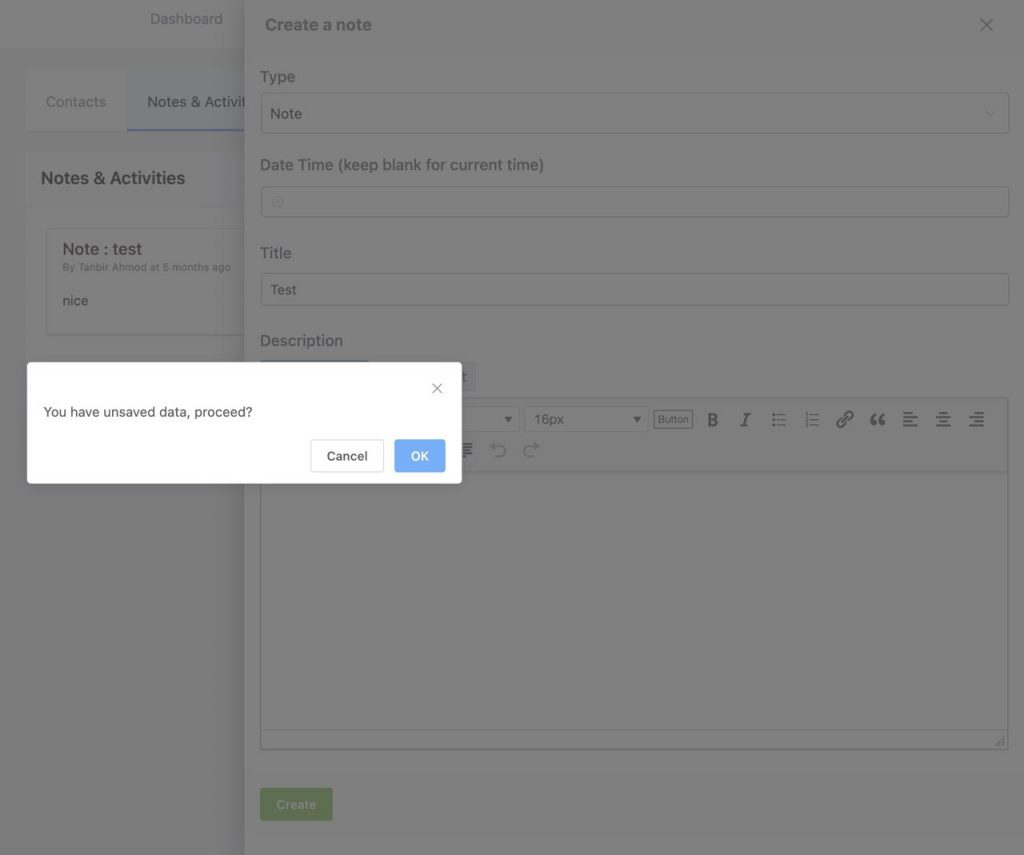 Duplicate segment or export contacts
We know that segmentation plays a pivotal role in email marketing as it helps to reach your audience more specifically. And to reach your audience more efficiently we have added a very useful feature under Dynamic Segments.
With this cool feature, you can create a duplicate version of your existing dynamic segments or export these segments.
You can use the duplicate copy to modify and use without affecting the original segment. We hope it'll give you flexibility and precision in your email marketing efforts.
Also, you can use the exported version of the dynamic segment for analyzing customer behavior, demographics, engagement patterns, etc. in detail. You can use it to make more accurate data-driven decisions.
Improvements
FluentCRM believes in continuous improvement and that's why we are improving your favorite email marketing automation tool with every release. So, what improvements can you expect from FluentCRM 2.8.3?
Let's explore them:
Added translatable strings: Our goal is to make FluentCRM accessible and user-friendly for a broader audience. That's why we have added translatable strings in FluentCRM. As a result, you can view most of the text elements in FluentCRM in your own language without any hesitation.
Updated Fluent Forms all hooks names: After the latest update of Fluent Forms some users were claiming that they were facing problems using the FluentCRM-Fluent Forms combo. So, we have updated Fluent Forms with all hooks names to provide a flawless experience for our users.
Improved UX: Moved email campaigns pause/cancel button: FluentCRM aims to enhance the user experience by constantly improving the product. In this update, we've relocated the email campaign pause/cancel button outside the modal for a better user experience.
Check all permissions in CRM managers: From now on, if you want to give full authority to a CRM manager then there's no need to check all the permission boxes manually. In this update, we have added a new permission checkbox.
A single click on Check All will enable you to provide complete authority to a CRM manager.
Bug fixes
We know how frustrating it is to encounter issues while using a tool and that's why we always listen to your voices and fix these issues with every product update. The same goes for FluentCRM 2.8.3 where we have fixed the issues faced by our users to provide them with an immaculate experience with FluentCRM.
Following are the bugs fixed by our team in this update:
Fixed – Fluent Forms country field issue: For some users, the country field in Fluent Forms wasn't working when integrated into FluentCRM. So, we have fixed the issue and now you can integrate it with FluentCRM without any hassle.
Fixed – LearnDash enrollment group detection: There was an error while detecting the enrollment groups in LearnDash for some users. Thankfully with this release, it's fixed now.
Fixed – LearnDash remove from course: Previously for some LearnDash users when someone completes a lesson/topic the Remove from Course action wasn't working. It's fixed now and you can employ this action without any interruption.
Fixed – ActiveCampaign prefix: There was no prefix for custom field mapping for incoming data from ActiveCampaign. In this update, we have fixed it.
Fixed – A/B testing UI issue: Some users were facing UI issues in the A/B testing subject setting. It's also fixed now.
Fixed – WooCommerce trigger icon missing: The WooCommerce trigger icon was missing previously. So, we have added the trigger icon in this update.
Fixed – Email sequences timestamp issue: There was a problem in setting delay and sending time range under email sequences for a few users. And the good news is it's fixed now!
Fixed – SureCart order history issue: The purchased data on SureCart was showing for all the customers instead of individual customers. So, the order history issue is fixed with this update and you can track customers individually.
Fixed – WP Fusion Sync Issue: WP Fusion users were facing some synchronizing issues. Because FluentCRM wasn't pulling some data from WP Fusion. And in this version, we have fixed the issue.
Fixed – Company create/update REST API issue: Finally, the company create/update REST API issue is fixed now.
Wrapping up
FluentCRM 2.8.3 is the result of continuous effort from our team and remember we can't make it happen without your continuous support and feedback. We hope with this update your email marketing journey will be more smoother and flawless with FluentCRM.
Moreover, we want to inform you that we are working hard to come up with more exciting features in the near future. Till then please keep supporting us and don't hesitate to share any advice, feedback, or recommendations. Remember we value your every word!
Also, if you are enjoying your email marketing game with FluentCRM then please don't forget to show us your love and support by giving a 5-star review on WordPress. Your valuable feedback will ignite our motivation to do better.
And if you are not a member of the FluentCRM family then please download the free version and give it a shot!
Try Our Free Marketing Automation Plugin
Download our marketing automation plugin and start sending automated emails FREE!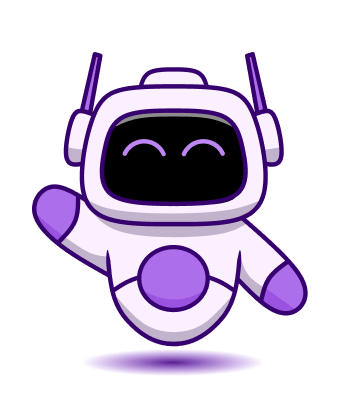 Finally, if you are planning to upgrade to the pro version then just sneak peek into our latest deal and grab the limited-time offer!