FluentCRM Wins Plugin Madness 2021
FluentCRM just won Torque's WordPress Plugin Madness 2021 contest, on popular vote!
This is BIG!
And this is obviously bigger than what we could have imagined in our wildest dreams!
But how did that happen? How could an email automation plugin take the WordPress arena by storm and win the competition, leaving behind all the big names?
Well, we'll tell you the story of how despite being a noob, FluentCRM along with the WPManageNinja brand won this competition. And discuss the secret signals WordPress users are sending to the developers, that most of us fail to comprehend.
What is "Plugin Madness"?
Plugin Madness is a prestigious contest arranged by the Torque Magazine. They have been running this competition every year since 2016. Their readers nominate the plugins every year, and the top 64 of them are chosen to compete in a bracket-style qualification. Each round lasts for a week. And after 6 weeks of voting, the winner of the year is announced.
Previous winners of the Plugin Madness contests
Just as we said, the first Plugin Madness took place back in 2016. That year, Advanced Custom Fields (ACF) took the crown, deservingly.
Just like the first year, the following years reflected exactly where the WordPress community was leaning towards.
Smush Image Optimizer won the contest for consecutive years back in 2017, and 2018. In the latter years, Elementor followed the suit by winning the contest back to back in 2019, and 2020.
How FluentCRM won the Torque Plugin Madness 2021
FluentCRM was one of the underdogs in this contest. It's a comparatively new plugin, competing for the first time against the big names.
Then how did this rookie win the competition, fighting head-to-head with the big names like Yoast, Meta Box, and WooCommerce?
Well, the product itself- FluentCRM might be a noob, but the developers behind it are not.
In case you didn't know, FluentCRM is a product of WPManageNinja, the same company behind some user-acclaimed plugins such as Fluent Forms, Ninja Tables, FluentSMTP, etc.
These products share between them more than 150K active installations. But more importantly, an exceptionally happy, and satisfied user base.
That's why, when FluentCRM qualified for the quarter-finals of the Plugin Madness, our users started rooting for it. Not just in the dedicated Facebook communities for the products, but Fluent Forms and WPManageNinja users campaigned for FluentCRM in some of the most popular Facebook groups for WordPress as well!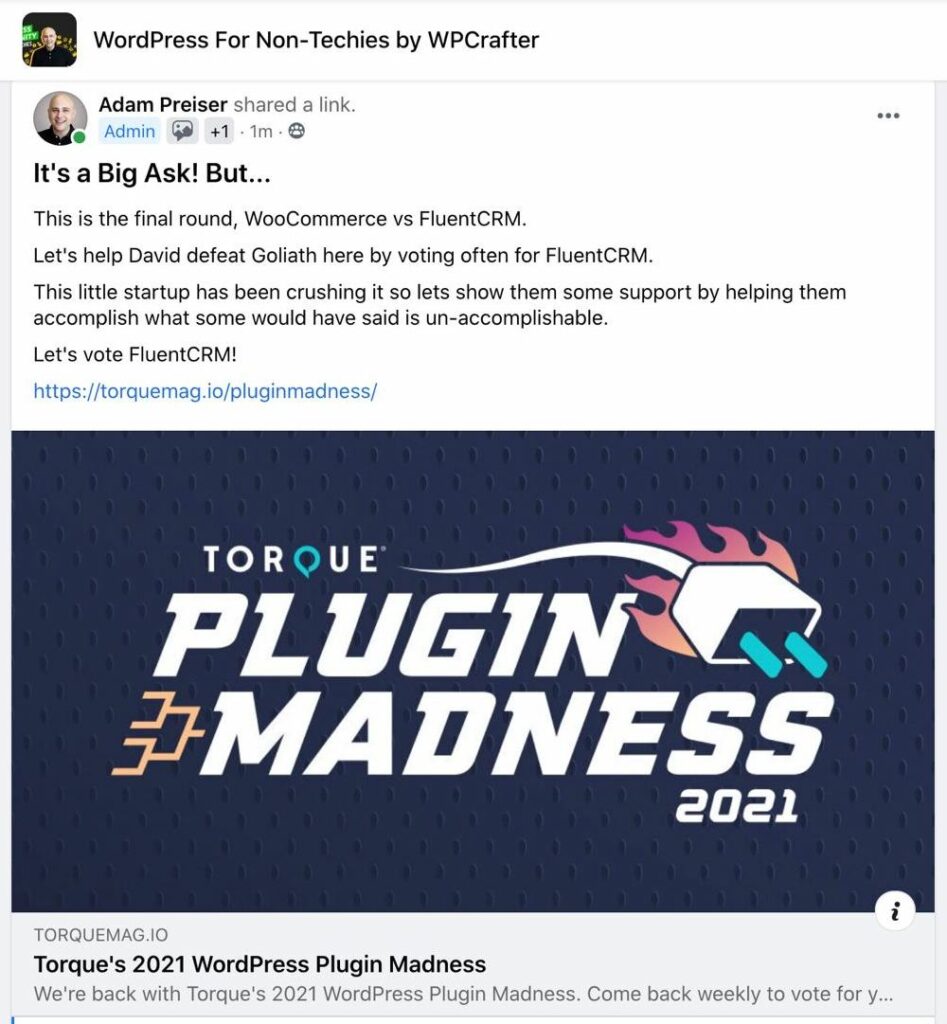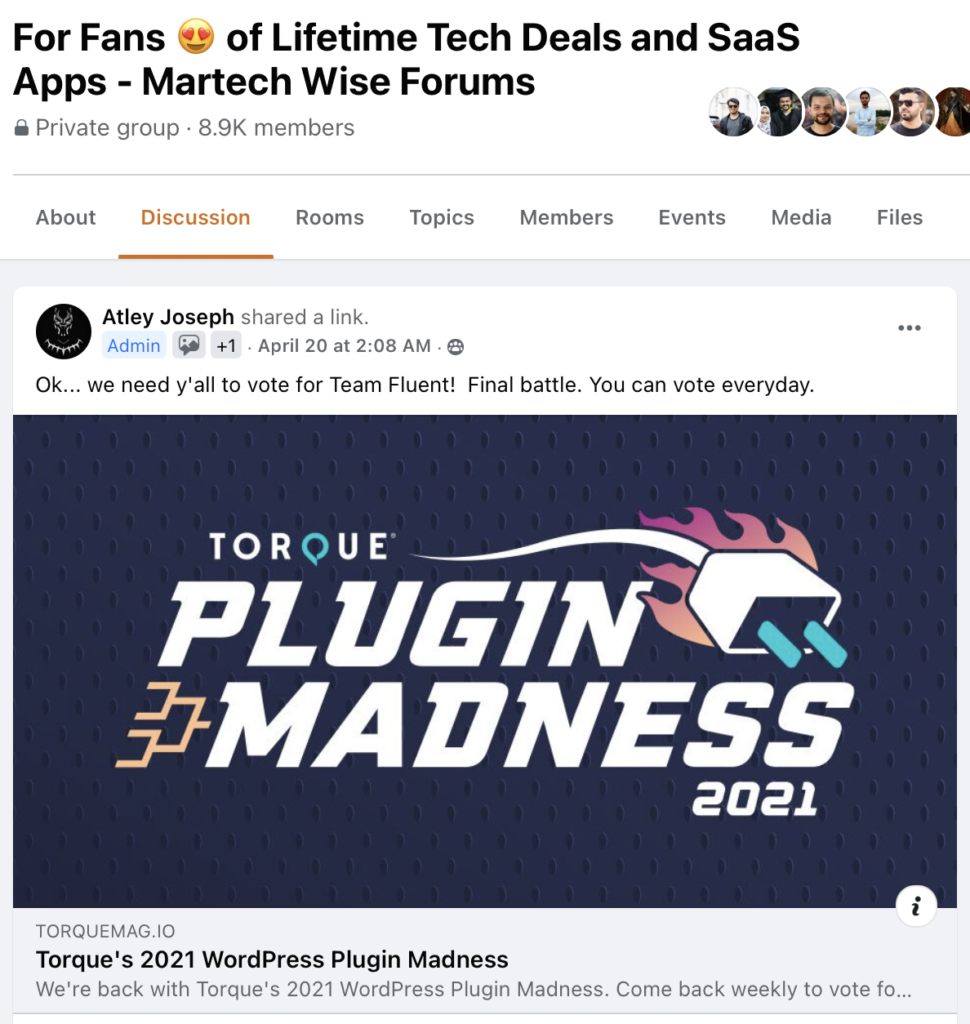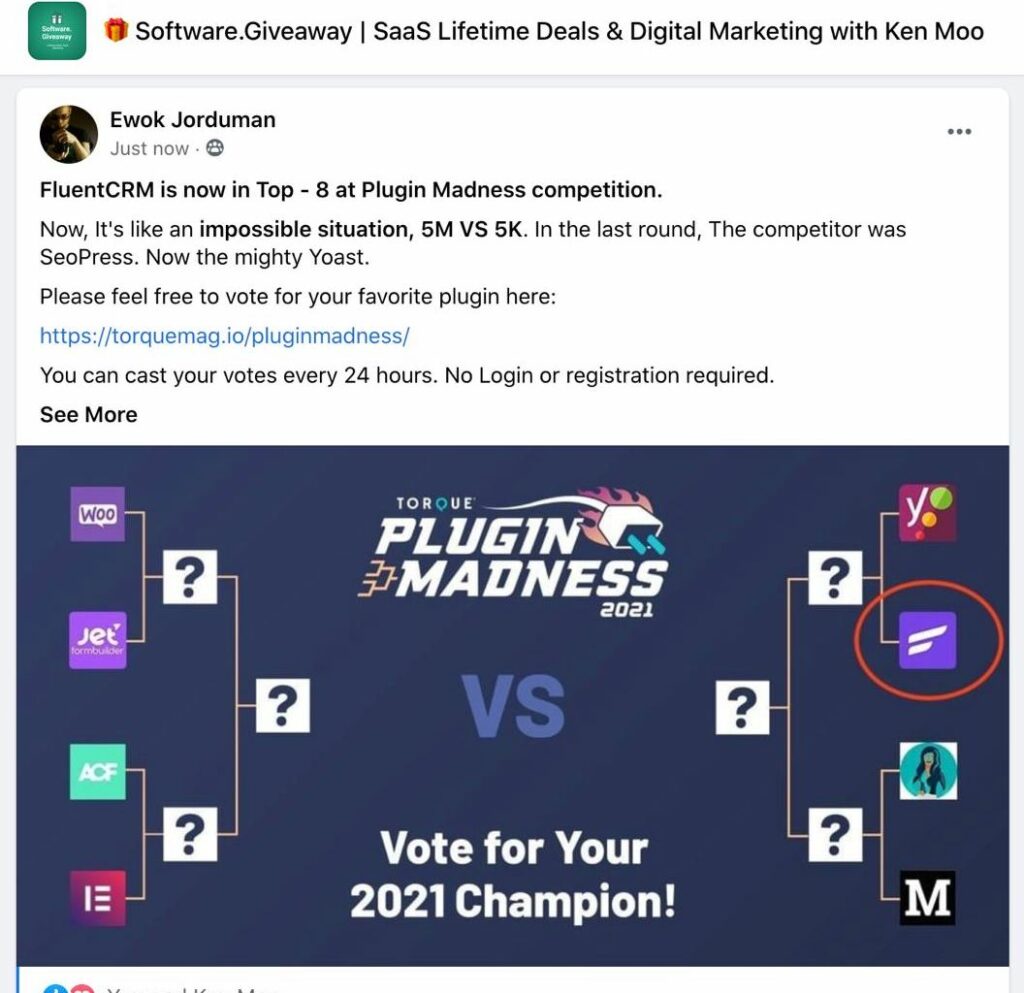 This is the power of a strong user community. They use our products, they love our products, and most importantly they put their faith in us. Because we deliver what we promise, and we always put our users first.
And that's why the brand name went way beyond our own user community. And our fans from the popular WordPress communities such as "WordPress For Non-Techies by WPCrafter", "For Fans 😍 of Lifetime Tech Deals and SaaS Apps – Martech Wise Forums", "🎁 Software.Giveaway | SaaS Lifetime Deals & Digital Marketing with Ken Moo" all cheered and campaigned for FluentCRM.
On a personal note, I cannot thank you all enough for making it happen. Without your support, efforts, and votes, it wouldn't have been possible. So, a big shoutout, and love to all the WPManageNinja users, and friends.
The underlying trends we miss almost every year
The winners (and the competition itself) gives us a hint of the underlying trends that most of us won't notice at a quick glance. Plugin Madness makes us realize what WordPress users are focusing on.
If you go back 4-5 years, you'd remember how important (but a hassle) optimizing your images was back then. Yeah, keeping your website as lightweight as possible is always a good thing.
But back in 2015, Google announced that they are gonna reward mobile-friendly pages by a huge margin. And everyone had to focus on improving page speed to make them more mobile-friendly and fast-loading as possible. Otherwise, these heavy high-resolution images would have sunk their SEO ship deep in the Google SERP pages.
As we know, SERP pages can be deeper than the Mariana Trench sometimes. And Smush Image Optimizer was literally a lifesaver for thousands of businesses, and websites!
Similarly, it would be a waste of your time if I started elaborating on how much a majority of WordPress developers and users relied on Elementor for the past few years. Making awesome websites with almost zero coding- that was the dream, right? And as Elementor made that possible for everyone, no wonder they got to take the trophy home twice.
What "secret signal" did Plugin Madness 2021 convey?
Just as we discussed the previous year's winners, there must be something that helped FluentCRM win the contest. Right?
Well, there is more than one trend to look for.
1. The power of email marketing
Contrary to what many of us would like to believe- EMAIL MARKETING RULES! Yes, social media have been playing a massive role in businesses since the last decade, but it's yet to topple the KING email marketing is.
Social media marketing is great for brand awareness, real-time communication, and even for understanding the users' psychology and what they are looking for. But it's email marketing, that hits the home run most of the time.
Email Marketing vs Social Media– this has been a hot topic for more than a decade. I won't bore you with that. But simply put- while social channels help you with brand awareness, gather loyal customers and users, ensuring your presence in the potential buyers' brains;
Email marketing makes the sales the majority of the time. And what makes it better?
– Email marketing is way lot cheaper than social media promotions!
How cost-effective is that?
According to Litmus, email marketing can bring upto 36:1 ROI, with almost 50-100 times more CTR than Facebook and Twitter combined!
2. Demand for a cost-efficient email marketing tool
Talking about the cost-efficiency brings us to the second factor that helped FluentCRM win the Plugin Madness 2021.
Though email marketing is more cost-efficient than the other channels of marketing, it definitely isn't that cheap!
Most of the email marketing solutions you will find in the market are sometimes too expensive. Especially if you are running a small or medium business, or just starting out!
What's worse is, even after spending around a hundred dollars ( if not thousands) every month, you'll still be restrained with different caps- the volume of your email list, the number of emails sent every month, etc. The more your business grows, the more your email marketing will cost you.
But that cannot be a scalable business model, right?
That's where FluentCRM disrupted the market. Rather than the usual monthly pricing model, FluentCRM offered dynamic, robust, and heavily customizable email marketing features for a fragment of the cost. And the users loved it. Now it costs them less than a quarter of the amount they had to pay previously.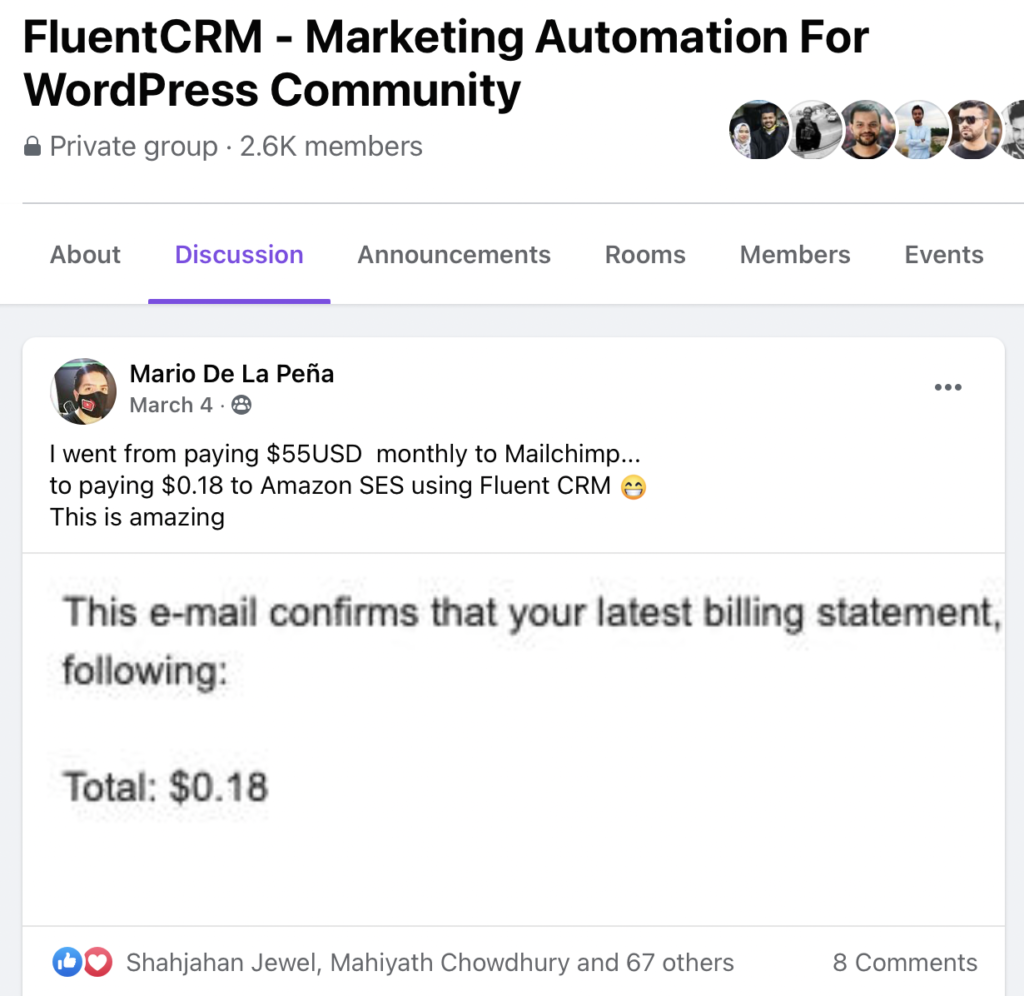 —
And why is cost-efficiency so important all of a sudden?
In this pandemic-ridden world, we are learning again how important it is to survive and thrive on minimalism, and get rid of the extra costs we don't have to

The "pricey" email marketing solutions aren't bad, and neither are they overpriced. They charge users for the vast array of functionalities they have to offer.

But not all users need all of the functionalities. Then why should they pay for the apparently "bloated" tools where they can go for something minimal, yet effective; and powerful, yet not "cutthroat expensive"?
3. Empowering the community empowers your Brand!
Back to that old topic again. How the rookie won over the giants?
Just as we said earlier, it was possible only because of our user community. And it took years to build the trust they put in us.
If you are a close follower of the WPManageNinja brand or the products, you may have noticed how strong our user community is. And you may have also noticed how fast our userbase is growing organically, without bombarding your Facebook/Twitter newsfeed and Google search results with our ads.
And all of these were possible because we always put our users first. We listen to them, we make products for them, we add new features every month, and we don't make them pay a truckload of cash for these perks.
And eventually, we found ourselves amongst the most amazing WordPress user communities ever. We never ask our users to promote our products. They do it themselves as they believe that WPManageNinja products will definitely make their peers' lives easier, as it have made their own lives easier.
And this is something most plugin developer fails to focus on. Making a useful plugin or theme is good, but adding value to your users' lives is more important. And when you'll achieve that, your plugins will grow automatically, your users will ensure that.
Wrap up
I tried to keep it short but got carried away a bit, as it's pretty evident. I won't torment you anymore. But a celebration is due. Help us celebrate FluentCRM's success by sharing this post. We really appreciate all the support.
Cheers!