Free Tips, News & Tutorials Delivered to Your Inbox!
As a marketer you must have some distinct goals such as growing your brand awareness, expanding sales funnels, and above all engaging your customers.
A large part of your success in achieving these goals depends on how efficiently you manage your contacts. However, for medium and large businesses this is easier said than done. This is where contact segmentation becomes a major factor.
Exactly how important is contact segmentation?
Well, in this blog you'll find what contact segmentation is, how it helps you achieve email marketing goals, and what you need to make it possible.
Since the article is a long read, here's a table of contents to help you navigate:
What is segmentation?
For any business to generate revenue you need leads and prospects. More importantly you need to make your customers feel valued. Needless to say, a large part of it depends on how you treat your individual customers.
Contact segmentation is the best way to make your interactions meaningful for both you and your prospects. How else can you manage and sort through hundreds to thousands of customers, some of whom you've never even seen in person?
In strictly marketing terms, contact segmentation is compartmentalizing contacts based on their similarities and differences. There are many criteria that you can use to make segmentation possible and effective. Some of the highly effective ones include, demography, preferences, device usage etc.
Using these criteria you can organize and maintain your existing contacts as well as gather new leads.
Why segment your contacts
Yes, contact segmentation makes it easy for you to track and target your customers. It's still necessary to understand exactly why you should use contact segmentation. Moreover, how contact segmentation plays into the outcome of your campaigns. Here are the top 3 reasons to segment your contacts.
1. Better targeting = campaign success
Being efficient at targeting users can drastically improve your campaign success. You can choose to sort out your contacts by multiple factors such as markets, professions, subscriptions, and/or common interests. Even more specific lists might be needed to access niche markets such as sustainable fashion, minimalist design and athleisure.
As your customer list grows this becomes increasingly more difficult. But it's all about understanding the individuals on your lists.They may have different preferences and behaviors, but they will also have some things in common.
For instance, a premium product is better targeted towards high earning customers whereas a commercial product should be widely available. The goal is to match the type of content with the right type of people to make your offers relevant to the recipient while not getting flagged as spam.
By treating customers as unique individuals, you can make your newsletters and campaigns more appealing and inclusive. As a result you'll get efficient interactions leading to higher open, click-through, and conversion rates.
2. Collecting valuable data
A good way to resonate with specific target groups is to create engaging content. It can come in handy for collecting all sorts of valuable data. Valuable content is a good motivator for your users to voluntarily give you the information you need.
The information you collect is essential for understanding your audience, creating a narrative, and painting your efforts in the right light. Data also lets you quickly find out who to prioritize and efficiently allocate your attention and resources.
You may know the core strength of your brand, but to become more relatable you need to understand how your customers perceive your activities. Your customers perception is a game changing information to have if you think about it. Besides, having this information is essential for segmentation. Because segmenting lets you effectively use the data you have in your systems to influence marketing strategies and decisions.
3. Building a community
Your campaigns are not just a way to generate short term revenue. Ideally they are meant to help you build genuine relationships with your customers over time. These relationships together build a sense of community among you and your customers.
When you segment your users, you can communicate and engage with them with a personalised approach. Especially when you segment them based on their preferences and interests.
Building a sense of community makes your venture feel like more than a business. Rather it'll create the impression of an organization that is for and by people. Contact segmentation is one of the first steps you have to take to create this sense of community among your customers.
What you need for contact management and segmentation?
Let's say you have a significant number of contacts that are responsive and some are recurring customers. To maintain these users on your contact list you need some designated solutions. These solutions are designed to provide reliable contact storage, usage and management.
To efficiently manage and segment your contacts you need the following systems.
High-converting web forms
Segmeting is all about utilising information. You need the information that helps segment customers in an organised manner. Web forms come in handy for collecting a vast array of information. A web form on your website makes it effortless for prospects on your site to communicate with you.
Web forms ought to be strategically placed across your website to help visitors get in touch with you. The forms can have varying functions such as, register for a service, access premium information etc. These webforms are your most reliable source when it comes to collecting more emails. Speaking of which, if you want to collect emails faster click on the link.
Check out the Infographic to pick the best forms plugin for you!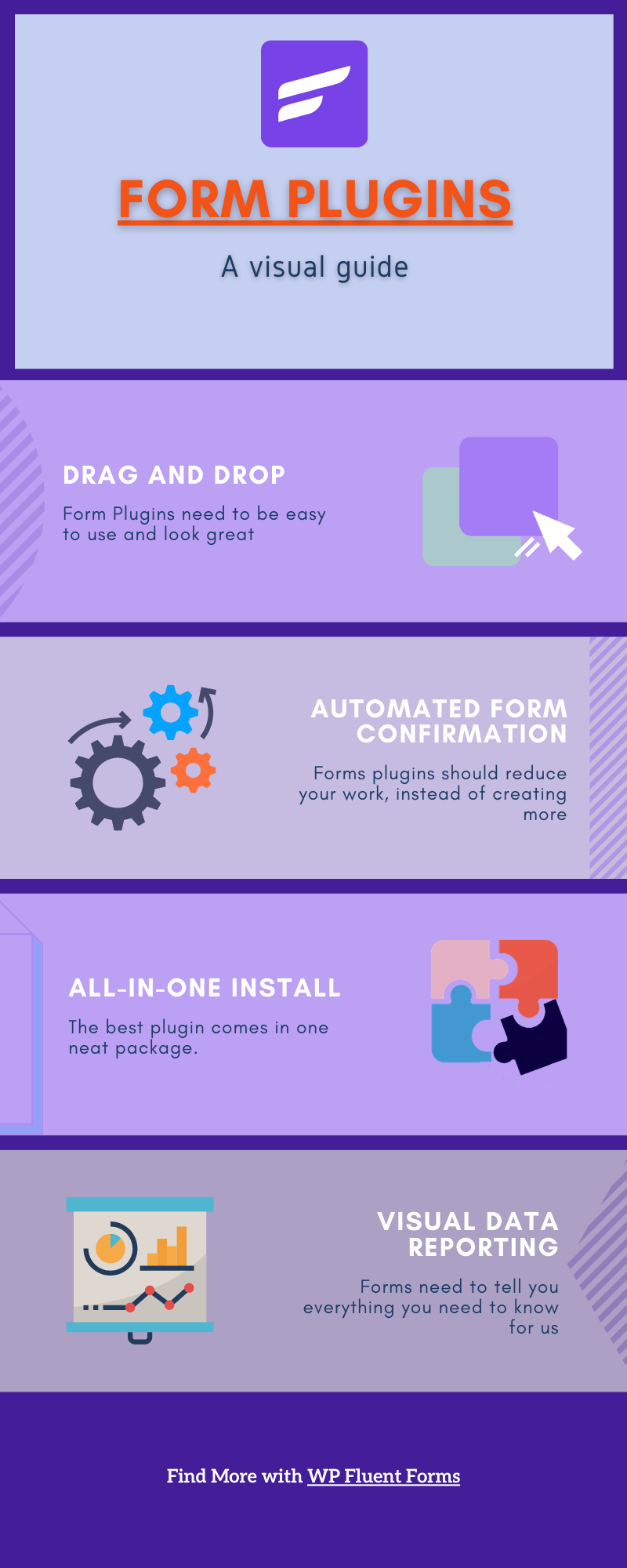 CRM System
Aside from your website the most important tool for customer contact management is a CRM platform. Preferably one that allows you to create segmented lists. You can use your CRM platform to create profiles for individual leads and customers once you've got their basic information through the forms. In most cases the CRM system will update their info as they progress along the sales funnel or interact with your representatives.
Okay! So you have your CRM platform set up with all your contacts. The next question is how you can communicate with your contacts?
Well, most CRM solutions are equipped with communication tools such as email marketing software, marketing automation, SMS marketing, etc., from the get-go. However, if your CRM tool is an exception, you might have to avail a third-party email marketing software as well.
Why use CRM?
There are a number of reasons to use CRM software to manage, store and segment your contacts.
1. Easier Personalisation; CRM softwares makes segmentation easier which in turn lets you customize and personalize your interactions with each of your contacts.
2. Customer Experience; Personalization through segmentation not only makes your job easy. It also improves the customer's experience with your business.
3. Tracking Behaviour and Engagement; CRM solutions let you sort customers and leads according to their email and page behavior. So, you can target your campaigns to the most responsive portion of your contacts list first.
4. Relevance; Relevance is a core element of cross selling and upsell campaigns and CRM solutions make it easier for you to target the right people with the most relevant content.
5. Separate B2B from B2C; If your business functions with both B2C and B2B models, CRM solutions help you distinguish between individual users and businesses.
Welcome to FluentCRM
Since CRM and Email Marketing solutions are something you will inevitably need, it's only appropriate to introduce you to FluentCRM, our newest self hosted CRM plugin for WordPress.

Marketing Automation for WordPress
Get FluentCRM Now
FluentCRM is among the only CRM solutions that provide integrated Email Marketing support right into your WordPress dashboard. If you choose FluentCRM you can send automated emails and drive automation funnels – all with one plugin.
With regard to contact segmentation FluentCRM has quite a few cards up its sleeve. Contact segmentation features include,
Lists
FluentCRM, apart from giving you default lists, also includes customizable lists. These lists help you distinguish contacts based on basic information such as subscription status and location. FluentCRM makes the best use of these lists by letting you drive email and funnel automations through these lists.
Tags
Tags are another way to segregate and distinguish individual contacts on your list. FluentCRM lets you add tags that are viewable on your WordPress users page. This lets you synchronize and evaluate users based on whether or not they are on your email contacts list.

The best part of FluentCRM is that you can add these tags automatically with Automation Funnels. So whenever a user signs up or subscribes, you can set up your automation funnel to add a tag to the new user/subscriber.
Dynamic Segmentation
Dynamic segmentation is one of the most effective contact management solutions FluentCRM offers. With Dynamic segmentation, you can create custom segments and link them up with your automation funnels. This way whenever a customer triggers a particular automation they can be added to a dynamic segment.
The process can also remove contacts from segments based on conditions you set. In other words, dynamic segmentation takes up all your segmenting needs and fulfills them automatically. All you have to do is provide the necessary conditions and the rest takes care of itself.
Ending Notes
Contact segmentation is essentially a general classification of your contacts tailored to the way your business functions. As a marketer, having an organized and segmented contacts list makes life easier in more ways than one.
Achieving marketing goals such as conversion, funnel progress, upsell, and cross-sell become easier if you can segment your users effectively. Even making crucial campaign decisions can and should be affected by how you choose to segment your customers. So if you haven't already segmented your contacts, it's about time you get to it.
To help you start effective segmentation right away, here are some easy email segmentation strategies!
We hope this article helped you. Feel free to share your opinions about segmentation under the comments and make sure to follow us on Twitter!
Try Our Free Marketing Automation Plugin for WordPress!