Fluent Support – Customer Support and Helpdesk Plugin for WordPress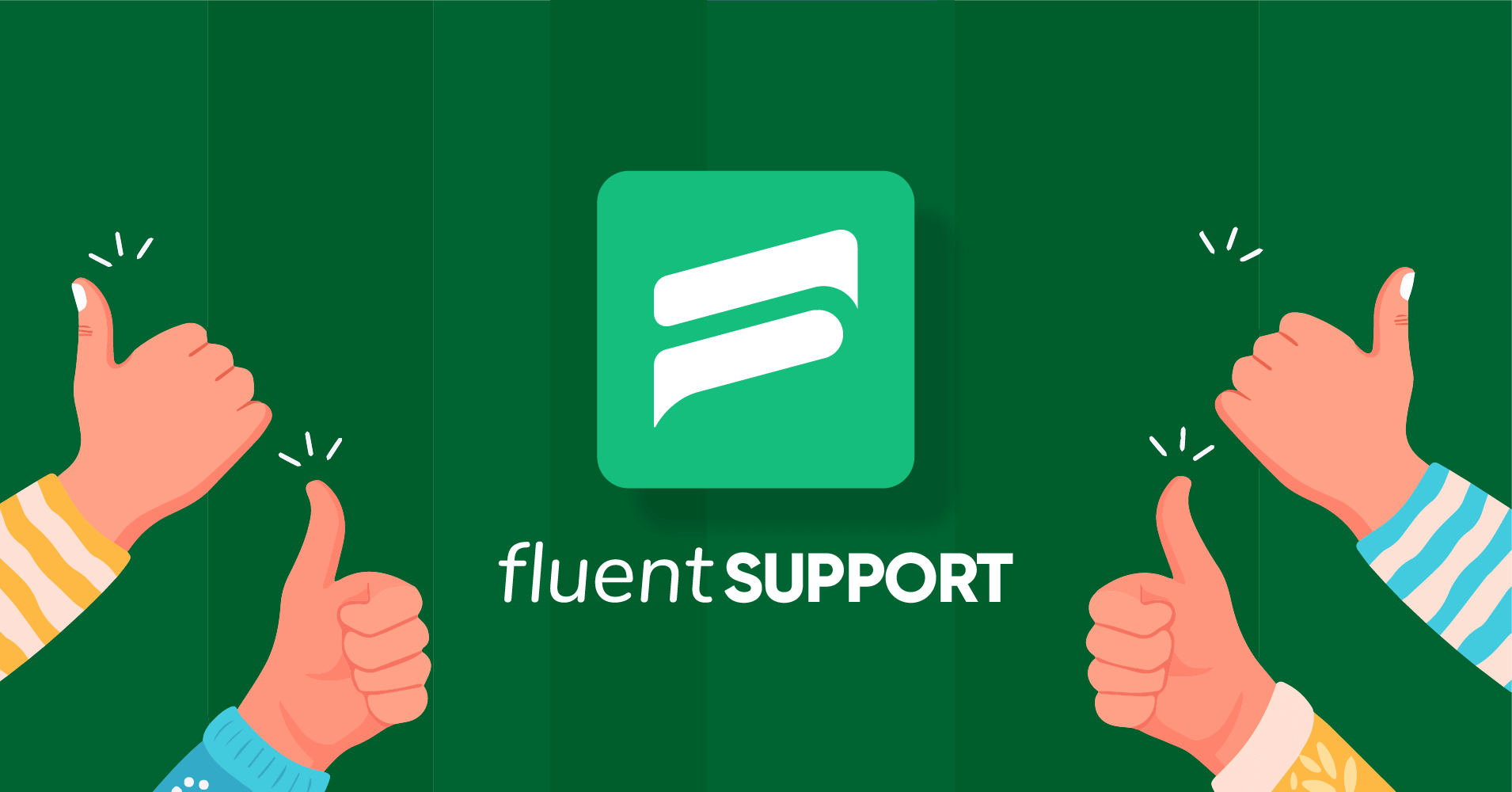 Today's entrepreneurs deal with a lot of things. But is there anything as important as dealing with customers?
I doubt it.
Of course, any successful business starts with building an exceptional product. But I'm sure you've been asking:
How do businesses maintain a solid user base?
How do they grow products over time?
How do they have customers waiting for their products even before they launch?
To grow your business while maintaining a solid user base, you must take a user-centric approach. After all, that's the secret sauce to having raving fans!
We're the makers of the most popular customer relationship management plugin for WordPress.
We know how important it is to build and maintain better customer relationships. And to help you build better customer relationships within WordPress, we're here with a brand new customer service plugin—Fluent Support.
In this article, we'll tell you all about Fluent Support. But before we dive into the plugin itself, let me explain who needs this plugin and why.
The Earlybird lifetime deal for Fluent Support has expired. But you can still grab a 20% special discount on the Fluent Support annual deal!
Fluent Support features at a glance:
Product-based Support
File upload
Custom fields
Conditional logic
Email piping
Workflow management
Support activity logging
Ticket segmentation
Ticket prioritizing
Agent and super-agent reporting
Internal notes
Saved replies
Who needs a support plugin?
Any business that wants to build a relationship with customers and wants to grow by retaining most of them needs a customer support plugin. Customer support tools help you deal with your users and customers easily and efficiently.
Let's say you're selling products using WooCommerce, you might have to:
Answer your customer's pre-sale questions
Provide quotation/more details about the product
Manage orders manually
Provide after-sales support
Similarly, businesses that provide service online may have to communicate with clients before and after the sale of a service.
While it's easy to manage via email if you're just starting out, it becomes increasingly difficult when your business expands. That's when a customer support tool like Fluent Support comes in.
Why should you use a support plugin?
Primarily, support tools are designed to make the customer experience better. They allow you to meet your customer's expectations. How?
Think of what customers usually consider when contacting a business.
How do I reach the business? 
Support plugins usually provide a form and integrate with communication platforms to help users communicate with your business.
How do I get a solution to my problem?
Support plugins provide you with an easy, multichannel communication experience. You can provide customer support from the platform itself. Additionally, if your support plugin integrates with any platforms that can be accessed on the go, you can communicate from there too!
Along with these two primary requirements, support plugins provide you with several other benefits. With a support plugin, you and your team will achieve the following:
Stay organized
When you have a growing business, you may deal with thousands of customers at the same time. How would you know which support requests need urgent resolution and which ones can be resolved later?
With a support plugin, you and your team can stay organized by prioritizing support requests. This helps you maintain a steady customer support system while keeping the customer experience on top of mind.
Personalize communication experience
Support plugins provide you with a wide range of tools and data. This includes:
Ability to access any past communications and purchase history
Multiple channels to communicate
Ability to save internal notes
Automated responses
Workflow automation
You and your team and access the necessary data without switching between platforms. So before you start communicating, you'll get an insight into your customer's persona. Thus, it will be easy for you to provide a personalized communication experience when customers contact you!
Better team collaboration
Many businesses hire a team to provide customer support. And it's unlikely that a customer will send a support request only once. Again, with a unified support platform, your team will be able to address your customer's concerns on a deeper level.
Efficient customer service
While customer service does need some personalization, sometimes support ticketing systems also allow you to create workflows. This is somewhat similar to creating email marketing automation workflows where you string together a bunch of if/then statements to automate a few tasks.
Support plugins allow you to create workflows so that you can automate some customer service tasks. In the long run, this saves a lot of time and makes your team efficient.
'Enough of explanations, show me the plugin!"—Yes, we are in that phase now. So let's look at what Fluent Support is and how it can make your day.
Fluent Support: helpdesk customer support plugin for WordPress
Fluent Support is a helpdesk and customer support ticketing plugin for WordPress. It meets the primary requirements of customer service and offers some of the much-needed features most WordPress helpdesk plugins do not have.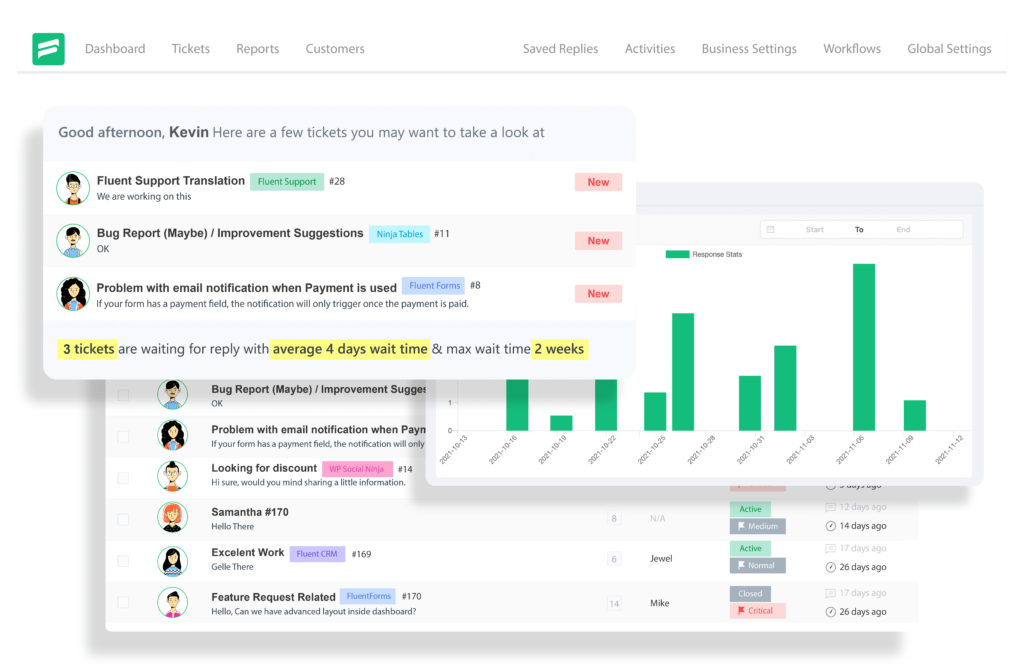 Fluent Support comes with a dedicated support portal where your users can create and view the status of their queries. For you and your team, it centralizes customer support tickets in a secure, unified dashboard for providing customer support efficiently within WordPress.
With Fluent Support, you can create products or import them from WooCommerce or EDD for providing product-based support. So whenever there's a query, your support agents will know exactly which products the user has purchased and predict what solutions they might need.
Fluent Support features
While I mentioned what Fluent Support does, it comes with a number of features to take customer support beyond simplicity. So let's look at what features are available in Fluent Support:
File upload
You or your support agents often need some details into your customer's problems. The file upload feature will allow you to get the required files from customers for their queries.
Custom fields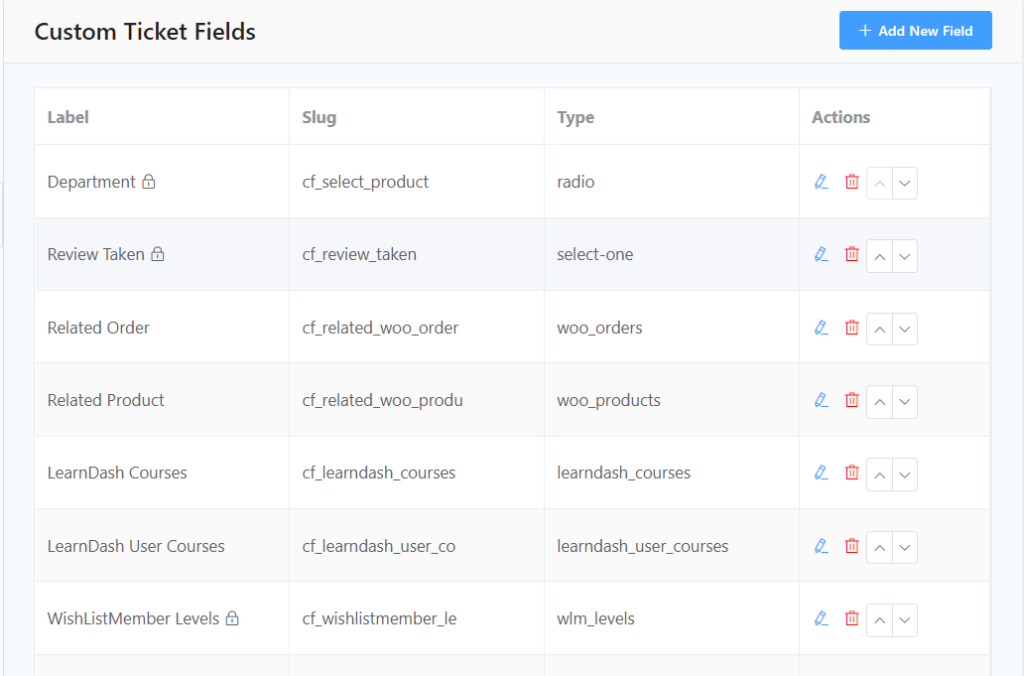 Again, your support agents might need some details before responding to customer queries. With custom fields, you can easily request additional data from your customers.
Conditional logic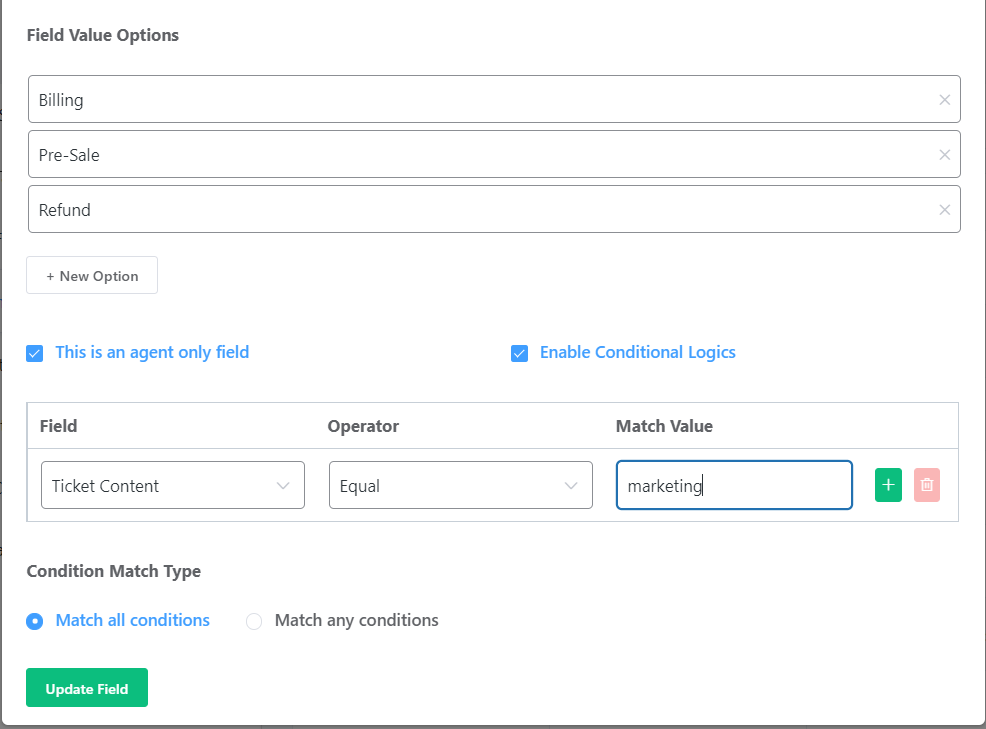 If you aren't familiar with conditional logic, think of this as growing branches of a tree. If customers are seeking help for "Query A", you want to ask them one more question, let's say "Query B". If they seek help for "Query C", you want to show them "Query D". Conditional logic simply adds a better user experience for your customers.
Email piping
While you'd prefer receiving customer support queries in a unified dashboard, some customers might ask questions via email. Fluent Support's email piping feature will turn email into support tickets so that your support agents can easily respond to customer queries without leaving the support dashboard.
Workflow management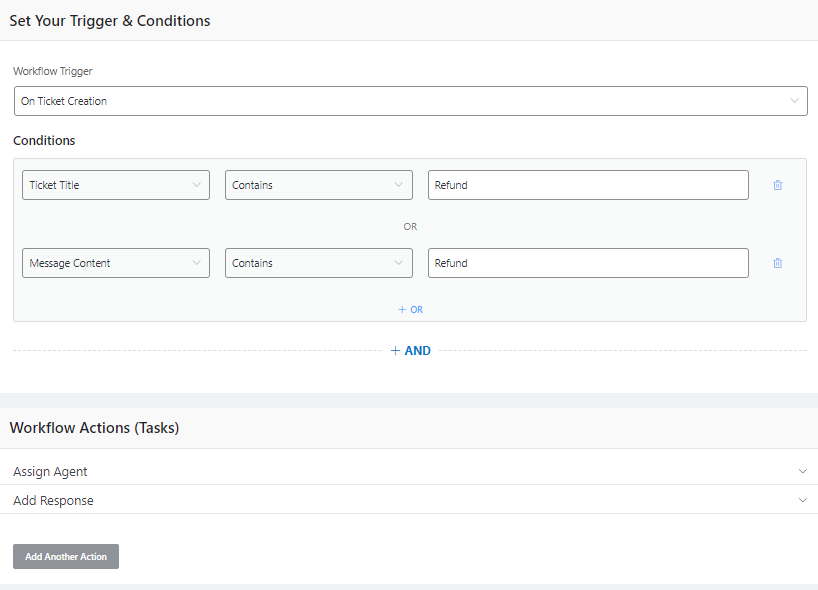 Workflow management helps you easily automate some support tasks. For example, set an automated replay if the query includes the word "Frustrated", assign a specific support agent if they requested support for a specific product.
Support activity logging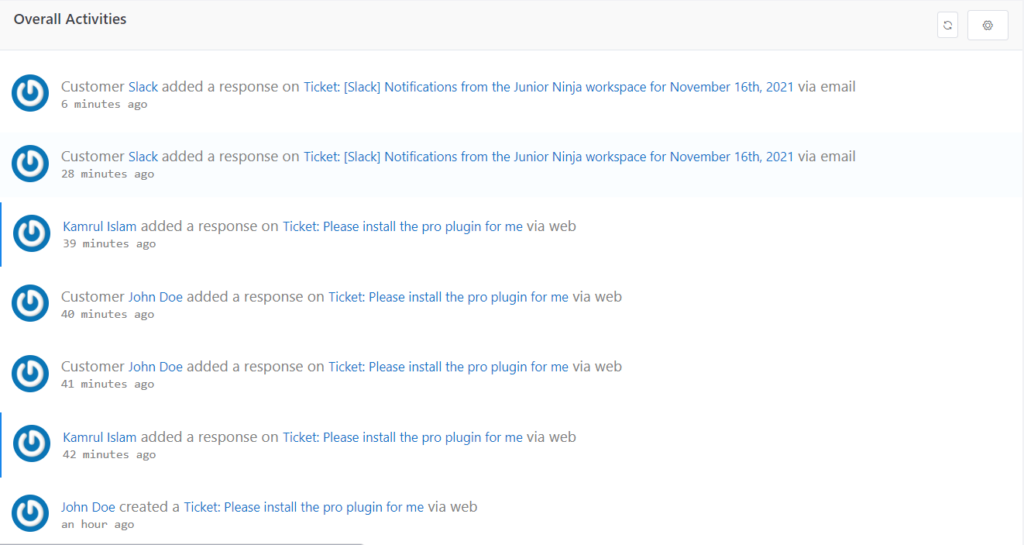 Activity logging helps you easily get a super admin view over what your support agents have been doing and how they are handling customer support.
Ticket tagging
If you're using any email marketing tool like FluentCRM, chances are that you're already familiar with tags. Tags help you easily segment your customers based on the characteristics they share. You can do the same in Fluent Support so that your support agents can easily sort and filter tickets by familiarity.
Ticket prioritizing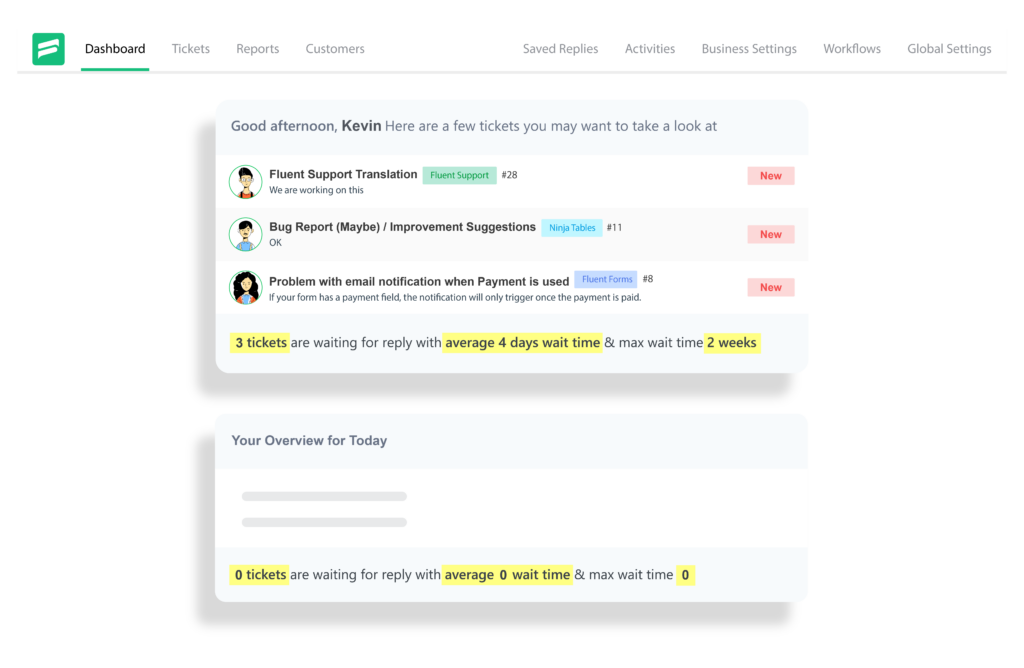 While some customer queries may be dealt with later, some may be urgent for you and your customers. Ticket prioritizing helps you and your customers to identify which needs your urgent attention and which doesn't. Both you and your customers can set ticket priority, so in case you don't think a query is really urgent, you can make it less prioritized!
Agent and super-agent reporting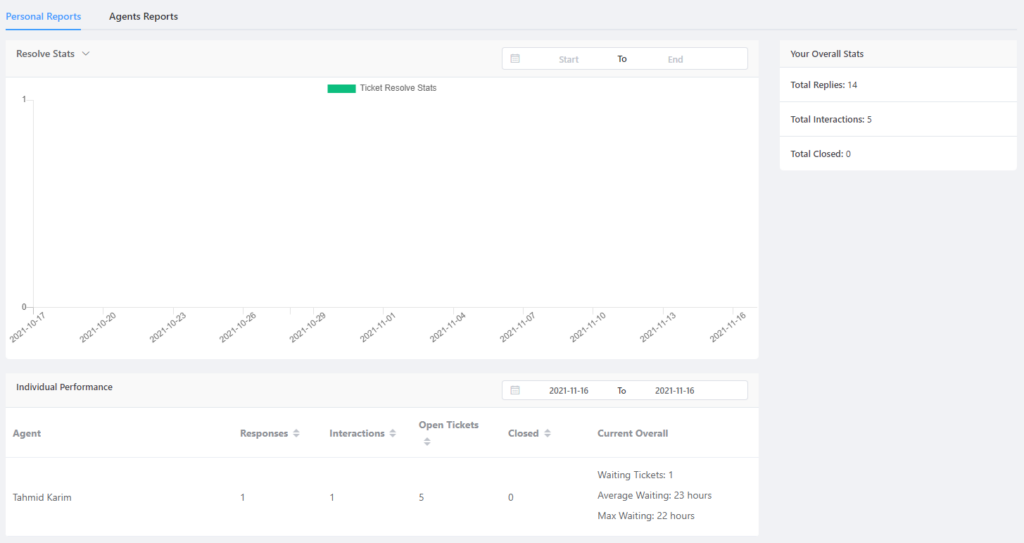 When managing a team, you might not have enough time to explore your support agent's performance. Surely you'd want to track your support agent's performance and your support agents also need detailed statistics to keep them motivated. That's where Fluent Support's reporting comes in! It's an easy way to have eyes on your team and keep them motivated.
Internal notes
When dealing with a complex customer issue, your support agents may need to collaborate internally. With Fluent Support, your agents can save internal notes for easy team collaboration.
Saved replies
Again, if your team deals with complex issues often, they might need to save some conversations for future use. Fluent Support lets you save important replies easily.
Fluent Support integrations
Your helpdesk needs to be a unified dashboard so that you can provide customer support efficiently. Think of this, sometimes you might be away and sometimes you might need to pass data to another platform. You'd also want to get an insight into your customer before you start providing customer support.
This is where integrations make your life easy. Fluent Support integrates with a number of plugins. While some integrations give your support agents an insight into your customer's persona, some allow you to do a lot more than just support ticketing.
So let's look at Fluent Support integrations and what they do: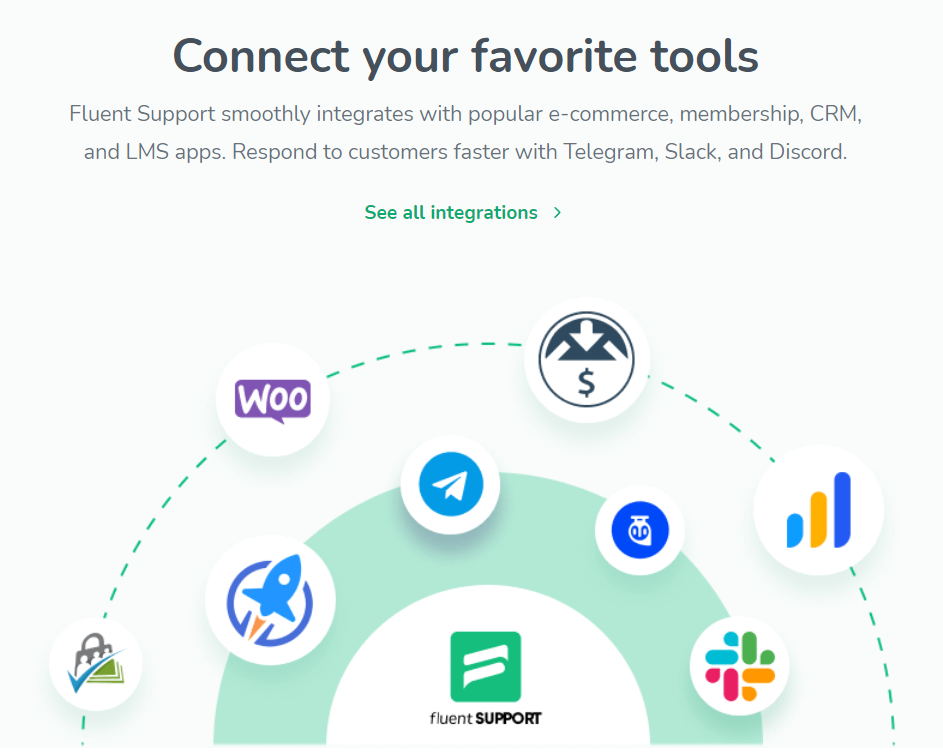 Fluent Forms: Fluent Forms is our popular form plugin that helps you build beautiful contact forms. You can integrate Fluent Forms with Fluent Support to collect customer queries easily.
FluentCRM: Yes, you read it right! Fluent Support has a deep integration with FluentCRM. This integration lets you capture leads, view customer data(available from FluentCRM), segment contacts, and synchronize customer support tickets with FluentCRM's contact overview platform.
E-commerce Integrations: Fluent Support integrates with WooCommerce and Easy Digital downloads so that you can let customers submit queries based on products they purchased. It's also possible to view customers' product purchases before replying to customer queries.
Telegram: This is a two-way integration that lets you view and reply to customer support queries directly from Telegram!
Slack: Like Telegram integration, Slack integration also lets you view and reply to customer support queries directly from Telegram!
Discord: If you use Discord, you can receive customer support queries on your discord channel.
Membership Plugins: Fluent Support integrates with membership plugins such as BuddyBoss, Paid Membership Pro, Restrict Content Pro, WishList Members and lets you view the groups your customers have joined.
LMS integration: Like Membership groups, you can also view Learndash, LifterLMS, TutorLMS courses your customers have enrolled.
This is already a whole bunch of integrations. And no, like always, you won't have to spend a dime to get any integrations. Hence, if you're looking for a helpdesk plugin, you should go for Fluent Support right now.
So, who needs Fluent Support and why?
Why should you choose Fluent Support?
Of course, you wouldn't choose a software that you don't need. So I'd like to give you some reasons so that you can verify whether you need Fluent Support or not.
You have a business
That's the obvious reason you might need a WordPress helpdesk plugin. But I don't suggest using Fluent Support if you're getting 5-10 queries a day. You can easily answer them through your email inbox. Fluent Support is designed to help you stay organized. If that's something your business needs, go for Fluent Support.
You are a FluentCRM user
Fluent Support has a deep integration with FluentCRM. The integration makes it incredibly easy for your support and customer relations teams to collaborate. I'm pretty sure many of you need this integration just as much as we do.
Your business deals with both easy and complex problems
When your business deals with both easy and complex problems at the same time, you need multiple segmentation options. Maybe you have multiple support agents, maybe you'll want to deal with complex issues later, Fluent Support will provide you multiple options to segment and prioritize support queries.
You have multiple support agents
When you have multiple support agents, your teams need to be able to collaborate, either by saving complex tickets that other members can study or by saving internal notes so that other team members can understand the query before studying the issue.
Your team needs a fast and reliable support system
Frankly speaking, most helpdesk systems available is somewhat slow. They usually take time to load and easily frustrate support agents. Fluent Support is built as a single page application and it can save 3 seconds of load time that you'd usually spend watching the load screen.
You get a lot of queries via email
No matter how convenient you make it to contact you, some customers simply prefer emailing rather than submitting a support ticket. I'm pretty sure you wouldn't prefer answering customer queries from too many places. Fluent Support's email piping feature simply turns your emails into support tickets so that you get a unified view for providing customer service.
Your customers are impatient
While you can expect customers to be a bit patient, you can't guarantee it. Some customers will expect an immediate response no matter what, while some will expect a confirmation of ticket submission. Fluent Support's workflow helps you easily send custom replies. With workflow, you can assign tickets to available support agents, set priority, and many more. Thus, making it easy to deal with impatient customers.
Wrapping up
While I did outline some of the reasons you might need Fluent Support, every business is unique. I'd still recommend Fluent Support if you can relate to any of the problems Fluent Support solve.
So this concludes our Fluent Support review. If you liked Fluent Support, don't forget to check out the plugin. After all, easy collaboration between your marketing and support teams will only improve user experience and allow you to apply personalization with precision!