Email Marketing for Beginners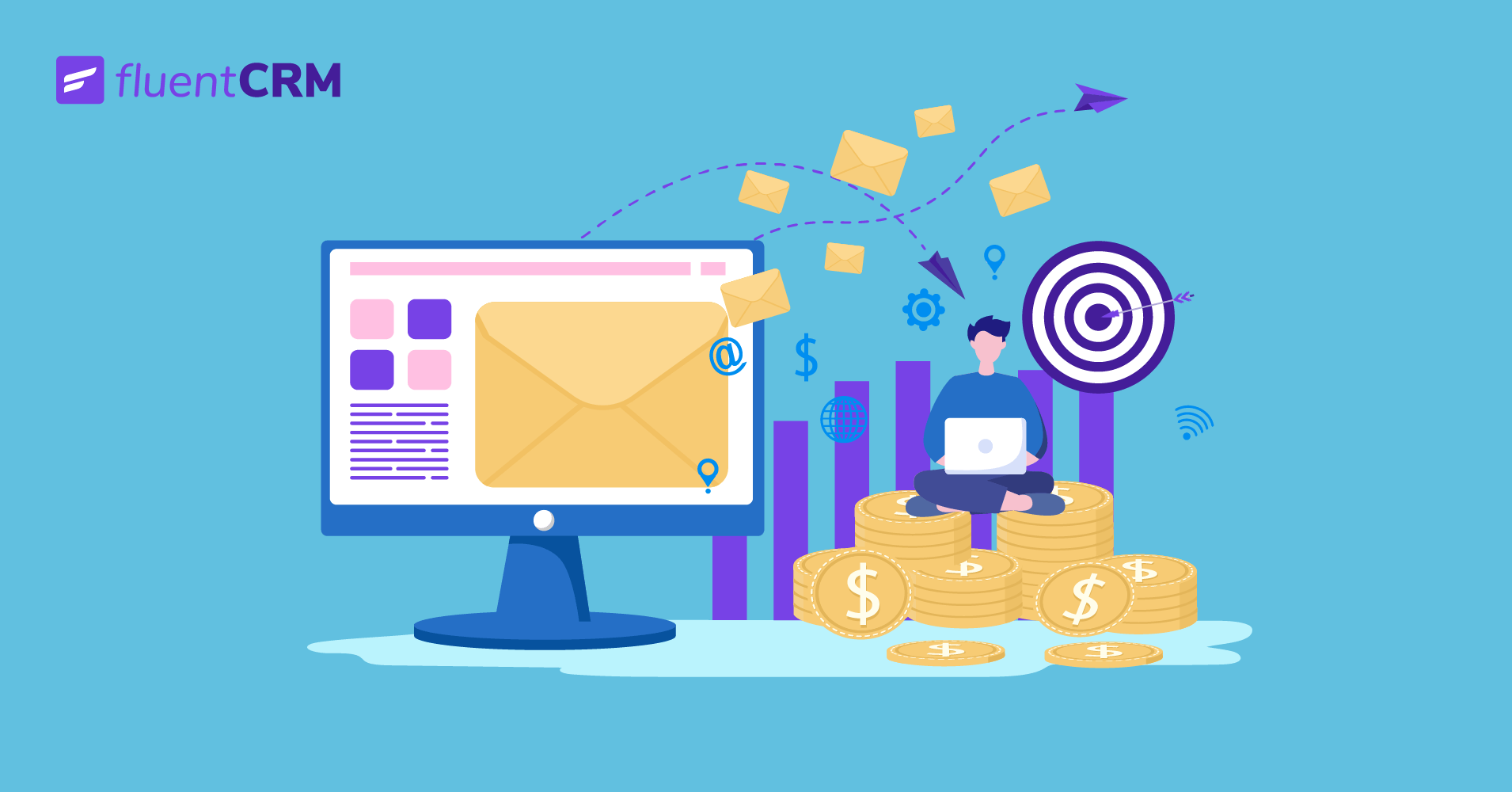 Yes! This is where you learn about email marketing for beginners. Email marketing is an interconnected series of actions that lead to a compelling user experience and, ultimately, sales. Because it's complex and this one's for beginners, let's go for a different approach.
Before we talk about anything else, let's talk about this:
We have a news and entertainment website, one that generates revenue by selling advertisement space.
Next, we have a swimwear e-commerce business and then a global charity organization.
What do you think they have in common in their digital marketing strategy?
More often than not, the single most effective strategy for each of these businesses is email marketing. Looking at how these businesses succeed (that we'll talk about in a bit), we wanted to know what's the best way to create an effective email campaign.
In this post, we'll be sharing that, along with what drives conversions and a lot more
Why send emails anyway?
Even if you exclude the recurring (and debatable) argument that email marketing provides a 4200% ROI, there are plenty more reasons to use it. Email lets businesses communicate with their customers without a social media algorithm working in the middle. The fact that email communication is real-time only gives it a bigger advantage.
Another important aspect of email is it's easy to evaluate and measure, but that's not the best part. The straight answer to "why send emails?" is – "It's cheap."
Need more reasons? Here are 13 good ones to start email marketing.
Getting Started with Email Marketing
Email lets small businesses (that often work in unique niches) connect with their audience better. It's now possible to target leads and customers with precision and customize the content for each contact. The freedom and scalability that email marketing represents are hard to beat.

Marketing automation for WordPress
Get FluentCRM Now
So let's stop stating the obvious and get into how you can start off with email campaigns.
1. Set your goals
Before you even begin to call up your email list or write your first email, you need to know what you are doing. Remember the businesses that we talked about in the intro? What do these clearly distinct businesses have in common?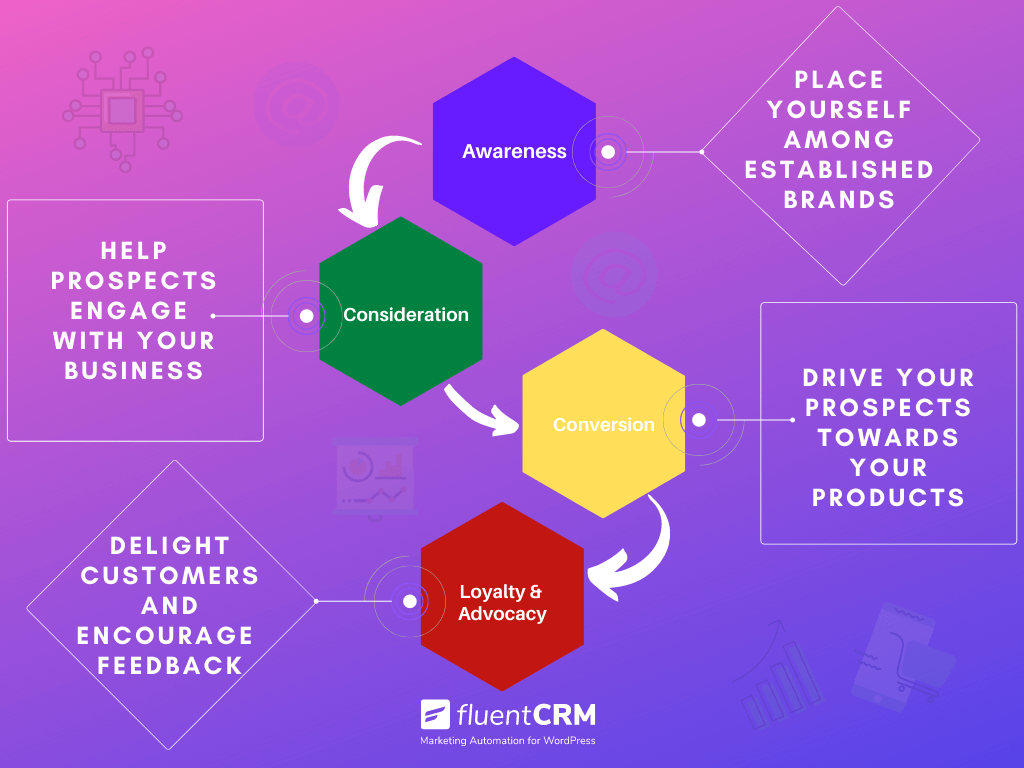 Before we explain, let's take a closer look at the businesses we mentioned earlier:
The news and entertainment website we mentioned is the American media giant BuzzFeed. BuzzFeed took relatable content and made it super accessible for all devices and became the trend surfers of the 2010s. They have a very simple model.
What do they sell? It's advert space on their website. To make money off this, they need traffic. This is where email made a ton of difference for them. With an average of 23.9% click-through rate (CTR) for entertainment and media industry, email can drive a significant amount of traffic, which in their case is to their website. So BuzzFeed had a clear idea of what they needed to do to make their business profitable. Then they figured out how email can help them.
Next, we talked about a swimwear business, Rip Curl – the global surfwear brand. They generate revenue through the sales of wetsuits, t-shirts, boardshorts, and other surfing goods.
Rip Curl prioritizes their products/sales CTA's over ad space, and that reflects in their emails as well. Unsurprising because their email campaigns serve the same purpose by driving people to buy their merch from their sales page.
For them, marketing is all about driving sales, so they use emails to promote new products they're launching to try to engage and persuade people to visit their stores. A very subtle difference with BuzzFeed here is apparent in the placement techniques and activities that these emails promote.
Lastly, we talked about a global charity organization. Well, this is UNICEF, one of the prominently accepted charity organizations working for the well-being of children.
A large part of UNICEF's work depends on donations and charitable aids. So they use emails to persuade people to engage with the humanitarian cause. Yet, the most splendid use of emails here is to use it to keep existing patrons in the loop. This helps keep donors engaged and feel valued, which makes them even more likely to donate.
Now let's connect the dots. Email is good and effective. Businesses are versatile and have different goals. So they use emails as they need to.
If you're running an e-commerce business, your emails need to drive sales. For ad space businesses like blogs/podcasts, your emails need to drive traffic, and for charity, emails need to bring in donations. All of this depends on what the emails say, and that depends on your specific business. The first step to an email campaign is to know what your campaign is supposed to do.
2. Building your mailing list
Done setting your email marketing goals? Now we can look at who you're sending these emails to. The contact list is at the heart of every email marketing campaign. There are a number of ways a contact list can drive your business. If you skim out the jargon, there are really just two basic types.
Either you create your own email list or, you buy it off from somebody who's willing to sell. Before we talk about why creating your own list is awesome, let's see why buying emails is not good for business:
Buying emails is pretty basic. Someone has a list of emails (that they have "collected" with opt-ins), and for a certain fee, they give you access to that email list so you can send your super persuasive emails. Simple right?
Wrong!
Gmail, Yahoo, and Outlook consider bought emails as unsolicited emails, and that really hampers the deliverability.
Other persistent problems include:
Low response rates because you're not familiar.
Email addresses are of poor quality (10% of the 10,000 email addresses you purchased were inaccurate, old, or fake, that's 1,000 unsuccessful emails).
Wasted potential ROI (return on investment) (only 20 – 25%).
If that doesn't get you on board with DIY email lists, this next part certainly will. It's time for some fair bit of honesty; building an email list from scratch is difficult. But it is worth it for a number of reasons.
A big difference between a bought email list and one you build yourself is consent. People that choose to get emails from you are far more likely to interact with your business. Alongside solving the compliance issues, DIY email lists give you complete control. Mostly because it lets you know your contacts and segment them as you need to.
If you've made up your mind, let's get into how you can build your list. Considering the simplest methods, you can collect emails in two ways. You collect them through your website or On-page and through lead magnets that you can host both on your page and third-party platforms.
On page
Yes, it's exactly what it says. On-page is something we're all familiar with. All the banners and pop-up ads across the web are essentially trying to collect emails from visitors. A few of the most reliable on-page elements you can use to collect emails are-
Header Bar
The top of the page usually attracts a lot of attention. Keep your headline here, so the email is self-explanatory.
Slider
Sliders are great if you don't want to bombard the website visitor right away.
Top of Sidebar
Top of the sidebar is best to keep communication always available to the visitor but still keep it inconspicuous.
End of Post
End-of-post sections are meant to prompt your audience to interact with the content, specifically by signing up with their email.
Subscription Prompt
Subscription prompts let visitors voluntarily enter your mailing list to get the latest word from your business.
Lead magnets
Leads are a fancy name for emails or contact information. Lead magnets get you this information. People are always willing to give emails in exchange for something they need. Everyone is looking for value, and as long as you make the deal authentic, the format really doesn't matter.
The best way is to create valuable content and make it available in downloadable form. Some popular types include-
Ebooks
You can offer tutorials and fact sheets about your business or relevant industry in downloadable pdf format or as epub reader files.
Resource Guides
Resource guides are a more elaborate version of the Ebooks. They are usually more in-depth and cater to an audience of higher awareness levels.
Checklists and Planners
Checklists are a productivity tool and a simpler version of what resource guides are meant to do. They offer people a guided list of
Templates
Templates are great when you need to shave off time. There are a lot of things that people need templates for. The most obvious are emails, Curriculum Vitae, Webpage layouts.
The type of lead magnet you should adopt largely depends on the type and quality of content you produce and is the most relevant to your business. There's a lot more you can do to grow your email list faster.
3. Pick your strategy
Now that you've got the emails, it's time to think about what you want to send in these emails. There are a common few. It depends largely on what you want to convey to your audience. Some well-accepted strategies include-
Newsletters
Newsletters are emails sent to a group of contacts that work as updates on what's really happening with your business. Other names you've probably heard for Newsletters are one-off email, blast email, and ad-hoc email.
The appealing bit about newsletters is that they don't need to be highly tailored for each individual reader. Rather think of it as a monthly private press release that you get to share with select customers. This is a neat chance to interact with your customers and keep the conversation casual!
Marketing Offer
Marketing offers mean basically any kind of sales pitch you want to make. BOGO offers, the occasional/festive discount, and upsell offers are some common examples of offer emails. It's really easy to get carried away, so keep the emails sparse.
Offer emails need to be engaging and persuasive, so the email copy and subject line are big things to think about.
Announcements
Emails are meant to keep your audience engaged with your business. Nothing keeps people more involved than keeping them in the loop. Announcement emails make it easy for you to communicate your plans and visions for the future.
This gives your audience a certain sense of involvement with your journey as a business, alongside creating anticipation for the great things you want to achieve. SaaS businesses all maintain this with ever-expanding Release notes, but that is only a glimpse of the potential of announcement emails.
Event Invitation
The event invites work for a broad group of businesses. The idea behind sending event invites is to use emails as a gateway for further engagement. Whether the event is real-world or online is rarely important.
You can send event invites for virtually anything, such as free webinars, symposiums, tryout classes, sales fairs, and lots more. Similar to newsletters, event invites need very minimum customization. You can send a general link with the simplest call-to-action to generate traffic wherever you need.
It's a good thing to mention here; event invites can work as lead magnets, too, if you want to use them that way. You can exchange seats at your free webinar or sample session for visitors' emails.
4. Creating campaign content
Now let's get to what will actually do the heavy lifting when it comes to drawing in the reader's attention towards your business. Spoiler's it's a grind in and of itself.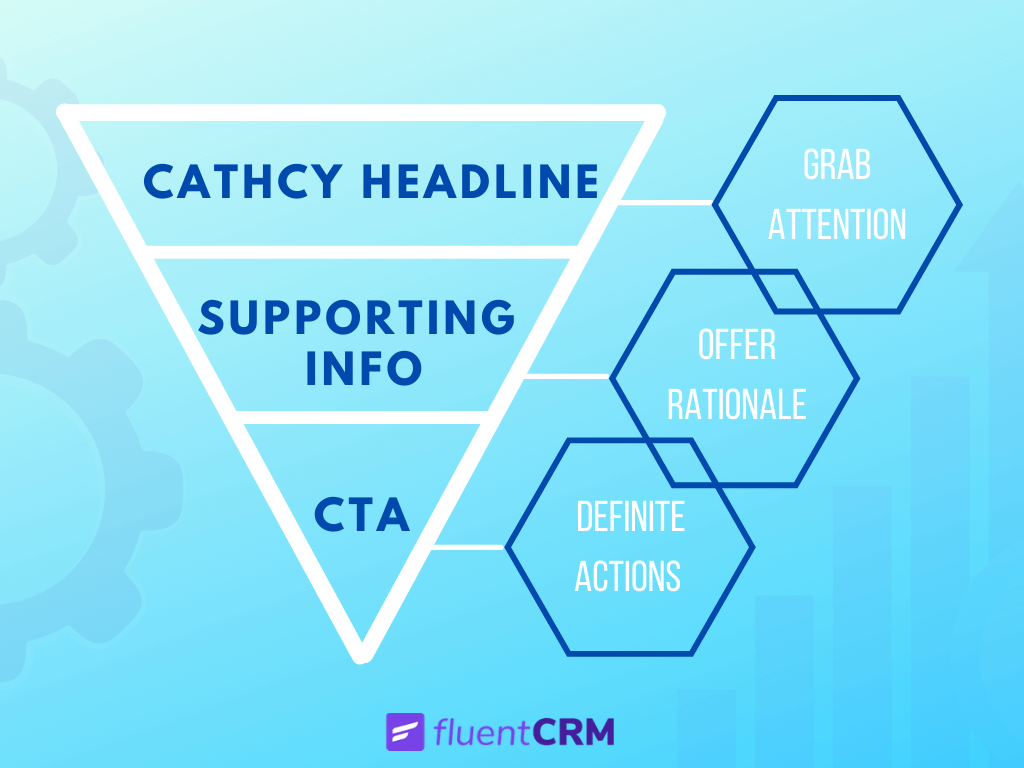 Structure your campaign for easy reading
With all the screen time being clocked across the internet, it's not surprising that people have smaller attention spans.
Therefore, writing text-heavy email campaigns that are long and tedious isn't exactly the best thing to do. You need to structure your emails; first, help draw people into reading your content and then guide them toward the CTA.
Use Images and Visuals
The basic fact to take away from here is that email needs to be visual. Ideally, blocks of text should never be in any marketing email. That's because visuals – both video and images – capture attention more easily.
They're also more memorable and help the contents remain relevant. Subsequent studies have shown that people can recall just 10% of text-based content compared to 65% of visual content over a three-day period.
Personalize
Your readers are most likely to respond when the content it's relevant to their interests. You can start by adding their name in the subject line; that's pretty basic in this era. You need to personalize campaign content based on list segments to maximize engagement (more on that next).
Keep it relevant
Even if your list is small, it's useful to categorize subscribers into different lists and segments. List segments make it easy to manage which subscribers get what content. When you personalize content and make it more relevant for any group of contacts, you stand to increase response rates. This kind of targeted optimization saves a lot of money compared to thousands of blanket emails..
Focus on Brand and Trust building
It's ideal to assume your email campaigns aren't the only interaction your subscribers have with your business. In the best case, your subscribers probably signed up for your email on your website or social media page.
Because of this, your email campaigns should align with the colors, fonts, and branding you use across all your touchpoints. So your customers have a consistent perception of your brand. Branding helps build trust that the email is legitimate and increases the chance they'll click through.
Timing
Fortunately, you can rely on data on how often people like to get emails. The chart below from MarketingSherpa should give you an idea of optimal send frequency: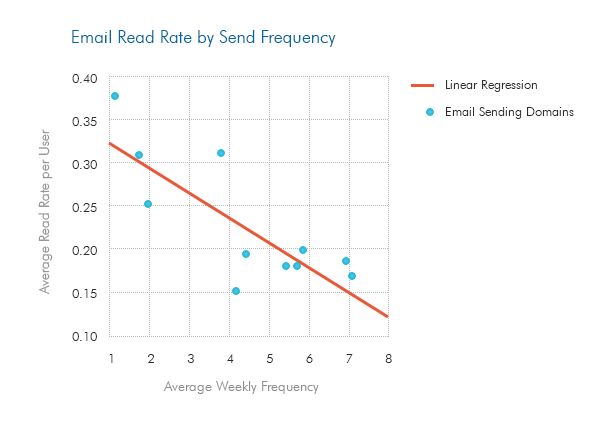 It shows a spread of interest leaning toward higher-frequency email campaigns. Think again, though: this study wasn't for your subscribers. If you're unsure about the email frequency best practices, just let your subscribers choose. Let them set the frequency settings or poll them to discover how often they want to hear from you.
Just promotion isn't enough
When planning your email campaigns and creating the content, aim for an 80/20 mix using the Pareto Principle. It goes like: 80% of your content should be devoted to valuable and useful information. Only 20% should be intended as promotion, sales, and products/services.
It's important to note that a number of growing trends can moderate the value of content. Personalization, subscriber's lifetime value, bite-sized content, stronger narratives, and storytelling all mounts up to a richer experience, which is the essence of crafting highly engaging emails.
Bonus tips
Ideally, you want your subscribers to go from your email to a landing page; for that, they need to click something to take the next desired step. Apart from engaging CTAs, you can do a lot to boost your conversions.
Track your metrics
A large part of your email strategy should depend on evaluation and performance. You do need to pay for the emails you send, so it's good to follow up on the metrics. Email campaigns can be different, especially if you have different goals (e.g., generating leads and growing a subscriber base). However, there are basic metrics that are always important.
Here's a list of metrics that you need to keep an eye on.
Email Marketing Metrics
Open rate
Click-through rate (CTR)
Conversion rate
Bounce rate
Number of unsubscribes
List growth rate
Spam complaint
Forwarding rate/email sharing
Engagement over time
Overall ROI
Email sharing rate
Mobile open rate
Mobile click rate
Domain open rate
Domain click rate
A/B test subject lines
Subject lines are what get the emails opened in the first place. That says a lot about how much you need to focus on it. A/B testing is split testing subject lines across your contact list to see which copy gets the better response.
This is a good method to polish your subject lines to better match the things your audience focuses on.

Marketing automation for WordPress
Get FluentCRM Now
Segment
A good way to manage and tune your campaigns is to segment your contacts. This way, you can categorize your audience to make the content more customized. Moreover, it gives you the chance to send highly specialized content to the best-suited audience.
Improving the layout
Your emails need to have an easy-to-navigate and skimmable layout. This is important to direct the reader's attention the way you want. The email layout can make all the difference when it comes to readers going wide-eyed with interest or squinting with confusion.
Try new images
It's been shown that campaigns with images had a 42% higher click through rate than those without. Nothing says we are visual animals better than this.
Visual CTAs
A concept called 'affordance' or a possible action between an object and an individual greatly affects conversions and click-through rates. So test different visual CTAs and button styles to see what triggers a more desirable response for the visual CTA's.
CTA placement
A large part of engagement depends on where you put your call to action, so split testing campaigns with different locations is a neat trick. It's widely accepted that a CTA on the right side of the email increased CTR for their campaigns.
Wrapping up
There's no arguing two things, though. One, emails are a valid and effective marketing strategy. Two, there's a lot you can do to make email marketing work for you. It goes without saying that starting email marketing from scratch is a daunting task. Sometimes success comes down to how much effort and time you put in.
If you're good at communicating ideas, you've already got a head start. Frankly, there are so many technicalities involved with mass email it's easy to forget what you actually set out to do, which is to communicate. Don't lose sight of this, and you'll do fine as you develop your touch over time.