8 Best Email List Cleaning Services in 2023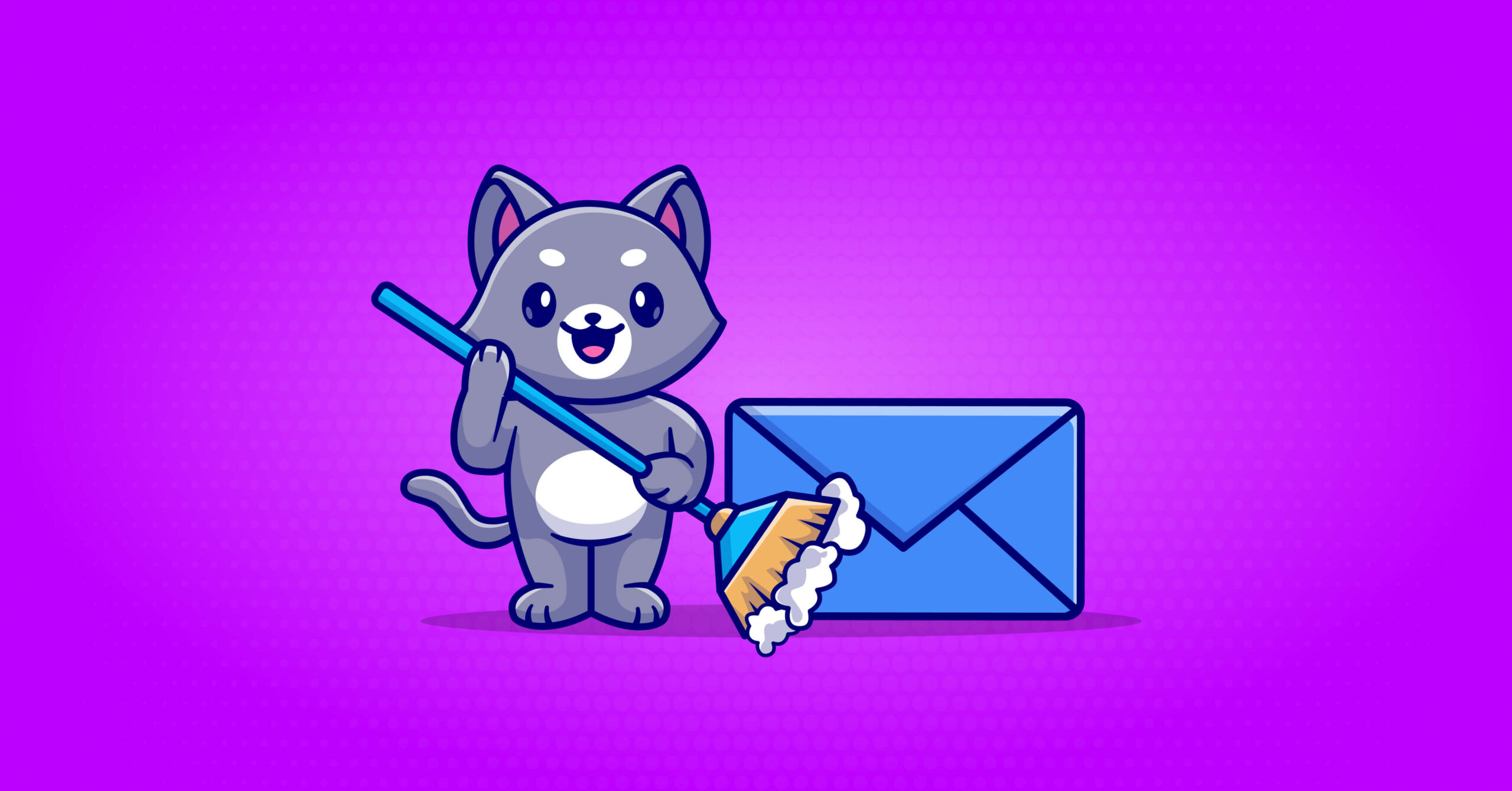 What's the point of sending emails to non-existent email addresses?
– there's none!
Unfortunately, this is a common affair in every email marketer's life, with most email lists containing hundreds of inactive contacts!
Email list cleaning services are blessings in this regard. They help increase email deliverability by removing bounced and inactive email addresses from your email list. However, choosing an email list cleaning service may not be everyone's piece of cake.
Don't worry; we've got your back. In this piece, you'll learn about the best email list cleaning services to help you decide.
Let's start by understanding what an email list cleaning service is.
What is an email list cleaning service?
Email list cleaning is the process of cleaning your email list to keep it up to date. By doing so, you'll be able to avoid sending unnecessary emails to addresses that don't want to hear from you or are nonexistent.
Email list cleaning services are well-designed tools that help you clean your email list by removing invalid, suspicious, unsubscribed, and spam-trap email addresses. They have only one core goal, determining whether an email address is valid or not!
If not, they will automatically remove them from your email list and free up storage space. Doesn't that sound disheartening?
But that's the exact way it should be done! Inactive email addresses will only add to the total number of emails and harm your email deliverability reputation. By using an email list cleaning service, you'll save money and avoid harming your email deliverability reputation.
Email Cleaning vs. Scrubbing vs. Email Verification:
Email cleaning: Email cleaning refers to removing inactive or invalid email addresses from your email list.
Scrubbing: Scrubbing is the process of deleting email addresses that never open or click your link.
Email Validation: Email validation identifies whether or not an email address is deliverable.
How does email list cleaning services work?
An email list cleaning service focuses on maintaining the health of your email list by removing invalid, expired, or misspelled email addresses. But how do they actually work?
Email list cleaning services take a variety of factors into account when cleaning your email list. They assess various metrics to determine whether or not an email address is deliverable.
The email list cleaning services work as follows:
Email list cleaning services remove all disposable or one-time-use email addresses.
They are experts at detecting spam traps. Not only that, but they also assist you in removing it and protecting your email list from spammers.
These email verification services determine domain validity and whether it meets all MX records requirements by checking MX records.
Our email list often contains a large number of role-based email addresses. Email list cleaning services remove these role-based email addresses from your list and offload them.
Misspellings can be the cause of your email not being sent. It is common to have many misspelled addresses in your email lists, such as [email protected] or [email protected].

Email list cleaning services eliminate such email addresses by reviewing email address syntax.
They also send SMTP pings to all of the email addresses on your email list to confirm their existence.
Thus, email list cleaning services clean and update our email list and ensure that our email list contains only decent email addresses.
Why email list cleaning is important
It isn't really easy to build an email list. You construct one with your unwavering devotion and dedication. However, what matters most is effectiveness, not numbers. So there's no point in keeping email addresses that won't convert.
Cleaning your email list will benefit you in the following ways:
Improved email deliverability: Removing all inactive email addresses from your list will boost email deliverability– ensuring greater and more effective reach for your email campaigns.
Lowering bounce and spam rates: Email deliverability and bounce rate are strongly interlinked. As a result, cleaning your email list will also result in lower bounce rates.
Risk-free email marketing: Spammers and hackers commonly use fake email addresses to gather information about your company. Regular email list cleaning will help you avoid such threats by removing suspicious email addresses from your list.
Better CR and CTR: By cleaning your email list, you'll significantly improve your campaign's click rate and click-through rate. Since CR and CTR clearly indicate that people value your emails, your email deliverability reputation will also improve among regular email clients.
Better engagement: Engagement is the cornerstone of any email marketing campaign. Cleaning your email list also means higher engagement, as you'll send emails to a clutter-free email list.
Reduce email marketing expenses: Most email service providers base their fees on the number of subscribers or emails you send. Email list cleaning will reduce these expenses by deleting the pointless email addresses from your email list.
To sum up, cleaning the email list will significantly boost the email marketing strategy. As a result, you'll prevent your marketing emails from going to spam and avoid paying significant fees to email marketing platforms.
Things to consider before choosing an email list cleaning service
Email list cleaning services are getting more advanced and popular these days. With many developers creating email list cleaning programs, countless options are available. So what things should you consider before making the final call?
Let's find out!
How easy is it to navigate?

This is a consideration if you are not an expert handling complex tools. In fact, the majority of us aren't. We recommend choosing an easy-to-use service.
Is it genuine?

Building an email list takes a lot of time and effort. You simply cannot afford to lose an email address due to incorrect data. That is why you should consider the accuracy before making your call.
What are the users saying?

Don't let the volume of blog posts in your search feed overwhelm you. Read the user reviews to determine whether what these blog posts are saying is accurate. Besides, check to see if they have been thoroughly tested.
Is the pricing fair?

Pricing for email list cleaning services is extremely fuzzy. Keep in mind that you don't have to clean out your email list every month. So you should select a service offering a pay-as-you-go option instead of a monthly or annual plan.
8 best email list cleaning services
Now that you know what to look for in an email list cleaning service tool, you're ready to choose one. However, going through many options can be overwhelming. Fortunately, we've done the hard work for you. So let's get to the best email list cleaning services in 2023!
ZeroBounce
The name ZeroBounce alone can give you a good idea of what this email list cleaning service is all about! Because of its multiple email checkers, fooling or misleading this magical tool is nearly impossible. The accuracy of this service will astound you! ZeroBounce is 98% correct!
ZeroBounces is a market leader that has surpassed most of its email list cleaning competitors and is constantly improving. It detects everything, whether it's an abusive email, a disposable email, a spam trap, or any other type of invalid email. And because of its consistent, accurate services, organizations such as Inc., Forbes, BuzzFeed, and others have placed their trust in this software.
What's more fascinating?
Well, while most email list cleaning services remove email typos instantly, ZeroBouce suggests correcting them.
ZeroBounce's fundamental qualities are as follows:
It deletes all invalid, expired, and disposable emails
There is MX record verification available
It employs greylisting verification technology
API is available for extensive email validation
Integrated with all the popular email marketing services
Pricing: Along with a wide range of extra features, ZeroBounce's pricing is also flexible.
Pay as you go:
– Cleaning up to 2000 email addresses costs $16
– Cleaning up to 5000 email addresses costs $39
– Cleaning up to 10,000 email addresses costs $65
Monthly: $15 per month for 2,000 emails
Snov.io
Although email list cleaning is not the main focus of Snov.io, the platform has quickly become well-known for its fantastic email list cleaning services. Despite being new to the industry, it has quickly become one of the top names in the minds of email marketers.
Snov.io assists you in maintaining the effectiveness of your email campaign by offering accurate vital metrics like conversion rates, open rates, and many more. Additionally, this magical tool will enable you to collect email addresses from LinkedIn per your needs.
Regarding email list cleaning, we would classify it as a fantastic tool that efficiently removes all the invalid or abandoned emails from your bulk subscriber list and keeps your email list free of any form of bad email addresses.
Snov.io's fundamental qualities are as follows:
It helps you keep your email list accurate by eliminating outdated or weak emails
It boosts the deliverability of your emails
You won't need to add a business email during the log-in process
Email list cleansing outcomes are always authentic with the help of its anti-greylisting technology
Pricing: Snov.io makes you a free offer. Up to 100 email addresses can be cleaned for free each month. Additionally, much like all other plugins, it has a monthly price.
Cleaning upto 2000 email addresses will cost $39 monthly
Cleaning upto 10,000 email addresses will cost $69 monthly
Cleaning upto 40,000 email addresses will cost $129 monthly
Cleaning upto 100,000 email addresses will cost $199 monthly
MailGet
MailGet, just like all the other email list cleaning services, concentrates on expanding email deliverability by lowering bounce rates. Until now, they have been doing it effortlessly and are regarded as one of the market's best.
MailGet's setup and navigation are very simple and straightforward. Simply purchase a plan, upload your email list, and click clean list! That's all you need to do to have your newly updated email list!
Mailjet's fundamental qualities are as follows:
Experts at detecting all types of errors and junk emails, such as syntax errors, spam traps, disposable emails, etc.
Mailjet improves inbox placement by up to 99%
The MX server verification feature is now available
It has a straightforward drag-and-drop feature
There is intelligent segmentation based on bounces and clicks
It is integrated with Wufoo, Zapier, and Google Analytics
Pricing: MailGet email list cleaning service comes with various pricing options. You can select a customized price plan for up to 20 million emails, and the cost will be calculated accordingly. Three fundamental plans –
Cleaning upto 1000 emails will cost $4
Cleaning upto 5000 emails will cost $12
Cleaning upto 10,000 emails will cost $20
Xverify
Xverify is yet another solution that can meet your requirements intelligently and effectively. In fact, it is a choice that will benefit you throughout your entire email marketing journey.
Regarding response time, Xverify is lightning fast, and its super-fast mechanism keeps it ahead of the competition. Because of this quality, many digital and email marketers consider them first.
Xverify also looks after your security. If anyone provides false information, it will detect it immediately and notify you. Furthermore, it does not immediately remove an email address for a typo error but suggests that you make a change.
If you are from Europe, we strongly advise you to go for it!
Xverify's fundamental qualities are as follows:
It detects all types of invalid emails and efficiently recognizes the spam trap
Xverify protects you from scams and attackers
Xverify is completely accurate
Very simple to use
Improve email deliverability effortlessly
Pricing: Xverify's pricing structure is straightforward. However, its plan has several pricing tiers.
Cleaning up to 5,000 emails costs $0.0100/email
Cleaning up to 10K emails costs $0.0080/email
Cleaning up to 25k emails costs $0.0080/email
EmailListVerify
EmailListVerify is one of the best options if we consider user-friendliness and cost. When it comes to accuracy, EmailListVerify claims to be 99% accurate. Besides, their user has given them a rating of 4.5 out of 5.
EmailListVerify provides its users with a nice and well-decorated dashboard. Not only that, but it is simple to use and requires no established expertise.
EmailListVerify provides a free tool for obtaining email addresses from any text document. Besides, it has many dynamic extra features that will assist you in checking the health of your email sending domain, MX records for any domain, and many other necessary matrices.
EmailListVerify's fundamental qualities are as follows:
It effectively removes all the unnecessary email addresses such as email addresses with incorrect syntax, disposable emails, expired emails, and so on
It is capable of detecting and removing duplicate emails
Integrates with a variety of email marketing services
Pricing: EmailListVerify also outperforms most of its competitors in terms of pricing! When you register for the first time, you will receive 100 email cleaning credits for free.
Pay as you go:
– Cleaning up to 1,000 emails costs $4
– Cleaning up to 5,000 emails costs $24
Monthly: EmailListVerify offers six monthly subscription plans. The first package costs $139 monthly for cleaning 5,000 emails daily
Email Checker
For any email marketer who prioritizes a small but powerful email list over one with a ton of inactive subscribers, Email Checker is yet another reliable choice. What does Email Checker say about its services, by the way? It claims to have cleansed more than 19 billion emails so far.
Leading corporations like Box, Seagate, Matrix, and others have placed their trust in Email Checker, and if you read the customer reviews, you'll see that most of its clients are satisfied with its services.
Because it integrates API keys, Email Checker will save you a ton of time. You won't be wasting time on additional filtration. Furthermore, Email Checker works with all email service providers.
Emaichecker's fundamental qualities are as follows:
It helps you to maintain a clean contact list by instantly identifying any weak email addresses
Provides real-time verification service for both individual addresses and groups of addresses
It can go through 7,500 email addresses in a single hour
It provides a comprehensive B2B cloud platform
You get a 97% increase in email deliverability
It is highly skilled at identifying spam traps
Pricing: Numerous adjustable price options are available with Email Checker.
Pay as you go: There are 12 distinct pricing options for email checkers. The initial one costs $14 for every 1000 email addresses
Monthly: Email checker also offers 12 premium options. For cleaning 1,000 emails every month, it costs $10
NeverBounce
The name of this email list cleaning service should be enough to reassure you about their services. NeverBounce claims that the list it provides you after cleaning is 99.9% deliverable! Isn't that what we look for in an email list cleaning service?
NeverBounce continuously validates, verifies, and cleans your email list. It detects and deletes all idle, duplicate, and disposable email addresses automatically and permanently. As a result of their effective and awesome email cleaning service, big names like Dell, Indeed, Yelp, and others have placed their trust in them.
Never Bounce's fundamental qualities are as follows:
It uses 20+ processes to clean your email list
NeverBounce lets you customize and download your cleaned email list based on deliverability and undeliverability
It is the only email list cleaning tool that removes duplicate and incorrectly formatted emails for free
Ensures complete data privacy and security
Provides a comprehensive set of APIs in eight programming languages
Pricing: For clearing up to 1000 emails, NeverBounce does not charge fees. You can simply log in and upload your email list to get your email list cleaned.
Pay As You Go: It will cost you $.008 to clean up to 10,000 email addresses each email. The price will drop as the quantity of email addresses rises. It will cost $.005 for each email to clean up to 100,000 emails
Monthly: NeverBounce's monthly package costs $10 per month to clean 1000 emails
Clearout
Now comes, Clearout, yet another great email list cleaning service! It is one of the market's most user-friendly email list cleaning services. In terms of efficiency, Clearout claims to be 98% accurate.
Clearout performs 20 validation checks while cleaning your bulk email list. As a result, there would be no way for invalid email addresses to go undetected! At the end of the day, you'll have a clean and efficient email list, and your email deliverability will earn the boost you've been hoping for!
Clearout's fundamental qualities are as follows:
Find all of the incorrect email addresses right away
Clearout guarantees your domain network's validity
It contains autosuggest functions and will autocomplete spelling errors, reducing typos
Compliant with GDPR
Customer service is available round-the-clock
Pricing: Clearout provides three different pricing plans (pay as you go, monthly subscription, annual subscription). With the pay-as-you-go rate, 3,000 credits cost $21 and 25,000 verifications cost $145. A monthly subscription for 5,000 credits costs $31.50.
How to keep your email list clean?
Prevention is better than cure, right? So, as an email marketer, we recommend that you take some tried-and-true steps to keep your email list clean.
Keep in mind that we're not talking about an email list with exactly zero weak or abandoned email addresses but rather an email list with the fewest weak or abandoned email addresses.
To keep your email list as clean as possible, keep the following things in mind:
Maintain email list health: Quantity adds no value without quality. So we recommend having a regular schedule for cleaning your email list. Examine your email list thoroughly and eliminate all duplicates, typing errors, inactive users, bounced emails, etc., to ensure the health of your email list.
Employ double opt-ins: The double opt-in verification method verifies whether the email user wants to hear from you or not. Your email marketing platform automatically sends a confirmation email to your users, giving them another opportunity to change their minds. So employ double opt-in verification to eliminate spam and fake email submissions.
Manage bounce rate: Don't forget to monitor your email bounce rate regularly. Bounced emails typically occur when there is a typo in the email address or when the email address is invalid. Thus, by tracking your bounce rate, you can easily detect all inactive or weak emails and maintain a clean email list.
Employ automation: Automation will make your task easier than manually clearing out useless email addresses. In this regard, a good CRM plugin might be a big help. They will use subscribers' behaviors to add them to separate lists or tag them automatically so that you'll know exactly which contacts to keep and which ones to remove!

Marketing automation for WordPress
Get FluentCRM Now
Provide an "opt-down" option: Opt-down option can be a wonderful way to boost email delivery. Just because someone has subscribed to your email list does not mean they want to hear about everything. Allow them to choose how many emails they want to receive rather than opt out entirely. This will allow them to remain on your list while not being overwhelmed with unnecessary emails.
Delete inactive subscribers: Do not simply overload your email list with inactive subscribers. Subscribers who never open, click, or interact with your emails are worthless. Remove them from your list without hesitation!
Wrapping up
Email marketing is like the goose that laid the golden eggs. However, she must be properly fed to ensure a consistent supply of eggs!
Create your own email list, employ a list cleaning service, and keep it clean for the best results. We hope our list of the best email list cleaning services was useful in making your decision. Did we miss any that you like?
Let us know in the comments section!