GDPR in Email Marketing: Things You Should Know About It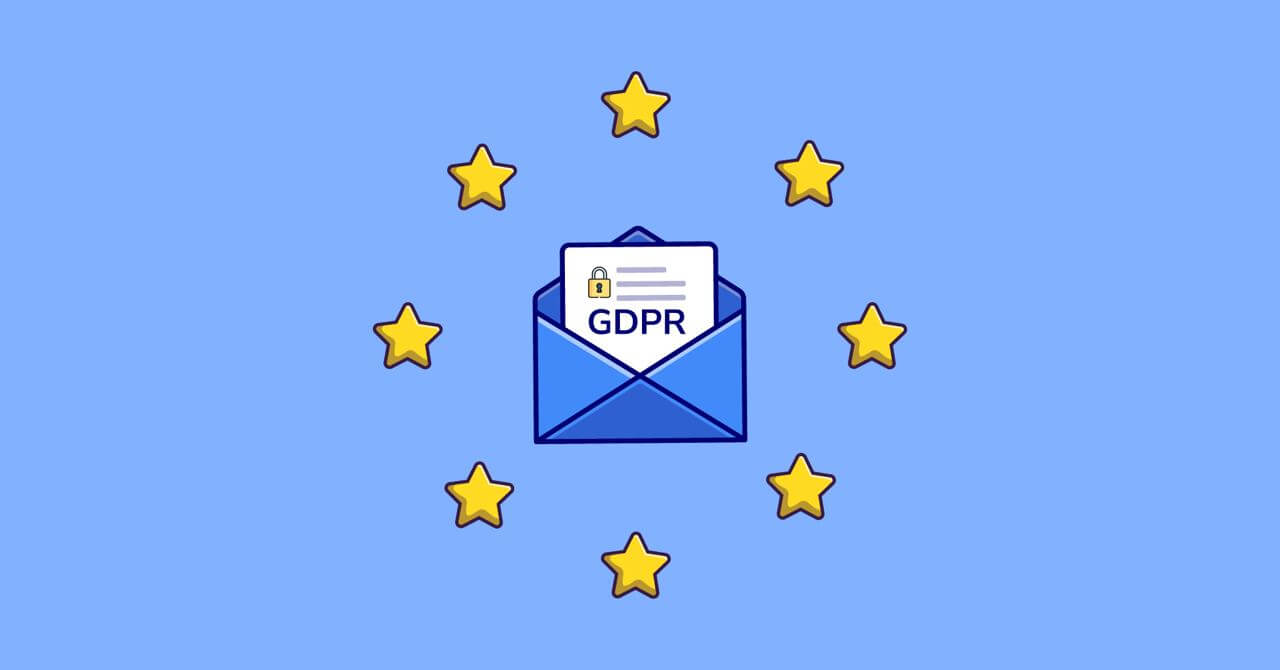 GDPR stands for General Data Protection Regulation. Although it's relatively a new law, businesses and email marketers are already familiar with it. However, knowing the term doesn't necessarily mean it's easy to comply with GDPR.
The implementation of GDPR gave users more control and security over their personal information. As a result, numerous ways of collecting and processing data were restricted. Hence, those who use an email marketing or CRM system still struggle to comply with it.
If you're struggling with the same, keep reading this article to learn about GDPR and its impacts on email marketing. We will also be explaining what you need to do to ensure GDPR compliance so that you can avoid any relevant penalties.
Ready?
Let's begin!
What is GDPR?
GDPR was implemented in 2018 by the European Union (EU) to protect the citizens' digital privacy. Since its implementation, GDPR regulates how businesses collect, store, and process people's data.
It applies to all businesses operating in the European Union and businesses operating outside the EU but providing services to the EU citizens. The law declares that European citizens have the right to delete, monitor, and control any information regarding them.
It states that the users have the right to ask businesses to delete their information promptly. If there's an objection to your data collection process, even a legitimate interest won't be enough to protect you from the possible penalties.
This is why it's crucial to figure out if your business is violating any GDPR rules as early as possible. The easiest way to do that is to get familiar with the principles of GDPR.
The principles of GDPR
The principles of GDPR can give you a clear concept of what you need to do to comply with GDPR. These will also help you understand whether your business complies with GDPR or not. Here are the principles.
Lawfulness and transparency
Companies must collect and process all the data lawfully. They need to maintain transparency and gather consent while collecting, processing, and analyzing an individual's information.
Purpose limitation
According to GDPR, companies should collect and process data explicitly for legitimate purposes. Collecting data for one purpose and then using it for another violates the GDPR rule. For example, selling email addresses that you've collected to send marketing emails.
Data minimization
Data minimization refers to collecting only the necessary data for your purpose. For example, if your purpose is to send email newsletters, only collect the email address and avoid collecting other personal information such as address or phone number.
Accuracy
Keeping incorrect data can incur heavy penalties. So it's vital to check up on the stored data from time to time. Update or modify incorrect information and erase any data you're not using actively.
Storage limitation
According to GDPR, you have to delete any data after a certain period. If you retain any data without stating proper reasons, you might have to face penalties. The best practice is to delete any data you are not actively using after a specific period. This will save you from penalties and save your storage space.
Integrity and confidentiality for security
GDPR suggests companies to keep the user's personal information safe from misuse and damage. Therefore, it's crucial to ensure a high level of security to prevent data loss or security breaches.
Accountability
Some businesses might say that they comply with GDPR while they actually don't. That's where accountability comes in. you have to record how you process data as proof.
The GDPR authority can ask for evidence of GDPR compliance at any time. If you have proper documentation, you have nothing to worry about. It helps the supervisory authorities understand if you are complying with GDPR.
Impacts of GDPR on email marketing
The most significant impact of GDPR is that email marketers can't collect data like they used to. According to GDPR, email marketers must get the consumers' consent before sending emails. The consent needs to be freely given, unambiguous and specific. Upon ensuring these, you can collect the information you are looking for.
That's why a soft opt-in approach is a no-no for any business. Here are some other considerable impacts of GDPR in email marketing that companies need to follow.
New rules regarding opt-in permission.
Allow customers to delete their personal information at any time.
Allow consumers to check if their personal information has been deleted.
Work with third parties or tools that comply with GDPR regarding storing, processing, or analyzing data.
Keep proof of consent that the user gave you while opting in.
Do not retain data unnecessarily for a more extended period.
Use the collected information for a specific purpose only.
Penalties for violating GDPR
The massive amount of fines for GDPR violations is indeed no joke. Most businesses are super-worried about it as the fine for violating the GDPR can go up to 20 million euros or 4 percent of turnover in a year. If you fail to comply with the GDPR, whichever is higher will be applied.
The EU even went after several giants from different industries to make a statement. The list includes companies like British Airways and Marriott, Amazon, WhatsApp, etc.
Here's a shortlist of some of the biggest companies struck hard by GDPR penalties.
Amazon was fined 877 million dollars.
Whatsapp was fined 255 million dollars.
Google Ireland was fined 102 million dollars.
Facebook was fined 68 million dollars.
British Airways was fined 26 million dollars.
Marriott was fined 23.8 million dollars.
Most of these companies were fined for spamming people without consent and misusing their information. So if you think you can get away after violating GDPR, think again!
How to be GDPR compliant?
Though GDPR and the amount of fines for violating it seems scary, don't be scared off yet! It was implemented to give users more control over their data and prevent spamming, not scare email marketers off.
So if you're not sure how to stay GDPR compliant while using email marketing as an essential tool for your business, here are 7 tips you should follow:
Check your email marketing service provider
Many companies have been fined even after optimizing their email marketing strategy.

Guess why?
– Because they were using an email service provider that wasn't GDPR compliant!
Sounds harsh, no?
Hence, it is crucial to choose an email marketing service provider that is GDPR compliant. You can also choose a self-hosted email marketing automation tool as such tools let you own and manage your data to stay GDPR compliant.
To help you stay GDPR compliant, your email marketing software may offer a GDPR consent collection form. For example, FluentCRM's primary form plugin, Fluent Forms, offers a GDPR consent field to stay within the regulations while collecting user data.

Marketing automation for WordPress
Get FluentCRM Now
Obtain explicit consent from your subscribers
GDPR focuses mainly on whether you have the consent to collect and use people's information. The EU takes a zero-tolerance approach regarding this, so you should be careful!
While collecting consent from website visitors, you need to be transparent. Most email marketing service providers offer various tools that you can use to collect consent. You can collect information about new subscribers using a GDPR consent opt-in as well.
Don't force or trick people into opting in. Instead, make sure that the users are giving their consent freely. Also, keep proof of individuals who gave consent. For example, collect implicit data such as the source of your leads and how you've collected their consent.
Now, what about the information you already have? Especially information you had collected without any consent of users before GDPR was implemented?
In that case, simply send an email to your users asking permission to send marketing emails. Let them know that they can modify or delete their information and inform them how you'll use their data. Besides, don't forget to ask them to safelist your email address if they're interested in your email.
These gestures will help you stay within the rules of GDPR and create a good impression for your business.
Enable opt-out option
Just like the CAN-SPAM Act, the EU-GDPR states that subscribers should have total freedom regarding when and how to withdraw their consent. This means they should be able to unsubscribe from receiving your emails and request the deletion of their data at any time.
An unsubscribe link on the emails helps users quickly opt out of emails if they don't want to hear from you anymore. Leading email marketing service providers let you easily configure the unsubscribe options. If you're using FluentCRM, the unsubscribe link can be configured from Settings>Email Settings>Email Footer Settings.
Alternatively, you can use shortcode ##crm.unsubscribe_url## to hyperlink the unsubscribe URL anywhere in your emails.
Avoid data retention for a longer period
GDPR suggests storing retained data securely and deleting them when they are not needed. If you retain users' data and aren't using them actively, you might be responsible for breaking GDPR. Not just that, it's also essential to get rid of any incorrect data.
To avoid unnecessary data retention, ask your users to update their information once in a while and have a segment of your inactive contacts(i.e., Contacts who haven't engaged with you in a while) and remove them if they aren't likely to engage in the future.
We also advise you to run win-back campaigns(asking users to re-engage) before removing inactive contacts so that you don't lose valuable contacts to stay GDPR compliant.
Collect only the necessary data
GDPR encourages businesses to collect and use necessary data for business and marketing purposes but restricts them from collecting them unnecessarily. So before you collect data from website visitors, tell them why you're collecting this data and how you'll be using the data you're asking from them.
While you can mention how you collect data and what you'll do with the data you're collecting within your email subscription forms, another way to do this is to have a privacy policy informing your purpose.
Don't use your customer's data for something you haven't informed them about beforehand. If your business doesn't have anything with calling the leads, don't collect phone numbers. Similarly, don't ask for the email address if you can do your job with the user's phone number. Always collect relevant data and only use it for specific reasons.
State legitimate interest in the email copy
If you don't specify why you are contacting an individual, and if they don't relate to your offering, your email won't comply with GDPR. Hence, stating legitimate interest in the emails is super important.
Your target audience needs to relate to your offering. The ideal way of email marketing is to keep the email's interest aligned with the customers' demand. Here are a few pieces of information your email copy must contain:
Statement: You should add a statement in the email about how you have got an individual's data. After reading the statement, people won't feel anxious about their data being stolen. Consider adding the statement in the email footer so you don't have to add it every time you wish to send an email.

Brief explanation: A brief explanation helps the consumer understand the reason behind processing their information. You need to explain appropriately so the business or individual can relate. Setting up triggered emails might help in this case.

Instruction on how to change/remove: You can provide a brief instruction on how someone can remove or change their information if they want to. This can also find its place in the email footer.
Ensure data security
While GDPR is primarily about data acquisition, processing, and retention, it prioritizes data security. This is why it's also important to stay clear about your data storing policy and ensure data safety. So before you invest in a storage or email marketing software, ensure that it can keep your data encrypted.
Wrapping up
Ever since the EU introduced GDPR, it has been a blessing for the consumers and saved them from getting tons of spam emails. However, businesses have been and are still struggling to comply with GDPR.
We hope this article helped you learn how GDPR impacts email marketing and how you can keep your email marketing efforts ongoing without violating the newly implemented rule. Hopefully, your days of worries and struggles will end with our insights and tips.
How are you dealing with GDPR as an email marketer?
Let us know in the comment section!