Free Tips, News & Tutorials Delivered to Your Inbox!
Nowadays, anyone can open an e-commerce store by dint of platforms like Shopify or WooCommerce without much experience. You just need a product to sell to get started. But how do you stand out in a sea of competitors all clamoring for a piece of the pie?
"Build a store, and the buyers will automatically come" – simply doesn't cut it anymore. Customers now have more options than ever to choose from. Business owners need to work harder and apply unique strategies to build a lasting brand.
Shop owners need to think about drawing new buyers, holding them, engaging them, as well as all of the other activities required to generate long-term value. Then again, returning customers account for more than 40% of all internet sales.
So, what is the one thing every trader wants to acquire? -Email list! The answer might seem simple but building a proper email list is not as easy as you think.
But we're here to help you! In this article, we'll go over everything you need to know about how to build an email list.
Getting started with building an email list
For e-commerce businesses, building an email list has never been more important than ever. Using email lists as part of its marketing plan, Rhone, a sportswear brand, produced approximately $80k in sales from its product launch.
A profitable and successful email marketing campaign starts with an email list. The easiest way to get started is to create segmented and targeted email lists. Segmenting your email list is as crucial as categorizing products, if not more.
If your lists aren't well organized, it's pointless to spend time creating attractive email campaigns with beautiful design, captivating copy, and exclusive offers.
While creating a valuable email list, there are three important priorities to consider:
Quality: Collect authentic information from people – never buy eCommerce email lists
Relevance: Target those people who are really interested in your products
Once you've completed the above-mentioned first two priorities, you can concentrate on amplifying and growing your list.
9 Effective ways to build an email list for e-commerce
Many marketing professionals have confessed that failing to build an email list was one of their biggest mistakes when they first started out.
"Getting an email address is the first critical step to figuring out who my reader is, and hopefully in the future, my customer of some sort."

– Joe Pulizzi (Founder – Content Marketing Institute)
We couldn't agree with him more. Clearly, emails are one of the most important ways to communicate with your customers. It will be useful to your sales if you develop an email marketing strategy around it.
1. Newsletter popups
Have you ever been on a website and seen a popup inviting you to sign up for a newsletter that is not only free but may even offer exclusive discounts? Interesting, isn't it?
You can apply this to your customers too.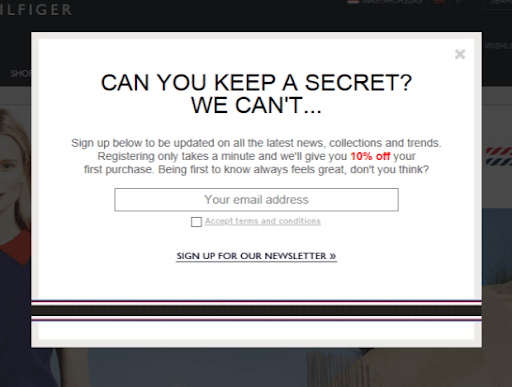 Newsletter popups are an excellent option to grow an email list of people who are keen and eager to learn more about your company.
2. Offer discounts
"Want to save some money on your next purchase with an attractive discount? You'll get it straight over to your mailbox if you give us your email."
This is a tried-and-true technique in the email list playbook and one that works.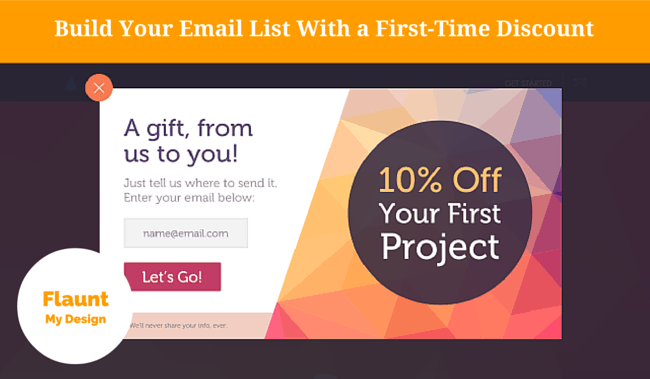 Who doesn't love discounts? And it's tough to avoid one if it's alluring. That's why it's a foolproof way to develop your list of buyers who desire good value for money (hint: the number is not short at all!).
3. Host giveaways
Giveaways are one of the most effective ways to spread the word about your product and increase client awareness.
So, how do they exactly run?
To be one of a few lucky people who receive your freebies, all one has to do is provide their email address.
Giveaways keep your consumers interested in hearing from you and make them feel like they're part of something special.
4. Add sign-up options at check out
When customers check out online and buy your stuff, it's common practice to submit their email addresses. You can, however, use this as a springboard for further progress.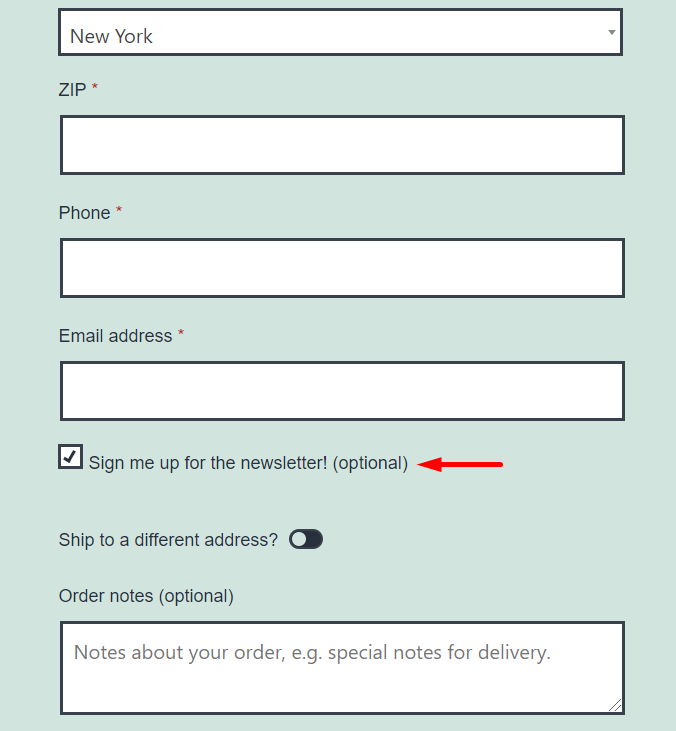 You're asking them to join your email list by offering the opportunity to sign up for additional updates.
You respect their decision not to be included, while still retaining the consumers who are actually interested and have a higher chance of being converted.
5. Leverage social media
Utilizing social media to develop a following for your email lists is a terrific way to get started. For example, you can include direct links to the sign-up page of your website.
With the rapid rise of social media and social commerce, there are a number of appealing strategies you should implement to expand your audience across multiple platforms, some of these are shortly discussed below:
Start Twitter discussions on subjects of interest: this will help you establish a possible email list pool focused on a particular thing
To create an email list for a particular campaign, you can generate leads via Facebook ads: by optimizing those ads and closely tracking the leads
Google Meet can be used to host webinars and to make people join your email list you can invite them to your future sessions.
6. Include CTAs across your website's pages
A button or text link that prompts users to perform a specific activity is called a call-to-action (CTA). Take, for example, to purchase a product, you visit a website, fill out a form, and so on.
The majority of e-commerce businesses use a CTA on their checkout page, but there's nothing preventing one from using CTAs all-around your site.
There's only one thing to remember here: relevancy. It's a terrible idea to bombard your site visitors with CTAs to join email and distribution lists at every turn. Don't forget to make it simple yet attractive and appropriate for the section of the site they're exploring.
7. Use exit-intent popups
Exit-intent popups are similar to the discount-offering popups discussed earlier in the article. The key difference is that it persuades a visitor on the verge of leaving your site to stay a little longer.
You're tempting them with one final effort to keep them hooked by appearing just as they're about to leave your website: a discount for an email offer that's tough to ignore.
8. Offer stuffs for emails
Do you provide free templates, how-to tutorials, or ebooks on your website?
Keeping them free is fine, but make sure they enter their email address to get those freebies.
This lead magnet method simply allows you to keep track of folks who are interested in your items or who are researching a topic. You can also set up follow-up methods a few days following their download to request feedback on their experience, which will keep them interested.
9. Build landing page
Landing pages are static pages that are designed to draw attention to and highlight a certain topic or product.
The use of email list signups on optimized landing pages is a powerful CTA in itself and can assist you to focus your efforts on a certain customer niche.
Conclusion
Developing an email list is essential for all businesses. Since no two businesses are the same, it's necessary to experiment with different tactics for developing your email list to see what works best.
Trying different strategies will bring new ideas bout how to grow your email list. Based on how important email marketing is as a channel for your business, your investment in building your list might be different, too.
In any way, we hope these guidelines helped ignite creativity to get you started on developing a high-quality email list for your e-commerce business.
Try Our Free Marketing Automation Plugin for WordPress!