Why You Should Build an Email List for Your Business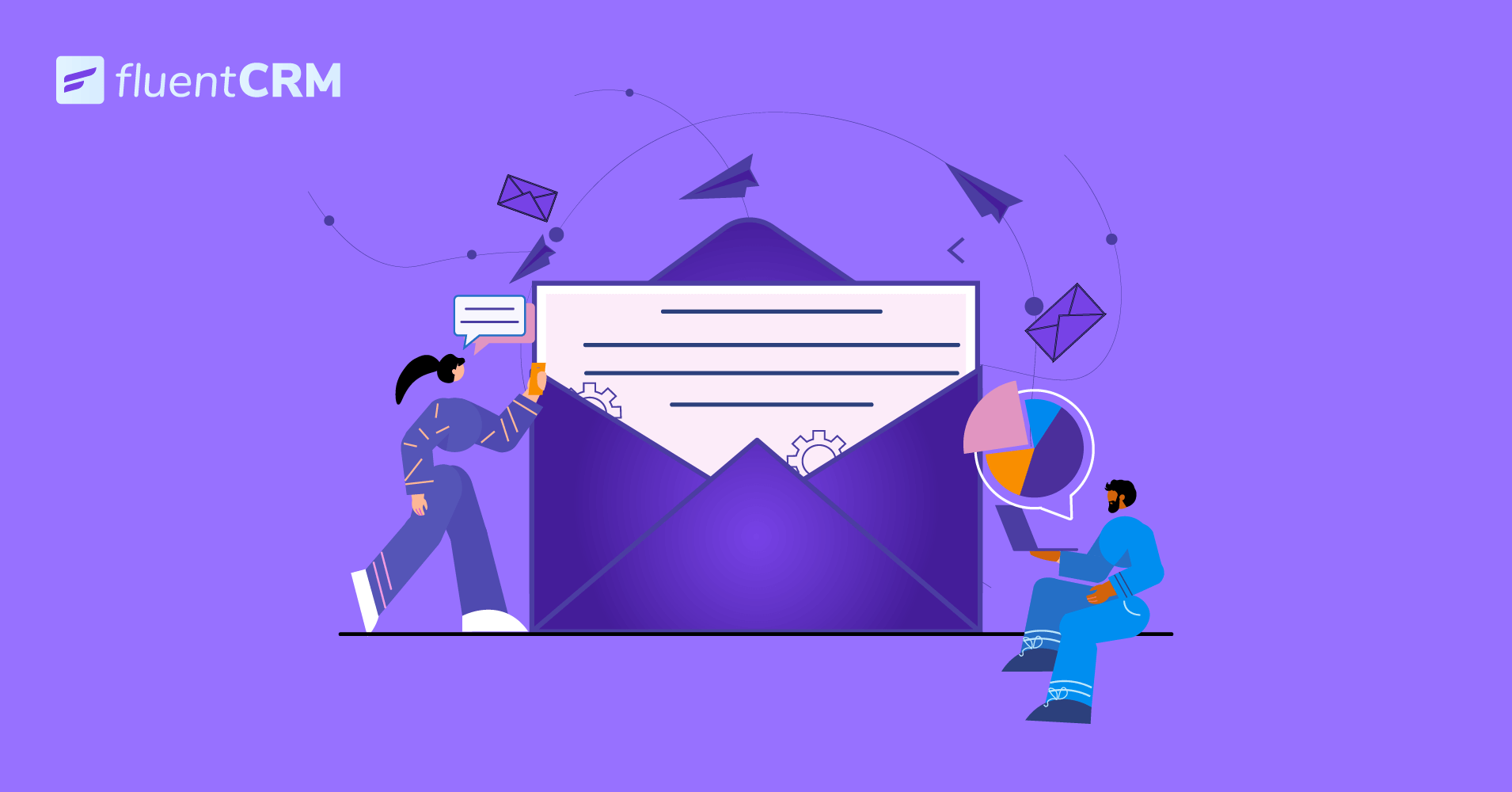 To some people, email marketing might seem a rather old school in today's world. Since there are so many other communication systems available at our fingertips, why continue with the dull, old email format?
Because email marketing is still the most important marketing channel for any kind of business. No other form of marketing can be an alternative to email.
But email marketing is of no use if you don't have an email list of your own. Many business owners and bloggers don't understand the benefits of building an email list when they're just starting out.
You might be thinking why you need to build an email list?
Well, there's a saying, "the money is in the list." Most people generally change their idea after noticing the impact email lists can have on a business' traffic and returns.
In this article, we'll go over the top reasons why building an email list is so important.
What is an email list?
An email list is a collection of people's names and email addresses who are interested in getting updates and promotions from your company.
An email marketing software can be handy to build an email list for your business and send out bulk emails to your subscribers about blog updates, online shop updates, and other company services.
Is it okay to buy an email list?
Although it may be a tempting option, purchasing an email list is never a smart idea.
If people didn't sign up for your list, they'd most likely mark your email as spam. Additionally, if they've never visited your website, they're probably not interested in your products.
Sending emails to those who explicitly agreed to receive your emails is the best decision for your business! Not to mention that's also the legal and ethical way to reach a bigger audience.
On the contrary, you hardly get what you paid for if you buy an email list. Cold emails don't work anymore. It may have worked in the past days, but there's no point in reaching out to people based on assumptions anymore. Buying an email list only leads you to risk losing your money.
Importance of building an email list
The Direct Marketing Association's study found that email marketing generates a 4300% return on investment for businesses in the US.
It not only has a great conversion rate, but since you grow your list up, you can regularly monetize it by pitching several products.
The power of an email list remains in its numbers. According to Litmus, every dollar invested in email marketing generates a $36 return on investment (ROI).
"If I have one regret as a business owner, it's not focusing on building our email list earlier in the process"

– Joe Pulizzi
These data are sufficient proof of why building an email list and starting email marketing as soon as possible is crucial for your business.
1. Email is personal
Don't you become more interested when an email begins with your name?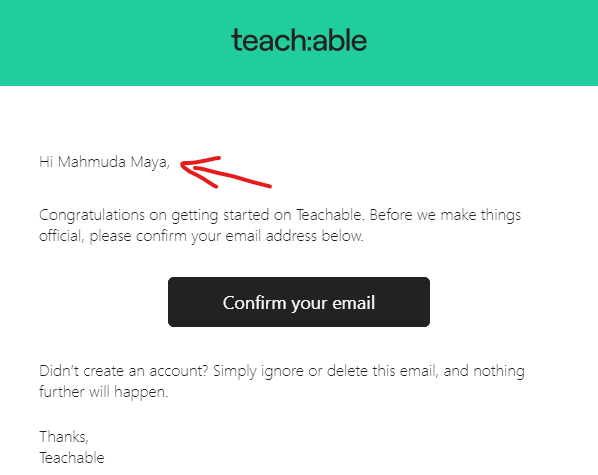 Your subscribers also feel the same. They just love it.
Making online conversation more personal makes your users feel more humane and genuine. Personalization elevates your email marketing from mediocre to outstanding. Ignoring personalization can lead you to lose profits.
There are several apps out there to help you personalize your emails. Our favorite email marketing platform, FluentCRM can also help you personalize your messages for your email list.

Marketing automation for WordPress
Get FluentCRM Now
Besides name personalization, you can also master some excellent email personalization techniques for better conversion. Emails are personal not only in their language but also in their technology. When you send an email, you directly descend into a customer's private email inbox.
2. Easiest way to deliver your message
As per Radicati Group, there are around 3.6 billion email users. This number is more than half of the world's total population. The number of email users will jump up to 4.2 billion by 2022!
Moreover, according to research, 91% of users check email every day at least once. On the contrary, we can go for days without looking at our social media accounts. These figures help explain why developing an email list is a no-brainer for innovative companies.
Your messages are directly delivered to the recipient's inbox when you send an email.
On the other hand, considerably, your customer is more likely to miss your update in their newsfeed due to the characteristics of social media.
"Out of all the channels I tested as a marketer, email continually outperforms most of them"

– Neil Patel
This illustrates why email lists are essential and far more effective than social media in putting your message in front of your customers.
3. Email helps you get closer to your customers
Emails are the most effective way to communicate with your users on a one-on-one basis. It allows your users to interact with you personally and ask questions if they have any issues.
The message isn't visible on anyone's timeline or newsfeed. They can confidently ask you questions in private.
Such conversations make your clients feel comfortable and help build a close relationship with you. And when your customers are happy with your service, they tell others about your business. Recommendations from such satisfied customers can undoubtedly help your business flourish.
4. Email is targeted
Emails are incredibly efficient since you can send targeted emails to people of specific groups. You can simply categorize your users based on their responses to your email and actions taken on your site.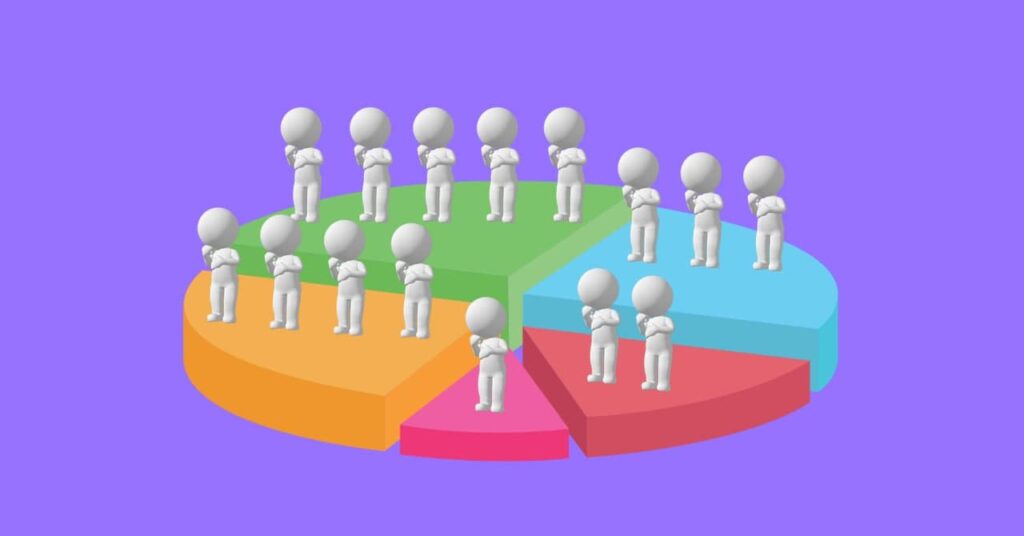 As you already know your customers and their likings, you can send them highly relevant offers to boost your sales.
Grouping your subscribers in multiple mailing lists is called segmentation. You can categorize your subscribers under their preferences and activities by segmenting your contacts.
5. Your email list is only yours
Your email list is the only aspect of your online business over which you have control, apart from your website.
An email list is essential because you can't grow your content on rented property. For example, you may have thousands of Facebook, Twitter, or LinkedIn followers, but you don't own those followers – those companies do.
When these platforms' conditions change, your social media campaigns and SEO efforts could be rendered useless. On the contrary, you own your email list, and it is unaffected by the decisions of other companies.
If you think like a real media business, your audience is the most valuable asset. Taking full control of your subscriber list and working on growing your email list is a forward-looking business decision.
6. Big companies love email lists
Learn a lesson from the world's leading brands' digital marketing playbook. They invest tons of money in marketing only to attract people to sign up for their email list.
For example, think about the last time you went to a website just to buy groceries, clothes, or jewelry. Most likely, they asked you to sign up with your email.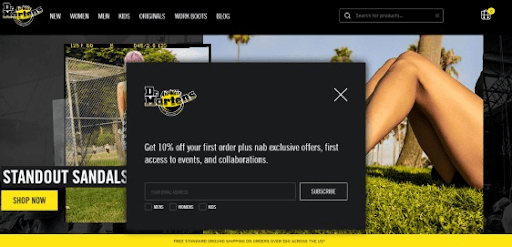 These popular brands are smart enough to utilize social media to build an email list for their business on Facebook, Twitter, Pinterest, and others. They put so much effort into building email lists as they've seen dramatic results.
They realize the value of email lists and know that developing email lists help increase sales drastically. Leading brands understand that email lists are great long-term investments that yield high profits for low costs.
7. Get visitors to return
More than 70% of visitors who leave your website never return. Take a closer look at your Google Analytics and see what percentage of new vs. returning visitors you have.
The people who visit your site are important because they've found their way to yours out of all websites in the world. What you don't want to do is miss out on the opportunity to convert a casual web surfer into a regular visitor.
When people see an email from you in their inbox, they are considerably more inclined to return to your website. Bring them back with another amazing piece, a well-written notification, or a special discount.
Email vs Social media
Now you might be wondering, what about social media? Nowadays, you'll get to see how influential social media is, and this might force you to think that social media is more cost-effective than email marketing.
The best way to eliminate your confusion is to check out the information these social media ask you to create an account.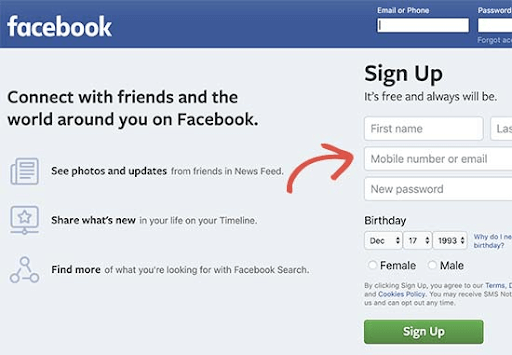 Yes, it's an email address.
Even these giant social media companies know that email is the most direct and trustworthy way to communicate with their users.
Despite using your phone number to sign up, they'll constantly ask for your email address to discover new friends, recover passwords, and most significantly, send you targeted emails.
The social tab in a typical Gmail user's inbox looks like this: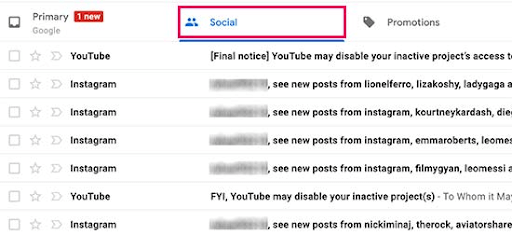 All of these emails are from giant social networking sites attempting to engage you with their content and convince you to revisit their app or website.
Though social media is a powerful platform to reach out to your audience, it's crucial to remember always that social media platforms are constantly changing.
They appear and vanish.
MySpace, FriendFeed, Google Buzz, Plurk, and plenty of others existed not long ago. Most of them are either no longer active or have become outdated.
We're not putting aside the importance of social media. It is important, and you should take advantage of any opportunity to reach out to your target audience.
You should always invest your time and money into something that ensures better outcomes. Here we compared Social Media with Email Marketing to give you some ideas on which platform best suits your business and its goals. So don't forget to check it out!
Picking the best email marketing platform
There are lots of email marketing software in the market. With so many options, you can get overwhelmed. No worries! We're here to help you.
The reason we ALWAYS recommend starting with a professional email marketing provider is that professional email marketing platforms provide the following upsides:
You have the option to send bulk emails to your subscribers
You can track subscriber activity and categorize them based on their actions
You can set up email marketing automation with visual funnel builders
You can conduct A/B testing to check which email subject line, content, and promotions perform best with your users
With in-depth analytics, you can get the overall idea of how the whole email marketing thing works for you
Last but surely not least, you can view all of your subscribers' email addresses
There are a plethora of professional email marketing providers to choose from. To make it easier for you, we've made a list of the best email marketing software based on features, support, ease of use, performance, and cost-effectiveness. But if you are using WordPress, we recommend using FluentCRM. It's the fastest-growing email marketing plugin that comes at an unmatched price. FluentCRM provides everything you could ask for at a low price from an email marketing tool.
It also has a free version that provides the core features such as email marketing automation. So, you get your time to check it out and decide whether it is right for you or not!

Marketing automation for WordPress
Get FluentCRM Now
Final verdict
It doesn't matter what type of business you own, what type of website you have, or what industry you belong to. If you own a website and want your visitors to become regular paying clients, you must add them to your email list.
We hope this article has shed some light on why building an email list is important and has given you an idea on where to get started right away.
So, what are you waiting for? Start building your email list right now!