Free Tips, News & Tutorials Delivered to Your Inbox!
This is the first release in 2021, and we are really excited about this year and FluentCRM. Within few months, FluentCRM reached 3,000+ active installs. That means, more than 3,000 businesses are automating their email marketing with FluentCRM. Today, we released version 1.1.92. Let's see what's exciting features we released.
What's Inside
New Conditional Content Gutenberg Block for Post/Page
New: Export your contacts in few clicks
New SmartLinks: Create tracking URLs and segment your contacts based on clicks.
All Emails Activity: See all your outgoing email logs in a central place
FluentSMTP support across the features
New Tools: Delete your old data and save database space.
Automation improvements
Gutenberg Block for Conditional Content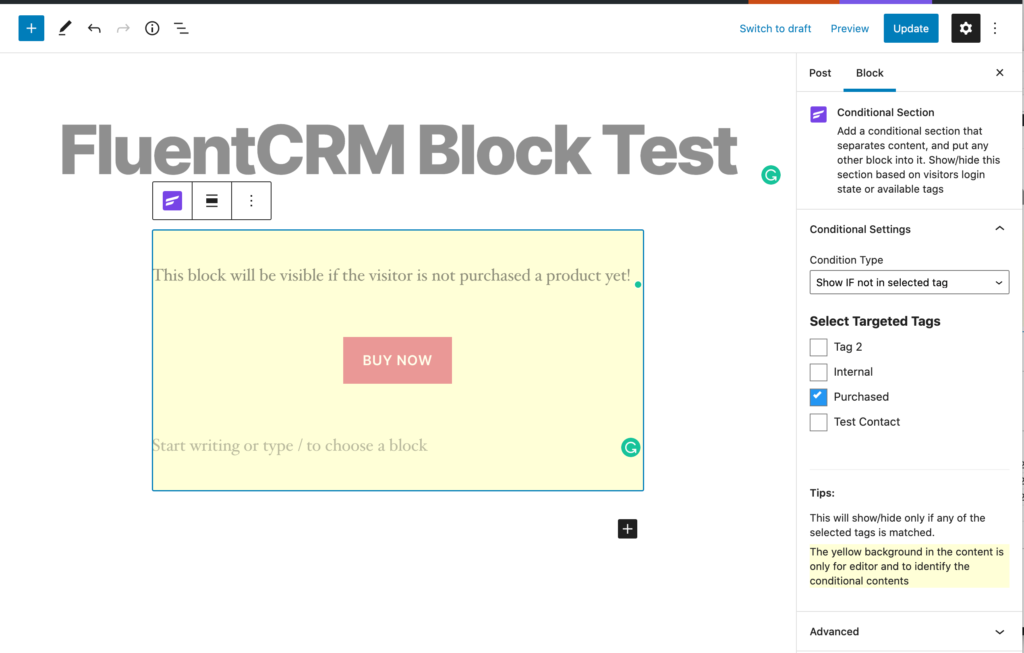 In this modern world, your website content should be interactive and targeted. For example: show a special offer content if the user already is in a special tag. Or show a subscription box if the user is not logged in or not in your FluentCRM database. Just imagine, in a single landing page, you can dynamically show/hide content blocks based on who is visiting your page. We are excited about this feature and can't wait to see how our users use this feature to make content interactive and targeted.
Export your contacts in few clicks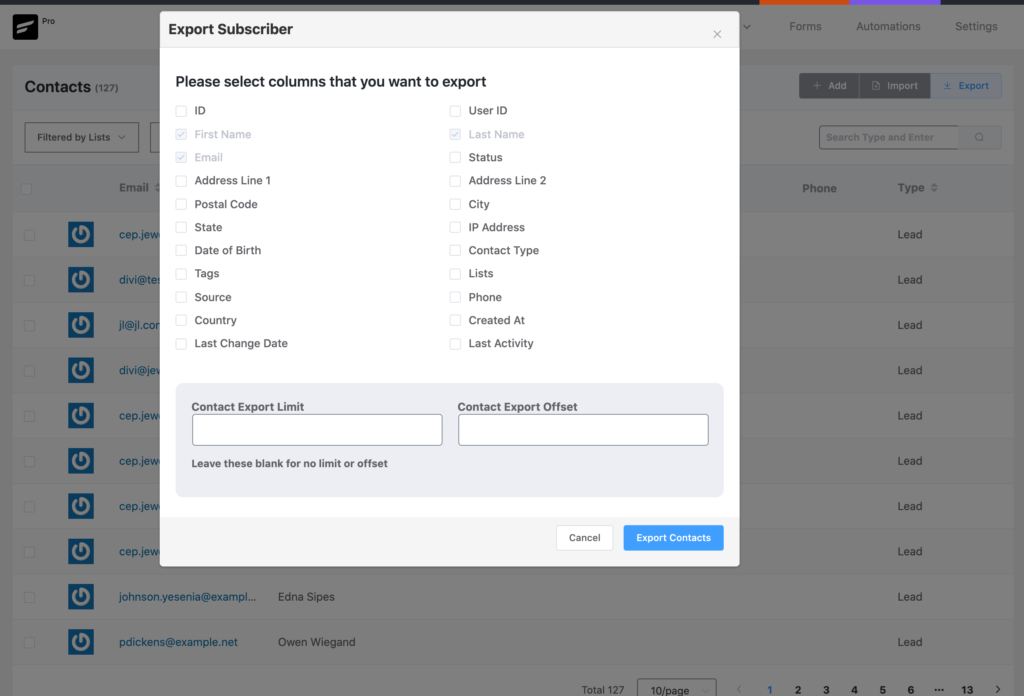 This was the most requested feature from our users. Now you can easily search, filter by tag / status / list and then select which fields you want to include in the csv and then export. This will be super helpful to export your contact information and use where you need.
SmartLinks: New way to segments your contacts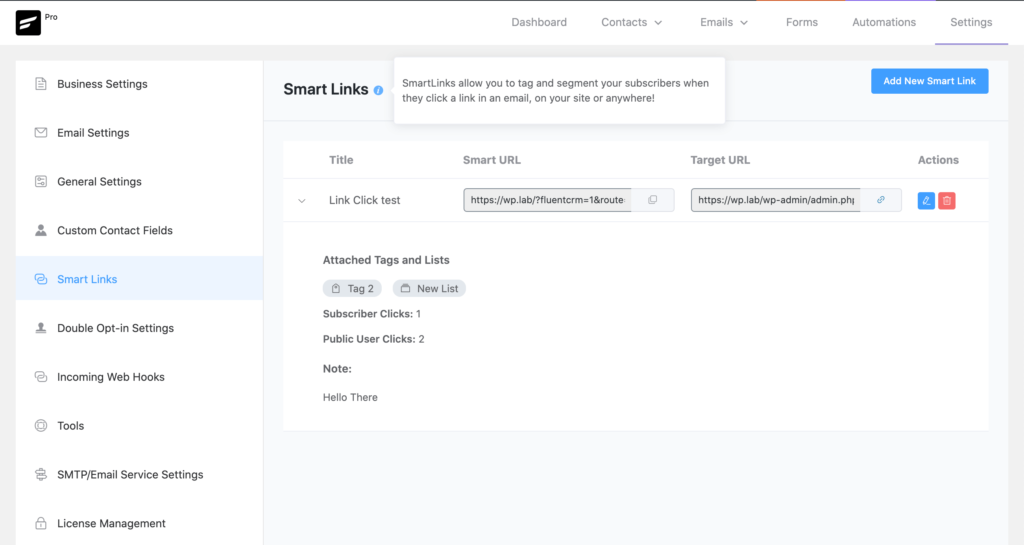 Imagine, you have a special URL and you share that link via email or paste in a landing page and whenever someone clicks that link, you can add that contact to a specific list or tag or even run an automation funnel, send a specific marketing email. This is a game-changer feature. Using this new SmartLinks feature you can generate as many special URLs as you want and use that link anywhere you want and then add in tags or a list. Let us know in the comment how you would like to use the feature. I can't wait to see the use cases.
All Emails Activity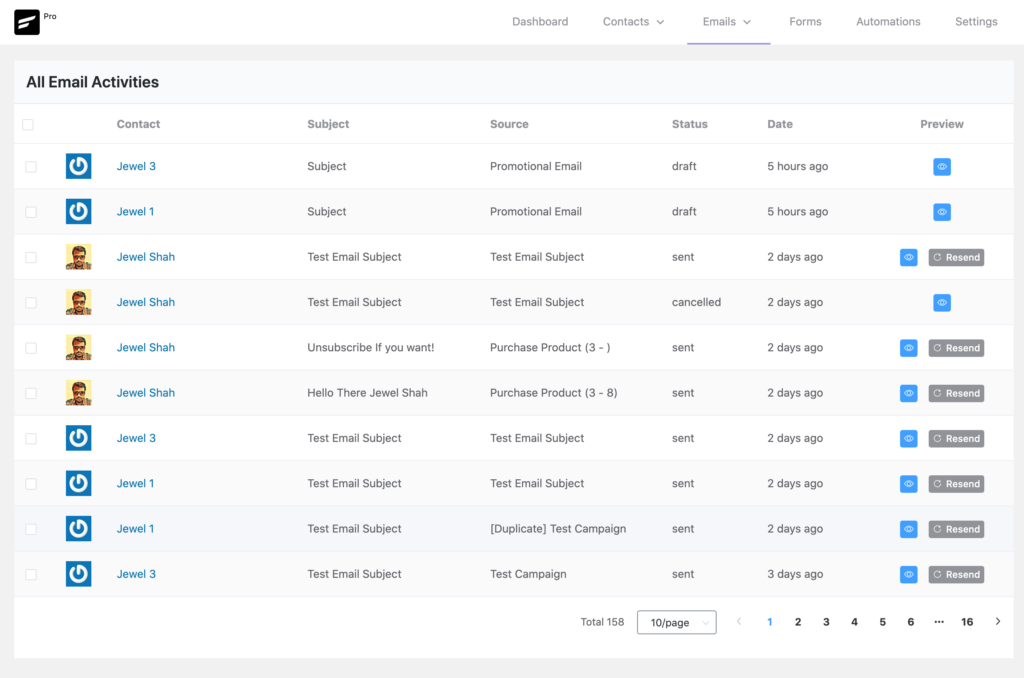 This is something very useful for reporting and getting an overall activity in your CRM. Now, From All Email Activities, you can see all the emails that are being sent or scheduled. It will show all the emails triggered by your email campaigns, automations, email sequences.
FluentSMTP Support
If you don't know about FluentSMTP yet then let me give a little intro. We have released a companion plugin to connect with your Email sending service providers like Amazon SES, SendGrid, MailGun, SendInBlue, PepiPost, SparkPost, All Other SMTP.

FluentSMTP has all the powerful features like email logging, email resend, and most importantly adding multiple email connections and routing your transactional and marketing emails easily. This is absolutely free plugin and it will be always free. Read more here about why we made it.
In this update, We have added some internal integration with FluentSMTP so your emails reach the inbox faster.
New Tool: Data Cleanup
As you already know, FluentCRM is fast, secure, scalable. Some of our users sending 1 Million+ (yes, It's a Million) emails per month to their 500K+ contacts. Just to let you know, FluentCRM stores all the data in custom database tables so it will never bloat your default WP Database tables.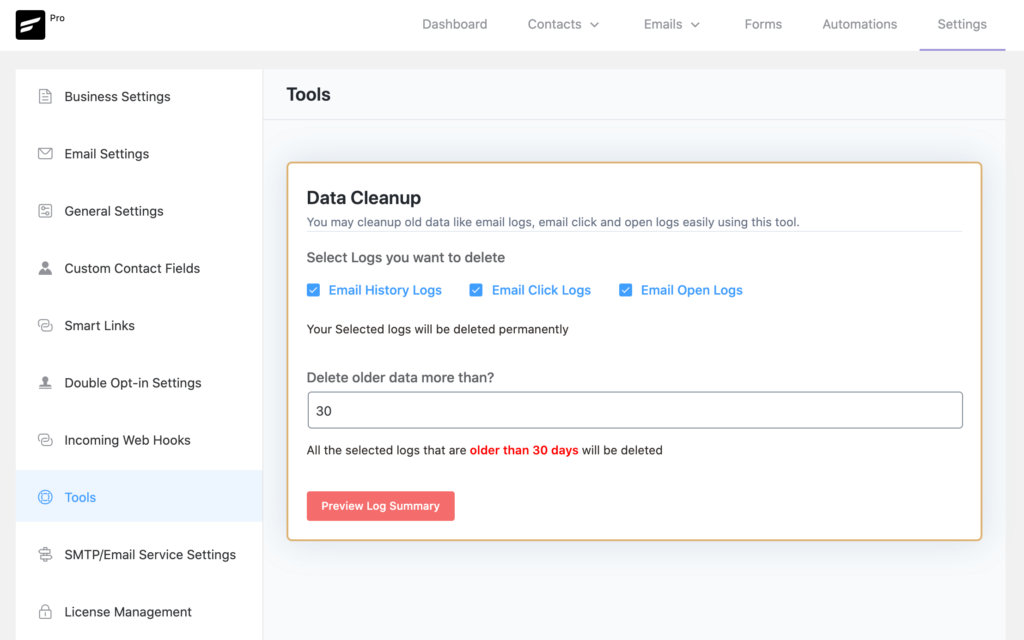 Sometimes, You may not need old log data like sent email records, click, and email open logs. Using this new Data Cleanup feature, You can easily select the data types and how old data you would like to remove and remove those easily by few clicks and free-up your database space. I am sure it will be very handy features.
Other Improvements
Along with all the major feature update, we have improved a lot internally. Here are some noticeable improvements
WooCommerce product category based automation fixed
UI improvements
Automation improvement
Unsubscribe handle for future emails
What's next?
We already have a list of features that we want to add to our next feature. For this product, We did not release our roadmap as public, and this is intentional.
In the meantime, you can join our facebook community. We discuss upcoming features and ideas in our facebook community.
Try Our Free Marketing Automation Plugin for WordPress!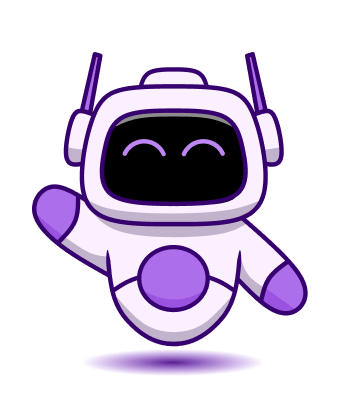 Leave a Reply
Do the smartlinks work outside of emails if they are added as a link on the website and if the contact is not logged in.
Are cookies set so that the contact is identified?
When are cookies set?

Smartlinks work outside of emails. However, cookies are only set when the user accesses your website from an email you sent.

Hey team fluent, did this idea get any consideration? I have a couple of places where my only option is to present content using shortcodes and this would make it amazing!

Hey guys quick question I love the dynamic content based on tags (AMAZING) is there any thought to opening it up to shortcode or so it can be used with other builders not just Gutenberg? I use Oxygen Builder for example and a shortcode that can check a tags and would display dynamic content would be amazing!

Thanks!

Hey Sterling,
Thanks for your suggestion. We've forwarded it to the developers.