Why Do Emails Go to Spam (And How to Prevent It)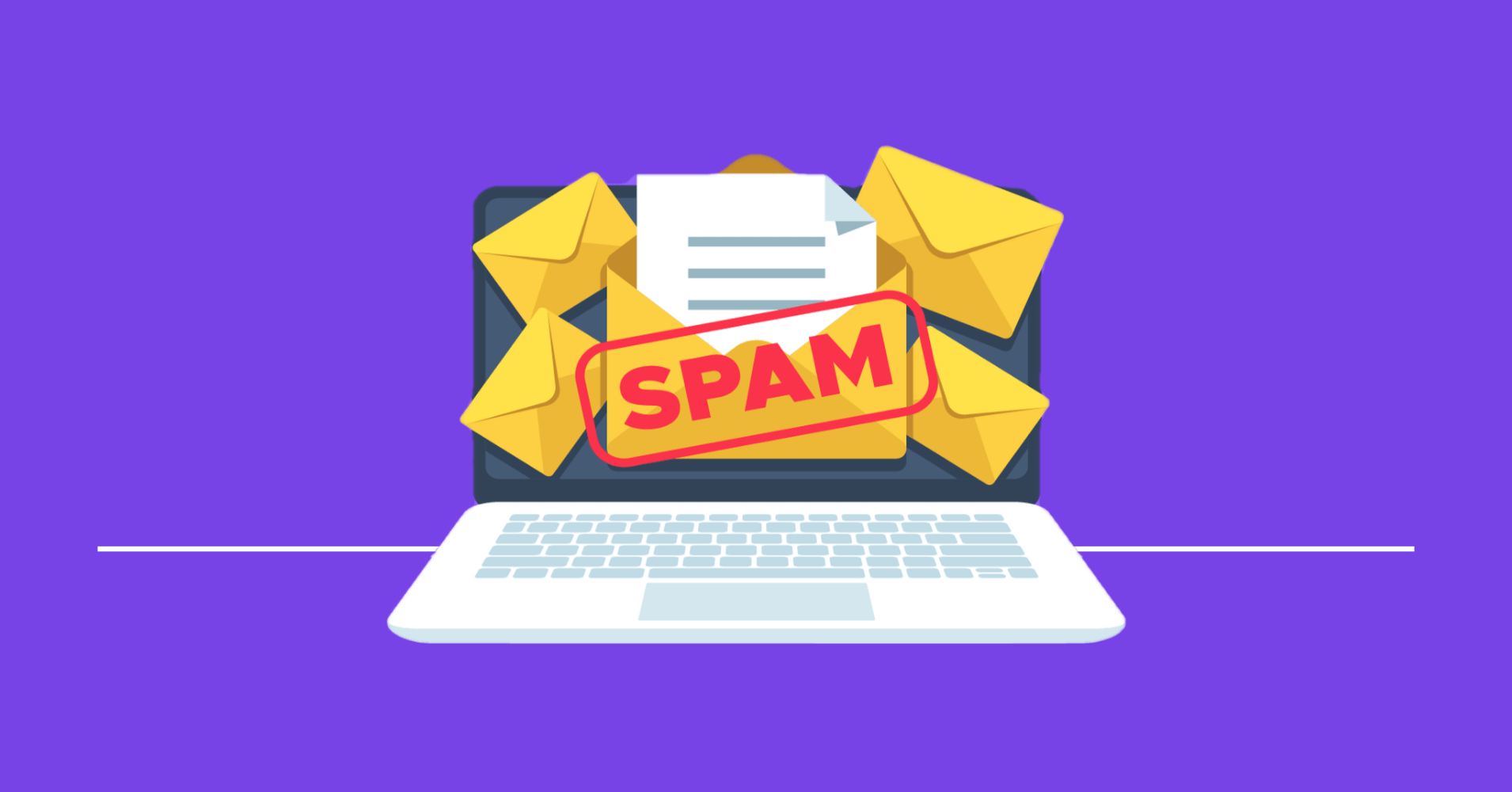 There aren't many who would disagree with this statement by one of the best marketing authors. And while you're wondering how to get more personal with your email audiences, your emails could end up in the horrific darkness of spam!
Fair to say, it happened because you did not know why emails go to spam.
Email marketing is the most effective, highest-converting, and scalable marketing channel of all, but only until you realize that you're struggling with your email open rates. The dream of bringing in that attractive 40:1 ROI (or more!) could soon turn into a nightmare because your audience didn't even get a chance to open your emails!
In the worst-case scenario, you could end up harming the reputation of your business!
Indeed, you wouldn't want that to happen, right?
We know nobody wants to lose out on the conversion, let alone harm their business reputation.
Therefore, we have gathered why your emails could go to the junk folder instead of the inbox. And because you might be using FluentCRM as your email marketing solution, we have also noted the best tips to prevent your emails from going into spam.
However, we do recommend reading out the entire article. Because by the end of this article, not only will you be able to avoid getting placed into the junk, but you'll be able to achieve higher open rates, interpreting into higher conversion rates!
Why do emails go to spam?
Generally, emails are intended to reach your audience's inboxes. But a global study on the 2020 email deliverability benchmark by Validity has shown that emails have an inbox placement rate of 83%.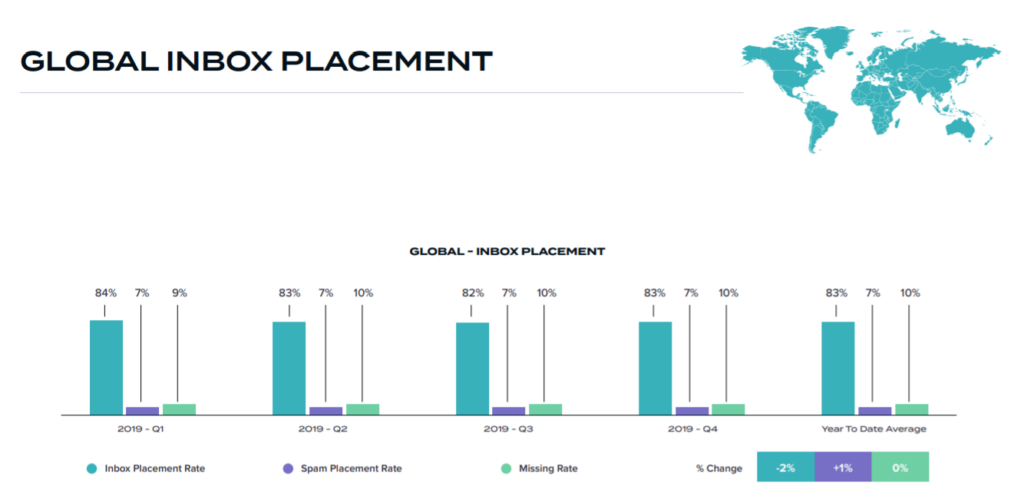 This means 83 out of 100 emails you send will reach the audience's inboxes.
Sounds appropriate, right?
But here's a more alarming fact, the average inbox placement for emails dropped by 2% alone in 2018. Why?
Email service providers want to serve their users better, and they are implementing spam traps, spam triggers, and anti-spam laws. As a result, spam filters in Gmail, Yahoo, and other email service providers have improved.
However, the filtering process isn't perfect yet. As a result, this end-spam war can guide your legitimate emails to the spam folder. Internet service providers (ISP) are still figuring out the best ways to terminate the "False positives." But before they do so, let's get back to that 83/100 inbox rate and how it can impact your business.
An 83/100 is good. But in business terms, you're missing out on 17% (or higher) conversion potential. Had your emails gone on to your customers' inboxes, you could have earned more.
Since you won't know which audience will open your emails and which of them will turn into a customer, you must ensure that you're reaching your audience's inbox. And that's why you need to know why your emails may go to spam.
We jumped into how email filtering works and discovered that many factors affect whether your emails will pass the spam filters. Here are 15 reasons that are causing spam.
You didn't take permission: Email filters often identify unrecognized senders as spammers. So if you didn't get the receiver's consent in the first place, your emails probably wouldn't go past the spam filter.
You used spam keywords: The Junk Mail filter can identify some keywords used by spammers. In case you've used any of them by mistake, your emails may go into the spam folder.
ESPs banned your IP address or ESP client: Email service providers block IP addresses or email service clients previously identified for sending junk emails. They can filter junk emails considering how your IP address or ESP client was used in the past.
Your emails have a low open/read rate: Email filters can track how many of your emails are being opened and how long users spend on your emails. If you have a low open or read rate, your emails are at a higher risk of getting flagged for spam.
You used an unrecognizable "From" address: The leading email service providers pay close attention to the "From" field, name, and email address. Moreover, most email recipients open emails based on the "From" name and email address. So using an unrecognizable "from" address can result in low engagements and, eventually, get flagged for spam.
You have a high bounce rate: A high bounce rate impacts your sender's reputation and damages deliverability. So if you have a high hard-bounce rate, you'll hit the spam trap.
You did not provide an "unsubscribe" option: According to the Can-SPAM Act, you should always provide an "unsubscribe" link while sending marketing emails. Failure to do so will cause deliverability issues.
Your subject line isn't appealing or misleading: According to Invespcro, 47% of email recipients open an email based on its subject line, and 69% will report spam emails based on its subject line.
You've used spam trigger words: Email filters consider some words as spam triggers. If you're being too pushy or making exaggerated claims with spam words, your emails may end up in spam.
Your subscribers don't recognize you: Unless you include your logo or identity with your emails, your subscribers won't recognize you. As a result, they might report your emails.
You didn't include your physical address: Sending marketing emails without including your physical address is considered illegal. If your emails don't have one, your emails will get a red flag.
You're using rich media content: Some email clients can't display rich media content. These email clients will block your emails if you're using video embeds, flash content, javascript, or dynamic scripts.
Your email includes unnecessary attachments: Attachments such as PDFs or Word documents trigger spam filters. Besides, they also take more time to load. So most email clients will block them.
Your emails include unnecessary HTML codes: Using HTML codes to craft branded emails is a good conversion tactic. But if they're not correct, email clients will usually prevent them from reaching your subscriber's inboxes.
Your email doesn't have a good text: image ratio: Emails with a large image and less or no text often get flagged. Some clients block images from displaying. So there's a good chance your emails will get flagged for a bad text: image ratio.
Aside from the above mentioned, the following are also responsible for spam:
Your timing is off.
Your emails have wrong grammar or spelling.
You have Inconsistencies in email frequency, typography, logo, or writing style.
You sent a mass email (CC) not targeting the specific recipient.
Now that you know the reasons let's explore how you can avoid sending spam emails.
Subscribe to Our Newsletter
Get email marketing tips, tutorials, and information delivered to your inbox!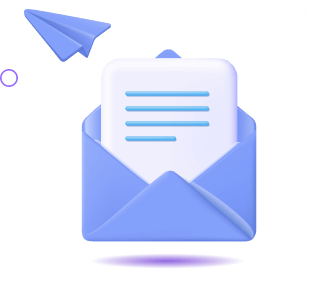 How to prevent your emails from ending up in the spam folder
Your business depends on email marketing. Numerous benefits and facts prove how crucial an effective email marketing campaign can be. And failure to exploit such a channel prevents you from earning more and prevents you from building effective relationships.
Recipients' email service providers flag your emails when you trigger them like the actual spammers. If you don't want your emails to end up in your recipients' spam folders, you should always keep your emails clean, civil, and straightforward. With that said, let's find out how you can avoid emails going to the spam folder:
Honor the CAN-SPAM Act
This one is probably one of the basics. If you're going to have any success with email marketing, you need to do it by honoring the CAN-SPAM Act.
The CAN-SPAM Act is the law regarding the rules and requirements of commercial emails, which can cost you a crisp penalty of $43,280. The CAN-SPAM Act applies to all emails that are sent out for commercial purposes.
Here are the 7 "don'ts" of the CAN-SPAM Act.
Do not use misleading, tempting header information such as misleading "From," "To," or "Reply-To" fields.
Do not use a subject line that provokes the users to open the email only to find out it was misleading.
Identify your commercial email as an advertisement.
Include your location and physical address.
Be clear about how to opt out of receiving future emails from you.
Honor opt-out requests promptly.
Monitor what others are doing on your behalf.
The CAN-SPAM Act is like the bible of email marketing. So you should honor the regulation by all means.
Read this article to dive deeper into the CAN-SPAM Act
Get your subscribers' consent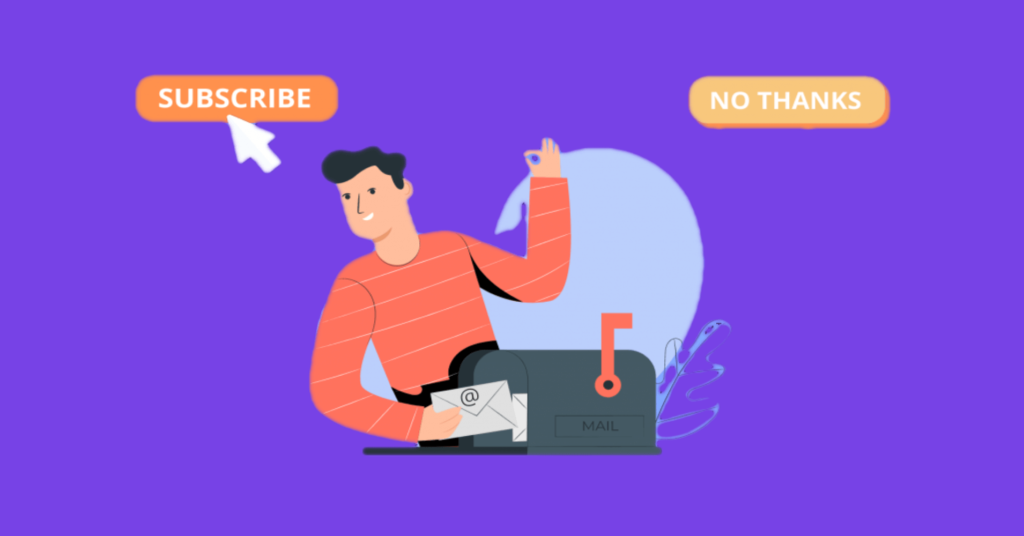 Nobody likes uninvited guests. Sending emails without getting the receiver's consent is clearly against the regulations stated by the CAN-SPAM Act.
In order to seek the permission of the receiver, you can use a subscription form. For FluentCRM users, we have built-in form templates that can be used for growing subscribers via an opt-in email marketing strategy.
You should also inform your subscribers that they're subscribing to your mailing list. This can be done by including a "Subscribe to mailing list" checkbox with Fluent Forms.
Build a proper email list
A clean and genuine email list is the key to success in email marketing. We do not mean you can buy an email list by a clean and genuine email list. Buying an email list is illegal in most countries. A purchased email list can tell the recipient's mailbox providers that you're sending an unwelcome email and violating the CAN-SPAM Act.
As a marketing professional, it's quite tempting to buy email lists. But if you don't want your emails to end up in your recipient's spam folder or pay a $16000 penalty for violating the CAN-spam act, you must refrain from buying an email list.
We believe email lists aren't bought but earned. By earning your email lists with honest marketing tactics, you'll gain a loyal subscriber base and acquire higher email inbox rates, interpreting into higher conversion rates!
Check this article to build an email list for your business effectively
Stay clear about your privacy policy
If most of your subscribers are from Europe, you must disclose how you will use their data, according to the General Data Protection Regulation(GDPR).
We suggest you mention your privacy policy on a checkbox field so that when enabling the "I have read and accepted the privacy policy" – checkbox, your subscribers can explore what your privacy policy says.
This gives your marketing an extra layer of caution as your subscribers will know what to expect, and ESPs will not filter out your emails for spamming.
Ask for confirmation of subscription
Asking for confirmation of subscription has three significant benefits. Firstly, reducing the number of spam submissions. Secondly, reducing bounced emails. And finally, decreasing the cost of email marketing.
Spam submissions will cause an unreal boost in your contact list. If you're using a client that charges you based on the number of contacts you have, spam submissions will make it more expensive. On the other hand, your hard-bounce rate will increase, making your emails more prone to spam traps.
You can erase both possibilities by following one small step, including a double opt-in connection. This will prevent spam submissions from happening and enable you to build a genuine email subscriber base.
Tip: Don't just send boring, regular subscription confirmation emails. It's your first interaction with your audience, so make it count. Read this article for some inspiration.
Track email engagement
Spam filters strictly check for inactive email addresses you have in your contact list. Undelivered or ignored emails can have a terrible impact on domain reputation. And that's why you should always monitor your subscribers and how they interact with your emails.
Besides, if you don't track subscriber activity, you won't know how fruitful your emails are in reality. So track your mailbox for soft and hard-bounced emails every week. If you are using FluentCRM, you'll find the bounced emails by filtering your contact list. You can also quickly identify inactive subscribers via dynamic segments.
Use a reputable email service provider
Most email service providers process emails through their servers. So even if you never spam yourself, your emails could easily get dumped into spam if someone has been spamming through the client you use. Therefore, a good, reputable email service provider is a prerequisite for email marketing.
We recommend using a good transactional email service. They are pretty cost-effective and reliable.
Avoid using SPAM trigger words
It's okay if you want to push your subscribers to make an action while crafting commercial emails. But don't push too hard!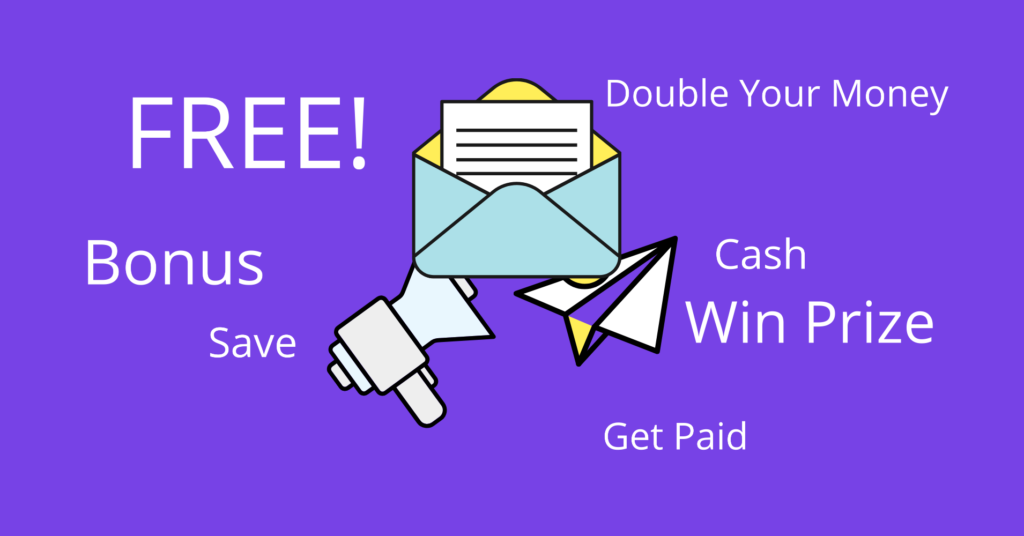 Staying away from words that trigger spam is the best practice for risk aversion. Your email can include some risky words that can hamper the deliverability. So, pay attention to the email you're crafting.
Note this checklist of possible trigger words that are blacklisted because of their relevance with spam mail.
Free
Bonus
Cash
Double Your Money
Get paid
Save
Win prize/chance to win
Purchase
Order
You want your subscribers to trust you and stay interested. Over-emphasizing these misleading words are opposite of that. Take our advice and don't make your emails look like phishing emails because that way, ESPs will eventually block your emails from reaching your subscriber's inboxes.
Pay attention to the email subject line and body
If crafting an email was an art, then the best subject line picker would be the artist. The email subject line identifies the email's intent and tells what the email is about. And if your subject line isn't clear, about 69% of your subscribers will mark your email as spam. So before you launch an email campaign, don't forget to play a little with your subject line by A/B testing.
Also, don't forget about the email body just because you've got a good subject line. Spam filters go through email bodies rigorously. So, you should take care of the entire design, text fonts, attachments, messages, and images. Keep it minimal and easy to read. Here are some tips for the email body:
Don't use CAPITAL LETTERS and multiple exclamation signs because it interprets as shouting!
Question marks can actually help more than exclamation points.
Add clean HTML code with the plain text version. Only HTML is a red flag!
No gaps between letters and no gimmicks.
Write a short, witty, and adequate email without any trigger words.
Avoid any dramatization or false promises.
Looking for effective email subject line ideas? Check out these articles-
Use the correct grammar and spelling
It doesn't matter how often you have ridiculed a "grammar nazi." When it comes to email marketing, you need that accuracy!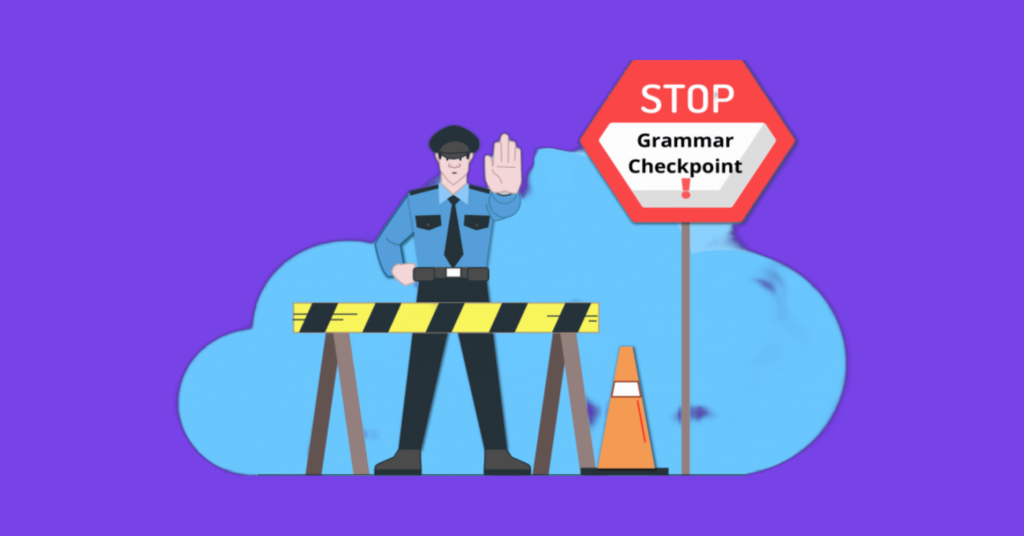 Before you send your email, make sure to check the spelling and grammar. One wrong spelling or a typo might seem like a silly mistake to you, but it can damage your credibility.
Radicati Group's study found that 80% of people see grammar and spelling errors as an "emailing offense." So, to present yourself as a professional and trustworthy business, proofread and spell-check every part of your email.
Note: Even minor spelling or grammatical mistakes can be spam triggers!
Test emails and deliverability
What's the point of crafting an email and sending it without ensuring its worth?
Before you click the "send" button, you should test your emails and confirm that it's spam-free and doesn't violate any rules. We recommend checking your emails with the following spam checker tools and eradicating any issues preventing your emails from reaching your subscriber's inbox.
Mail Tester: Mail-Tester is a free email spam checker tool that analyzes your emails and gives you an email score out of 10.
Litmus: Litmus has an all-in-one suite for testing email deliverability. It tests your emails with the most popular spam filters, checks your domain score and IP address, and rates email deliverability using various metrics.
Learn about some of the best email testing tools
Avoid including too many attachments
Attachments like Word Doc files, PDFs, or .exe, .zip, .swf. Files alert email filters more than usual. However, .jpg, .gif, and .png files can be sent safely.
If you want subscribers to see a particular document, use a good file hosting services like DropBox or Google Drive and attach them with a CTA link. Also, note that "too many images, not enough text" is a spam filter trigger. Your email body needs a good text-to-image ratio (60/40). So always make sure you're maintaining that ratio unless you want a red flag.
Use a valid address and "From" field
It's crucial to inform where you're from. So, add a valid physical (postal) address to attest yourself. Also, don't change the email and physical address too frequently.
A legit "From" field address with a real sender name is another solution to avoid emails going to spam. Send solicited emails to those addresses and mark yourself as authentic.
Include an unsubscribe option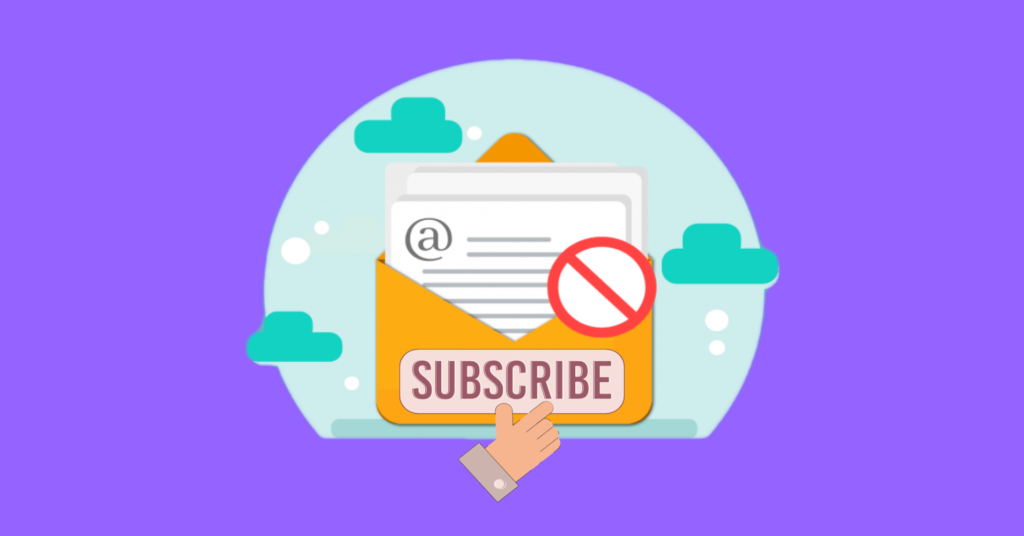 A guest who doesn't want to stay over anymore shouldn't be stuck with you! Setting your uninterested subscribers free should be a simple one-step process. If you try to act smart, you're risking yourself a penalty and your email deliverability.
Therefore, you must add an "unsubscribe" button for inactive or uninterested users so that they can stop getting emails from you anytime they want.
To avoid losing subscribers in this process, let them know that you respect their wishes and ask if they really want to leave. Also, you can ask for feedback as to what made them decide to leave. This might help you improve your email marketing and stop sending emails to the junk folder.
Ask users to safelist your email address
Even if you do everything right, it's possible that email filters will mark your email as spam. This has nothing to do with your email but with the limitation in email filtering technology.
Since email filtering technology isn't polished enough, your emails may get flagged as spam as 'false positives. In this case, it's best to ask users to safelist their email addresses. You can also share tutorials on how to safelist your email.
Doing so will also improve your deliverability reputation, as it's a positive sign for email clients when people add your emails to their whitelist.
If you want to know more about email safelist, dive into our guide.
Use a good email marketing client with a good ESP
Email marketing software can help you segment contacts and send emails to a list of subscribers. On the other hand, Emails sent via an ESP with a low score on senders' IP addresses can barely make it to the inbox. Gmail, Yahoo! Mail, Hotmail, etc., can mark the emails as spam and block you from sending any more.
Steer clear from ESPs with no reputation to avoid getting blocked. Remember, ESP's reputation depends on the client's reputation as well. Choose a trustworthy one and send valuable emails to convey your message.
Try Our Free Marketing Automation Plugin
Download our marketing automation plugin and start sending automated emails FREE!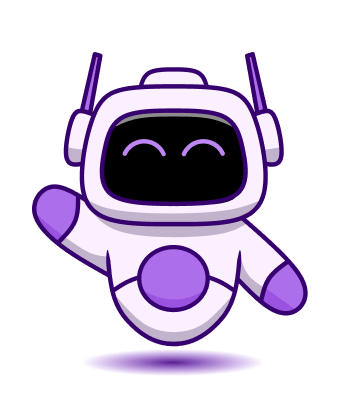 Use an email list cleaning service
While it's ideal to keep your email list clean, doing so isn't an easy task. Spammers often leave inactive and junk email addresses for no reason. In fact, genuine people also use temporary email addresses sometimes.
As a result, your email list can become cluttered with inactive and temporary email addresses. Sending emails to such addresses will only hurt your email deliverability and increase bounce rates. If you're struggling with such issues, an email list cleaning service may help.
Email list cleaning services take care of incorrect and misspelled addresses, spam submissions, inactive emails, etc. So consider using one to keep your email list clean and email deliverability ratio intact!
Hit your recipient's inboxes with accuracy!
Let's face it, no one wants their emails to go to spam. However, with all kinds of email spam filtering technology, it's not easy to hit the recipient's inboxes regularly. Hopefully, with our tips and suggestions, you now know how to avoid triggering email spam filters.
Remember, email marketing is a blend of process and accuracy. So go ahead and start putting all of these tips into practice to hit your recipient's inboxes, every time!