How to Maximize Email Marketing Potential with Marketing CRM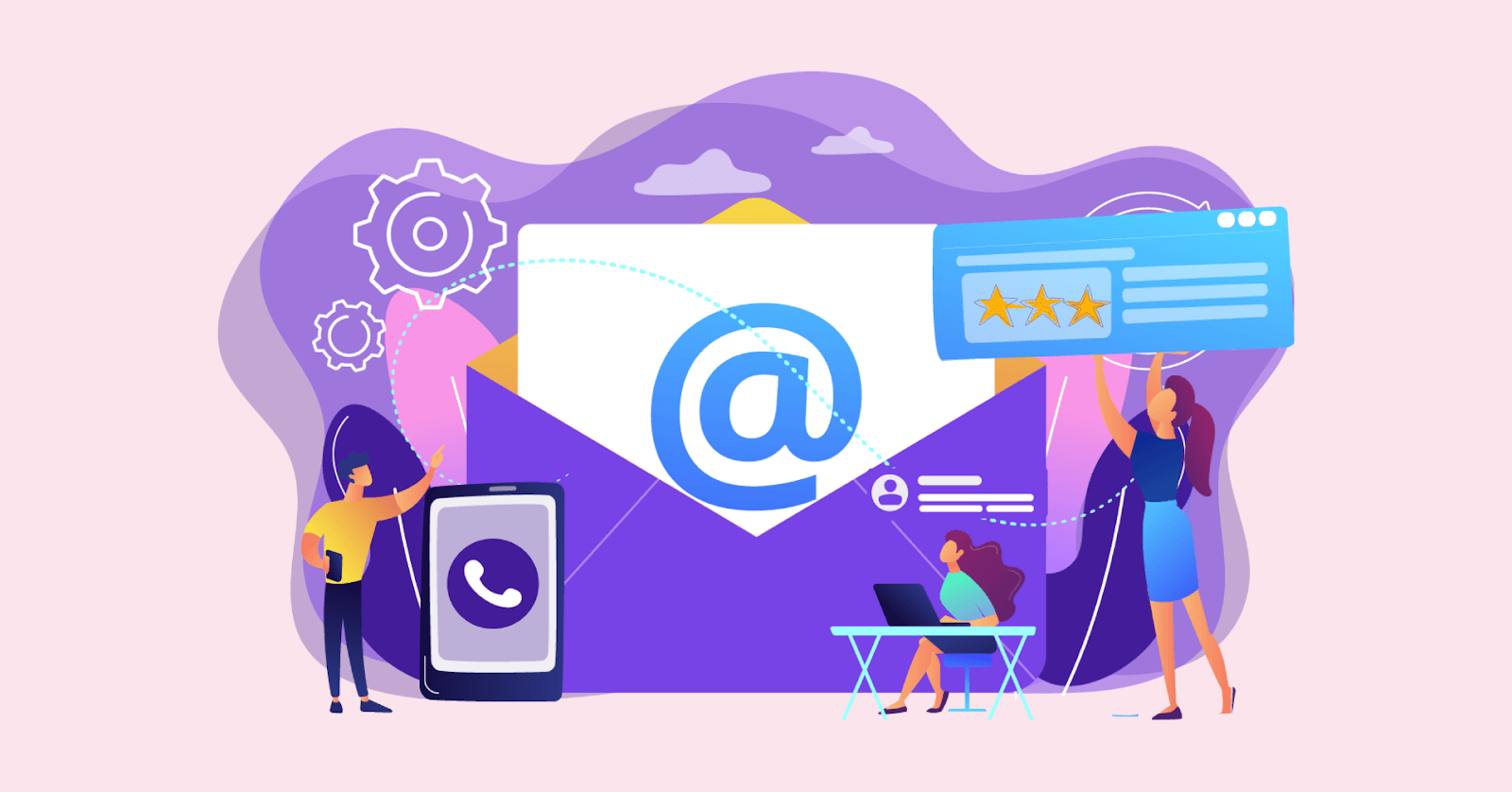 Database marketing became a common practice during the 1980s. The idea was initially formed from the idea of analyzing the customer's behavior toward marketing campaigns. Consequently, the concept developed into more concepts and methodologies, and in the end, it was replicated in software.
Today, we know that software by the name of customer relationship management software, aka CRM.
CRM definitions differ, but the objectives don't. It helps manage customer relationships better and ensures maximum business growth.
On the other hand, email is the most productive marketing channel, reportedly producing a 3800% revenue over investment. Since the CRM concept took off with the idea of analyzing the customer's behavior for marketing, effectively using your CRM software for email marketing can produce incredible success.
Why?
Because email marketing requires personalization!
The importance of personalization in email marketing
Emails work a bit differently than other marketing channels. Unlike other marketing channels where you depend on visibility, emails help you directly connect with the audience.
As you start growing, there will be more people you'll need to deal with. As a result, things start to get complicated. Not everyone shares the same personality or traits. Therefore, taking a one-size-fits-all kind of approach with email marketing would be axing your own feet.
On the other hand, today's customers are overwhelmed with all sorts of data. Thanks to the rapid evolution of information and technology, they know where to find something if they can't find it from where they are.
As it stands, customers are in the driving seat, and there are no alternatives to creating personal touch in emails.
The role of CRM software in email marketing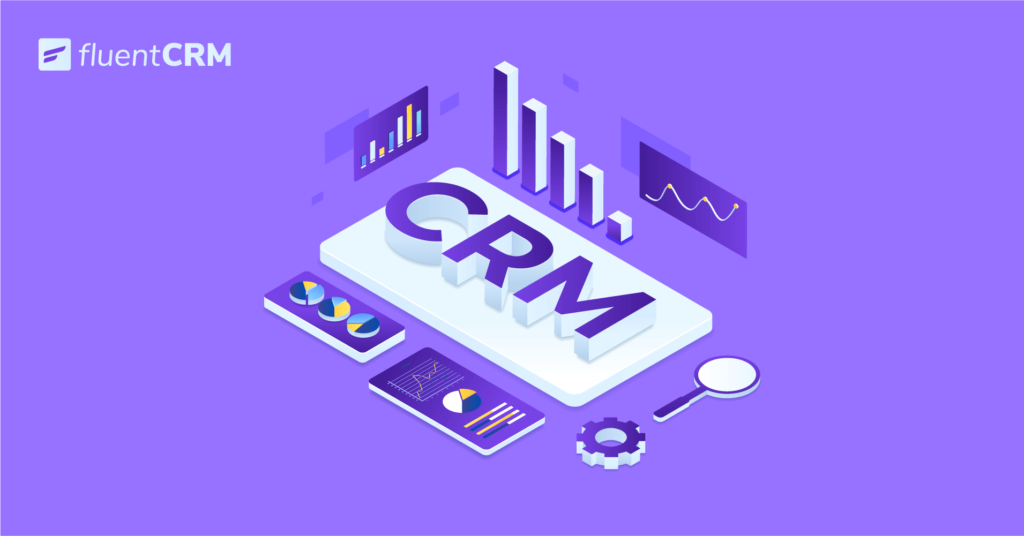 Most CRM software, including FluentCRM, comes with the promise of getting you more leads to grow your business and excellent email marketing functionalities for maintaining communications better. These functionalities include:
Lead generation forms – for generating new leads and marketing opportunities.
Contact segmentation – for segmenting contacts better.
Third-Party software integrations – for collecting leads that came through third-party eCommerce, LMS, Membership, etc. software.
Email campaign management – for sending out email blasts to mass users.
Email sequencing – to set up a set of emails for handling regular communications such as customer onboarding sequences, lead magnets, etc.
Split testing: – to check out how users are reacting to different emails, also called A/B testing.
Campaign reports – to measure how users have interacted with the emails.
Although every CRM software may not have this feature, paid CRMs can also provide you with email automation functionalities. Marketing automation is useful if you have many other tasks to worry about and don't want to spend time doing email marketing tasks manually. It generally helps you string together a few If/Then statements to smoothen the entire email marketing process.
With such unique features, CRMs are designed to bring you success. But if you're not using your CRM software to its full potential, your email marketing campaigns won't be successful. Or worse, they could turn into disasters, not reaching the intended audience, going to the spam folder, and even harming your business reputation.
We understand how frustrating it is when such things happen. And that's why we are here to help you maximize your CRM email marketing software's potential.
Using CRM software to maximize email marketing potential
The keyword in email marketing success is personalization. More personalized emails will bring more ROI. And it's not us who's saying that. According to a study by Evergage, 99% of marketers believe email personalization plays a significant role in advancing customer relationships. However, 34% of marketers identify poor data quality as their primary challenge to personalization.
That's precisely where CRM software comes into play. Let's find out how CRM software can help you broaden your email marketing potential.
Score and Nurture Meaningful Leads
Generating traffic and scoring meaningful leads is still one of the top priorities for any business. There's no point in buying tons of emails that has nothing to do with your business. And sending out email blasts to such an audience will only backfire on your business reputation.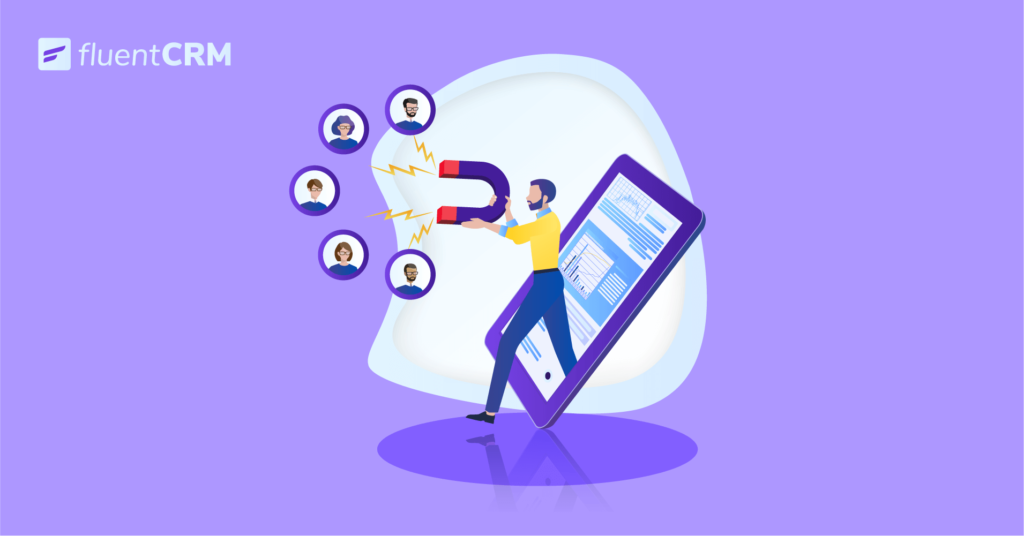 That is why you need to build a streamlined process for onboarding more leads and nurturing them to make your email campaigns a success. So before you use your CRM software for email marketing, you need to focus on implementing inbound marketing tactics to capture valuable leads. Create content, landing pages, or social media campaigns that solve your audience's pain points and focus on creating more and more valuable leads through them.
Once you've captured some leads, don't start pushing them hard to make a purchase. Today's customers are smart, and they know you're not the only one with an offer. So before offering your product or service, you should introduce yourself and give them time to get familiar with what you'll be offering. Try to learn what makes them happy and educate them about how your product or service makes a difference by solving their problems. By nurturing your leads through your marketing CRM, you'll not only have a better chance to secure them as your customer, but you'll also be able to make them your loyal customers who admire you.
Segment and hyper-segment your contacts
Segmentation is one of the fundamentals of personalization in email marketing. It helps you better understand your leads and allows you to handpick your email recipients.
Earlier, you had to put your leads and contacts into different buckets manually. Nowadays, most CRM software provides powerful segmentation tools for creating segments and hyper-segments. In fact, some CRM software also allows you to automate the segmentation process based on your contact's actions.
So keep asking those questions to yourself and your CRM.
Where do your leads live?
When did they join your list?
What made them join your mailing list?
How often do they open your emails?
What are their buying preferences?
Once you have these data, you know what to do. You can put them in different lists and tag them according to the data and activities so that you can get a sharper contact overview. This helps you determine how to plan your email campaigns and what to offer, improving email personalization accuracy.
Connect and acquire data from third-party applications
If you're running an eCommerce business, the possibilities are that you're already using one or two third-party applications. These third-party applications accommodate a lot of useful data for your business and for understanding your audience. For example, suppose you're using the WooCommerce plugin for running your eCommerce business on WordPress. In that case, the WooCommerce plugin can show your customer's purchase data, general data, etc., which can help you learn your client's buying habits and demographic information. However, manually checking an individual client's data can be a hassle.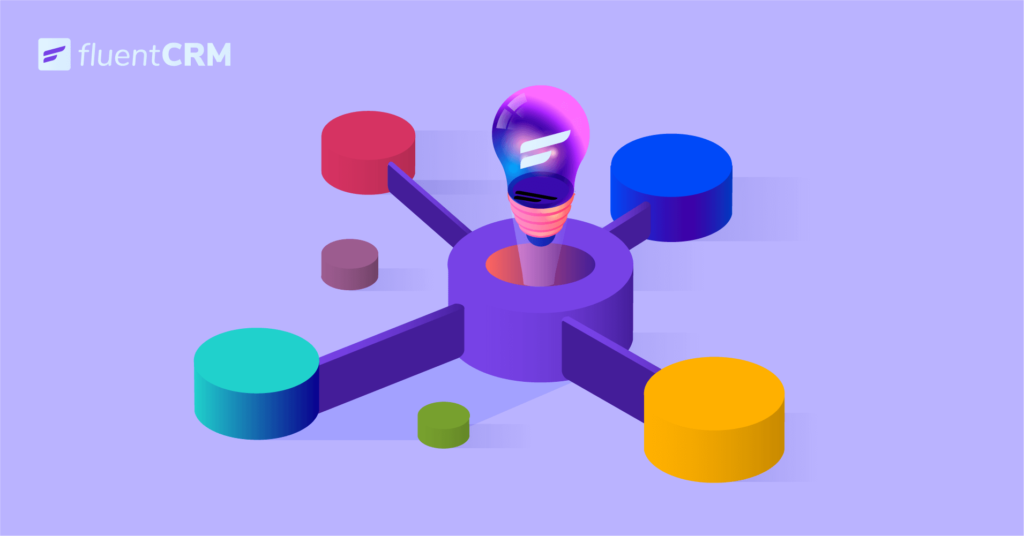 Most CRM software allows you to tie such third-party application data on a centralized platform. The beauty of having all your third-party application's data in a centralized dashboard is not only the ability to check the data but also the ability to use the data for effective segmentation and personalization.
Cloud-based CRMs have such functionalities as extensions or add-ons. If you're using a cloud CRM, you should look for ways to connect your third-party applications to your CRM system to extend its functionalities. And if you're using on-premise CRM like FluentCRM that doesn't require an extension, they are probably connected to your CRM already!
Be personal with your audience
Once you have segmented leads for nurturing them further, you'd want to start communicating with them. Knowing their pain points, you can't afford any anonymity. So if you're going to call them by impersonal addresses such as "Hi there!", "Hello Sir!", "Dear Customer," abort!
Being personal with your audience is the first and foremost criterion for directing a successful email marketing campaign. Today's CRM software empowers you with magnificent ways to get personal with your customer by addressing them by their name or mentioning their city in the email.
You know what their pain points are or what interests them most. Knowing their preferences, you can develop immaculate labels and profiles of your potential customers using proper segmentation and hyper-segmentation.
Let's say you're an eCommerce selling various sports goods. Offering baseballs to someone interested in football would make no sense. And talking about "Football," Americans and Europeans know them by different names!
So when tailoring emails for your audience, you should take those details into consideration to tailor the interest-specific email bodies to the different groups of your mailing list.
Pay attention to email subject lines
Let's agree to this, whether your recipients will open your email or not depends a lot on the subject line of your email. It also plays a significant role in email personalization.
As we spoke earlier, modern-day CRM lets you address your email recipients by their names or do other personalizations. It means you can also start your email subject line by calling out their name. Since your audience will know you're calling out for them, they'll at least read the entire subject line, if not the email.
According to the top marketing professionals, subject lines should give a descriptive indication of what's inside within a catchy, short sentence. And because subject lines play such a significant role in increasing email open rate, it's vital to put immense effort into getting it right.
Although it's entirely up to you to craft an attractive subject line, a marketing CRM can be a bit of help. One of the dilemmas you would often face in email marketing is choosing one from several possible subject lines.
The split testing or A/B testing feature is immensely helpful if you don't want your large campaigns to fail only because your users didn't open your emails. To determine which subject line to go for, you can start a small email campaign with multiple subject lines.
Once the data is available, CRM software will let you check which subject lines are earning higher open rates and which aren't. And the one which brings you the highest open rate or ROI is the one you should be using for your mass marketing campaigns!
Read this post to learn more about the significance of email subject lines for sales prospecting and generate some unique ideas
Never ignore the reports and analytics
CRM and marketing automation software come with built-in email marketing campaign reports and analytics. These analytics aren't there for no reason.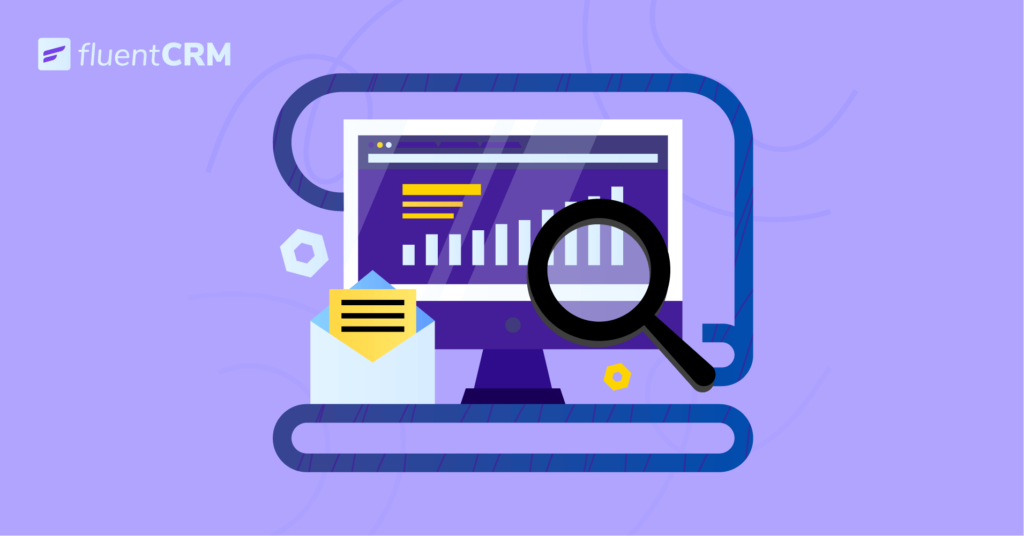 The reports and analytics let you track your campaign's click rate and click-through rate. With such data shown in numbers and graphs, you can take email personalization one step further by hyper-segmenting your audience according to their interests. Or more, you can immediately send a follow-up email based on their interests.
Personalization depends a lot on whether you understand your user's interest. Knowing how your users interact with your emails will help you tailor more personalized emails for your users. Therefore, if you want to launch successful email marketing campaigns every time, there's no alternative to paying attention to the numbers you are achieving.
Develop personalized onboarding and regular email sequences
In the early stages of your business, you have fewer leads, fewer sales, and as a result, fewer management tasks to do. Your business management capabilities need to scale as your business grows. However, we often notice small businesses that struggle to cope with the increasing growth of their business. 
Frankly speaking, it's hard to keep up with all the marketing tasks when you have a lot to do on your business's organizational side. With more new and old leads boosting up your contact list, no matter how much you'd want to improvise or personalize your email marketing campaigns, you are limited by your human abilities. And this inevitable human limitation often forces small businesses to put less effort into their email marketing campaigns or make mistakes, which can eventually leave a terrible impact on business reputation.
To avoid such issues, we recommend developing a personalized onboarding experience with your CRM. CRM and marketing automation software enable this kind of functionality by allowing users to create onboarding sequences for new or old leads.
You can set up a few onboarding emails at selected intervals so that every time a new lead joins your list, they will receive the same user experience as before. On the other hand, you can minimize the hassle of setting up separate marketing campaigns for your old leads by setting up pre-designed email sequences. It also provides you with enough time to analyze how your email sequences are performing so that you can rethink your marketing or onboarding sequences to provide a better future onboarding experience.
Leverage regular tasks to automation
Emails are a direct communication channel between you and your customers. These 1v1 communications can be tricky at times. Besides, we already discussed that you have to put a lot of effort into email personalization, which takes a lot of time out of your schedule. It wouldn't be wise to put all your effort into marketing since you also have a business to manage. Your business needs you, and marketing is only a part of your business.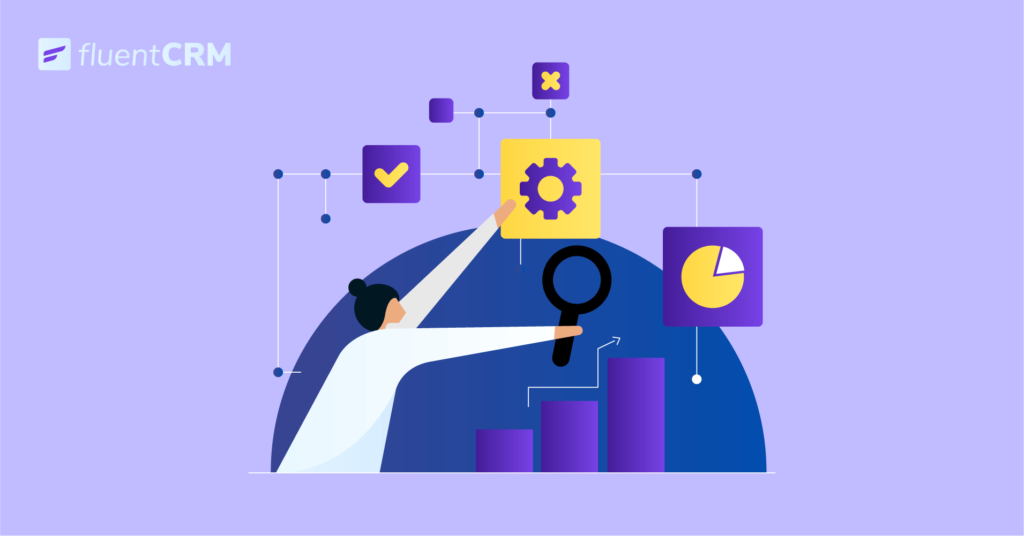 One genuinely magical feature of a Marketing CRM is that you don't always have to handle the regular tasks yourself. They allow automation for routine tasks that you would otherwise have to do manually.
For example, you might be using product links within your email as a medium for understanding your audience's interest so that you can hyper-segment your leads into different categories. CRM and email marketing software come with conditional automation that lets you segment them automatically.
Again, this gives you more time to focus on your business and strategies rather than having to do them manually. And that's why you should consider leveraging regular tasks to CRM automation.
Optimize automation for increasing conversion
Many hard pieces need to be tied together into an email marketing strategy. Though you will save a lot of time by leveraging some tasks to CRM marketing automation, email marketing truly puts a toll on your psychological health and time. Tasks like lead generation, segmentation, email personalization, automation, etc. take both effort and time.
But again, whether your emails will bring positive results or not depends entirely on whether your emails are personalized or not. Perhaps, it's because you haven't optimized your automation for conversion.
Along with the marketing automation feature, CRM software enables you to see whether your emails or automation produce an end result. In CRM terms, this is called funnel or stage analytics. Yes, with quality marketing CRM at your disposal, you'll not only see the result of a specific campaign but will be able to see how your users are reacting to each stage. Since you can analyze each step of your automation individually, you'll be able to determine which stage requires alteration to optimize it for increasing conversion!
Learn about the differences between email marketing and marketing automation
Wrapping up
It's not hard to see why we've put so much importance into email personalization with CRM software. Email is the most productive marketing channel, and CRM software helps you predict, personalize, and plan efficient email marketing strategies.
But even after you put so much effort into your marketing, it's not unusual to feel devastated when your campaigns are not a success. But our recommendation would be not to get upset.
Every failure is a lesson, and what you take from your failure counts. And that's why we also prioritized conversion optimization. Hence, we believe you can maximize your email marketing potential by combining CRM and email marketing automation with the tips we provided.
Before you leave, we would like to introduce you to our marketing automation plugin –FluentCRM.
It is a revolutionary CRM plugin for WordPress that comes with all the email marketing features you'll ever need. And given it has built-in integrations with other popular eCommerce, LMS, membership, affiliate, etc., plugins, you don't have to think about paying more for extensions or buying them!

Marketing automation for WordPress
Get FluentCRM Now
Also, do subscribe to our newsletter for updates, discounts, and many more email marketing tips, and subscribe to our youtube channel to watch some cool WordPress tutorials!