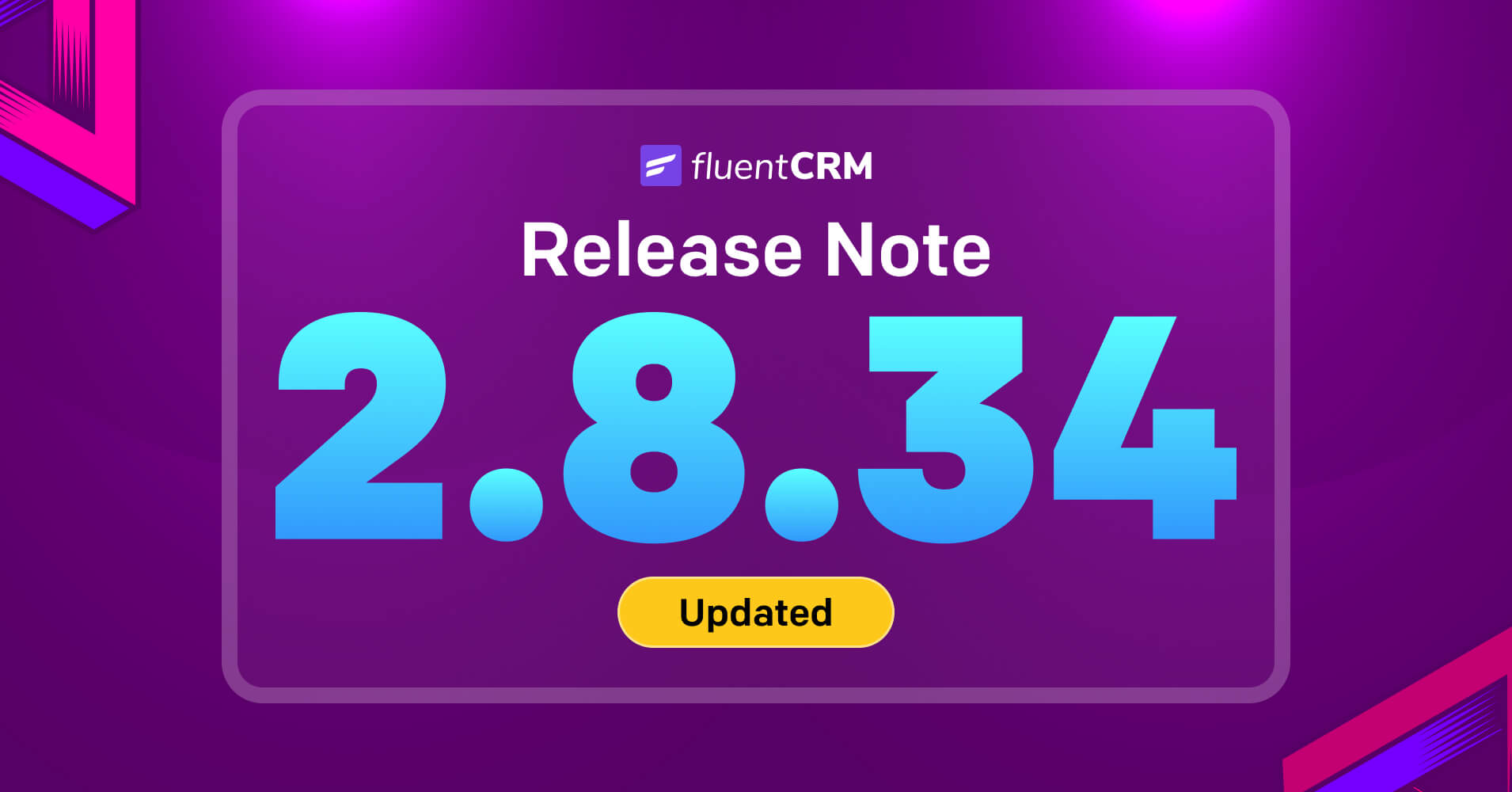 FluentCRM 2.8.34 – File Upload Compatibility, ActiveCampaign Data Import & One-click Unsubscribe
Free Tips, News & Tutorials Delivered to Your Inbox!
Hello everyone!
Last month, we released a major update. But as we take oath as precise as possible we continue to polish our product at a higher standard. Our dedicated team has been working on this relentlessly to enhance your experience.
And our commitment is to addressing user challenges, no matter how small it is. Keeping this perspective in mind here we come with another product update!
This update includes –
WordPress file upload compatibility issue fix
Large contact list uploads on an ActiveCampaign and
One-click unsubscribe
Contact import issue with company field
So, let's explore what's inside FluentCRM 2.8.34!
It's Almost Over!
Only a limited number of FluentBooking LTD copies are remaining. Buy now or regret later.
WordPress file upload compatibility issue fixed
In the earlier version of FluentCRM, users face challenges when attempting to upload files or pictures. Issues included failed uploads and various compatibility problems, especially when dealing with media files.
The good news is, with the release of version 2.8.34, you no longer have to deal with these hurdles. Uploading any type of media file is now a smooth and trouble-free experience!
Upload large lists from ActiveCampaign
If you have a large amount of your customer contact list, we know how important it is to import the list without any hassle. Before our 2.3.34 updates, users faced challenges when uploading larger contact lists via the ActiveCampaign importer.
We kept this problem in mind and with this update we have addressed and resolved this issue. Now, you can easily upload larger contact lists when importing contacts with ActiveCampaign API Token.
One-click unsubscribe
When sending emails, we believe in offering recipients the flexibility to act on their priorities. In the past, when users chose to unsubscribe to opt out of further emails, they were required to provide a reason. This process could potentially irritate the customer experience.
And from this perspective, we came up with a solution. Now, recipients can effortlessly unsubscribe emails with just a single click. To enable this feature, just go to the FluentCRM Dashboard > Settings > Compliance and give a tick mark on Enable one-click unsubscribe.
Contact import issue with company field
In the previous version, suppose you assign a contact under a company and go to the details of this contact, you will see that this contact is assigned under a company. Then when you export the contact file and import it again, the company assigned under that contact cannot be found.
And with this latest update, this issue is solved.
Wrapping Up
At FluentCRM, our mantra is simple: your satisfaction and a stellar experience are our driving forces. Your continuous support and loyalty inspire us to keep enhancing FluentCRM, making it even better for you.
And guess what? Nothing has changed!
We're on a constant mission to address any product issues swiftly and seamlessly. Thank you for being a part of our journey for such a long time.
It's Almost Over!
Only a limited number of FluentBooking LTD copies are remaining. Buy now or regret later.
Try Our Free Marketing Automation Plugin for WordPress!