Free Tips, News & Tutorials Delivered to Your Inbox!
Email marketing is one of the most reliable channels for digital marketers, and newsletters play a crucial role in any email marketing strategy. It helps you inform visitors and customers about news and promotions about your brand to stay engaged with them.
As a WordPress user, you might also want to send email newsletters to your subscribers and customers. However, crafting and sending email newsletters can be time-consuming. Newsletters are not only about sending content-focused emails to your subscribers but also about sending relevant information to the recipients.
Today, in this article, we talk about WordPress newsletter plugins. We would elaborate on why your website needs an email newsletter plugin and the best WordPress plugins to simplify your decision process to make your newsletter marketing easy and effective.
Let's begin!
Why your website needs an email newsletter plugin?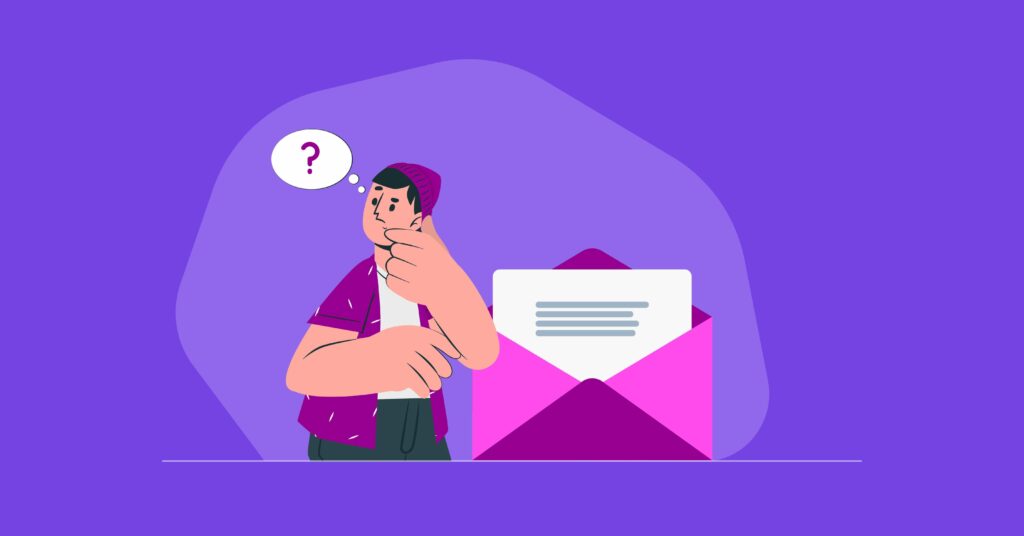 Newsletters are emails sent to users about updates and events of your businesses. They are also often used for offering special promotions and deals to potential business customers.
Newsletters are the cornerstone of any email marketing strategy. With newsletters, you can promote your brand and share content to drive traffic to your website. Companies and small businesses can gain valuable benefits from developing a newsletter.
However, it is vital to ensure that your newsletter:
Grabs the reader's attention at first glance
Has an innovative, responsive outlook
It is personalized to reach targeted recipients
Have a clear call to action to drive traffic to your website
However, creating and distributing newsletters isn't a cakewalk if you don't have the right tools. You need a newsletter plugin to get the best return from your newsletter strategy.
WordPress plugin repository has some popular free and paid newsletter plugins. These plugins make it simple to create and distribute newsletters to your subscribers.
Does WordPress have a newsletter plugin?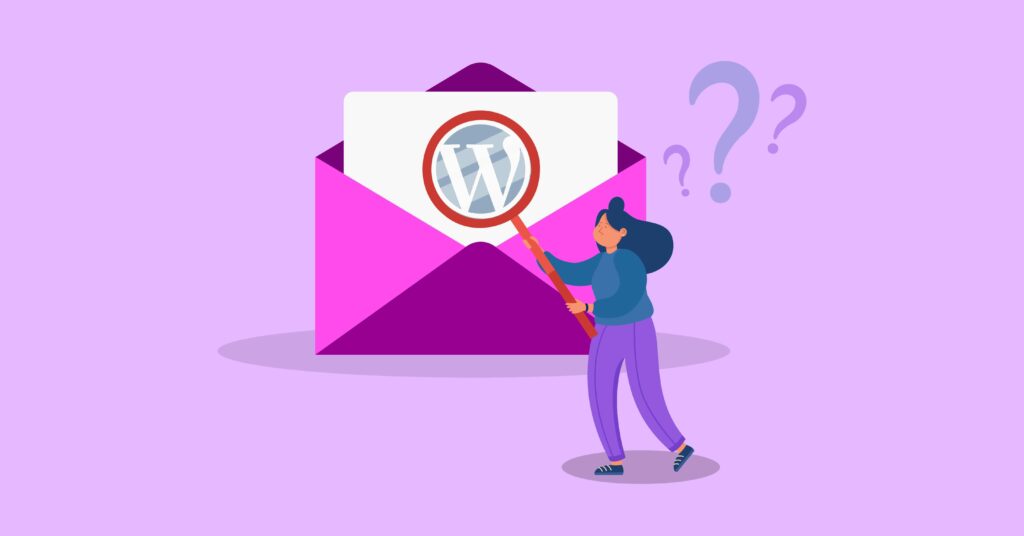 Keep in mind that WordPress does not send emails reliably. Instead of relying on your web hosting server to deliver emails, you should utilize a separate email service.
It's even risky to send emails through your web host. You can potentially have your hosting account disabled if you send out many newsletters.
For this reason, WordPress has many different newsletter plugins in the repository. These plugins help send emails to customers more effectively and ensure email deliverability.
Things to consider before choosing a WordPress newsletter plugin
You might be overwhelmed by so many newsletter plugins in the WordPress repository. However, you should choose the best WordPress newsletter plugins to send email newsletters effectively.
So here's what to consider while choosing a newsletter plugin for your WordPress site:
Easy user interface and campaign management: When choosing a newsletter plugin, crafting beautiful emails and reaching out at the perfect time with the least effort should be your primary concern. You must use a plugin with an easy user interface for better time management and newsletter quality.
Smart segmentation: Contact segmentation is a core feature that helps orchestrate effective newsletter campaigns. You can efficiently deliver unique and personalized messages with a well-segmented email list. A plugin with a smart segmentation feature can always help you a step ahead.
Innovative automation features: Automation has become the most effective hack to crack business success in digital marketing. Without automation, it's almost like Everest to climb email marketing.

On the other hand, a robust email marketing automation tool can turn your visitors into customers and eventually become loyal brand representatives.

A newsletter plugin that helps capture leads, track customers, and set up automated and personalized follow-up emails would be a great companion to your digital marketing journey.
Integrations: While most newsletter plugins provide a lead generation form of their own, they might not be fit for your needs. Besides you may also use a few other tools to interact with visitors and customers. That is why choosing a plugin that integrates with your tools is vital.
Granular reporting system: Run performance tests, measure every aspect, personalize with precision, and convert like a professional. All those are possible if and only when you have an excellent reporting system that provides all the data and analytics about your newsletter campaigns.
Pricing: Generally, email newsletter plugins are free to get started. But if you need more features or need to store more contacts, they start charging based on the features or the contact tier. That's when things start to get complicated. So it's very crucial to choose a plugin that is affordable for you.
Considering all those, choosing the right WordPress newsletter plugin can be complicated. Fear not; we've got you covered!
7 best WordPress newsletter plugins
The best WordPress newsletter plugins include various free and premium combination options to easily customize and manage your company's newsletter email marketing campaigns.
As we mentioned earlier in this article, there are tons of newsletter plugins, and choosing one can be complicated, even if you know what you need. We've done the groundwork for you and curated a list of the best free and premium WordPress newsletter plugins.
| Name | Price starts | Contact Limit | Read details |
| --- | --- | --- | --- |
| FluentCRM | $129/Year | No | More |
| MailChimp | $132/Year | 500 | More |
| Hubspot | $540/Year | 1000 | More |
| Sendinblue | $300/Year | 20000 | More |
| MailPoet | $120/Year | 500 | More |
| Newsletter – The Newsletter Plugin for WordPress | $96/Year | No | More |
| Email Subscribers and Newsletters by Icegram | $79/Year | No | More |
This product comparison table is designed with Ninja Tables
FluentCRM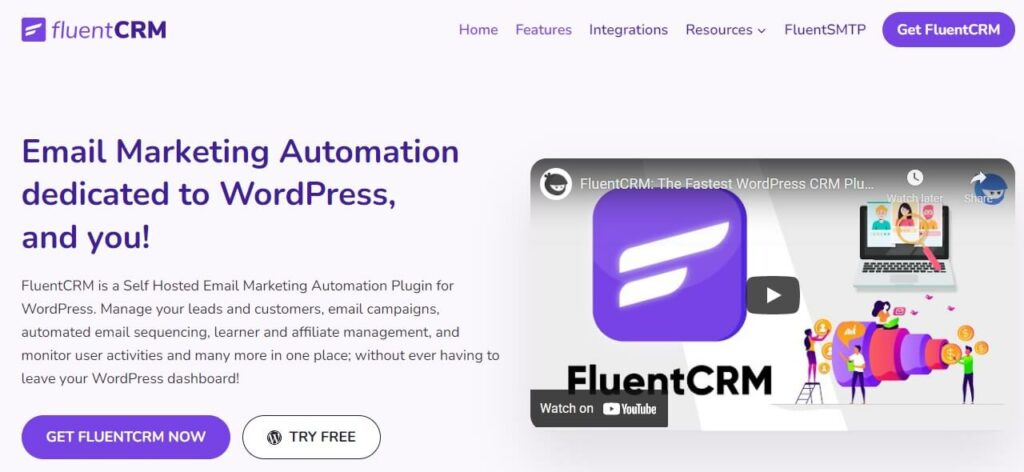 FluentCRM is an email marketing automation and newsletter plugin for WordPress. With this plugin, you can build an email list with Fluent Forms, segment your contacts by various data points, and reach out to your audience with email campaigns, newsletters, and other personalized emails.
The best thing about FluentCRM is that it lets you set up automated email sequences and marketing automation funnels within the convenience of WordPress, making it the best plugin to run a newsletter campaign.
FluentCRM also integrates with 30+ WordPress forms, e-commerce, LMS, and membership plugins without needing any add-ons. So no matter which plugin you're operating, you can always stay assured with FluentCRM.
FluentCRM features:
Deeply integrated with Fluent Forms to create forms and collect leads
Easy email list management with advanced filtering to find and segment contacts by various data points
Send and schedule unlimited email campaigns powered by a block editor that comes with an RSS feed fetching
Design high-converting customer journeys with an intuitive marketing automation funnel builder
Easily monitor user, campaign, funnel, and email sequence with granular reporting
30+ integrations, including WooCommerce, Fluent Forms, LearnDash, MemberPress, etc.
Pricing:
FluentCRM is free to get started with unlimited contacts. You can download the plugin with limited features from the WordPress repository. The annual cost for a single site license is 129$ with a 1-year plugin update and priority support. You can also get a 5-domain license(249$/year) or 50-domain licence(499$/year).
Mailchimp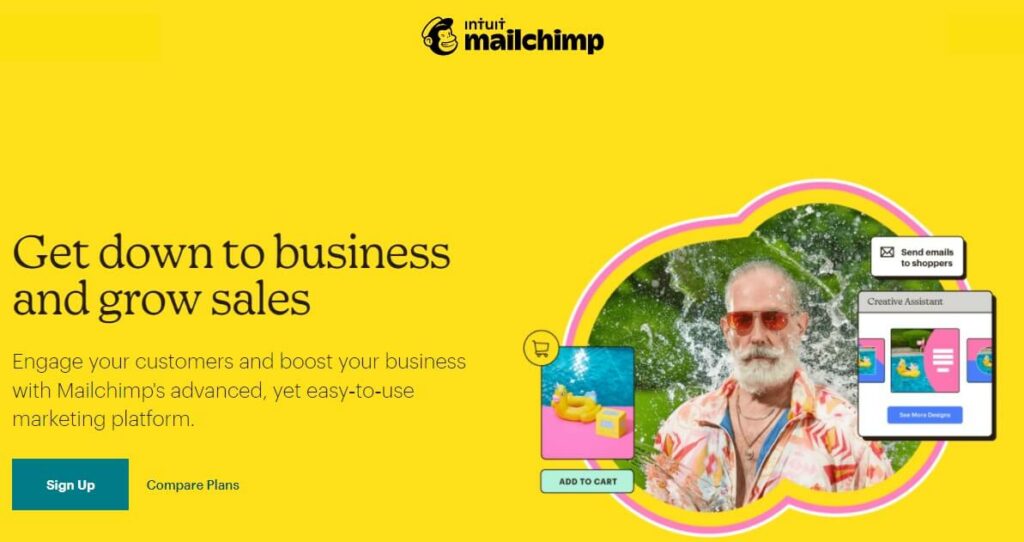 Mailchimp is a marketing automation platform that allows you to create, send and analyze email newsletters. You can connect your WordPress site with Mailchimp using their plugin MailChimp for WordPress.
The platform provides campaign transparency, email tracking, success and clickthrough rate views, custom reports, and the ability to manage subscribers and customers. You can choose one from various pre-made templates or create custom templates to manage email campaigns with Mailchimp easily.
Mailchimp lets you choose from numerous integrations and web services to streamline your workflow, synchronize customer data, generate more sales, and grow your business.
Connect your online store to Mailchimp to get order information, create targeted campaigns, automate product tracking, and send personalized order notifications.
MailChimp features:
The simple and customizable interface made it well-designed and easy to use
Lists management with marketing CRM, signup forms, segmentation, behavioral targeting, and tags of contact profiles
100+ pre-designed campaign templates
Content studio, creative assistant, and dynamic content
Real-time feedback on how to refine a subject line
Design high-converting customer journeys with conditional logic and branching points
Detailed analytics for reports and surveys helps with AB testing
Content optimizer and wise recommendations for better engagement with newsletters
Pricing:
The Mailchimp plugin is free to a list of up to 2000 subscribers and with limited features. For 10x, 12x, and 15x of all these features, you have to level up your plan to essential(11$), Standard(17$), and premium(299) packages.
Hubspot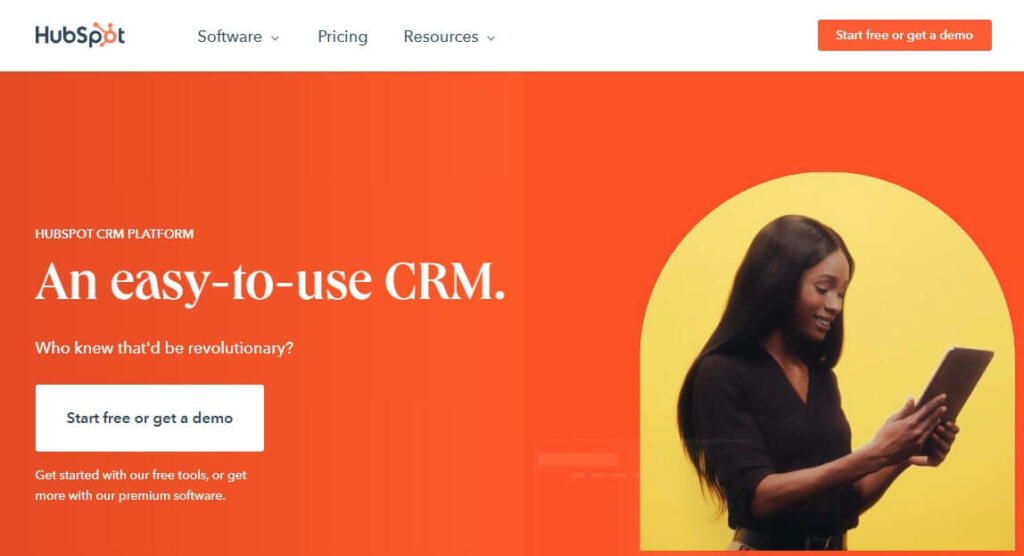 HubSpot provides users with a comprehensive dashboard that allows them to customize their workflow to suit their needs quickly. You can use these workflows for email and the rest of HubSpot's digital marketing services, such as analytics, reporting, social media marketing, and PPC.
Once you connect your WordPress site with their platform using the Hubspot WordPress plugin, you can start building your email list. Then, you'll be using Hubspot's intuitive drag-and-drop editor to create clean and responsive email newsletters.
Its deep integration with HubSpot's CRM allows you to produce personalized content and subject lines based on your subscribers' preferences and expectations.
Hubspot features:
Hubspot offers the entire sales pipeline in a customizable deals dashboard
Live chat and prospect tracking for a newsletter campaign. Email tracking, meeting scheduling after any campaign
Communicate with leads with Gmail & outlook integration
Pre-designed newsletter templates to ease newsletter campaigns
Email notifications, company insights, and pipeline management features help you stay on top of all your leads
It offers Automated logging of customer deals and sales
Activity stream with notifications delivered immediately after a lead opens the newsletter clicks on a link or downloads
Record sales calls, send emails, schedule tasks, and assign tasks within the HubSpot CRM
Pricing:
The plugin has a getting started for free service. For more features, users, and forms Hubspot offers starter(45$/month), professional(800$/month), and enterprise(3200$/month) packages.
Sendinblue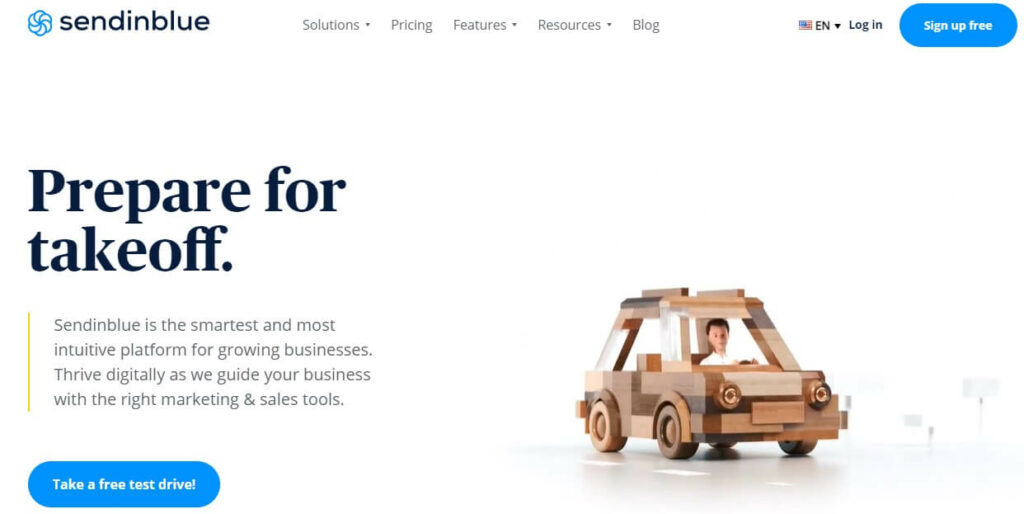 SendinBlue is one of Europe's fastest-growing email marketing platforms offering businesses SMS and email marketing software. It is an easy-to-use platform with great tools for crafting beautiful and engaging emails. A simple drag-and-drop email editor is perfect for beginners without experience in email marketing.
Like all other email marketing platforms, SendinBlue offers a plugin to connect your WordPress site with the platform and includes marketing automation tools.
It's possible to send transactional emails, create automated follow-up email workflows, and segment users with Sendinblue. You can also use AI algorithms to choose the best time to send bulk emails to ensure maximum delivery.
Along with email marketing from Sendinblue, you can also send newsletters through your website. Moreover, Sendinblue is a top SMTP email service provider with high email deliverability.
Sendinblue features:
Email marketing, SMS marketing, and chat, all-in-one solution
Sendinblue has marketing automation, transactional email, segmentation and offers comprehensive CRM features
Reports, AB testing, and real-time statistics to track and analyze your newsletter campaigns
API and plugin integrations with tools like Zapier, Google Analytics, WooCommerce, etc.
Pricing:
Sendinblue has a free limited feature package that allows up to 300 emails/day. Their paid plans start at $25/month, which gives 40,000 emails each month without any daily sending limits.
Mailpoet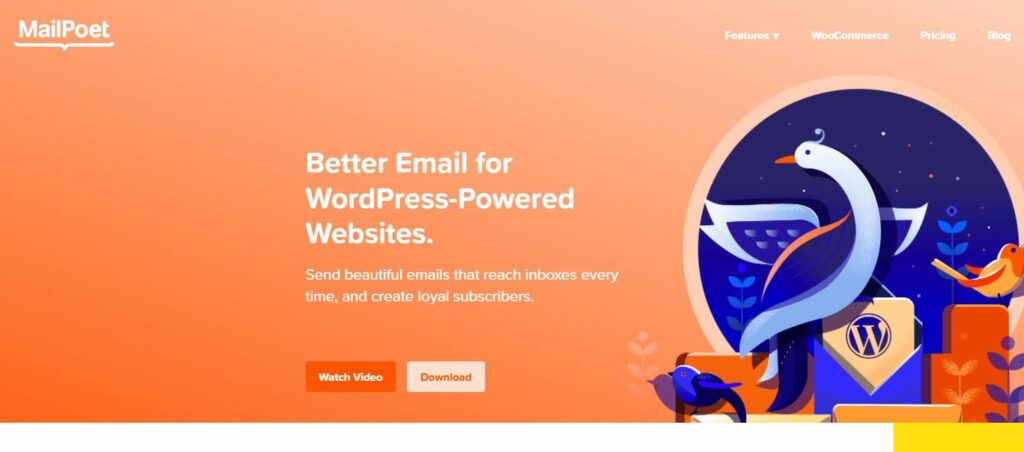 MailPoet is the most popular email newsletter plugin for WordPress that also offers an excellent email SMTP service for WordPress users. The plugin's features are also suitable for other WordPress sites, such as an e-commerce store. For example, this tool provides WooCommerce integration and abandoned cart email capabilities.
MailPoet is ideal for WordPress users who want to keep their marketing activity in one place. It features a drag-and-drop email builder to create beautiful email newsletters. Or, you can choose one from many unique pre-made templates. It also shows comprehensive email reports to analyze your newsletter campaigns.
MailPoet features:
Easily customizable signup forms to grow your email list more effectively
Create unlimited email lists and personalize subscriber data
Plenty of customizable Pre-built email and subscription form templates
Email Newsletter Editor, forms editor
Detailed statistics and click-tracking
Google Analytics integration to track subscribers' activity on your site for reputation management
WooCommerce email customizer, WooCommerce follow-up emails, abandoned cart emails, etc.
Pricing:
MailPoet is free with all features for up to 1,000 subscribers. You'll have to pay monthly to unlock sending limits for more subscribers. Alternatively, you can get the premium plugin for $149/year without their email sending service.
Newsletter – The Newsletter Plugin for WordPress

Newsletter – The Newsletter plugin for WordPress is exactly what it says: a newsletter plugin. This free WordPress plugin allows you to create and send newsletters directly from your website. It currently has 400,000+ active installations. This plugin allows you to have unlimited subscribers and send unlimited emails.
You can immediately start developing your subscriber list with the plugin's subscription widget and form. There are even single and double optin options and a privacy checkbox to ensure that your WordPress site complies with GDPR.
It also offers some free add-ons and a lot of premium add-ons that add WooCommerce, autoresponders, analytics, and other features.
Newsletter plugin features:
Drag and drop newsletter composer
Spam checker and delivery speed fine control
WPML, Playland, Translatepress ready, GDPR ready
Compatible with every SMTP plugin: FluentSMTP, Post SMTP (aka Postman), WP Mail SMTP, Easy WP SMTP, Easy SMTP Mail, WP Mail Bank
There are customizable subscription widgets, pages, and custom forms
Seamless integration with WordPress
Pricing:
The plugin is free for users with limited time, features, and users. Depending on website count and support, you can also get blogger(69$) and agency(269$) packages.
Email Subscribers and Newsletters by Icegram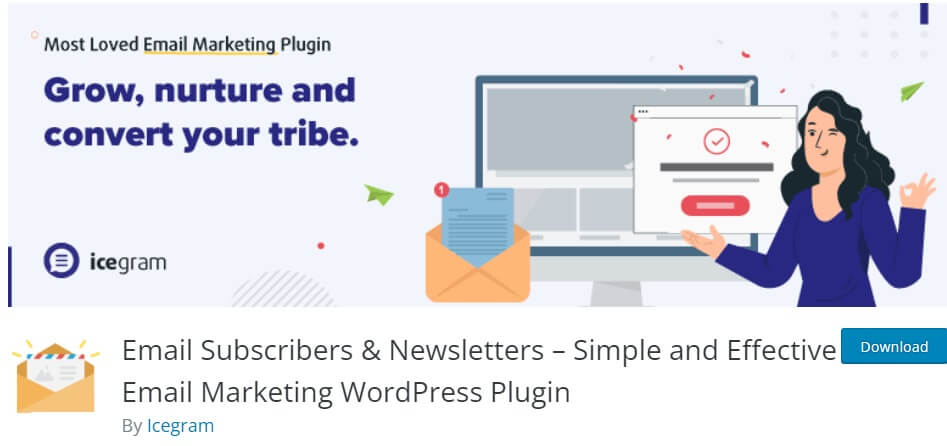 Email Subscribers & Newsletters is a plugin for newsletters powered by Icegram. This fully-featured newsletter plugin allows you to collect leads, send automated new blog post notification emails, and design and send email broadcasts.
With this plugin, you can manage everything in one place. It allows you to add a basic yet efficient subscription form to your website, send automated new blog post notification emails from your WordPress dashboard, and send newsletters.
Email subscribers and newsletters plugin also offer an automatic list cleansing option to eliminate subscribers who never open their emails. You can send unlimited emails and schedule updates for each blog post you publish.
With the Email Subscribers and Newsletters plugin, you can easily add a subscription box to your website and gather leads. It also complies with the General Data Protection Regulation (GDPR).
The plugin lets you create and send newsletters right from the WordPress admin panel
Set up an email subscription form to let users signup for your mailing list
Customize your newsletter to change color, style, size, fonts, and other elements without editing code
You can adequately tag & segment your email subscribers to make your newsletter campaign more effective
Own your data for limitless subscribers and unlimited broadcasts
Email templates and forms
Pricing:
The free version is available with basic forum support on WordPress. Premium plans start at $79/year.
Start sending email newsletters from your WordPress site!
There is no such thing as a great email newsletter plugin for everyone. It's all about picking the finest WordPress newsletter plugin based on your needs, technical knowledge, and budget.
We hope this article helped you find the best newsletter plugin for your WordPress website. Which WordPress newsletter plugin are you using?
If you have any other questions, feel free to comment below!
Try Our Free Marketing Automation Plugin for WordPress!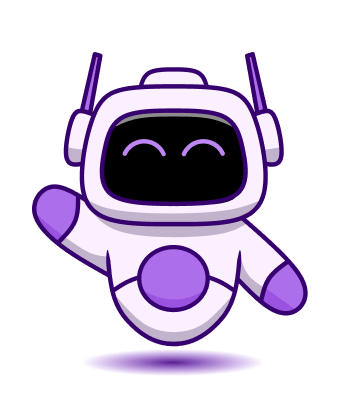 Leave a Reply
Hello my good friend, I hope you are well

Please enable image (photo) background for emails in the fluentcrm plugin

I think it makes me attractive