7 Best Email Marketing Software for Affiliate Marketing in 2023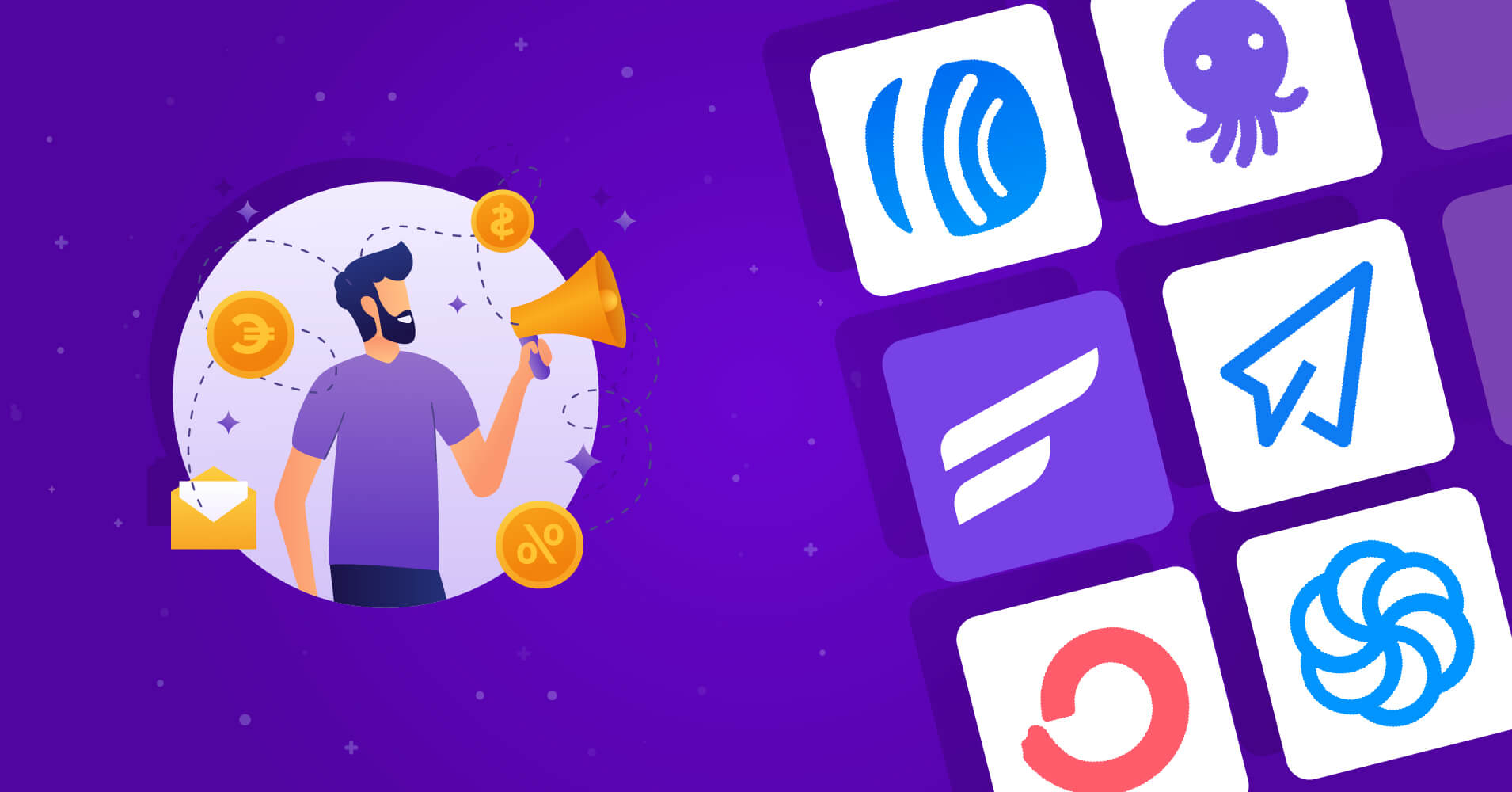 Convincing someone to buy something is difficult, especially if you are an affiliate marketer. And it gets even harder when you are not using the right email marketing software.
You don't want to end up choosing an email marketing tool that doesn't allow affiliate marketing. At least, not after going through all the trouble of collecting leads. Finding a suitable email marketing tool is tough, but that shouldn't be an obstacle in your affiliate journey.
That's why we have dug deeper and compiled a list of the best email marketing software for affiliate marketing.
Keep reading to find out which one will be more suitable for you.
Things to consider before choosing an email marketing software for affiliate marketing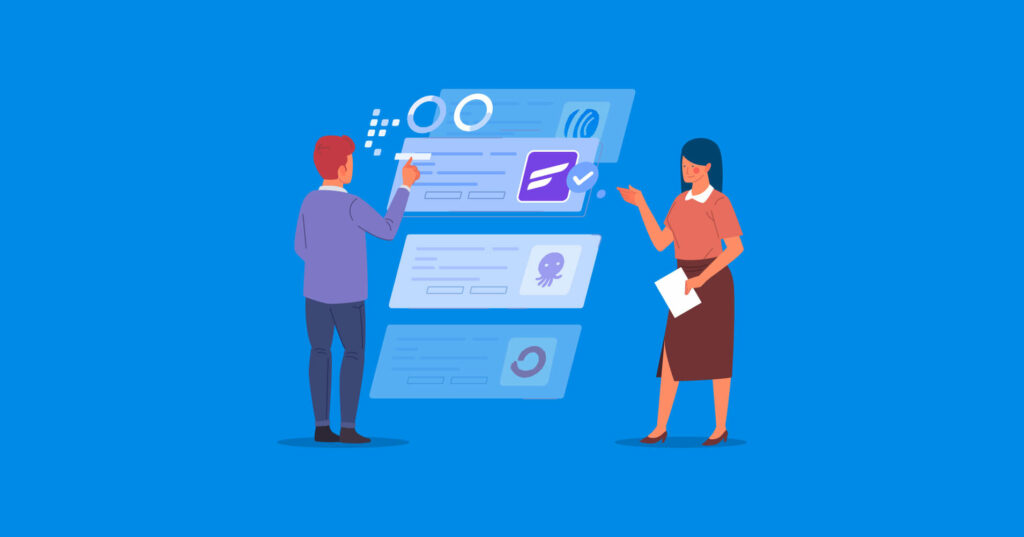 Choosing an email marketing tool is complex, and it gets even more when you need to choose one for affiliate marketing. Lucky for you, we have put together a few key points that you should consider before making your decision.
Here are the most important factors that differentiate email marketing tools, especially when it comes to affiliate marketing.
Affiliate friendliness: While there are hundreds of email marketing software, not all of them will allow affiliate promotions. You risk losing your valuable data by choosing an email marketing software that doesn't allow affiliate marketing. So choose an affiliate-friendly email marketing software.
Usability: Most affiliate marketers are not tech experts, and there's no need to be either. So you don't want to choose a tool that requires a lot of expertise and is very complex. Rather easy-to-use email marketing software is what you should look for.
Rate of delivery: Affiliate marketers often deal with lower email opens and clicks compared to regular brands. Since this affects email deliverability, choosing an email marketing software with excellent email deliverability should be your top priority.
Automation features: You know the drill; timely, behavioral email marketing works best, and automation is the best way to send those high-converting emails. So choose an email marketing software that offers top-notch automation features —especially for affiliate marketers.
Designing and styling: Sending a generic email will never help you make a sale. Rather a well-designed and attractively styled email will do the magic. So, make sure your ESP provides enough features for styling and designing.
Price plans: Even if you're not making much from affiliate marketing, you'll have to keep paying the subscription fee if you're using paid email marketing software. To avoid the high costs, consider choosing email marketing software that offers reasonable price plans.
A/B testing: It would be a cherry on to have the A/B testing feature in your email marketing tool. By A/B testing different versions of your affiliate email campaigns and learning what works, you'll be able to optimize your campaign for maximum conversion.
Analytics and tracking: The main point of using email marketing software is to be able to track your marketing campaigns. If you can't do that, or the tool you choose doesn't provide the necessary information, there's no point in using it. So analytics and tracking are must-have features for affiliate marketing.
7 best email marketing software for affiliate marketing
Though many email marketing tools are available online, not all are compatible with affiliate marketing. Some even directly declare that they don't allow affiliate marketing with their tool. On the other hand, some offer special features for affiliate marketing.
So, we have compiled a list of the best email marketing software that allows affiliate marketing. Not to mention, all of these are packed with essential features.
FluentCRM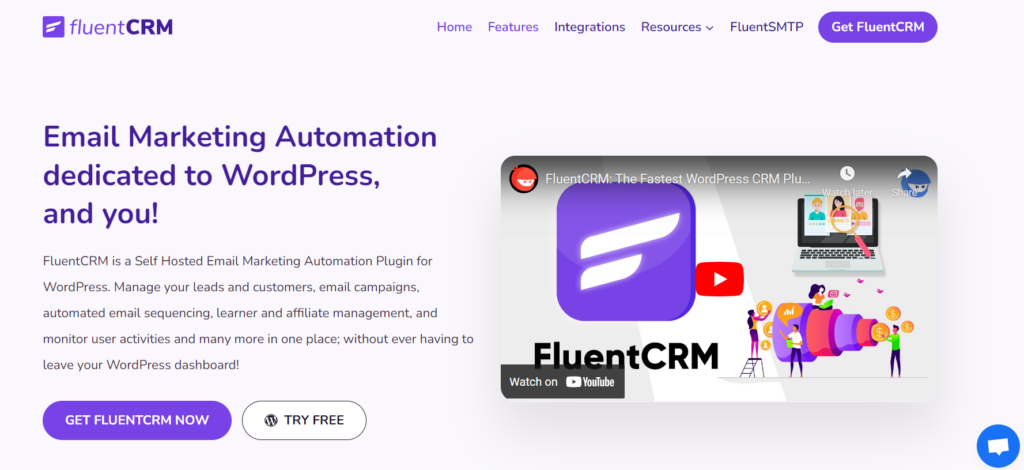 FluentCRM is a self-hosted email marketing automation and CRM plugin for WordPress. It's specially designed for affiliate marketers who use WordPress. This email marketing plugin has become a go-to solution for over twenty thousand businesses and affiliate marketers in no time.
And why wouldn't it be?
It offers the most useful features at the cheapest price points!
For instance, you can send unlimited emails to unlimited contacts by paying $129 yearly. Sounds unbelievable? Well, we haven't even talked about the features yet!
FluentCRM features
When it comes to features, FluentCRM leaves no stone unturned. You can collect leads, segment your contact database, broadcast email campaigns, set up email sequences and automation, and get complete business data with this complete plugin.
Here are a few notable features that affiliate marketers can enjoy:
Email Campaign Management: Building emails, sending, scheduling, personalizing, precise targeting, and more. You can do all these with the email campaign management feature of FluentCRM.
360° Contact Overview: This feature will give you a better idea about the leads you store in the CRM. The better you understand each and every prospect, the easier it gets to convert your contacts!
Smart Contact Segmentation: The segmenting feature lets you segment your contact database into lists, tags, and dynamic segments. You can even create dynamic segments. All these will help you promote affiliate products based on your audience's needs.
Email sequencing: Being an affiliate marketer, you'll need to nurture your prospects with some repetitive emails. This feature will help you set email sequences to turn new users into customers.
Email marketing automation: Automate the whole buyer journey of a lead, starting from form submission to buying your affiliate product with email marketing automation. FluentCRM makes email workflow building a breeze!
Granular reporting: The granular reporting feature will provide you with detailed reports of the email marketing campaigns, funnel reports, automation reports, etc., —helping you understand your campaign's performance so that you can optimize them for better conversion.
Should you get it?
Even the free version of FluentCRM lets you use most of the features. The price plans are also pretty cheap, considering the features you'll get. So, it can be a great email marketing tool for affiliate marketing. Whether you are a beginner or you've already established your affiliate business, we recommend FluentCRM for your email marketing needs.
GetResponse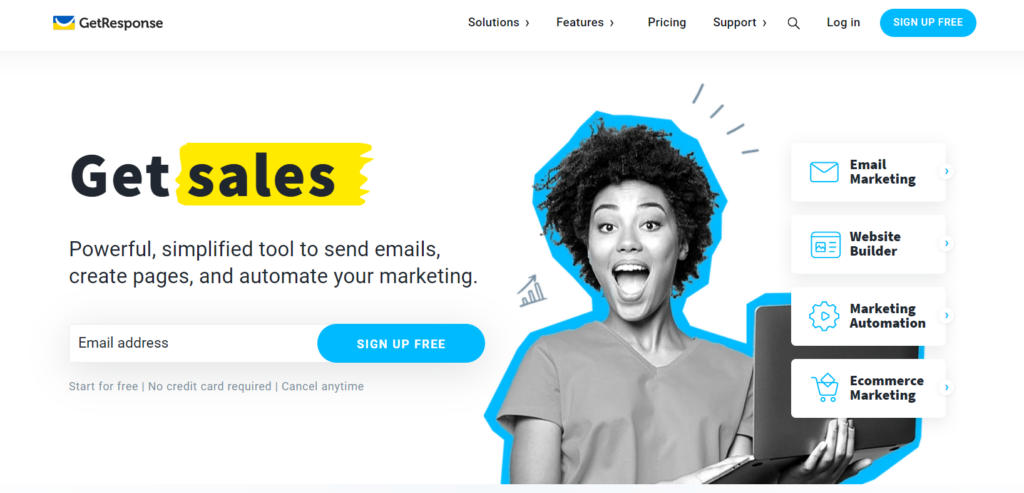 GetResponse is undoubtedly one of the best email marketing tools for affiliate marketing. It offers a built-in form builder that you can use to collect leads. Not just that, you can automate various emails as well.
Unlike other marketing tools, GetRespose even has a dedicated page for affiliate marketers where they have elaborated on why and how their tools can help affiliate marketers.
The seamless integration feature with different affiliate tracking software will also make GetResponse useful for most affiliate marketers. But you'll have to spend a bit more to enjoy all these features compared to other email marketing software. The paid plans start at $49/month.
GetResponse features
Though the free plan of GetResponse doesn't offer many features, premium plans leave you no chance to complain. It offers features like:
Drag-and-drop email builder: Easily usable drag-and-drop email builder lets you compose attractive and personalized emails with a few clicks.
Automation: This feature allows you to create email workflows based on users' actions. You can automatically send up-sell or cross-sell emails based on users' purchase history. Along with that, GetResponse also offers several powerful automation features to automate your affiliate marketing business.
Details analysis: Using this feature, you can analyze your funnel, campaign, autoresponder, etc., performances. You'll also get insights about social media and web clicks.
Showcase product reviews: Using an RSS feed, you can add reviews of your affiliate products. It will increase your sales by assuring people about the quality of the product.
Should you get it?
Though the price of GetResponse may seem a bit more compared to other email marketing tools, it's well worth it. If you think you'll earn a lot with your affiliate products, you may invest in GetResponse.
SendX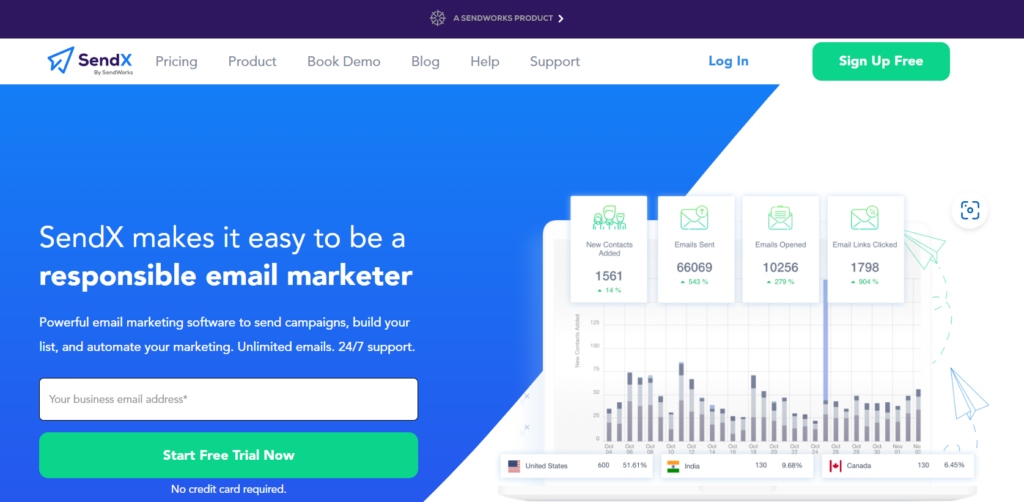 SendX is a comparatively cheaper and more intuitive tool compared to other email marketing software on our list. It is definitely one of the best email marketing software for affiliate marketers.
Why?
Because their affiliate marketing page says —"We will never ban or block your account because you are an affiliate marketer."
Thus, you won't have to worry about getting banned for affiliate marketing using SendX.
Starting from sending unlimited emails to building lists using a built-in form builder, everything is possible with SendX.
Want to automate emails and build an email sequence? This marketing software got you covered!
You can even use different popups to attract website visitors and collect their emails!
SendX features
Though SendX has no stand-out features, it offers enough features to run your affiliate marketing campaigns. Some of those are:
Forms and Landing pages: You can easily create attractive forms to collect leads and landing pages to showcase your affiliate products.
Drag-and-drop builder: SendX provides a drag-and-drop email builder for a smooth email-building experience. Along with that, you'll get 50+ templates and 500000+ stock images for free.
Tagging and segmentation: This feature lets you classify your leads into different groups using tags and other segmentation. As a result, running a targeted email marketing campaign becomes easier.
Drip Campaigns: SendX lets you set up a bunch of emails that will be automatically sent according to your prospects' behavior. By creating drip campaigns, you can convert your audience in a simpler way.
Should you get it?
The $7/month price plan makes SendX one of the cheapest email marketing tools. However, this software is a prime example of "Cheap is not necessarily useless." It's a great fit for those who think it would require sending a bunch of emails to make a conversion because SendX lets you run drip campaigns.
Aweber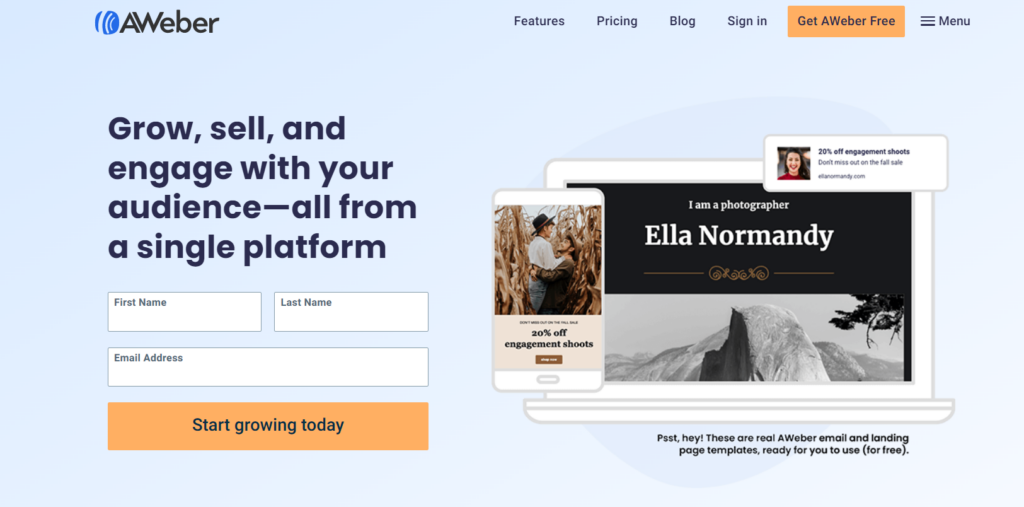 Aweber is one of the market's leading email marketing software. Not because it's been there for a long time, but rather the lucrative and innovative features made it popular. Though they kept on adding features, they kept the price comparatively lower.
Landing pages, web notifications, signup forms, segmenting, you name it…Aweber provides all the features that you can possibly think of to run affiliate marketing campaigns! And you get all these starting from $16.15/month.
Aweber provides seamless integration with some of the biggest affiliate marketing platforms. It lets you easily promote products from like Clickbank, JVZoo, etc.
Aweber Features
Being one of the earliest email marketing tools, Aweber kept improving their feature over time. The features they offer have been polished over a long time and are as fine as it gets. Here are some of the notable features:
Email builder: Aweber claims that their tools are so easy to use that it seems like the email designed themselves! The combination of their drag-and-drop email builder tool, free stock images, and templates actually makes it seem so!
Automation: Aweber offers many kinds of autoresponder and trigger-based automation functionalities for various email marketing needs. So you'll have no problem setting your email marketing on autopilot!
Segmentation: You can segment your audience based on metrics like recent opens, clicks, purchases, etc. So sending personalized emails to your audience gets easier.
Detailed Reports: This feature will give proper insights into your email marketing campaigns with opens, clicks, CTR, and email marketing KPIs.
Lots of Integration: Aweber offers hundreds of integrations. So if you're using a few tools, you should check Awebers integration list for compatibility.
Should you get it?
Aweber is super easy to use and not super expensive. Creating landing pages, building emails, and automation features will make the journey easier for newbies. So it can be a great option for beginners.
Email Octopus

Email Octopus can be a great tool for affiliate marketers. However, they will review your activities first. We think that's even better since it'll be discovered if your affiliate program violates any rules. They will basically check if you have the consent to send emails.
Email Octopus offers all the basic features to run affiliate marketing. Let it be an email builder, free templates, segmentation; you got it all. You can easily run simple automation and newsletter campaigns for your affiliate products using Email Octopus.
Email Octopus Features
Email Octopus might not be the most feature-packed email marketing tool for affiliate marketing, but it offers enough features to begin with. Here are some that may help an affiliate marketer drive more sales.
Form Builder: This feature makes Email Octopus more than an email marketing tool. You can build attractive tools to capture leads.
Email Builder: The drag-and-drop email builder feature makes building, designing, and styling easier for an affiliate marketer.
Automation: Busy with another job and doing affiliate marketing as a side gig? The automation feature will ensure nurturing and converting your leads on your behalf.
Segmentation and personalization: This feature lets you target the prospects more precisely by segmenting them into different groups according to their actions, behavior, subscription status, purchase, etc.
Result Analysis: Email Octopus provides detailed reports that help you understand where you need to improve. Insights include open rates, click rates, bounce rates, etc.
Should you get it?
Email Octopus lets you send 10000 emails per month to 2500 subscribers for free. That's why it will undoubtedly be a great option for new affiliate marketers. Small businesses who are looking for an email marketing tool under budget may also find it useful as the price plan starts from only $8/month.
Convertkit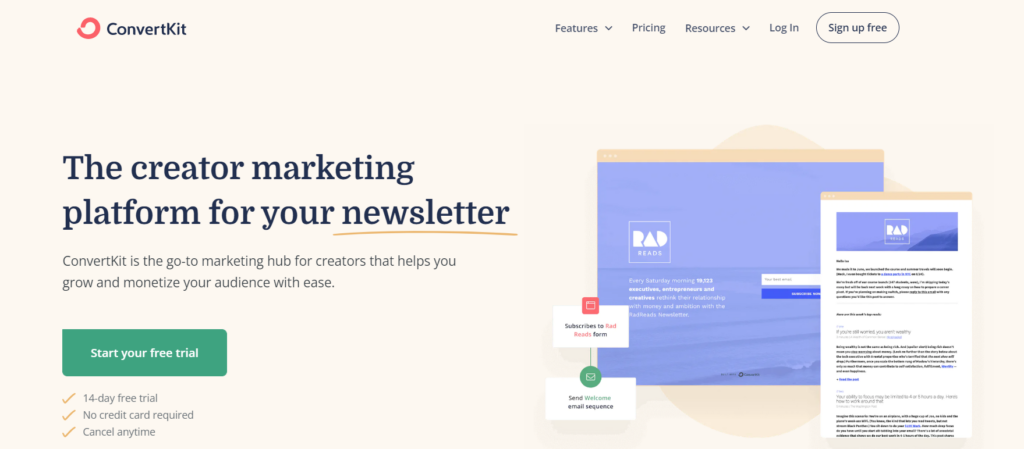 Convertkit supports selective affiliate marketing. So, you should check a few things before choosing it. They let you use their tool as long as you have another business. They also encourage labeling the affiliate products properly and disclosing to prospects that these are affiliate products.
ConvertKit won't disappoint you in terms of features. All the basic email marketing features and some bonus features specifically for creators are there.
Convertkit Feature
Even though ConvertKit is an expensive email marketing tool, the features justify the high price. And here are some of the features that'll surely help an affiliate marketer.
Landing page and form builder: This feature lets you create attractive landing pages to direct your prospects. You can also take advantage of the form builder to collect leads.
Email builder: Collecting leads is not enough. So, ConverKit offers an amazing email builder. The drag-and-drop tool makes it super easy for you!
Automation: Most affiliate marketers are not free all the time. But the automation feature takes the stress off affiliate marketers' shoulders by automatically sending emails on time.
Seamless integration: To help affiliate marketers enjoy the best out of ConvertKit, they provide integration facilities with many affiliate platforms.
A/B test: You may often get confused about which subject line to use for driving better results. With this feature, you get to test out different subject lines.
Should you get it?
This email marketing software was initially designed to help content creators with email marketing. They have a creator pro plan that provides many more features than email marketing tools.
So if you think you'll be designing or building different content to attract your audience, ConvertKit can help you big time.
Sendinblue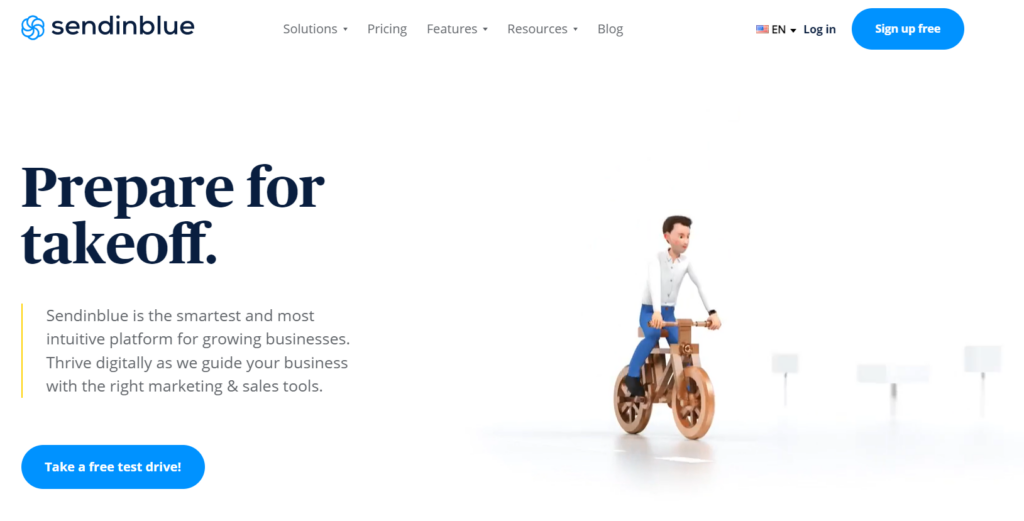 Sendinblue is quite a popular name in the email marketing industry. Though they don't state anything about affiliate marketing on their website, many affiliate marketers have enjoyed Sendinblue for a long time.
When it comes to features, Sendinblue can collect leads, work as a CRM, and obviously has all the solutions to your email marketing needs. Not to mention, you get decent automation and segmentation features as well.
Sendinblue Features
Sendinblue is a feature-packed plugin that satisfies every possible aspect of an affiliate marketer's needs. Let's go over the features in detail.
CRM: Even though Sendinblue is an email marketing tool, it offers a built-in CRM. And with the help of this amazing feature, you can easily organize your database.
SMS and chat facilities: This feature is possible to connect with leads on an even more personal level. You can chat or send SMS to your leads.
Email marketing: This feature combines all the email marketing features you need, like email builder, designer, styler, etc.
Marketing automation: You can set workflow for your email marketing campaigns, SMS, and chats. As a result, you can keep engaged with your leads even when you are busy.
Forms and landing pages: You can set up forms and landing pages using this feature for collecting leads.
Facebook Ads: Using this feature, you can run Facebook ads and collect leads for your affiliate products from Facebook.
Conclusion
Affiliate marketing is becoming more popular with time, so the competition is getting tougher than ever. Hopefully, this article helped you discover the best email marketing software and gave you an insight into which you should pick.
With the newfound knowledge, the days of falling behind other affiliate marketers for not having the right email marketing software will be over soon.
Don't forget to let us know which software you've chosen and if we should include an email marketing tool that's helping you with affiliate marketing! You can also check our list of the best autoresponder for affiliate marketing.