GetGenie Review: How Good is The New AI Content Assistant?
Traditional content writing approaches are changing. Instead of writing content from scratch, many website owners now prefer to have AI assistance to save time (and money!)
These days, AI-powered writing assistants are getting popular due to their capability to generate in-depth content. However, many of them can only generate write-ups, while others can act as real assistants with a wide range of content support.
Today, we'll focus on a new AI content writing assistant that provides a significant amount of features for website content writing and SEO. GetGenie is a tool that integrates with WordPress and helps you write different types of SEO-focused content more efficiently.
In this article, we will walk you through the features of GetGenie and let you know our experience with this writing assistance tool.
Let's begin!
What is an AI Writing Assistant?
In simple words, an AI content writing assistant provides and manages content for websites and online platforms using artificial intelligence (AI) technology. These tools can help you craft powerful and customized posts, pages, and blogs with minimum effort.
AI content writers actually automate the process of content writing. First, they scan data and content available on the internet on a specific topic. The AI technology then processes the data and generates new and unique pieces of content for websites.
An AI writer usually does the writing part only. Whereas an AI content assistant takes care of SEO, provides suggestions on existing content, and other support related to content. Moreover, they work according to client's instructions to help them create informative and effective content to reach the target audience.
Things to look for in an AI-Assisted writing tool?
First, you must decide what kind of writing you'll be doing with the tool. For example, if you want assistance with copywriting, ensure the AI writer has the tools to write creative website copies efficiently. Similarly, for blogging websites, long-form content writing ability is imperative.
Finally, those who are looking to use the tool for business writing should go for AI tools with capabilities to write product descriptions and features.
However, when looking for an AI writing assistant, there are some standards to consider. Here, we have listed the key factors you should consider while choosing an AI content writing assistant.
Ability to write in-depth content
Efficiency in copywriting
SEO support
Ease of use
Versatile & unique writing styles
Variety of templates
Some tools are very basic with primary features only, while others are more robust, having a wide range of features. Decide which features are essential to you and ensure that the writing tool you choose has those features.
While many AI writing assistants exist for different platforms, today we will review a dedicated AI writing assistant for WordPress, GetGenie.
GetGenie Review: How does it work?
The name itself is quite interesting: how an AI content writer is linked with Genie! What is the magic about it? Well, we know AI technology is magic in itself, especially the way they generate unique content to your wish. But the question is, how well of a "magic" they can do in terms of content creation? We are about to find out!
GetGenie is a WordPress plugin. Therefore, the plugin has to be installed on your website. Then you can move on to its functionalities. There are two ways you can generate content using GetGenie. You can either use the templates or can get into your post. After that, you can directly insert content into your post from GetGenie.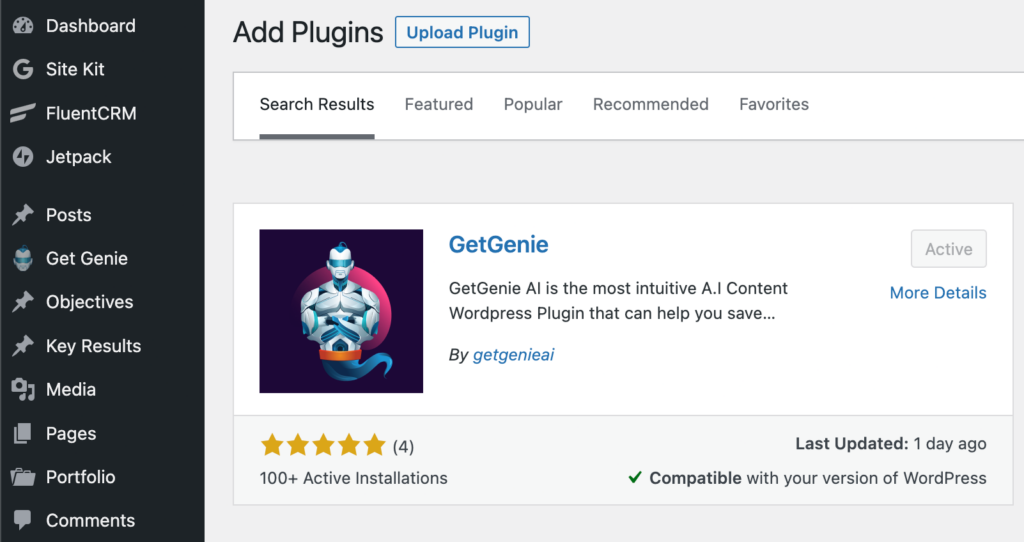 To write content with GetGenie, you can actually get into the WordPress post interface and directly insert content generated by GetGenie. When you create a new post or open an existing post in edit mode, there is a button labeled "Write For Me". Click on it to launch the GetGenie interface inside the posts.
Besides, you can use the templates from GetGenie > Write for me on your WordPress dashboard. It has templates for generating titles, writing definitions, bullet point answers, feature benefits, feature snippets, and more!
Test Results: How the features performed
We have put the GetGenie features under scrutiny to test the functionalities of their features. In the process, we used their interface, template modules, SEO optimization, blog wizard, copywriting, and long-form content writing abilities. Here is what we experienced using the GetGenie AI content writing assistant's features and functionalities:
WordPress integration and ease of use
The stand-alone WordPress plugin perfectly integrates with the Gutenberg editor. The plugin is also compatible with all popular WordPress themes and plugins that maintain WordPress standards.
Installing and using GetGenie is similar to using another WordPress plugin. So it's a piece of cake for regular WordPress users. In terms of interface, they chose to stay simple and familiar rather than fancy interface design. The template interface is minimal and straightforward.
When you choose a template, an off-canvas interface will appear that has simple input fields. You can easily generate content using the template interface and copy those content with a click.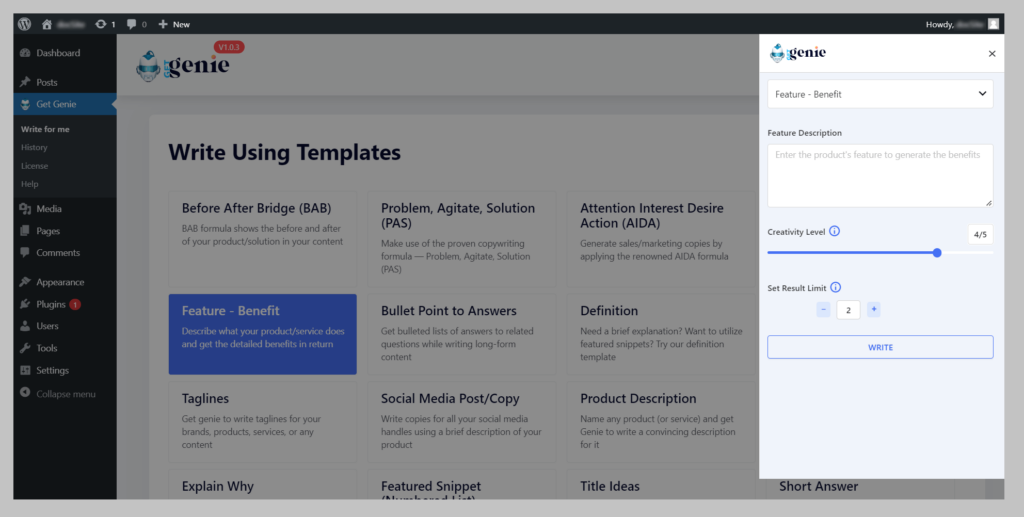 As mentioned earlier, you can actually get inside the WordPress posts and generate content using GetGenie. GetGenie lets you insert the content directly on your post. You can get real-time SEO suggestions too.
AI-Powered SEO Content Assistance
GetGenie's most highlighted feature is its SEO assistance capability. Their SEO optimization features include on-page SEO optimization, keyword analysis, and competitor analysis. Let's break down each of the SEO features of GetGenie to find out how they work.
On-page SEO Score
GetGenie calculates your web page's SEO scores with recommendations. It provides a detailed report on how your blog may perform on the relevant SERPs. The feature includes how many times you have used the keywords in the post and suggests if it's enough or not.
Besides, it comes with recommendations for the number of words, headings, paragraphs, and images you should use in the article.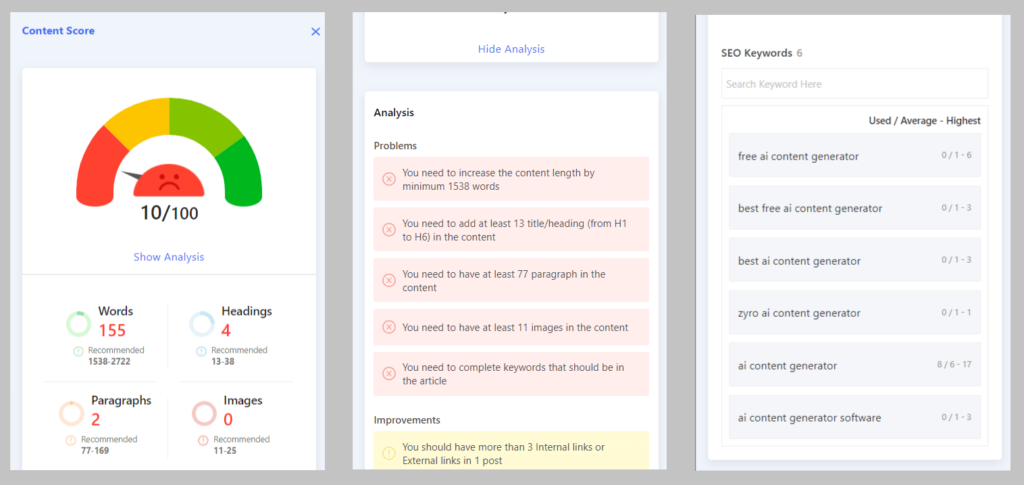 Moreover, this AI-powered content assistant points out the problems and scopes of SEO improvements on your post on WordPress.
Keyword analysis
GetGenie actually has a rich keyword analysis ability. It gets the keyword data from Google and gives detailed reports. The AI content assistant provides keyword reports with:
Search volume, competitiveness, and CPC
Related keyword suggestion
Keyword search trends over a time period
Reports from Google trend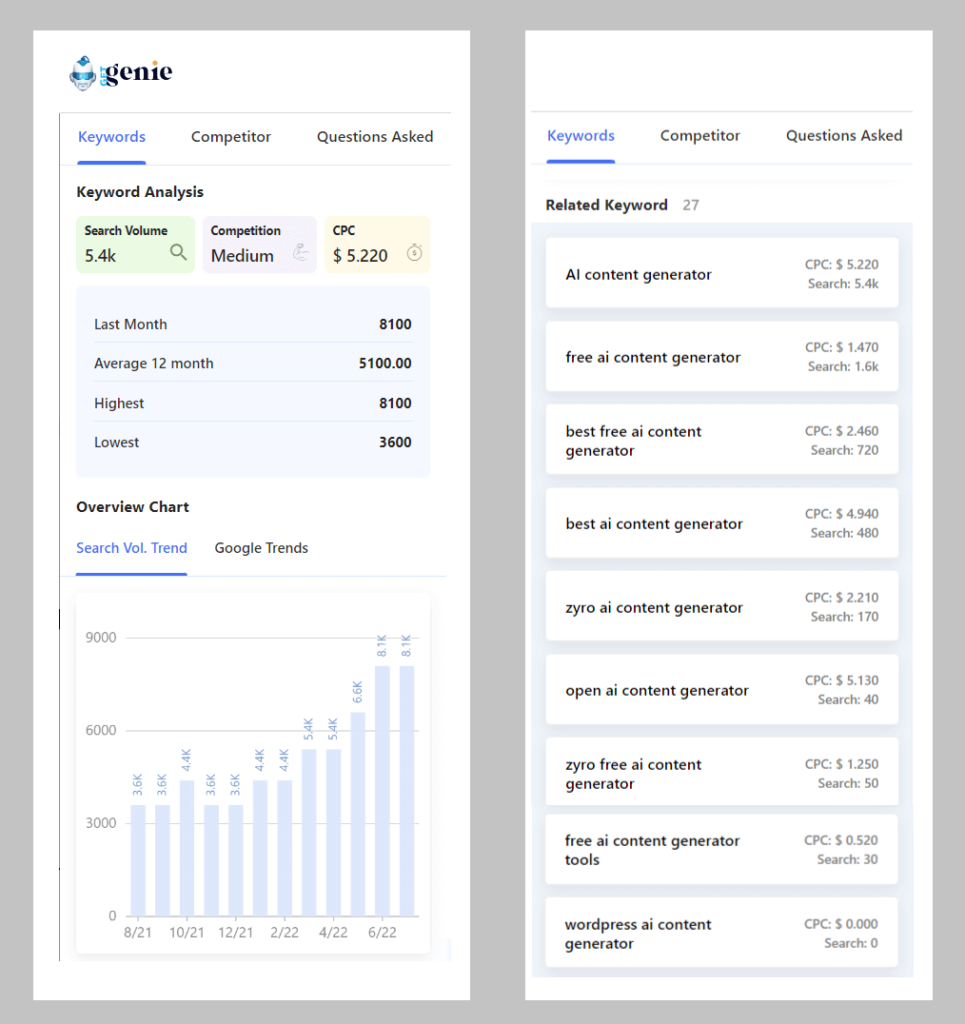 When you enable SEO Mode in the Blog Wizard, you will have the option for keyword analysis.
GetGenie Early Bird Lifetime Deal campaign expires on 24 September, 2022. Get this amazing tool for a discounted price while you still can!
Competitor analysis
Like keyword analysis, GetGenie fetches data from Google SERPs to show competitors' information. For example, you can see which URLs rank for a keyword, with details like SERP rankings, headings, word count, and the number of images used in the content.
Moreover, GetGenie provides an overview of competitors' content. You see content inside each heading by expanding the headings. These features can help collect the competitors' data. You can use the data to improve your content and surpass your competitors.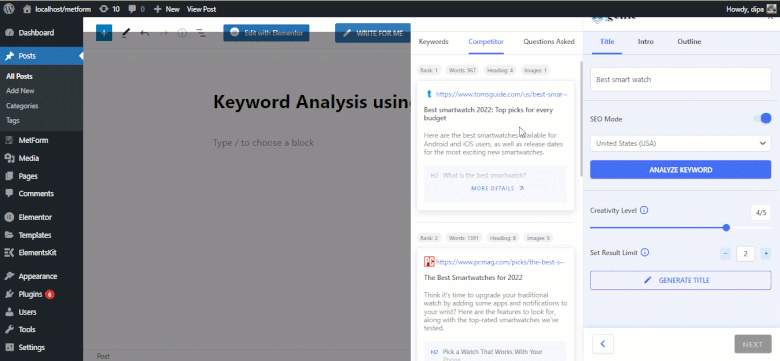 Overall, this is very impressive how this AI content writing assistant does more than just writing and provides strong SEO support for your blogs.
Blog Writing
The blog writing functionality of GetGenie is quite admirable. It comes with a Blog Writing Assistant feature that generates multiple versions of keyword-focused titles, intro, and content outlines for blogs with the option to expand the outline to write full-fledged content.
One good thing about this is that the Blog Wizard is structured in such a way that maintains consistent content quite well. When users enter a keyword, it sequentially generates a title, intro, and content outline. Then it inserts all of that content into the post at once. Making things easy and hassle-free for the users.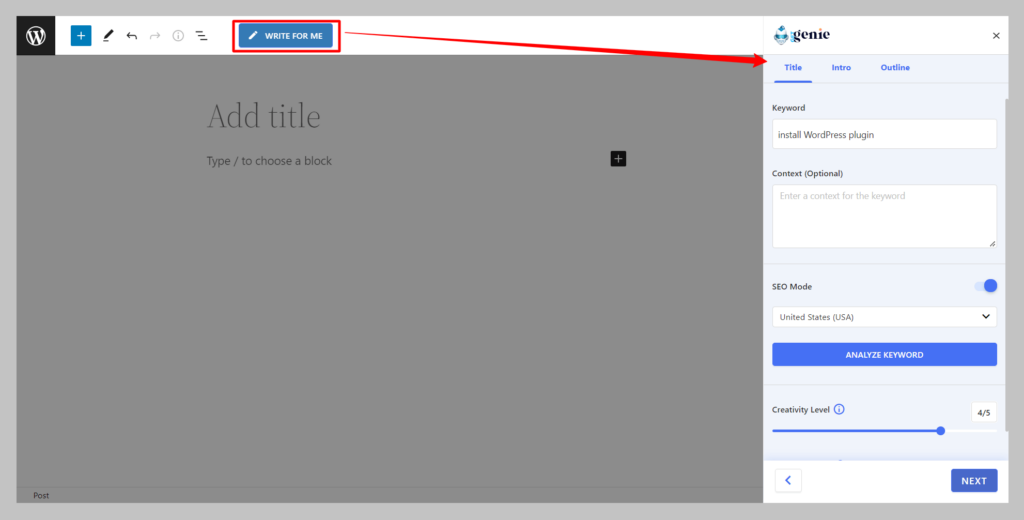 Templates
GetGenie AI has 30+ templates available. Those templates should help users to generate content in a focused and precise way. In addition, those templates are easy to use and cover almost all types of content you need for a website.
Long-form Content
Apart from blog writing, GetGenie is good at writing long-form content too. It has tools to generate extended content for the existing write-ups. For example, it generates introductory paragraphs based on the title/heading you enter.
Furthermore, if you enter a sentence or paragraph, it will generate the next lines/paragraph maintaining the context and tone of your writing. This is an exciting feature when you want to generate long content in less time.
Besides, some features help to write long-form content, including summary bullet, Definition, bullet point answers, pros & cons, and so on.
Copywriting
Copywriting is the most challenging part for any writer, whether it's human or AI. Therefore, it's interesting to see how GetGenie AI performs in terms of copywriting. The AI content writing assistant comes with proven copywriting modules like PAS (Problem, Agitate, Solution) and AIDA (Attention, Interest, Desire, Action).
Also, you can write taglines, social media copy, and product ad copy using the respective templates. Those modules and templates can help you write creative copies for your website with excellent efficiency.
Pros & Cons
Let's now look into the benefits and drawbacks of using the GetGenie AI content writing assistant.
Pros:
Fetches data from Google for content and SEO analysis
Saves time while writing content
Generates high-quality content with in-depth information
Provides a wide range of SEO support to optimize content for search engines
In-depth keyword research with global search volume, difficulty, CPC, and search trends
Conducts competitor analysis with rank, word count, number of headings, and images used
Provides a list of relevant questions asked on platforms like Google, Quora, Reddit, and others
Impactful copywriting capabilities
Writes detailed long-form content with multiple types of templates
Cons:
AI technology is not entirely automated yet, and it still requires human intervention.
Offers only a limited number of words with a free version. However, it has an affordable pricing plan to upgrade.
To Conclude
Test results of GetGenie AI are quite impressive. The interface is easy to use, even for beginner-level users. Users can generate content for their websites quickly and easily. The features are reliable too. It provides unique and impactful content for different topics and niches.
Overall, the GetGenie features perform as intended and are an excellent addition for WordPress users.