6 Effective Customer Retention Email Examples and Best Practises
Customer acquisition is quite costly these days. New customer acquisition requires more money, effort, and time. Thus, most businesses have a customer retention policy these days.
However, customer retention isn't as easy as it seems on paper. Your customers will start looking for alternatives the second they don't feel validated. That's where customer retention emails come in.
Sending marketing or promotional emails won't work when your customers are in limbo. These emails will rather push your customers away. What you need to do is establish an emotional appeal through your emails. Emotional appeal is one of the many qualities an Ideal customer retention email should have.
What are the others?
Well, that's what we'll discuss in this article! You'll get everything in this piece, from the best practices of writing customer retention emails to the examples of market-leading brands.
Before we start, let's familiarize ourselves with customer retention emails and why you need to send these.
What are customer retention emails?
Customer retention email marketing is a widely used and popular form of email marketing. The main purpose of these emails is to ensure customer satisfaction and engagement. Businesses send out offers and opportunities to their audiences through such emails with a view to:
Re-engage old customers
Enlighten users about how to get the best out of their services and products
Highlight the audience's importance to a business
Customer retention emails help turn your audiences into loyal fanbases by helping you form everlasting customer relationships. Needless to say, your business in several ways by having loyal customers as they are more likely to refer your brand to their friends and families.
Why should you send customer retention emails?
Customer retention emails fall under the category of re-engagement emails but require a tad bit different approach. Sending customer retention emails is undoubtedly the cheapest and easiest way of retaining customers, as email is the most cost-effective and recognized way to connect with your audience.
Customer retention brings way too many benefits other than the one we mentioned earlier. Here are some statistics to show why you should prioritise customer retention:
Acquiring new customers costs 7x more compared to retaining customers (source)
Chances of selling to an existing customer are 60-70%, while only 5-20% of your new customers are likely to make a purchase (source)
Nearly 65% of the overall revenue comes from existing customers. (source)
A 5% increase in customer retention rate can increase your profit by up to 95% (source)
Almost 80% of retailers believe email to be the best channel for retaining customers. Besides, most email marketing software allows you to automate emails —making customer retention an effortless job. Thus, there's no reason to avoid sending customer retention emails.
6 best practices for writing customer retention emails
Customer retention emails should be approached differently than regular emails. While your first priority is to figure out the potential customers who might churn shortly, you need to write effective customer retention emails to keep them in business with your brand.
So here are the 6 best practices for writing customer retention emails:
1. Identify customers in limbo
Possibly the most difficult task for a marketer is keeping a customer hooked throughout different stages of his buyer journey. Not to mention, you'll always have to deal with customers no matter their lifecycle stage.
The success rate of retention emails drops when you don't send your retention emails to the right people. So you need to identify these customers first. Consider your user's previous engagements, orders, order values, frequency, etc., to determine who qualifies for a user retention email campaign.
2. Be creative with the subject lines
Whether it's a retention, cold, or follow-up email, you'll always need a catchy subject line to grab your audience's attention. Of all the types of emails, customer retention emails usually have a lower open rate in general.
That's why it's super important to write a creative subject line. Here are a few tips on writing catchy subject lines:
Introduce humor in your subject lines
Write about the offers
Address users by their name
Put something on the subject line that the receipt will find interesting
Highlight your discount or offer in the subject line
3. Showcase positive reviews
Your existing and satisfied customers are your biggest strength, especially when you're aiming to retain customers. If they vouch for you, it'll be the most credible source of recommendation for customers in limbo.
Now, how does this work?
Let's say a customer who bought a bag from your website also viewed a shoe but didn't place an order. Your next email should include customer reviews of that shoe to increase the probability of that customer placing another order.
Since user reviews boost conversion, this email will likely increase a customer's lifetime value and will help you retain the customer in the long run.
Want to get customers to review your products? —check out this article to learn some clever ways of asking for customer reviews!
4. Provide personalized offers
Even if you forget all the statistics, data, and strategies, we know personalized offers work like magic regardless of the situation. That's also the case when it comes to retaining customers through emails.
But, a single offer won't help you retain all sorts of customers. If we refer to the previous example, offers on bags won't help you retain someone who has already purchased a bag.
What'll work, though, is if you send him an offer on the shoe they viewed. So consider what's personalized for your audience to maximize conversion rates and boost customer retention.
5. Use attractive email templates
All your efforts with the email content and subject line will go in vain if you use the same old boring templates. These days, people rarely send emails with a normal template. Rather, everyone uses customized templates.
That's why you must use a customized template with a bespoke design. The template should be appealing enough for the users to click on your link. If not, your chances of retaining customers will decrease.
6. Create FOMO
Creating FOMO through emails is an excellent and popular approach, especially for retaining customers. FOMO stands for fear of missing out. Using this technique, you can create urgency in your customers, so they re-engage with you. Emails like the below are some of the best examples of emails that create FOMO:
Last hour offer
Buy something within a day
Buy this and get that free if you order today
These emails can potentially convince customers who thought they would look for alternatives. Just be creative with your FOMO emails and consider customers' pain points.
Subscribe to Our Newsletter
Get email marketing tips, tutorials, and information delivered to your inbox!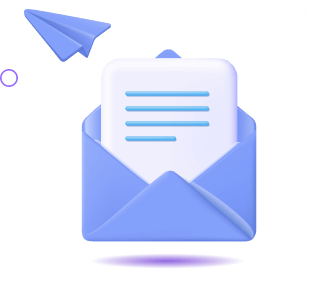 6 proven customer retention email examples
Customer retention emails are very common regardless of the industry. Truth be told, assembling a list of the best customer retention email examples wasn't a piece of cake. Yet, we did our best and compiled a list of versatile customer retention email examples.
1. Grammarly
Grammarly has shown what exactly a customer retention email should look like! From the design to the content, everything was perfect. And the humor they added by saying "wrinkle" in the time badge was the cherry on top!
They even made their customer feel valued by saying they noticed their customer's absence. The CTA is also linked with a very attractive button.
So, what should be the takeaway from this example?
Humor, design, and content —focusing on all these three can help you produce a highly engaging customer retention email.
2. Apple
We told you that offers work for retaining customers, right?
Well, that's what Apple used to retain its customers. Whether you buy a Mac, iPad, or iPhone, you'll get free wireless headphones. Who wouldn't want to grab this offer if they're an Apple fan?
That's what happened. This email made more sales than usual and helped Apple retain more customers!
3. Starbucks
Starbucks didn't shy away from giving offers as well. Given that big companies are relying on offers to retain customers, safe to say that emails with offers will work the best for retaining your customers. Here Starbucks offered 50% off on their coffees on a specific date.
This also works as a FOMO as the customers know they won't be able to avail of the offer once it ends. Thus, this email creates urgency and boosts engagement.
4. Codecademy
You don't always need offers or a creative email to retain customers. Sometimes the simplest emails can do the trick if they are motivating enough. That's what Codecademy has done.
Codeacademy sent a plain email but with a hook. They motivated their users by informing them how many people have benefited through Codecademy and asking others to jump in right away.
What to take away from this example?
Even if your email is not an ideal customer retention email, addressing users' pain points in your email can sometimes work better for customer retention.
5. Trello
Trello has shown that sometimes letting people know about improvements can help retain customers. They have sent emails informing their audiences about their new update, so they know what they are missing. That's an excellent approach for convincing the customers in limbo.
6. Uber
Uber has focused on providing a personalized offer to retain its customers. In their customer retention email, they have targeted a group that often travels between specific places. The offer says their customers can enjoy a flat rate by getting a pass. It's an offer most can't pass out; thus, their customer retention email serves its purpose.
Wrapping up
If you have noticed, every email you send is a customer retention email at the end of the day. From the welcome email to follow-up emails, the ultimate purpose is always to retain customers. That's why when you send emails dedicatedly to retaining customers, they should maintain a standard.
Hopefully, after reading this article, you know how customer retention emails are supposed to be. If you have any ideas or tips on writing effective retention emails, don't forget to let us know in the comments section!