15 Tips to Grow Your Online Business Without Breaking the Bank
With the rise of the internet and eCommerce, people are moving towards online business like never before. That's the same reason businesses are also moving online. On the other hand, setting up an online business is relatively easy compared to starting one in the real world. However, growing one isn't easy. In fact, many people find it expensive, which it isn't.
In this article, we will go over how to start and grow a business online without breaking the bank so that you can begin right now to improve the future of your online presence!
Tips for growing your online business
Not everyone can afford to invest thousands of dollars to grow an online business. That doesn't mean you can't take the initiatives to grow yours. In fact, all it takes is hard work and consistency to grow your online business. Below we've shared some tips on how to grow your business online presence:
By following these tips you'll not only be able to start your business online, but you'll also save tons of money as your business grows into a money making machine.
So let's get started!
1. Select the right eCommerce platform
As a beginner, the biggest mistake you're more likely to make is picking the wrong eCommerce platform to build your website. Choosing the wrong platform is enough to nip in the bud your online business. It will cost you extra money and hamper your business' growth.
WooCommerce is an excellent choice. It's free and offers a wide range of features and functionalities for creating and selling products on your website.
To get started with WooCommerce, you can get started by registering a domain name and a web hosting account to build a self-hosted WordPress website. The cost can vary depending on your requirements. However, you can create a WooCommerce website with only $1000 and a few monthly payments.
Besides, WooCommerce works within WordPress, and WordPress is popular for its affordability and extensibility. For example, marketing automation tools are somewhat expensive for growing businesses. But if you're using WordPress, you can get free self-hosted marketing automation plugins like FluentCRM.
2. Pay attention to design layout
A person spends less than 15 seconds on a website on average. This 15 second is crucial for your business. An attractive and good-looking web design can help you grab your visitors' attention in those 15 seconds and make them stay longer.
A study shows 38% of visitors will abandon a site if the layout is unattractive, and they're most likely to make that decision in 50 milliseconds. Now you know why good visuals play a vital role in growing your online business. But that doesn't certainly mean you need to design a custom-coded website.
Instead, you can consider starting with a ready-made free or premium WordPress template for a small fee.
3. Set your SEO strategy
You can get massive traffic to your website from search engines. By mastering basic SEO, you can do a lot to optimize your website for search engines.
Search engine optimization, known as SEO also, is a set of guidelines and methods for making your website search engine friendly.
It'll require a lot of high-quality content and time to score well in organic search. Until you can reach that milestone organically, you might want to invest some money in PPC ads for short-term success. In either way, when it's about SEO, you'll have to experiment with different possibilities and observe your results closely. But it'll be worthwhile ultimately.
4. Optimize your website's speed
The loading speed of a site can make it or break it. It plays a vital role in growing your business's online presence. According to a study, 40% of visitors leave a site when it takes more than three seconds to load.
Often, this happens because of the slow loading speed. And when people leave your site without spending much time, search engines think that visitors aren't interested in your content, so it'll demote your site's ranking.
That means the whole site must be optimized for speed. You can grab some free plugins to boost your site's performance if you use WordPress.
5. Deliver high-quality content
Whether you're creating a company blog or a product description, content marketing is crucial. It's all about grabbing the audience's attention and providing them with what they need, information!
You need to deliver this information in a way that keeps readers engaged. Eliminating text blocks, using headers to separate points, keeping the language easy to understand is just the beginning.
Trying too hard to meet a set word count isn't a good idea at all. This frequently results in "fluff." It's content in an article that doesn't seem to serve a purpose other than to increase the number of words on a page. It can perplex your readers as well as search engines. So, you must avoid fluffing.
Staying factual is another crucial part of high-quality content. Always build your content on evidence that can be collaborated with other sources. You want to present your company as a legitimate source in an age where "fake news" is thrown around regularly.
Other aspects outside of text are also included in high-quality content. Since content is and always will remain king, how that information is delivered is highly important.
6. Start building your email list
Most of your visitors will never return. So, if you don't get their email address, you won't be able to contact them in the future. It'll help you to build a strong relationship with your customer.
Building an email list is the most cost-effective method for doing this. The safest way to reach your website visitors is through email marketing.
By having an email list of targeted and interested people, you get a direct route to their inbox to send new content, promote new products, evaluate feedback, and increase engagement across all of your online channels.
Begin with offering your target audience something of value in exchange for an email address, such as a discount code for your products, a free e-book, or even a free trial period for your service.
The aim is to motivate interested visitors to drop their email addresses, so you can start building a long-term and beneficial relationship with them.
7. Leverage the power of social media
Social media platforms have a huge number of active users. Facebook alone holds 1.47 billion daily active users, which's around 18% of the global population. Twitter, LinkedIn, YouTube, and other social media platforms' users are highly engaged too.
With such a large user base, social media networks provide great business opportunities. Begin with creating your company's social media profiles and have your blog posts automatically shared.
Following that, you'll want to make it as simple as possible for your users to share your content on social media. You'll need a WordPress social media plugin for that.
There are lots of other things that can help you engage with the target audience on social media. The main thing is to keep your profiles active, increase your following, and drive traffic back to your website.
The following things you can do to increase your traffic:
Make a Facebook group
Make a LinkedIn group
Try to bring back users on Facebook with ads
Use social media platforms to grow your email list, not merely to generate traffic to your website
Concentrate on social media platforms that are relevant to your industry. For example, if you own a fashion blog or a restaurant, Instagram may be more beneficial than LinkedIn.
8. Utilize Instagram shopping
Using appealing photos and videos of your items or services, you can add a button that sends a viewer straight to a purchasing page, and in the US, customers don't even have to leave the platform to make the purchase.
Create a Facebook store, add things to it first, and then connect your Instagram Business account and start tagging! That's all there is to it.
From your Instagram page, audiences will be able to click, watch and buy your products. It doesn't get any easier than this!
9. Leverage regular tasks to a marketing automation tool
To save time and money, you can use a marketing automation tool. This kind of tool helps you automate tasks that you'd otherwise do manually.
For example, you might want to greet your audience with an email when they leave their email address on your website. If you have a lot of visitors, this will consume a significant amount of your time. That's exactly where marketing automation tools come in handy.
The Internet is brimming with free marketing tools from email marketing automation tools to social media marketing tools. Finding the right tools that work best for you may take a little effort, but the outcome will be far more streamlined.
There are plenty of eCommerce marketing automation tools to improve your business growth. But we recommend FluentCRM's as it has a free version that provides an enriched set of features to increase your sales and improve marketing performance: CRM, contact management, email marketing, and many more.
And if you need advanced features to improve your marketing efforts, FluentCRM also has a premium option that automatically integrates with eCommerce platforms like WooCommerce and offers advanced marketing automation features to skyrocket your sales!

Marketing automation for WordPress
Get FluentCRM Now
10. Pay attention to abandoning site visitors
It's a matter of fact that more than 70% of people who come to your website will never find it again. It's not your fault; the internet is vast, and there are countless websites out there.
Each visitor who abandons your website is a prospective consumer that you're losing. You must concentrate on turning those visitors into paying clients if you want to make your online business grow.
To convert your visitors into regular customers, you can use a lead generation tool like Fluent Forms. It will help you collect user emails with different types of contact form builders. And with an email, you can directly reach your visitor's inbox and offer them attractive deals.
11. Utilize PPC advertising
As opposed to popular belief, Pay-Per-Click advertising campaigns can be run on a small budget. Google Adwords and Facebook Ads give you the freedom to choose your target keywords, pricing, audience, and more.
In reality, Google Adwords even provides free advertising credits to new users.
You can use these credits to try out PPC advertising and drive some paid traffic to your site for free.
12. Use social proof to gain trust
When people see social proofs on your site, they will follow the actions of others with the notion that those acts reflect the correct behavior. It's a psychological phenomenon.
You can take advantage of this phenomenon by displaying to your customers that other people already trust your product or service. You can do it by disclosing their data, such as subscriber figures, client testimonials, and many more.
13. Use FOMO wisely
FOMO or "fear of missing out" is a psychological phrase that describes worry about missing out on something interesting and trendy.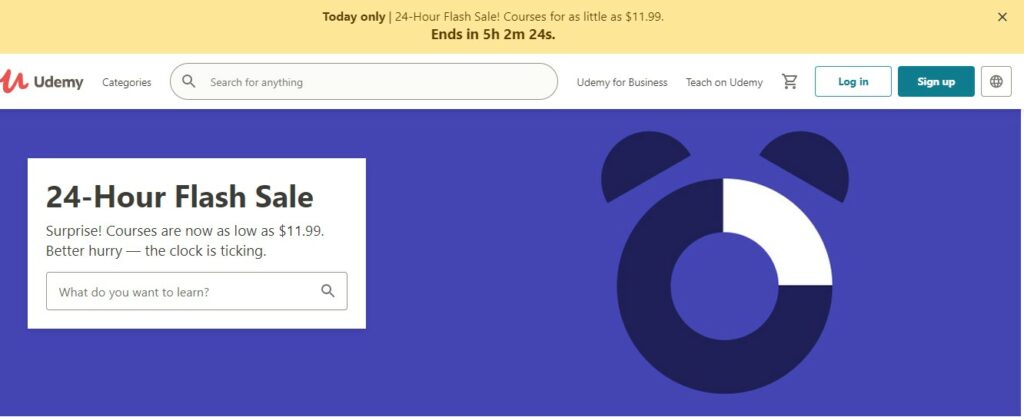 By taking advantage of this human behavior, you can use it to increase sales and conversions. You can build more anxiety by adding deficiency to your offers.
14. Take a mobile-friendly approach
Making your site mobile-friendly is a must-have thing nowadays. Because more than 54% of people are browsing the internet from their mobile phone. If your website isn't responsive or not mobile-friendly, you may alienate more than half of your customers. So, if you don't want to lose your customers, you'll have to make it possible for them to reach your business using devices that fit in their hands.
15. Start an affiliate program
Affiliate marketing is a referral program in which a referrer receives a commission from an online merchant (advertiser) when customers purchase a product through their referral link.
Partnering with skilled affiliate marketers can boost your sales if you sell products online. Affiliate marketers will promote your product and bring you sales, and you'll pay them a sales commission for that.
An affiliate management system will help you out track referral activity and payout your affiliate partners.
Final verdict
Growing a business online is not a piece of cake, but it surely pays off. Let's review everything we've learned so far:
The importance of planning to achieve business growth cannot be overstated (building strategies and aims to measure the results against will support you increase your efforts continuously)
Experimenting is also crucial to check which method works best for a particular situation
Don't be hesitant to experiment with (and test) various marketing tactics, such as SEO, email marketing, social media, content and affiliate marketing, and so on.
The outcomes may astound you.
What other methods have you tried out to expand your business, and how did they work out? Don't forget to tell us your opinion in the comment section below. Also, follow us on Twitter for more of these tips and tricks, we roll them out quite frequently!