An Introduction to Email Sequences: Definition, Types, & Examples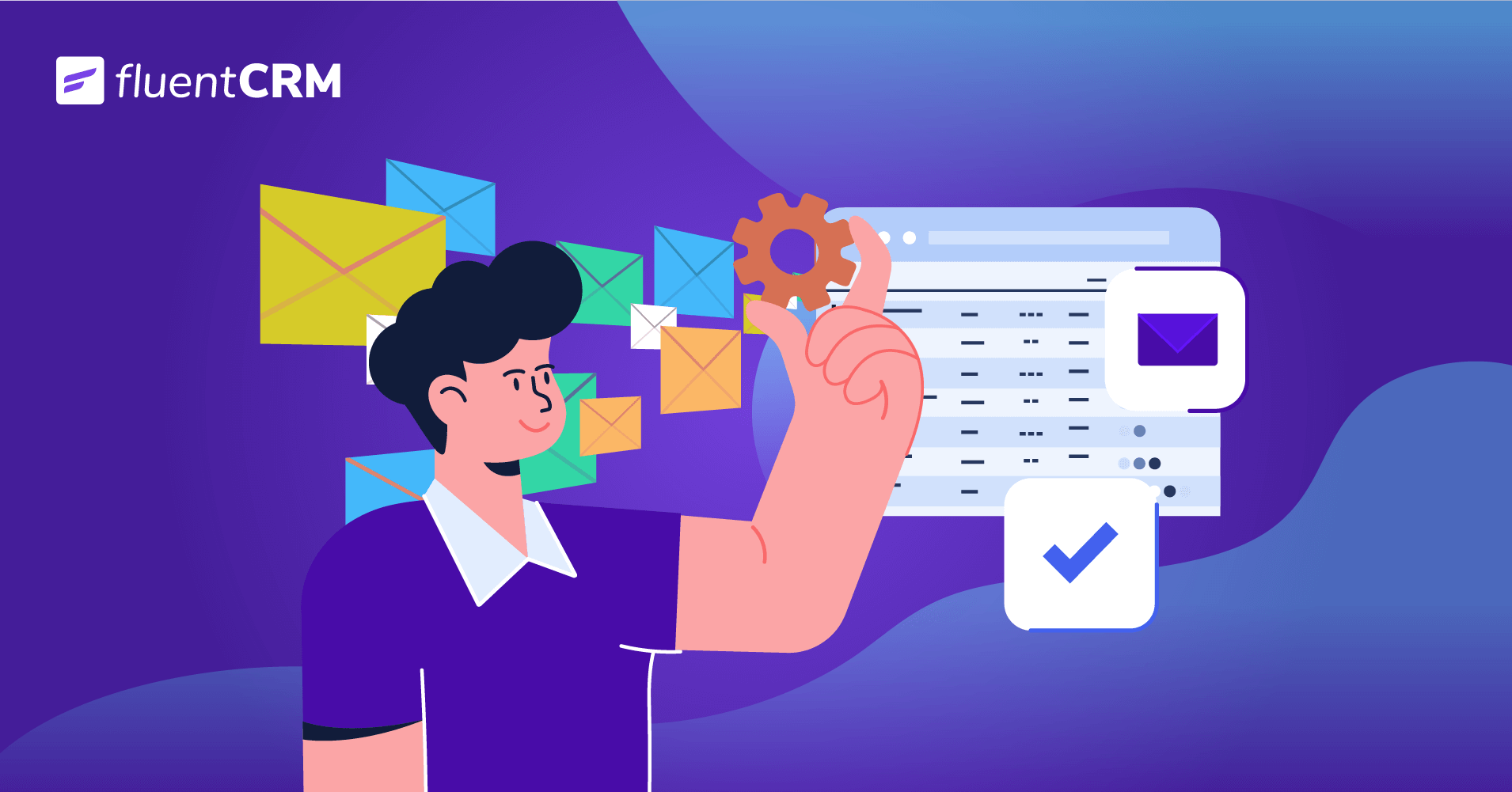 As of today, email marketing is considered the heart of the marketing funnel. Why?
Because email marketing is the highest performing marketing channel in terms of return on investment (ROI).
According to DMA's report, the return you get for every dollar spent on email marketing is $40.
But creating an effective email marketing plan, segmenting your audience, sending them personalized emails is quite difficult. So, what is the best method to grow subscribers and make the emails stand out from the rest?
The answer is Email Sequence.
What is an email sequence?
An email sequence is a series of emails that are automatically sent out on a schedule to a particular group of people or customers on your email list. Email sequences are also known as drip emails, lifecycle emails, autoresponders, etc. They can be trigger-based or time-based.
Trigger-based email
Whenever someone takes a particular action on your website or inside your email campaign, trigger-based automated emails are sent to them. For example, a user will get an email if they subscribe to your newsletter or buy something from you.
Time-based email
Time-based email sequences contain messages that are sent at preset intervals. For example, you can schedule a time-based email when someone completes a year of being your customer.
Why should you use an email sequence?
Email sequencing can be beneficial for causing new leads and sales. According to a study led by the Content Marketing Institute, 91% of B2B marketers consider email as a significant or crucial marketing channel. Still, only 51% of businesses are using marketing automation.
That means companies that follow aggressive email marketing strategy that includes email sequencing have a tremendous opportunity ahead of them.
Three key benefits of email sequencing are:
Scaling your business
Even if you breathe, sleep and eat email marketing yet you can't be there every moment of every day to send targeted emails to people at the specific times they need to see those emails to take action. That's where email sequences can play a vital role. It's like keeping an online assistant that runs your business even while you're asleep.
You'll just have to outline your users' journey only once, and then automated emails will have them involved based on their activities. There are numerous variables, and if you had to this one by one for each subscriber, you'd required the hands of an octopus.
Email sequences work even if you have 100, 10k, or a million subscribers.
"An exceptional autoresponder creates a great experience for your first subscriber. And it creates the same great experience for your 10,000th subscriber."

– Sonia Simone.
Increasing sales
More fun emails make a better chance of engaging with curious clients and closing the deal since you can mark their complaints, offer them discounts, and run over the profits in your email sequence.
It's just a case of nudging subscribers a little further to close the deal once they start connecting with your emails. Gradually, you become familiar with them, and they begin to trust you. And trust brings sales and cash flow!
Reducing errors
Tracking leads and sending emails manually creates room for error. Using email marketing automation, you can make a set of standard emails to send out during each customer's sales journey and set triggers for when they should be sent as part of a streamlined, error-free workflow.
Different types of email sequences with examples
Let's look at some of the most popular types of email sequences used by successful businesses. And all of these may not be suitable for you; probably, you'll need to apply some of these to fulfill your business needs.
1. Welcome email sequence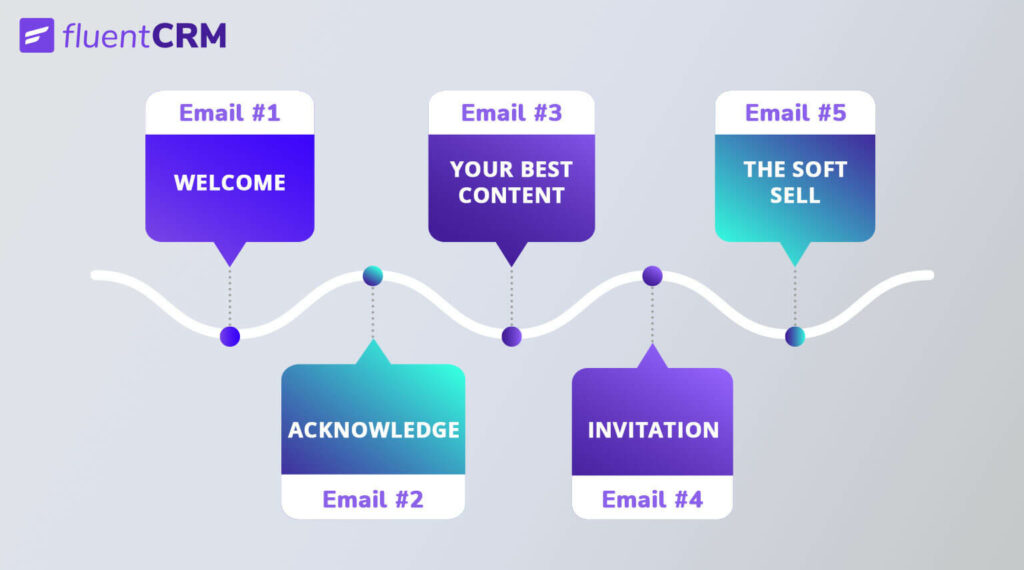 Do you just stroll into someone's home when you go to visit them? Of course not. They need to greet you.
The first direct contact from your brand with your subscriber is a welcome note. It's the first impression, so make the most of it.
This sequence aims to present your brand to a potential subscriber personally. It's not the correct time to sell anything to them. Your purpose is to make them know, like, and believe you. Introduce your company to them personally, take them on a tour of your best content, and tell them what they need to know to get the most benefit out of your words.
Finish with a soft call to action (CTA) that inspires them to buy something or move on to the next step in the sales process.
2. Training email sequence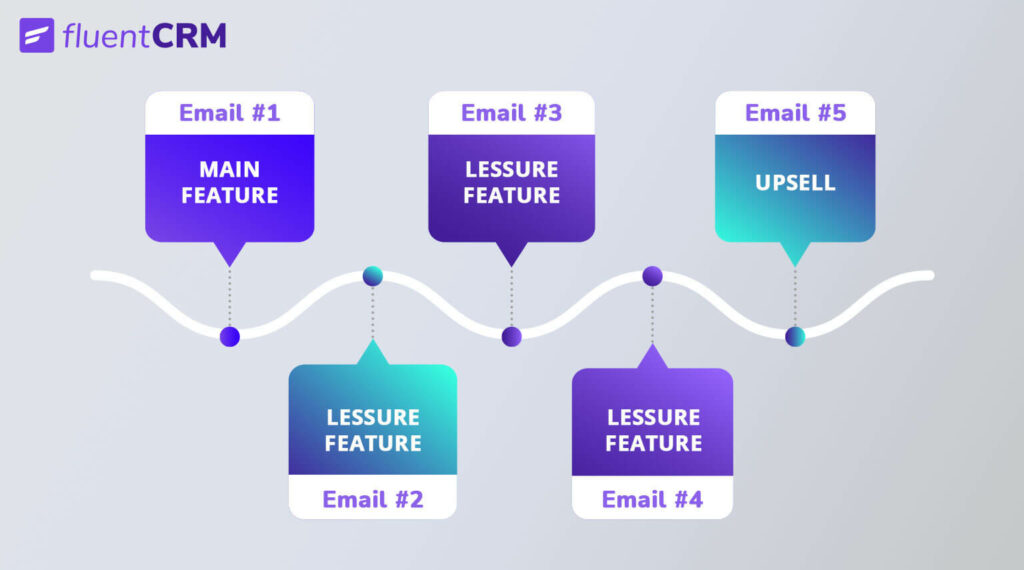 This sequence aims to educate your new subscribers to get the most value out of your service.
For example, to get the most out of an app, its developers teach the users how to utilize various features of that app. A medical office trains patients on how to get prepared for their appointments. A law firm educates its clients about legal proceedings.
You'll waste less time and answer fewer questions teaching your potential clients one-by-one if you train them proactively by setting up a training email sequence.
3. Onboarding sequence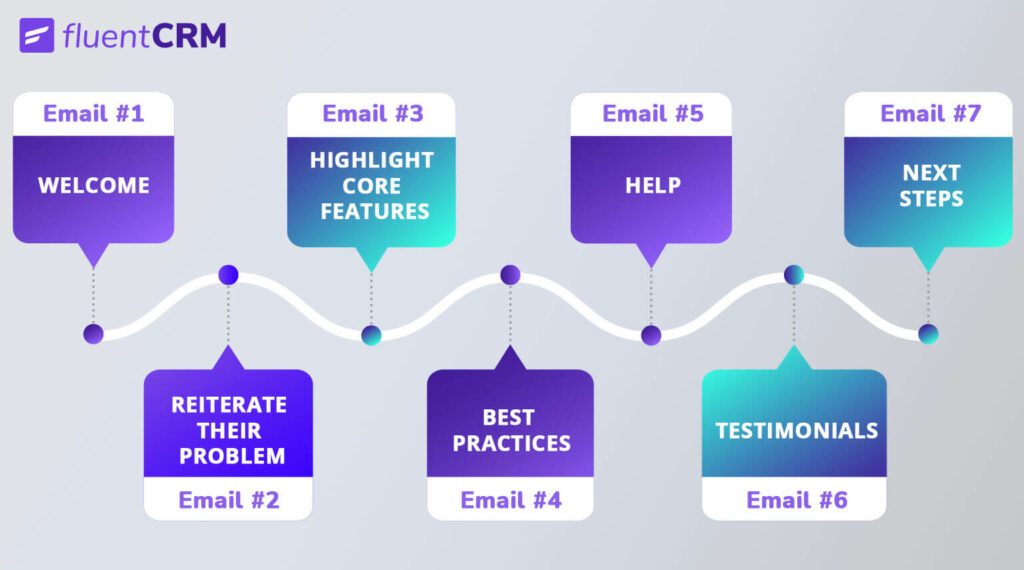 This sequence aims to assist the subscriber in reaching a specified point of value using your service.
Onboarding emails make sure that your new clients get to know how to use the product they've just bought so that they can get total value and satisfaction out of it right away. It makes people frustrated when they can't unlock the full potential of the product they've purchased. And indeed, you want to make your buyers happy so they'll keep paying for your service and recommend it to others. 
4. Lead nurturing sequence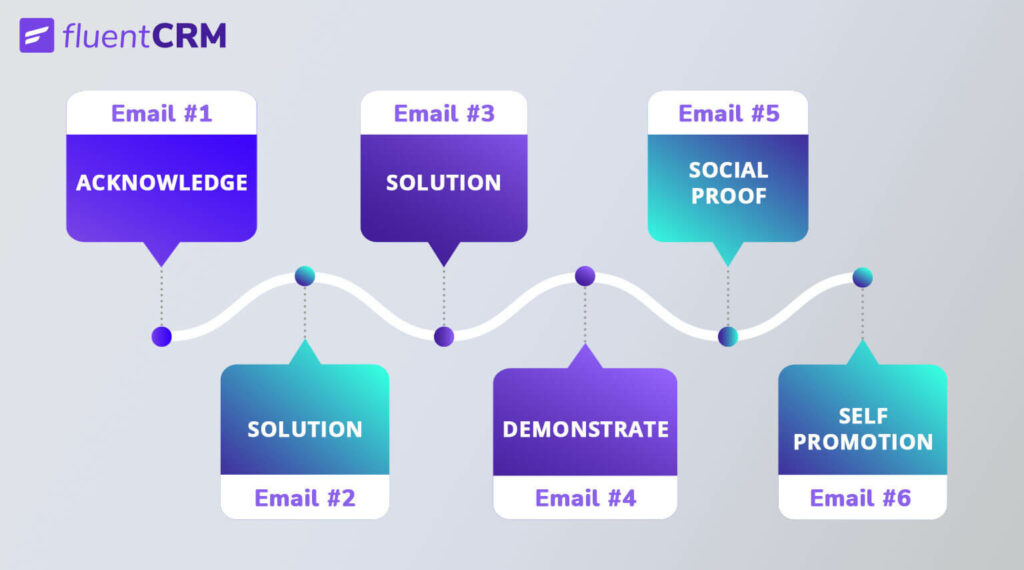 This sequence is all about turning a lead into a paying consumer. You might get the lead from a free subscription or a lead magnet.
If anyone signs up for a free guide, webinar, or any other lead magnet on your website, this sequence arrives after the person has digested the content – viewed the webinar or downloaded the free guide.
Nurture sequence can start from instructional to presenting the offer, resolving objections, and finally closing with scarcity (if you have one).
5. Re-engagement sequence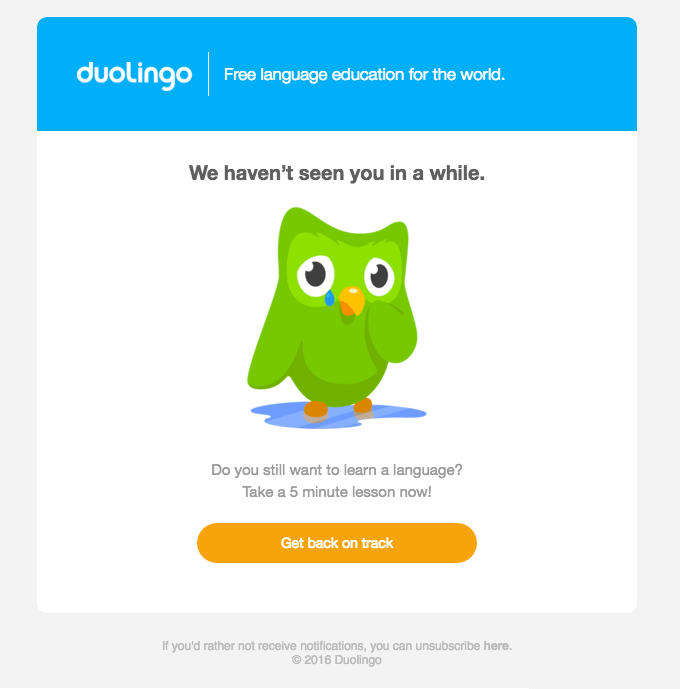 The main goal of the re-engagement sequence is to get your users' attention and not to push sales.
Sometimes users fall out of touch and require a gentle reminder. Sometimes a sweet and casual message is all it takes to regain lost subscribers that shows you've been missing them. This sequence is perfect for showing your once-active subscribers that you're always around and you still care for them.
These emails are generally activated after a subscriber has been inactive for a set amount of time, such as 30 days.
There's no fixed rule for when you should activate this sequence. Before you send this email, you can place your condition and a certain period to mark that subscriber as inactive.
Need some more email sequence ideas?
Check out: 8 best email marketing sequences for different types of businesses
How to create an email sequence using FluentCRM
If you want to create an email sequence, you'll need a marketing automation tool. FluentCRM helps you create excellent email sequences effortlessly.

Marketing Automation for WordPress
Get FluentCRM Now
Before you mix up email sequence and marketing automation…
The email sequences feature is like a template that allows you to send your emails at the 'exact' time you want. On the other hand, automation emails will be sent at the time it was triggered. Email sequence can be useful if you want to send a few "shipping on progress" emails. On the other hand, if it's canceled somehow, you can use an automation trigger to cancel the sequence.
This essentially means that you'll need to use both marketing automation and email sequences to achieve your goals, So let's see how we can create and trigger an email sequence to our benefit!
If you have FluentCRM installed and activated on your website, you can simply go to the Email sequence tab and click Create New Sequence. Once you have given your email sequence an appropriate title, it will take you to a new window where you can create the templates of your email sequence.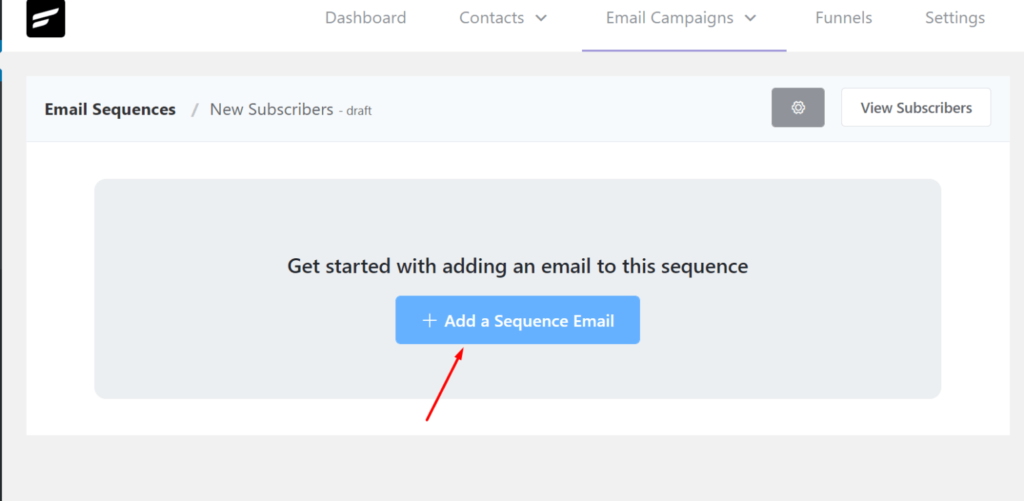 This is where you can create the email template with an appropriate Subject, Pre-header, Email body, and Design.
In the Delay field, you can set after how many days the particular email will be triggered, and you can also pick a Time Range or Specific Days for the emails to be sent.
Once you've created an email template, simply click Save and proceed to create another.
Here's an email sequence we've created for an online course: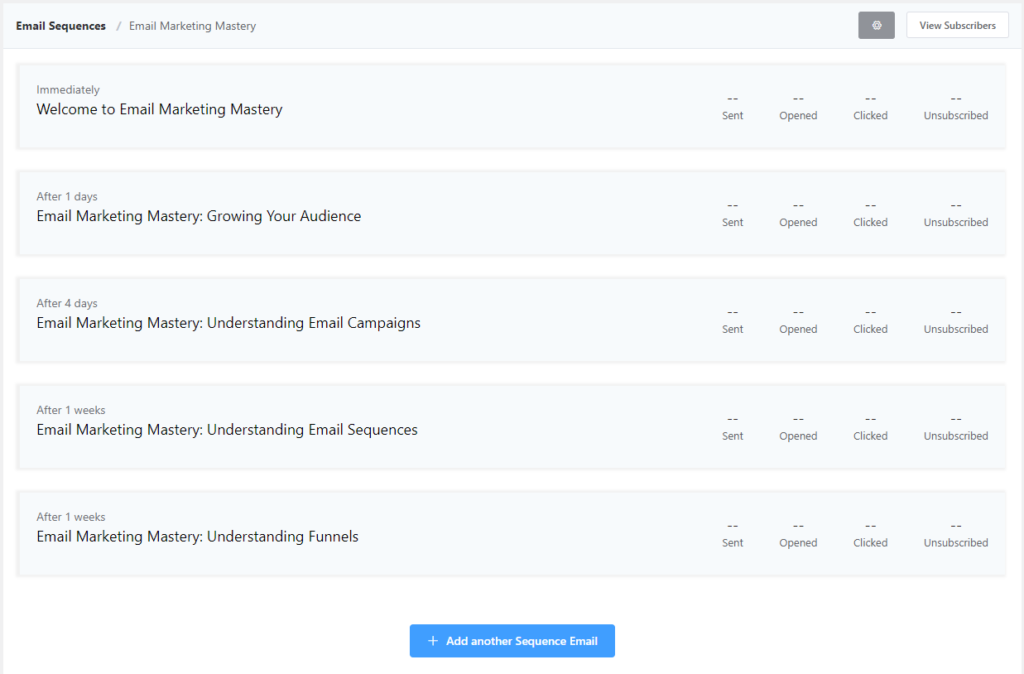 After you have created the email sequence, it's time to onboard your customers. This needs to be time-based or triggered so simply head to the Automations tab and create an automation funnel, To define when the email sequence will be triggered, select your trigger and then add a Set Email Sequence block. Then select the email sequence you've created. Next, simply toggle the automation status to Published and you're ready to go!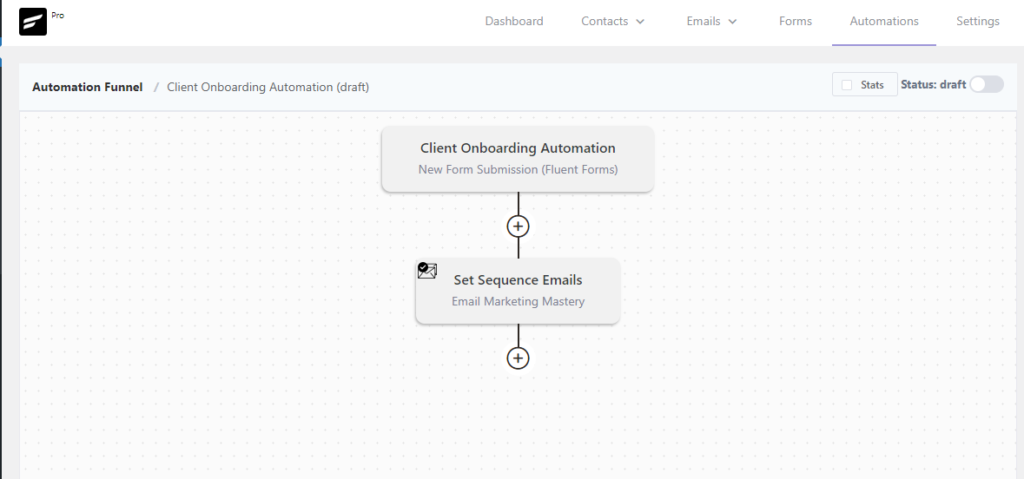 Wrapping up
Now you have all the information you need to create your first email sequence.
You may find it complicated in the beginning. The wiser thing would be to implement the email sequence that best matches your business. See if it's driving more traffic, turning leads into customers, build a relationship and increase revenue by altering things when required.
You'll get the most out of your email marketing as soon as you start using email marketing automation for your business. Start small and have fun. Best wishes!
If this article helped you, subscribe to our newsletter and follow us on Twitter.