11 Best Autoresponder for Affiliate Marketing (Handpicked)
Affiliate marketing has become immensely popular as a proven method of making money online. While most beginners tend to start promoting affiliated products through blogging and social media promotion, email marketing can help boost conversions significantly.
However, finding a suitable autoresponder for affiliate marketing can be daunting. Affiliate marketers often find themselves stranded as popular email marketing platforms ban them from using the platform –sometimes even deleting their email list altogether.
As they say, the money is on the email list. So you need to choose an autoresponder that offers generous support for affiliate marketers. If you're finding it difficult to choose one, we've rounded up a list of the best autoresponders for affiliate marketing to help you expand your affiliate marketing business.
We're pretty sure that you already understand what an autoresponder is! Still, we'll love to start by explaining. Let's get started!
What is autoresponder?
An autoresponder is a dynamic technology that allows you to automatically send messages to subscribers who have opted in to receive your emails. More specifically, an autoresponder is an email sent automatically by email-sending software rather than manually by a person.
Let's say someone just subscribed to your email list because they liked a blog post you've written. As a greeting, you'd want to send them a welcome email. You can do it in two different ways.
The first option is to manually write and send an email to each person. The second is to simply set up a custom welcome email that will be sent automatically.
Isn't the second option far simpler and more effective?
Well, this is where an autoresponder comes in. It automates your repetitive tasks and allows for greater marketing opportunities. Thus, an autoresponder is a must-use tool for any affiliate marketers. If you aren't already using one, it's high time to do so!
Why use an autoresponder for affiliate marketing?
In some cases, asking "why not" is preferable to asking "why"!
Regarding affiliate marketing, autoresponders are a hidden blessing that will make your job easier and help you increase subscriber interaction, build trust, and boost revenue.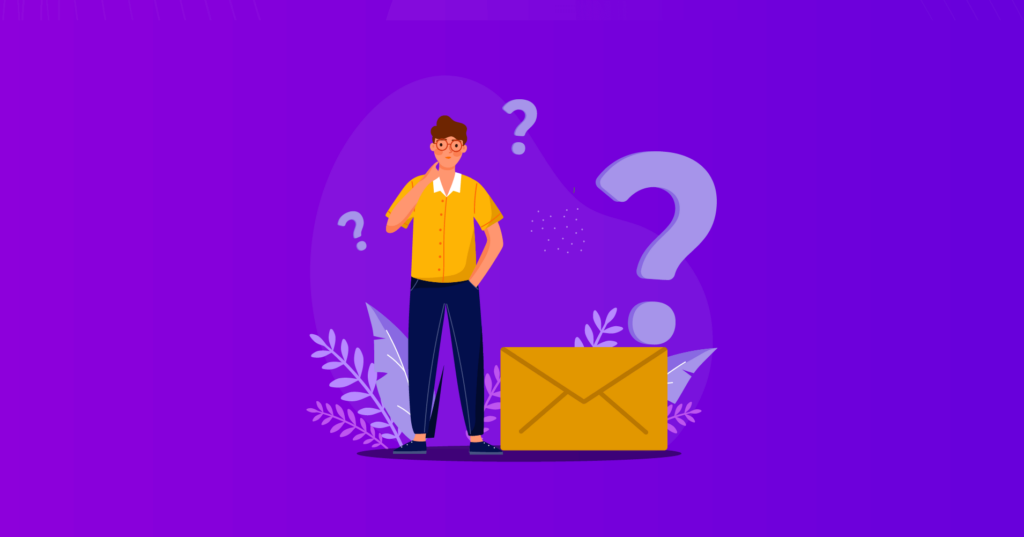 Convert visitors into subscribers: Autoresponders are more than just an email-sending tool! They can assist you in acquiring a large number of new subscribers. You can create opt-in forms and let your website visitors subscribe to your blog using autoresponders.
Build a healthy relationship: Don't just be a stranger in your potential buyer's inbox; instead, be the person they know, trust, and like hearing from. An autoresponder will assist you in building customer relationships with your subscribers by helping you maintain constant communication.
Stay ahead of the competition: Remember that there are other people in the market than you and your potential customers. So, you need to be at the top of your client's minds if you want to stay ahead of the competition. In this case, an autoresponder will come in handy.

By sending regular, friendly emails to your subscribers, you'll be able to cement your name in their minds and become the first person they trust.
Boost your sales: Due to fierce competition, it's hard to drive traffic to your website, let alone sell affiliated products. An autoresponder can help you create consistent sales funnels that boost your sales.
Analyze performance: Email marketing is more than just composing and sending emails; it's about following the entire route of your email marketing campaign and deciding what works and what doesn't. But how do we actually do it? By monitoring the analytics, correct?

Autoresponders will assist your marketing by supplying analytical data such as revenue, open rate, bounce rate, click rate, and so on.
Cost-effective: An autoresponder may accomplish numerous tasks so efficiently that manually would require at least a team of email marketers. Moreover, a huge crew must have a wage, a workplace, and other expenses, right?

Well, you can avoid these expenses by using an autoresponder!
What to consider when choosing an affiliate marketing autoresponder?
While a good affiliate marketing autoresponder can significantly boost your affiliate marketing business, a poor one can cost you time, effort, and money and even demoralize you!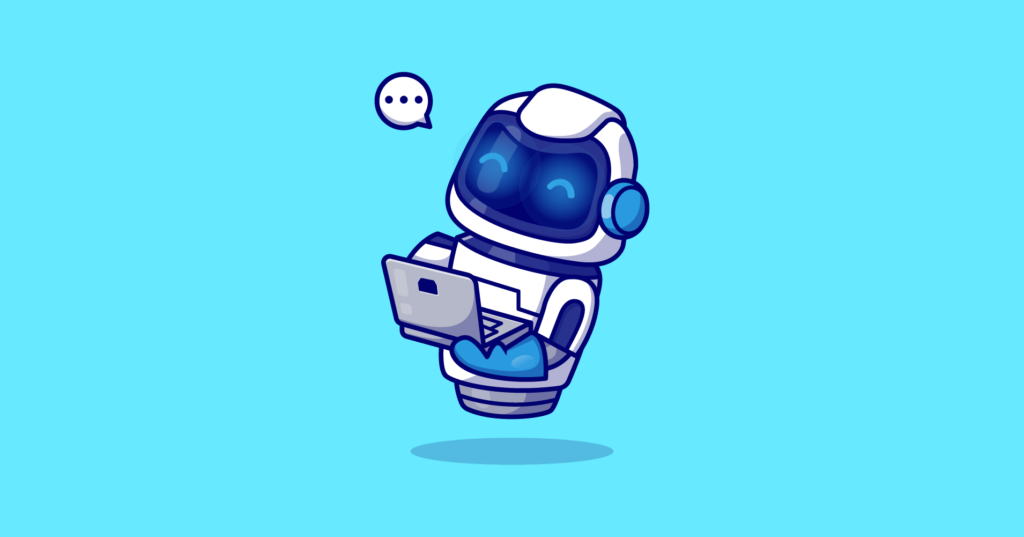 Yes, that's the harsh reality. Suppose you've chosen a 'so-called' popular email marketing platform; you risk losing your email list as these platforms often ban accounts that use affiliate links.
So, we recommend considering the following aspects before choosing an affiliate marketing autoresponder:
Easy of use: If it's hard to use, it's not for you. That's the rule for choosing a software, and an autoresponder is no different! Saving time and difficulty is one of the key reasons for using an autoresponder. So choose one that's simple to use.
Affiliate links: One of the crucial components of affiliate marketing is affiliate links, yet many autoresponders do not support them. As mentioned, you risk suspending your account and losing your email list if you attempt to use affiliate marketing links with autoresponder providers that forbid them.

Double-check your autoresponder supports affiliate links before investing any money in an affiliate marketing autoresponder.
Trial period: Once you pay, there is no going back. You should always try the autoresponder before paying for one. By doing so, you'll have time to determine whether the product suits your needs.
Email deliverability: What is the point of having an autoresponder if it doesn't deliver your emails? –None!

Therefore, thoroughly test each affiliate marketing autoresponder's email deliverability before investing in one. Otherwise, your entire affiliate marketing campaign would be ineffective.
Marketing automation: Marketing automation is a disguised blessing for all affiliate marketers. It has made difficult operations such as email segmentation, email sequencing, email broadcasting, email marketing automation, etc., simpler.

These capabilities allow you to spend more time on other parts of your promotion while simultaneously increasing conversion rates. So, while selecting an autoresponder, seek elements that will provide you with marketing automation.
Price: The oldest purchasing principle; pay less, get more! Analyze the pricing of various affiliate marketing autoresponders first. Examine each aspect carefully and choose the option that provides the most features while remaining affordable.
So now you know what characteristics the finest autoresponders for affiliate marketing must have. Let's move on to the next part and explore what our recommended autoresponders have to offer.
11 best autoresponder for affiliate marketing
As previously stated, selecting the finest autoresponder for affiliate marketing among hundreds of options is never an easy task. To do so, we must rely on some key features and assess them against those criteria.
Based on the criteria we've mentioned above, we've compiled a list of the 11 best autoresponders below.
| Name | Price starts | Trial period | Read details |
| --- | --- | --- | --- |
| FluentCRM | $129/year | Forever free | More |
| AWeber | $19.99/month | Forever free | More |
| GetResponse | $15.58/month | Forever free | More |
| ConvertKit | $29/month | Forever free | More |
| ActiveCampaign | $29/month | 14-day free trial | More |
| SendX | $7.49/month | 14-day free trial | More |
| KatraMail | $99/month | No free trial | More |
| EmailOctopus | $24/month | Forever free | More |
| MailerCloud | $10/month | Forever free | More |
| Drip | $19/month | 14-day free trial | More |
| SendLane | $83/month | 14-day free trial | More |
FluentCRM
When it comes to the best autoresponder for affiliate marketing, FluentCRM is one of the greatest solutions. Due to its fantastic features, really simple functionality, and extremely flexible pricing structure, FluentCRM can be regarded as the ideal answer for every affiliate marketer!
The best part?
It's a WordPress plugin! So you don't have to worry about connecting your WordPress site to a Saas platform.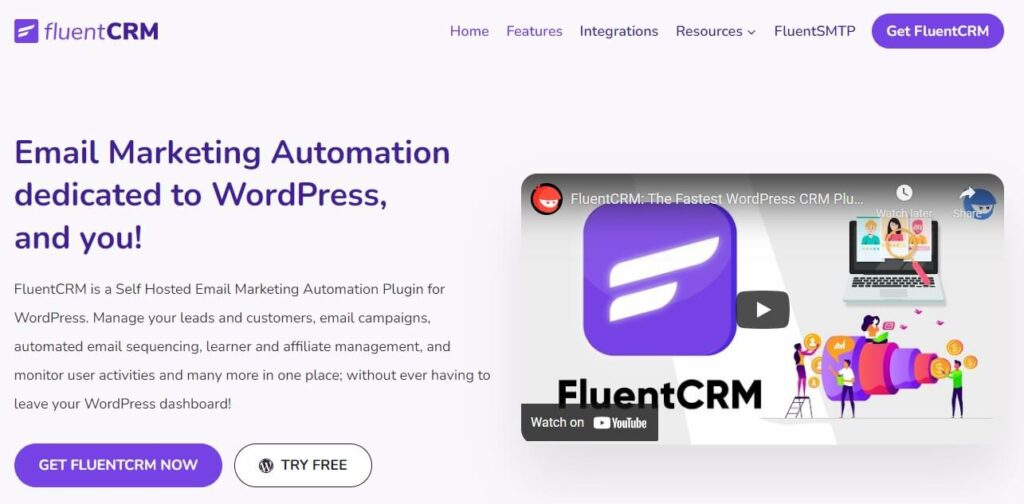 FluentCRM is the master of all things rather than just being restricted to one area; You can run your entire affiliate marketing program with this self-hosted marketing automation plugin. It will assist you in collecting leads, contact management, email campaigns, email segmentation, email sequencing, and marketing automation.
Since you can self-host FluentCRM on WordPress, you won't have to worry about losing your email list or leaving your WordPress dashboard to perform all of this activity!
What else can you expect from an autoresponder?
If you are concerned about cost, let us reassure you that FluentCRM is unquestionably the most affordable autoresponder you will ever encounter!
Pros of FluentCRM:
A marketing automation plugin that does everything
Specialized in affiliate marketing
A really simple dashboard with a lot of features
Smart contact segmentation will enable you to split your contacts as you see fit
The email sequencing feature is available
The 360° contact overview will supply all the required information
Its fantastic precise analytical data will keep you on track
Very affordable in terms of price
Cons of FluentCRM:
FluentCRM can't send WordPress posts automatically
Pricing: FluentCRM doesn't just have the best functionality; its pricing is also hard to beat. It has a free version that includes the majority of its functionality. You will, however, have to pay for certain additional facilities.
FluentCRM's premium plan is divided into three tiers.
A single site license will cost $129
A five-site license will cost $249
A fifty-site license will cost $499
AWeber
AWeber is one of the most well-known and efficient autoresponders for affiliate marketing. Being a leader in the field, it delights countless consumers daily with amazing services.
AWeber has many innovative features that keep it a step ahead of the competition. It is very popular among newbies because of its simple functionality.
You can effortlessly develop follow-up campaigns for your clients using its drag-and-drop function. Besides, its dynamic features like segmentation, opt-in forms, the flexibility of import and export, and amazing statistics will help you execute an affiliate marketing campaign properly.
What is more fascinating?
AWeber has a mobile app as well!
Pros of AWeber:
Very straightforward interface
Email templates are mobile and desktop friendly
Provides excellent analytical data
Pricing is reasonable
Excellent customer service
There is a mobile app available
Cons of AWeber:
RSS features are inadequate
Email templates are no longer fashionable
Pricing: AWeber has both free and paid pricing tiers.
Free: AWeber is free for up to 500 subscribers and 3000 emails monthly. In this respect, you may think of AWeber as a free autoresponder for affiliate marketing. However, you won't have access to all of the features.
Premium: The premium plan costs $19.99 per month. It initially permits you to add 500 subscribers, and the fee rises as you add more.
GetResponse
GetResponse is yet another affiliate marketing autoresponder that has really blown us away. It has not only all of the capabilities that other autoresponders have but also those that they don't!
GetResponse is more than just an autoresponder for affiliate marketing; it is an all-in-one solution. It lets you send targeted emails based on your visitors' actions.
Not only that, you can easily automate emails, do split tests, and do many other things with this autoresponder. You may even engage in live chat with your visitors!
GetResponse is one of the top autoresponders for providing extensive analytical data in terms of analytics. But what qualifies it as an all-in-one solution?
Well, GetResponse also provides a webinar hosting platform, a CRM tool, and an automation funnel!
Pros of GetResponse
It has a decent and simple drag-and-drop email editor
It has fantastic webinar features
Excellent ability to categorize
Pricing plans that are both affordable and comprehensive
Split testing capabilities are available
Offers a CRM tool
Excellent client service
Cons of GetResponse
It's a little tricky to operate
Absence of phone support
It can be a little pricey
Pricing: GetResponse provides both free and premium plans.
Free: GetResponse is free for up to 500 subscribers and unlimited email sending. Furthermore, it provides a 30-day trial period for premium plans.
Premium: The premium plan begins at $15 per month.
ConvertKit
The inclusion on ConvertKit may surprise you. This tool is typically used by bloggers and content producers for email marketing. However, we believe it has become one of the options after the recent update.
ConvertKit is jam-packed with features that will greatly benefit affiliate marketers. It is an excellent tool for list development, automatic email sending, email categorization, and, most importantly, properly tracking the customer journey.
Furthermore, if the earlier email remains unopened after a set period of time, it automatically resends. This feature alone has the potential to improve your CTR significantly. What's more exciting?
Well, ConvertKit offers a WordPress plugin that you can use to integrate with your affiliate site.
Pros of ConvertKit:
Provides one of the finest email delivery rates
Easily navigable interface
Straightforward email reports
Email subscribers can be easily categorized
Email sequencing is available
Enables limitless email sending
Cons of ConvertKit:
Reports contain insufficient information
fewer A/B testing options
Email templates are simple, with minimal personalization choices
Pricing: ConvertKit's pricing options are one of the primary reasons for its huge success. To some extent, it can be regarded as a free autoresponder for affiliate marketers who are just starting out.
Free: ConverKit provides basic features and the ability to send free emails to 1,000 subscribers. In addition, premium programs provide a 14-day free trial period.
Premium: The premium plan begins at $29 per month.
ActiveCampaign
ActiveCampaign is yet another affiliate marketing autoresponder that deserves to be on our list due to its incredible automation features. This is the ideal solution if you want to employ email marketing automation tools for your affiliate marketing business!
You may build many kinds of emails with ActiveCampaign, including simple email marketing campaigns, A/B testing, and SMS. Additionally, ActiveCampaign's built-in CRM allows you to reach your customers whenever possible. This builds the proper sales funnel to ensure lead acquisition.
You can, of course, use affiliate links, although you may need to make some changes. Besides, ActiveCampaign is a preferred pick among many affiliate marketing experts due to its awesome analytics.
Pros of ActiveCampaign:
It has awesome automation capability
It presents all analytical data in-depth
91.1 percent email deliverability
There are about 850+ integrations available
Cons of ActiveCampaign:
There is no free plan
There are some difficult characteristics
Pricing: ActiveCampaign does not have a free plan but a 14-day free trial for premium programs. The premium plan offers yearly and monthly options. The most basic plan costs $29 per month.
SendX
SendX is another top-notch affiliate-friendly autoresponder tool that is capable and reasonably priced. It can help you efficiently orchestrate, automate, and analyze your email marketing.
SendX will assist you in growing your affiliate marketing business with its excellent features and high email deliverability. It promises not to prohibit affiliate marketers, and their landing page clearly states that affiliate marketers won't be banned or blacklisted for using SendX.
You can expand your email database and manage your email campaigns with SendX. It also offers fantastic statistics and high-converting landing pages. Additionally, SendX will allow you to resend emails that have not been opened with a new subject line, raising your CR and CTR.
Pros of SendX:
The user interface is straightforward
Excellent email deliverability
Excellent live chat assistance
Customer support is available 24 hours a day
SendX forms can be used on any website
Cons of SendX:
No free plan is available to users with few subscribers
For complex sequences, email automation is not sufficiently adjustable
In comparison to other email tools, it is quite basic
Pricing: SendX does not provide a free plan. The premium plans begin at $7.49 per month.
KartraMail
KartraMail stands out among the finest autoresponders for affiliate marketing. Technically speaking, KartraMail is a marketing and business management program with several built-in modules.
KartraMail's drag-and-drop builder lets you create and change email templates, much like other email marketing programs. Furthermore, this software can put your email marketing on autopilot with its fantastic automation tools.
Aside from that, one of the most significant benefits of utilizing KartraMail is that it includes all of the other Kartra services. Although the platform provides the same email functions as other programs, it also has some extra special features. Your affiliate emails can include text blocks, testimonials, video thumbnails, and more.
Pros of KatraMail:
One-stop shop for affiliate marketers
There are separate modules for various marketing requirements
Facilitates the creation of sales funnels
More sophisticated email insights
Customer service that is quick and outstanding
Cons of KatraMail:
It is not possible to purchase separate email marketing software
More costly than alternative email marketing resources
There is no free plan or trial period
Pricing: KartraMail does not have a free plan; however, it does provide a 14-day trial for $1. They presently provide four pricing options: Starter, Silver, Gold, and Platinum. The basic package costs $99 per month.
EmailOctopus
EmailOctopus is probably one of the most underrated autoresponders for affiliate marketing. It is one of the most affordable and effective autoresponders available for affiliate marketing.
Unlike most email marketing platforms that disapprove affiliate marketing, EmailOctopus gladly accepts all affiliates.
It's drag-and-drop functionality makes it very simple to use. You can upload your own HTML templates, edit already-made themes, or build emails entirely from scratch. It's unique features will help you create sales funnels, affiliate marketing plans, and more.
Pros of EmailOctopus:
Extremely welcoming to affiliate marketers
An easy-to-use user interface
Allows you to send emails using Amazon SES
It includes a free plan for life
Offers pre-made email templates
Cons of EmailOctopus:
Not appropriate for advanced segmentation
Email delivery rates are relatively low
Pricing: The affordable pricing model of EmailOctopus distinguishes it as one of the best autoresponders for affiliate marketing.
Free: You can send 10,000 emails every month to 2,500 contacts using Email Octopus's forever-free plan.
Premium: For 5,000 users and 50,000 emails, the entry-level premium subscriptions cost $24 a month.
MailerCloud
In terms of affiliate email marketing autoresponders, MailerCloud is a newcomer. Despite being newer, this autoresponder includes all of the necessary capabilities and has garnered enormous appeal, particularly among affiliate marketers.
They made an effort to keep the features of this program as basic as possible, and its functionality is fairly simple. Additionally, you may create email templates using custom HTML codes thanks to its drag-and-drop functionality.
The exceptional ability to generate and maintain your email lists distinguishes MailerCloud as a one-of-a-kind email marketing service for affiliate marketing. Furthermore, you'd be free to operate email automation for your consumers. The A/B testing feature will assist you in staying on track with your email campaigns.
What about statistical information? MailerCloud gives a comprehensive analysis of your entire email marketing campaign.
Pros of MailerCloud:
Both drag-and-drop and HTML email builders are available
Monitors blacklists
Provide dedicated IP addresses
Advanced segmentation with A/B testing
Enables time zone-based email delivery
Provides an unlimited free plan
Cons of MailerCloud:
A comparatively new autoresponder
Uncertain email delivery rates
Pricing: Regarding cost, Mailercloud is a free autoresponder for affiliate marketing. Its everlasting free plan allows you to send 12,000 emails to 1,000 subscribers monthly. Monthly premium plans begin at $10.
Drip
Although Drip was created with eCommerce email automation in mind, it surely deserves a spot on the list of best autoresponders for affiliate marketing. Drip will be a fantastic choice for you if you have featured affiliate products on your website.
Drip doesn't just allow you to execute simple email marketing campaigns but also provides you with many more features required for proper affiliate marketing. Drip makes it simple and efficient to segment subscribers based on multiple factors.
To generate responsive email templates, Drip provides an extremely flexible email builder. Furthermore, Drip allows you to add items to your email automatically. And last but not least, employing Drip as your affiliate's autoresponder will allow you to send automated follow-up emails based on your visitor's behavior.
Pros of Drip:
Perfect for affiliate sites focused on eCommerce
Has high email delivery rates
You can send an unlimited number of emails
Up-to-date designs for landing pages and email templates
Customizable opt-in forms
Provides a complete analytical report
Cons of Drip:
Designed primarily for eCommerce rather than affiliate marketing
The designs are buggy and clunky
The cost is a little high
Pricing: Drip does not provide a free price plan. However, it does provide a free 14-day trial. The first and most affordable premium plan is only $19 per month.
SendLane
Similar to Drip, SendLane is another well-known e-commerce email marketing software. It doesn't just outperform e-commerce rivals but also emerges as one of the best autoresponders for affiliate marketing.
SendLane will function nicely if you operate an eCommerce-type affiliate website. Simply put, SendLane will support you in generating conversions through email and SMS campaigns if you display all the affiliate items on your website.
SendLane has an outstanding email deliverability rate. Along with outstanding marketing automation features, this platform lets you classify your email list.
Pros of SendLane:
Has a powerful automation feature
Designed specifically for online marketers
Aside from eCommerce, it also serves affiliates
Offers SMS and MMS marketing
Provides complete analytical reports
Cons of SendLane:
An expensive autoresponder
Only suitable for affiliate sites focused on eCommerce
There aren't as many features as on other platforms
This is not a suitable option for newbies
Pricing: SendLane does not provide a free package; however, it does offer a 14-day trial with up to 100 subscribers. If you pay monthly, the basic 'Growth' subscription starts at $83/month and allows you to have up to 5,000 members.
Final verdict: The best autoresponder for affiliate marketing
Many of the autoresponders included in our list are industry leaders. They all have a lot of unique features and are experts in their respective fields. That's why picking just one of these autoresponders is difficult and possibly unfair!
However, if you want us to make a call on your behalf, we recommend FluentCRM! FluentCRM is the best affiliate marketing autoresponder for three reasons:
It's self-hosted on WordPress, so you won't have to worry about getting banned
It's inexpensive; FluentCRM costs a fraction of what you'd pay for other autoresponders
It has automatic integrations, so there are fewer technicalities involved for beginners or migrators

Marketing automation for WordPress
Get FluentCRM Now
So, what are your thoughts? Which autoresponder do you think is the best for affiliate marketing? Let us know in the comment section! Besides you can also check out our list of best email marketing software for affiliate marketing.