6 Best WooCommerce Email Marketing Tools to Skyrocket Your Sales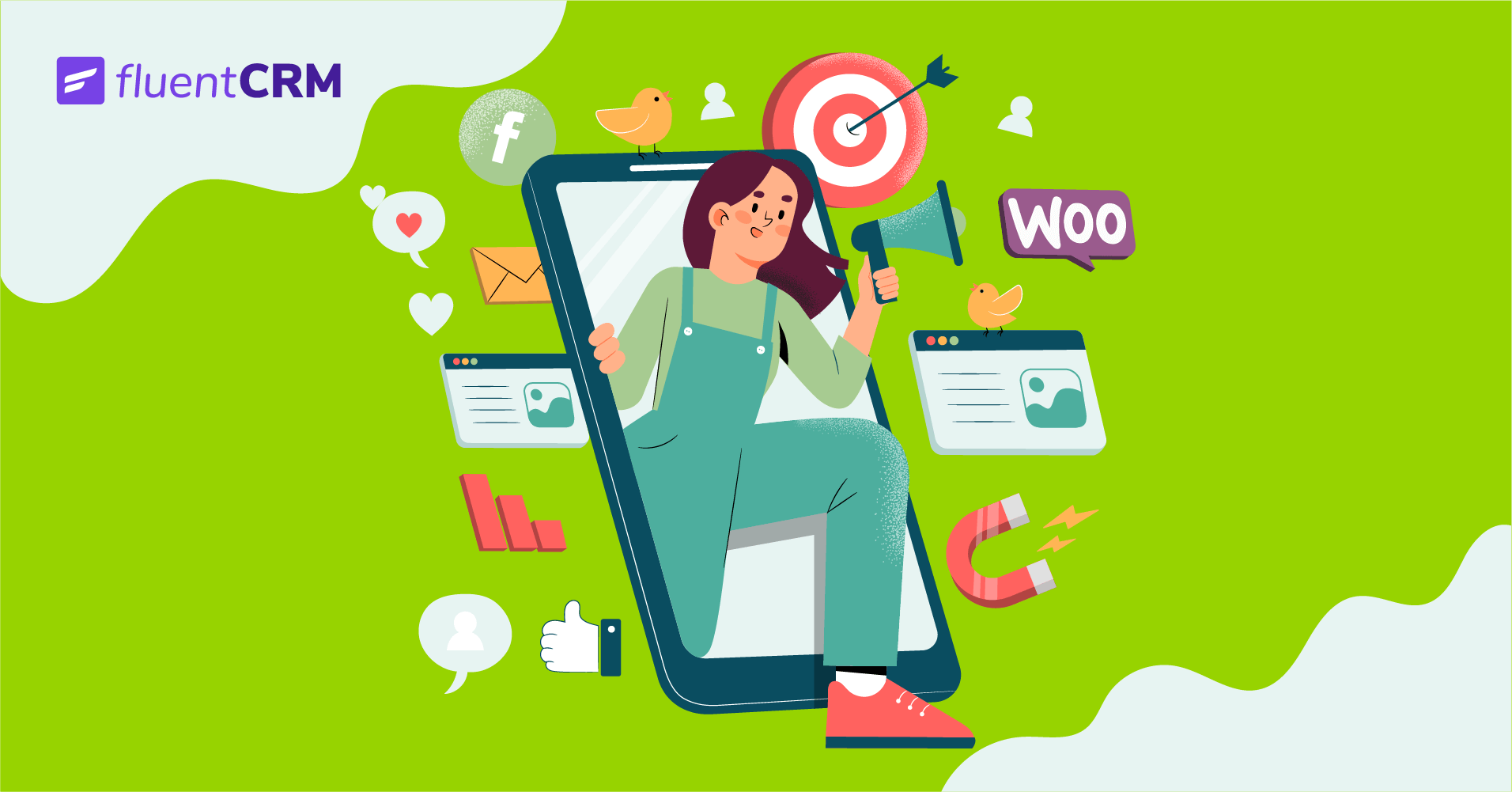 Launching a shop is made easy with WooCommerce. However, if you want to draw customers and convert them into buyers, you'll need a solid email marketing strategy ready in your hand.
When it comes to WooCommerce and emails, you surely have a lot on your plate while using the default WooCommerce emails. You may find email marketing a troublesome chore if you don't have the right plugin to do your job.
To get your job done for buttery smooth email marketing, you need the right email marketing plugins. And in this blog, we bring you the best WooCommerce email marketing plugin that can be a total game-changer for you!
Ready?
Let's begin!
Required features for WooCommerce email marketing
If you're looking for a WooCommerce email plugin for your WooCommerce store, make sure it includes the features listed below:
Lead generation forms: Forms allow you to create simple opt-in forms for increasing email subscriptions. Your plugin should have a direct form builder or integrated forms to do just that.
WooCommerce synchronization: Your plugin should integrate with WooCommerce for importing customers both automatically and manually. You'll also need it to update contact information whenever necessary.
Segmentation features: You should be able to segment contacts and customers based on their product purchases, spent amount, and various other metrics. This lets you reach out with personalized emails.
Marketing automation funnel: A funnel builder helps every site/store get more leads, increase conversions, and maximize profits by sending perfectly-timed behavioral emails. For example, abandoned cart recovery emails, upsell emails, etc.
Email customizer: A WooCommerce email customizer with an extensive email template library to design all of your WooCommerce emails including welcome emails, new order emails, order cancellation emails, and more.
List of the best WooCommerce email marketing plugin
Here is a list of the finest email plugins for your WooCommerce store that can perform everything an ideal email plugin should be able to do.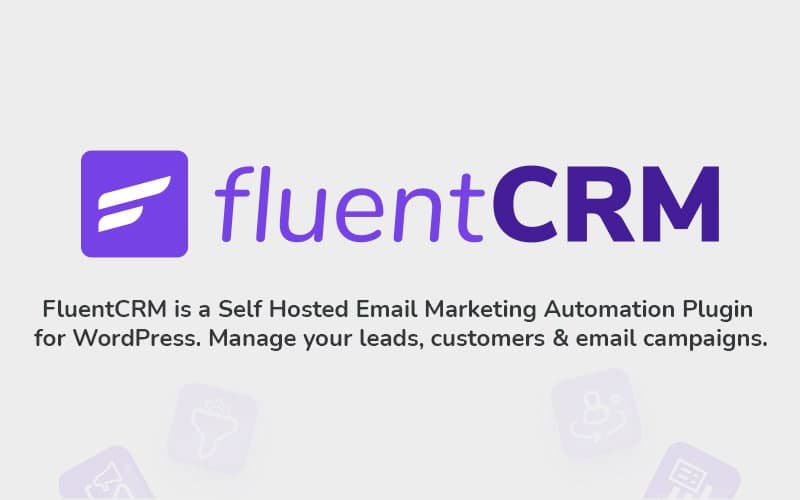 FluentCRM lets you manage WooCommerce email marketing smoothly. This email marketing automation plugin has a nice and simple user interface that can soothe both your eyes and the work process. It's built to better your relationship with your potential or existing customers.
How?
First of all, FluentCRM integrates with WooCommerce automatically. So, no place for a complicated setup process. It allows you to collect leads, keep them in different contact lists and apply different tags on them, and send beautiful newsletters to your subscribers. You can even create beautiful and appealing opt-in forms using the plugin—another way to grow your contact list.
FluentCRM's smooth integration with WooCommerce has made things much easier. One can now easily track their business progress as the purchase history now comes with a detailed buyer summary.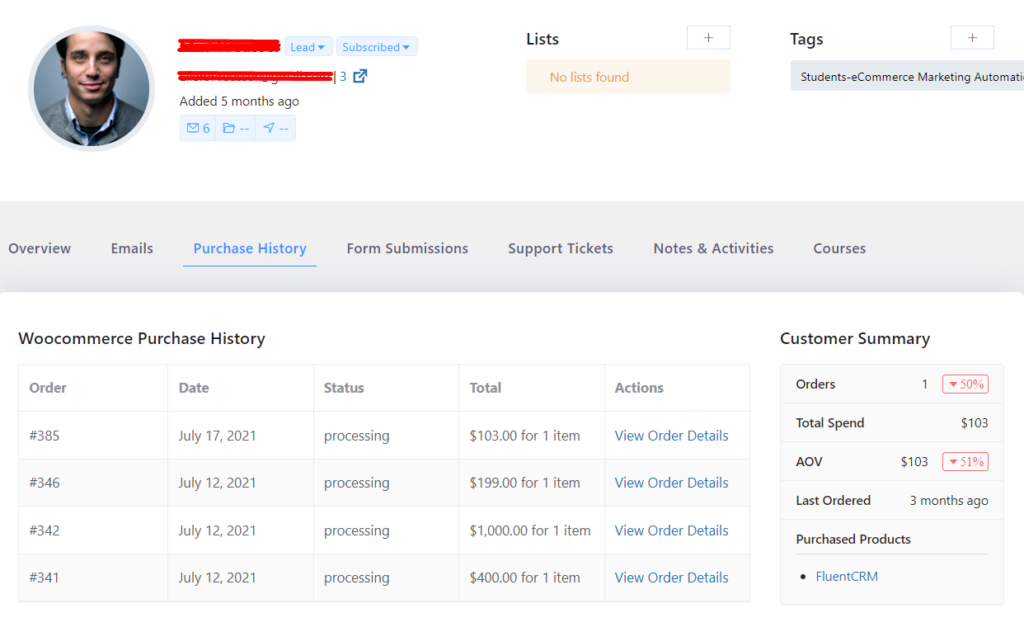 The automation functionalities of FluentCRM will surpass your expectations. You can send WooCommerce automated emails to your customers based on your products or services.
FluentCRM offers four types of triggers for WooCommerce email automation: new order trigger, refund trigger, order completion trigger, and order status changed trigger.
FluentCRM features an exceptional WooCommerce conditional that allows you to check on many conditions.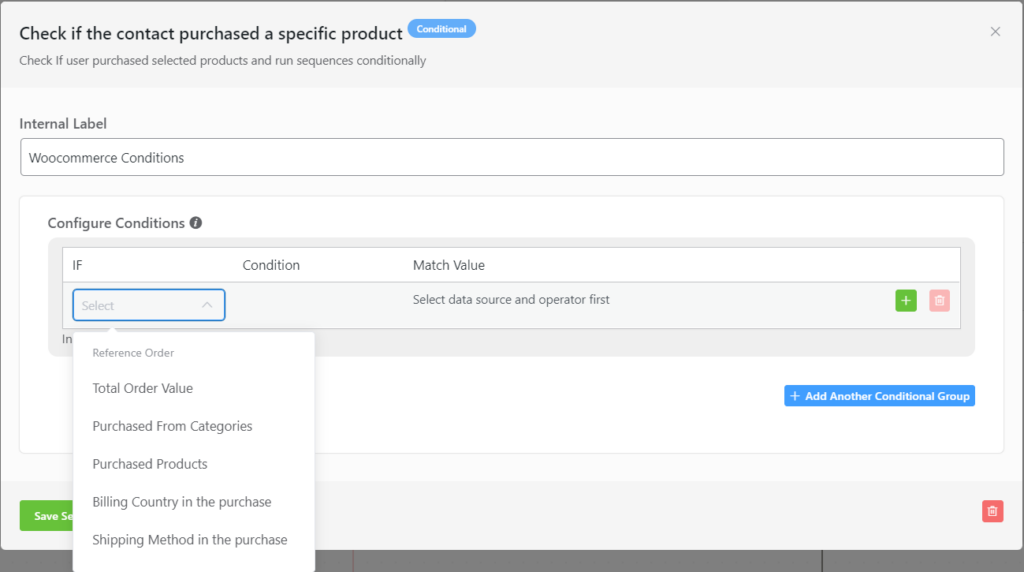 The features that we have talked about above are only dedicated to WooCommerce. Except for them, FluentCRM offers tons of features that can be used to grow your e-commerce businesses as well.
When it comes to pricing, any other plugin can hardly beat FluentCRM. They have two pricing options Free and Pro. Send unlimited emails, have unlimited subscribers, all the amazing features for $129/year for a single site license.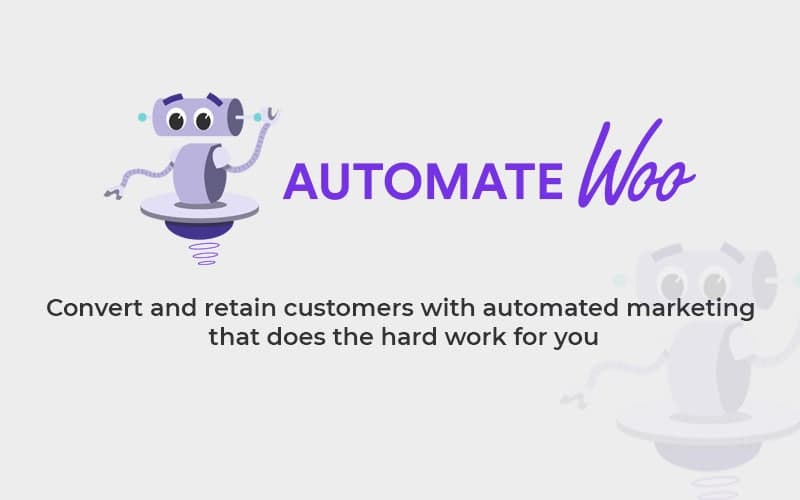 This feature-rich WooCommerce marketing plugin isn't free, but it's well worth the money. AutomateWoo features all the tools required to grow your business and generate more revenue. You can utilize this plugin to meet a lot of online marketing goals for your WooCommerce shop.
It allows WooCommerce shop owners to automate their online marketing chores. For instance, the abandoned cart email feature lets you send an automated email to the buyers who didn't complete their purchase and left the product in the cart. You can remind them to complete their shopping. The follow-up emails automatically reach buyers who buy a particular product asking them for feedback or suggesting other items they might like.
AutomateWoo lets you generate dynamic, tailored coupons to offer to a selected group of your clients at predetermined intervals. Along with that, you can use this plugin to send SMS notifications to customers. Moreover, you can target inactive buyers with automated email marketing by sending special offers and discounts periodically to win them back.
Their pricing plan is very simple. To get this plugin, you need to pay $99 annually for a single site. You'll also get a one-year extension update, one-year support, and a 30-day money-back guarantee.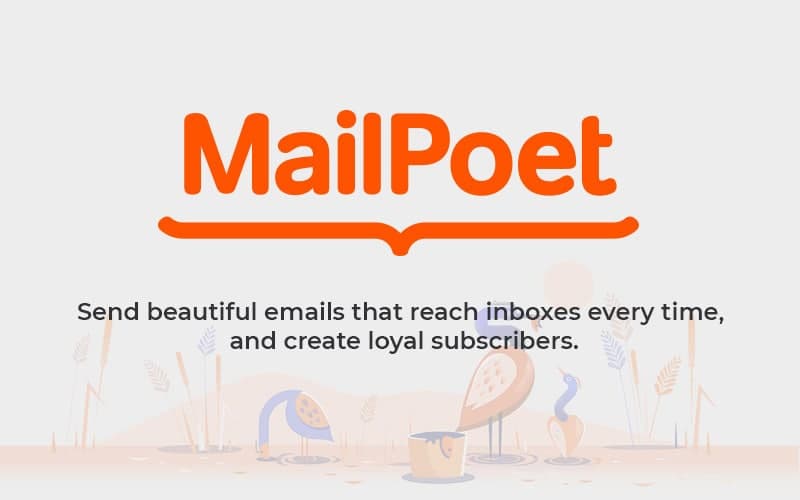 MailPoet is a good email marketing solution for WooCommerce users. You can use this plugin to send out newsletters, latest blog post notifications, and WooCommerce follow-up emails. Recently WooCommerce has bought MailPoet, which means the integration between the two is quite strong now.
The automation functions this newsletter plugin offers are also quite beneficial. Depending on the product type, you can send welcome emails, post-purchase emails, and targeted emails. It also offers an abandoned cart email feature to bring back the customers who left your store without completing their shopping.
With MailPoet's built-in email builder, you can effortlessly attach logos, buttons, columns, additional text areas, images, and social icons.
MailPoet's free plan allows up to 1000 subscribers. You'll have to switch to the premium plan if your subscribers cross more than 1000. You'll have to pay $25/month for 2000 subscribers and $75/month for 10,000 subscribers.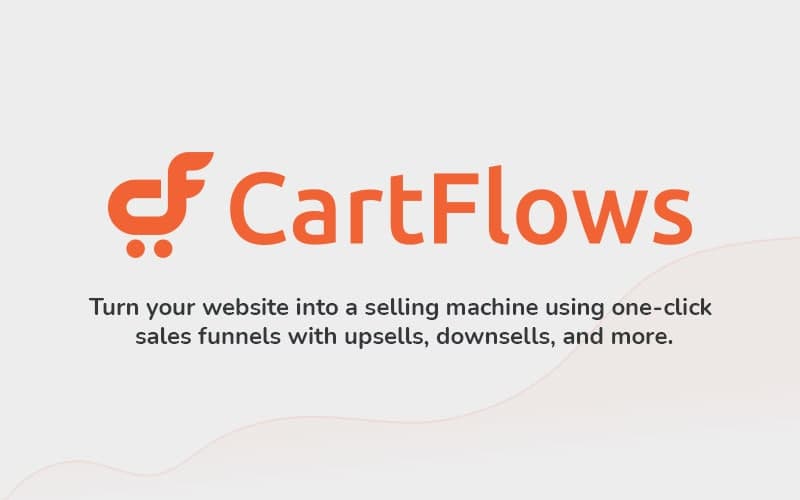 Cartflows is a funnel builder for WooCommerce websites rather than an email marketing plugin. This plugin allows you to create and add an entire checkout flow to your website. Cartflows is designed to improve WooCommerce checkout experience by adding high-converting landing pages, providing you with more opportunities to sell.
Frictionless checkout lets you optimize your site's checkout process that helps convert more visitors into customers. Though you've complete control to customize your pages, the plugin's templates only feature information essential to the sale.
Applying the order bump strategy, you can multiply the revenue you make on every sale. Every smart seller understands that including an extra offer on their checkout page maximizes the possibility of making more money from every sale. Upselling is another sales strategy that CartFlows offer. You can use it to increase your returns as well.
CartFlows lets you create different checkout processes for your website to test how effective they are. Upon completing the A/B test, you can distinguish the checkout process that generates better results using CartFlows' tracking tools and implement it right away.
Another amazing feature that CartFlows offers is abandoned cart recovery. By sending a series of emails to buyers, CartFlows aids you in recovering abandoned carts and converting them into sales.
A countdown timer can help your buyers make their decision and increase your sales. CartFlows enables you to include countdown timers on your sales pages to evoke a hurry among your clients. This is how you can utilize CartFlows to convert unsure buyers into regular clients.
The pricing structure of CartFlows is pretty simple. It has a free version and two premium plans for its users. Whereas the free version doesn't offer many of its features, their premium plans offer top-notch support including a 30-day money-back guarantee. You can get the annual license for $299 and the lifetime license only for $999. Both the plans support thirty website usage.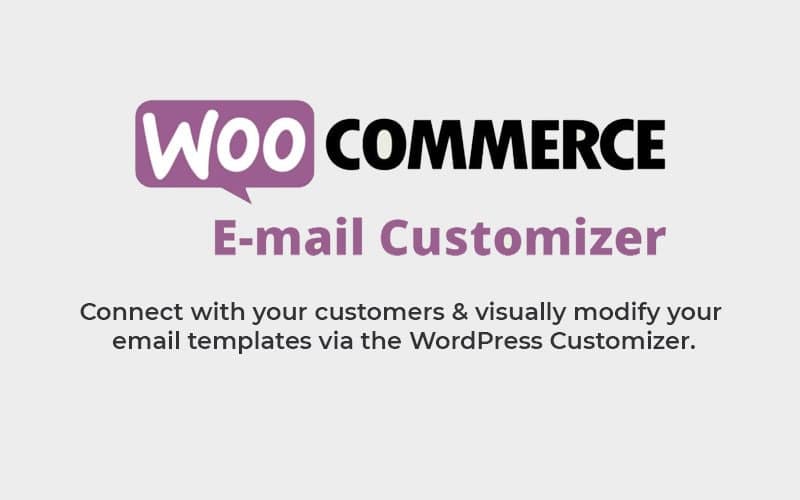 Email Customizer is developed by WooCommerce. This plugin is perfect for you if you want to cling to the original WooCommerce email style customization. Coding knowledge isn't mandatory to use this plugin. You'll be impressed seeing how simple its functionalities are!
With this plugin, you can personalize the design (except text) of all emails. Edit emails visually with the drag and drop email builder using the default WordPress Customizer.
That's all about Email Customizer. WooCommerce is all about its simplicity. This plugin follows suit by practicing "minimalism". With WooCommerce's Email Customizer, you can give your transactional emails a simple yet clean aesthetic makeover.
Minimalist, simplistic, and a clean UX – if that's what you're looking for, the WooCommerce native Email Customizer is the way to go.
WooCommerce Email Customizer has a simple pricing structure. It costs $79 annually.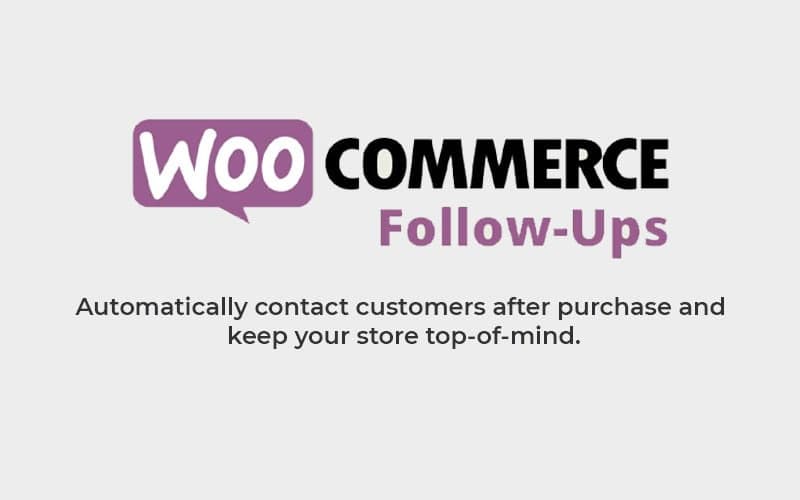 Follow-Ups is a great option for creating follow-up emails for your customers. This is exceptionally beneficial for establishing a consistent customer base for your company. Customers who buy a product from your e-commerce site open the door to more upsells or extra transactions. Follow-Ups makes it simple for you to do so.
You can design fully customized email templates for follow-up emails since the plugin uses the default post editor. There are loads of free email templates included with the plugin. Each of these templates is absolutely responsive and looks fantastic on any device.
You can also use the plugin to create a marketing campaign out of a collection of emails, tweets, etc. The entire process will be automatic once you have set up the basics. In addition, to complete Google Analytics integration, the built-in performance analytics metrics will also highlight the open, click, and send rates of your emails.
Follow-Ups is available for $99 for a single site license.
Final Verdict
WooCommerce emails are a great way to build connections with your customers. Sending ordinary WooCommerce emails may not result in any significant changes for the store or its consumers. In contrast, personalized and professional emails will add value to their inboxes. You can do this effortlessly by getting the best WooCommerce email plugins.
👉 Best WordPress Marketing Automation Plugins
Each of the WooCommerce email plugins listed above has its own unique features. You can choose the one that is most appropriate for your business. Some specialize in customizing, while others specialize in email marketing. So, select the best WooCommerce email marketing plugin based on your needs and boost your customer communication.