The Benefits of Customer Segmentation for Your Business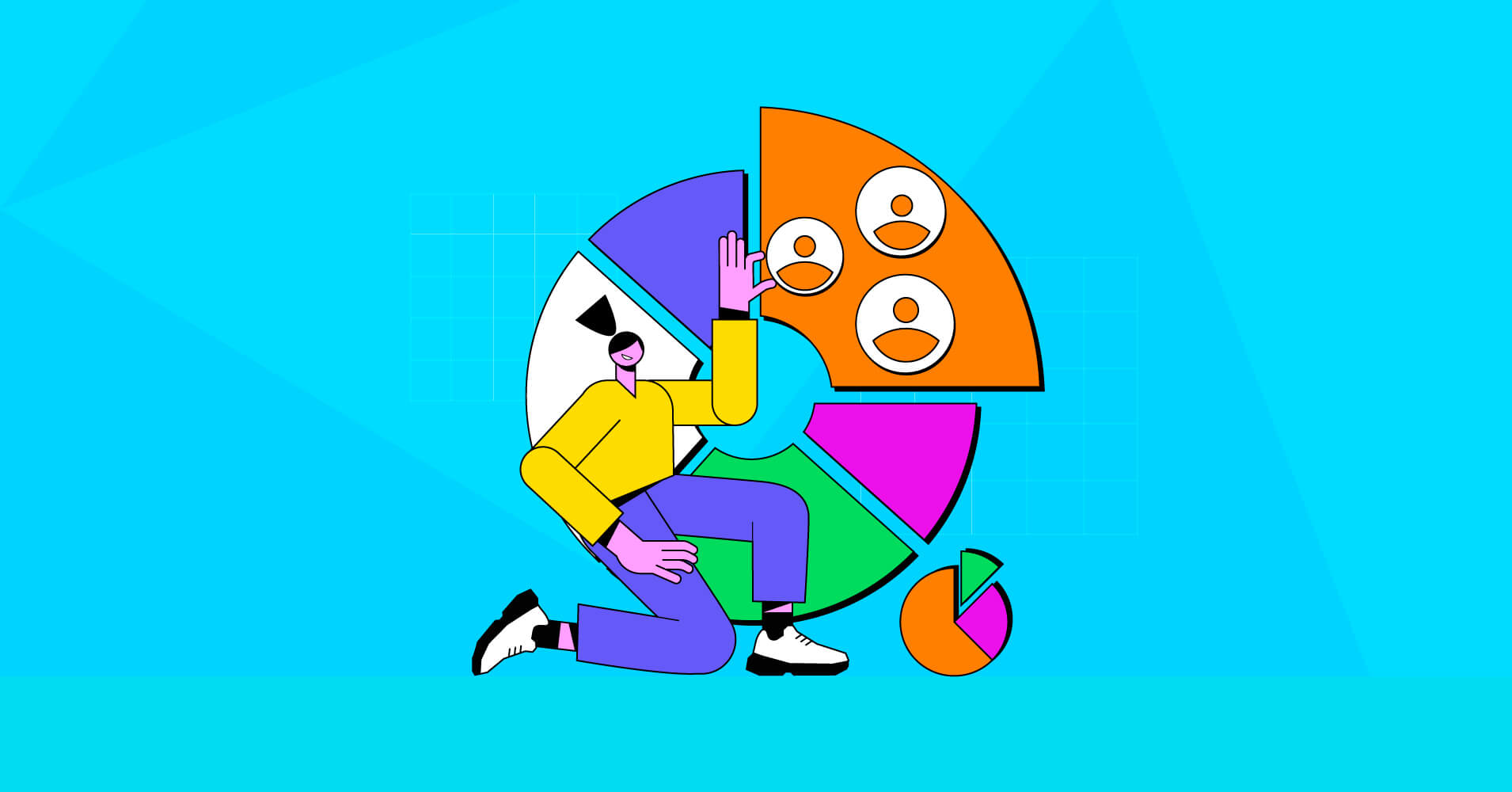 As your business grows, so does your customer database. But if you can't track who's buying what and what they might be interested in buying next, all your marketing efforts will go in vain!
This is where customer segmentation comes in. It's a lengthy task with a lot of possible effort. However, the results are worth all the hassle! In today's piece, we'll discuss customer segmentation's benefits and why you must prioritize it for your business.
But first, let's enlighten you about what customer segmentation really is!
What is customer segmentation?
As the name suggests, customer segmentation is the process of classifying your audiences, lists, or tags based on their age, gender, interactions, previous purchases, behaviors, preferences, etc.
Suppose you're running an e-commerce website and planning a special campaign for a specific product. But the problem is that you don't know which segment of your audience is interested in that particular campaign and which segment isn't.
Now, sending the same marketing email to everyone on your list is not a good practice. So, what can you do? —Well, a well-segmented customer database can help!
By segmenting your customers based on various data points, reaching particular audiences with personalized offers and product recommendations will become easier.
Types of customer segmentation
Now that you know what customer segmentation is let's go through the different types of customer segmentation methods you can apply into your customer database. Note that, these are only the most common segmentation methods. You can also combine them for better effect.
So here are some of the most common types of customer segmentation strategies:
Demographic segmentation: Segmenting users based on age, occupation, or gender falls under demographic segmentation. These are some of the most basic and important segmentation types.
Geographic segmentation: In an audience database, people can come from different cities, countries, and localities. And segmenting users based on such information is known as geographic segmentation.
Technographic segmentation: Segmenting audiences based on the apps, softwares, social media, and devices users use is called technographic segmentation. It helps you understand where bigger chunks of your database engage the most.
Behavioral Segmentation: This type of segmentation helps you make the best use of behavioral email marketing and run targeted marketing campaigns. You can segment your audience based on their actions, orders, spending habits, what they look for on your website, etc.
Psychographic segmentation: Understanding your customers' psychology is important, but what's more important is to be able to segment them accordingly. Segmenting users based on personal traits, attitudes or values is psychographic segmentation.
Top 5 benefits of customer segmentation
Safe to say, the benefits of customer segmentation go beyond selling more products and making more profit. Having a well-segmented customer database will not only help boost revenue but also improve your relationships with customers.
There are many more advantages of customer segmentation, and here are some of the most amazing ones:
1. Improved customer retention
From sending customer retention emails to running targeted marketing campaigns, people leave no stone unturned in retaining their existing customers. Customer retention costs way less than acquisition.
Yet, most businesses face a high customer churn. Why? —Because most businesses ignore the importance of contact segmentation and struggle to identify customers who are in limbo.
This can be avoided by applying effective customer segmentation techniques. If you've been segmenting your customer database from the beginning, it would be easier to identify the customers who haven't been engaging lately and those who have been.
With that, you can start applying various customer retention strategies, such as loyalty rewards, re-engagement discounts, etc., to boost customer retention!
2. Clarify the best way to run campaigns
Cross-selling and Upselling —familiar with these terms?
If you aren't, these are two excellent methods for selling additional products to your existing customers. While these are two very popular customer segmentation methods, you'll surely want to run other marketing campaigns to boost your sales and revenue. With a segmented customer database, you'll stay prepared to run various campaigns whenever you want!
Say you're in the fashion industry, and your company sells shoes, bags, and dresses. If you segment your audiences based on what they buy, you'll always have a list of customers who've brought a specific thing.
Utilizing the right customer segmentation techniques, you can also suggest people buy something they might already be interested in. For instance, you can suggest cooling pads if you have a list of customers who brought a laptop.
But if you don't have the contacts segmented, you might suggest a cooling pad to someone who has already bought one. However, they might find it handy to cool down their heads after receiving your repetitive marketing messages!
3. Helps build brand identity
Let's admit it, we all hate advertisements. Then again, there are some that we love to watch again and again!
Why? —Because we find those ads relevant and easily resonate with them.
However, no matter how hard you want your customers to fall in love with your ads, you're unlikely to succeed if your customer database isn't properly segmented. And you'll certainly struggle to connect with your audience in a more personalized way.
Remember, contact segmentation is the first step to sending personalizing advertisements, marketing campaigns, etc. And the more relevant people find you, the better identity you create as a brand.
4. Increases ROI and saves money on marketing
Let's put this straight. If you segment your customers, you'll be able to produce more relevant content and ads.
These will lead to what? —more sales, revenue, and ROI!
If your customer list is segmented, you can easily run a marketing campaign only targeting those potential customers interested in your particular product. This will cost you less money and bring better results. As simple as that!
5. Strengthens distribution channel
Maintaining the distribution channel is a massive hassle and keeps increasing proportionally with customer numbers. What, where, and when are three of the most important questions you must continuously answer to keep your distribution channels on the right track.
A well-segmented customer list will take that stress off your shoulder. Well, not just yours; your teammates and employees will also be relieved as they won't get confused about what to deliver to whom.
As a result, the overall efficiency will increase, and the chances of sending the wrong product to the wrong person will decrease drastically.
What marketing channels benefit most from customer segmentation?
Now, you know customer segmentation is important. But don't jump into any conclusion just yet! Before you start, you need enough data to segment your customers, which does not apply to all channels.
Here are some of the channels for which customer segmentation is essential.
Email Marketing
If you're going to send marketing emails, it's very important to segment your customers. You don't want to lose a customer by sending them repetitive emails. The success of email marketing mostly depends on how well you have segmented your contacts.

Marketing automation for WordPress
Get FluentCRM Now
By segmenting the contacts, you can develop personalized emails that your customers will find more relatable. You'll also be able to send customers offers, discounts, birthday wishes, product recommendations, etc., through your emails.
Pay-Per-Click Marketing
Pay-per-click marketing is literally the type of marketing where you invest money to get more sales in return. And most of your investments might go in vain if you don't segment your audience before starting your marketing campaigns.
Rather, you're more likely to succeed if you run PPC campaigns targeting a specific demographic group of audience.
Social media marketing
Social media marketing is the most happening channel of marketing these days. And though tons of people are regularly active on social media, that doesn't mean any marketing campaign will bring loads of customers for you.
Facebook, Instagram, and other big social platforms let people run ads and set demographic settings before publishing an ad. And if you don't segment the contacts before you start, you won't be able to reach your target audience.
Segmenting contacts before running an ad will increase your chances of being noticed by those interested in your business.
Conclusion
In this era of competition, there's no way a business can excel without customer segmentation. Without customer segmentation, you can't even retain your existing customers, let alone acquire new ones!
Thus, we suggest you start segmenting your customer database immediately and give your business a platform to expand and grow faster. To start off, you can check out a few email personalization techniques and start email marketing with precision!
We wish you all the best in growing your business with customer segmentation. If you have any questions or if you know any other ways customer segmentation can benefit a business, feel free to let us know in the comments section!
Cheers!