Free Tips, News & Tutorials Delivered to Your Inbox!
WooCommerce is one of the biggest e-commerce platforms for selling products online. And every successful e-commerce business depends on a well-planned email marketing strategy. In order to make your e-commerce business a success, you need to collect leads, segment your audience, and send them relevant, targeted emails.
Whether you have an established business on WooCommerce or you're just getting started, you need to have an email marketing strategy in place. So without further ado, let's start our journey with WooCommerce email marketing to skyrocket your revenue.
Email marketing for WooCommerce
There are several ways to boost your WooCommerce store's revenue with email marketing.
FluentCRM is the best WooCommerce email marketing plugin for WordPress. It lets you do all of them without leaving your WordPress dashboard. So first, install and activate FluentCRM now and let's get going!
*Note: This article includes several free automation recipes for FluentCRM. Some of the automation won't work unless you're using other automation funnels that connect the funnel together
Collecting leads for WooCommerce email marketing
Email marketing begins with collecting leads and building an email list. This can be done in several ways such as:
Encouraging people to join your email list.
Giving away lead magnets
Using pop up forms
And many more.
FluentCRM lets you create custom forms using Fluent Forms, elementor forms, and MailOptin. You can create and add those forms to relevant places on your website and collect leads easily. You can also check out this article for more tips on collecting leads faster.
Another easy way is to add a subscription checkbox to your WooCommerce checkout page. This will help you turn your customers into email subscribers as they are completing their purchases.
With FluentCRM, it's pretty easy to add an email subscription checkbox to your WooCommerce checkout page. Just go to the FluentCRM Settings, switch to the General Settings tab, and enable the Woocommerce Checkout Subscription Field.
This way, FluentCRM also generates comprehensive contact profiles that show you all the data of your contact, such as name, address, purchase history, etc.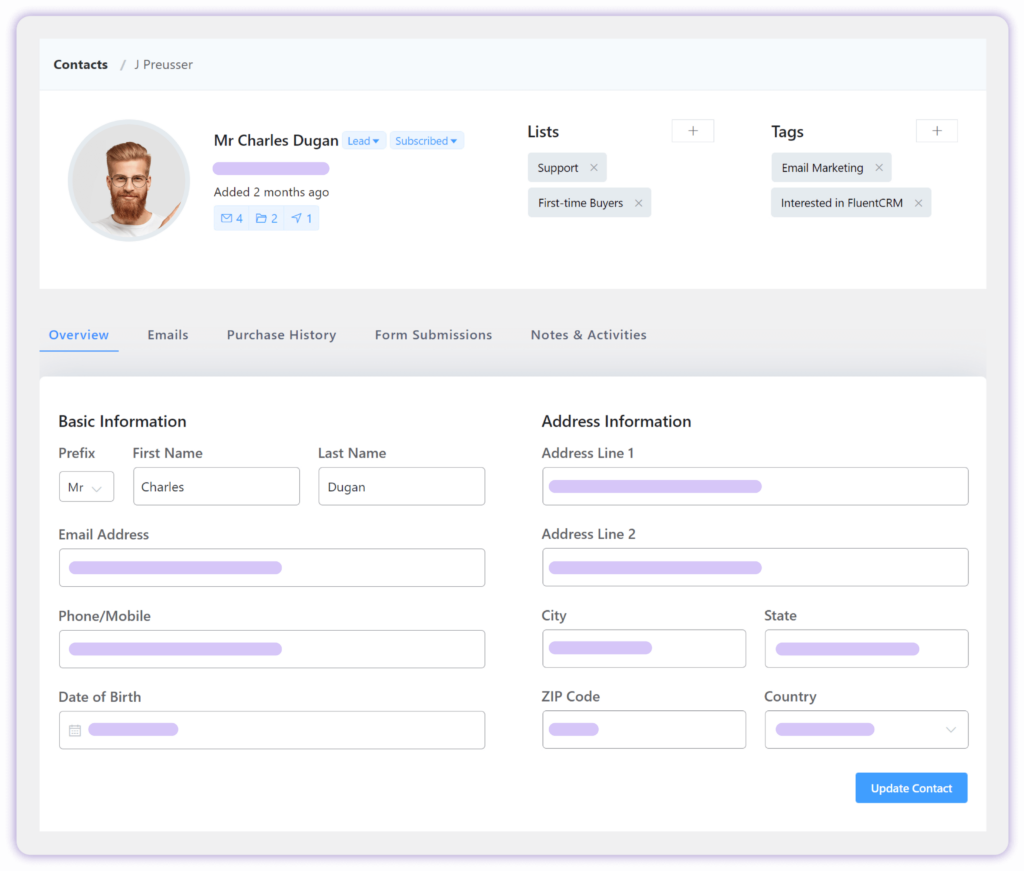 Segmenting WooCommerce contact list
Email personalization plays a significant role In today's email marketing scenario. It's vital to always reach your audience with relevant, targeted emails, and that's where contact segmentation comes in.
Although it is always recommended to segment your contact lists based on your business's needs, identifying your first-time buyers and returning buyers will always give you an edge in email marketing.
To identify your first-time buyers who also signed up for your emails, simply create a list on FluentCRM while you're enabling the WooCommerce subscription checkbox.
Another segmentation technique we suggest is to create straightforward automation that adds first-time buyers to your marketing, education, product, and notification lists so that you can let them manage email preferences.
It's also important to identify your returning buyers to understand who is most likely to grab marketing offers when you avail them. To do this, you can create another automation to identify your returning buyers:
It's hard to cover all the segments your business may need in a single article. So we'll come up with more on segmenting the WooCommerce contact list in the future. In the meantime, you can explore some personalization techniques to better segment your contact list.
Onboarding new WooCommerce customers
Customers are like invited guests to a party. If you receive and greet them well, they are more likely to stay with you. That's why it's extremely important to build a relationship with your customers from the beginning.
The best way to onboard your new customers is to send an email sequence that will be triggered upon your customer's first purchase.
It's also wise to have an onboarding email sequence for new subscribers who join your list. To do this, you can simply create a form triggered automation:
Automating behavioral emails for WooCommerce Customers
Behavioral emails are the heartbeat of your email marketing strategy. Since they get triggered based on how your customers reacted to a campaign, nothing gets as personalized as behavioral emails. Let's see how it works:
Suppose you have a new subscriber joining your contact list. In that case, you might want to offer a discount to make them buy your product.
It's necessary to dictate what happens after you make an offer. And that's where behavioral automation comes in.
When the customers buy, you can apply a tag. This will let you identify your BOFU (Bottom of the Funnel) contacts so that you can plan product launch sequences around them.
On the other hand, customers that don't buy are less likely to make a purchase. This is where you might want to increase your offer while also creating FOMO (Fear of Missing Out).
In the following automation, we've shown exactly how you can do it:
Upselling and cross-selling products
The more you sell, the more you make in revenue. Upselling is selling something more expensive, while cross-selling is the method of selling a different product. If you have more than one product, upselling/cross-selling is an excellent way to boost your revenue.
In either case, you need to offer a relevant product. For example, if you're selling laptops, you can cross-sell high-quality headphones.
The simplest upsell/cross-sell automation is to create a WooCommerce automation that triggers an email a few minutes after the purchase. However, you can also have complex automation for this purpose.
Dealing with product refunds
The truth is, it's not easy to sell products online. Making a sale always feels good. However, the reality isn't always smooth. If you're running a business, you might have to deal with refund requests.
In a world where the average customer acquisition cost for an e-commerce business is around $45, refund requests are heartbreaking. So if you run into a situation when you have to issue a refund, it's important to retain your customers. The best way to do this is to offer a discount on your customer's next purchase so that they keep coming back to your store for more.
Over to you
So that concludes our beginner's guide to WooCommerce email marketing. We have tried to give you some ideas and resources to get you started with automating your e-commerce store's email marketing game right away. But there's always more you can do with FluentCRM's WooCommerce integration.
In order to use the automation funnels we've provided, just download the automation, go to your FluentCRM dashboard>Automations, and click the Import button. Then select the automation file and follow on-screen instructions to start using the automation for your WooCommerce.
Note that some of the automation won't work unless you're using other automation funnels that connect the funnel together. In that case, feel free to leave your question in the comment box. If you liked the article, subscribe to our blog and follow us on Twitter.
Try Our Free Marketing Automation Plugin for WordPress!