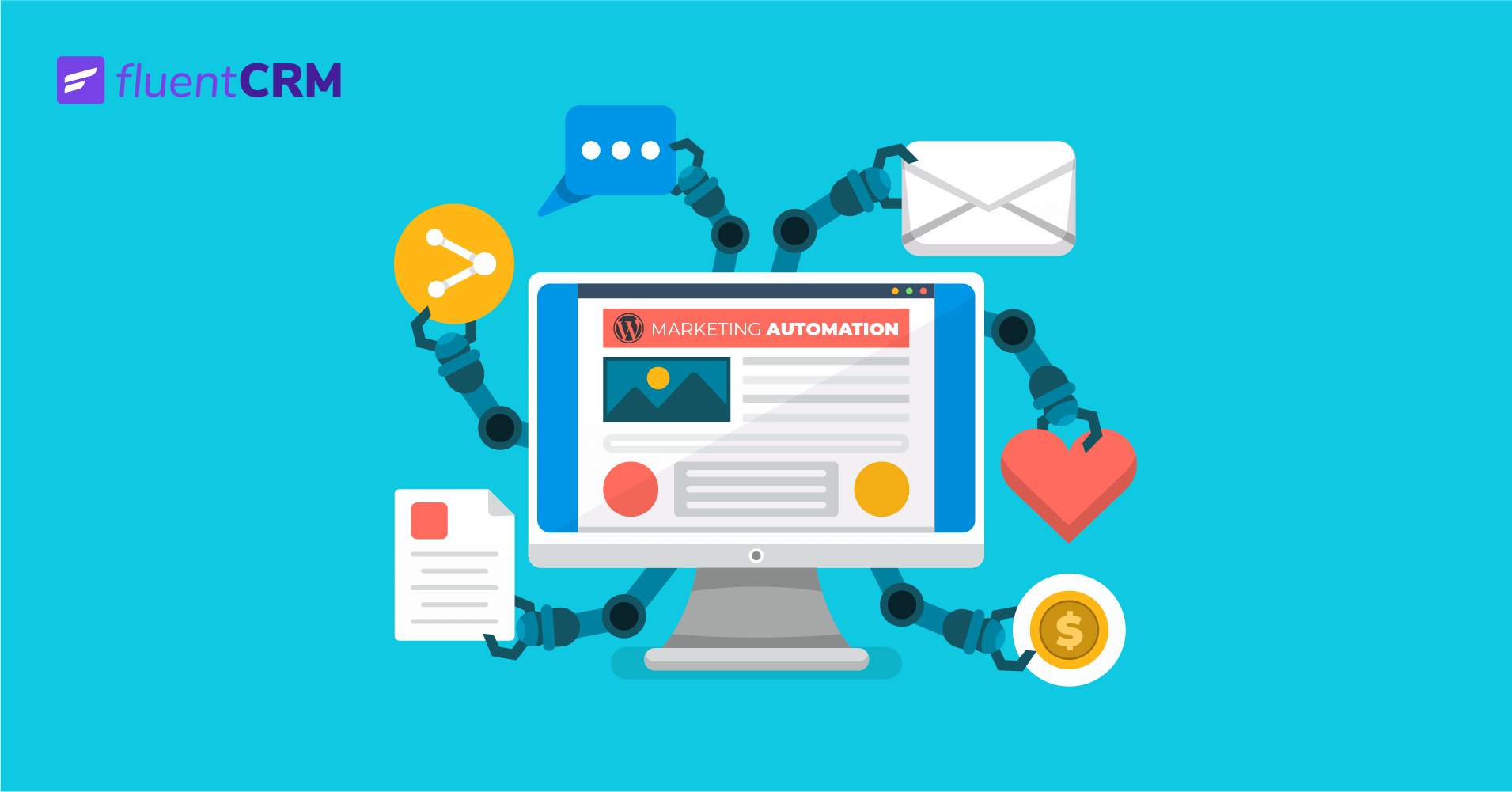 WordPress Marketing Automation: Introduction, Benefits and the Best Marketing Automation Plugins for WordPress
Free Tips, News & Tutorials Delivered to Your Inbox!
Marketing isn't about bombarding your prospects with one-time offers and discounts anymore. Identifying customer journeys and focusing on personalization and relevant messaging is more important than ever.
To better understand and personalize customer journeys, marketers collect relevant information from the audience, interpret them and automate regular marketing activities to create conversations on a mass scale.
We're talking about marketing automation because marketers have a wide range of WordPress marketing automation plugins to choose from – thanks to the massive collection of plugins in the WordPress repository.
So sit back and relax.
In this article, we'll reveal all about WordPress marketing automation and the best marketing automation plugins to use on your WordPress site.
Ready to find out all about WordPress marketing automation?
Let's begin!
What is WordPress marketing automation?
WordPress marketing automation is all about automating regular marketing tasks that you'd otherwise have to do manually on your WordPress site. This is similar to cloud-based marketing automation applications.
But if you manage your business on WordPress, marketing automation using WordPress plugins clearly gives you more automation options and is easier to set up and afford. Plus, you don't have to switch platforms to see your marketing data or to set up new automation.
Some of the examples of WordPress marketing automation include:
Creating forms to generate leads
Showing relevant product recommendations when users are browsing or buying products
Setting up chatbots for sending automated replays
Sending custom welcome emails and blog post notifications to users
The benefits of using WordPress marketing automation plugins
Let's get one thing straight; marketing has evolved. You can't expect improved outcomes doing things the old-fashioned way. It is super important to make time for improving your marketing strategy. And that's where WordPress marketing automation plugins come in.
WordPress marketing automation plugins handle repetitive tasks so that you can focus on personalization and conversion optimization. Some other benefits of WordPress marketing automation plugins are:
Saving time: Not to repeat this, WordPress marketing automation plugins automate regular marketing tasks – like sending a follow-up email after a customer buys a product from your Website.

This kind of automation ability minimizes the time required for some tasks that you'd otherwise do manually.
Cost reduction: You might disagree with this statement as most marketing automation plugins come with a premium version. But even when you spend money, you take out the hassle of hiring new teammates.

Not to mention that you can also get a lot of tasks done using the free versions of WordPress marketing automation plugins!
Access to marketing data: Data takes the guesswork out of marketing and provides valuable insights to businesses. Most marketing automation plugins generate lots of actionable data that marketers can utilize for increasing conversion rates.
Improves user experience: User experience plays a crucial role in today's marketing. With automation plugins, you can personalize several on-site and off-site elements to provide a better user experience.
Effective marketing campaigns: WordPress marketing automation plugins provide data and enable marketers to A/B test campaigns.

With actionable marketing data and A/B testing, marketers can launch highly targeted campaigns by filtering audiences. Hence, marketing campaigns become more productive and generate more revenue.
Multichannel marketing: Last but not least, WordPress marketing automation plugins let you connect with your audiences through various marketing channels such as email and social media.

This opens up the opportunity for a multichannel marketing experience so that you can know your customers and prospects for producing personalized customer experiences.
Aside from these, WordPress marketing automation plugins will also increase your and your team's efficiency and allow you to be creative. Hence, you should consider using WordPress marketing automation plugins.
14 best WordPress marketing automation plugins
WordPress marketing automation plugins come with several automation features to make your site's marketing easy. But most of these plugins serve specific purposes, and that's why we have categorized WordPress marketing automation plugins according to the purpose they serve.
So without wasting any more time, let's look at the best WordPress marketing automation plugins for specific use cases.
Email marketing automation Plugins
Email marketing serves your business unlike anything else in the world. Whether you want to bring back traffic or make sales through personalized and timely messages, email is the way to go.
As your business grows, you'll find yourself too busy to send out emails manually. And that's where email marketing automation comes in.
With WordPress email marketing automation plugins, you'll be able to:
Send out one-off email campaigns and automated newsletters to contacts
Set up automated emails based on user behavior
Create email marketing workflows to convert leads into customers
Build better customer relationships by offering relevant content
And many more!
1. FluentCRM

Despite being a new product, FluentCRM successfully replaced saas email marketing automation tools from WordPress. People are now choosing FluentCRM over some of the top marketing automation tools like MailChimp, Hubspot, ActiveCampaign, etc., and that shows how powerful FluentCRM is.
FluentCRM is a complete email marketing automation tool with some CRM functionality like detailed contact profiling and segmentation. It allows you to create forms, segment contact lists, set up email campaigns, email marketing automation funnels, and email sequences to send personalized, behavioral emails at different stages of your subscriber's journey.
You can also integrate FluentCRM with 20+ other WordPress plugins to automate emails based on various plugin-specific actions.
For example, when a customer purchases products from your WooCommerce store, you can send an automated upsell email or assign tags to segment your email list for later use. That said, FluentCRM can be your go-to email marketing solution for WordPress.
2. MailPoet

MailPoet is one of the oldest email plugins for WordPress. Although it was primarily designed to send automated email notifications and newsletters, MailPoet now offers many email marketing automation functionalities.
MailPoet comes with a dedicated form builder and email sending service. It also allows for audience segmentation, email campaigns, and behavioral email marketing. You can also automate some email marketing tasks based on various customer activities in WooCommerce. 
With some popular features such as built-in email templates, abandoned cart recovery, and WooCommerce email customizer, MailPoet makes a quality tool for small to medium businesses.
Form builder automation
Form builder plugins usually allow you to collect data. But they also help you automate a few things, such as:
Integrating with other platforms for exchanging data
Generating reports and analytics from collected responses
Automating email notifications
Let's look at some of the best form plugins for carrying out marketing automation duties.
3. Fluent Forms

Fluent Forms is the fastest form builder plugin with only around 40 KB asset load. It allows you to create payment forms, conversational forms, user registration forms, step forms, and many more in minutes. With 45+ input fields, it practically makes form building a breeze.
Coming to the automation part, Fluent Forms comes with 60+ pre-built forms for a one-click form building experience. It integrates with 40+ marketing automation, email marketing, CRM, and SMS automation platforms for data exchanging, email automation, and SMS notification.
The plugin is also capable of showing response reports and analytics. Also, you'll be able to send both simple and conditional-logic-based email notifications with it. All in all, Fluent Forms is a pretty robust tool to have in your arsenal.
Sales automation Plugins
Sales automation plugins allow you to create high converting landing pages, checkout pages, and more. The three primary goals of sales automation plugins are:
Converting visitors into paying customers
Upselling/cross-selling more items
Reducing cart abandonment
Apart from that, they also let you create high-converting sales campaigns, A/B test results and show analytics of your website's sales process.
4. CartFlows

CartFlows is the most complete sales funnel builder plugin for WordPress. It comes with ready landing page templates to get you started within a few minutes. Once you've done so, you can add various sales funnels such as upsell, cross-sell, order bump, etc., to optimize the sales or lead conversion process.
CartFlows also works with almost every page builder, which means you can build landing pages, sales pages, and checkout pages in whatever way you want. It also lets you add custom thank you pages where you'll be able to add more products for upselling and cross-selling.
Not only that, you can A/B test your pages and view full reports and analytics to determine what's working and what's not.
Additionally, Cartflows integrates with many WordPress plugins, CRMs, web tools, and payment gateways – making it the number one choice for optimizing your website's sales process.
5. OptimizePress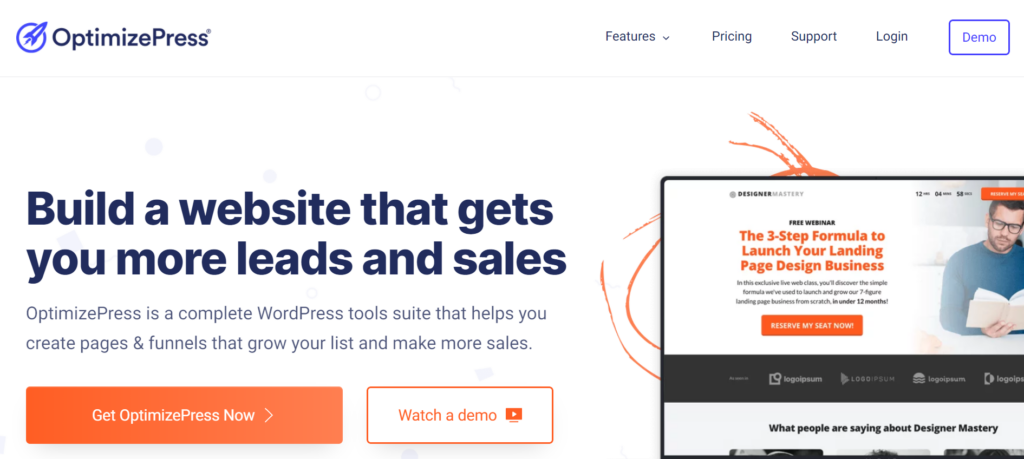 OptimizePress is another excellent option if you want to create buttery smooth sales funnels, launch funnels, webinar funnels, and list-building funnels. With OptimizePress, you can create different types of pages for increasing email subscriptions and delivering relevant content. And, of course, for optimizing your website's sales process!
OptimizePress comes with 100+ pre-built templates to cover almost every business. You can also edit every aspect of those pages through the plugin's point-and-click interface to create various sales and marketing strategies with ease.
Like CartFlows, OptimizePress also integrates with many payment gateways, CRM, email marketing, and web applications. Means you can't go wrong with either!
Automator plugins
Simply put, Automator plugins can automate almost everything in WordPress without writing a single line of code. There's simply no limit to how much you can automate because this kind of plugin integrates with almost everything.
A few examples of automation using Automator plugins can be:
If a customer purchases a product in WooCommerce, assign a tag in MailChimp.
If someone submits a form in Contact Form 7, create a contact in FluentCRM.
If a student didn't complete a course, restrict them from accessing another course.
Automating such tasks will make marketing easier and more efficient. That's why you should consider getting an Automator plugin.
7. WPFusion

WPFusion primarily integrates with 40+ marketing automation platforms and CRMs to exchange data and make actions. It integrates with almost every popular WordPress plugin to create contact profiles, restrict access to site content, and track visitor activity.
You can also automatically synchronize WordPress user data in your CRM and apply tags when users register on your website for free.
The pro version comes with more benefits, such as enhanced e-commerce automation, abandoned cart tracking, and some add-ons to make automation easier.
8. Uncanny Automator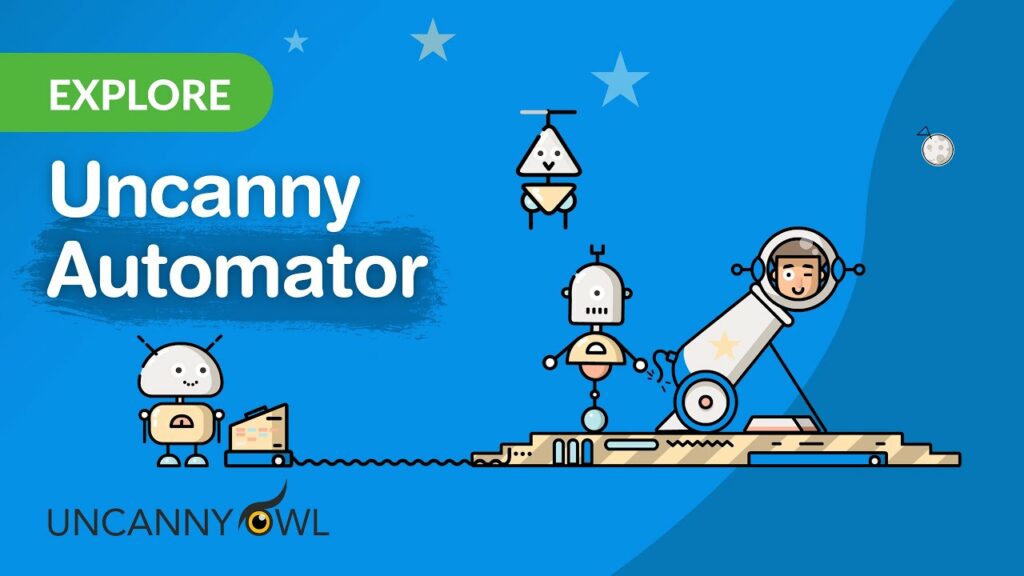 Uncanny Automator is another market-leading plugin that integrates with over 50 WordPress plugins and external platforms. This plugin lets you create automated workflows and conditions through its visual funnel builder for creating beautiful automation recipes.
With Uncanny Automator, you can turn your free form plugins into WordPress user registration forms, share and synchronize data between multiple websites, and more.
Uncanny Automator's interface would be familiar to you if you have used cloud automation platforms like Zapier before. However, it makes the integration and workflow building process relatively easier as it works within WordPress.
Besides, there's no cost for the number of tasks you'll automate. Although the pro version comes with more integrations and automation options, the free version isn't bad either.
Blog and content automation plugins
Although there are very few tools that can actually produce content for you, there are plugins that help automate some aspects of blogging and content marketing. They help publish content easier and faster and suggest various things to help you with blogging.
9. SEOPress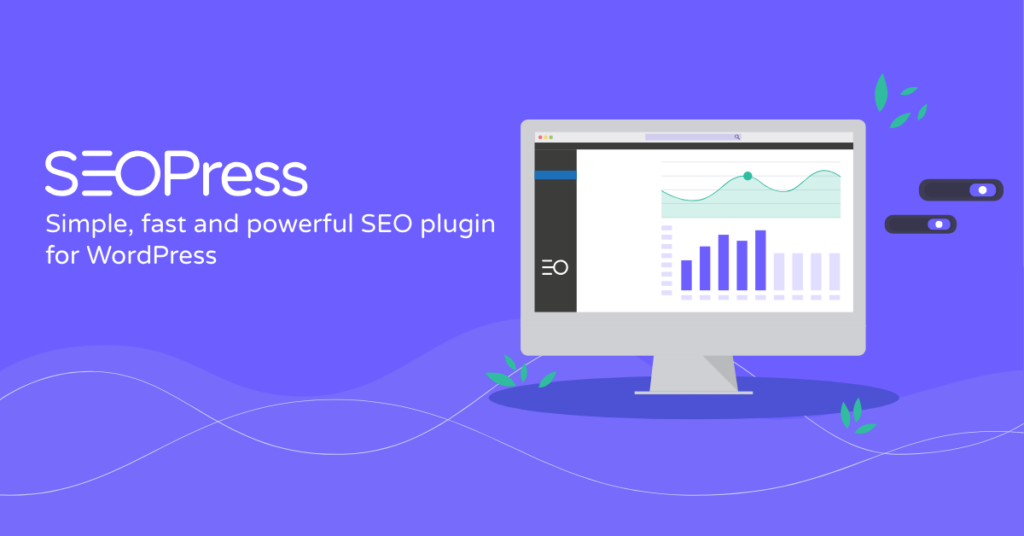 Most bloggers are highly focused on SEO, and that's where SEOPress comes in. Simply put, SEOPress helps optimize your content for search engines so that you can rank higher on Google. It shows automated suggestions to fix various content aspects such as keyword optimization, keyword suggestion, interlinking, etc.
With SEOPress, you can also generate XML sitemaps, apply Schema markups, create redirect conditions, and many more. If you want to rank high on Google, SEOPress is surely one of the first plugins you should install on your website.
10. Smush

Smush is the best image optimization plugin for WordPress. As you create more content, it's very likely that you'll also add a lot of images. More images add to your website's loading time, and your website becomes slow.
Smush automatically compresses your images for optimized load time and lets you resize, lazyload, bulk optimize, etc. With Smush, you can stay assured about image optimization and page speed without ever doing it manually.
11. Ninja Tables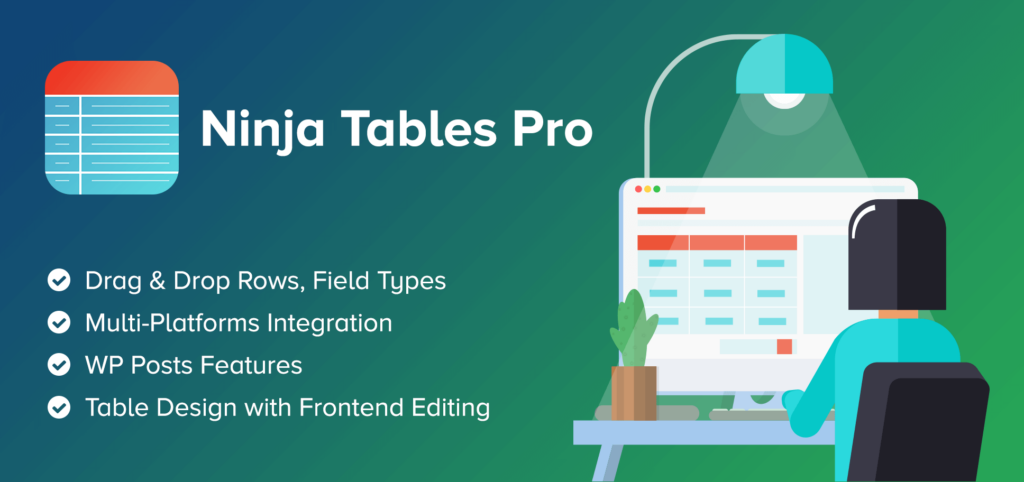 Ninja Tables is the best WordPress table plugin in the market. Although it was primarily designed to create WordPress tables with ease, it integrates with Google Sheets, WordPress posts, and Fluent Forms for great content automation functionality.
With Ninja Tables, you can import thousands of Google Sheets data, Fluent Forms data, and WordPress posts into a table in seconds. This makes Ninja Tables an excellent choice for content creators all over the world. Once set, you'll never have to manually bring in form data, Google Sheet data, or WordPress posts.
Social media automation plugins
Social media has become one of the prominent marketing platforms in recent years. Although social media marketing is mostly about paying the platform to get things done, you can use social media automation plugins to drive traffic and set up autoresponders.
12. WP Chatbot by MobileMonkey

WP Chatbot is a chatbot plugin that seamlessly integrates with Facebook messenger. With WP-Chatbot, you can set up automated replies on Facebook and track replies in a unified inbox. The integration process is relatively simple and requires no technical expertise, making it easy to dramatically improve your business's number of highly engaged leads.
13. Blog2Social

Blog2Social is an auto-post and scheduler plugin for WordPress. It allows you to auto-post, schedule, and automatically share blog posts to social platforms such as Facebook, Twitter, Linkedin, Instagram, Pinterest, etc.
While posting, you can personalize your posts with custom comments, hashtags, emojis, and many more. In addition, you can also auto-share old posts and view all your social posts within WordPress!
14. WP Social Ninja

WP Social Ninja is a surprise inclusion on this list. This plugin has created a real buzz in the WordPress community because of its dynamic set of features. It solves three of your marketing automation problems – social chats, social feeds, and social reviews!
👉 Read our full WP Social Ninja review!
WP Social Ninja integrates with social platforms like Facebook, Twitter, Instagram, Youtube, Whatsapp, and Telegram to let users chat and import social feeds and reviews. It also integrates with YELP, Booking.com, TripAdvisor, Amazon, Airbnb, and Google for the same purpose. With this kind of automation, you can use social media to improve conversion without writing a single line of code!
Wrapping up
To say the least, automation can improve a marketer's efficiency by at least 200-300%. If you consider the importance of conversion rate optimization and marketing strategy, automation is a life-saver for any marketer.
Marketers love automation, and so do we. We ourselves are using a few of the plugins mentioned above. Which automation plugins are you using? And how are they helping you automate your day-to-day marketing tasks? Feel free to share them in the comments!
Try Our Free Marketing Automation Plugin for WordPress!