Spooktacular Halloween Email Marketing Ideas and Inspirations for Maximum Conversion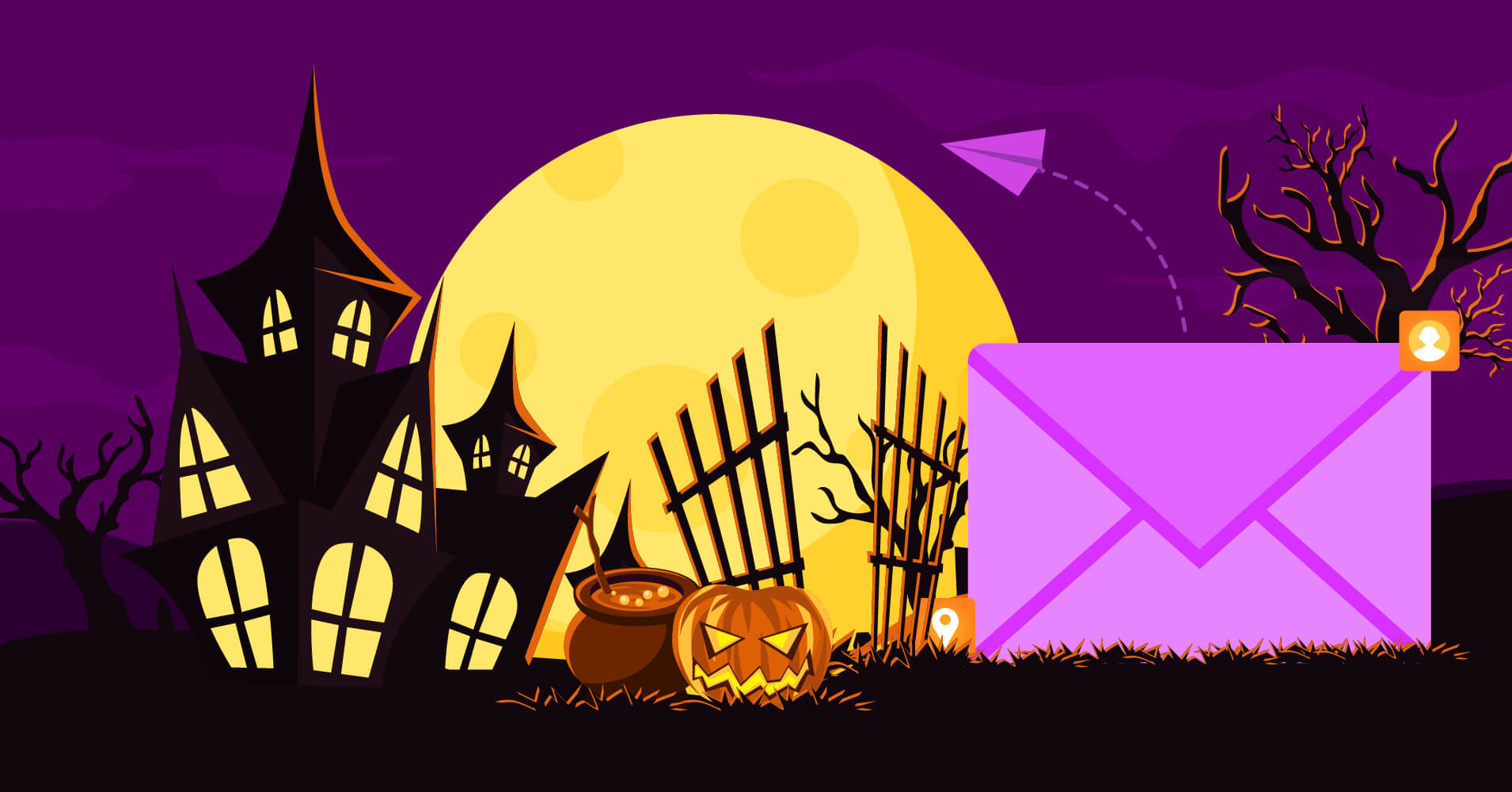 Trick or treat? Tools or tips?
Yes, it's that time of the year again!
Halloween is just a few weeks away, and for millions of people, it is time to get festive with spooky costumes, buckets of candies, Jack-o'-Lanterns, scary stories, and haunted houses. For email marketers, it's an opportunity to conduct a wickedly festive email marketing campaign!
Why?
According to Statista, consumers in the United States expected to spend over ten billion U.S. dollars for the Halloween season. The average spending per person was also considerably higher than earlier. The numbers are expected to increase in 2022.
Email marketing is the best way to rack up sales during Halloween. However, marketers often run out of ideas during festive seasons.
If you're also struggling, don't worry. We're here with some inspirations, ideas, and examples to help you plan and orchestrate a spooktacular Halloween email marketing campaign!
Let's start with the ideas!
6 spooky Halloween email marketing ideas to boost conversion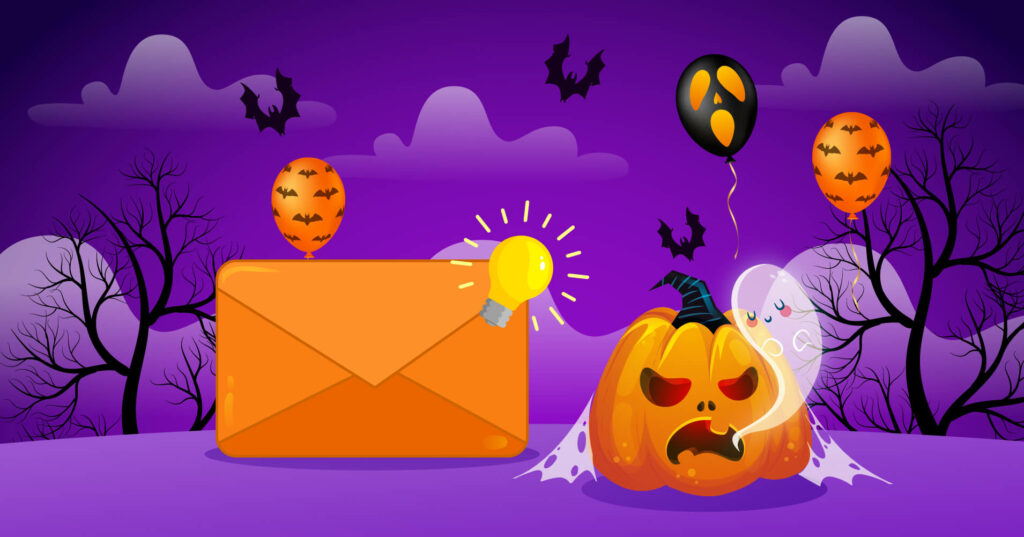 Halloween is an excellent chance to earn all kinds of treats through email marketing. However, pulling off a fiendishly festive Halloween email campaign can be tricky. The ideal way to approach your Halloween campaign is to generate creative ideas for emails.
If you're stuck, check out the below email ideas:
Create suspense with a teaser email
Most marketers plan and approach festive sales seasons as early as possible. Chances are that your competitors also plan to send out their emails early. So if you wait, you risk letting your customers decide to spend their money elsewhere.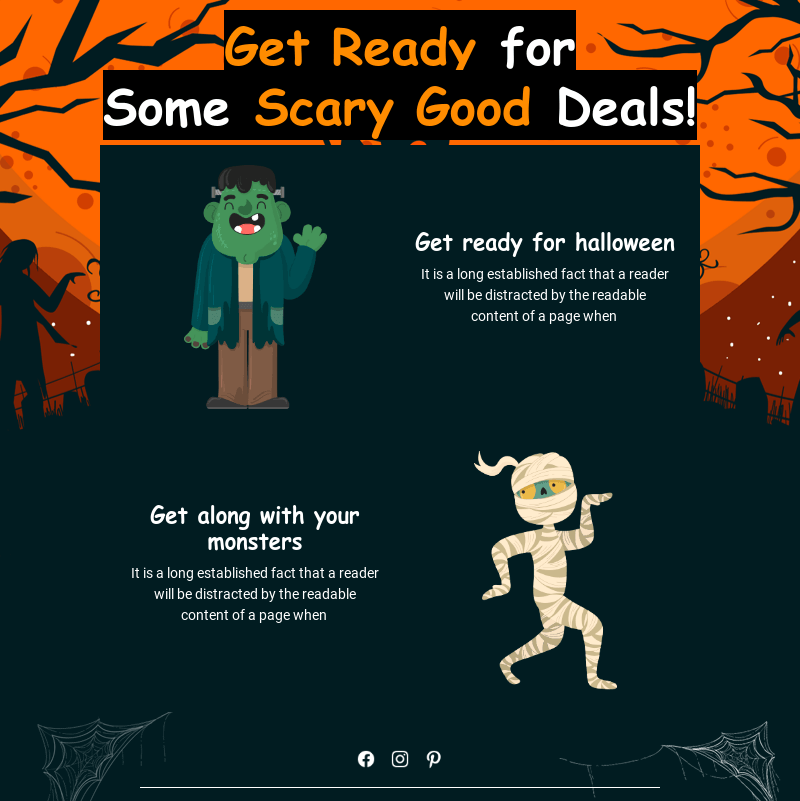 Early October is when people start discussing Halloween and creating holiday plans. Hence, it's a good opportunity to inform customers that your Halloween sales campaign is coming up and create hype around it by sending a teaser email.
It can be as simple as saying, "So What Will It Be? Trick or Treat?" or "Are You Ready To Get Spooky?"
Announce your sales campaign
Sending a teaser email helps amplify the anticipation among your customers and lays the foundation for a solid Halloween email marketing campaign. So don't keep your customers hanging, announce your sales campaign early and let them know what you're offering.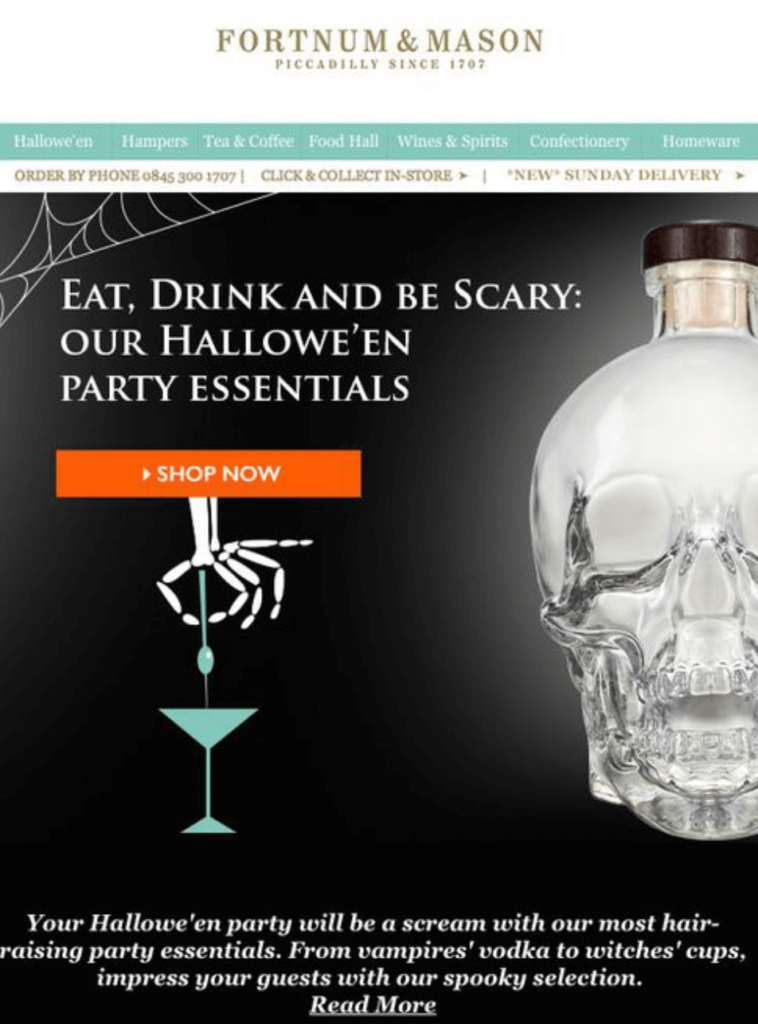 While announcing your sales campaign, you can also utilize gamification. For example, instead of simply telling them how much discount they can get, you can ask them to reveal their deal by visiting your website.
People are more inclined toward mystery than a straightforward offer during sales seasons such as Halloween. Customers find this kind of email interesting and, thus, will engage with them more.
Remind customers about your sale
Though your sales campaigns will likely get more opens and clicks due to the teaser email you've sent, some customers simply won't be tempted at your first attempt. We recommend reminding customers about your sales campaign at least once.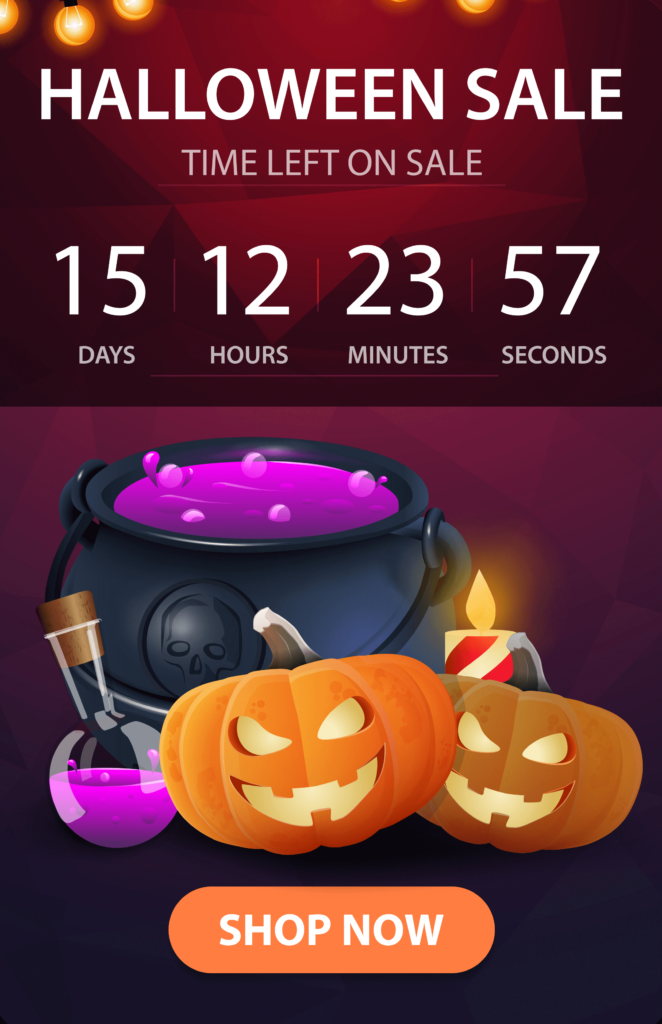 While a reminder email may not get as much traction as your first email, it can draw some people who didn't notice your first email.
Utilize FOMO tactics
FOMO(Fear of missing out) is a popular psychological strategy to boost sales and conversion. Marketers often offer limited-time-only deals to persuade customers into making buying decisions.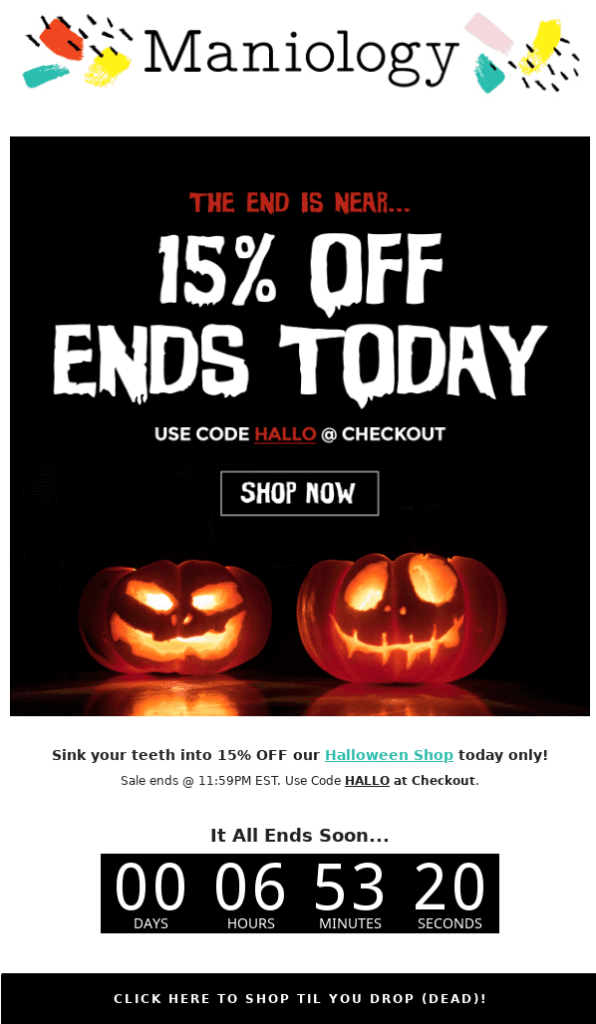 You can also utilize this tactic in your Halloween email marketing strategy by sending an email a couple of days before your sale campaign ends. The email will create urgency and encourage customers to purchase your product as soon as possible.
Send a final call email
Of course, your Halloween sales campaign can't run forever. However, that shouldn't discourage you from maximizing your revenue potential. So hours before your sale ends, we recommend sending a final call email.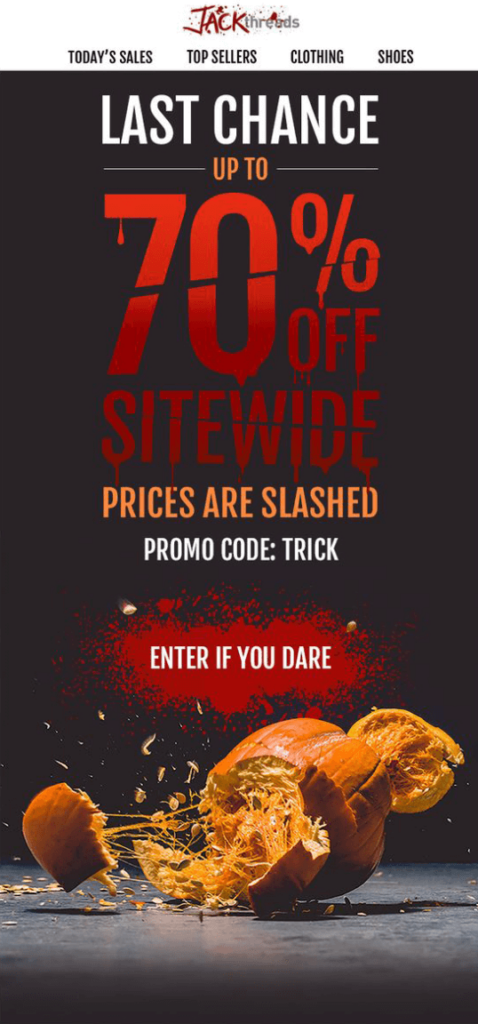 A final call email should convey that your campaign ends soon, and customers should act fast if they are still looking to shop. This clever move will likely attract not only Halloween shoppers but also those who want to purchase a few items later.
Announce the end of the sale
While it's true that a Halloween email campaign is primarily aimed at making revenue, email marketing isn't just about selling products. Building relationships with customers is also a priority.
So don't think your job is done when your sale ends; send a sale end announcement to wrap up your Halloween campaign!
The ideal way to do so is to send an email expressing your gratitude to customers who participated(and even who didn't)! This email will give your Halloween email marketing campaign a nice final touch and keep the customers happy and engaged with your brand.
Halloween email writing ideas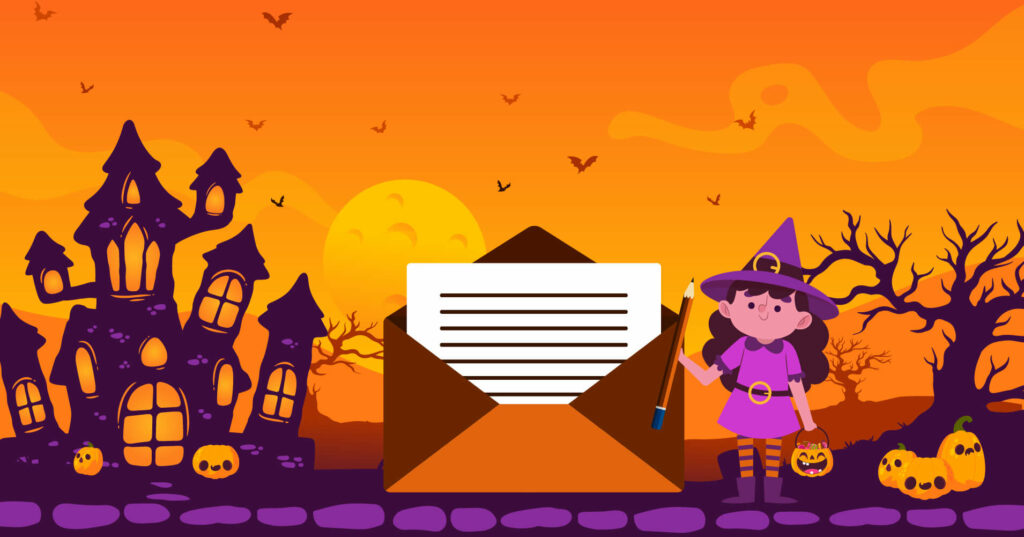 Having a strategy will give you a tactical advantage over your competitors. However, it's hard to convert your audience without a great email copy. In order to grab your customer's attention and draw them into making your desired action, you need to write some fiendishly festive Halloween emails.
If you're running out of ideas, here are some tips to follow:
Write spooktacular subject lines
You won't be the only one knocking on your customer's door during Halloween. A spooktacular subject line can set your emails apart from the crowd!
Halloween itself is an opportunity to showcase your creativity. Try to be playful and humorous. Your email subject line should convey what's inside and what your audience can expect; mysterious subject lines can work well too.
Before broadcasting your emails, play with your subject lines and run an A/B test. With the right subject line, getting more email opens will be a child's play!
Here are a few subject line examples for inspiration:
What's new, pumpkin?
Boo! A Halloween treat for you!
Planning a Halloween cat eye?
You can still be a unicorn!
Enter, if you dare, to see your mystery sale.
Down to Clown🤡? Get this spooktacular Halloween look!
Bag of tricks – Everything you need for a last-minute Halloween party!
Don't be haunted by bargains you missed!
Use Halloween-themed email templates
Right from the moment your recipients open your email, you need to create a Happy Halloween vibe within your email templates. What's the best way to say Happy Halloween? — using a Halloween-themed email template!
Be playful with the color scheme and design, and stay open to using scary typography. While the black-orange color scheme can add a festive touch, other color schemes like black and white can work well too.
It's all about producing that spooky feeling to make your recipients interested in clicking your CTA!
Incorporate Halloween puns and humor
Halloween isn't just the best time to get creative but also fun, mysterious, puny, and snappy! Don't sound like you're in your recipient's inbox to sell products. Instead, aim to entertain them with your copy.
When you're writing the email, aim to splash a sense of fun in the customer's jam-packed inbox. Sound natural and humorous; Don't be afraid to be mysterious and scary!
Include scary visuals
Visuals are one of the key components of Halloween emails. Images, emojis, gifs, etc., can add that extra flair to your email body that grasps your audience's attention and engages them with your brand.
Make sure to add some scary visuals to your Halloween emails. Add spooky images, gifs, and emojis that fit your brand and the Halloween theme, and make visuals do the talking on your behalf!
5 best Halloween email marketing examples for inspiration
You know what kind of emails to send. You know what kind of email copies to write. Now you may need some inspiration. Let's look at some of the best Halloween emails that generated maximum engagement!
Halloween sales teaser from J. Crew Factory
This teaser from J. Crew Factory is the perfect example of how to create hype around your Halloween sales. By asking a simple "Trick or Treat" question, J. Crew Factory informed its audience that a sale was coming up and the recipient should get ready.
Halloween-themed email from KEURIG
Halloween email writing can be effective if you can use creativity to align your brand with the scary theme. By reaching out to people with the fear of running out of coffee, KEURIG has done that perfectly! They have also added a few spiders to create a naturally scary ambiance.
Halloween sales announcement from Look.com
This email from Look.com is a great example of how to announce your Halloween sales campaign. No filler, no fluff; simply announce your Halloween email highlighting your offering and align the template with the holiday theme by incorporating a gray-black-orange color scheme and scary visuals.
Gamified Halloween email from New Look
Just as we mentioned, a little gamification can strike curiosity, and this email from New Look does exactly that. They asked "Trick or Treat" and created different CTA buttons for each element —inviting people to find out what's behind the door!
Final call email from J.Crew Factory
Here's another email from J.Crew Factory. This email incorporates pumpkins, something that's directly related to Halloween. On the other hand, by informing the audience about their improved discount and creating FOMO around the sale by calling it "Final Sale Styles," J.Crew Factory nailed the opportunity to boost their sales!
Wrapping up
Seasonal sales are a great way to boost your sales and revenue, and Halloween is no different. It's clearly one of the biggest sales events of the year, and businesses should use this opportunity to boost sales.

Marketing automation for WordPress
Get FluentCRM Now
Email marketing often turns out to be the primary channel for Halloween marketing. Hopefully, with our Halloween email marketing tips and inspirations, you'll be able to reap the benefits of the holiday season and boost your revenue.
Which emails are you planning to send during Halloween? How do they align with your marketing strategy?
Let us know in the comments section!