7 Proven Black Friday Emails and Tips to Boost Your Holiday Sales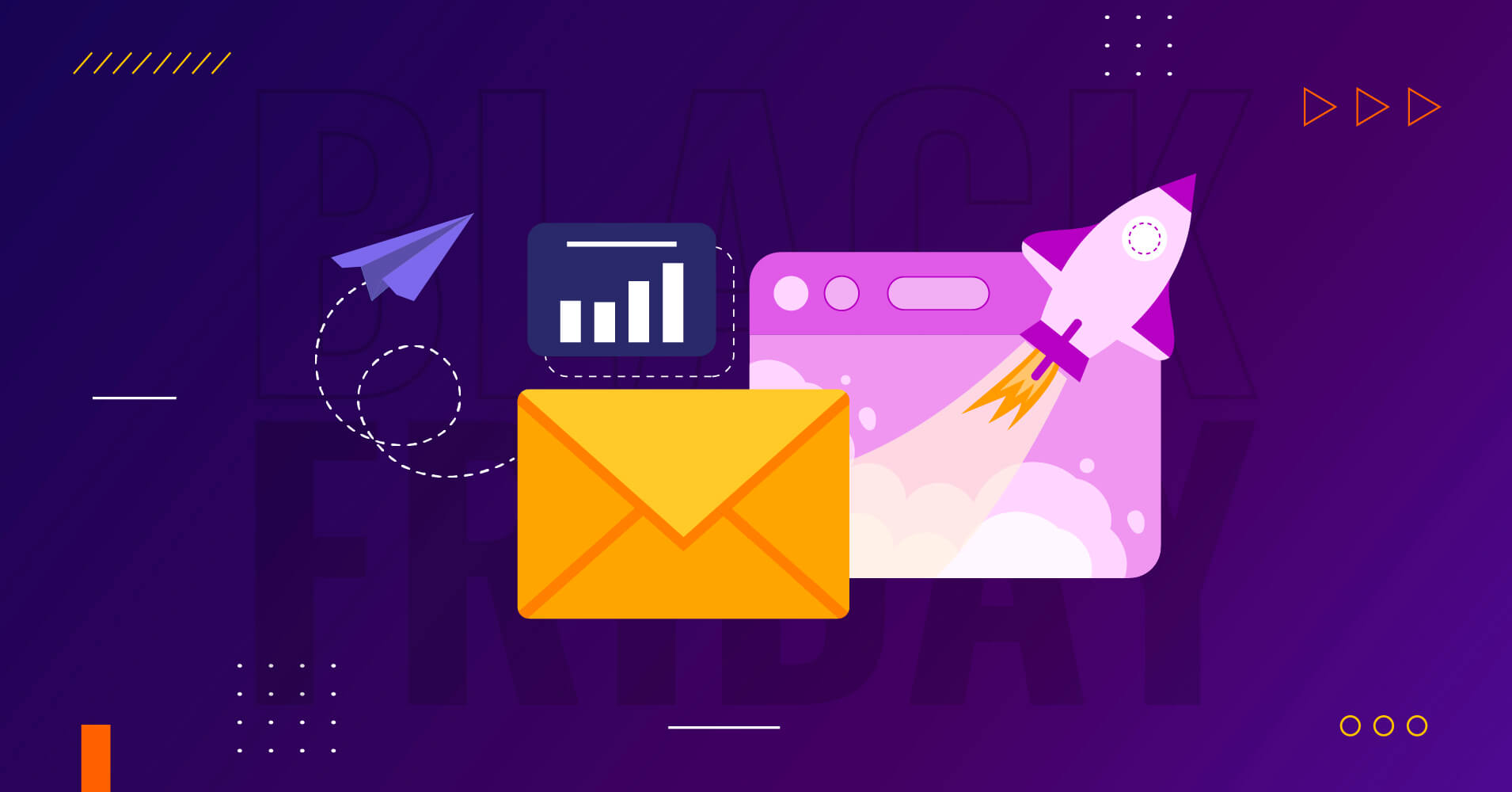 Black Friday is undoubtedly one of the biggest blowout shopping days of the year. It's the time of the year when e-commerce brands try to maximize their holiday revenue. Chances are that you're already trying to come up with your unique Black Friday marketing ideas. And if you are, you'll surely prioritize email marketing over anything else!
As an e-commerce business owner, you're probably aiming to stand out among the fierce competition with a Black Friday email marketing strategy. However, doing so isn't going to be a walk in the park. In order to stand out among the crowd, you need to come up with something killer!
Don't know how?
The key to running an effective Black Friday email campaign is simple:
Take inspiration from successful campaigns of the past
Craft unique and engaging emails
Make sure to stick to the basics
Avoid overdoing anything!
If you didn't know which Black Friday emails have worked in the past, you're in the right place. Here we'll share some of the best Black Friday emails that generated wonderful results previously and analyze why they worked. We'll also share some tips regarding Black Friday email marketing so you can be fully prepared for the year's biggest sales event!
Let's start with some intriguing Black Friday facts!
Black Friday: The peak sales period of the year
Black Friday is considered the biggest sales campaign of the year, and that's not an exaggeration. According to NRF, 2021 retail holiday sales grew 14.1% to $886.7 Billion.
Nearly 180 Million shoppers were active during the Thanksgiving holiday weekend, of which 127.8 Million shopped online. Here are some other Black Friday statistics to know in 2022:
88 Million shoppers shopped online on Black Friday alone (NRF)
American shoppers spent $8.9 Billion online on Black Friday 2021 (Adobe)
Consumers were more engaged with emails from retailers during the holiday shopping season, increasing email open rates by 6% and click-through rates by 4% (Adobe)
Retailers saw a 50% revenue increase by offering an in-store pickup option(NRF)
Black Friday 2022 will surely exceed these numbers if the trends are anything to go by. Needless to say, most of these sales came through direct emails. So if you haven't thought about an email marketing strategy for Black Friday 2022 yet, rush into it now!
7 best Black Friday email examples
Due to the fierce e-commerce competition during Black Friday, your regular marketing emails won't cut it. In order to clinch more email opens and product sales, you need to produce an email that stands out, engages people with your brand, and drives them into clicking your CTA.
However, ensuring both creativity and effectiveness isn't an easy chore. Therefore, we're here with the anatomy of the best Black Friday emails. Let's see why they worked and what could have been better so you can compose Black Friday emails that work!
1. Early Black Friday email from Tease
Since Black Friday promises a blowout sale, people tend to hold onto their money —especially before the sale begins.
However, you can squeeze some cash off these customers if you're intelligent enough. Why? Because your audience won't be as busy as they would be during the hot Black Friday weekend!
A wellness brand, Tease, understood this opportunity well and sent an early discount email before the occasional sales began.
Subject Line: Black Friday Came EARLY ⏰
What this email does best
This email from Tease is a wonderful example of how to put your intelligence into an email. Their subject line tells the audience just what it should be, "Black Friday Came Early!"
Once you open the email, the first thing you notice is the beautiful email template Tease used to convey its message. The email incorporates graphics that align with their brand and a copy that says what you get!
But what makes this email intelligent is how Tease creates urgency using excellent FOMO techniques. The section tells the audience that it's their only sale of the year and incorporates a countdown timer for more urgency.
By doing so, they've surely managed to trigger people into making a decision even if they were holding on for the Black Friday shopping window.
What this email could have done better
Tease focused on creating urgency with their email. However, they were aggressive with the countdown timer, making the overall email look pushy and salesy. The email is also graphics-heavy. 1 out of 3 people has their images turned off, meaning 66% of the recipients may not like this email.
2. Black Friday teaser email from Tinker Watches
Although most e-commerce brands launch sales campaigns on Black Friday weekend, some also launch new products.
What's the best way to create excitement around both?
Yes, you guessed it right —A teaser email!
A teaser email builds anticipation around sales campaigns like a movie trailer builds hype around a blockbuster movie!
Tinker Watches sells high-quality, minimal watches. When they decided to launch a new watch on Black Friday, they started off well with this teaser email below:
Subject Line: Something New is Coming on Black Friday ⌚
What this email does best
A great teaser email deserves a great subject line, and Tinker Watches nailed it! Their subject line instantly generates curiosity and makes people wonder what's coming. Plus, the black watch emoji hints at the upcoming product while also fitting the Black Friday theme!
Since this is a teaser for an upcoming product, Tinker Watches used a simple and elegant email design. The black and white background aligns with the occasion and provides excellent font visibility. Similarly, the image perfectly fits the mystery of a new product!
Finally, Tinker Watches wrote a compelling copy that starts with the countdown for something special at the beginning of their email and wraps it up nicely by telling you to visit the website on Black Friday. Again, their words, such as "unveil" and "keep an eye out" kept the mysterious vibe and teased the audience about the upcoming product.
What this email could have done better
Everything about this email is solid other than the copy. The most important information should be at the top. However, Tinker Watches drags that info at the bottom of the email.
3. Black Friday sale announcement email from BB Dakota
Black Friday may invite your inner goth out in your email designs. However, that's definitely not the only way to go. Ask yourself:
Does your brand align with the black background?
Does your copy read well against black?
Is black the only color you think about for a Black Friday email design?
If your answer to these questions is a "no," check out this email from BB Dakota:
Subject Line: TGIBF: TAKE 50% OFF
What this email does best
This email from BB Dakota is a classic example of how to think outside the box. Due to the massive number of Black Friday emails they receive, people can get tired of seeing the same old black-white, black-gold, and black-white-red backgrounds. BB Dakota takes them out of the maze by using a pink background.
The best part? —They managed to make the email Black Friday-friendly with clever use of graphics and font color.
Since it's Black Friday, you won't wonder why the girl in the image is wearing a black dress. But you'll surely wonder what flavor black cone ice cream is. And once you notice the massive "50% OFF", you'll easily be drawn into clicking the well-placed CTA!
What this email could have done better
Nothing! The way they pulled off everything is perfect!
BB Dakota has shown exactly how to pull off a Black Friday email without causing any disturbance to their brand. Their use of a pink background aligns with their audience and the overall email makes their audience want to shop during their Black Friday campaign.
4. Black Friday discount email from Casper
What's the best way to approach your customers? —Address their pain points and offer them a personalized solution!
However, it isn't easy to personalize emails when your email is about a Black Friday sale or discount because you have to focus on both. Casper, a mattress brand, managed to pull this off with their Black Friday email.
Subject Line: Snooze through the sales…
What this email does best
Imagine spoiling your sleep to shop for a mattress during the holiday weekend. Yes, it sounds awful, but that's what most people do.
Casper's Black Friday email cleverly targets these people by telling them they can keep snooze their alarms even when the early Black Friday sales are running! As a result, the subject line instantly gets the audience into clicking the email.
They conveyed their message in the email body with even cleverer use of copy and graphics. As you start skimming through their email, you'll notice multiple alarms with interesting names, each pointing at your daily struggle while also building and boosting urgency.
From "Get in Line for Super Sale" to "You're gonna pay full price," the copy gets you nervous about missing Casper's super deal. And just when you're about to get nervous about missing the deal, Casper tells you that you can turn off your alarms and shop from your bed.
Casper's sense of personalization and clever use of copy, graphics, and design makes this email as good as an email can get. Hence, the recipients will have no problems clicking the "Shop" button!
What this email could have done better
Casper knows their target audience and understands its pain points. Everything from the subject line to the CTA is perfect, except for their coupon code and CTA.
Though both have gotten visual priority, it would have been ideal to lower the visual priority of their coupon code as it's more important to drive click-throughs.
5. Funny Black Friday email from Chubbies
While Black Friday email copies can vary, most end up at the same point —sales and discounts!
It's okay to send such emails occasionally; however, due to the massive number of promotional emails a recipient can get during Black Friday, your email will easily get lost in the ocean of Black Friday emails sent by thousands of brands.
This is where a bit of humor makes the difference. If you're not sure what we're talking about, look at this funny Black Friday email from Chubbies:
Subject Line: Sweats + Shorts = THE SCHWORTS
What this email does best
Chubbies sent this email with a very creative subject line. It's short and funny, and even if you have little to no interest in buying the shorts they offer, you'll surely want to find out what is "SCHWORTS"!
The email gets funnier and more creative due to the graphics and copy. This image perfectly illustrates how someone would lazily spend their night after spending his one-of-a-kind thanksgiving day. That's when you also notice Chubbies shorts which are as comfortable as it needs to be when you're back home after an exciting day!
The copy equally engages customers well by tweaking words. "The Black Friday Coma Stocking Offer," "Ate the Whole Turkey, Need Comfy Shorts," to "May the Schworts be with You," everything gives the audience a reason to smile as they click the CTA button!
Besides, Chubbies played a nice trick by focusing only on a specific product. Since most brands offer discounts on everything they can, it's easy for the audience to get overwhelmed. Focusing on a single product gives Chubbies a clear advantage as the audience will likely grab a specialized offer instead of finding the same product from other stores.
Overall, Chubbies have shown that using your brand voice with a little humor can improve your Black Friday email significantly and make it stand out among the crowd.
What this email could have done better
Though Chubbies have done incredibly well with their email subject line, copy, and visuals, they missed out on the details like BB Dakota. Sometimes customers add a deal to their calender instead of buying instantly. Thus, Chubbies could have given customers a way to do so by adding their deal validity dates.
6. Mysterious Black Friday email from 22 Days Nutrition
What's the most effective way to get people to view your deals? —send something that triggers curiosity!
Mystery triggers curiosity like nothing else. So making an offer that doesn't reveal anything will likely boost your CTR. 22 Days Nutrition used this in their email perfectly, and you might want to do the same. Let's have a look at what they have done:
Subject Line: What Will Your Mystery Offer be?
What this email does best
22 Days Nutrition wrote a simple yet effective subject line to trigger their audience into clicking their email. It instantly attracts the audience into wondering what's inside and what they can unlock. As a result, it'll likely generate higher clicks than usual.
22 Days Nutrition has also done an excellent job with their email design by avoiding any Black Friday email design cliche. Moreover, their graphics elegantly fits their brand, and the copy is simple yet effective.
But what this email does best is get people to click the CTA button by asking the audience to find out their deal instead of offering them directly. The human mind is naturally curious and 22 Days Nutrition used it to boost their CTR.
Since more clicks mean more people viewing the deal itself, it's not hard to assume that this email earned 22 Days Nutrition an excellent amount of revenue!
What this email could have done better
This email from 22 Days Nutrition does a good job attracting people and getting them to click the CTA. However, the copy and graphics are pretty generic. You can't send a Black Friday email leaving Black Friday out. Thus, It would have been ideal if the email focused a bit on Black Friday.
7. Last call Black Friday email from Casper
Despite the fact that Black Friday sales are the biggest discounts most brands offer, some shoppers will still shop at the very last second. It doesn't mean they are waiting for a better discount but because they were probably busy with something else.
As an e-commerce brand, you'd want to make every last sale you can during a seasonal sales campaign. This is why most brands extend their deals and send last-call emails. However, this kind of email can easily become boring if you aren't thoughtful with the copy.
Casper has done a great job in this regard, and their last call email goes like this:
Subject Line: So You Slept Through Black Friday?
What this email does best
This email from Casper is a perfect example of how to turn your informative emails into an engaging one.
Just like their Black Friday discount email, Casper's last call email demonstrates creativity and consistency. The subject line addresses customers who missed out on the deal and identified their pain point well —giving them a solid reason to click on the email.
Later, they used a personalized and consistent copy that engages the readers by telling them it's okay if they slept through Black Friday and informing them about the deal's extension without being pushy or salesy.
The copy is short and gives the readers everything they need to know about the deal extension. So we're pretty sure it earned Casper every sale they could have made.
What this email could have done better
Again, we're unable to find any flaws in this email. Casper really understands their audience well and knows how to reach out to its audience with the right message. So the takeaway here is to understand your audience well and reach out with the right message.
How to plan your Black Friday email campaign
Black Friday is your best opportunity to boost sales and revenue. Since email marketing is the primary marketing channel for most, a well-planned Black Friday email campaign will increase your sales significantly. However, that depends on how well you plan and execute your Black Friday campaign against your competitors.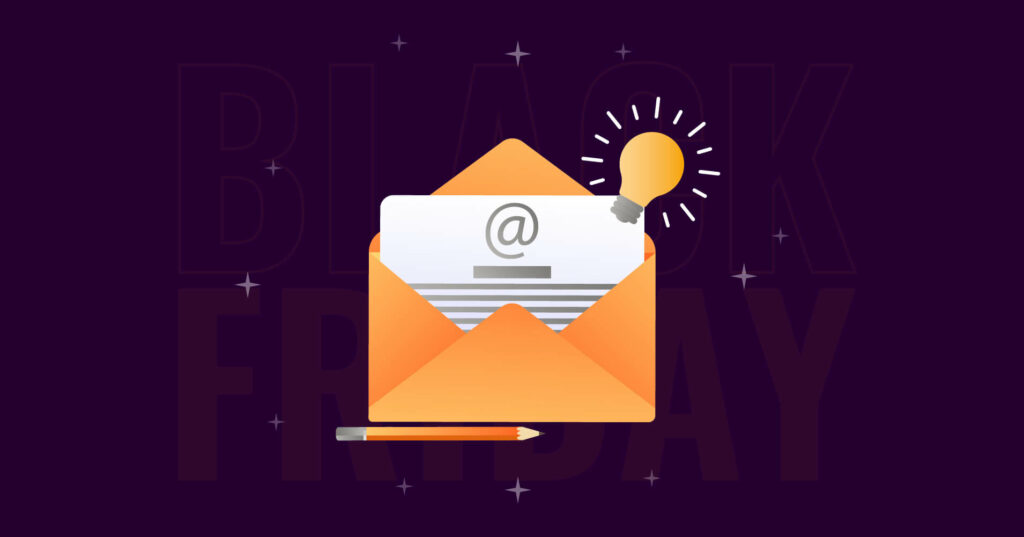 If you're not sure how to go about it, here are our tips for planning a well-rounded Black Friday campaign:
Plan early: Don't wait till November to plan your campaign if you're trying to stay ahead of your competitors. The earlier you plan for your Black Friday sales campaign, the better!
Boost your email list: Once you've decided on your campaign, boost your email list by updating your contact forms and CTAs accordingly. Let your audience know that you'll be offering a special discount on Black Friday, and they should sign up for it even if they don't want to buy anything right away.
Prepare your website: Create banners, headers, and landing pages for your website to further tease Black Friday. Design and prepare your website's landing pages for more email signups. You can also showcase products that'll be available for discounted prices during the Black Friday weekend.
Send a teaser email: A teaser email will help entice your audience about your campaign. You may also get a place in their shopping calender as most people prepare a list of items they want to buy during the Black Friday sales. So before your Black Friday sale begins, send a teaser email to build anticipation.
Prepare email templates: In order to have any chance among hundreds of Black Friday emails, your emails should be creative and effective enough. Writing a good email often takes more time than usual. So prepare your email templates as early as possible.

Marketing automation for WordPress
Get FluentCRM Now
Create your Black Friday email automation: Many things go on into a Black Friday email campaign. For the campaign, you'd want to set an email sequence for sending out email blasts automatically. Based on different user interactions, you'll also need to send different kinds of emails, such as thank you emails, upsell emails, etc.
Again, it's wise to keep these email automation funnels ready, so you can simply activate them when it's time!
Key takeaways: The do's and don't of Black Friday email marketing
Most brands try to ensure everything to ensure an extraordinary Black Friday campaign. However, it's easy to make mistakes if you try too hard. So here are the do's and don't of Black Friday email marketing: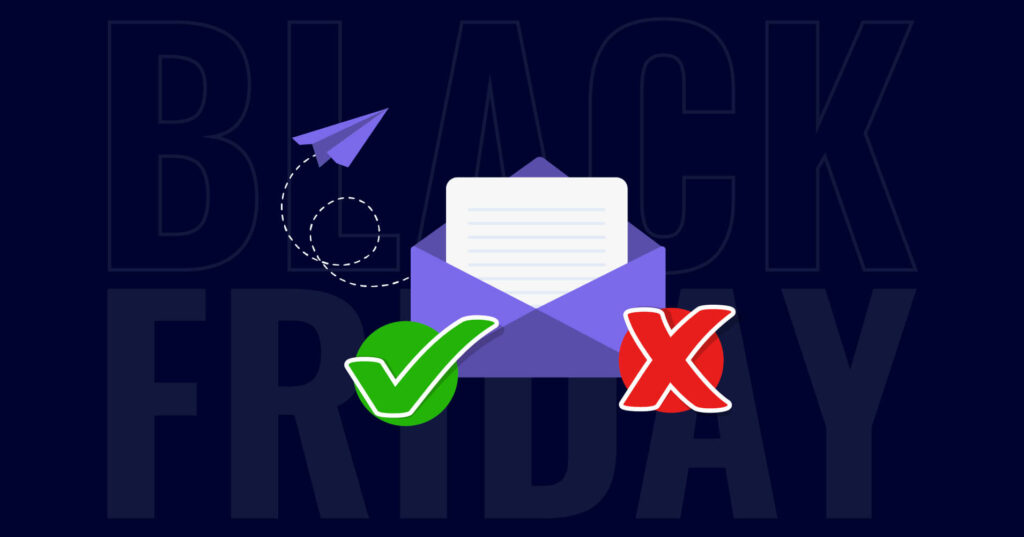 Do's
Write a catchy subject line: 47% of recipients open an email based on the subject line. During Black Friday, the competition to get noticed will be fierce. So, you must come up with a catchy subject line to get people into clicking your Black Friday emails.
Run A/B tests: Before broadcasting your email campaign, conduct an A/B test for a small group of contacts to determine what's likely to work and what's not. By doing so, you'll be able to get maximum people into your Black Friday sales campaign.
Prioritize branding: Most people open and read an email because of who it's from. If recipients don't trust your brand, they won't open your email. So, don't forget to ensure branding by including your name in the email and using your font, tone, and graphics.
Focus on creating a good design: A good email design gets people's attention and ensures higher conversion rates. Create a design that makes your email easily skimmable and readable.
Create urgency: What's the point of making an irresistible offer if people don't feel they should grab it right away? Make sure your email triggers FOMO. Let your audience know your deal is precious, and people should act fast if they don't want to miss out!
Personalize whenever possible: Email personalization can make your email relatable to the audience and improve conversion rates. So personalize your Black Friday email by adding your recipient's name and using personalized copy and graphics.
Get funny and humorous: Humor engages people like nothing else. If you can make people laugh, you stand a higher chance of making them read your email. Try to write a funny, playful email copy that also includes your deal details.
Optimize emails for mobile: 41.6% of people open emails on a mobile device. So make sure your email is well-optimized for mobile devices.
Stick to the basics: Don't forget the basics while trying to focus on too many things at once. Avoid email errors that cause your emails to go to spam, and make sure your email qualifies for inbox placement.

Marketing automation for WordPress
Get FluentCRM Now
Don'ts
Send too many emails: Yes, it's important to send Black Friday emails and remind your audience. However, it's also worth noting that too many emails can annoy your customers. The sweet spot is around 3-5 emails.
Force Black Friday theme: Black Friday emails don't have to be all black or gold glittered to make them look like a Black Friday email. Use Black wisely and aim to convey your message. If it doesn't fit, it's wiser to use your brand color instead of forcing the gothic vibe.
Push your customers too hard: Of course, you'd love to make as many sales as possible. But don't push your customers too hard. If they don't buy, ask them for feedback instead. Remember, relationships always pay off.
Avoid promoting too many products: Oftentimes, marketers include too many products in a single Black Friday email. However, people usually have their own shopping lists for Black Friday sales, and having eyes on multiple products will only take their focus away.

So even if your brand offers multiple products, avoid promoting too many products at once. Instead, you can ask shoppers to visit your store or offer bundled products.
That's a wrap-up! We hope that you're now inspired by our roundup of the best Black Friday emails. Now you can be confident about conducting a memorable Black Friday email campaign for your business. If you need any help or have thoughts to share, feel free to share in the comments section.
Cheers!