Free Tips, News & Tutorials Delivered to Your Inbox!
Billions of people use email as a medium for their daily communication. As a business owner, it's natural that you'd also want to get the most out of it. But what about the competition you'll inevitably face?
Want to outperform the competition and get the most out of email marketing?
—Write an email like a boss!
We're here to give you some tried-and-true email writing advice. And, we believe our tips and your creativity will surely help you write emails like a boss!
What are you waiting for? Start scrolling to uncover the mystery.
12 tips for writing an email like a boss
"Email is a push channel, so we need to push it to work harder"

– Kath Pay
Email is the most effective channel for growth, but it also requires a lot of commitment. Stick to the basics, follow the appropriate methods, and wait patiently. Write emails to dominate your competition and take the crown home!
If you're not sure about doing so, here are 12 tried-and-true tips:
Identify your target audience: It is pointless to send emails to people who don't require your services. Remember, no matter how well you write an email, it will never impress your audience if they aren't looking for the service you offer.

So, first and foremost, understand your target audience and try to identify their point of concern. Otherwise, no matter how badly you try, your email will end up in spam alongside other unnecessary emails.
Use a formal email address: When you send a business email, the recipients won't know you but your organization. So, always use a professional email address when sending a business email.

A formal email has two parts, a username, and your domain name. It's ideal to use your name as the username and your domain name after the '@'. Also, don't forget to customize your account. Upload a profile picture and make it human.
Add a signature: Include a signature at the bottom of your email as well, with some basic information such as your role at the company, a website or social media link, and so on. It's best to avoid emojis and inspirational quotes!
Prioritize your subject line: It takes about five to seven seconds for your emails to make an impression! Professional email marketers entice their recipients to click right away with unique and creative subject lines.

So, prioritize your email subject line to skyrocket your conversions. Be truthful, concise, inventive, and direct. Don't just make a promise that you can't keep.
Use a friendly tone: Talk like a friend, not like a master! Instead of imposing your will on someone, let them decide what they want to do. Don't give the feeling that you're making decisions on their behalf.

Use a friendly tone when writing an email. Even if you're asking your audience to make a decision that'll benefit you, try to encourage and recommend them. Help them understand how your offerings will assist them and ask them to make a decision that'll benefit both.
Be precise and straightforward: Most people don't have the time to read a lengthy email. So, get to the point quickly, address their problem, and tell them how your service will assist them in resolving it.

We recommend using the 'why, how, and what' formula. First, pique their interest, then demonstrate how they can overcome it, and finally, explain what benefits your service will provide in this regard and seal the deal!
Use bullet points: Your recipients will appreciate how quickly they can grasp your message. Using bullet points can be helpful in this regard. When contents are segmented and organized, they become easier to skim and understand.
Be confident: Make a confident appearance in your clients' inboxes. People prefer to hear from experts rather than novices. They dislike hearing from someone unsure of his statement. Don't show any hesitation to your recipients. Maintain assertiveness and authenticity, and make a bold statement.
Personalize your emails: To send bulk emails without spamming, you must personalize them. It is one of the key factors that will keep you well ahead of your competition. You will significantly improve conversions by tailoring your message to a specific audience. So, research the people you are writing to. You can use these proven email personalization techniques to personalize your emails.
Obey the laws: Before you can write an email, it's important to know who you are permitted to send emails to and how to send emails that won't end up in spam. To keep your email marketing compliant, you must also understand spam laws such as the CAN-SPAM Act, GDPR, CASL, etc.
Employ an effective email marketing tool: A good email marketing tool will be a blessing for you. From collecting email addresses to adding them to a list, segmenting them, and sending automated, sequenced messages, an email marketing tool can smoothen your job significantly.

As a beginner, you may be nervous about using these tools, but an expert never misses an opportunity to make the best use of them. Consider using an all-in-one marketing solution to make your job easier and more effective.
Try Our Free Marketing Automation Plugin for WordPress!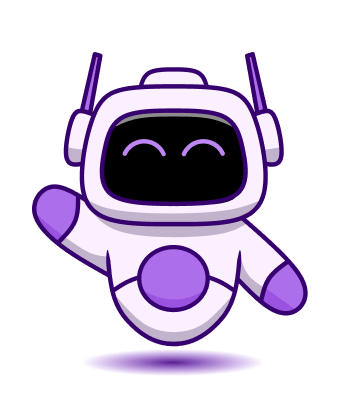 Recheck: Mistakes can happen no matter how careful you are when writing! So, don't be shy to double-check everything before hitting the send button. Examine every detail, such as grammatical errors, typos, spelling mistakes, etc. Remember, a minor blunder can result in a major spam alert!
7 Things to avoid while writing emails
"Good Marketing makes the company look smart. Great Marketing makes the customer feel smart."

– Joe Chernov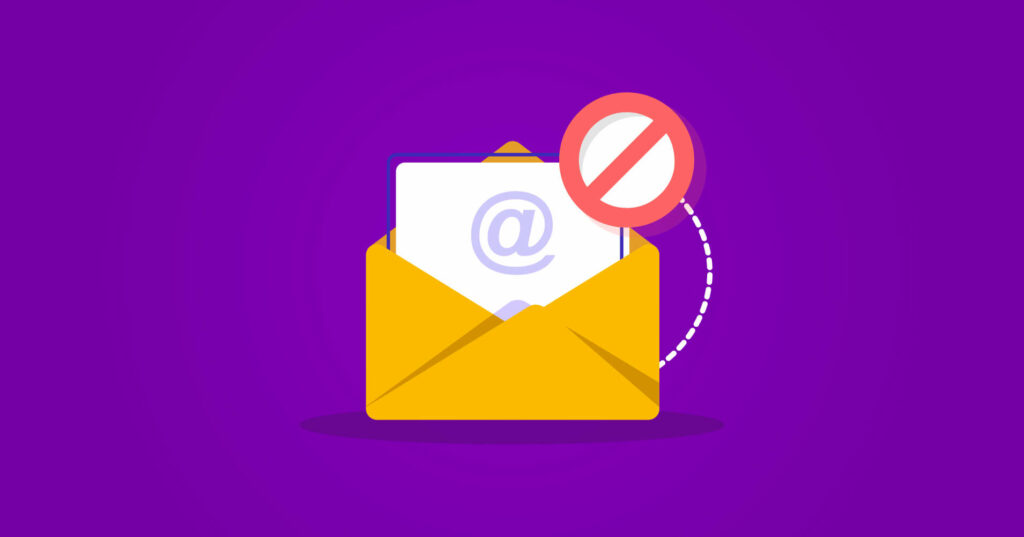 While we place a high value on the do's, we frequently overlook don'ts. It ultimately costs us a lot. To write an email like a boss, avoid making the below mistakes!
Never send an angry email: We recommend you use a friendly tone when writing an email. Yes, we understand how difficult email marketing can be at times.

However, never express your frustration, confusion, or any other negative emotion in an email. Don't write anything you'll regret later! If you ever feel frustrated or disturbed while writing, take a break and stop. This short break will help you more than you can imagine.
Avoid using emojis or acronyms: Although it's debatable, emoji usage in emails often makes you appear unprofessional. If you use acronyms in emails, your clients will likely be perplexed or misunderstood!

Therefore, we highly urge you to avoid using emojis and acronyms. Instead, if you want to sound humorous, consider adding a funny and relatable meme to your email.
Don't use too many exclamation marks: There is no problem with using exclamation marks when necessary, but using too many in your emails can appear unprofessional. It may reduce the importance of your emails. So, if it is not absolutely necessary, avoid using exclamation marks.
Limit the number of emails you send at once: Don't irritate your audience when trying to impress them. Just because you can send thousands of emails at once doesn't imply that you should.

Instead, take your time, personalize your emails for specific audience groups and write concisely and consistently.
Don't apologize: 'Customer is always right' is a longstanding philosophy! However, this shouldn't always be the case when working as an email marketer. Don't apologize for things that don't call for it. It has the potential to undermine your authority seriously!

Be aware of your worth, appreciate the value of your time, and refrain from saying sorry when you aren't really at fault.
Avoid using doubtful phrases: People prefer to hear from experts rather than novices. That's why we always advise you to be confident in your statement. Using words like 'think' can cast doubt on your expertise and authority.
Prevent Repetition: We typically think we should repeat crucial sentences for clarity. But in reality, if you keep repeating yourself, your readers may become confused. So, don't keep repeating the same information.
4 Tips to reply to an email like a boss
"Stop trying to be amazing and start being useful."

– Jay Baer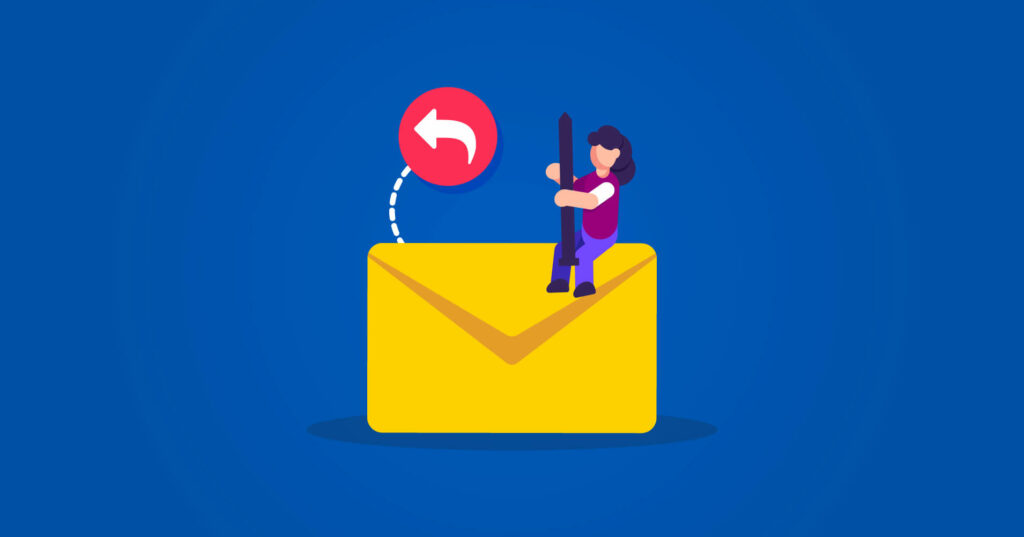 We believe responding to an email is more important than sending the initial email! Since your clients expect a response from you, it means they are interested in a conversation with you and have a high chance of becoming a customer.
So, seal the deal with a fantastic response. To reply to an email like a boss, use the following tips in addition to the ones mentioned above:
Reply immediately: A successful business relies on consistent and timely communication. Don't take too long to reply to your clients. While waiting for your response, they might be thinking about buying your goods and services. If you take too long to respond, you're giving them a chance to change their mind!
Consider your foreign client: Not every customer can be from the same time zone, and someone may be sleeping during your working hours! We recommend you keep your foreign customers in mind. Use the scheduling feature to send them a response when they expect it most.
Be short and to the point: Be brief and to the point when replying to an email. Just try to satisfy them with the answer they truly want, not with many extraneous pieces of information. It will simply lengthen your email and give your recipient a negative impression.
Expose no email addresses: Don't include a large group of recipients in your "To" section when sending bulk emails. People are very concerned about their email addresses, so if you have to email a large group, include everyone in the bcc.
10 phrases to boost the effectiveness of your emails
"Don't continue to do what you've always done just because it's easy to do!"

– Ian Minnis
Email marketing is a game of words! Using appropriate words, phrases, and sentences will make you appear special and legitimate and help you stay ahead of the competition. Here are some phrases you should consider using in your email:
| | |
| --- | --- |
| | |
| Thank you for waiting patiently | |
| | |
| Don't hesitate to ask if you have questions | Hopefully you understood it throughly |
| Thanks for letting us know | Sorry for the inconvenience |
| | |
| | |
| Let me know if you need any help | |
| Unfortunately, we are unable to | |
| Your feedback would be highly appreciated | Looking forward to hearing from you |
| | |
Final words
To succeed in your mission, you must have single-minded devotion to your goal.

– A. P. J. Abdul Kalam
Email is the most powerful and magical channel for transforming your business overnight. It is also the channel with the most competition! So, stop being average and start acting like an expert. Write an email like a boss rather than flooding someone's inbox with ordinary emails. Outperform the competition and get the most out of email marketing.
We wish you all the best in your future endeavors. Let us know if our article was useful or not!
Try Our Free Marketing Automation Plugin for WordPress!