FluentCRM 2.5.95: New Features and Automation Improvements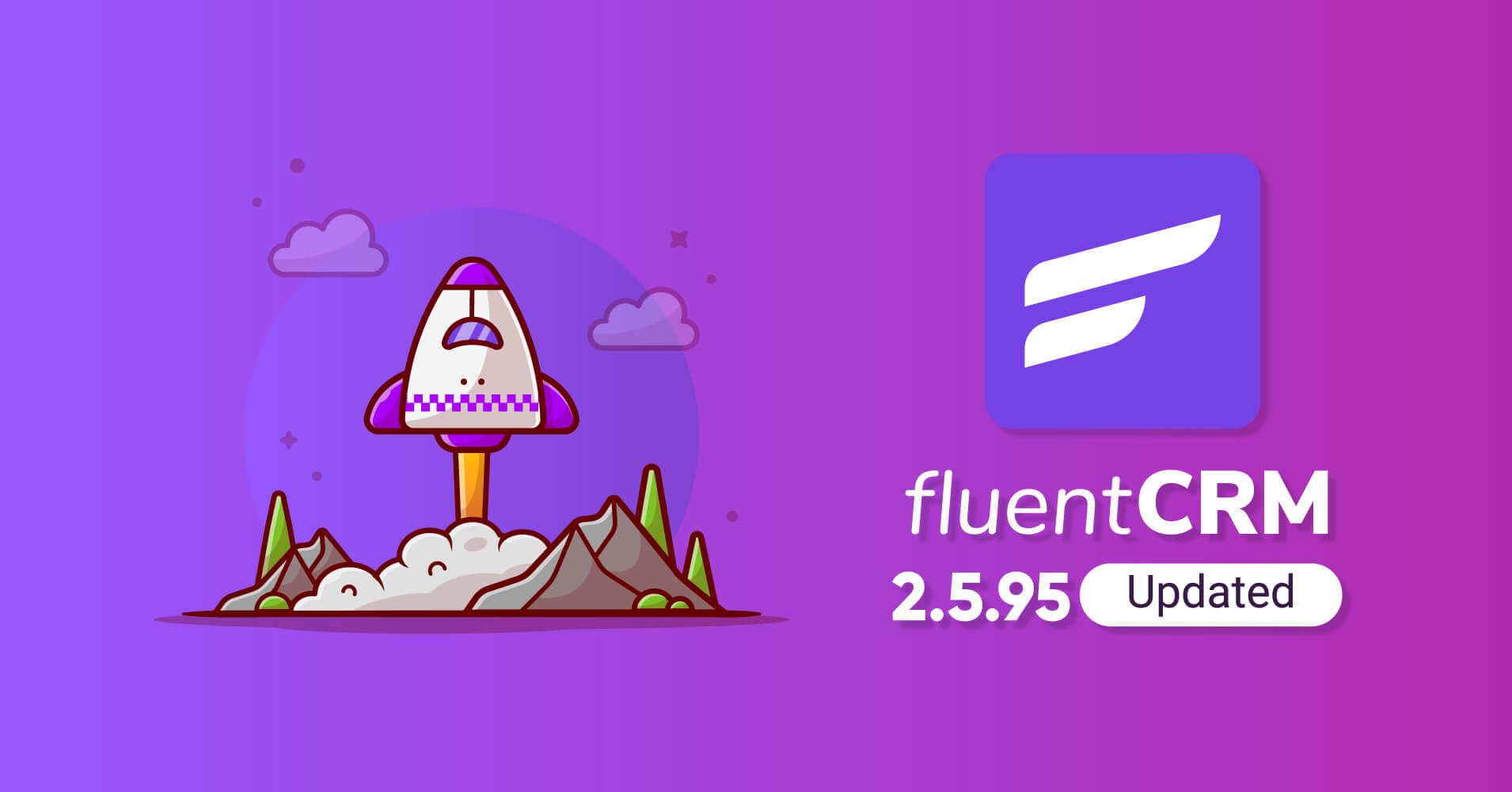 It's that time of the month again. Yes, It's a new month, and it's time for a new update!
This time, we've focused on improving the automation features and added some of the features that you've requested in the community. So without further ado, let's see what's improved!
Ready?
Let's begin!
Improved automation features
What do you love most about FluentCRM?
Maybe it's the ability to do everything inside WordPress. Some also love how affordable the tool is! But what makes the plugin so powerful is its automation features(Sorry! If I sound like I'm bragging). So, we decided to make automation even more powerful. Read on to learn what's new in automation!
Split test automation scenarios
What's the best way to understand and optimize your automation funnel?
Sure, automation reports can help you understand your automation funnel's performance. However, it doesn't necessarily help you discover the right path. This is where A/B testing, aka split testing, comes in!
Split testing can help you create different paths for the contacts inside an automation funnel. By doing so, you'll be able to run different automation scenarios for the contacts and determine which path is working and which isn't.
Need an example?
The above automation aims to get customer feedback and upsell a product when a product purchase happens. We've split the automation into two paths in which customers will receive different feedback requests and upsell offer emails.
Once a few contacts go through this automation, we can determine which approach is working and which isn't by analyzing the conversion rates. Does that ring a bell?
Yes, we can erase the less effective Hence, an effective way to understand and optimize automation funnels!
In order to employ split testing, simply go to Actions and choose Split (A/B Testing).
Then, set what percentage of your contacts will go to Path A and what percentage of them with go to Path B.
This will create two different paths inside your automation so that you can test how your contacts interact when they encounter different automation scenarios. So start using split testing and optimize your automation funnels like a marketing guru!
Advanced wait action
Timing plays a key role in email marketing. If you send emails at the right time, it's more likely to be opened and read. If you don't, they'll be ignored.
I'm sure you understand the value of timing and are using the delay action as required. Until now, it was possible to set a delay period or a specific date/time using FluentCRM's Wait Action.
However, sometimes you may notice a pattern in email conversion rates. For example, you may notice that conversion rates are higher on Saturday and Sunday because your customers aren't working. These use cases require a better delay action, and we've implemented that!
Now you can delay the automation for specific days of the week with our advanced wait action. It's also possible to set a specific time so that the automation doesn't send an email at midnight!
Added restart automation to all(almost) triggers
Maybe your contact didn't provide the correct information; maybe they've lost an automated email…the restart automation feature is a blessing for those who wanted their contacts to go through the same automation multiple times!
However, this feature was previously limited to a few specific triggers. No more!
FluentCRM 2.5.95 brings you the restart automation option to almost every trigger available. For example, you can now enable the restart automation feature when setting up an automation funnel using the Learndash lesson completion trigger.
Sequence filtering for automation
We often mention the importance of analyzing your automation funnel steps and optimizing them for better output. Our charts, steps, email analytics, and individual reporting are some excellent options for doing so.
With the introduction of conditional logic and split testing, now it's also important to know how the contacts are moving from one step to another and which route they are taking. This is why we decided to introduce sequence filtering in automation.
This feature allows you to filter individual contacts by steps you've added inside a funnel. For that, simply open an automation report and select the step for finding individual contacts that have completed or are about to go through a specific automation step.
You can also filter whether an individual contact has completed a step or not. For example, to see which contacts are yet to go through a specific step, you can select the step and set the Pending filter.
View revenue for specific emails
What's one thing that summarizes your marketing performance?
Of course, it's great to know how your contacts are moving through the funnel and whether they are opening or clicking your emails. However, the metric that matters most is revenue!
In this version, we've added revenue metrics for the emails you've added inside your automation funnel. So now, you can measure exactly how much your automation email is making you!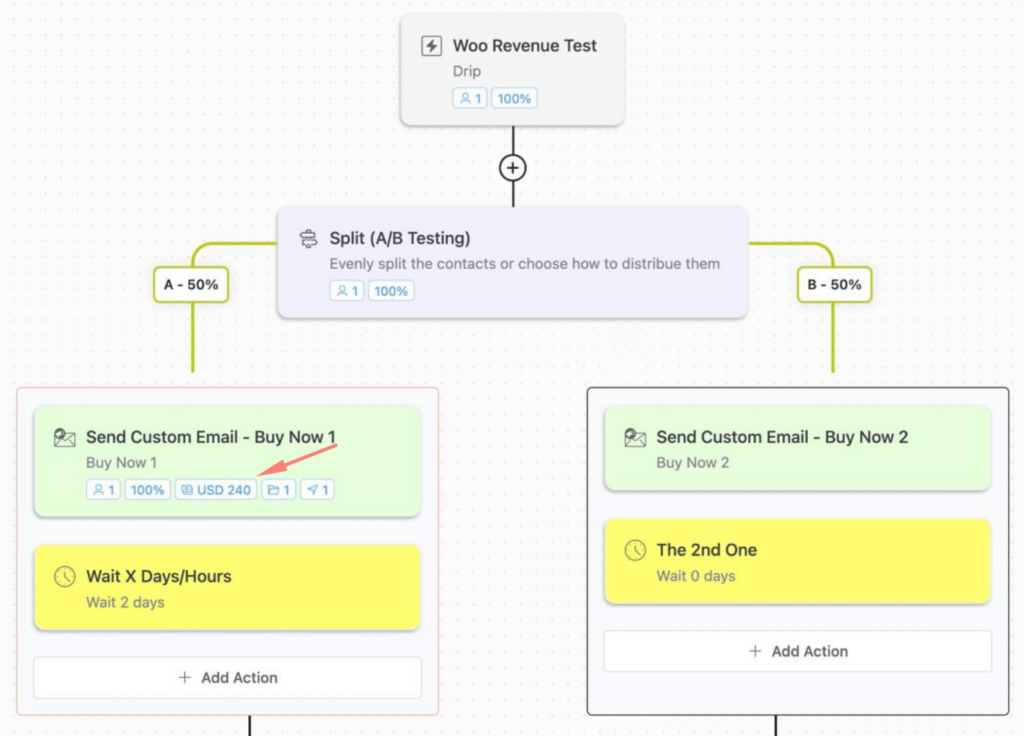 You can view revenue for a specific email from the visual automation builder as well as from the chart report, step report, and individual email report.
Create Fluent Support tickets automatically
CRM and Help Desk intersect with each other nicely. Providing efficient support becomes a child's play when you can view customer data as you're answering your customer queries. This is why many of you are loving our Fluent Support integration.
So we decided to take it one step further! Now, you can create support tickets from FluentCRM automation. To do so, simply select Create Support Ticket from the actions.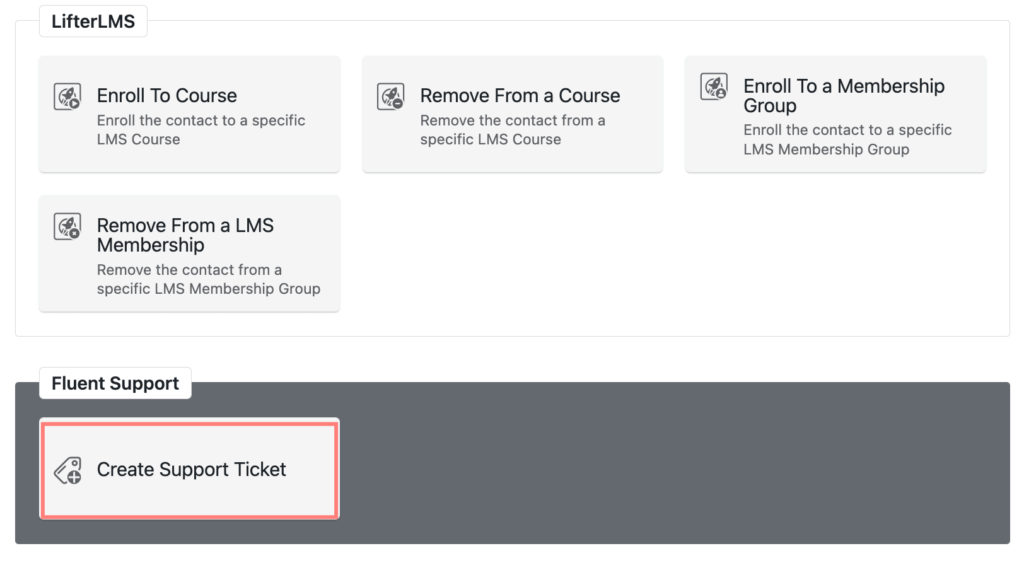 Revenue metrics in email sequences
Email sequence users, don't be disappointed! Just as we know how important it is to be able to know how much your automated emails are making you, we also know that you need to know how much a specific email inside your email sequence is making you.
So yes, if you're using email sequences, you can also see your revenue for an individual email!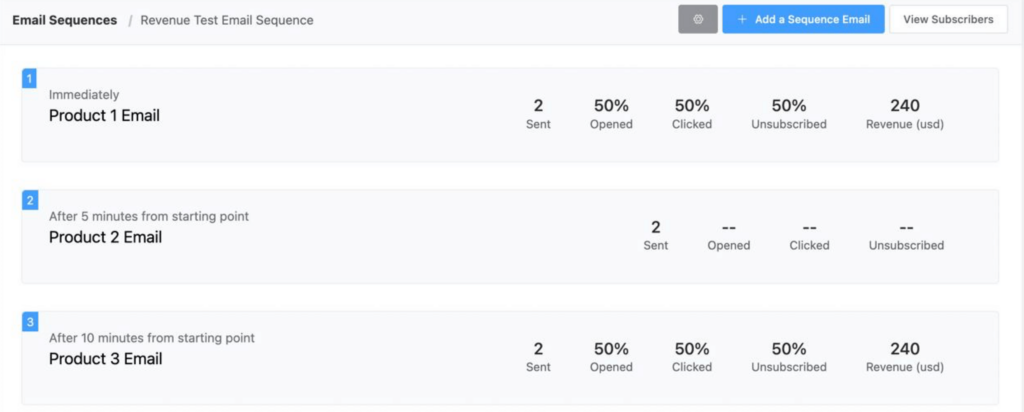 More conditions in Advanced Filtering
Nothing makes finding contacts easier than advanced filtering! Being able to apply conditions and finding contacts based on specific data points is vital for managing a business.
Maybe you're using general or custom fields for finding contacts; maybe you're combining conditions, both are possible with FluentCRM's advanced filtering. What's not possible is finding contacts whose condition isn't available. Right?
Yes, this was lacking in our previous versions. So we decided to add the feature to this one! Now you can filter contacts by empty fields too!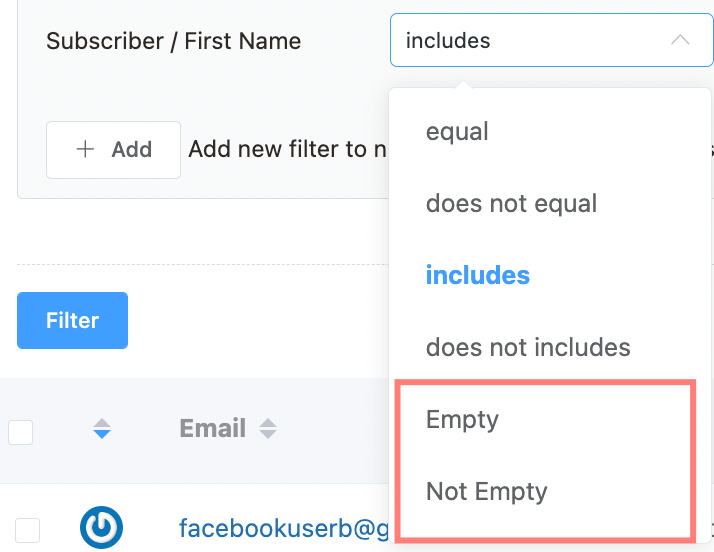 Disable auto sync for integrated tools
Most people love to connect business tools to have contact data available at their fingertips. Suppose you're a WooCommerce user; you'd love to have access to your customer's data without having to look for it.
This is why we introduced WooCommerce, Easy Digital Downloads, LearnDash, and LifterLMS integration in FluentCRM 2.5. The integration also auto-synchronized data between FluentCRM and the integrated tools.
However, sometimes you don't need synchronization as the original information may be just what you need. Thus, we've added an option to disable auto-synchronization. Here's how you can do that:
Email preference management short-code
Email preference management is crucial for those who want to give their customers more flexibility over their data. It's as simple as letting the subscribers manage their data inside your CRM!
Previously, profile data management was only available on the email preference management page with a few fields to manage. In this version, we've added the email preference management shortcode. Now you can let your subscribers update their phone number, date of birth, and address fields, along with previously available fields.
In order to enable this feature, go to FluentCRM>Setting>Email Settings and enable Email Preference Shortcodes. Then, select which fields can be edited.
Finally, place the shortcode on your email or page to show the email preference management form. Note that the user needs to be subscribed in order for this to show up on your pages.
Detailed CRM reporting
Don't let the title deceive you! Yes, we do have a CRM dashboard that consists of a lot of data. However, sometimes you just need precise information such as the number of active contacts, campaigns, contact growth, email sending stats, and link click stats.
FluentCRM 2.5.95 brings you advanced CRM reporting to help you grasp those precise statistics at a glance! Just take a look:
Not just that, you can also get specific stats for the current and previous periods and compare stats by different time periods.
Pre-populate Fluent Forms data from FluentCRM
Why make your users fill out the whole form if you already have some of their data inside FluentCRM?
Yes, I'm talking about pre-populating data in Fluent Forms from FluentCRM! Now, you can use FluentCRM data as prefix keys in Fluent Forms. By doing so, you'll be able to prevent users from typing the data you already have! Doesn't that make our Fluent Forms integration even more powerful?
Bug fixes & improvements
What comes after features?
Yes, you got it right, bugs and improvements! Just like any other product update, this release also includes a few bug fixes and improvements. Let's take a glance at what's improved and fixed:
EDD version 3 compatibility: FluentCRM is now fully compatible with Easy Digital Downloads 3
Duplicate campaign: Duplicating campaign will now bring previous A/B test settings
Automation trigger descriptions: Added some missing automation trigger descriptions
Wrapping up
That's it for this update! We brought you those features based on your recommendation and suggestions, and I hope you'll love the new features and improvements! Don't forget to let us know what you think about the automation features.
By the way, if you love the new features, don't forget to write a review on the WordPress repository. We really appreciate it!
If you don't use FluentCRM yet, feel free to try the free version. I'm sure you'll love what we have to offer!
If you want to upgrade Pro, please check out our latest deal here.