FluentCRM Year In Review 2022: Another Year of Excellence!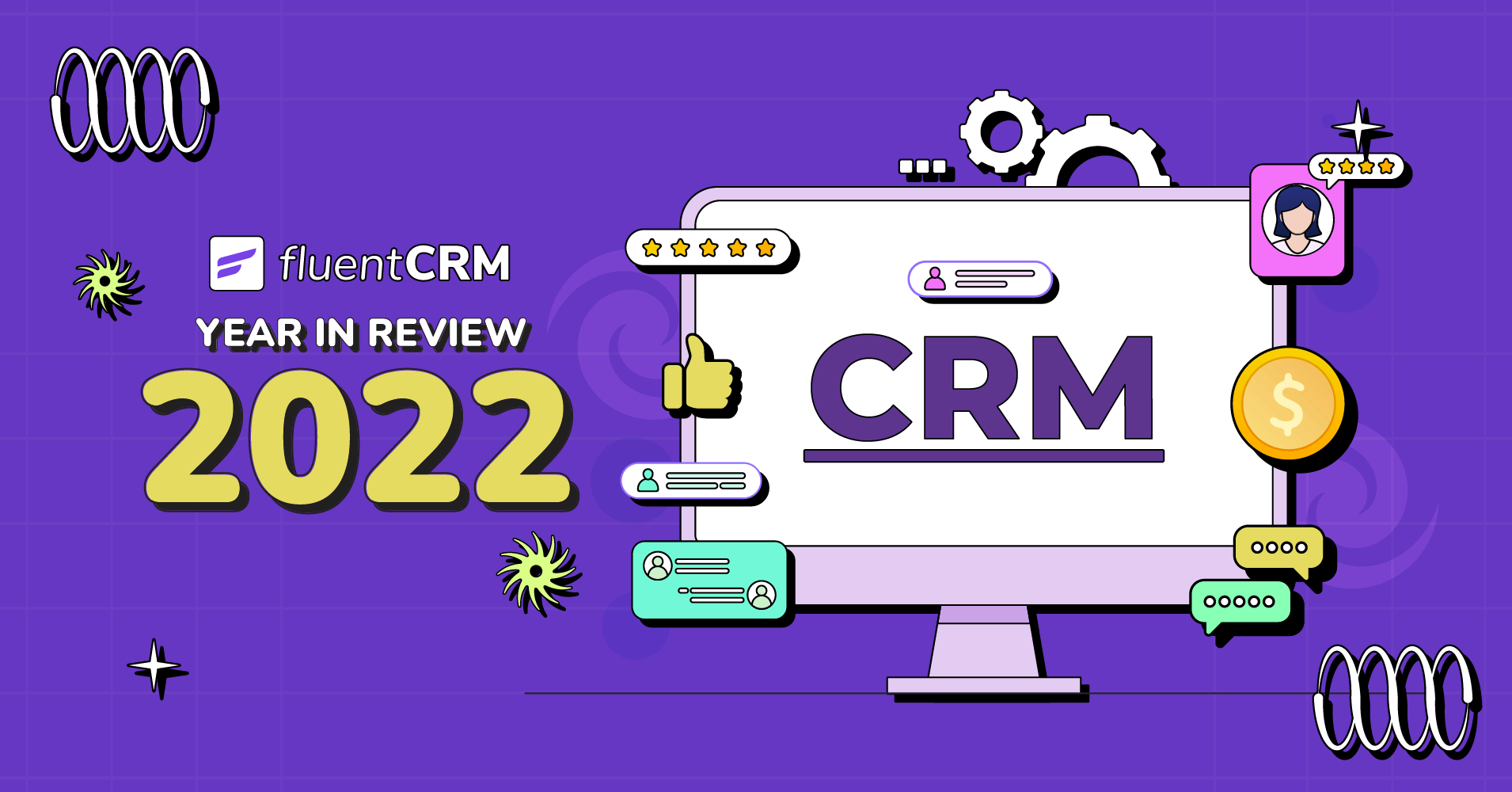 Global inflation, Queen Elizabeth's death, Lionel Messi settling the GOAT debate…it was another year of unforgettable events! For our parent company, WPManageNinja, 2022 is the year of getting our favorite faces back at our new beautiful office space.
How was 2022 for FluentCRM, though?
In one word —Excellent!
We started this project with the ambition of turning it into the centerpiece of any business. Despite being just two years old, FluentCRM is pretty close to fulfilling its destiny.
The plugin has become one of WordPress's most powerful business tools, and we couldn't be happier with how it's helping businesses across the World.
Let's look back at what 2022 had in store for FluentCRM!
Highlights
2022 is another year of excellence for FluentCRM. The plugin has become a game-changing tool for our customers, and our team did a lot of great stuff throughout the year. We have also reached several milestones and received various awards.
Here's a highlight of FluentCRM in 2022:
FluentCRM is now powering over 25,000+ businesses across the world, making it the most popular CRM plugin for WordPress
FluentCRM is rated 4.9 stars on the WordPress repository, with 102 customer reviews.
FluentCRM is contributing more than 25% of our annual revenue. The plugin is our second-highest revenue-generating product after Fluent Forms.
Our free plugin, FluentSMTP, is powering 100K+ websites now. It has become our 2nd most popular product after Fluent Forms.
We rolled out 13 product updates for FluentCRM this year, 9 of which are major updates. The plugin is more polished!
FluentCRM now integrates with 40+ plugins and business tools
We published 70+ helpful blog posts and a dedicated video course for FluentCRM with over 20+ videos
Our support team resolved over 3700 support tickets throughout the year —maintaining an average response rate of just 12 hours!
FluentCRM has received The WP Weekly Award for the second consecutive year(marketing automation category). We were also crowned the BASIS ICT Award winner in the best digital marketing tool category.
Our Facebook group is now a community of 5,000+ members
Looking back at 2022: Another year of excellence
We started this year with a view to making FluentCRM more polished and user-friendly. Not just development-wise but our marketing team, motion-graphics team, and support also played a very good role in making it happen.
While our development team worked every day to bring you new features, our marketing team worked hard to produce quality, helpful, and user-focused content, and the support team was busy fixing any issues thrown at them. As a result, we were able to execute most of our plans.
9 Major Product Updates
A customer relationship management tool sits at the center of any business. It's a tool that needs to function correctly and support a business throughout its journey. We use FluentCRM as our primary CRM tool, and we know just how important this tool is for any business that's using the tool.
Any small issue can turn a business decision into a nightmare. That's why we took the initiative to release a feature every month at the beginning of this year. The point of this initiative was to keep FluentCRM bug-free and functional all the time.
As a user-centric company, we believe in constant and rapid development. So when we called our developers to release an update every month, they responded just as expected!
We released 13 updates throughout the year —9 of which also included excellent feature releases!
Some of the major features we released this year are:
Visual Email Builder
While our block-based email builder was functional for many, some users have been requesting a visual builder in FluentCRM for quite a long time.
An email builder that's beginner-friendly. Yes, that's what we mean when we say, visual builder. It's easier, makes email composing a child's play, and looks beautiful on all devices!
Advanced Filtering
When a business owner has to make a business decision, simply centralizing everything in one place isn't enough. It's equally important to be able to access the data based on various conditions, as we've shown above.
Having accurate data at your fingertips will help you make data-backed decisions, and that's why we introduced advanced filtering in FluentCRM. It's a feature you can utilize to find your contacts based on even the most specific criteria. Not just that, you can also send targeted email campaigns and automate workflows based on advanced filters.
Built-in Migrator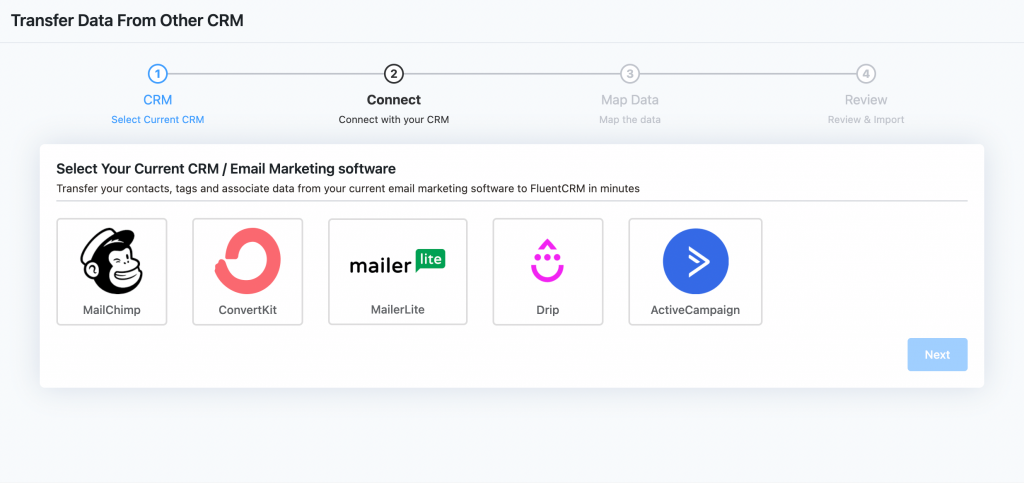 Switching your CRM or email marketing tool is a hectic job. Importing your contacts, tags, and data from other platforms can feel exhausting at times.
This is why we introduced a built-in migrator that works with MailChimp, ConvertKit, MailerLite, Drip, and ActiveCampaign. With that, it'll be easier for you to switch to FluentCRM.
One-click Integration
Integrations are essential for connecting your business tools with FluentCRM. By integrating your business tools with FluentCRM, it's possible to achieve greater control over your business data and marketing.
While FluentCRM's regular integrations could help you with a lot of things, such as contact import, segmentation, and automation, the one-click deep integration lets you achieve much more than that is a single click.
Moreover, it keeps your data synced so that you don't have to worry about having new or historical data inside FluentCRM.
Birthday Automation
E-commerce and other businesses often need to create date-based automation for sending birthday wishes. This is why we added the birthday automation trigger. It's a great feature to create birthday automation workflows.
Split-testing
Sometimes you need to automate different scenarios to understand which works better, and that's where split testing is beneficial. We added this automation feature so that you can automate different scenarios and better optimize your workflows for conversion.
CRM Reporting
Again, the point of using a CRM is to get all your data in one place so that you can get the KPI metrics your business needs. Previously, FluentCRM only incorporated such data for contacts, email campaigns, email sequences, and automation funnels.
However, revenue reports and sales summaries were left out. And without those data, it's hard to measure your business's performance. That's why we also added the much-needed CRM and revenue reporting module to FluentCRM.
7 New Integrations
The whole point of using a CRM is having all your data in one place, right?
For that, you need to be able to integrate FluentCRM with the business tools you use for your day-to-day operations. This is why we're adding more integrations as we speak, and now FluentCRM integrates with 40+ plugins and business tools.
This year, we built an integration with 7 popular WordPress plugins. These are:
BuddyBoss
LearnPress
ThriveCart
Beaver Builder
WooCommerce subscription
EDD Software Licensing
Flowmattic
Not to mention, some tools have also integrated with FluentCRM from their side. Some of the popular integration partners are:
Ibexa Connect
WP Funnels
MetForm
RafflePress
Brave
Integrations like these will allow more people to utilize FluentCRM in their business and manage customer relations effectively. We would like to thank all the integration partners for their consideration; we really appreciate the effort!
Check out our recent release notes
User-centric marketing
Most businesses believe marketing is a tool to acquire new customers and retain the existing ones; We don't! We believe in helping the users so much that our users often end up marketing our product(and we really appreciate you guys for that!).
Just like other teams, we focused on helping the users in newer and better ways. While our content writing team was busy producing helpful blog posts almost every week, the motion graphics team created an entire course dedicated to FluentCRM users this year.
As a result, we published 70+ blog posts and 20+ helpful videos for FluentCRM throughout the year. We were also active on our Twitter handle —sharing various email marketing tips and facts.
3700+ support tickets resolved
One of the primary reasons for our success is how we treat our customers. We do not treat customers as customers but as like one of us. This is why we prioritize customer service significantly.
This year, one of our resolutions was to make customer support as efficient as possible, and our newborn product, Fluent Support, helped a lot. By developing our own support system, we gave our support team exactly what they needed and were prepared for any challenges thrown at them.
FluentCRM's support team resolved 3700+ support requests last year. Not just that, we have also improved the documentation significantly —covering anything a user may need help with!
Apart from ensuring quality support and knowledgebase, we also wanted to make our customers feel important. For that, we expanded our support team, and as a result, our support response is now faster than ever(Responding to most queries within 12 hours!).
150%+ product growth
There's no secret recipe for success. As a company, we're always eager to listen to what our users have to say and help them in every possible way.
No matter how big we've grown as a company, our core values will always remain the same:
Listening to user feedback carefully
Developing great products and polishing them as much as possible
Producing helpful content so that customers can make the most of our products
Assisting them if they are facing any issues with our products
Solving any issues that our users are facing
FluentCRM is one of our biggest products so far, and we're constantly putting in the hard work to make our users' lives easier. When you work for the users, your effort gets paid off.
This year, more than 12,000 new users adopted FluentCRM. The product has been downloaded over 2,50,00 times from the WordPress repository and is now powering 25,000+ businesses.
What does that mean for WPManageNinja?
FluentCRM is now our highest revenue-generating product behind Fluent Forms!
Despite being just over two years old, the plugin has already surpassed most of our other top products and is always going strong. And the fact that it's helping more than 25,000+ real businesses makes us even prouder with what we've done!
Our team has grown
A growing product requires a growing team. FluentCRM has already grown as one of our top products at WPManageNinja. This is why we decided to expand the team from 7 members to 14 in just a year.
See the smiling faces above?
These are the people behind FluentCRM! We're marketers, developers, designers, and support engineers. During work hours, we crack jokes, make fun of each other, and sometimes even hide each other's phones to keep them guessing!
But when we're called on our duties, we give our all to make you as happy as possible! And of course, you can't be happy only working. That's why we party even harder!
Two more feathers to the crown!
Growing as a product is one thing, but being recognized globally and nationally is a whole different story. Since its release, FluentCRM has been an incredibly successful product. The numbers say it all!
But what says it more is what it has achieved so far. Last year, FluentCRM received two prestigious awards. It was voted the best plugin for WordPress in a head-to-head competition arranged by Torque Magazine and became the best marketing automation plugin in a people's choice vote arranged by The WP Weekly.
This year, FluentCRM added two more feathers to its crown.
The WP Awards(marketing automation plugin category)
BASIS National ICT Awards(Digital Marketing category)
Retaining The WP Awards means people believe in FluentCRM, just like last year. However, winning the BASIS ICT Awards means pundits also know what a great product FluentCRM is.
And who's behind the success?
The driving force behind an incredibly successful product: An amazing user community!
Yes, it's you, our beloved users, who constantly push us forward! FluentCRM is a product we developed to solve our problems. And when we decided to help you with the product, we were blown away by the response and support you've shown us!
A primary problem in developing such a complex product is not knowing what features to use and how to improve the product. Fortunately, we never had that problem because you are always with us!
Thanks to you, our support inboxes and the Facebook group are flooded with amazing suggestions to improve FluentCRM!
You are the driving force behind FluentCRM, and we can't thank you enough for trusting our capabilities and supporting us throughout our journey!
FluentSMTP is more powerful and popular!
FluentSMTP is our way of showing admiration for our beautiful user community. It's a plugin we love not just because we were able to show our appreciation to the WordPress community and our users through it but also because people love it!
When we released FluentSMTP for free, it was already better than the best premium SMTP plugins. However, we didn't stop there.
We promised to improve FluentSMTP as much as possible, and we're glad we could keep that promise. This year, we rolled out 5 updates for FluentSMTP, including new features and integrations. Some of the mentionable ones are
Elastic Email API Integration
Email Summary Notification
Improved Email Logging
Refactored Google API Integration
Because it deals with the sensitive task of email deliverability, FluentSMTP needs to stay functional and secure. That's why we maintained FluentSMTP very well and fixed any reported bugs.
Not just that, we resolved thousands of support queries regarding FluentSMTP and published many helpful blogs for users. As a result, FluentSMTP is a solid product and is being adored and adopted by WordPress users rapidly!
FluentSMTP is now powering more than 1,00,000+ businesses and is rated 4.8 stars out of the 118 reviews it has received to date.
What to expect in 2023?
Only a few days left of 2022, and we are very happy with what we've done throughout the year. Although we couldn't execute all of our plans this year, most went according to plan.
We know FluentCRM is the centerpiece of any business using the plugin, and we want to improve it as much as possible. So here's what to expect in 2023:
User-requested features: We love your feature suggestions, and adding them is our top priority. We've already added many features and would love to add more. Much-asked features like cart abandonment and task management can see the light in 2023.
CRM-specific features: FluentCRM still has a long way to go before it becomes a fully-fledged CRM. We have already started working on Pipeline management and will be coming up with more traditional CRM features next year.
Marketing automation features: Marketing automation will remain a primary focus, and we will do our best to polish the existing features while also working on more email marketing features.
More integrations: We know our audiences use a lot of tools. With every new integration, FluentCRM becomes more powerful. Hence, we'll continue to develop more integrations.
Better performance and stability: We want our users to have a smooth experience, and we already prioritize performance and stability over anything else. We've already improved our software testing process and are working on improving FluentCRM's performance. So you can expect FluentCRM to be more optimized and performance-focused next year.
Apart from these, we have some excellent internal plans for next year. So you can surely expect some surprises!
Wrapping up
2022 has been another excellent year for FluentCRM. Not just because of the amazing achievements but also because we have earned the trust of 25,000+ businesses who use the tool for automating their day-to-day operations.
We truly appreciate the 25,000+ businesses who believe in us and support our efforts, and we can't wait to get the next year started!
I hope you enjoyed reading our year in review and would like to wish you in advance for the upcoming Christmas and New year. Have a great time!