Email Marketing vs. Marketing Automation: 5 Key Differences Explained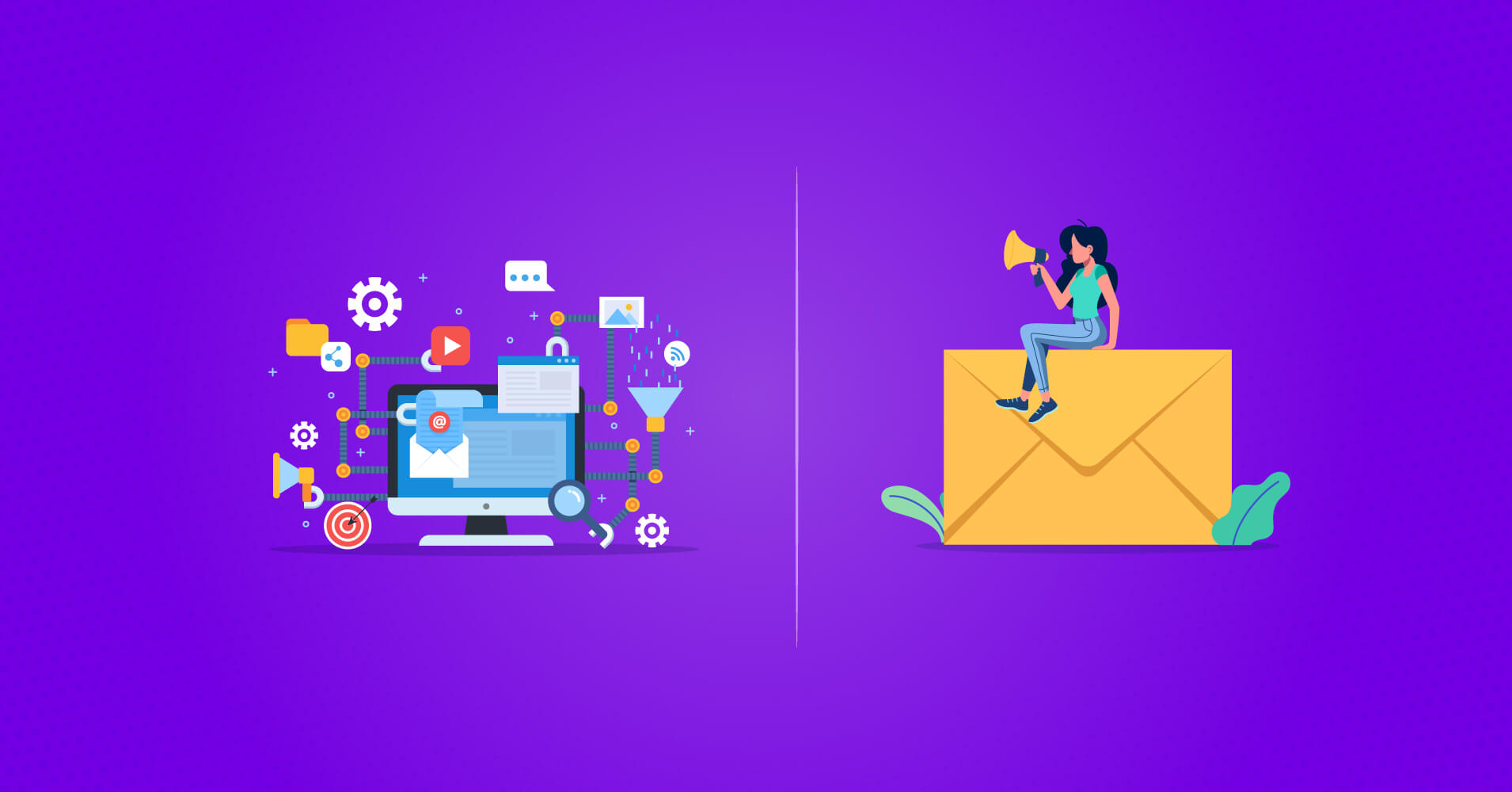 If your business needs marketing automation and you depend only on email marketing, that's enough to halt your business's growth. Then again, there's no point in spending extra bucks on marketing automation if email marketing is enough for your business.
Email marketing and Marketing automation are part and parcel of online marketing and often overlap. And for someone who doesn't know the differences, choosing the right marketing tool can be tricky.
Marketers and business owners have always been quite baffled by so many options of marketing tools, strategies, channels, etc. So, in this piece, we tried to explain the key differences between email marketing and marketing automation.
After reading this article, you'll be able to determine the difference between email marketing and marketing automation and which tool is suitable for your business. So without further ado, let's get to it!
What is email marketing?
Of all the existing digital marketing strategies, email marketing is the oldest and most effective one. And why wouldn't it be?
As it helps you precisely communicate with your audience and grow your brand. Though strategies may vary from business to business, every strategy includes email marketing for promoting products, creating awareness, providing information, etc.
But do you actually need email marketing?
Well, let's go over a few statistics, so you can speak for yourself!
Email is the most preferred communication channel globally, with around 4.3 billion users worldwide. Why? —the astronomical popularity is because of email's effectiveness compared to the expenses. The ROI of email marketing is around 36$ for every 1$ spent.
Almost 90% of marketers use email marketing to reach out to their audience. They prefer email marketing because it's the best way of communicating with the audience.
More than 80% of small businesses rely on email marketing for customer acquisition and retention.
You can reach your audience and potential customers in a better way. Not to mention the wonders you can do with behavioral email marketing.
What is marketing automation?
Marketing automation is a tool that helps automate your marketing tasks. It helps to save time and grow faster by automating repetitive marketing tasks. On top of that, you can automate your email marketing campaigns, sales, social sites, etc. as well.
To summarize, marketing automation is a tool that helps make marketing procedures easier and effortless via omnichannel marketing. Marketing automation is a blessing for busy businesses, and many businesses are introducing marketing automation tools to speed up their business.
Still not sure if you need marketing automation?
Here's a few more advantages of marketing automation:
To run a business more productively, you must perform multiple repetitive tasks. The marketing automation tool automates those tasks and uplifts productivity. You can save time on repetitive tasks and utilize them for other strategic planning.
More than 90 percent of salesperson say they get more time for planning and strategic decisions with the help of marketing automation.
You can reach your audience before competitors by automating your emails and replies. As a result, the chances of conversion increase.
Most marketing automation tools offer detailed reporting, which helps you make further decisions.
Email marketing vs. marketing automation: Key differences
Due to the nature of these tools, Email marketing and marketing automation often overlap. So how do you determine which tool is suitable for your business?
Let's check out the key differences!
Behavioral and web tracking
You can track different metrics related to your email marketing campaign using an email marketing tool. Campaign performance, email click rate, open rate, click-through rate, etc. are some of them.
You have to make your next move based on this limited information. You won't have any data about your customers' behavior on other platforms. As a result, it'll be difficult to make the next move precisely, like running a social media marketing campaign.
On the other hand, marketing automation offers versatility. You'll get a complete overview of your customers with data about their demographics, persona, activity on different platforms, and so on. With such advanced tracking facilities, it'll be easy for you to conduct omnichannel marketing activities.
Basic information or lead scoring
Your audience isn't roaming in a bubble. In order to score leads and drive them into becoming loyal customers, you need to have more information and connect them at every stage of the customer journey.
While email marketing gives you many ways to collect and use data, you won't get much behavioral information from different platforms. Without having behavioral data from various channels, running targeted campaigns becomes tough.
That won't be the case with marketing automation tools. With a marketing automation tool, you can stay connected with your customers on multiple platforms and track their activities. By doing so, you'll be able to fetch massive amounts of data and run micro-targeted campaigns to boost revenue and customer retention.
B2C or B2B
B2C means business to customer, and B2B means business to business. Most businesses are either B2B or B2C.
If your business depends mostly on direct customers, email marketing will be enough to suffice your marketing needs. An email marketing tool can assist you in building an email list, and sending email broadcasts and automated emails. While an email marketing tool makes it possible to stay connected with your customers, it doesn't give you all the insights required for precise personalization.
Marketing automation tools are made to centralize all the information regarding your customer and lead activities on different platforms. They can give you insights into your customers and other businesses so that you can understand what approach you should take. This gives you the perfect foundation to form stronger relationships with businesses as well as customers.
Email marketing automation vs. user journeys
Any email marketing tool lets you send email broadcasts and automated emails. Of course, these fall under automation, but automation offers much more than just sending emails automatically.
The true definition of automation isn't sending email broadcasts or automated emails. It's about knowing where your customers are in their user journey and driving them to become your loyal customers by maintaining a balanced customer relationship.
This is where marketing automation comes in. Marketing automation tools offer you sophisticated automation features to automate various marketing activities depending on your customer's lifecycle. This helps your entire business function together instead of separating them.
For example, let's say your support staff helps one of your customers, and your marketing team has an opportunity to upsell a product that your business has to offer.
With an email marketing tool, your sales person won't know about the support activity —reducing your sales opportunity. With a marketing automation tool, your support agent can inform the marketing team about the opportunity so that they can capitalize on the opportunity your support has created.

Marketing automation for WordPress
Get FluentCRM Now
Complexity
Small businesses usually have fewer customers, and most of them are loyal. That's why an email marketing tool is enough to stay engaged with its customers. If you own a small business, email marketing software will suffice your needs in most cases. And these are very easy to operate. So, there's no need for much expertise, and you can easily learn the operations of email marketing tools.
But if we talk about big businesses, marketing automation is a must. When automating different platforms and responding accordingly get complex, marketing automation tools can come in handy. You can run all sorts of marketing campaigns smoothly only by learning how to operate those tools.
Marketing automation is comparatively a bit more complex than email marketing. So, you'll need expert employees or give your existing employees time to learn the new tool. However, it's not rocket science, and there's no point in sticking to email marketing only. Especially, if your business is growing every day.
Given how easy marketing automation tools make your marketing journey, the complexity of managing the tool is acceptable.
Sales cycle
What's the purpose of marketing?
– To make sales.
And we think everyone's answer will be the same regardless of the industry. In marketing words, the closes term to sales is sales cycle. Email marketing is a perfect fit for businesses that have shorter sales cycles. Because there are not many decisions to make. Simply introduce your product through emails, give your audience offers, and close the deal.
But businesses with longer sales cycles need to make data-driven decisions. To do that, they need marketing automation. It also lets them stay connected to an audience throughout different stages of their buyer journey and provides necessary data from different platforms. With those data, it's simpler to run targeted ads that keep the audience hooked.
Things to consider before making your decision
Now that you know the differences between email marketing and marketing automation, it's time to decide. If knowing only the differences doesn't seem enough, you may also consider a few more things.
First thing first, price plans are always the determiner when it comes to buying something. So you need to put much thought into the price plans and find the suitable tool for your business.
For a small business, it's ideal to look for an affordable and cheap marketing tool that's scalable as well. Consider the features you'll need shortly and the charge for different add-ons. So, once your business grows, you don't need to switch to a new tool.
If you own a larger business, you should focus more on features than the price. Even if a marketing tool seems expensive, it'll earn you more in the long run. Overall, make a decision that won't cost you more money in the future than you anticipate.
A marketing tool's main purpose is to help a company's employees run marketing campaigns effortlessly. That purpose won't be served if a tool itself is too complex.
Employees must familiarize themselves with a new marketing tool before starting their campaigns. So, you need to consider whether your chosen tool is easily usable. If not, it's going to cause further complications.
Intelligence and analytics
The capability of analyzing data is a key feature of any marketing tool. And this is where you can differentiate between good and average marketing tools. Ensure the marketing tool you choose offers enough intelligent analytic features. So you can use those to run targeted ads and grow your business faster.
Lastly and most importantly, keep your marketing goal into your consideration. You don't want to choose a marketing tool that plays no role in your marketing campaign. Rather a marketing tool that'll help with every stage of your marketing campaign is more appropriate.
A simple email marketing tool will be enough if only email automation fits your needs. On the other hand, if you are going to manage multiple audiences on multiple platforms, a marketing automation tool is what you need.
Conclusion
Considering all the differences, it can be said that there's no specific answer to which marketing tool is better for you. You have to make that call yourself; hopefully, this article helped you make the decision.
Whether you choose email marketing or marketing automation, if it's not bringing results, remember it's never too late to change your approach!