Presto Player – A Complete Media Player Plugin for WordPress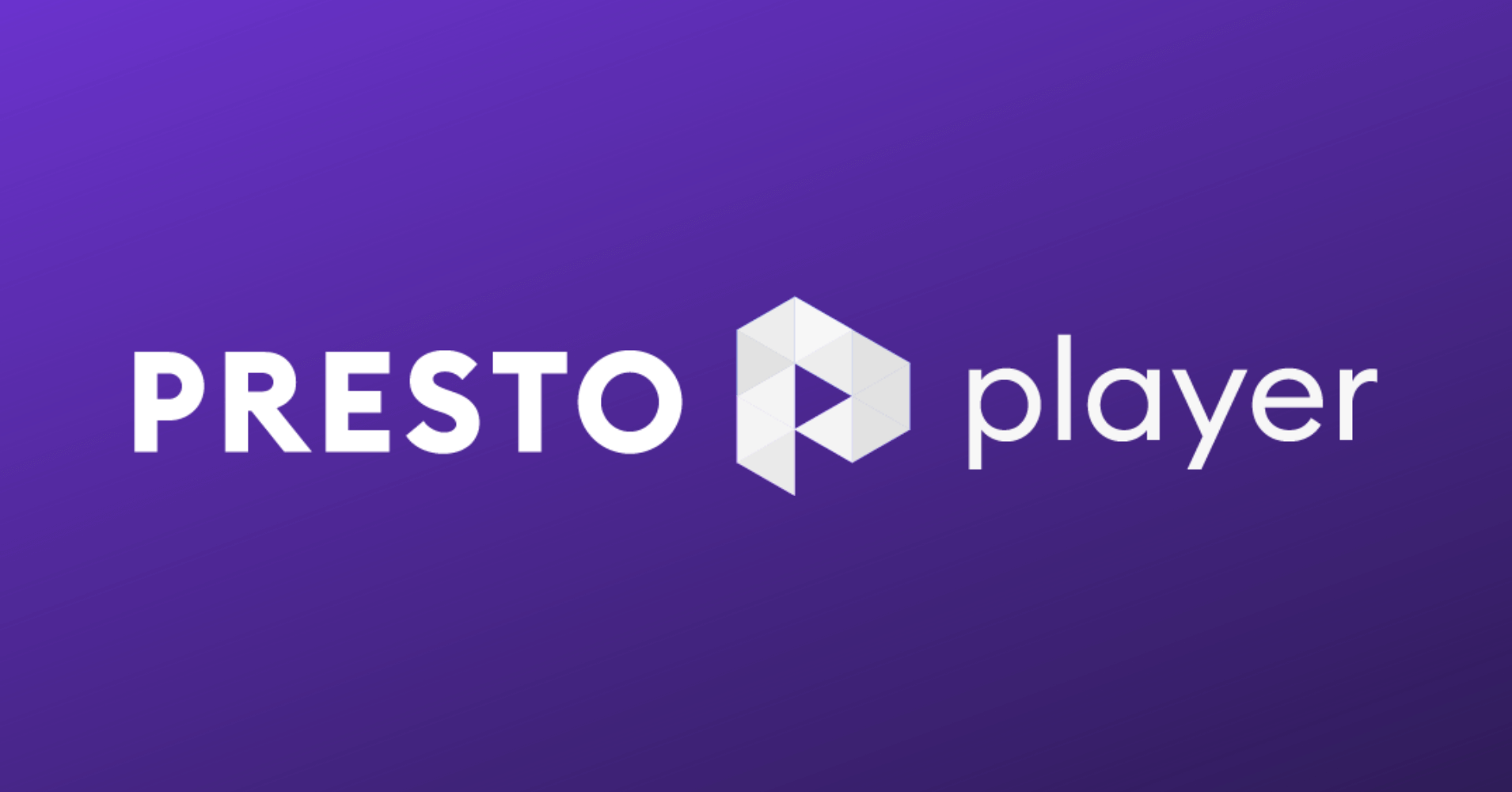 Of all kinds of content, videos feel more human and are easily digestible. If made correctly, videos engage people like nothing else. No wonder creators and marketers are taking video content seriously!
Statistics also suggest something similar, 88% of people prefer to stay on websites decorated with a video, while 95% prefer to learn about a product or service through videos. Hence, video is the latest trend for content marketing!
Whether you're a content creator looking for the right way to embed videos to your website or you want to use videos for product marketing, Presto Player can be the ultimate option for you. In this article, we'll walk you through its features and see if it's good for you.
Ready?
Let's get started!
What is Presto Player?
When it comes to adopting new trends, WordPress users are second to none! Content creators are launching course websites every now and then, and marketers are using videos to showcase products in an innovative way.
People often depend on platforms like Youtube, Vimeo, Wistia, etc., to embed videos on their websites. However, there are several issues with embedding videos this way:
Youtube will use its branding the whole time and offer suggestions that may even include your competitor's video!
Embedding videos from sources such as Youtube or Wistia may cause speed issues.
Video hosting services are expensive. Vimeo's business plan costs $50/month, and Wistia is beyond small businesses' reach(costs $99/month)!
Most video hosting services do not offer integration with online learning services.
Commonly used WordPress page builders do not have support for too many video hosting services.
That's exactly where the Presto Player comes in. It's an inexpensive, self-hosted video player built to work with different page builders and support videos from different sources. You can manage and display different video controls and boost engagement using its various optimized features.
Why you should choose Presto Player?
Presto Player is primarily designed for embedding optimized video and audio on WordPress. It works well with all popular video hosting providers, is secure, and doesn't impact website speed much.
However, the cutting-edge features and functionalities make it a powerful tool for:
Marketers: Marketers can display a customized video player to ensure branding and engage visitors. It's also possible to track video performance and boost email subscriptions.
Course Creators: Course creators can create video courses and offer excellent features such as playback adjustment, custom chapter, skip, video restriction, etc.
Podcasters: Podcasters can add a customized audio player with personal branding, track audio performance, and set restrictions depending on their needs.
While these businesses will get the most benefits, it doesn't mean that other businesses and websites can't use Presto Player. Since it supports a large number of video hosting services, anyone can use Presto Player for its wide range of features.
Presto Player's features
Presto Player has a wide range of video player customization and privacy features. It works with popular page builders like Elementor, Divi, and Beaver Builder alongside the default Gutenberg builder.
If you're a course creator, integration with LMS plugins such as Learndash, LifterLMS, and Tutor LMS will help you build a world-class learning experience for your students. Presto Player features include:
Video restriction: Automatically show or hide a video depending on your visitor's login status.
Muted Autoplay: This one is especially for brands that want to grab people's attention instantly. If you're a brand that's looking to subtly slip into your audience's psyche without causing any annoyance to them, this feature is a must-have!
Action bar: Add CTA's to drive conversion to your product pages, courses, and so on.
Focus mode: Automatically pause the video if your visitors aren't actively watching.
Sticky video: Another feature that allows people to keep watching your videos while scrolling on your website.
Autosave last watch time: Automatically starts playing video from the last saved position.
Overlay on video: Got a nice image or want to engage your customer with catchy texts? This feature is for you! You can overlay an image or text with this feature!
10-sec skip: Want to allow your users to skip videos as they can do on Youtube or Facebook? Well, Presto Player has got you covered!
Playback speed control: Let your audience choose a video speed that's comfortable for them.
Lazy load: Want to improve page speed by controlling if the video is played or not? This feature will help you do so!
Add video Caption: Needs no explanation. However, Presto Player also allows you to edit your video caption style and background colors!
Video skins: This lets you modify the video skin for both new and existing videos. You can effortlessly change the look of your videos and approach your audience in a more exciting way.
Video Analytics: Analytics will show you the number of video views, top videos, top users, unique views, average view time, audience retention rate, etc., metrics that'll help you understand how your videos are performing.
Save play position and volume preference: An innovative feature that allows Presto Player to remember your audience's volume preferences and Video play position. So next time your users resume watching the videos, they can begin from where they left off!
Audio player: The brand-new "Audio Player" feature lets you embed a sleek audio player on your WordPress websites. You can include any sort of audio in your posts or pages without impacting the loading speed. Think of sharing your podcasts!
Timestamp links: The Timestamp link is another interesting feature that guides viewers or listeners to particular sections of the video or audio. As a result, your listeners or viewers won't have to read extensive paragraphs or wait through lengthy audio or video to get the desired information.
Shortcode: Apart from the Gutenburg blocks, Presto Player also allows you to place your video/audio anywhere using shortcodes. Although this isn't an optimal solution, they'll work with any page builders. Besides, the Prestomade team will be rolling out more native page builder integrations soon!
Youtube subscription bar: Boost your Youtube channel subscription by allowing users to subscribe directly from your website.
Schema: Add rich text snippets to your video content to help boost your technical SEO.
Video hosting options
Video hosting will play a key role in the performance of your video. Where you host your video will dictate user experience and, as a result, demonstrate your brand's affection towards the audience. Thus, you need to host your videos on reputed platforms.
Fortunately for you, Presto Player supports several video hosting platforms, which include:
Youtube
Vimeo
Bunny.net
HLS Video
It is also possible to self-host the video on your website. However, it's best to avoid self-hosting if you're not using a very high-quality hosting service.
A platform like Bunny CDN will let you host gigabytes of data for less than 0.05 cents! The best part? —Bunny CDN has servers in 53 different locations around the world!
This essentially means there will never be a playback or page speed issue. Hence, Presto Player combined with such a platform is surely a killer deal!
Integrations
Presto Player is already a very polished plugin in terms of features. But what makes Presto Player great is its wide range of integrations. Combined with features, these integrations can do wonders for your business!
Let's say you're using FluentCRM. In that case, Presto Player's email subscription feature will surely help grow your email list. As your users watch your videos, you can deploy an opt-in form to make your visitor join as your email subscribers.
It's also possible to prevent users from skipping the video before subscribing. Thus, it can be an excellent addition to your website!
Currently, Presto Player integrates with the following tools:
Page Builders: Gutenberg, Elementor, Divi, and Beaver Builder
Online Learning tools: Learndash, LifterLMS, and Tutor LMS
Email marketing tools: FluentCRM, MailChimp, MailerLite, and ActiveCampaign
Marketing automation tools: WP Fusion, AutomatorWP, and Uncanny Automator
Others: RankMath
Pricing
Despite being an amazing player with extraordinary features, Presto Player won't break your bank. It offers a very reasonable price for an excellent tool.
The Starter Plan lets you use Presto Player on a single website for $99, and if you're an agency with multiple websites, you can get the Pro Plan for just $149. There's also a lifetime deal which is available for 25 websites at just $499!
So hurry up and grab Presto Player now!
Wrapping up
Despite being a relatively new plugin, Presto Player has quickly developed into a top media player for WordPress. Especially for marketers, online creators, and podcasters, Presto Player can become a game-changing plugin that boosts lead generation and improves user experience significantly.
Thus, we recommend Presto Player if you need a quality media player that's secure and conversion-focused!
If you have any more questions or opinions about Presto Player, feel free to let us know through the comment section!
Cheers!