Free Tips, News & Tutorials Delivered to Your Inbox!
Every relationship requires nurturing. Customer relationships are no different. In order to keep your customers engaged with your business, you need to maintain communication and nurture them at every stage of their lifecycle.
However, regardless of how hard you work to build an everlasting relationship, it's natural for some customers to become inactive at some point. What to do with them?
Well, if your subscribers suddenly stop responding to your emails, it's probably time to send them some we miss you emails!
In this piece, we'll look at some of the best we miss you email examples and give you all the necessary tips for re-engaging customers like a pro!
But before that, let's start by understanding what "we miss you emails" are!
What are re-engagement emails?
Re-engagement emails aren't necessarily emails with a "we miss you…" subject line but are emails that help win back subscribers and customers who haven't engaged with your business or emails lately. They can also be versatile. For example, a discount offer or an incentive to restart interacting with your business.
These kinds of emails are also called win-back or customer retention emails, as they help you win back and retain customers. Whatever the name is, the goal remains the same —retaining your existing subscribers and customers!
Why do subscribers stop engaging in the first place?
Of course, "we miss you" emails can help you re-engage subscribers. However, you won't be able to tap into your subscriber's minds before you understand why they stopped engaging.
So, before starting to send re-engagement emails, it's ideal to identify why some of your subscribers lost their interest. Here are a few common reasons why subscribers may stop interacting:
Customers aren't interested in your products anymore, so they decided not to open your emails anymore
Customers have found another brand's products interesting, so they have decided to purchase from elsewhere instead of yours
You've previously sent too many repetitive emails that your subscribers got annoyed and lost interest
The subscribers don't find your emails relevant, so they don't engage
Due to the massive number of emails they receive from other brands, your emails are getting lost in your subscriber's inboxes
Finally, your subscribers may even be interested but are too busy to interact with your emails!
How do re-engagement emails help?
As the name suggests, we miss you emails are sent to re-establish user engagement with your business. But how does it work? —Well, there's no specific formula. It depends on how well you understand why your audience isn't engaging and what proposition you make.
Let's say one of your friends who you haven't spoken to for a long time reaches out to you asking for a meetup. What would you do?
As long as you don't hold any grudges against them, you'll immediately say yes. Even if you hold any grudges against them, they can convince you by telling you how much they have missed you, your good memories, why you need them, and how they need you. None of these would happen if your friend didn't reach out to you in the first place!
That's what re-engagement emails do.
You can reach out to your inactive subscribers, tell them you miss them, fix the reason why they don't engage, or even offer incentives to re-engage with your brand. Re-engagement emails can help you win back inactive customers and retain more customers in the long run.
6 best we miss you emails for inspiration
Big brands from almost all industries have set tremendous examples of re-engagement emails. If your goal is to set an example, too, we've gathered some of the best we miss you email examples!
You don't have to follow those blindly, but you sure can take ideas and inspiration from them. Let's start!
Duolingo – playing the emotional card
While writing a re-engagement email, connecting inactive users emotionally is the best thing you can do. Duolingo has done exactly that by asking whether the audience still wants to learn another language.
They even went the extra mile and came up with a bespoke design. Not to mention how creatively they have added the CTA!
ModCloth – taking visual presentation to another level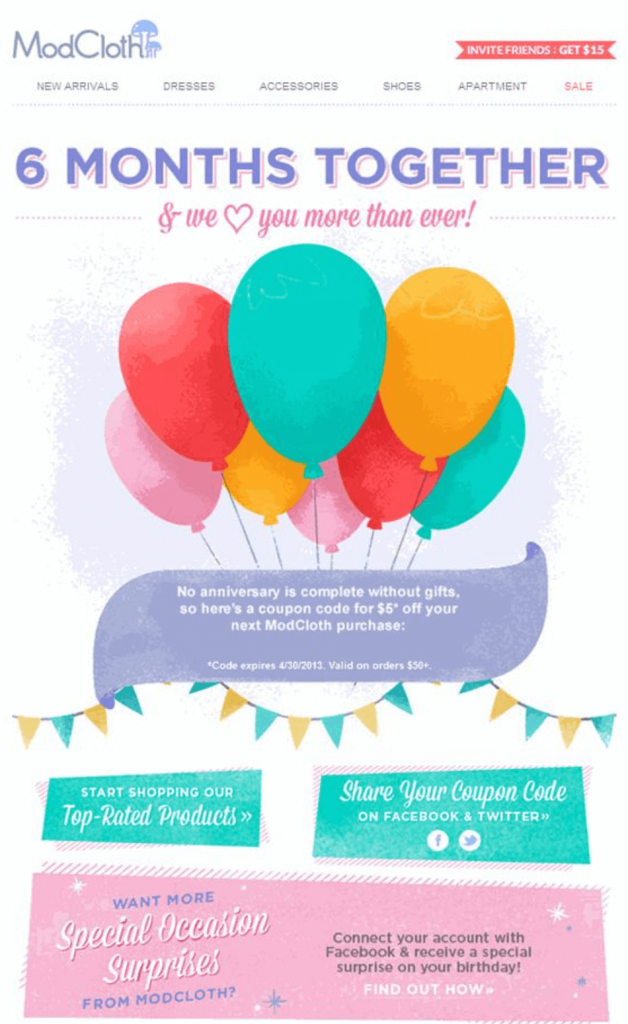 A re-engagement email needs to be more than just words. The more you can visually attract, the better. This above re-engagement email by ModCloth followed the same strategy. This fancy design will surely win back a decent amount of inactive users.
Not just that, ModCloth also offered a small coupon code to pay gratitude to their audience. With that, they've surely won back some of the customers even if they weren't interested at first!
Aweber – showcasing the importance
As we have mentioned, one of the best ways to re-engage inactive audiences is to let the audience know what they're missing. Aweber has done that well with their re-engagement email.
While Aweber told the subscribers what they would be missing if they didn't engage with the customers, they didn't forget to ask whether the audience wanted to stay engaged or not.
If you ask us, that's an excellent approach because it'll let people know they can opt out but will miss out on excellent learning materials Aweber can offer!
Grammarly– the ideal re-engagement email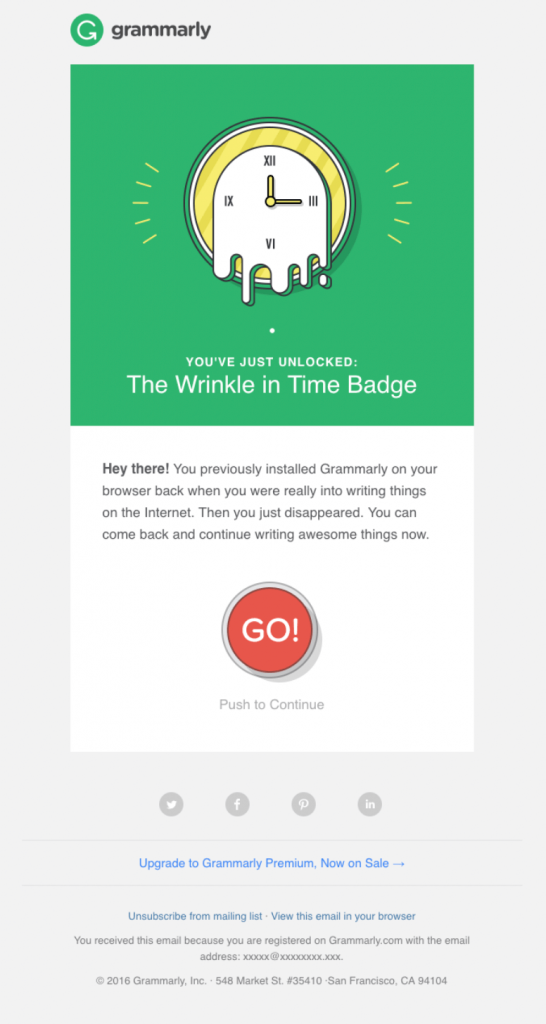 This example of Grammarly's re-engagement email is a traditional one. They have added humor, visuals, and, most importantly, CTA. They indicated the precious memories with the users and asked them to come back in a nicer way. And that's what you should take from this example!
H&M – offering incentives to stay engaged
If your users aren't engaging, make an offer they can't resist!
Discounts have a higher chance of bringing your audience back, and that's what H&M has focused on. They offered a 15% discount to inactive users if they returned. And just like MadCloth's re-engagement email we've shared, this email will also trigger many people into buying even if they intended not to engage.
Urban-Outfitters – not shying away from being humorous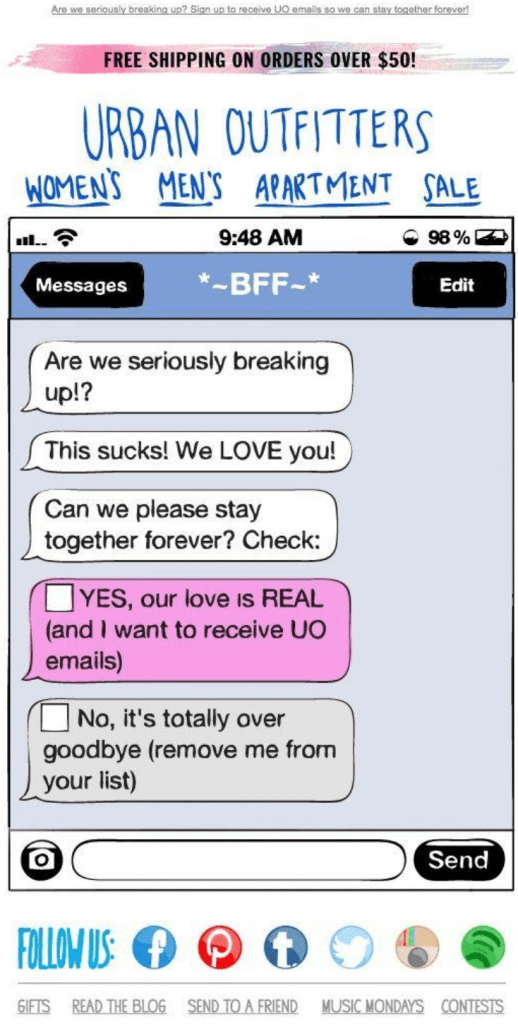 If you can make someone laugh, you get to enter their heart!
Yes, humor leaves a great impression on the human mind, and that's why Urban-Outfitter's re-engagement email worked like a charm.
How can someone check the no box of such a cute email? —Most people won't, and they'll succeed in winning back most of the inactive subscribers!
Best practices for writing effective re-engagement emails
Re-engagement emails take much more than just telling the audience you miss them. Though that's what you need to say, it has to be relevant and creative. Creativity will depend on you, but we can enlighten you about some best practices!
So, here goes some of the best practices for writing re-engagement emails:
Put some humor in the subject line: How can you make someone interested if they aren't interested? —make 'em laugh! Since the first thing people notice when they get an email is the email subject line, introducing some extra humor in your email subject line can be your vital trump card!
Tell the subscribers about your improvements: Your subscribers don't always stop engaging because you have annoyed them with irrelevant emails. Maybe the product you sell or the service you provide lacks something. If that's the case, there's no better way than to reach the inactive audience with an email highlighting your improvements!
Create urgency: Why not introduce the widely used marketing strategy to your re-engagement email? —Yes, we are talking about creating urgency and provoking FOMO. Simply make an offer for a limited time, and make sure to let them know. Sometimes, urgency is exactly what lures people into making a decision!
Provide offers for coming back: Re-engagement emails with offers work like a charm! Rather than just writing "we miss you", show your audience you actually miss them by offering something. From experience, we can say this works way better than just saying it. Offers can be discounts, buy one get one free, coupons, etc.
Personalize: You want to send an email, and how can you forget the basics? Yes, we can't help but emphasize the importance of email personalization. For re-engagement emails, email personalization is a must. Ideally, you'd want to trigger a memory of your audience so that they feel an emotional connection towards your brand.
Ask if they want to receive more emails: No matter what you'll offer, some subscribers simply won't respond. However, it is your responsibility to be humble when asking to reconnect. So, ask your users if they want to keep receiving more emails. If not, let them go.
Keep an opt-out link in your email: Providing an opt-out link is a good practice and increases your brand value. Even if you lose a subscriber, it'll earn goodwill for your company in the long run. As an email marketer, you must honor the CAN-SPAM Act. So, tell your subscribers that they can opt out of your emails by including an opt-out link.
Start re-engaging before it's too late!
Well, we hope the importance and engaging power of the re-engagement emails are established. Every second you waste will cost you the chance of winning back an inactive subscriber, so start your re-engagement campaigns immediately.
Follow the tips we have shared and don't forget to take inspiration from the examples. Hopefully, you will win back most of your initiative subscribers!
If you already have a re-engagement email strategy that works for you, let us know in the comment section!
Try Our Free Marketing Automation Plugin for WordPress!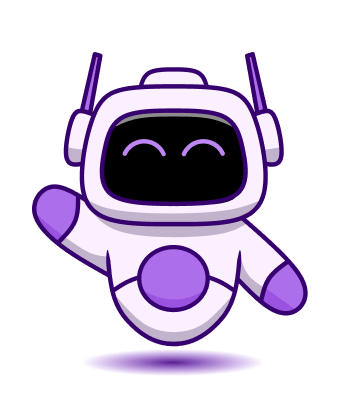 Leave a Reply
Great! Would be awesome if FluentCRM had a way of cleaning suscribers for inactivity (or segment them) by number of emails not opened and such.