7+ Email Copywriting Tips & Best Practices for Writing Killer Email Copies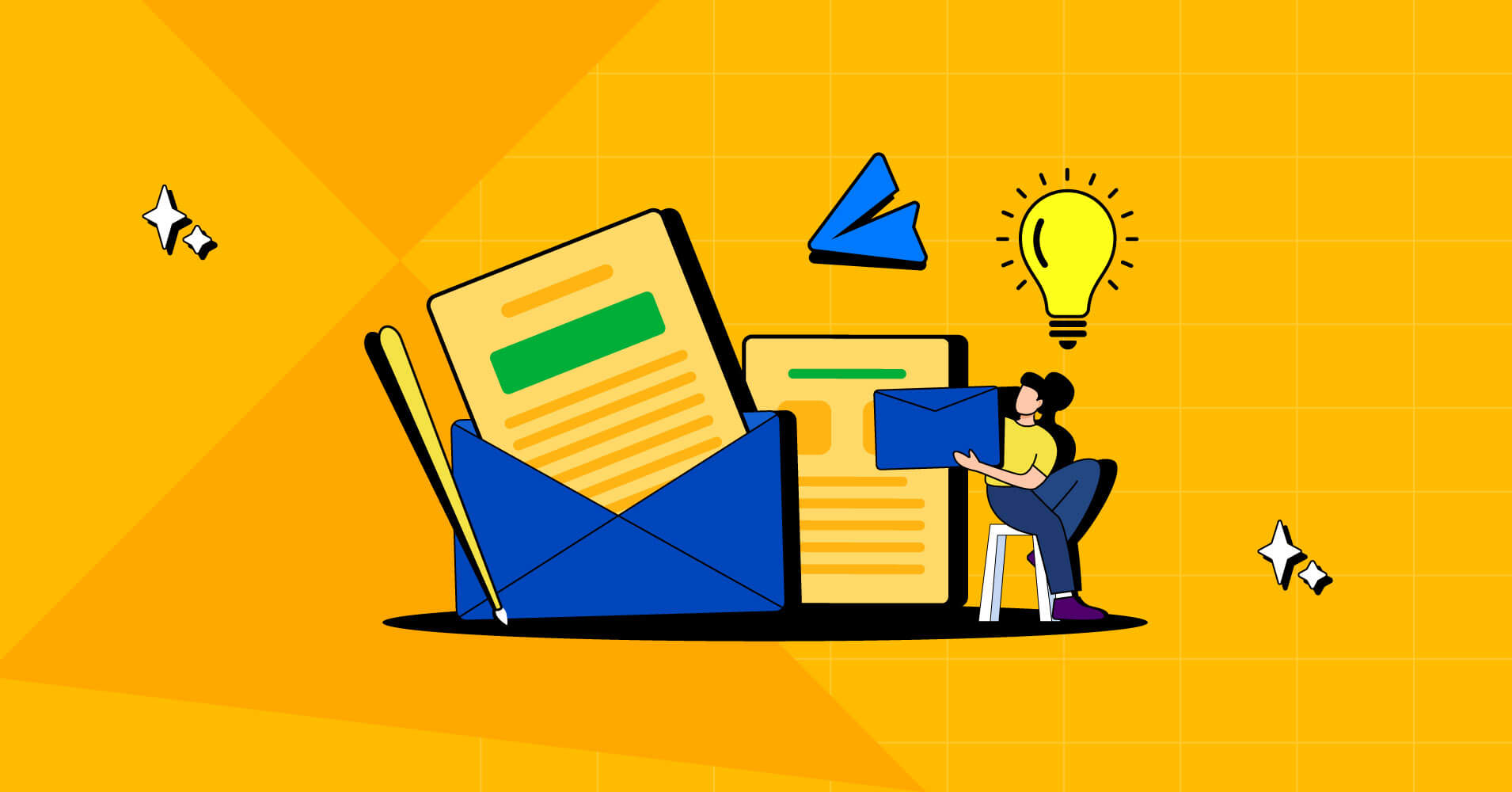 How many emails actually produce a great amount of CTR or sales?
Honestly, not many.
The average attention span for a human in today's world is less than 8 seconds. It's hard to grab people's attention in such a short span of time, let alone make them click and read your email to make a purchase.
This is where the importance of a great email copy comes in. A great email copy has the power to draw the attention of your target audience to your product or service and keep them updated with what you are doing & delivering —eventually generating conversion and sales.
So, in this article, we will provide you with complete and effective guidelines on email copywriting. By following this guideline, you can sound more professional as an email copywriter and accomplish your goals.
So, without further delay, let's jump into the article!
What is email copywriting?
Email copywriting is the method of writing an email to persuade your prospective customer into your desired action.
As an email copywriter, your target is to inform your potential customer or existing ones what value you are delivering to them and why they should trust you. As an email copywriter, you must possess strong writing skills and be up-to-date with your target market.
And if you can succeed in convincing your audience, you will most likely receive your conversion through the following ways such as—
A response to your email
A sign-up to your blog
A sale of your product or service
A sign-up for your trial product
A visit to your blog post
Why is email copywriting important?
Effective email copywriting can open the door to unlimited opportunities. When you craft a catchy subject line, deliver value to the reader with an attractive email body and of course a call to action, you're taking a shot at convincing your potential reader which results in pitching your brand and generating the possibility of subscription or sale.
Following are some of the reasons why email copywriting is important-
Spam filters often look for errors and words in your email copy. Good email copywriting will help you avoid spam filters and improves email deliverability.
You can use visual and text elements that help you create a brand image for your business. As a result, good email copy will also help build brand awareness.
An enticing email copy usually hooks the reader into the email and drives them to take action. As a result, it helps to encourage the recipients into becoming your subscriber, customer, or long-lasting brand advocates.
The 7 c's of effective email copywriting
When you are sending an email to someone, think of how you'll communicate with them face-to-face when you need to communicate a message.
A clear, transparent, and effective way of expressing yourself increases the chances of winning trust and conversion. Be clear, correct, complete, concise, concrete, coherent, and courteous while conveying your message to the reader.
Clear: Ask yourself what is the objective of your emailing. Write a clear and easy-to-understand message in simple language and avoid any technical jargon.
Correct: Always check any spelling or grammatical errors before sending an email. Carefully check sensitive information such as the recipient's name, title, telephone, address, etc.
Complete: Make sure that your message is complete and conveys all the information to the reader. It should reflect not only what you want to achieve but also meets the readers' requirements.
Concise: Be concise in your communication with the reader. Always keep your message brief and to the point. Avoid any kind of unnecessary fillers or words to maintain accuracy and subjectivity.
Concrete: Be concrete in your message so that your reader can understand your brand explicitly. Choose a call to action carefully & make your message interesting but not vague.
Coherent: Make sure that your message goes with the flow. There must be a consistent connection between your sentences focused on the subject line. If your email lacks coherence, your reader will most likely lose attention.
Courteous: Be respectful, friendly, honest, and professional to your reader. Always use a soft tone in your message. You should be empathetic towards your reader & always think from their point of view.
Subscribe to Our Newsletter
Get email marketing tips, tutorials, and information delivered to your inbox!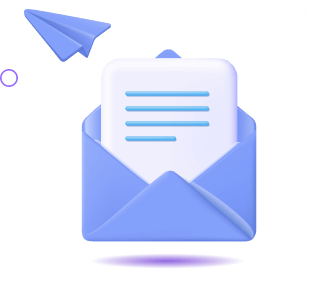 7+ tips & best practices for email copywriting
As a beginner, it may be challenging for you to write a compelling email that will engage your target audience and aid you to accomplish your goal. But if it's done in an organized way, email copywriting can be fun and facile.
There are tons of great ways to write an email copy. But in our experience, below are some proven email copywriting best practices that will help you to build your confidence, improve your copywriting skill and boost your conversion rate.
Write an eye-catching subject line
First impression is the best impression and when it comes to email copywriting and persuading the reader, the fate of your email getting the impression and click from your audience greatly depends on the subject line of your email.
If your subject line is irrelevant, unattractive, and lengthy, your email will fail to entice the reader and he/she will leave it unseen. So, how can you craft a killer subject line that will force your reader to take action?
Since the success of your email receiving attention from your reader greatly depends on the subject line, you must conduct deep research to create an impressive subject line.
However, here are some of the techniques to follow to make your life easier:
Offer value: Time is a valuable asset and no one is going to spend their time on something unworthy. Make sure that you are writing a subject line that tells your reader what value they will receive from reading it. This will motivate them to take action.
Be concise: Nowadays, most people tend to read their email on mobile devices. Mobile screen size is smaller and longer subject lines usually get cut off. As a result, shorter ones usually do the trick. So, keep your subject line short and mobile-friendly, generally six to ten words, and optimized for mobile users.
Use actionable words: Write phrases that are going to generate a sense of urgency in the reader's mind. If you think psychologically, words that are telling them what they should do before reading the entire mail, people will pay attention to it.
Ask them a question: If you ask a question in your subject line, there are higher chances of getting clicks. Make your question interesting and relevant but do not use clickbait since it might trigger your reader and you might lose their trust.
Engage with them personally: When an email is coming from a real person rather than a robot or a company the reader will feel comfortable and interested in it. So, make sure that you are reaching your audience organically.
Deliver what your subject line promises
Suppose you are writing for WordPress, and your subject line states that you are offering 30% off on an upgrade. In that case, your email should describe
What you're offering to your prospective customer
The benefits they'll receive from this plan
The deadline for the offer
Discount code, etc.
But instead, you started promoting your business and comparing it with others in the email body or sharing spammy links and making things annoying will be considered clickbait from the readers' point of view. As a result, the reader may mark your email as spam and unsubscribe from you.
If you have succeeded in convincing your reader to open the email, the next challenge is to align your email body with what you promised to deliver. Failing to engage your reader with your email body will result in immediate termination from reading your message.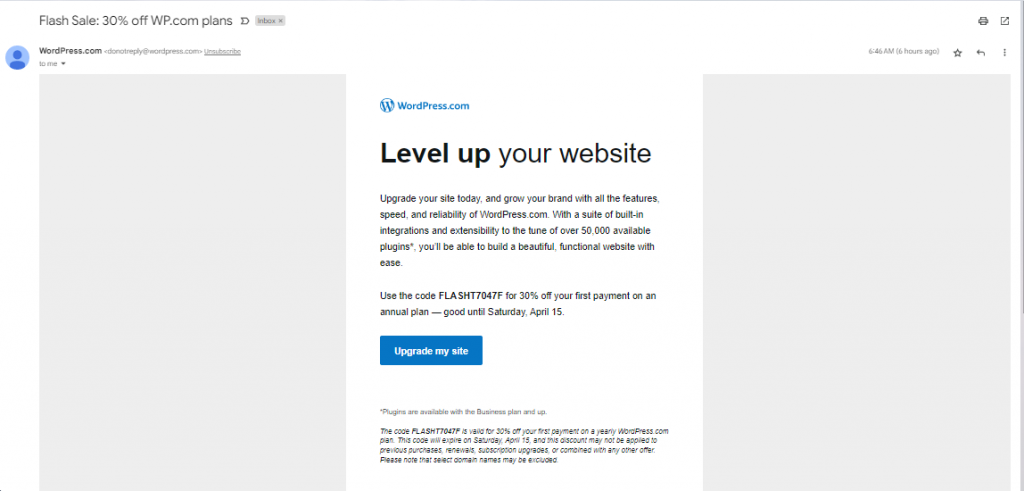 Leverage the power of preview text
Preview text is an important determinant for people using mobile devices whether they are going to open an email or not. Since most people like to read mail on their smartphones, an enticing preview text can be a driving force to take action.
What you committed in the subject line must be present in the preview text in order to maintain coherence. Preview text is generally displayed under the subject line, so aligning it with the subject line matters the most. When your preview text is relevant to the subject most readers will go for a shot.
Here is an example of a preview text just below the subject line: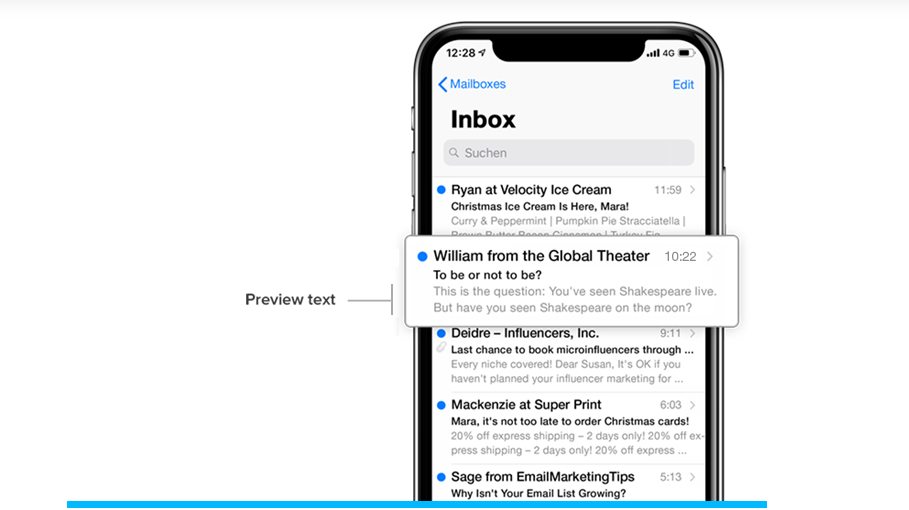 A perfect snippet can help you strike the recipient's mind, give them a firm idea of what you want to say, and ultimately drive them into the main body. Make sure your preview text is relevant and intriguing enough to pick the attention of the reader.
Write a personalized copy
When you add a personalized flavor to your email you are making it conversational. Infusing a personal touch in your message will create an environment of direct conversation for the other side, encouraging the reader to continue.
Then, how can you write a personalized version?
Before starting to type, imagine that you are sitting in front of your audience to make the conversation more realistic. Producing exclusive copy for individuals will help you to resonate with your readers.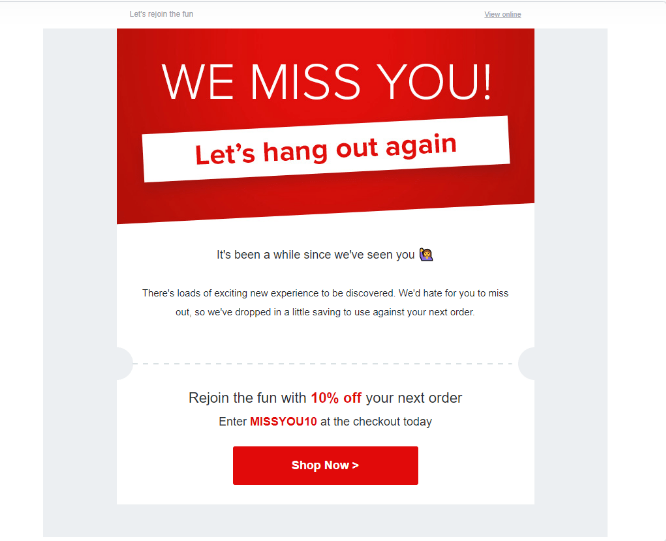 Here's an example of a personalized email where the sender addressed the recipient as 'You' and them as 'We' with an empathetic tone. The conversation seems to be clear on a personal level. It will help to build attraction towards you and create a connection with the reader.
If you're not sure how to infuse personalization in your emails, check out some of the best email personalization techniques in this article
Be relevant to your audience
If you are sending the same email to every subscriber then you are doing it in the wrong way. Everyone differs from one another and as a result, people's interests and preferences vary.
Sending a generalized email won't change the mind of the reader or inspire them to convert. Rather you should focus on individual preferences. In this case, marketing segmentation can help.
After identifying who to target and how to target, the next goal is to send them personalized emails emphasizing their needs. You can use FluentCRM, an email marketing automation tool that will help you to send personalized emails to your target audience through segmentation.
Try Our Free Marketing Automation Plugin
Download our marketing automation plugin and start sending automated emails FREE!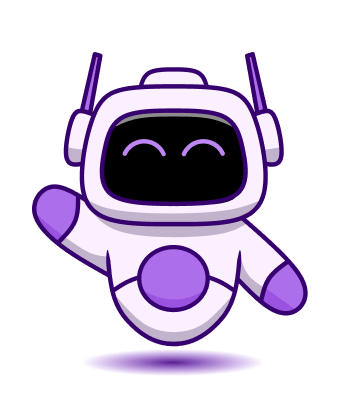 Emphasize benefits, not features
While features describe your attribute set, benefits describe what value your product or service is generating to them. Well-described benefits will compel your reader to take action. So, instead of selling yourself, you should focus on your readers' benefits. Emphasizing features will only prove that you are only considering your interest rather than your customer.
Before investigating your feature, your reader wants to know how they can be benefitted from you. When you are running a business there will be many competitors. They want to know what extra value you are offering to them than your competitors.
How to highlight benefits?
Address how you can add value through your product or service to your subscriber. Tell them why they should choose you based on the outcome they will receive by consuming your product or receiving your service. You can introduce the features cleverly but don't make your email body feature rich.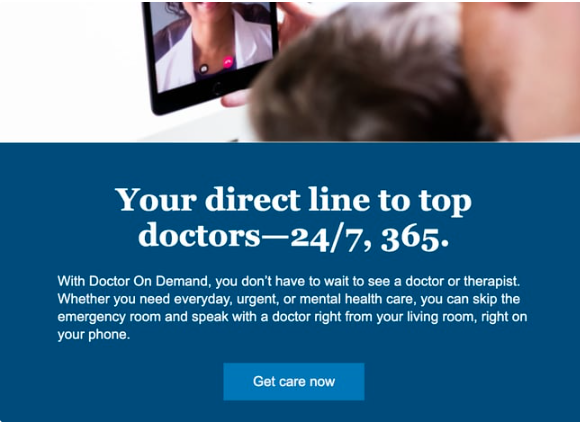 Use psychological tricks (FOMO, social proof, power words)
Effective use of psychological tricks can be a great way to drive your reader into conversion. It may seem derogatory but this terminology can give you the upper hand in marketing campaigns.
Since human beings get triggered by emotional words to some extent, introducing psychology in your email will lead them to take action. When psychological tricks are implemented in a correct approach it can yield the following results:
Higher engagement to your website
Higher probability of conversion
Retention of new customer
Facilitation to segmentation
Now let's briefly look at some of the best psychological tricks.
Apply FOMO
FOMO stands for 'Fear of Missing Out', which is a technique used to affect the buying decision of a customer with an urge to jump over a product. It's a way of manipulating the feelings of your customers in an honest way. It helps to leverage the feeling of the targeted customer to take action before the deadline.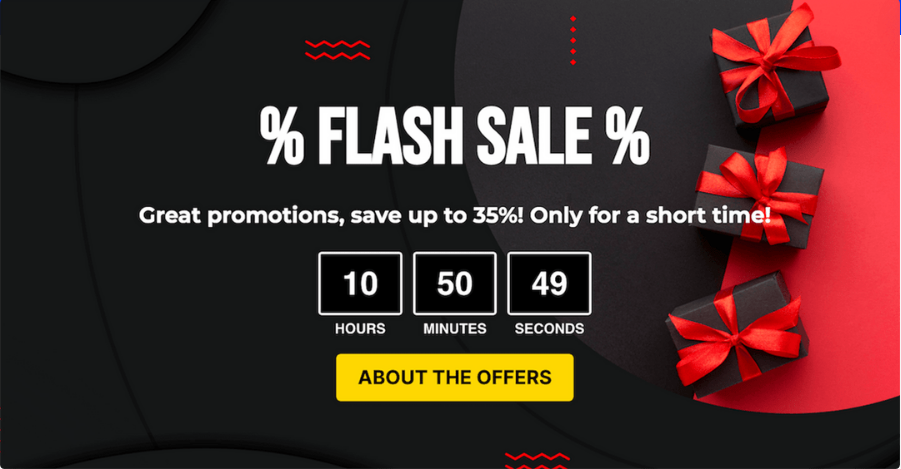 How can you apply FOMO?
Add a countdown timer to encourage the reader to take action in situations like new product launches to get a pre-booking
Introduce artificial scarcity of supply to create urgency in the mind of your customer, telling them you have limited stock on hand
Sometimes running flash sales campaigns can be an effective way to make a great deal with your customers where they will feel the need to run to your store.
Sending a Last Chance Email can be another effective way to pressure your customer into making a decision. It can be integrated with flash sales or countdown timer techniques to set a reminder saying 24 hours left, 10 pieces left, expires tomorrow morning, etc.
Add FOMO in your subject line on exclusive situations such as product discounts, and 'last chance' sales
Apply a surprise touch in your email to create a sense of imagination in your readers' minds
Exhibit social proof
According to Wikipedia, "social proof is a psychological and social phenomenon wherein people copy the actions of others in choosing how to behave in a given situation".
When you want to drive your reader into making purchasing decisions, you should display them social proof like customer testimonials, an exhibition of fruitful product uses, press mentions, case studies, etc. Because human psychology tells us that people tend to look for evidence from others before trusting a claim.
Social proof can be of particular types such as—
Social reviews
Influencer opinions
Awards and certification etc.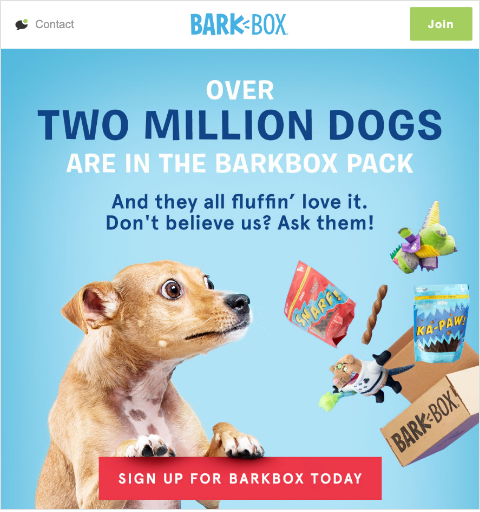 Charge it with power words
Power words can work as another psychological trigger to incite your reader to take prompt action. You can use power words in your subject line to receive the first impression from your reader or even inside your email body. Power words can turn your repulsive subject line into a powerful magnet.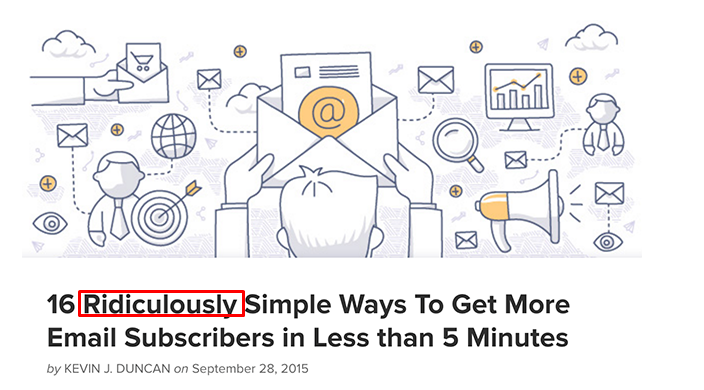 Power words can be categorized into the following groups:
Trust and comfort power words such as certified, proven, money-back, etc.
Greed power words such as exclusive, limited, massive, etc.
Curiosity power words such as astonishing, invitation-only, etc.
Vanity power words such as amazing, gorgeous, remarkable, etc.
Angry power words such as brutal, corrupt, crooked, etc.
Avarice power words such as breathtaking, mouth-watering, thrilling, etc.
Fear power words such as horrific, gullible, beware, etc.
Maintain a consistent tone
When conveying messages to your audience, always remember that they are interacting with your brand. Your brand message conveys information regarding your business, how it differs from others, and how you can add value to your customer.
Brand voice means the overall perspective, image, and value you provide(i.e. the overall personality of your business). On the other hand, tone means how your brand is communicating with its audience using words or phrases, emotions, communication methods, etc. So, there must be a synchronization between your brand voice and tone of voice.
It's important to keep a consistent tone in your writing so that your readers can recognize you although they skipped reading your subject line or mail address. By doing so, you can run a successful email marketing campaign that will yield customer satisfaction and build promotion.
Employ A/B testing
A/B testing is a method of comparing the two different versions of an email to identify which one is working better if small changes are made. It is a convenient way to find out which subject line, preview text, mail body, and images are performing better.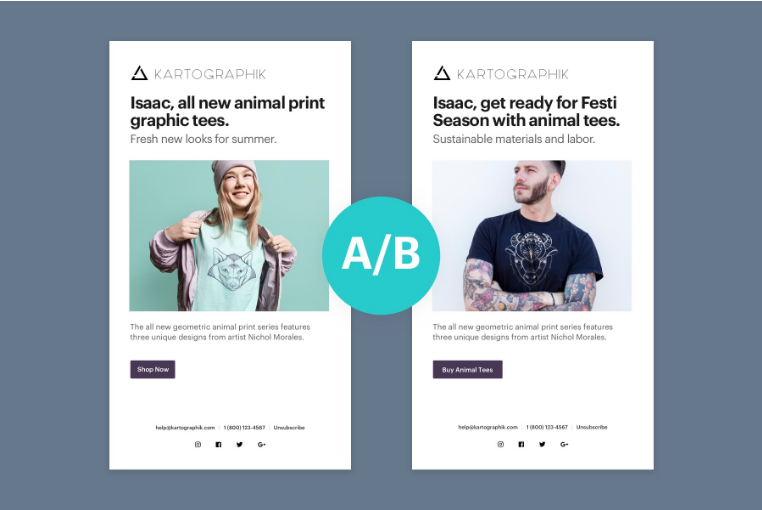 To track the performance of each homogeneous mail, send both variants of your email-one to each half of your targeted subscribers.
After receiving the report compare it with an established benchmark to investigate which one is receiving more, clicks, and more open rate. This result can be used to improve your existing email campaign and marketing strategy.
Start writing email copies that convert!
Email copywriting is a cost-effective way to promote your business, and retain customers. So, having the right knowledge to persuade your reader can earn you a lot of profit without much investment.
It might seem difficult and tricky at first glance but the return on investment in learning email copywriting is huge. So follow the above-mentioned email copywriting tips and best practices to nurture yourself, build confidence, and become the next professional email copywriter.
We wish you all the best!