8 Best Email Marketing Sequences for Different Types of Businesses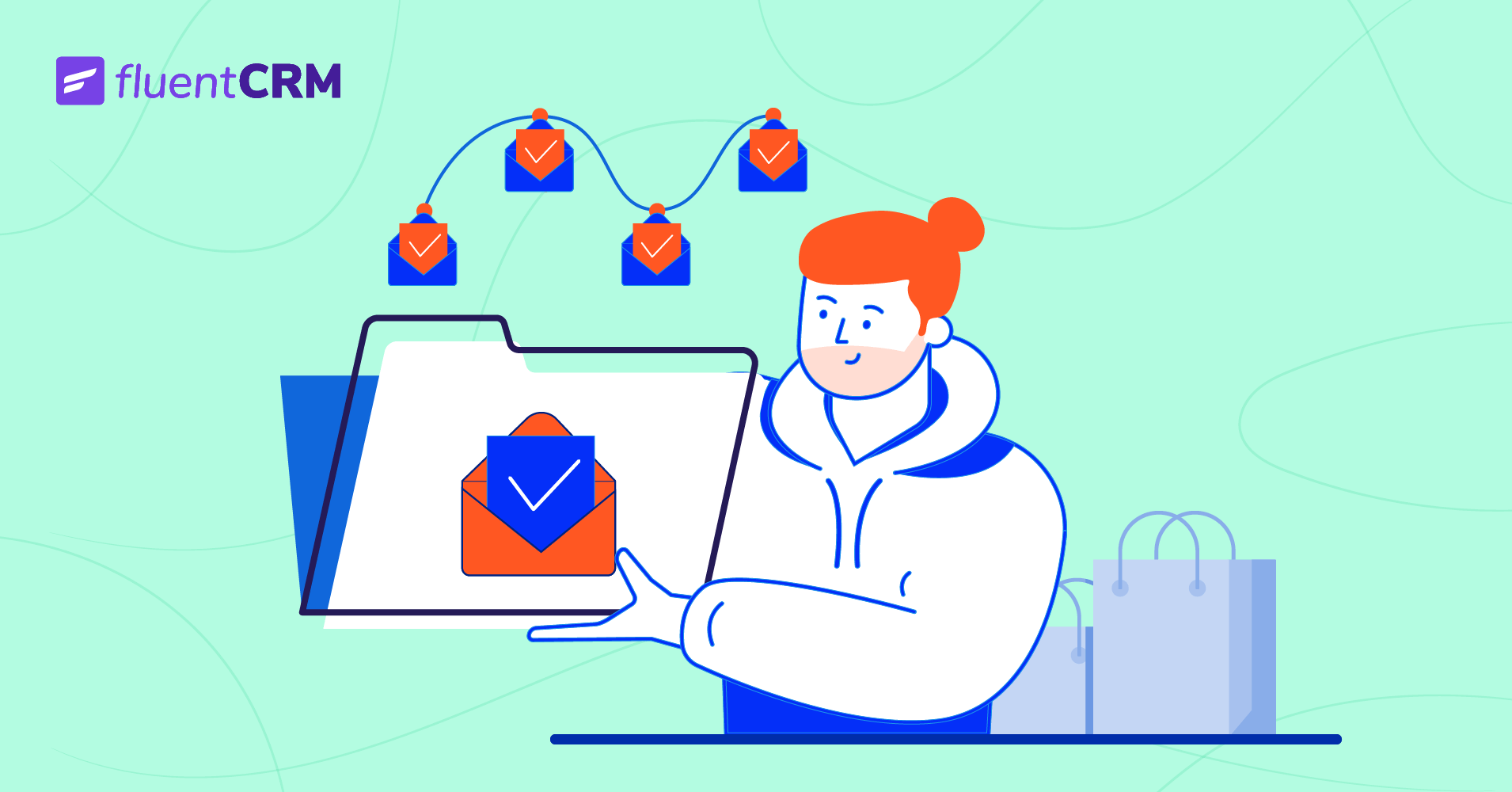 The term online business encompasses a lot of distinct product types – from the user base to interactions to expectations. However, they all need to employ fundamental email marketing strategies to generate revenue that very much includes email sequences.
It's an excellent idea to look at how the best email sequences might differ across businesses. Or more appropriately, product types.
But before we get into that, what's an email sequence?
Email sequences
Email sequences are a series of emails delivered to recipients to guide them through the buyer's journey. While creating email sequences, it's essential to keep in mind the buyer's stage a contact is in. This helps to target high potential buyers and increases gains from email campaigns.
Now, we've already talked a lot about email sequences, how you can use them, and the do's and don'ts of email sequences.
For this blog, we're going to look at three types of products that have massive online sales potential. Mainly:
E-commerce goods
Softwares and Services
Courses and Limited access events
Each of these products targets a different kind of customer, so the methods and techniques differ. However, the differences are limited and don't deviate from your standard email marketing strategy.
8 Best Email sequences for different businesses
To clarify, by different types of businesses, we mean the type of product your business is centered upon. While some online stores blur the line among these, there are plenty of distinctions that you can make.
Email sequences for e-commerce businesses
E-commerce businesses provide consumer goods and luxury items that include toys and tools to beauty and fashion products. They rely on a variety of email sequences to interact with their customers. Here are some of the must-haves:
1. Welcome email series
It's practically a holy sermon to welcome a user whenever they sign up on your website. Your welcome email may be the very first opportunity to build a relationship with your audience.
The welcome message has a stark impact on the likelihood or frequency that they'll open your emails in the future. The classic e-commerce trap of hard-sell messaging in the wrong context will get you nowhere.
Ideally, your welcome email should be transactional – i.e., to confirm opt-in or account setup prompt. Beyond that, you can develop a pattern of engagement with your audience by personalizing your emails.
2. Abandoned cart reminders
Cart abandonment is a commonplace incident, which is why it's a great chance to engage with your lead. Since adding something to carts can be considered as a genuine intent of purchase, a gentle nudge may be all that's needed to get someone to the checkout page.
A smart move is to trigger FOMO(fear of missing out) by saying that the recipient's cart will only be recoverable for the next month. Another way could be telling users that supply is low or that you can hold the product only for a limited period.
Offering discounts for the product in the reminder message is also a splendid idea. Sweeten the deal by offering a generous discount. Lastly, a curiosity-piquing subject line like "Forgetting something?" will do just nice!
3. Post-purchase follow up emails
Following up is arguably the most effective sales tactic there is. It lets the customer know that you appreciate them and reassures them that their satisfaction is still your priority. Considering the current trends, follow-up emails are a great way to make sure you stay relevant and increase your client reviews
Post-purchase follow-up emails usually carry messages like asking for a review outright and provide a link to make leaving one easy.
Another approach is to showcase products similar to the ones they've already purchased; this applies to complement products and related searches too. One way it can't go wrong is to thank your customers for their purchases and create a sense of mutual appreciation.
Email sequences for softwares and service businesses
While a software is different in the sense of physicality and limited availability, it shouldn't stop you from tapping into the same thought paths that e-commerce businesses use every day. Along with the sequences that an e-commerce business uses software and service businesses can further benefit from the following:
4. Lead-nurturing sequence
Nurture sequences work exceptionally well when you want people to try out your service or software. This can all start from a lead magnet about a pain point your product addresses.
Nurturing leads lets you personalize the conversion process to create a complete experience. We found nurture sequences to perform best when the recipient has already developed an interest in the relevant topics.
A simple thought flow for a nurture sequence would be:
Offer a resource that will come in handy for someone with beginner-level interest. This makes it easier to convert them into an audience.
The following email could show them how to best utilize the resources you've provided.
Next, you can direct them towards related products and solutions to look for in the given space.
Lastly, you can bring it to a close by looking into more advanced resources and how to get them.
Grammarly does the same thing with their welcome emails and they do it really well. Want to know how Grammarly onboard customers?
*Check out the teardown!
5. Expansion email sequence
In today's SaaS market, any excess revenue generated apart from the initial subscription sales price is considered expansion revenue. Email sequences can help grow your expansion revenue – given your subscription's value metrics, pricing dimension, or pricing axis are on par.
Among many other metrics, an effective indicator is your subscribers' consumption among the features you offer. When a subscriber's feature allocation (user seats, feature usage, transaction amount, etc.) is within 20% of maxing out, you can send an email sequence with an appropriate offer to upgrade to a more advanced plan.
Email sequences for courses and limited access events
While most refer to them as online course platforms or other terms, we'll go by Learning management and Membership platforms for WordPress people. E-learning offers an altogether different environment for users, so they benefit most from effective onboarding and upsell sequences, as we'll see in the following sections:
6. Onboarding email sequence
No matter how intuitive and friendly your learning platform may be, it can never replace the need for a good onboarding process. Great onboarding makes the best use of great timing, placement, and pacing.
Getting all three of these is extremely difficult to get right. But you cannot deny how essential it is to invest in onboarding content that welcomes and educates new learners after they've just signed up.
Good emails that make onboarding easy include specific dates/time reminders for upcoming live sessions to help learners find exclusive content. Account information tutorials on how to change basic details like email, password, and payment details are also neat. You could also show how to navigate courses efficiently or how to proceed with learning.
7. Upsell sequence
Courses are more beneficial when they have interconnection and offer a roadmap on a topic. This is perhaps the most effective way to cultivate returning customers. Upsell sequences are your way to guide learners to the right course.
Leading them to the "next step" at the end of a course gives them the chance to expand on their newly gained knowledge, which tickles all the right spots in our brains.
Great ways to upsell products include offering course bonuses and/or random discounts for students who take up a course from your upsell emails. It's like offering them a good experience no matter what stage of the learning they're in.
Another proven method is sending a monthly newsletter to showcase a "Course of the Month" on your website. This kind of promotion could prompt upsells as the recipients are likely to read the email.
8. Course completion sequence
Even if you chose not to send any of the previous emails, you must send out an email and certificate on course completion. At a minimum, your sequence should include a congratulatory message along with the grades obtained.
That's the basics. You'll also want to provide a certificate (there's no good excuse not to provide one!). Advice on next steps such as links to other recommended courses or further reading materials can also enhance the overall experience.
A good measure would be to set up different course completion emails for each course, so the recommended courses are relevant to the course completed. Most LMS's generate certificates automatically. So that won't be much of a hassle.
Besides email sequences, you can create fully functional email marketing automation funnels that generate leads, segments contacts, and sends out personalized, behavioral emails to trigger more course sales on autopilot!
Want to find out how you can automate an entire email marketing strategy for your course? Check out our email marketing automation tutorial for course creators! 👇
* Learndash email marketing automation tutorial.
Wrapping up
Email sequences are perhaps the most powerful part of any email strategy. They let you personalize your customer experience and create the most engaging correspondence possible. While every kind of online business can benefit from email sequences, it's not a one-size-fits-all method.
You need to understand what your business is trying to achieve with the emails to make the best use of them. Not to mention that you also need to craft the emails according to the environment on your platform and your tone of engagement. That's the only way to create a lasting impression with your audience, which is why you're sending emails in the first place!
So that's all for today. Are you using any of the email sequences we mentioned above? Let us know in the comment section. If you liked the article, subscribe to our blog and follow us on Twitter!