7 Best WordPress CRM Plugins to Supercharge Your Business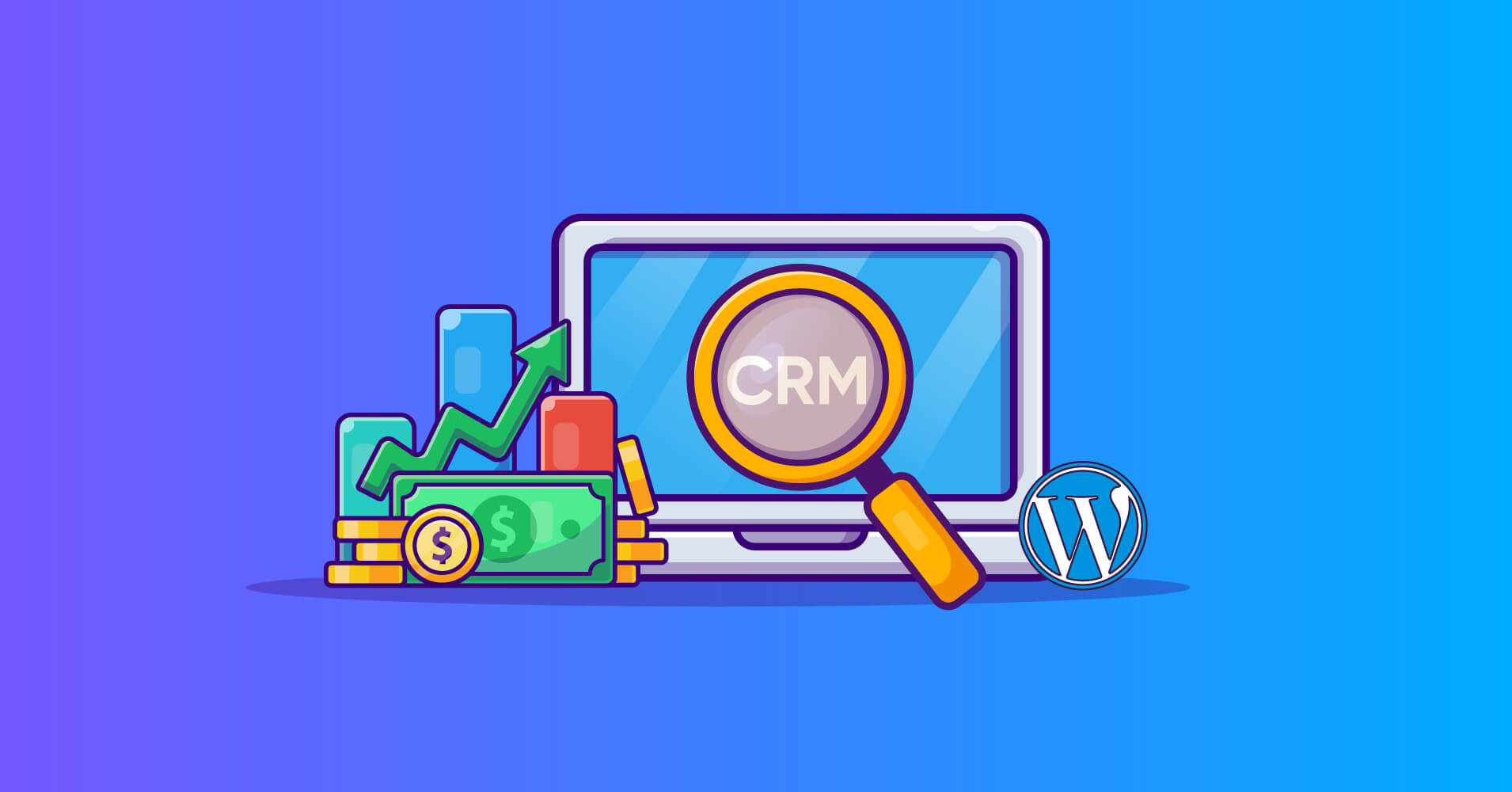 Along with all the sweet and happy moments, you'll also go through some tough times when your business starts to grow.
Collecting and managing customer data, tracking buyers' journeys, and streamlining customer experience while being informed about your entire business are some of the challenging aspects of managing a rapidly growing business.
That's where WordPress CRM plugins come in handy. They can help you manage large contact databases and keep you informed so that you can make data-driven decisions. However, with so many WordPress CRM plugins available online, it's easy to get confused.
So, which WordPress CRM plugin is the best fit for your business? Or do you even need a CRM plugin in the first place?
Keep reading to find out!
What is a WordPress CRM Plugin?
A WordPress CRM plugin is a tool that helps you capture, store, organize and manage contact data so that you can track buyer's journey for everyone you interact with, streamline communication, improve the customer experience, and enhance data management.
As your business grows, you'll start dealing with more customers and leads, and your contact database keeps on getting bigger. The bigger your database, the harder it is to understand your customers.
Needless to say, customer service and marketing campaigns can become a difficult chore without understanding your customers. A WordPress CRM Plugin can help you in this regard. With a WordPress CRM plugin, you can capture and store audience data and categorize and filter them by various data points.
By doing so, you'll be able to run targeted marketing campaigns, tailor personalized communications, and ensure excellent B2B and B2C relationships.
Why do you need a WordPress CRM plugin?
There are many CRM tools available in the market. But why choose WordPress CRM plugins?
Let's start by addressing the most obvious reason, you can get CRM plugins for free on WordPress and WordPress only! Not just that, here are some other reasons that'll help you understand the necessity of a WordPress CRM plugin:
You can easily access the contacts that are integrated with your WordPress website
WordPress CRM plugins let you manage all your contacts from your WordPress dashboard
Since your employees are familiar with WordPress, they won't have to learn from the scratch
You can easily integrate a CRM plugin with other tools you use on your WordPress site
WordPress CRM plugins cost less than cloud-based CRMs
Some CRMs offer advanced features like segmenting, filtering, sequencing, automating, etc.
To summarize, WordPress CRM plugins offer various primary features along with convenience and affordability. Thus, you should consider getting a CRM plugin even if you manage a small business.
Things to consider before choosing a CRM plugin for WordPress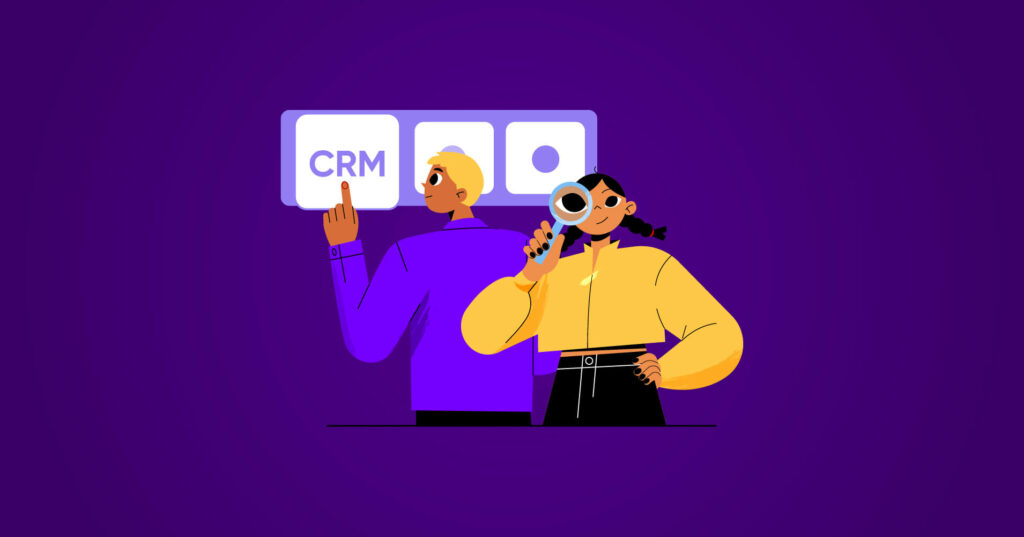 Now that you know the importance of CRM plugins, don't jump ahead and install the first CRM plugin you come across. You must consider a few things to understand which WordPress CRM plugins are suitable for you.
Here's what you should consider:
User-friendliness: The CRM plugin you choose should have a user-friendly interface. It should also allow you to keep the admin and customer interfaces easily navigable.
Lead generation: Your CRM plugin should have a complete setup for collecting leads. Like different forms and templates you can use on the different pages on your website. Features like drag and drop, widgets, shortcuts, etc., are very helpful.
Data storage: Your CRM plugin should have the option of storing contacts on multiple databases. Also, ensure it offers unlimited storage so that you don't have to pay more once the audience number starts increasing.
Segmentation: It must have Tagging, filtering, segmenting, etc., features. All these will make managing a huge database a child's play for you. Not to mention, running targeted campaigns will be a whole lot easier.
Reporting and analytics: It should provide reports and charts so you can analyze the data better. A detailed analysis gives you an overall insight into how your business is performing and where you need to improve.
Marketing automation: It's a bonus if your CRM tool offers messaging tools or marketing automation. You'll be able to handle different marketing channels if your CRM offers this feature.
Integrations: Facilities like integrating, adding extensions or apps, etc., make a CRM stand out from others. With this feature, your CRM will be your one-stop solution for all your marketing needs.
7 best WordPress CRM plugins
To say the least, making a list of the top WordPress CRM plugins is not easy. Yet, keeping the vital aspects in mind, we did our research. And here are the CRM plugins that we think are worth trying.
CRM is free, you have to pay for other features

-Customer Log Maintenance

- Social Media Integrations
FluentCRM
FluentCRM is a self-hosted CRM plugin that also offers excellent marketing automation facilities. It has become the go-to solution for over 20 thousand businesses. And why wouldn't it be?
This plugin has many features, each of which helps to manage your data. You can segment your audience into lists, tags, or dynamic segments. On top of that, you can run email marketing campaigns. Automating emails based on different actions of users is also possible. You'll get detailed insights about each and every person on the CRM.
Importing contacts from other sources is also very easy, even if you switch from other services. You can store unlimited data and send unlimited emails using FluentCRM. Here's a little information before we get into the feature section.
Price: Free( premium version starts at $129/year and goes upto $499/year )
Reviews: 4.9+ stars out of 5 (WordPress.org)
Number of Active Installations: 20k+
Compatible with: PHP version 5.6 or higher
Key features
You can run and manage unlimited email marketing campaigns
One-click integration with popular plugins like WooCommerce, LearnDash, Easy Digital Downloads, LifterLMS, MemberPress, etc.
Detailed user overview and customer tracking. All the customers' activities will be logged in the CRM as well
Advanced segmentation and automation features. This CRM lets you filter your audience very precisely using different conditional logic.
You can create lists, give your contacts tags, and create dynamic or behavioral segments
Sending repetitive emails to a large number of people gets easier with the email sequencing feature of this CRM
You can even perform A/B tests for the subject lines before emailing
CRM reports, campaign analytics, and funnel performance analytics —a granular reporting module to help you make data-driven decisions
Should you get it?
FluentCRM is a great fit for those who regularly send emails to their audiences. The free version ticks all the basic boxes for smaller businesses. If you're just beginning, it should be good enough for you. If you have a medium or already-grown business, you can get the premium version of FluentCRM, which is also very cheap compared to its competitors.
Hubspot
Hubspot has created its own fanbase with its user-friendly WordPress CRM plugin. You can configure this CRM within a minute, and it's completely free to start with.
You'll also get a free form builder with this CRM tool. So collecting leads and syncing them to your CRM will be way easier. Integration with other market-leading tools like Fluent Forms, Gravity Forms, Ninja Forms, etc., is also possible. Leads collected through these forms will be added to your CRM automatically.
Along with that, there are built-in analyzing features available. It automatically adds information to contacts' profiles. We'll review the details features in a bit, but before that, here are some insights about the Hubspot CRM plugin:
Price: Free(Price goes up for more features and based on your contact list size)
Reviews: 4.5 stars out of 5 (WordPress.org)
Number of Active Installations: 100k+
Compatible with: PHP version 5.6 or higher
Key features
If the price and reviews aren't enough, let's look at some of the amazing features of Hubspot CRM:
Hubspot CRM offers online contact management built into the system, so you can easily build lists and segment them
Your different interactions with the audience will be logged in this CRM. So, you'll instantly get the data whenever you need it and easily follow up with your audience or customers
Live chat with customers is possible using this CRM so that it can work as customer support
You can easily design versatile forms using the form builder Hubspot CRM offers
The integrated email marketing tool will let you send up to 2k emails for free every month
Ready-made templates and drag-and-drop features will make your email composing experience way easier
You can integrate this CRM plugin with over 300 plugins like WooCommerce, Stripe, Gravity Forms, etc.
You can customize popups, CTAs, live chatbots, etc.
Lastly and most obviously, this CRM plugin will provide you with the necessary reports and analytics.
Should you get it?
Hubspot CRM offers a free plan that allows you to send upto 2000 emails for free. It can be an excellent option for small business owners. But the price plan spikes after that. So if your business needs to send bulk emails regularly, you might want to consider cheaper options.
But if you don't care about the price plans, it can be a one-stop solution for all your CRM needs!
WP ERP
WP ERP plugin can be a one-stop solution to all the problems regarding CRM, HRM, and accounting. Many small and larger businesses are taking full advantage of this plugin.
Like most other WordPress CRM plugins, you can get started with WP ERP for free. Some free features include managing company information, location tools, holiday calendars, etc. You can create contact groups as well. For more features, they have premium add-ons with different price plans. Here are some information about WP ERP:
Price: Free to start with (premium plans start at $155 a year, and it goes upto $1120)
Reviews: It got 4.4 stars out of 5 on WordPress.org
Number of Active Installations: 10k+
Compatible with PHP version 5.6 or higher
Key features
WP ERP offers many more features than we can list in this article. But we have picked the most useful ones, and here they are:
Collecting payments get super easy with this CRM. WP ERP supports 40 plus currencies. So you can collect payments from different places worldwide.
You can send out emails with pre-built templates to both clients and admins. There are lots of template options available as well.
Creating a full company profile is possible that too with white-labeling
WP ERP offers an HR manager function, which you can use to locate and handle employee information, and share different announcements
The CRM works amazingly for managing client and their information, customer lifecycle, creating groups or lists, etc.
You'll also get an accountant tool for basic accounting tasks like managing the balance sheets, income tracking, and reporting
Lastly, you can easily filter a huge database using this CRM tool. And there are various paid extensions and integration available as well.
Should you get it?
Along with acting as a CRM, WP ERP can also be your accountant. Most features of WP ERP are free, so it can definitely be your pick —especially if you're looking for an affordable solution to manage a huge database.
You can also scale its features by adding paid extensions and integrations if you need those shortly. So, small business owners can definitely try WP ERP.
Jetpack CRM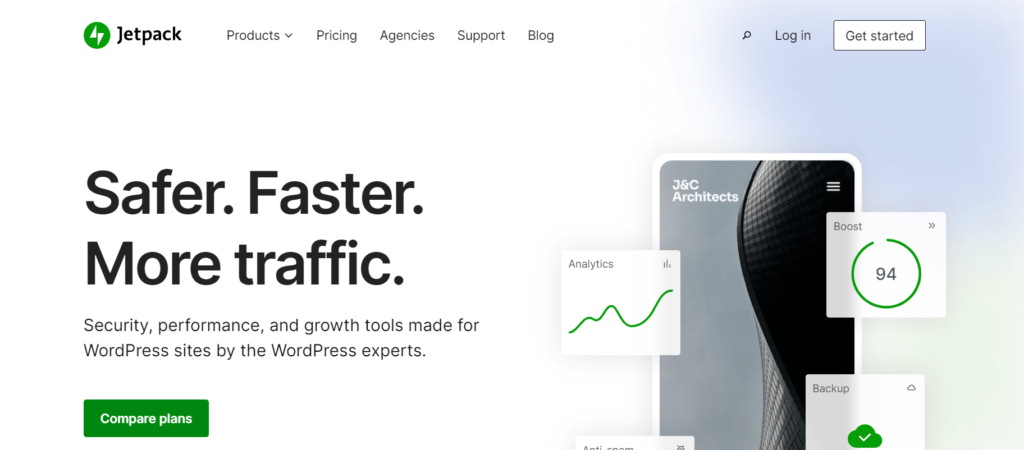 Jetpack CRM, previously known as Zero BS WordPress CRM, is a very easy-to-use plugin. Along with the usual features of a typical CRM, it offers a few extra. For instance, the client portal. It lets the customer access their profiles, information, invoices, etc.
To ensure better communication with your audience, you can seamlessly integrate with all social platforms like Facebook, Twitter, Linkedin, etc. And the premium versions of this plugin come with integrated PayPal and WooCommerce features. Let's review a few pieces of information before starting with all the features.
Price: Free to start with ( Paid plans start from $11/month and go up to $17/month)
Reviews: 4.5 stars out of 5 on WordPress.org
Number of Active Installations: 30k +
Compatible with: PHP version 7.2 or higher
Key Features
The enriched and numerous features are the main reason behind jetpack CRM's insane popularity. Some of the unique and mentionable features are:
You can automatically log different events on your customers' profiles
Directly handle B2B communications
Dynamic segmentation and easy email sending facilities
You can create tags and lists to filter your large database easily
Easily handle social profiles of your users from the CRM
Should you get it?
Comparing the price to Jetpack CRM's features, it can be a safe option for any business. Especially for those who are running a website dedicated to e-commerce. It'll also be a safe option for B2B businesses.
UPI CRM
UPI CRM has been in the market for a while now. Its helpful features and popularity have secured its place on the list. The features of UPI CRM don't limit only to managing contacts; it also helps to build contact forms. So, you can collect leads and manage them using only UPI CRM. You can also integrate this CRM with other CRMs, plugins, and Google drive.
If you already have a plugin for contact forms, you can easily integrate UPI CRM with that and get new leads directly to your CRM. As a result, the process of importing contacts gets automated. UPI CRM sorts all the leads according to their different traits and provides you with a filtered database. Here goes a few more information:
Price: Free
Reviews: 4.6 stars out of 5 on WordPress.org
Number of Active Installations: 1k +
Compatible with: PHP version 4.3 or higher
Key features
As UPI CRM is a new plugin, the features are the only thing that is vouching for it for now. We have picked the best ones among them. Here are they:
You can collect, track and manage leads using this plugin
You can automate the process of where a lead should be assigned
Setting up custom UTP parameters and tracking traffic sources is also possible
A user-friendly dashboard that shows necessary reports and KPIs
Using this plugin, you can manage all the contacts from your WordPress dashboard
You can set up statues for your contacts and automated triggers
The mobile interface is super user-friendly; you can easily add contact forms and capture leads from your mobile devices
Should you get it?
Since all the features of this CRM plugin are free, it can be the first choice for any new business. On top of that, it's easy to use. So, no expertise is required to operate this CRM. As long as you do not need advanced features, this can be an ideal CRM.
WP-CRM System
Next up, we have the WP-CRM System plugin. It does the basic jobs of a CRM plugin. However, it gets better with a few paid add-ons. You can pay to add feature-packed extensions like Zapier, WooCommerce, etc.
A premium version is also available; it comes with all the extensions and supports. The premium version costs you about $99/per month. You can manage different projects, track your marketing campaigns, and even set tasks for individual members of your list. Here's a little more info about the plugin:
Price: Free to start with (but you'll need to pay for premium add-ons)
Reviews: 4.4 stars out of 5 on WordPress.org
Number of Active Installations: 1k+
Compatible with: 5.7 or higher PHP version
Key features
It's definitely not a CRM that comes with countless features, but it serves its purpose by providing the necessary ones. These are the ones we are talking about:
You can manage your contacts and store them without any limitations
You can add different custom fields to log various information in this CRM
Importing large CSV files or exploring them to another system is very easy
Provides a comprehensive report that helps you with making data-driven decisions
Integration with many plugins like slack, Gravity forms, etc.
Your developer can bring changes to this CRM if they want to customize the fields, report, or other sections
Should you get it?
Even the free version of this CRM plugin comes with many features. So if you are on a budget, this plugin can be a great solution to your CRM needs. The companies looking for a flexible and extendable CRM plugin will also find it interesting.
WP Fusion
Although WP Fusion isn't a CRM plugin itself, it falls in the premium category of CRM plugins as you can use this plugin to integrate any CRM with WordPress.
You can easily connect WP Fusion to tie other CRMs to your website and track everything via your CRM. Building membership sites, synching customers' information, capturing new leads, tracking e-commerce transactions, etc., can be done using this plugin.
WP Fusion integrates with plugins like AWeber, Hubspot, MailerLite, Salesforce, etc. As a result, you can also perform other tasks that aren't related to customer relationship management. Though it may be a bit expensive, a lite version is available for free.
The free version offers fewer features but serves the primary purpose of syncing contacts and managing users to some extent. Here's a little more information about WP Fusion:
Price: Free to start with (premium plans start at &247/year)
Reviews: 5 stars out of 5 on WordPress.org
Number of Active Installations: 4k +
Compatible with: PHP 5.6 or higher
Key features
Though WP Fusion is primarily useful for connecting your tools, a few other features are also worth mentioning:
WP Fusion can be integrated with a wide range of CRM plugins so that you can enjoy various automation possibilities of other CRM tools
Linking to email marketing tools like MailerLite or Mailchimp is just a matter of a few clicks
You can buy different add-ons to track metrics like abandoned carts, downloads, interaction, etc.
Add tags to users' profiles automatically
It offers widgets to redirect users to a certain page
WP Fusion provides 24/7 customer support
Should you get it?
WP Fusion is for you if you want an easy-to-use and simple automation plugin. It can help you with building forms, collecting and sorting contacts, tagging them, and all the other basic facilities. But if you are looking for more, WP Fusion might disappoint you.
Conclusion
WordPress CRM plugins are inevitable if your customer database is growing rapidly. In this article, we tried to shed some light on the best WordPress CRM plugins according to our research. However, here's our last tip to help you with making the decision: Choose a CRM plugin that's affordable, scalable, and comes with features beyond your CRM needs.
If you think some other plugins deserve a place in the list, don't forget to let us know in the comment sections. We hope you find the best WordPress CRM plugin for your needs.
Cheers!