Free Tips, News & Tutorials Delivered to Your Inbox!
Instead of repeatedly reaching out to your customers, wouldn't it be convenient if your business could attract customers without that constant effort on marketing?
Subscription marketing does exactly that! It retains your existing customers so they become your repeat customers. It creates a stream of revenue and a loyal customer base.
But, establishing a subscription business model has some hurdles in its path. Like–
How will you retain customers?
Can you acquire enough customers to sustain your business?
To tackle those challenges, you need a rock-solid subscription marketing strategy. And, in this article, we're gonna talk through some of the best subscription marketing strategies that work flawlessly.
Let's get started!
What is a subscription business model?
A subscription business model is a business model that offers a time-based recurring payment system where the user pays the company a certain amount of money to use their product or service for a certain amount of time.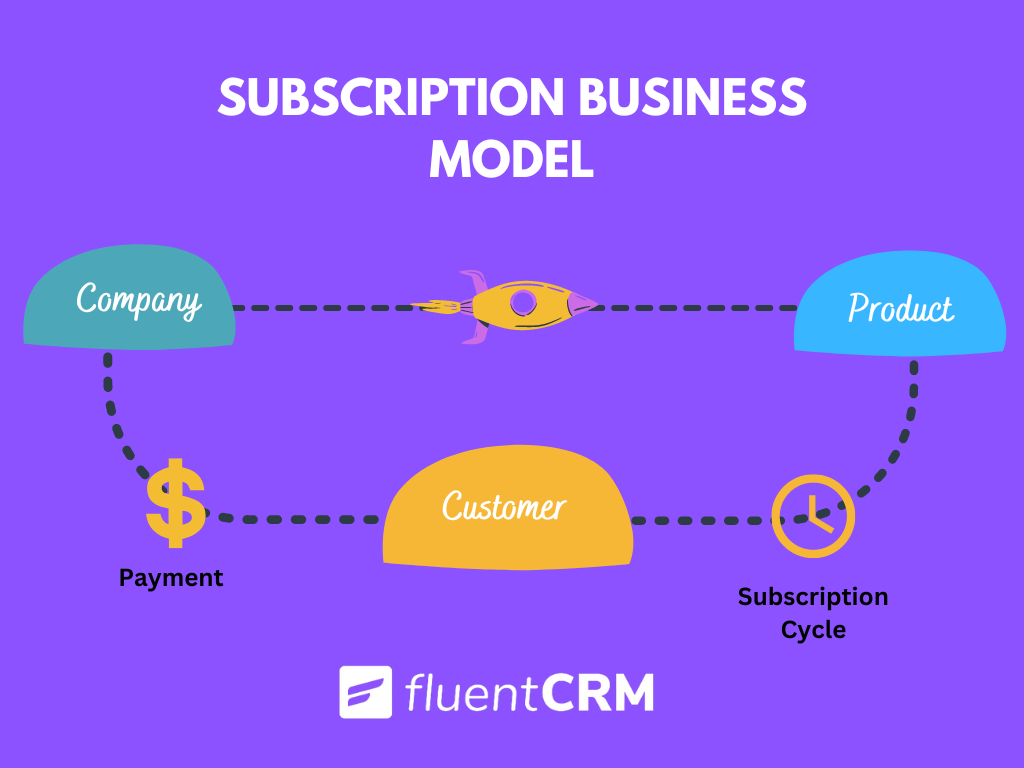 Subscription business models focus on retaining their existing customers while trying to acquire new customers through various marketing strategies. A subscription model cannot sustain itself if it doesn't have enough subscribers who would pay for its service.
Why choose subscription marketing?
Tech giants like Google, Microsoft, and Adobe have already made the shift to a subscription business model. Even big entertainment companies have opted into the subscription business and the list goes on and on.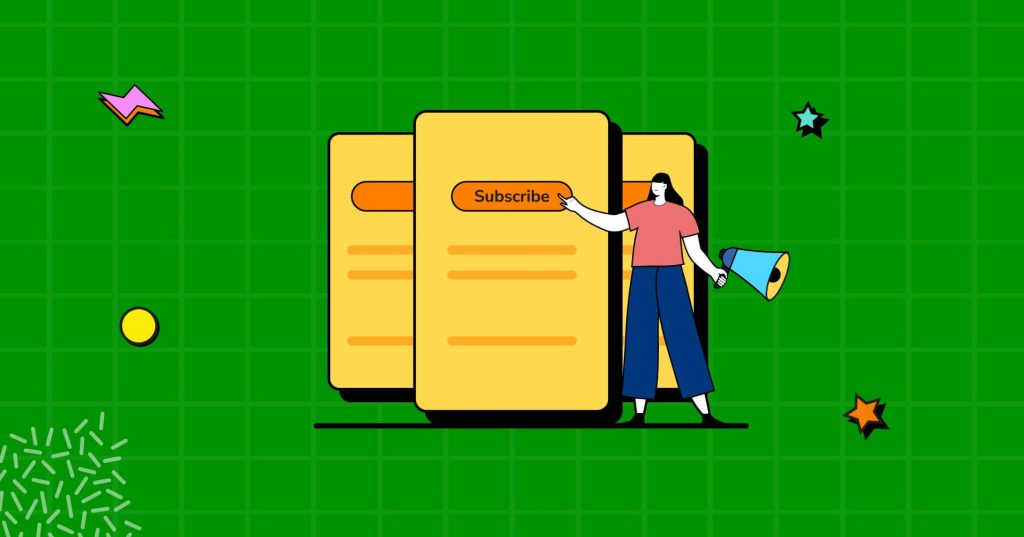 By 2028, the net worth of the global subscription e-commerce market will reach $2419.69 billion. With this in mind, we can easily figure out why this shift is happening. 
There are other strong reasons for choosing subscription marketing including:
Retain more customers: Acquiring new customers is 7x more expensive than retaining existing customers. The subscription business model is designed in a way that makes use of its already existing customer base to make repeat sales.
Generate recurring revenue: Subscription businesses usually follow an 80-20 rule which states that 80% of a company's revenue comes from 20% of its customers. It benefits businesses by providing an ongoing stream of recurring revenue which keeps them afloat through the worst of times.
Beneficial for customers: The subscription model makes purchases a breeze for customers as they don't have to pay every time they want to consume something. Along with this, subscriptions come at a lower price and give customers more content to consume with a single purchase.
Reduces customer acquisition cost: Subscription businesses essentially run on word-of-mouth or customer referrals. Subscription businesses focus on providing value to their already acquired customers and their approval which makes them refer your business to other prospects.

As a result businesses can spend their money on customer satisfaction and retention by providing exceptional value to their customers rather than spending a huge chunk of their budget on marketing.
Build a relationship with customers: Customers are at the heart of every business. If you truly want to make the most of your business in today's market, you must constantly attract, engage, and delight people while also building a bond. Subscription marketing will assist you in this endeavor.
Subscription businesses are solely concerned with developing long-term relationships with their customers. A positive relationship with your customers will ultimately benefit and sustain your business for a long time.
15 best subscription marketing strategies
There are numerous challenges and hurdles you will face while setting up a subscription business model. These could be:
Low customers retention rate
Transactional difficulties
Customer churn
Determining the ideal pricing
To succeed in this market, you need to have strategies ready that help face those challenges. Here are some strategies on which we'll elaborate below so you could impose them with your business:
Know your customers well
As you start your own business, the first thing you need to keep in mind is your customers. Your customers are the ones that will keep your business going. And, the first order of subscription business marketing is the same as any other form of marketing – knowing your customers and their needs.
How do you get to know your customers then?
Conduct thorough market research. Knowing how everyone else is doing gives you an edge over other businesses. Your research should consist of data gathered through questionnaires and surveys and even paid product testing before you launch it.
Ask for reviews and feedback from your customers. This will allow you to get into the customers' minds and see your pros and cons from their side. Fill in the user's intent and you'll get some loyal customers.
Knowing your customers through and through helps you retain your customers which is a must when it comes to subscription businesses.
Use email marketing
Email marketing works like a charm, every time and for every type of business. Be it subscription marketing or any other form of marketing, emails vitally work the best.
No, it's not just our opinion, it's a proven fact. Email marketing has a return on investment of a whopping $42 for every $1 spent. And if you aren't utilizing the power of email marketing, you're missing out.

Marketing Automation for WordPress
Get FluentCRM Now
We'd advise you to start building your email list and empower your subscription marketing through emails. Along with a ginormous ROI, email marketing can help you:
Keep your customers informed: Let your avid customers get all the news about the latest features and recent development through emails.
Nurture customer relationships: Keep your relationship steady with your existing and repeat customers with personalized emails.
Reach new customers: With email marketing, you can reach an array of different potential customers who might make a purchase.
Follow-up on abandoned carts: Email marketing enables you to push people who added a product to their cart but didn't make the purchase. This recovers 10% of your potential lost revenue.
Upsell and cross-sell your products: Upselling and cross-selling your products feel like a breeze if you utilize email marketing fully.
Put your marketing efforts on autopilot: By utilizing various email marketing tools available on the market, you can simply put your marketing efforts on autopilot and reach your customers' doorsteps effectively and timely, saving you a lot of money and time.
Keep producing quality content
You might've heard of this —"Content is king". Well, this is derived from an essay title by Bill Gates where he also says –
"Content is where I expect much of the real money will be made on the Internet, just as it was in broadcasting."

Bill Gates
This is particularly true for subscription businesses. You need your customers to return to you and make repeat purchases.
How do you do that? – By creating extraordinary content for your consumers!
Your content is the only thing that can entice your customers into becoming your lead and making purchases. If you're selling tangible products, deliver a quality product and provide value to your customers.
Read: 10 Sureshot Ways to Generate Leads Through Content Marketing
You should also create content emphasizing your products' benefits. You need to keep reminding your subscribers of your value and the reason they chose you and your products and keep them happy with their purchases.
Design an excellent store
Have you ever walked out of a store because it wasn't easy to navigate?
Be it retail or online, your store's design quality and navigability should never be overlooked.
Even if you have the best product and the best content promoting it, you may not be able to meet your business expectations because your online store wasn't well built. Also, a buyer may never want to buy from you after a slightly negative experience.
While designing your online store, you should keep certain things in mind to design your online store exceptionally well. Let's talk about these:
Ease-of-use: Make sure your online store is easy to navigate and even easier to make purchases.
Design should be simple yet functional: Minimalism is the trend these days, but functionality should be prioritized too.
Choose the best e-commerce platform: Integrate trusted e-commerce platforms that empower your subscription business and come with the greatest payment gateway.
Make transactions easy and trustworthy: The payment gateway you choose should provide easy and trustful transactions for your customers.
Offer free trials
There are people who would probably buy from you if they could get a taste of what you offer but aren't really willing to spend money just yet. For such prospects, a free trial or a sample could work well.
There are two main ways you can give your prospects the opportunity to evaluate your service:
Free trials: In this type of free offering, customers are allowed to use your product or service to its full potential for a limited time. After the free trial ends, they may decide to pay for your service or leave the program without getting billed for the trial.
Freemium: Freemium is essentially the combination of free and premium services as it gives access to some of the premium services for free. Freemium initially allows your customers some basic features without any cost but they have to pay a subscription fee for complete access. For example, we allow our users to try a freemium version of FluentCRM which they can download from the WordPress repository.
However, you have to be ready for a good amount of drop-off after the free trial expires!
Choose a solid pricing model
One of the follies businesses fall into while planning a subscription business model is not pricing their subscription right. Pricing your subscription fee is crucial because people subscribe to a service to save some money.
The whole idea of subscription business crumbles if you price it beyond the affordability of your customers. So, you must set your subscription fee at a price that is easily affordable or even cheap for your target customers.
You have to also keep in mind how your competitors are pricing their subscriptions and the industry standard for subscription pricing. Depending on your business, you may choose to offer a flat rate for full access or a tiered pricing model or choose a hybrid of these two.
Discount repeat and big purchases
Repeat customers are the ones who fuel your subscription-based business. Your repeat customers are your patrons who need nurturing. And what better way to nurture your patrons other than by giving something in return for their patronage?
Similarly, if you get a big order from someone, you should nurture them and drive them to more purchases. For instance, if your business offers a tiered membership system, you can discount the bigger tiers so it's more valuable to buy at bigger price points than the starter ones.
Collaborate with influencers
Influencers are market leaders in their respective fields with an admirable amount of followers. Influencers are generally respected by their followers and are a good choice for influencing people's purchase decisions.
Find influencers who are known and respected by your target customers and collaborate with them in a mutually beneficial way.
The best things about Influencer marketing are:
Building trust: Influencers are able to influence people because they are trusted by their followers. When a trusted influencer recommends your service to your prospects, they instill their trust in you.
Broadens your reach: Influencers generally have followers on various social media channels. If you get your company endorsed by influencers in those channels, you reach a whole new set of potential customers.
Implement auto-renewal system
One of the main comforts subscriptions offer for customers is they don't have to repeatedly make payments every time they want your service. This comfort often drags customers to subscribe.
Giving the option to go with an auto-renewal subscription allows customers to integrate a payment method with their accounts. And after their subscription expires, they will automatically get charged for the plan they chose.
Along with an auto-renewal system, offer a yearly subscription so you could acquire long-term customers.
How do you do it?
Show the obvious benefits of a yearly subscription by providing a side-by-side comparison with other plans!
Track some new metrics
Every other business model strives the hardest to generate a lot of leads. But in the subscription business, leads aren't the main focus. Even conversion funnels hardly matter here. The revenues in the subscription business come mostly from recurring customers over a long period of time. So, you need to track those long-term metrics.
Tracking the initial sale isn't the main focus here, the focus should be on tracking the longer-term metrics like:
Lifetime customer value
Customer retention/churn rates
Customer engagement
Referrals from existing customers
However, tracking those long-term metrics doesn't mean you should stop generating leads and forget other metrics. Rather, your focus should be on tracking metrics that measure your efforts on customer engagement and nurturing existing customers.
Wrapping up
Subscription marketing, although similar to every other marketing strategy, needs slight refining and alteration to it. You have to understand, subscription businesses are long hauls, not surefire revenue systems.
If you can implement and adapt to the aforementioned marketing strategies, you should be able to establish a successful subscription business that can sustain itself for a long time
Let us know if you are fascinated with subscription marketing strategies as well and if our content gave you any insight into it.
Try Our Free Marketing Automation Plugin for WordPress!