Free Tips, News & Tutorials Delivered to Your Inbox!
Videos can help businesses create awareness, showcase your expertise and build trust. Humans are naturally visual creatures, and videos naturally appeal to and engage people. Therefore, more and more digital marketers are adopting video marketing in their lead generation strategy.
Producing a high-quality lead-generating video can take a lot of effort and resources, and you wouldn't want them to go in vain. However, with thousands of marketers adopting video marketing in their lead generation strategy, it can be hard to figure out the best ways to generate leads through videos.
In this piece, we'll show you some of the best ways to use videos for lead generation. As a bonus, you'll also learn how to nurture your video leads with FluentCRM.
Let's get started!
The benefits of using videos in your lead generation strategy
Where do videos align with your lead generation strategy, and how does it help? —This might be the first question you're asking if you haven't started using videos for lead generation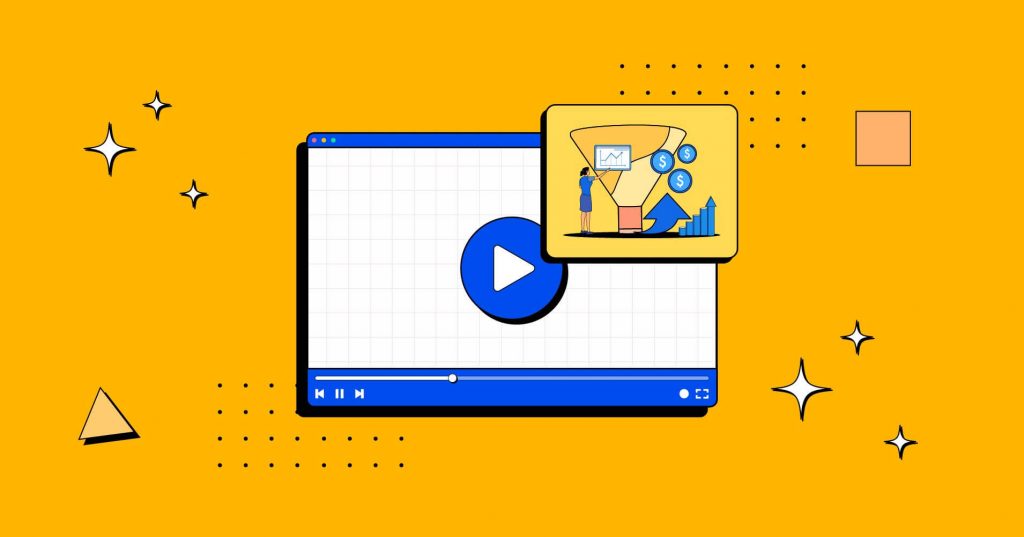 CISCO estimates that 82% of internet traffic will come from video viewing or downloading in 2022. On the other hand, 68% of customers prefer watching video content to reading articles, and 83% of marketers say videos help with lead generation.
Hence, if you haven't incorporated videos in your lead generation strategy, it's high time to do so. Videos can help your lead-generation strategy in the following ways:
Boost social engagement: Videos are easily consumable, and most people spend their time on social media nowadays. By posting videos on social media platforms, you can reach your audience's fingertips and boost social engagement significantly.
Improve SEO: Video content often adds more value to your pages and posts. Pages that include a video often have less bounce rate and exits. Google also prioritizes pages with video more and often ranks them higher. Thus, adding videos to your website will improve your overall SEO.
Build trust: Producing videos requires a significant amount of time and effort. Tutorials, case studies, and testimonial videos often boost confidence in new users. When a brand puts effort into making such videos, people are much more likely to trust that brand.
Increase conversion: Let's be honest; most people don't like reading product descriptions or long articles. On the other hand, product demos or product tour videos can help customers easily decide because they can see how a product can solve their problems. Thus, incorporating videos in your lead generation strategy can boost your conversion rate significantly.
8 types of videos to use for lead generation
You know the benefits and want to start producing videos for lead generation. Now, you can't just come up with any kind of video expecting to catch hundreds of leads.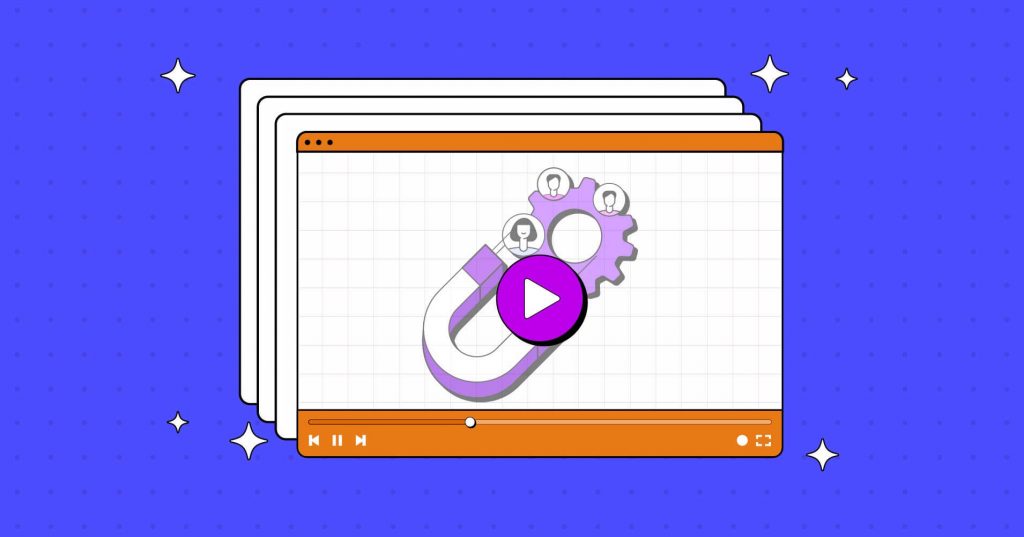 Frankly speaking, lead generation is one of the most difficult tasks a marketer deals with. So before you begin, make sure to do the audience research, set your goal, and define what your potential video leads look like.
Once you've done that, creating the following types of videos can be effective for lead generation:
Explainer videos
"People don't buy what you sell. They buy because of why you sell."
The best business models are often based on solving problems rather than offering the product itself. Explainer videos have the same purpose.
Explainer videos aim to sell a concept by explaining how a product can help customers. If you can provide just enough information and explain why your prospects should be interested in what you're offering, you've got them!
Live videos
Live videos attract more people, and you can use them to build a brand reputation. Since they happen in real-time, live videos easily grab people's attention and trigger them into engaging with a brand.
What's more?
People can ask questions and give feedback about your products and services. It's also possible to upload live videos to your brand's Youtube channel so that they live there forever and reach more people. That said, live videos are an excellent option to expand your brand's exposure.
Product demo videos
Product demo videos work well because they can create awareness and build interest in your product among your audience. This kind of video aims to demonstrate your product or service and showcase how it solves your audience's problem in the shortest possible time. As a result, this kind of video is a must-have for any business.
Brand videos
Brand videos are the best way to get people to engage people with your brand. This kind of video aims to make people aware of who you are and what you do.
How do you create a brand video your audience will engage with? —Tell a story!
A story that tells your audience about how you started, what problems you're solving, and how you're solving them will surely make people want to know more about you. So create those brand videos and watch the leads fly in!
Tutorials/how-to videos
Does your product solve multiple problems? How can customers make the best use of the product or service?
Your customers are actually looking for solutions, not products. That's where the effectiveness of tutorials and how-to's come in.
However, explaining every technicality through written content can be hard, and producing a how-to or tutorial video can be the best alternative in this regard. By creating such videos, you'll surely get some people to engage with your brand.
Testimonial videos
Video testimonials are much more effective compared to written testimonials. However, reviews are hard to get in text format, let alone in video format. However, if you can pull it off, video testimonials from your customers can build trust and boost your brand reputation significantly!
FAQ videos
No matter what product you're offering, your customers will usually want to ask questions, and you'll have to answer some of them frequently. If you can answer them through an FAQ video, people will appreciate the human presence and become more confident about choosing your offerings.
7 best ways to use video for lead generations
Leads are the fuel that keeps a business going. Just as content marketing and SEO, videos can be an excellent source of high-quality leads.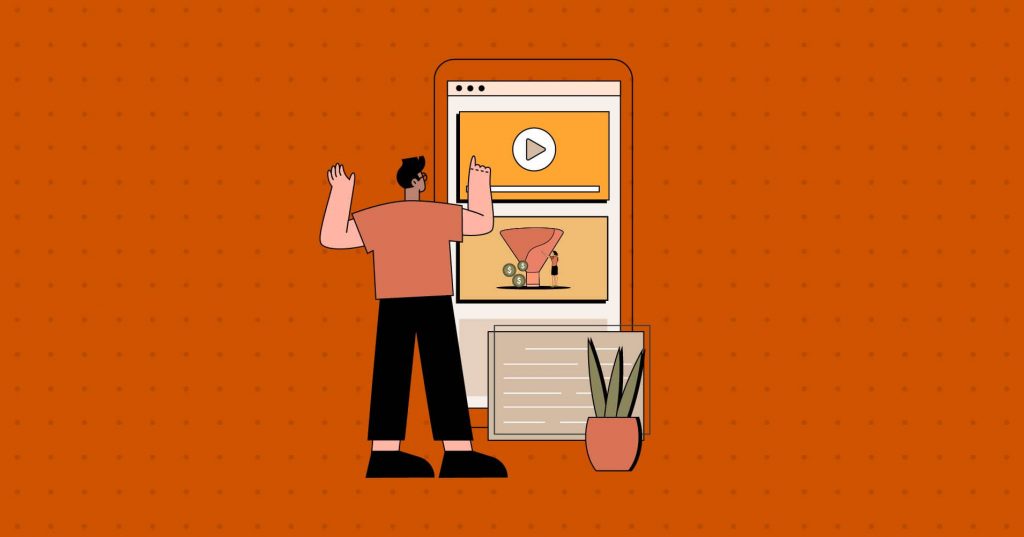 Each type of video can be used at different levels and channels of your marketing funnel. However, it takes a lot of work to figure out how to use your valuable videos effectively. So below are some practical ways to use videos effectively for lead generation.
Embed videos to your landing pages
Where do you usually drive your audience?
The answer may vary. However, landing pages are often the primary point of contact for most businesses. Your landing page is where your audience can get an overview of your product and it should be optimized for conversion.
Add a product demo video to your landing page to grab your visitors' attention and retain them for a longer period. Combine the video with a contact form so that the visitors can leave their email addresses.
If you want to put more emphasis on different sections of your landing pages and complement other content, consider adding videos to those sections.
Gate your video content
Content gating is essentially locking your content behind a signup form. While it is a controversial method, gating video content can be a powerful way to force email signups and boost lead generation. This is why around 80% of b2b content is gated.
Note that, gating every video won't work for lead generation. Doing so will rather scare off your visitors and hurt your website's SEO. Ideally, gated content should provide 10x value to your audience.
Only gate your video if you feel it is truly valuable to your audience. People are always on the lookout for high-quality content that doesn't just satisfy their needs but also adds value to their lives. If your audience values what you're sharing and becomes interested, you've scored a high-quality lead who'll potentially become a customer!
Read: How to Add Gated Content to Your WordPress Site
Offer free tutorial videos
When the right kind of solutions is offered, people naturally tend to engage with a brand.
Tutorials and how-to contents are a great way to demonstrate your expertise in a specific topic. It enables your visitors to learn from your knowledge and guides them to get familiar with your offerings.
Creating free tutorial videos show that you value your audience and want to help them through your content marketing efforts. It helps them make the best use of your products and even if they're not using your product yet, they'll likely choose yours when they decide to do so!
Before creating tutorial videos, understand what your audience need help with. You can easily do this by looking at the search terms your audience is using. Or, by asking questions in your community.
Create video case studies
Video case studies are one of the most reliable kinds of content because they come from real user experiences. This can be way more powerful than people simply recommending your product on social media or on your website. Why?
Because video case studies won't simply talk about the benefits of your product. Rather, it will demonstrate what people can actually achieve with your product and what problems they might face.
It is preferable to use an intro maker to have a catchy start for your video. Showing the solution to the problem they face at the start of the video can increase the average watching time and overall engagement of your users 
If your case study consists of both the pros and cons of your product and people still find your product useful, there's no reason why they won't want to hear from you!
Share videos on social media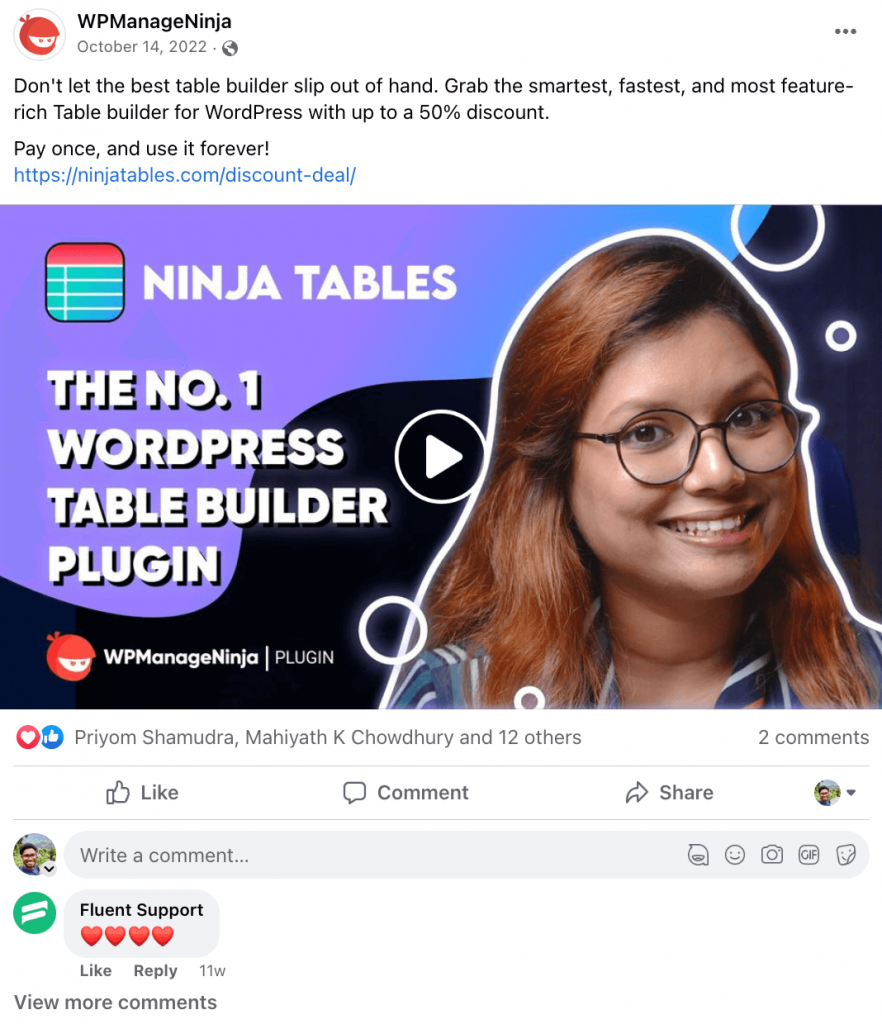 Videos can spread like fire on social media platforms. There's virtually no shortage of likes, comments, and shares you'll get through social media platforms because most of them(Facebook, Youtube, TikTok, Instagram, etc) has a dedicated section for video sharing.
Moreover, social media also offers many tools for advertising and targeting your audience based on their interests. This way, you can reach the right audience to promote your product or service.
Sharing valuable videos on social media will surely boost your reach and if you're lucky enough, your videos may also go viral!
Add in-video contact form
If you don't like the idea of gating your content, adding in-video contact forms may work for you. This kind of contact form usually appears in a video and you can create one using video player tools such as Presto Player and Wistia.
Read our Presto Player Review to learn more about this awesome plugin!
While you can add the contact form before or after playing the video, we recommend adding in-video contact forms in the middle of the video. This is because adding in-video contact forms this way will give the audience something valuable before they commit to hearing further from you.
It's also ideal to connect your contact form with a CRM or email marketing tool so that you can nurture your audience further.
Utilize Youtube cards and end screens
If you're not utilizing Youtube for lead generation, you're missing out on thousands of leads. The platform offers excellent lead-generating tools like cards and end screens. While youtube cards allow you to drive the audience to other videos on your channel and boost your channel's subscribers, the end screen will allow you to drive the audience to your website.
Note that, getting people to view your Youtube video can be difficult. Make sure your video is creative and engaging, optimized for audience retention, and follow SEO practices for better reach. By doing that, you can surely expect some clicks and engagement with your brand.
Nurture your video leads
Once some people have opted-in to hear from you, don't keep them hanging. Your leads have opted-in because they are interested in your offerings.
Start interacting with them regularly and nurture them down through your marketing funnel. It is possible to interact with your leads at various stages of their lifecycle and if you can reach out to your leads at the right time and with the right message, they'll become likelier to buy your products and services.
In order to nurture your video leads better, you can use a marketing automation tool like FluentCRM. This kind of tool usually offers various marketing automation features through which, you can segment your leads and send them marketing emails or newsletters regularly. So if you haven't got one already, consider buying a marketing automation tool.
Supercharge your lead generation with video marketing
Watching videos online is entertaining and more people are consuming videos daily. As a result, businesses make different kinds of creative and entertaining videos to promote their products and services.
Video marketing builds trust and shows that you are a reputable brand that can offer something of value to your audience. It tells them that you have the expertise over something they are interested in and they can trust you with their personal information.
That said, if you've decided to use video marketing for lead generation, you've made the right decision. Hopefully, our tips will help you supercharge your video lead generation process.
If we've missed something or, any particular lead generation strategy is working for you, don't forget to let us know. We wish you all the best!
Try Our Free Marketing Automation Plugin for WordPress!