20+ Effective Tips for Lead Generation in 2023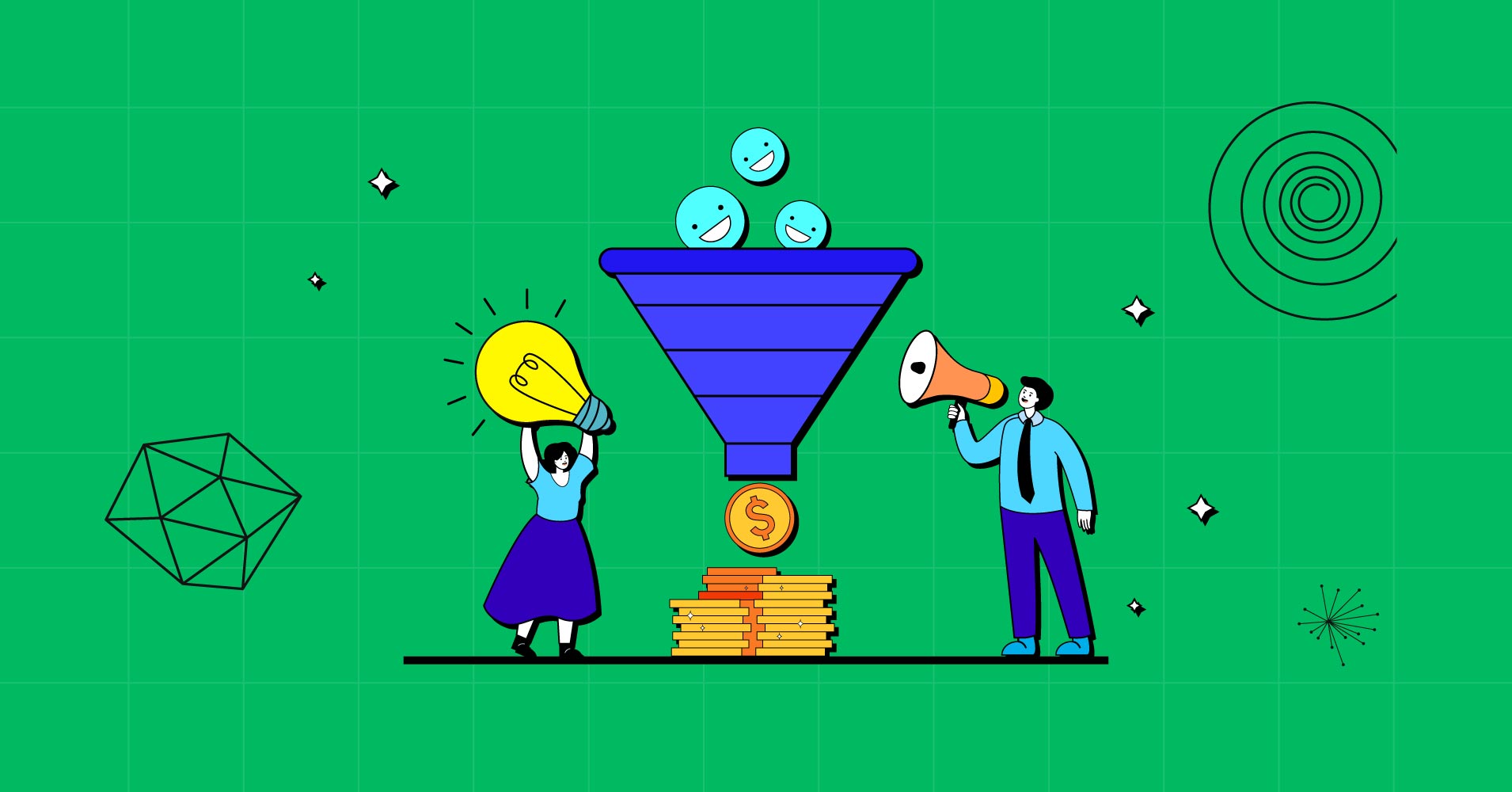 The internet is a huge source of leads, but you should never lose sight of the fact that enormous competition is always ready and waiting for you too! And only a sound lead generation strategy will enable you to stay one step ahead of the competition and fill your lead basket.
Are you looking for some effective tips for lead generation?
Fortunately, you're in the right place!
In this article, we'll discuss some effective tips for lead generation. And you know what? We're not going to make anything up; instead, we're just going to share the process we follow to collect more leads daily!
So, what're you waiting for?
Let's scroll down!
What is lead generation?
Technically, lead generation is the proactive marketing technique of discovering, attracting, and gathering the most relevant prospect from a large number of people. It aims to stimulate potential consumers' attention to your product or service by creating a sales funnel. You can complete it offline, online, or a combination of the two.
A lead is mainly a person or a business with an issue searching for a cure but uncertain how to proceed. More precisely, a lead is a prospective consumer interested in your products or services but has not yet decided to purchase them from you.
Even if they aren't a customer yet, chances are they will be soon! The fundamental process of converting a potential client into a real customer is known as lead generation.
Dive into this article to learn more about lead generation.
Why is lead generation important?
Lead generation is not only crucial; it is the backbone of any business. And you can't stand if you don't have a backbone, right?
The same problem happens when a company lacks an effective lead-generation procedure. Yes, they can keep on living and crawl for a while. But in the long term, they are effectively dead!
A good lead generation plan can assist you by —
Expanding your market: Lead generation will assist you in expanding your market potential by opening several blocked doors and presenting new opportunities.
Generating better business opportunities: Lead generation will assist you in gaining access to lots of new information, allowing you to increase your business potential.
Improving your lead quality: A good lead-generating approach will ensure you have more high-quality leads who are really enthusiastic about your products and services.
Engaging more: Using the right lead generation strategies will lead to better engagement.
Enhancing your conversion: Proper lead generation is constantly concerned with increasing conversion rates.
Raising your revenue: More leads will almost certainly result in more sales, generating more revenue.
Improving your brand recognition: Visitors gain more knowledge about your company and its products when engaging with your marketing efforts.
Here's why lead generation is important for different types of businesses.
5 steps to follow to build a proper lead generation strategy
Shortcuts sometimes provide fast results, but to establish a long-lasting and profitable lead generation funnel, you must follow a comprehensive method. You'll need a consistent methodology and the ability to determine what is ideal for you on your own.
Furthermore, you'll need to understand the distinctions between a lead and a prospect. To create a successful and amazing lead-generation plan for your business, follow the steps below —
Understand your market and identify potential customers
To begin, assess your market and establish who your product and service will serve. Keep in mind that generating leads doesn't imply trying to sell anything to someone who isn't enthused about your goods or services.
Look into your competitors to discover how they handle customers and what they miss.
It is the most crucial step in the lead creation process. Now that you know your target clients, you need to figure out where they live.
Remember that there are various widely utilized platforms and that the web is a vast universe. Don't simply replicate the lead-generation practices of other organizations that aren't in your area.
Just because they were successful in a certain way doesn't mean you should do the same. Rather, you might scrutinize your competitors' strategies to establish where your prospective clients truly dwell.
Discuss their problems and provide a solution
Don't just sell them your stuff. Rather, try to figure out their problems and start talking about them. You can talk about it on your blogs, videos, podcasts, and so on. This will help you acquire their trust.
Besides, doing so will make you look like a solution provider instead of a salesperson.
Introduce your product or service to them
As you explore your client's problems and provide them with answers, cleverly introduce your product. The more intelligently you use this method, the greater your chances of success.
Make them feel special with an offering
Create a sense of exclusivity and genuine care for your customers. On their birthday, give them a great discount! Even if they don't buy from you right away, it still cements your reputation in their eyes. If they wish to purchase a similar service, they will get in touch with you right away.
22 tips for lead generation to keep your business at the top
There are two methods for generating leads. You can do it through outbound marketing, which uses traditional TV, radio, and newspaper advertising methods. In fact, if we go back two decades, they were the only lead generation sources.
But the situation has changed now. With the growth of technology and the internet, most of your target audience now lives on the internet. And predictably, the paradigm of lead generation has evolved significantly.
In this article, we'll just discuss inbound marketing strategies for lead generation. Here are a few pointers to help you acquire leads successfully and keep your business thriving:
Content marketing
Content marketing is the best and simplest technique to generate high-quality leads. If you aren't considering it as part of your lead generation plan, you're missing out on a fantastic chance to get more and more leads. To properly capture leads using content marketing:
1. Talk about your audience's problem
Content marketing is an effective technique to sell your product and generate a large number of leads. However, you must always remember that it doesn't correspond to explicit product marketing.
In order to familiarize the audience with your product, you must discuss your target audience's problem and present a solution indirectly. So, analyze your clients and identify the issue they are ultimately dealing with. Be the solution provider they sorely need!
2. Be authentic and relevant
Remember that there is already plenty of competition and that you are not the only one offering a solution. Millions of results are offered when someone searches for solutions on a search engine.
So, how will they know what you're offering is unique?
You must be more honest and relevant to differentiate yourself from the crowd. Don't just casually comment on anything; learn about their situation, put yourself in their shoes, and figure out the best solution for them.
3. Prioritize quality over quantity
The majority of content marketers make blunders here. They believe that the quantity of their content will assist them in winning the game. The irony is that if you can't guarantee quality, quantity is merely a number.
So, to achieve the desired result, prioritize quality. One high-quality blog post every week is considerably superior to three low-quality posts per week.
Need some more ways to use content marketing for lead generation? —Check out this article!
SEO
It is unnecessary to mention SEO for lead creation soon after content marketing for lead generation. Indeed, SEO is at the heart of any lead creation process. If done correctly, it can produce results beyond your wildest dreams. In order to use SEO for lead generation—
4. Speed up your website's loading time
The most important aspect of SEO is website loading time. It is important not just for the ranking of your content but also for the user experience.
A quicker website has a better chance of converting visitors into leads. A slow-loading website generally irritates users. As a result, we recommend that you pay close attention to the loading time of your website.
5. Keyword research
Most of the time, SEO is the starting point of lead generation in digital marketing. The process of keyword research begins the moment you decide to offer content.
Keyword allows search engines to find your discussion topic and offer it to your clients. Give keyword research enough attention so that you may understand your target clients' search habits and respond accordingly.
6. Focus on on-page optimization
Another important aspect of SEO is on-page optimization. Use your headings (H1, H2, H3….) correctly. Keep enough white space on your content to avoid boredom. Another effective strategy can be to use bullet points and a numbered list.
Furthermore, you can bold some crucial lines on your site so that readers can simply grasp the important information.
What else? Don't forget to minimize your image to keep your website loading performance high!
7. Emphasize link building
If your article is your statement, then a link to it is the testimony that verifies your authority. It goes without saying that search engines place a high value on authority.
Remember that, both inward and outbound links are vital for SEO. The more links you can obtain, the greater your chances of success.
Dive into our guide to learn how to leverage SEO for lead generation.
Email marketing
Everyone talks about the $36 ROI of email marketing. But in our opinion, that statistic doesn't adequately demonstrate its value! In reality, it can accomplish many things we can't even imagine! To use email marketing to generate leads –
8. Build an email list
Create an email list before employing email marketing as a lead generation strategy. Remember that buying an email list is never a good idea; you must build your own. It'll assist you in reaching out to true and dedicated potential clients rather than everyone else.
Furthermore, we recommend employing a subscription form to help you expand your email list faster.
9. Segment your subscribers
Simply getting email subscribers is not the end of your task. Not all of your subscribers have the same interests and an identical email won't work for all of them because their ages, genders, and tastes vary. As a result, it is vital to segment your subscriber list properly.
10. Play with your email subject line
The subject line of your email is a critical factor in determining the effectiveness of any email marketing campaign. Email subject lines determine how your emails are going to be treated. In fact, 47% of individuals open emails based on the subject line.
Writing a successful subject line, on the other hand, requires a great deal of originality and intellect. This article will explain the importance of email subject lines and present some of the best examples.
11. Determine the most appropriate email frequency
Determine when your lead anticipates receiving your emails. Rather than aggravating them, aim to follow the best email frequency practices.
Remember that when we state email frequency best practices, we only mean the ideal method! Anything over or below this can damage your email marketing campaign, company reputation, and other factors.
Additionally, attempt to maintain uniformity in the colors, typefaces, and tone of your writing. It will aid in the development of trust and brand recognition. And of course, try to avoid common email marketing mistakes.
12. Work on your content
Writing long and tiresome text-heavy email campaigns isn't the best way to go. You must organize your emails to entice individuals to read your content and then direct them to the CTA. Make every effort to remain relevant. In this regard, including images or graphics in your emails might be really beneficial.
13. Employ an email marketing tool
Email marketing is much more than just building email lists and delivering emails! To get the most out of it, you'll need the help of a marketing automation platform that can help you with segmentation, automation, sequencing, and everything else.

Marketing Automation for WordPress
Get FluentCRM Now
Read our beginners guide to email marketing to start generating high-quality email leads
Website optimization for lead generation
A website serves as the company's public face. No matter how much work you put into your email or social media marketing campaigns to attract leads, they'll eventually end up on your website, where they can submit their final inquiries. It is the final step in converting a visitor into a lead.
Some people only use their website to provide basic information about their business, but it can also serve as a lead generation hub. But how exactly?
To generate leads from your website, follow the steps below:
14. Audit your website
Evaluating the state of a website is a critical responsibility for any digital marketer, and it's a continuous process. Without it, it will be impossible for you to identify the true cause of the issue. As a result, conduct regular website audits.
You can use tools like Ahrefs, SEMrush, and others to help you. Find out which web pages are functioning correctly and which need to be updated. You'd notice a lot of unnecessary content that's just slowing down your website.
Consider removing them or presenting them in a different way. Keep in mind that the more accurately you can identify the issue, the better your chances of success.
15. Increase your website loading time
The amount of time your website takes to load influences its search engine ranking. Your website's slow page load time will hurt its ranking and raise bounce rates.
Contrarily, if your website loads quickly enough to provide your target audience with a top-notch user experience, your ranking on SERPs will rise.
16. Use an effective lead-generation theme
A lead generation WordPress theme can be a simple and effective solution for businesses that want to generate new ideas and collect leads regularly. Themes have a direct impact on the appearance and feel of your website, as well as the user experience.
So, when selecting a theme for your website, keep responsiveness, customizability, and compatibility in mind.
17. Include a catchy CTA
Don't forget to use a compelling CTA to entice your visitors to become leads. And when creating a CTA, use strong words, encourage the visitor to proceed, and display the worth they will obtain in doing so.
18. Add subscription forms to your landing page
Email marketing is the most effective way to market your products and services without a doubt and your landing page is almost inevitably the primary point of contact for most people. So, add a subscription form to your landing page to gain more subscribers.
19. Reduce the amount of text on landing pages
When visitors arrive at your landing page, they prefer to get important information quickly. Using a lot of text on a page can confuse and bore them. As a result, try to include as little text as possible. Keep it short and to the point.
An even better idea would be to highlight key advantages using bullet points. Additionally, use images to create a visually appealing landing page.
Social media marketing
Your company's strong social media presence will help you gain the confidence of your customers. Your users will interact with you directly via social media, and they may write a review, which will help your new leads evaluate your service and decide whether it is worth a try.
Furthermore, sharing your content on social media will increase website traffic. More traffic means more leads, which means more potential customers. You can do the following to use social media for lead generation:
20. Recognize what is for what
There are various types of social media, each with its own specialty and algorithm. The same approach will not work for every platform, and you must determine which content is best for which platform! Instagram, for example, is more likely to be an image-focused platform, whereas Twitter is a well-known platform for sharing meaningful thoughts in just 280 characters! The same is true for all other platforms, and you should tailor your approach accordingly.
21. Share knowledge and statistics
Don't let your social media remain idle; use it to communicate with potential clients. Share various infographics, information, statistics, and valuable insights that will make their lives better.
Don't just go ahead and share your content with them directly; instead, share the most important and unique information about the content with them in the first place to pique their interest. They'll complete the rest of the task by visiting your link for more information.
22. Keep up with the trend
More than anything else, netizens value wit and humor. Nothing captures their attention like a trending post. So, recognize the current trends and popular topics, then try to connect them to your service and write an engaging post.
Wrapping up
Today's successful businesses are successful because they follow and maintain a good and efficient lead-generation process. If you also want to be one of them, you must prioritize lead generation.
We hope that the tried and tested lead generation tips we shared above will help in this regard. Determine your best approach and continue to analyze it. Success may take some time, but trust me, it will come eventually if you follow the right steps!