Everything You Need to Know About Transactional Email: Definitions, Types, and Examples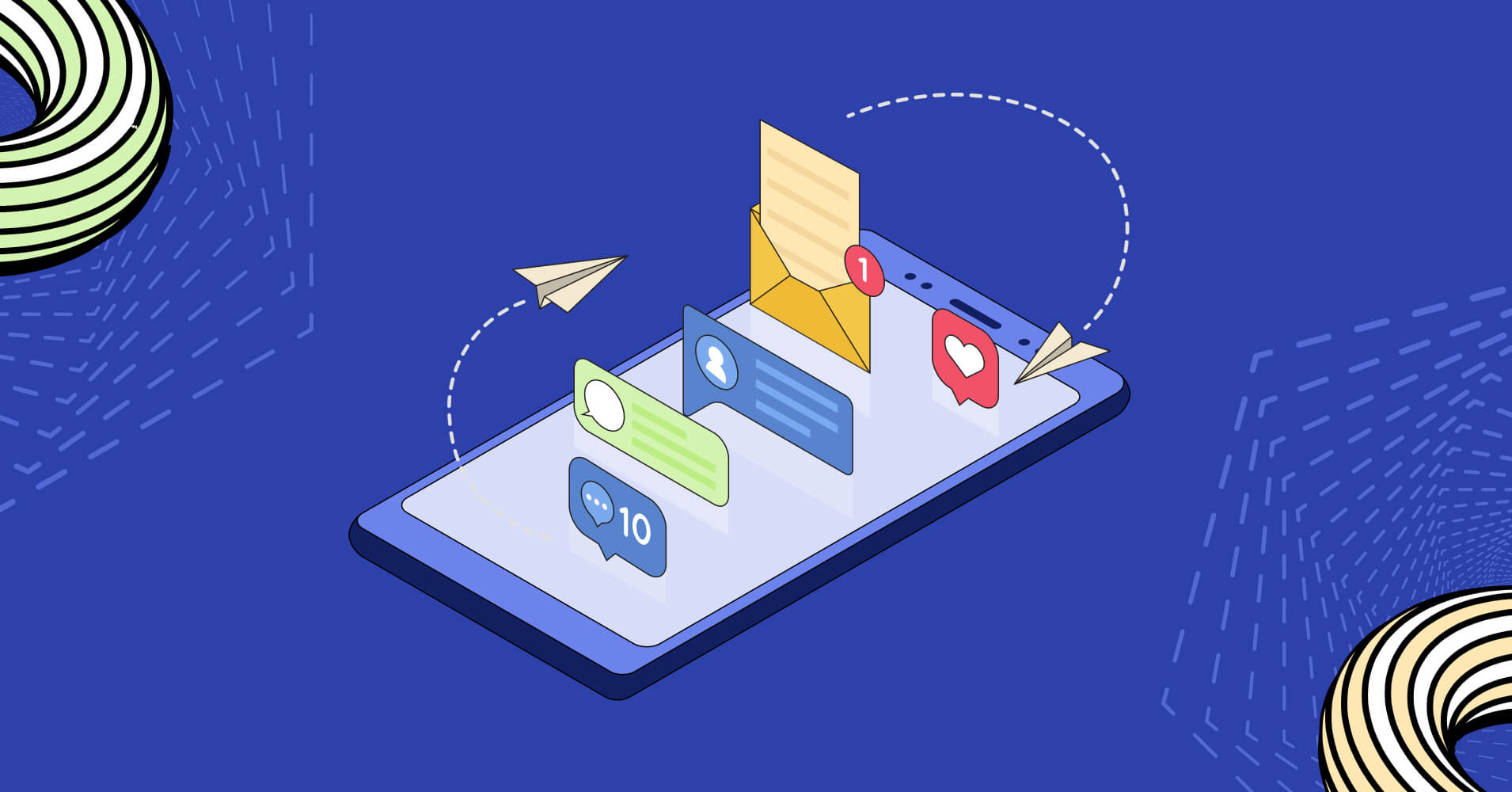 You just got a new order through your website or a new user just registered on your website. What should be your next move?
You'll probably send either a registration confirmation email or an order confirmation email. And these are two of the prime examples of transactional emails. These emails are usually automated and sent depending on users' different actions.
Even though transactional emails have the power to brighten or frustrate your users within a second, they are very less talked about in the email family. That's why we have put together everything you need to know about transactional emails in this blog.
Keep reading to learn about the types, examples, and best practices of writing transactional emails and let your transactional emails do a bit of marketing for you as well.
But first, let's enlighten you a bit more about transactional email.
What is transactional email?
Transactional emails are automated email communication sent to users or customers in reaction to their actions, interactions, or transactions with a company or organization. These emails have incredibly high open rates (80-85%) compared to average emails(18.4%).
That said, transactional emails can be absolute goldmines when it comes to building an everlasting customer relationship and racking up additional sales!
Transactional emails are used to send important information about a specific deal or event. They emails are different from marketing emails because they don't try to sell goods or services. Instead, they focus on giving important updates, confirmations, receipts, or account-related information.
These emails are very specific and are sent when your users make a purchase, sign up for an account, change a password, or finish a reservation. Their content is based on how the user interacts with the site, which makes them useful and important to the user.
Transactional emails are essential for increasing customer interaction, improving the user experience, and building trust in the brand because they give users real-time information that they can use.
Transactional email vs marketing email
Needless to say, we're familiar with marketing emails. And some of us are familiar with transactional emails too!
But the confusion begins with understanding the difference between transactional and marketing emails.
Transactional emails are sent when a person does something like make a purchase, sign up for an account, or ask for their password to be reset. Their main job is to send specific, relevant information about these actions, like order confirmations, shipping notices, account verifications, and refunds.
On the other hand, marketing emails are made specifically to advertise something. Their main purpose is to advertise goods, services, or special deals, and they are usually sent to many people.
Marketing emails aim to get people's attention, create leads, make sales, and spread the word about a brand. Emails used for marketing often contain sales pitches, deals, news about new products, newsletters, and other advertising materials.
Transactional emails are different from marketing emails because they don't try to sell anything. Instead, they only focus on giving functional updates that the receiver expects and values.
Transactional emails are sent when a user takes a certain action. but marketing emails are part of a company's larger marketing strategy. They are meant to connect potential and current customers with persuasive content that will lead to sales and customer loyalty.
Types and examples of transactional emails
Though there are various transactional email service providers available to get the job done easily, you can't expect great results without understanding the types properly.
Sure, we can learn and get ideas from examples, but it would be better to get familiar with the types of transactional emails first.
Here are some of the most common types of transactional emails:
User registration confirmation email
When a user creates an account on your website or app, you are obligated to send them what is known as a registration email. It might be anything from an introductory email with links to guidelines and how-tos to something completely different in order to grab the user's attention.
Sending consumers this kind of email goes a long way toward maintaining their engagement with your site. It is more probable that new users will forget about your website if they do not receive a registration email than if they do receive an email.
In this example, we see an ideal registration confirmation email from BuzzFeed. In their email, they kept it short and to the point. They also mentioned the username and password in a way so that these are the first things their users see as soon as they open the email.
As a result, the users get a sense that all the upcoming emails from BuzzFeed are going to be helpful like this.
Subscription confirmation email
When someone signs up for your service or newsletter, the first email they get from you is known as a subscription confirmation email. is a confirmation email. This email is sent to new subscribers not only to get their permission but also to guide them or tell them what to do next.
Most of the time, these emails are the first ones in your email sequence, so you need to be careful with them. Depending on the email you send to confirm the registration, you can either turn the lead into a customer or lose them forever.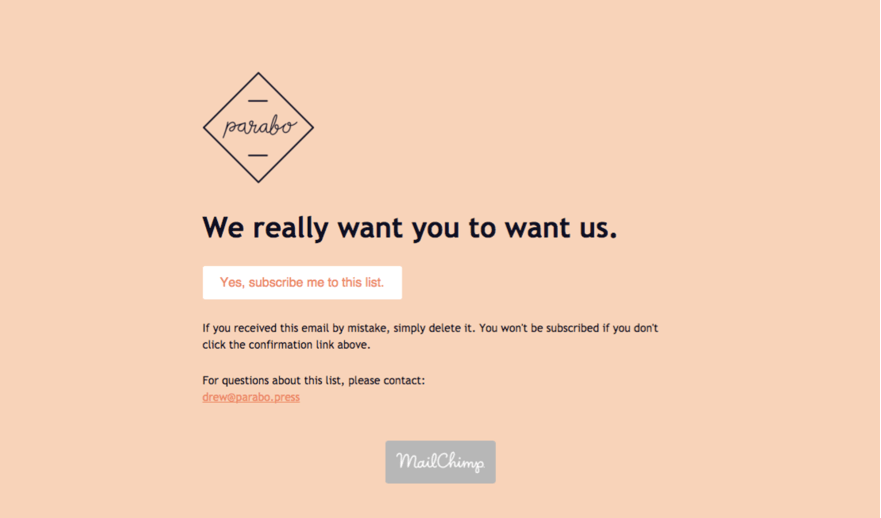 Here, we can see, Mailchimp is doing just right enough with their subscription confirmation email. They kept it short and concise while keeping a CTA to explore their website.
Dive into some inspirational subscription confirmation email examples
Order confirmation email
Once someone places an order from your website, they expect a confirmation email even before worrying about when they'll receive the product.
Your order confirmation email should be a full summary of the order. It should contain the things bought, how many were bought, how much they cost, any discounts, and the total amount paid. Here's an email that lets the customer know that their order went smoothly:
In the example, we can see that Ahrefs has a perfect pattern for sending order confirmation emails. They clearly stated the subscription renewal period, total bill, and a link to the invoice and gave an order reference. When you send your order confirmation email, don't forget to keep this information in your email.
See some more trendy order confirmation email examples
Shipping confirmation email
This email is sent to the customer as soon as their order has been packaged and delivered to provide them with an update regarding the status of their package. It will normally include the tracking number and a link to enable the recipient to monitor the package's status.
Notifications regarding shipments are essential for maintaining communication with consumers regarding the status of their orders and deliveries.
We can see that the above shipping confirmation email has everything including the order details, shipping address, shipping method, order tracking link, etc.
Apart from these, Tatcha also attached their social links at the bottom, which might get a few followers for them without any direct marketing.
Delivery confirmation email
The delivery confirmation email is an email that is sent after a package or order has been successfully delivered to the customer's provided address. This email acts as verification that the delivery was successful and provides a smooth experience once the purchase has been made.
The customer's purchase experience is complete once they receive this email —serving as a touchpoint for vital information on the delivery status and giving essential information regarding the delivery status.
Here we can see that this company has demonstrated an amazing example of delivery email. They included where the parcel was dropped off, the order number, etc.
Password reset email
Forgetting passwords is a very common thing. And you need to ensure an easy and instant solution for your users if they forget their passwords. And this solution is the password reset email.
This email should be easy to understand, with a link to easily navigate through the setup process of a new password. Here's an example:
Keep your password recovery email very short. You should make the password reset link visible and clear so they can reset their password easily.
Feedback email
Some delivery confirmation emails include a space for the consumer to express feedback regarding the delivery experience, as well as contact information for customer assistance in the event that any problems arise.
If you are a service-based company, sending feedback emails can be very beneficial for you. Customers get peace of mind that they are being valued after receiving such emails. Here's an example of how you can do that.
As you can see in the above example, Fiji Airways users were asked to provide feedback on their recent flight. As the users are asked to take a survey, they get a sense of feeling that their opinion matters.
On top of that, companies can make necessary improvements based on what the users say. Altogether, the benefits of sending surveys or feedback emails can go a long way for your business.
Cart abandonment email
If you are running an e-commerce business, you must have a few e-commerce email marketing strategies., Regardless of which strategy you follow, you must send cart abandonment emails.
Cart abandonment emails create the scope of selling more by reaching your potential customers on a personal level. As customers often forget to buy the product they once thought of buying, a simple reminder can often seal the deal for you!
Legal update email
Legal Update Email is used to let people or groups know about changes to the law. You should send these emails to let your users know about changes in the law that may affect their operations, rights, or responsibilities.
Depending on the scenario and goal, the content of a Legal Update Email can be different. It could have new information about corporate rules, compliance standards, or other legal issues that are important.
A Legal Update Email should be clear and short so that the people who get it can understand the changes and do what they need to do to be compliant and well-informed in their fields or activities.
How to proceed with sending transactional emails?
Types and examples of transactional emails will surely help you understand a lot about how to prepare your transactional emails. But let's dive a bit deep and get yourself familiar with some of the best practices of writing transactional emails as well.
Send straight away: Transactional emails require a lightening fast email deliverability to ensure the best possible experience for your users. You should set up your transactional emails, or other emails in a way so that they reach your audiences instantly.
Use a separate Email Address: You should never use the same address for both your marketing and transactional emails. Sending transactional emails from a different email address is like having a secret superhero identity, so make sure you use a separate email address for this purpose.
Be clear and recognizable: What makes a brand, a true brand? —A unique identity! And just like your marketing emails, your transactional emails should have a unique identity too. By establishing a unique identity, you get your user's attention immediately, and at times, they even wait for your emails!
Don't forget to personalize: Including a few touches of personalization is just like having a helpful virtual assistant! Customers feel more important and appreciated when their names and other identifying information are used. It is equivalent to giving them a high-five in cyberspace for being amazing!
Include promotional offers: Including special promos is comparable to providing a VIP shopper's experience. Your customers won't be able to help but look around and potentially take advantage of some amazing discounts. It's like throwing a sale that's only open to the most hip and happening people in the world: your customers!
Wrapping up
Transactional emails are and always have been one of the key members of email marketing. Even if you did not understand the true potential of transactional emails before, we hope this blog was helpful enough to paint a clear picture for you.
With the newfound knowledge, make your transactional emails more than just transactional. Take full advantage of these emails and take your brand to a whole new level.